MacGyver isn't the only one who knows how to use a paperclip. With a little ingenuity, you too can come up with genius hacks to make your day better. From getting your bra to fit just right to making a stand for your phone on the spot, your day just got a little easier thanks to these clever paper clip hacks.

15 Paperclip Lifehack Tips to Make Your Life Easier
Create a cheap phone stand for your desk out of a couple of paperclips. Clever idea!
Fasten a bracelet without help by hooking a paperclip through the clasp hole on the bracelet, using the other end of the paperclip to hold it steady.
Straighten up a messy collar using paper clips as collar stays.
Don't pay for expensive bookmarks at the store. Make your own bookmarks by gluing a button or tying a pretty ribbon around the end of a paperclip.
Pull up a stuck zipper easy by looping a paperclip through the zipper.
Unclog glue or spray bottles by poking a paperclip end through the opening. Simple and effective!
Hold a floppy tie in place by clipping it to your shirt with a paperclip.
Bind a book or a bunch of papers together using a paperclip and some rubber bands. Great idea for keeping the kids' artwork together!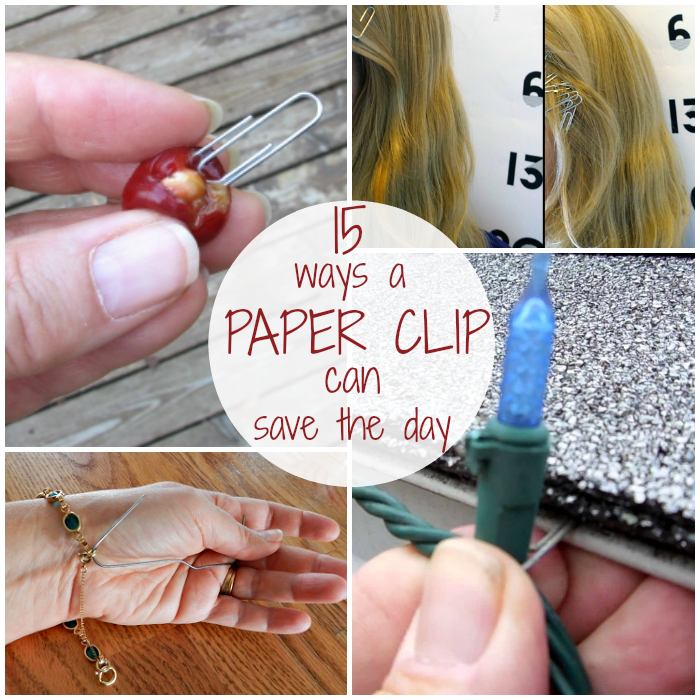 Genius Paper Clip Life Hacks
Keep your hair in place. Use paperclips as a substitute for bobby pins.
When Christmas rolls around, keep your holiday lights straight and sparkling with paperclips to keep them in line. Watch the short video to find out how. You can also use them to hang ornaments when those flimsy ornament hooks just won't do.
Pit cherries with ease. Insert a paperclip into the stem end, and just scoop it out!
Use a paperclip as a makeshift letter opener.
Lose your luggage lock? Replace it with a paperclip while you're on the road.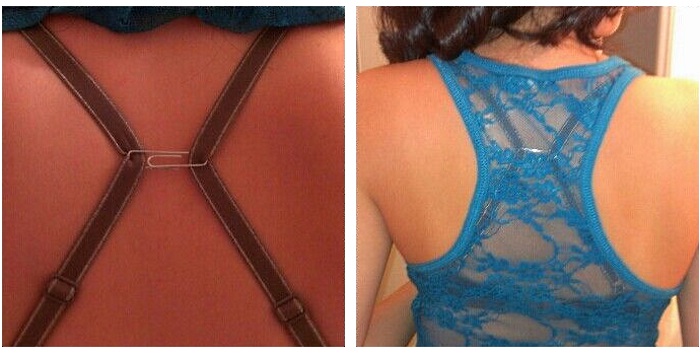 Turn your standard bra into a racerback bra by securing the straps in the back with a paperclip. You may want to put some tape around the ends to avoid being poked in the back throughout the day.
Pick a lock when you've lost your key. This trick is best used with simple locks, such as those on luggage, diaries, lockers, etc.
Entertain your kids with a cool paper clip magic trick.