Making holiday clean up a breeze doesn't have to be hard! With all the time and effort that you spend putting out all the holiday decorations, isn't it only fair to find out a few hacks to help put them all away?
I know in our house, we have 2 different trees and ornaments that seem to take forever to put away…and that's just at Christmas. What about all the other holiday's out there as well?
I for one refuse to waste my time running in circles thinking up ways to clean the house. If there's a house hack for making things more simple, I'm 100% down.
If you are like me, time is important and finding out the quickest and most efficient cleaning hacks are super helpful! For any holiday throughout the year from Christmas through Thanksgiving, these holiday clean up hacks are certain to be helpful!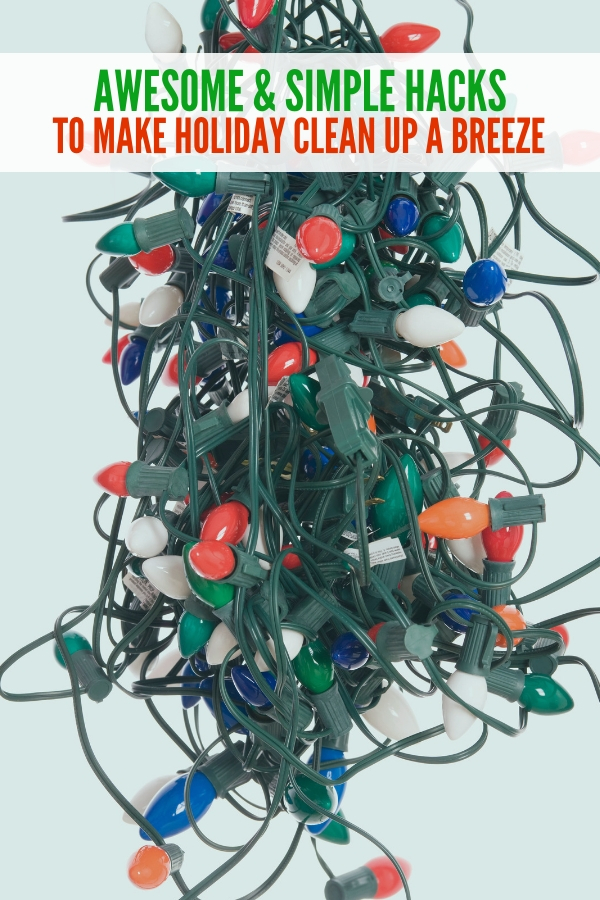 Awesome Hacks To Make Holiday Clean Up a Breeze
Minimize the mess on Christmas morning without ruining your Christmas pictures with trash bags. Keep a large, wrapped box nearby to hold all the torn gift wrap. Genius! (This is also handy for birthdays as well!)
Make it easy for your guests to help with after-dinner cleanup. Buy several Dollar Store dishpans, put index cards in them with your request (e.g., Please pick up all flatware), and you'll be surprised with how much people pitch in. After all, some help is always better than no help!
Use toilet paper tubes to keep gift wrap tidy when you store it away for the year. No more worry about them unraveling!
Keep your home smelling amazing through the holiday season with very little effort. Add cinnamon, pine or cedar essential oil to your home's central air filter. Easy and what a great way to keep your home smelling fresh!
Decorating cookies with the kids is a blast, but it sure gets messy! Minimize the mess by putting the frosting in condiment bottles. It's so much easier than painting the frosting on. Plus it really helps to get all those details and lines.
Some of my favorite clean up hacks are actually the easiest to do!
Super Simple Holiday Clean-Up Hacks
Use paper plates whenever possible! Sure, it's nice to be fancy but if you're needing to save your time and sanity, paper plates it is!
Have everyone coming bring their own potluck items to contribute. Who says that you have to literally supply and do everything? Have your guests bring a dish to share as well!
Make clean-up a family effort. While everyone might be tempted to eat and go kick up their feet, let them know that this isn't an option for this holiday dinner!
Don't forget these holiday cleaning hacks
Keep your lights tangle-free for next year by wrapping them around cardboard scraps before putting them in the storage bin. Think about how much time this will save you next year!
Don't even mess with a tablecloth at all. Brown kraft paper makes a lovely table runner, and you can write the names of all the dishes directly on the paper without answering "what's this?" dozens of times. Or write the names of your guests… directions for serving, etc. Bonus: you don't wash it. Just crumple it up and toss it after dinner's done. Clean up has never been easier!
If you have a real tree in your home, you know the struggle of keeping up with those falling pine needles. The easiest way to clean them up? Duct tape! Wrap some around your hand (sticky side facing out) to grab them quickly. If you don't have duct tape, a lint roller can work wonders as well!
Did the gravy explode in your microwave again? Odds are you found it several hours after the fact after it's had time to stick to the surfaces of your microwave… but don't worry. Pop a wet sponge in the microwave for a minute or two, and the stains will easily wipe off.
If you're not making traditional holiday fare, consider a super simple meal that you can make in one dish. Check out our sheet pan dinners or one pot meals for ideas!
Do you have hacks to make holiday clean up a breeze?