Who else needs beach hair ideas? Just me? I didn't think so.
"For me, a T-shirt, a pair of shorts, barefoot on a beach and I'm happy."

Yanni
We've found on the web site 15 beach hairstyles that are perfect for a day in the sand, whether your hair is short, long, or somewhere in between. We know, we know! You are ready to hit the beach and don't want to waste time fussing over your hair this summer. Don't worry, we picked simple, quick hairstyle tricks and hacks to get you beach-bound in no time and be your own hairstylists.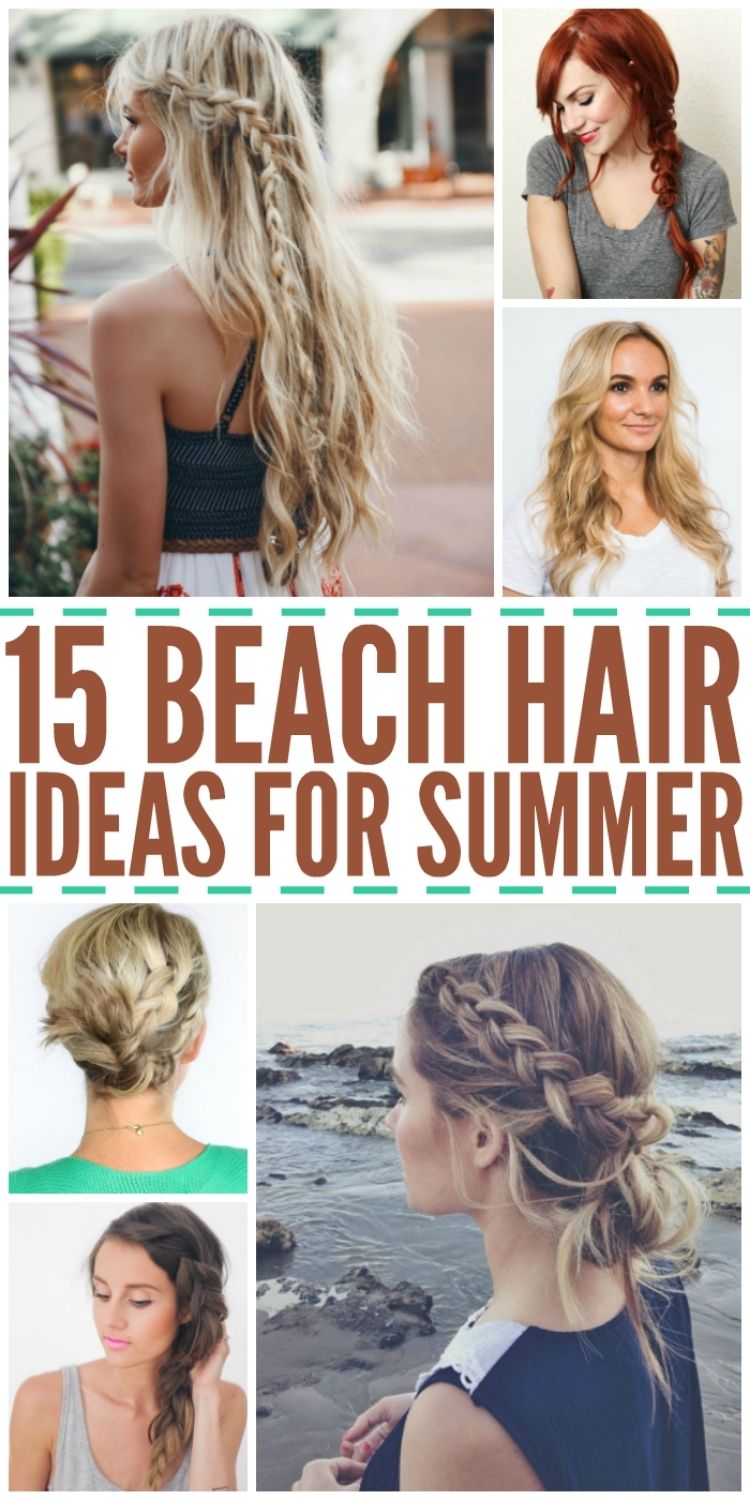 Easy and Quick Beach Hair Ideas for a Cool Summer
We're totally ready for beach trips, bonfires, beachballs, and big umbrellas, but what are we going to do with our hair in the hot, humid weather at the beach?
Related: Check out these easy half up half down hairstyles!
1. Gorgeous Messy Dutch Bun Beachy Hair
This Double Dutch Braid Bun is gorgeous! It's a great look for the beach, and because it's messy, it doesn't matter if you don't get it perfectly right. Not only is this style quick and easy to toss together if you jump out of bed and want to hit the beach running, but it also looks classy and helps keep your hair strands from tossing in the beach breeze.

2. Quick and Easy Beach Hairstyle Idea
If you have damp hair but the beach is calling, and you just don't have time to let it dry, try this clever rolled-up style. Simply pat dry your hair, run your fingers loosely through your locks and roll it up. No need to comb and way less frizz. Add a little fun flair with a flower pin, or keep out the sun with a big-brimmed beach hat. Chic and colorful!
3. Under the Sea Style Beach Hair Braid
Is it just me, or does this simple knot braid look totally mermaid-ish?
Embrace your inner Ariel with this simple yet stylish knot braid. Bangs add an extra accent to this style, but fear knot (pun intended), it will look great with or without them. This fun style will help your hair look fun and flirty, all while showing off a bit of your creative side while you collect seashells or practice your little mermaid pose on the beach rocks. A sweet and salty look!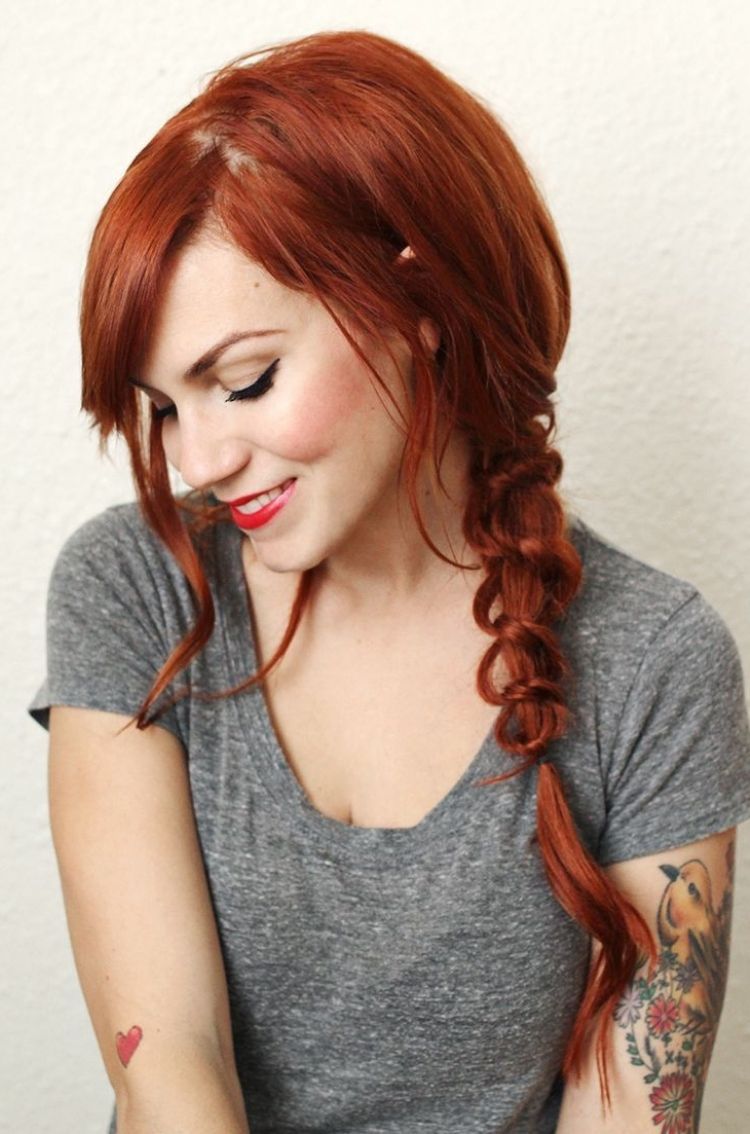 4.  Easy Beach Hair Goddess Waves
We can all thank Pamela Anderson and Bay Watch for the infatuation with beachy wave blond hair in the '90s. It's a style that is never out of style. Create beach waves in just 5 minutes by halving section of hair, twisting each inch section of hair, and using a blow dryer for air-drying. Add a little spritz of either hairspray, sea salt spray (like Bumble's surf spray) or texture spray to make sure they stay wavy in the waves and you'll be out the door and running across the sand in slow motion in no time.

5. French Braid within a Braid for the Perfect Beach Afternoon
Nothing quite says a classic woman like a long french braid. The side-swept braid within the braid is ultra-feminine and perfect for beach humidity and dryness. An elegant style that would look amazing for a photoshoot on by the waves, but still manages to keep your hair contained and off nape of your neck.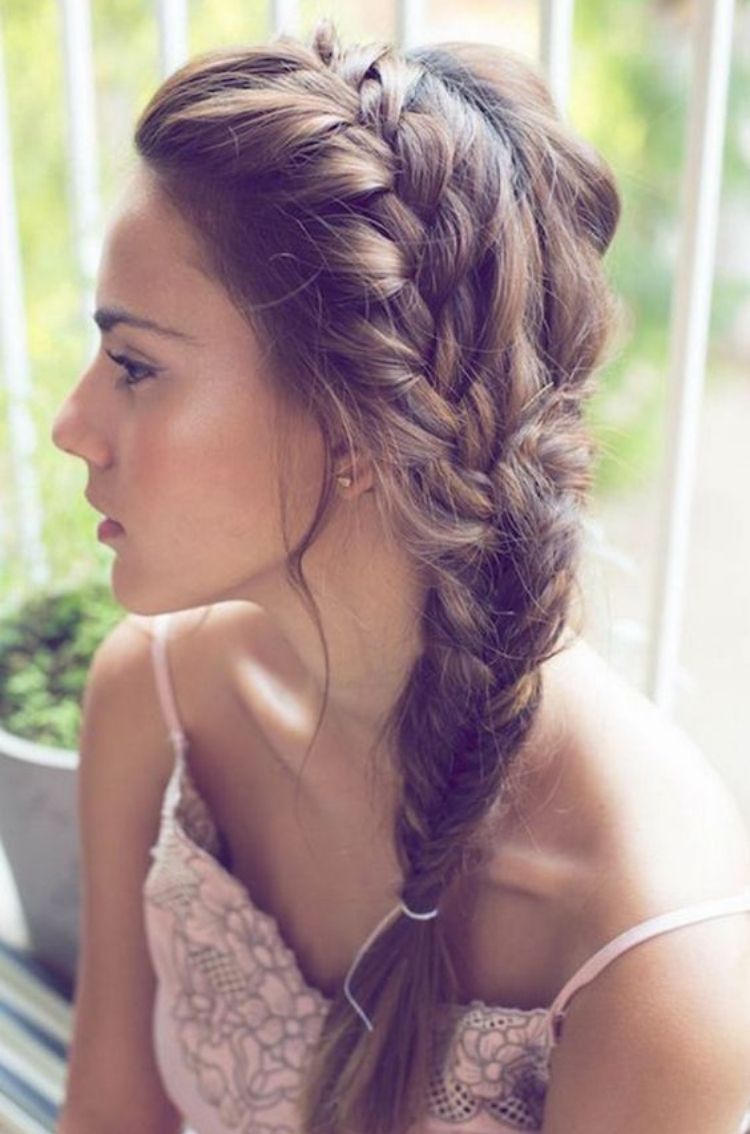 6. Half-Up Fishtail Beach Hair Braid
For a half-up, half-down style, this half-fishtail braid is the perfect compromise. Get your hair out of your face, get to show off the beauty of your long locks, and add a little flair with the fishtail braid in the back.
Just don't get disappointed if you don't get it right the first time. It does take some practice to make it look as fascinating as in this tutorial. But the results are absolutely stunning!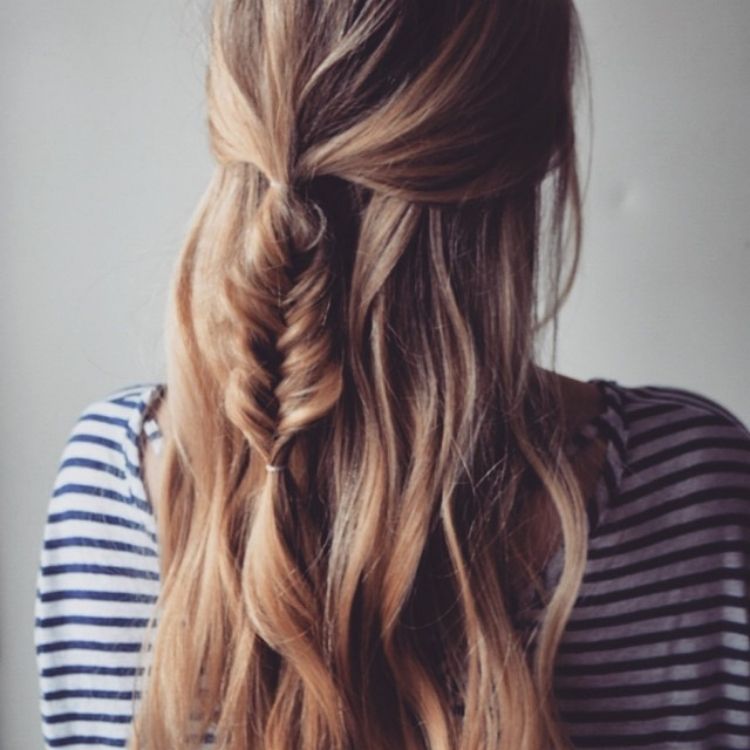 7. Incredible Chic Single Side Beach Hair Braid
When you are in a rush but still want to look flirty and fabulous at the beach, go for a boho-chic look with a single side braid (waterfall braid) and beach-tousled hair. You can create this style with short or long hair (although longer usually works a little better for the waterfall effect). Something about this style simply screams mysterious beach babe. And it looks just fabulous on any girl. It's totally worth a try.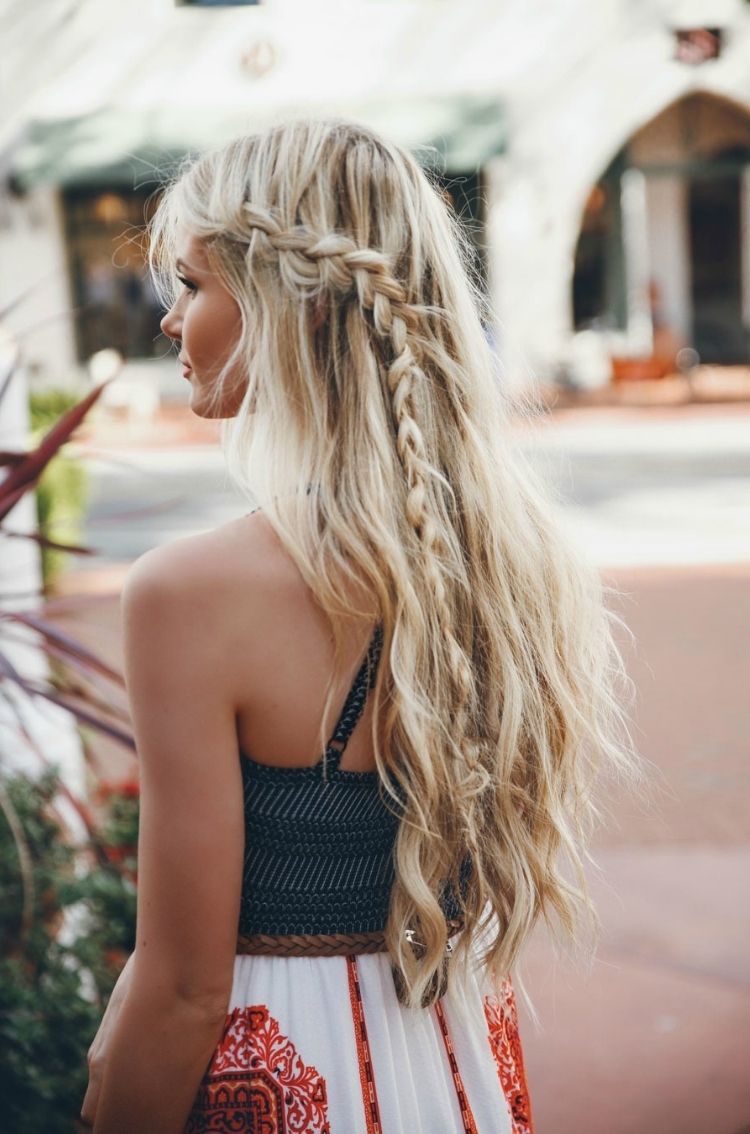 8. Beautiful Thick Summer Beach Hair Braid
This thick summer braid will be your go-to beach look. It is a treasured look. It's super simple if you're comfortable with the French braid, and you can easily dress it up or down. Those of us with less full-looking hair will enjoy the volume we can create with this braid, and the beachy waves we will have when we have them undone. Those of us with overly full or even fluffy and frizzy hair will love how this looks tames all the crazy flyaways while we are searching for sand dollars at the beach.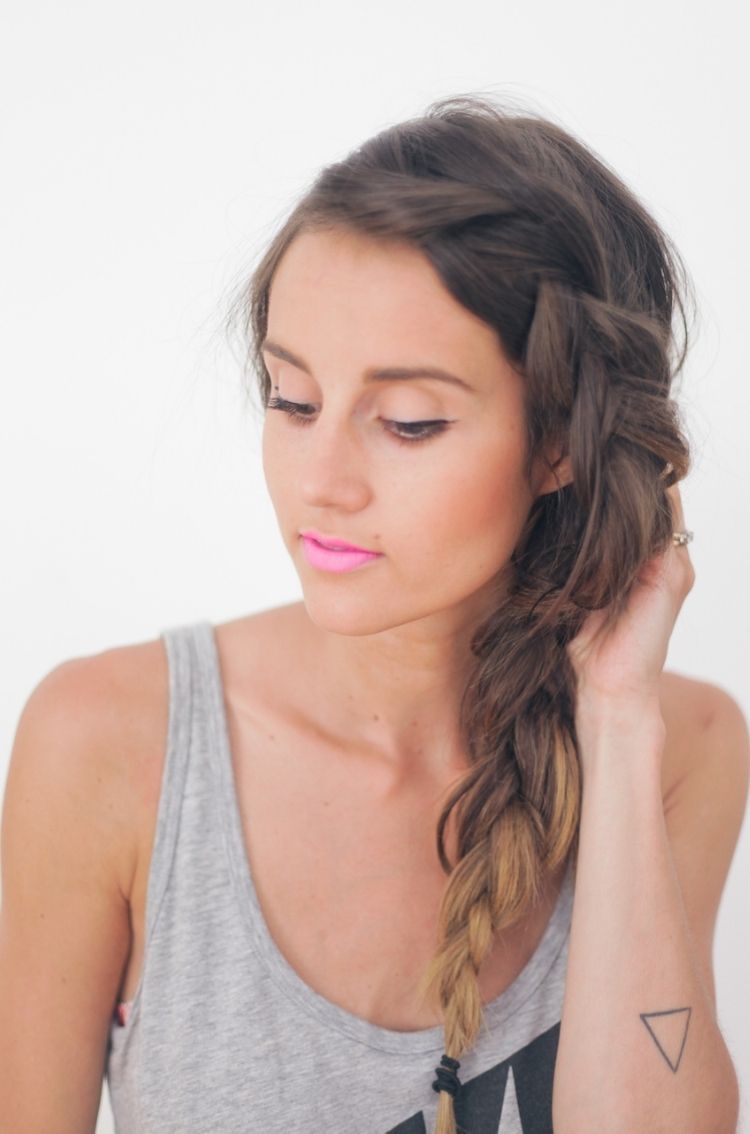 9. Best Messy Beach Hair Bun
You can never go wrong with a messy bun. They are easy, quick, and really pretty. In this tutorial, you'll learn just how to get that full and flattering bun you've always wanted. Messy buns are fantastic for the beach and so easy to accessorize. You can use flowers, clips, ribbons, and more to this look and really bring your style to life. And the best part – no prep, straightener, flat iron or any hot tools needed. It's done in a minute simply by using hair ties!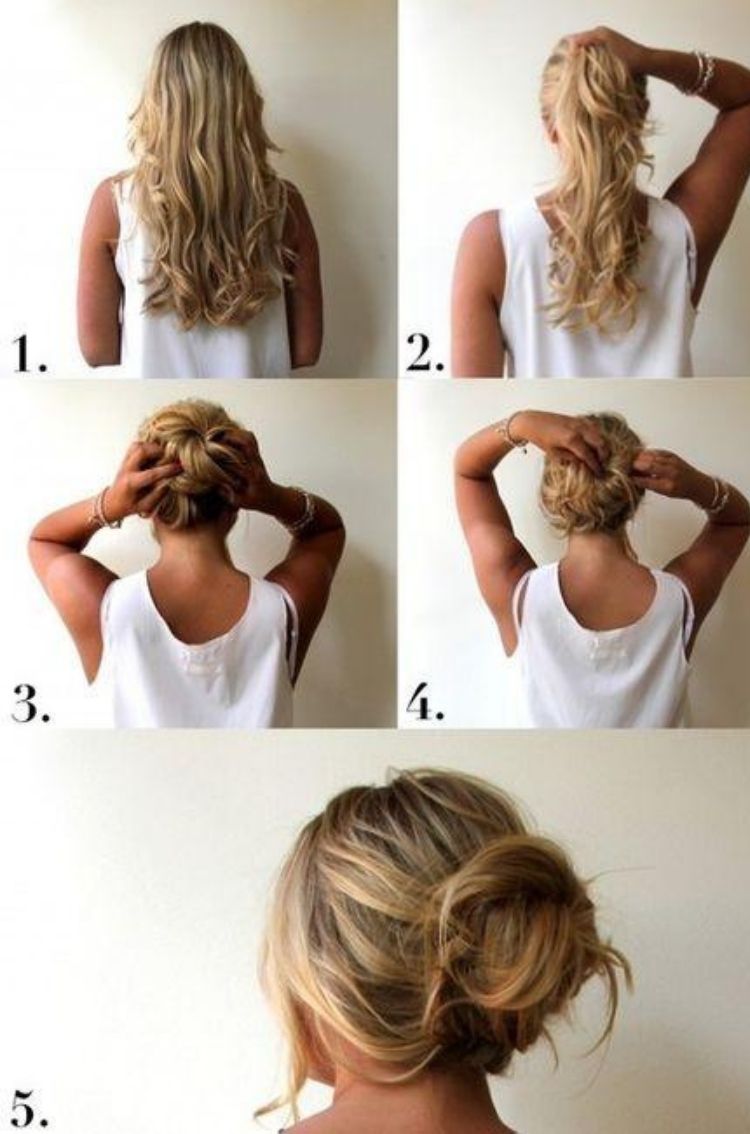 10. Beach Hair Ideas for Shorter Hair Styles
Short locks? Don't fret! You can still get your hair away from your face and neck with this super stylish short hair updo. Again, toss in some fun flowers or clips to accent this style. Or, a classic beach hat would look great too. A plus, you can take out this look and have beautiful and bouncy beach looser waves for the evening.
Related:  Short hair styles that are fun & easy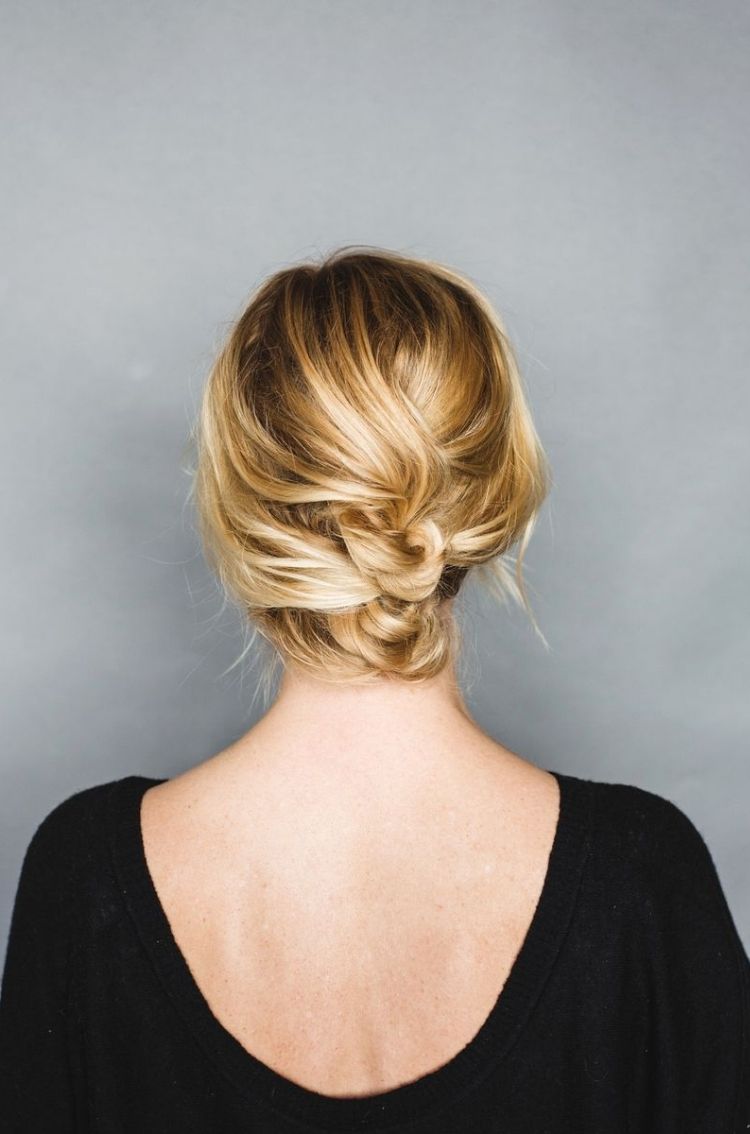 11. Beach Hair Waterfall at the Beach Braid
Waves and a waterfall braid create a soft, dreamy look that'll still look lovely at the end of the day. The braided band around the crown in this style makes for a simple, yet princess-like, beach look, pulling your hair back to highlight your face and still give length to the rest of your hair. Sometimes the simplest looks say the most.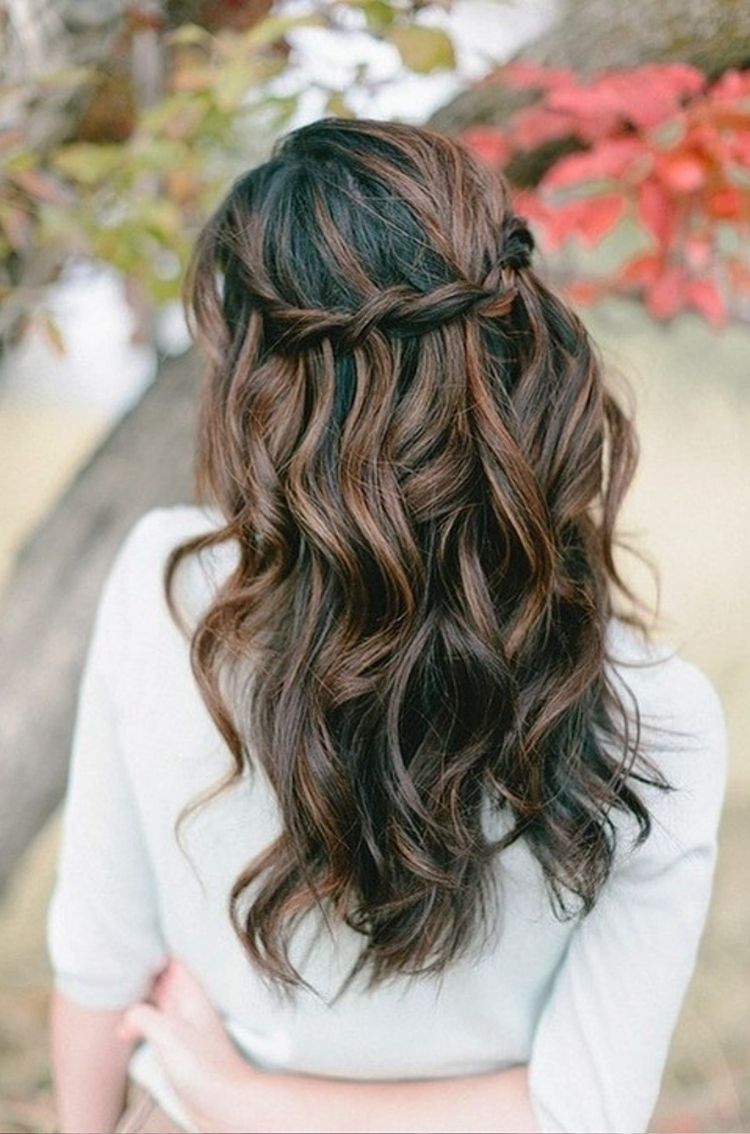 12. Another Dutch Braid Beach Hair Bun
Similar to the Dutch braided bun, this one has a messier, free-style look. Dutch braid hair on each side of your head, and pull it all together in a low bun to recreate this look. You could choose to put flowers in this fun summer hook, but really I'm` not sure you will need it. The best part of this look is that no matter how windy the beach may be, it won't mess up this messy bun.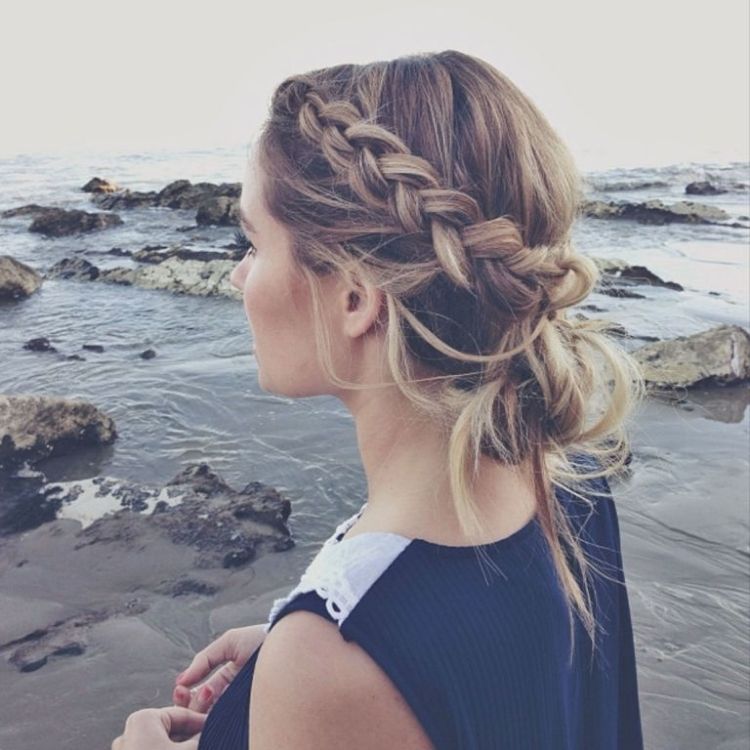 13. Rock the Summer Beach Hair Half Top Knot
Half top knots are my favorite thing – a little bit pulled together, but still a little messy. I don't think they will ever go out of style. Top knots are a great way to add a little extra volume to your crown if you need it, but still, show off your free-flowing long hair. They are super easy and anybody can do it. There is really no curling wand or thought needed, you just toss it up and that is kind of the fun of the top know. It's a style everyone looks great in. Perfect!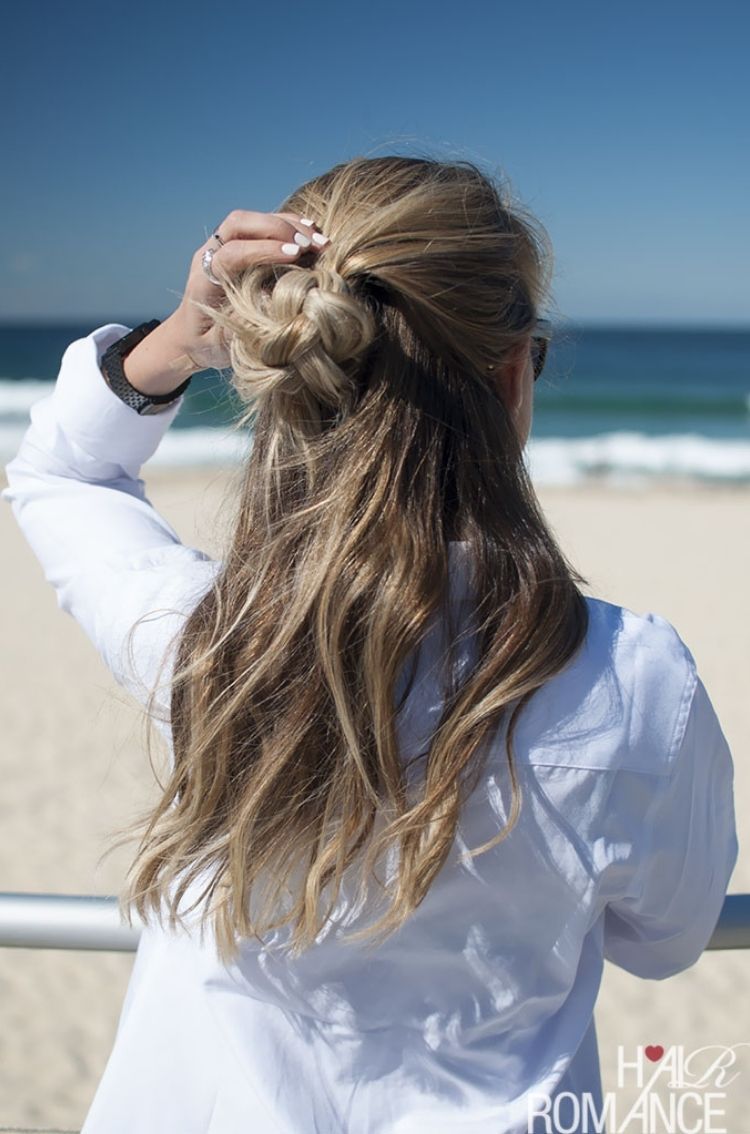 14. Beach Hair Ideas – Twisted Braid
The summer braid twist is another great choice for those with short hair. The short ends sticking out just adds to the purposefully messy look. A hat would make this look classy, and flowers or clips will liven it up and draw some attention. This is also a great quick and easy look to have in your repertoire if you lose your hair tie and only have a bobby pin or two on hand.
Not to mention, the day after you wear this style, simply undo this look and add a little mousse. You will be fresh and ready for another day at the beach in no time, with hair ready in under 5 minutes- overnight beach waves!
15. Low Side Beach Hair Bun
To get from the beach to an evening out without missing a step, try a low-side bun wrapped in braids. Similar content to the other messy buns we mentioned before, this bun has a little more sleek and classy look to it. Almost a regal elegance to it. You could easily go from sandals and sand between your toes to sitting across from your summer beach romance eating shrimp and salad at a seaside restaurant in this one. Simply Gorgeous!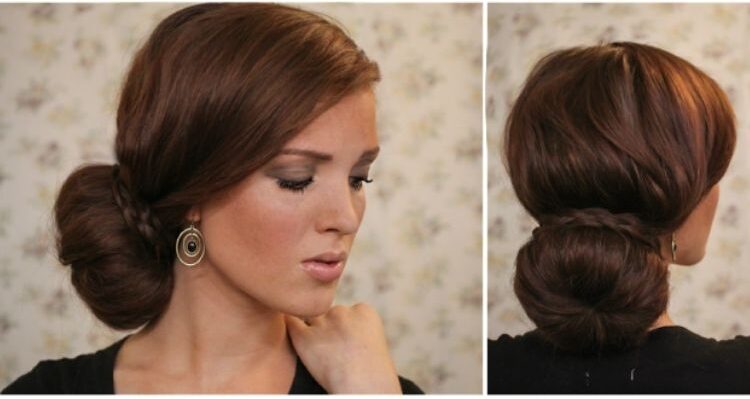 These fun beach hair ideas are sure to make your summer sizzling. Whether you are spending a day at the beach with family, doing dinner and a long walk on the beach with your special someone, or simply off on an adventure to find sand dollars and starfish in the sun, these styles are sure to be a hit.
Which is your favorite?
Did you love these beach hair ideas as much as we did? Be sure to check out these other fun tutorials and easy-peasy go-to hairstyle ideas you can you're sure to love. You can try them out again and again.
Fast and Flattering Hairstyles Every Woman Needs
Which of these fun and flirty beach hair ideas are you going to try first?