Be amazed, yes, you CAN put that into the dishwasher (not just dirty dishes)! Here are 23 awesome dishwasher hacks! We love house hacks and these tricks are perfect for deep cleaning your home – with less elbow grease and effort. Even TikTok users recommend these too!
Okay, you're already using it to wash your dishes, but did you know all the other things in your house your dishwasher can get clean for you? Just toss these unexpected items into your dishwasher and save yourself the stress of washing them by hand.
Awesome Dishwasher Hacks
While there are tons of things you CAN wash in the dishwasher.  There are some things you shouldn't put in the dishwasher. Anything made of wood, anything that is cast iron, anything with a nonstick finish, and anything made of copper you'll want to set aside.
1. Vacuum Attachments Are Dishwasher Safe
This neglected appliance can become dusty. Bring new life to them. Stick them in the top rack – and if you have a temperature setting, turn it down. If your vacuum attachments are like mine, they have rubber gaskets that don't like high heat.
2. Wash Your Door Knobs in the Dishwasher
Did you know that door knobs are one of the germiest places in your house? Cut down the germ load in your home. After an illness or with your yearly spring cleaning, dissemble your door knobs and stick them into your dishwasher.
3. Run a Dishwasher Cycle for Your Window Screens
If you have a large dishwasher (or small windows) you will love this nifty hack! You won't believe how much dust and debris is in your screens until you've washed them. Trust me, it's gross! You'll love having the dishwasher handle this chore for you!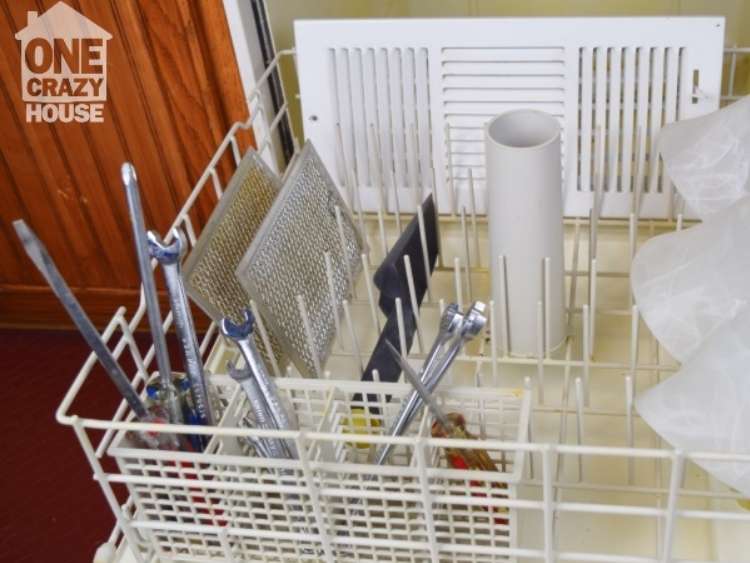 4. Vent Grates Are Another Thing You Can Put In the Dishwasher
You can put a wide variety of vents into the dishwasher! If you have air duct grates, unscrew those and throw them in. The dishwasher can also clean the metal grates from the range hood on the pots and pans rinse cycle. You can even remove the air vents in your car (if your car has removable vents) and stick them onto the top rack. No more grungy grates!
5. Trash Can Lids? Run 'Em Through the Dishwasher
The trash can lids often become grubby. At least weekly, assuming your lid fits into your dishwasher, wash your trash can lid. Your trash can, and the hands that touch it, will thank you.
6. Globes from Light Fixtures
With your spring cleaning, don't forget your light fixtures. Unscrew them from your lights and put them into the dishwasher. The lights will be clean and brighter! Be sure to dry thoroughly before you put them back up.
7. Bring Your Gardening Tools Inside
After gardening, your tools are caked with mud and other grit. Instead of cleaning them by hand, stick them into the dishwasher on a quick cycle. Brush off all the loose dirt and mud before you drop them in. You can even do this with wrenches and screwdrivers. Just be sure to dry them off whenever the cycle is over so they do not rust.
8. Clean Your Children's Plastic Toys
Especially if your house has had a bout of illness, keep your kids from reinfecting themselves by washing the things that your kids came into contact with while they were sick – i.e. their toys! Stick their plastic small toys into the washer for a quick wash. If they are small parts, like Lego pieces, consider putting them into a mesh bag on the top or bottom rack before washing.
9. Another Thing You Can Wash in the Dishwasher? Plastic Hair Brushes
Your hair and makeup brushes (not natural bristle ones or ones with wood) will benefit from a wash. We stick ours upright in the silverware caddy. This is an especially good tip to file away in case your kids get lice! Just clean the hair out beforehand.
10. Flop Flops and Other Shoes Are Safe for the Dishwasher
Living in a warm climate, almost all of the shoes at our house are plastic/rubber flip-flops, croc-knock-offs, or sandals. We regularly wash our shoes in the top rack of our dishwasher – even the occasional sneaker has benefited from a quick wash.
11. Stinky Sport Equipment
Does your kiddo's sport bag smell a bit like dirty feet? You can wash sports gear like shin guards, sparring equipment, helmets, and on the top rack of your dishwasher. The hot water will disinfect your kids' gear. We suggest not using dish detergent, but rather use a single drop of dish soap and a tablespoon of baking soda. This will get rid of the sweaty grime without harming your gear.
12. Car Floor Mats
Just Genius! Seriously. Bang the gunk off stains of your car floor mats and then lay them over the top rack of your dishwasher. It's a pressure wash that requires no elbow action on your part! You will love the finished product!
13. Car Hub Caps
A car detailer told me this was the secret to sparkly hub caps. Remove the caps and stick them into the wash with a hot water cycle. You can use a streak free additive if your hub caps have a glossy finish. They will come out looking like new!
14. Dust Pan and broom
If your dust pan is like ours, it is constantly collecting bits of trash, and with all the fibers, it is the perfect dark place for bacteria to breed. Clean your dustpan and dust broom in the dishwasher. Put them on the top rack – the fibers don't like heat, so if you can adjust the temperature, turn it down.
15. Mop and Swiffer Heads
If your mop has removable heads, stick them into the dishwasher for a quick cycle. You can put them on the top shelf. The agitator is great at bringing new life to old cleaning tools.
16. Dish Sponges and Scrubbies
After you have finished hand-washing your pots and pans, or other non-dishwasher safe dishes, stick the dish scrubbie into your dishwasher on the top rack. The hot water and soap will kill off any bacteria left behind. Your scrubbie will smell fresh a lot longer with this genius dishwasher hack.
17. The Scrub Brush You Use for Cleaning
Did you just finish scrubbing the grout? Or maybe you just cleaned the bathtub? Throw your nasty scrub brush right into the dishwasher. This will prevent mold from growing in your cleaning brush and limit the soap build up in the bristles.
18. Toothbrushes and the Tooth Brush holder
Your toothbrushes should be regularly cleaned. You can do that by storing them upside down in Listerine or the equivalent for an hour or so – OR stick them into the washer. We just put ours in the silverware caddy. You can also wash your toothbrush holder at the same time.
19. Shower and faucet heads
These often are traps for calcium buildup, bacteria build up and mold! Ewww! If you can, unscrew your shower head and stick it into the washer. You can also do the same with the stoppers in your sinks! Trust me, you want to wash them.
20. Bathroom Sink Traps
Pipes are places that mold grows uninhibited. It is nearly impossible to get rid of all the mold with conventional "pour down the drain" cleaners. If you suffer from allergies to molds, consider dismantling your bathroom sink (not the kitchen one – your dishwasher empties into it) put the pipe pieces into the wash. When they come out, the pipe "goo" will be gone.
21. Dog Toys and Accessories
Your fluffy four-legged friend doesn't need to be left out of the fun! You can wash his toys inside the dishwasher to get them clean. Synthetic leashes, collars, and harnesses can also run through a dishwasher cycle.
22. Silicon Oven Mitts
Toss your oven mitts into the dishwasher. Keep them on the top rack and it's a perfectly safe way to get them clean. No more reasons for dirty mitts to be pulling food out of the oven.
23. Switch Plates and Outlet Covers
Switch plates get gross quickly when sticky little hands touch them day in and day out. Get them clean quickly by tossing them into your dishwasher on the top rack. Make sure they are dry before you place them back on the wall!
Things To Wash In the Dishwasher
So, to recap, the things you can wash in the dishwasher include:
kitchen tools
cleaning items
toys
sports gear
car gear
dog toys and accessories
and more
Who knew your dishwasher could do so much more than just wash dishes? Are you ready to get your house seriously clean, with the help of your dishwasher? These surprising items that you can wash in your dishwasher will be sparkling clean and germ free when your trusty dishwasher finishes its wash cycle.
What unexpected thing will you wash first? If your machine is dirty, come back and let us know!

Did you enjoy these things washing in the dishwasher? Here are more great kitchen hacks from One Crazy House!
Which of these awesome dishwasher hacks did you try out? Let us know in the comments!