Enjoying tasty holiday appetizers with your friends and family is a big part of what makes the holidays so magical. When everyone is together sharing laughs, stories and enjoying some delicious food, it is a great way to get the party started. You can add variety to your meal with lots of different flavor combinations when you serve appetizers. My favorite part of the holiday parties is for everyone to sit around the table and play cards or board games and graze on scrumptious food all day long! If you are hosting this year or if you are just looking for a recipe that is unique and will keep everyone coming back for more then I have some fantastic ideas for you. I have compiled a list of the most succulent, savory, and mouth-watering appetizers for you and your whole family. You seriously don't want to miss out on these recipes because they are that amazing.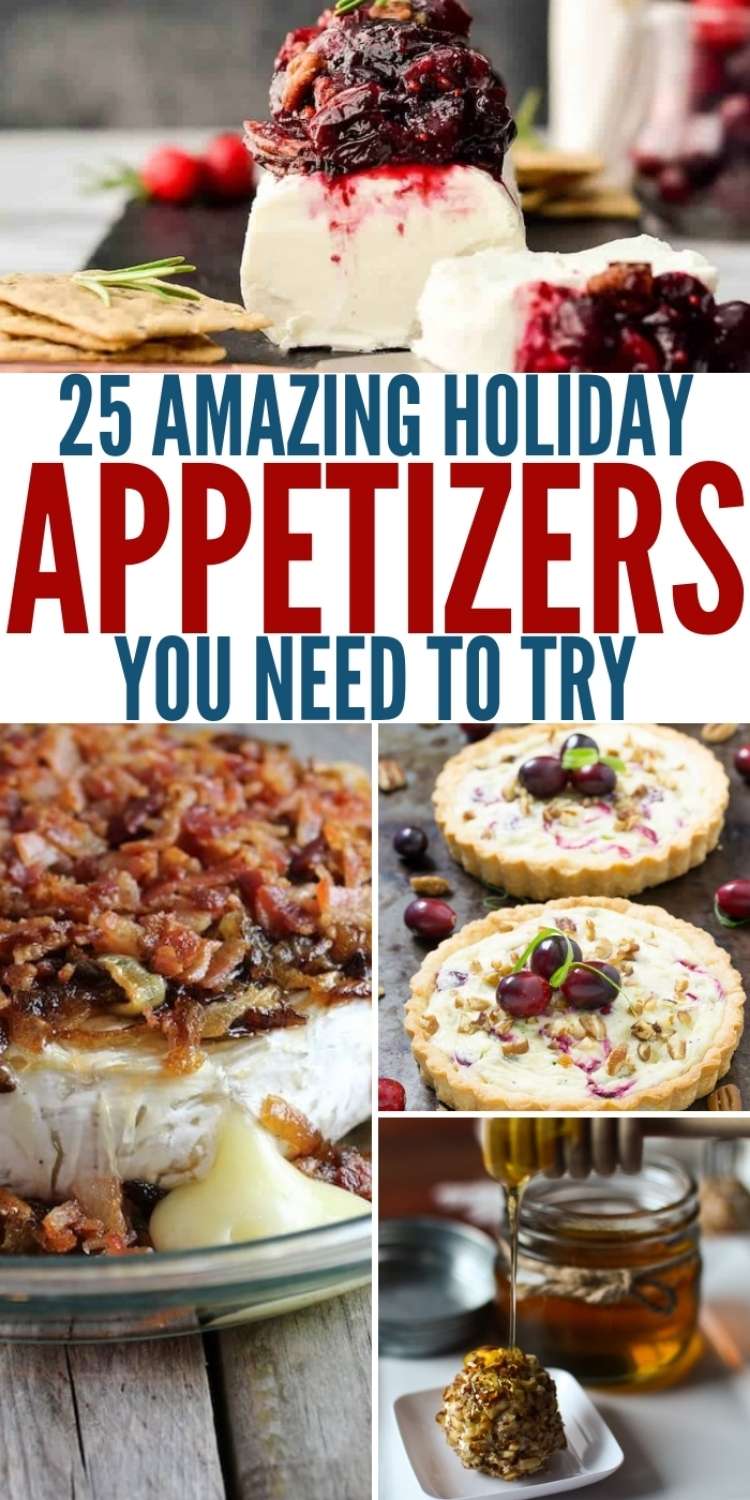 I love to turn on some music, put on my apron, and bake and cook appetizers that will wow my guests. Making food that has bold and vibrant colors makes it more palatable, and your table will look amazing! If you plan to travel this holiday season, check out these travel tips. 
Consider These Holiday Recipes As Well 
Incredible Holiday Appetizers You Need In Your Life
1. Holiday Appetizer: Grilled Flank Steak Crostini
If you are throwing a party or having a family get-together, you should make this elegant grilled flank steak crostini. Juicy steak on crispy bread covered in melted cheese. You can adjust the cheeses and meats used to create an array of flavors. For example, serve half of your steak crostinis with provolone, and the other half with blue cheese. You can also use grilled chicken instead, or even grilled veggies!
2. Essential Holiday Appetizer: Cheese Ball Recipe
The holidays wouldn't be the same without a delicious cheese ball recipe. There are so many delicious combinations to try, like:
white cheddar rosemary pomegranate
cheddar pimiento
garlic chive goat cheese
Blue Cheese and cranberry pecan
Combine the ingredients except for your topping in a bowl, then use plastic wrap to form it into a ball. Refrigerate your cheeseball for at least 1 hour and then roll in the topping right before serving. These are delicious and sure to impress!
3. Gluten-free Holiday Appetizer: Crab Stuffed Mushrooms
If you are looking for a gluten-free holiday appetizer, you should check out these crab stuffed mushrooms. These crab stuffed mushrooms feature imitation crab, do it doesn't fall apart, and can be made the day ahead for easy party prep!
4. Chips and Guacamole bites Holiday Appetizer
This simple chips and guacamole bites recipe has tons of yummy flavor. It has the perfect amount of crunch and is so satisfying to eat. Use scoop-shaped tortilla chips to hold a dollop of guacamole, then top with pico de gallo, cheese, and sour cream. Easy, cute and delicious.
5. Coconut Shrimp with Sweet Teriyaki Holiday Appetizer
Unique flavor combinations that you won't be able to get enough of in this coconut shrimp with sweet teriyaki sauce recipe.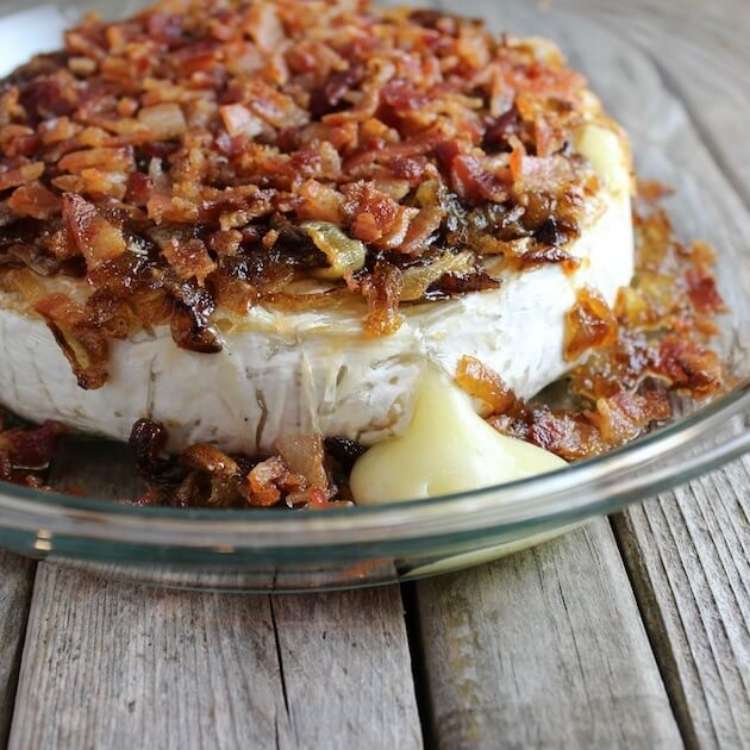 6. Baked Brie with Caramelized Onions and Bacon Appetizer
Baked Brie with caramelized onions and bacon will knock your socks off because it tastes so flavorful. This dish is a crowd-pleaser. This recipe is super easy to put together, and can be completed in just a half-hour! For a mess-free bacon experience, bake it in the oven between sheets of parchment paper. Caramelize the onions and add a bit of sugar to harmonize with the savory bacon. You can even omit the sugar to make this a keto-friendly recipe! Top your brie round with the cooked bacon cut into pieces and the caramelized onions and bake for an easy and crowd-pleasing appetizer!
7. Sweet Cream Cranberry Tartlets
Sometimes you need some sweet cream cranberry tartlets in your life. They are flaky and taste as yummy as they look.
8. Video: Easy Appetizer Idea – Pull Up Bread
Check out this insanely easy appetizer idea that will make your guests think you slaved over it!
9. Healthy Holiday Appetizer Recipe: Cucumber Avocado Salsa
Cucumber avocado salsa is full of healthy ingredients and is such a light and refreshing dish loaded with flavor.
10. Hot Ham and Cheese Rolls Appetizer
My mouth waters when I think about these hot ham and cheese rolls. Each one of these rolls will be gobbled up right away because they taste so good!
11. Baked Gouda Puffed Pastry
If there are any leftovers of this baked gouda in puff pastry you are going to want to eat it for breakfast because it tastes so divine! Simply wrap your gouda cheese in store-bought pastry dough, brush with egg wash and bake. It can be served with crackers or fruit, and can even be topped with apple butter for serving.
The Best Appetizer Recipes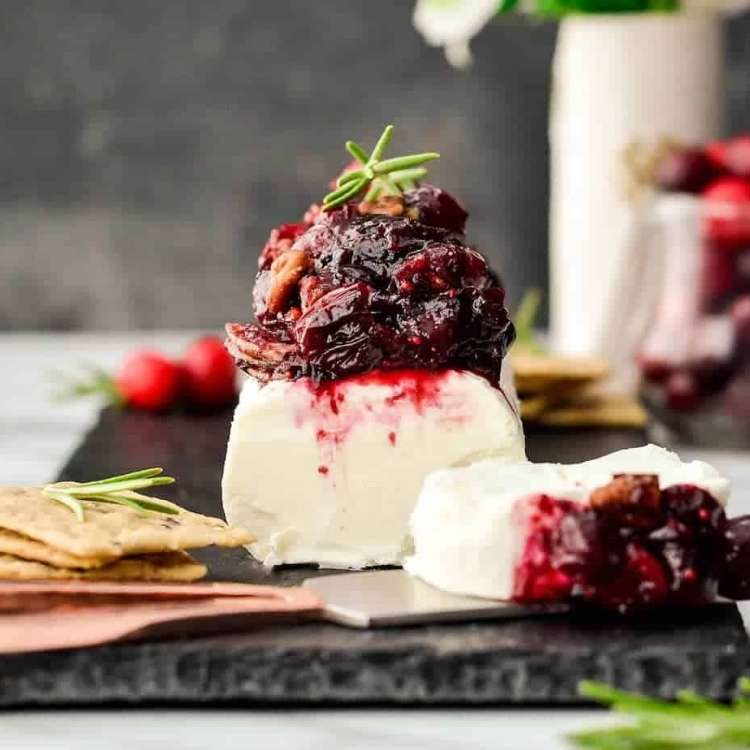 12. Cranberry and Goat Cheese Appetizer
Mind-blowing cranberry and goat cheese appetizers will impress your guests while keeping your taste buds happy. You can't go wrong with this recipe, and it's really easy to substitute any of the ingredients. You can use maple syrup or honey, pecan or walnuts, butter or coconut oil, or sugar or coconut or cane sugar. Any combination you choose is sure to be a winner! And the best part is that this can keep up to 5 days in the fridge, so you can keep enjoying it after your guests have finally gone home!
13. Dairy-free Holiday Appetizer: Vegan Spinach Artichoke Dip
Chips and dip are a must when it comes to holiday appetizers! You have to try this dairy-free vegan spinach artichoke dip because it is mouthwatering good. (Scroll to the bottom of the recipe for the vegan ingredient adaptation info!)…
14. Caramelized Onion and Tomato Jam Crostini with Brie
I know exactly what you need this holiday season, it's this caramelized onion tomato jam crostini with brie. After one taste you will be in love.
15. Honey Blueberry Goat Cheese Logs Holiday Appetizer
Honey blueberry goat cheese log gives a stunning presentation that your party guests will go crazy for, but don't plan on any leftovers because there won't be a crumb left.
16. Meat and Mushroom Hand Pies
You won't be able to get enough of these savory meat and mushroom hand pies. Everyone is going to love the crunchiness of the pine nuts and how awesome they taste. These simple appetizers can be made up to 5 days ahead of time, and work just as well as an after-school snack! Is there anything better than meat in a pastry?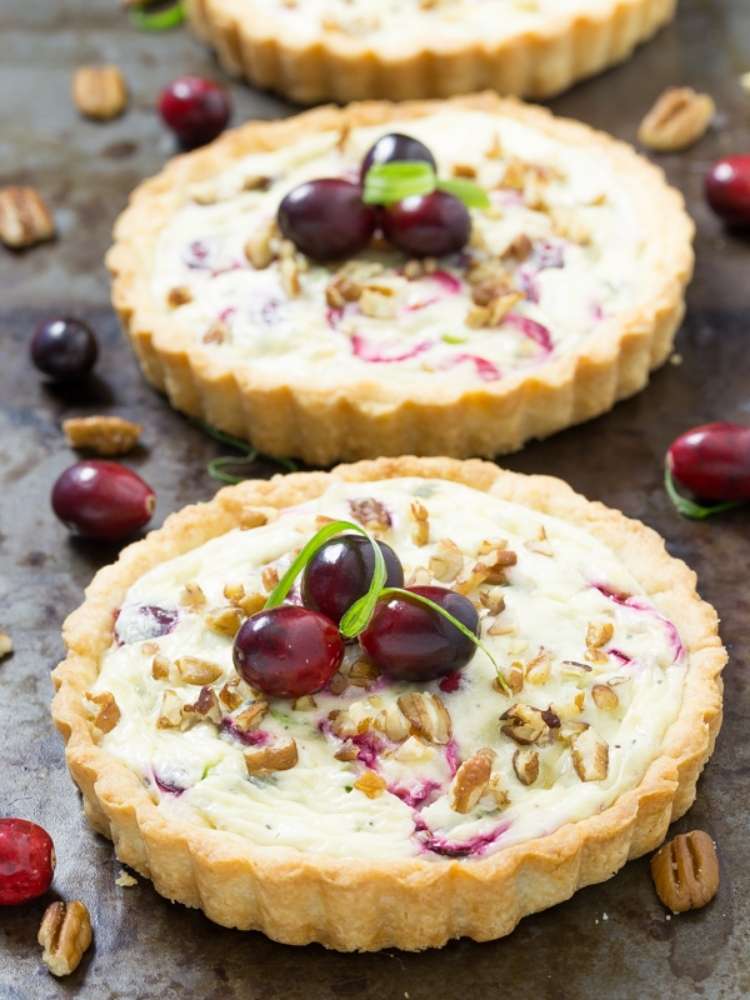 17. Cranberry Gorgonzola Tart Holiday Appetizer
If you love blue cheese and cranberries, you are going to be in food heaven with this appetizing cranberry gorgonzola tart.
18. Crescent Roll Veggie Pizza
Take a look at this unbelievably simple crescent roll veggie pizza recipe. The flavors in the pizza go well together. The "sauce" for this pizza is sour cream and ranch mix, and then it's topped off with your favorite chopped veggies, like broccoli, cauliflower, carrots, onions, and peppers. Talk about a supreme pizza!
19. Quick and Easy Holiday Appetizer Recipe: Slow Cooker Lil Smokies
Why slave over the hot stove all day making holiday appetizers when you can make this quick and easy little smokie recipe in the slow cooker?
20. Cajun Chicken Holiday Appetizers
Add some spice at your party with these cajun chicken appetizers. Everyone is going to be begging for this recipe.
21. Bacon Wrapped Stuffing Holiday Appetizer
You can't go wrong with this foolproof bacon-wrapped stuffing recipe because they give straightforward directions. This makes a great holiday appetizer, although it's also a great leftovers recipe so you can keep enjoying that delicious food in new ways all week long! Who says you can't save the good recipes for when everyone goes back home?
22. No-Bake Mini Pear and goat cheese appetizer
No baking required with this delicious mini pear and goat cheese. This recipe is a chef's dream!
23. Grilled Shrimp with Cranberry Salsa Appetizer
Grilled shrimp with cranberry salsa is bound to become a favorite family dish because it is so flavorful and fantastic. Chop the cranberries in a food processor, and then mix with the rest of the salsa ingredients. Cook your shrimp with olive oil, salt, and pepper, and then serve with the cranberry salsa. This is great as an appetizer, as well as a quick and delicious weekday dinner!
24. Easy Holiday Appetizer: Christmas Pinwheels
Looking for an easy appetizer that doesn't skimp on flavor? Check out these Christmas pinwheels filled with sun-dried tomatoes and pesto!
25. Creamy Blue Cheese and Sliced Apple Crostini
It is surprising how well fruit and blue cheese go together just like in this creamy blue cheese & sliced apple crostini.
It begins with a crusty crostini topped with a blue cheese spread. Adorning the blue cheese layer you'll find thin slices of Envy apples and a drizzle of balsamic glaze. DELISH!

-Lori, WhoNeedsACape.com
26. Pistachio, Feta, and Pomegranate Crostini Holiday Appetizer
Pistachio, feta and pomegranate crostini have the most fabulous marriage of fun flavors that will leave you coming back for more.
What is your go-to recipe for holiday appetizers?
Hungry for more holiday appetizers? Check out these recipes, too!