Holiday meal prep ideas – tired of feeling stressed instead of enjoying meals on major holidays? Use these tips and tricks to meal prep ahead of time for Thanksgiving or Christmas so you can sit back at the table and relax with your guests, instead of being stuck in the kitchen.
Every year, as the guests arrive and I'm running around like a chicken with my head cut off trying to get our holiday meal on the table, I ask, "how do you make Christmas dinner easier? There has to be a better way than this!"
Moreover, if you are planning to celebrate this Christmas in less expense, then do checkout my post on Cheapskate Christmas budget ideas.
So this year, I'm determined to get more of my holiday cooking done ahead of time so I can be more present with family and friends and make this holiday the best one yet. Here's how you can do the same!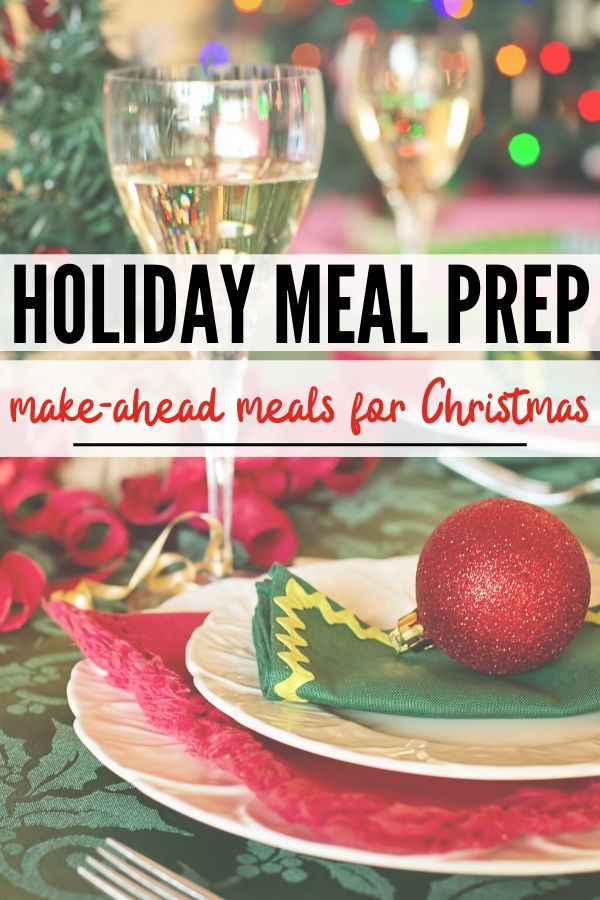 9 Meal Prep Ideas To Make Christmas Dinner Easier
These Christmas dinner ideas will help you enjoy your holiday at the table instead of in the kitchen! With a little bit of planning, you can make cooking for a holiday run smoothly whether you are feeding a crowd or just your hungry family.
Also, know more about these holiday leftover ideas which are easy to prepare!
1. Ask for Help
It's ok to ask for help and if you are feeding a large crowd, ask guests to bring a dish. Suggest something comforting and meaningful to them, or their favorite dish that they want to share.
Whether it's homemade or store-bought, it's one less thing for you to worry about and one more thing for everyone to enjoy.
Plus, it makes for a great conversation-starter too!
2. Plan Your Holiday Meal Prep Schedule
There are lots of little things besides the food itself that have to be done in order to actually get your holiday meal prep ideas into action and on the table.
Start thinking about these now and figure out how soon you can do them before the main event. Decide how much you want to do on the holiday itself and then plug everything else in earlier.
Video: Fold Your Napkins Into Christmas Trees
You'll love how amazing this napkin folding hack will make your holiday table look (and how easy it is to do)!
Things to do now:
ask guests to bring a dish
have serving supplies clean and ready – platters, dishes, spoons
have eating supplies clean and ready – plates, napkins, utensils, cups
decide how to set your holiday table – tablecloth, placemats, centerpieces
shop for your pantry, frozen and shelf-stable items
gather and clean your cookers and pans – kitchen oven, crock pots, Instant pots, toaster ovens, roaster ovens, rice cookers, sheet pans, glass bakeware, etc.
These can be done the week of the holiday and the holiday itself:
shop for your fresh items
prep by washing and chopping veggies
go ahead and cook or pre-assemble the dishes you can make ahead of time
make a game-day plan for what needs to happen on the day of – what to bake, cook, or reheat
Then, on the day of the holiday, all you need to do is to serve and enjoy the party! Additionally, these holiday dinner planning printables will help.
3. Find Make–Ahead Crockpot Ideas that are Easy to Reheat
Here's one of the best Christmas dinner ideas: the slow cooker. Take it from me, the crockpot is your holiday/Christmas dinner's best friend.
You can seriously make your entire holiday meal in crock pots and make it super easy and delicious. Use crockpot liners and even cleanup will be a snap too.
All these make ahead meals, side dish, appetizer, and even beverage recipes can be made ahead of time and then reheated in your crockpot or made that day. Yummy, warm and melty crockpot dessert ideas are better made that day.
4. Other Delicious Make Ahead Holiday Side Dishes and Desserts
If you're wondering what else you can pre-cook for Christmas, here are some tasty and easy holiday appetizers, side dishes and desserts you can make ahead (that don't require a crockpot).
5. Keep Your Holiday Recipes Organized so you Know Exactly Where They Are
Meal prep ideas don't work without the recipes. Now that you've got your recipes for the make ahead meals together, keep them together and where you will find them. Here are some easy ways to organize your holiday recipes.
Store paper recipes in a separate folder.
Keep online recipes in Evernote.
Create a secret Pinterest board with recipe links.
6. Divide Your Shopping List into Pantry/Frozen and Fresh Items
This is one of my favorite holiday meal prep ideas! Make your grocery shopping list and divide it into pantry, frozen or shelf-stable items that can be bought now, and another list of fresh items to buy a day or two before you cook.
Pantry items and the supplies you need to cook (like flour, sugar, nuts, snacks, frozen veggies, frozen pie crusts, nonstick cooking spray, and aluminum foil, for example) can even be purchased 1-2 months ahead of time.
Make sure to check the expiration dates on anything you buy to make sure it will stay good through the holidays.
Keep the fresh meats, vegetables and dairy on a separate list along with your recipes so you know where it is when you need to go shopping for the fresh items.
7. Grocery Shop and Prep Fresh Items to Cook Before Your Cooking Day
Go grocery shopping for your fresh items and prep anything you can before the day you do the majority of your cooking. Wash fruits and vegetables and chop anything you need before you put it away.
8. Prep As Much as You Can on Cooking Days
Cook as much as you can in the 1-3 days before your holiday so you can have time to make a mess and clean it up without guests around.
9. The Best Ways to Reheat Dishes on Christmas Day or your Holiday
The worst thing would be to have a hungry crowd, all this fabulous food made ahead of time and then run out of space to reheat so everything is ready at the same time.
Think about all the tools you have in your kitchen to use to reheat on that day. Make sure you have enough counter space and plugs. Borrow or buy anything you might need and get them together, cleaned and ready now.
Make sure you plan what's being reheated where and what time to start it. Write it down or set alarms on your phone so you don't forget.
Crockpots and slow cookers are still your Christmas dinner's best friend. Make sure you have a slow cooker with a "keep warm" setting.
Remember, crockpots can cook and keep most anything warm including your main dish, side dishes, dips and appetizers, and even beverages.

Use my crockpot divider hack if you need extra space in your crockpot.
Get a triple crockpot server buffet with separate controls—you can cook three different dishes at the same time and keep them warm. Lifesaver!

If you are cooking your main dish in the oven, then be sure any other dishes you want to keep warm in the oven will fit in there too. Baked casseroles are best reheated in the oven.
Microwave. Boiled or sauteed veggies and rice dishes reheat well in the microwave.
Countertop appliances like toaster ovens

can keep biscuits and bread warm, rice cookers can keep rice warm and roaster ovens can keep a big turkey or ham warm if needed.
Last But Not Least…Enjoy Your Holiday!
With everything ready to go, don't forget to take a deep breath and enjoy your holiday. You've worked hard and it's time to have fun, be present and cherish the memories your family and friends will share around your holiday table.
I hope you've found some good meal prep ideas to make Christmas or any holiday or big event easier.