Every mom on the run is looking for simple ways to keep baby's things clean and organized in a diaper bag full of necessities. Well, I'm not promising I can solve every problem, but I may be able to offer up a mom trick to keep it clean – the pacifier – while you're off on your many mommy adventures. And the best part, it's cheap and simple!
Mom Trick – Keep it Clean
You know those cute little portion cups? You know the ones, the clear little cups with lids that you get sauces in with your takeout? Turns out, they're the perfect size to put baby's pacifier in! You can find these mini cups at places like Walmart and Target and are pretty cheap at only a few bucks for 50 or so of these little guys. Pick up a pack of these and you're one step closer to your own DIY paci travel case!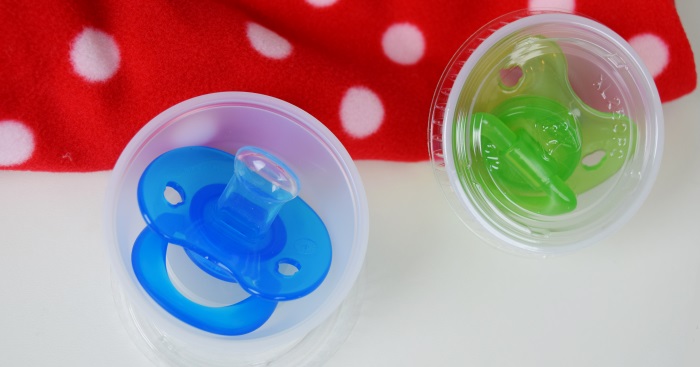 Now the next step is rather simple and self-explanatory. Go find one of baby's clean pacifiers and pop it in one of the little mini cups, snap on a lid, and you've got yourself the perfect travel case for your little one's paci! No more worrying about germs getting baby's paci dirty while rolling around in that catch-all diaper bag.
If you're feeling extra organized you can write "clean" and "dirty" on the lids to remind yourself which one fell on the grocery market floor and which one is still safe for baby. Just remember to throw away the dirty cup when you get home and to clean baby's pacifier before handing it back.