Mopping — it's pretty simple, right? And yet, whenever you mop, your floors don't look as clean as you'd like. Or perhaps mopping is just your least favorite chore, and you're looking for ways to make it easier. Either way, we have some awesome mopping tips for you. So read these tricks, then grab your favorite mop and cleaner, and get to work!
Mopping Tips for Cleaner Floors
Forget buying expensive Swiffer pads for mopping. Replace those disposable pads with a chenille sock instead. It works wonders on most floor surfaces!
Or let the kids slip on some fuzzy socks to help you mop the floor after you spray your cleaner on. Fun!
Speaking of the Swiffer, there's an easy way to get those bottles open to fill them with your own cleaning solution. Here's the tutorial.
Fill your mop bucket without putting it in the tub or shower. Just use your dust pan to funnel water from the sink into the bucket. It would make MacGyver proud.
Or use a pool noodle to do the same thing. You do have lots of those around since it's summertime, don't you?
Tired of using multiple floor cleaners for all the different types of flooring in your home? Here's a homemade floor cleaner that works for wood, laminate and tile floors (or just about any surface that's not waxed). It uses common household ingredients and essential oils, so it's super simple to make.
Run zip ties through the hole in the mop handle to make it easier to hang on large hooks. Smart!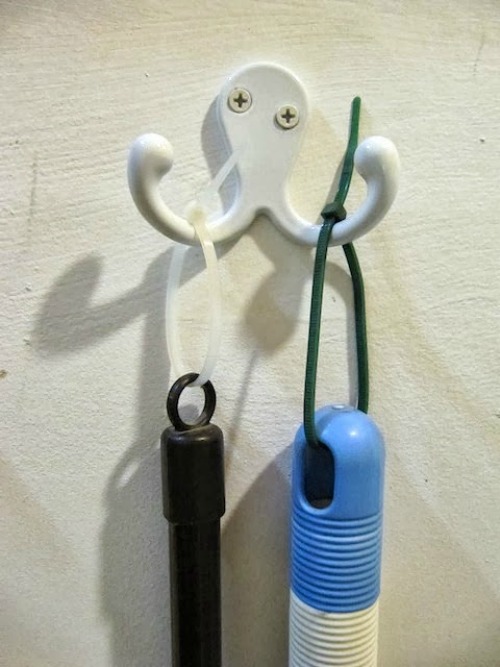 Looking for the best laminate floor cleaner? All you need is Dawn dish soap, white distilled vinegar and water. Put it all in a spray bottle and you're good to go.
Shine wood floors naturally with this secret trick: mop them with tea! Basically, make a sink full of hot tea, and mop your wood floors with the solution while the tea is still very warm.
Get your grout clean before you mop the rest of the floor. It's easier than you'd think. Simply spray some Resolve carpet cleaner into the grout lines, scrub with a brush, and wipe it off. Then you're ready to mop your tile floors!
Do you have a problem with your floors not looking as clean as you'd like even after mopping? You may be doing it wrong. I was. Here's a tutorial on how to mop the right way to eliminate streaks and lackluster floors. (Note: This is a tutorial for tile or laminate floors. Do not try it on wood floors.)
When mopping wood floors, you want to use as little water as possible to avoid warping the wood. Here are some tips for mopping wood floors with a dry mop and spray bottle.
Brighten dingy tile floors with hydrogen peroxide. Mix half a cup of peroxide to one gallon of HOT water for best results. It's safe and non-toxic, but you may want to test it on an inconspicuous area first to make sure it's safe for your floors.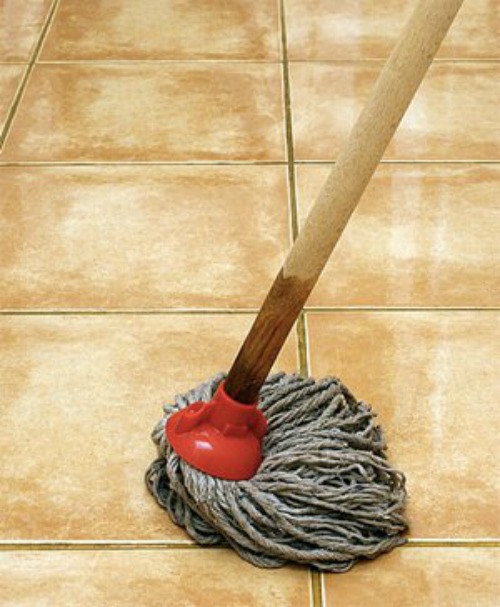 If a little sewing doesn't bother you, make yourself a batch of DIY floor mop pads (or give them as a gift). In the end, they'll work better than the sock trick (above), but you can wash and reuse them as much as you'd like.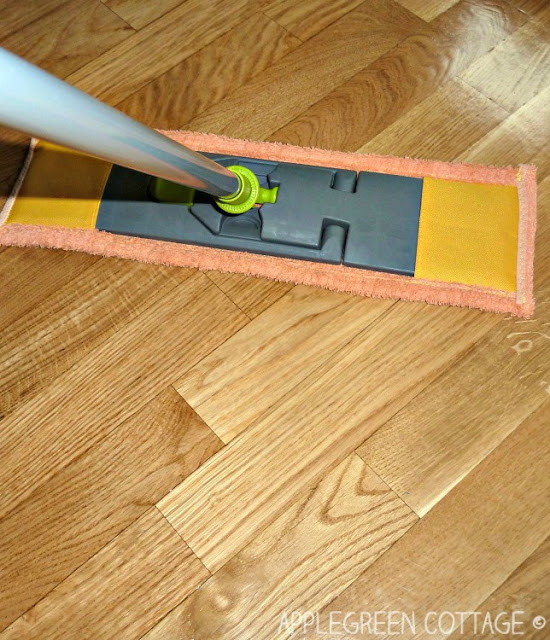 And, finally, here's a handy infographic about the proper way to clean any floor like a pro.