Nothing is more inviting than a hot, steamy shower to start or end your day. That is until you step in and realize that your shower is a hot mess. Mold on the shower curtain… hard water stains on the faucet. How did it get like this? Don't freak out. The good news is that it won't take as long as you think to get your shower in tip-top condition again. These shower cleaning hacks and tips require a little elbow grease or creative thinking, but they'll make your shower shine. Let's get started!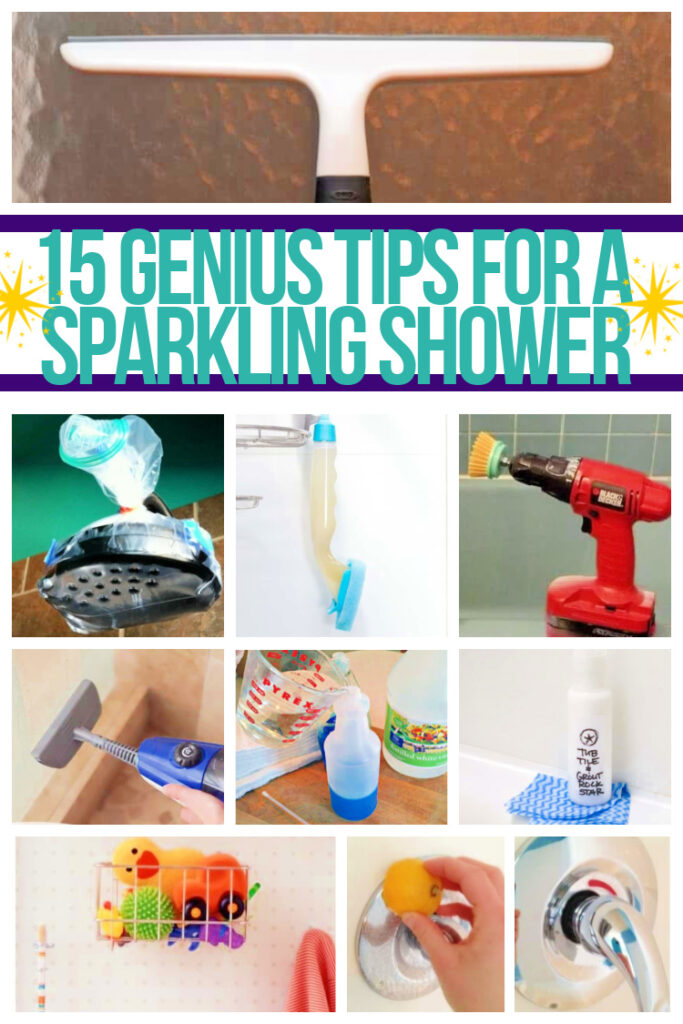 Shower Cleaning Hacks to Make Your Bathroom Shine
1. Just SQUEEGEE to a squeaky clean!
The glass doors or walls in the shower are a lot like any window. It makes sense, then, that you'll get the most benefit from your cleaning efforts if you get as much of the leftover moisture off the window as possible. After you clean and rinse the shower doors or walls, use a squeegee to remove all the water for streak-free glass. This tip is also a good habit and tip for in-between deep cleaning; after every shower, wipe off the excess moisture to prevent build-up. No more soaking the shower walls!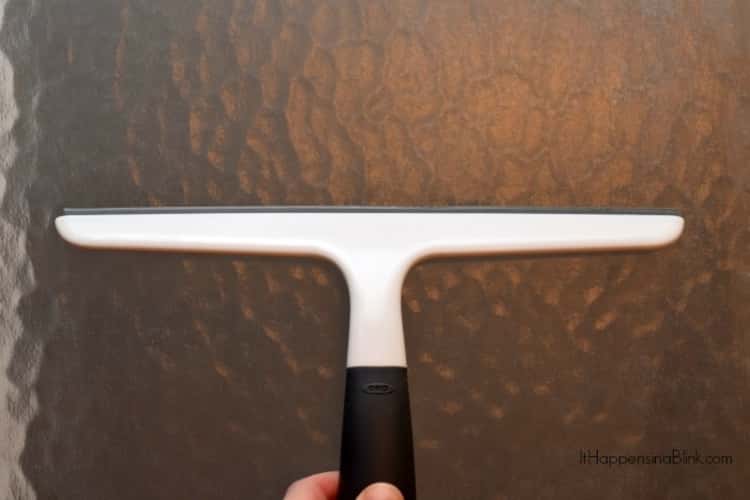 2. No headaches here, use STEAM for a deep clean!
Got glass shower doors? Some shower cleaning tips are about fancy cleaners. Not this one! If you're prone to migraines from strong cleaner fumes in closed spaces, you may want to use a steam cleaner on your shower instead. Not only is the cleaning power coming from heat, but the steam cleaning machine is also doing the work without chemicals. After you steam away from your hard water scale and soap scum, simply wipe down the area with a microfiber cloth and you're done! This wet method will work on your tile, shower or tub floor, and glass walls and doors. Yes, it really works!
3. Let's be clear, shower cleaning tips are for liners, too!
Confused about how to clean your shower curtain liner? So was I! As it turns out, you can just throw it in a gentle cycle in the washer. You can wash it with your towels and mild detergent or even on its own with white vinegar. Another step, if your curtain is getting smelly in addition to grimy, is to wash it again after the vinegar wash but with some baking soda the second time. Note: Don't put it in the dryer, though!
Check out how they got their shower curtain to sparkle – the transformation is amazing!!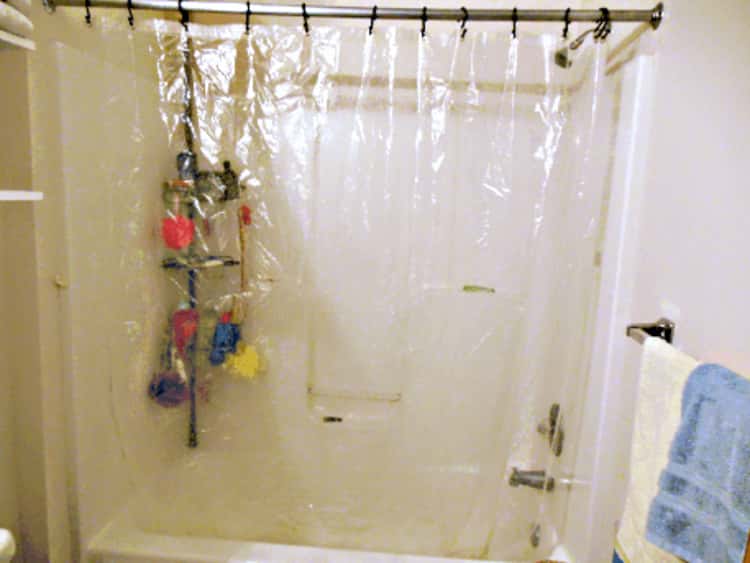 4. Homemade grout cleaner without the fumes
Need to scrub your grout while avoiding toxic fumes? This homemade tub, tile, and grout cleaner are just what you need. It's a simple solution of baking soda, hydrogen peroxide, and liquid dish soap. The hydrogen peroxide acts as a natural whitener while the baking soda adds just enough grit to scrub away stains and hard water build-up. Combine the ingredients in a squeeze bottle to pour on or put some on a soft sponge or old toothbrush to scrub on the hard water deposits. After cleaning the area simply wash clean with fresh water!
5. No scrub shower cleaning tips for the win!
This is, hands down, the best shower cleaner I've ever tried. Half Dawn (the blue kind!) and half vinegar… absolutely no scrubbing. One great thing about this cleaner is the ingredients are most likely already in your kitchen not to mention that the preparation is so quick. Simply heat up the vinegar in the microwave, pour it into a spray bottle, add the dish soap, shake gently to combine and you're ready to clean! Perfect for stone showers or any stone's surface in the bathroom.
6. Sour suds with soap and vinegar to make the shower sparkle!
Similar to Tip #5, this tip is just as quick and simple. Instead of Dawn dish soap, some have had similar luck with Mrs. Meyer's cleaner and vinegar in equal parts. Again, simply mix the two ingredients together in a spray bottle, and away you go. Whatever works, I say!
7. Get smart with your options with a shower or dish wand
Make cleaning your shower even easier by putting your favorite cleaning solution in a dish or shower wand. Don't you just love smart shower cleaning tips? Who's says tools designed for the kitchen can't be repurposed in other ways? Spend a minute or two cleaning up after your shower and you'll never have to scrub again. Make this tip even better by using one of the recipes for cleaners listed above or even a drop of your favorite essential oils.
8. Wash the grime away like rain!
This tip uses something that may be designed for a different purpose in a new and creative way. Rain-X is a product designed to give drivers clear visibility during a rainstorm. It is a pre-treatment for your windshield that causes water to turn into droplets and roll away instead of splatter all over the glass. When you put Rain-X on your shower door it will keep those soapy water droplets from drying on the glass. Doesn't that look better?
9. No more minerals raining down from this showerhead
This is another tip using the magic of vinegar but this time it's on the showerhead, not the walls or doors. All water has minerals in it but if your home has hard water, that means there is a higher concentration of minerals in your water. You'll see evidence of hard water in places like your showerhead. To take off the buildup of mineral deposits on your shower head, use a rubber band to secure a plastic bag of vinegar over your shower head. Let it sit for at least an hour. The next time you run your shower it will be as shiny as new!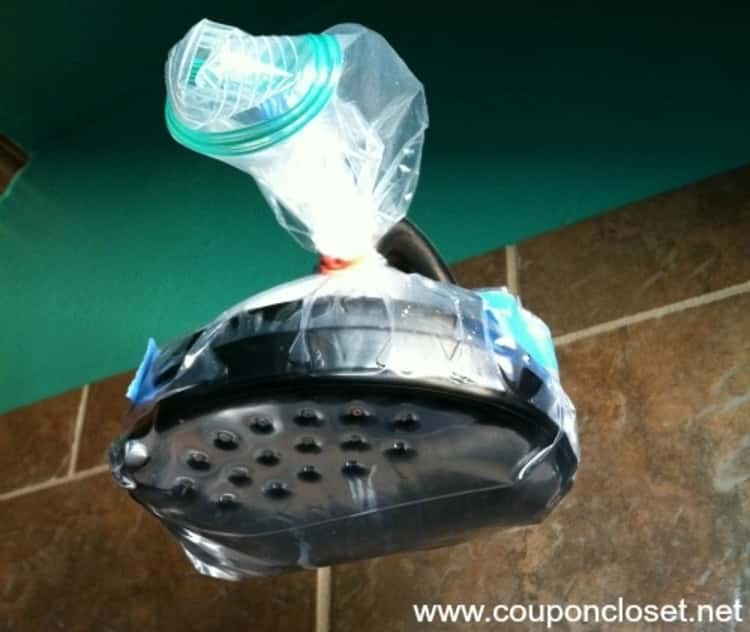 10. Scrub brush drill
This tip is all about having the right tool for the job. Know you have some scrubbing to do in order to get that tile clean? Put a scrub brush on your drill… or have your SO do it. Any excuse to use the power tools, right? Use whatever cleaner you'd like, use the drill-powered brush to take on most of the work for you, then rinse the suds away. Scrub, scrub, scrub away!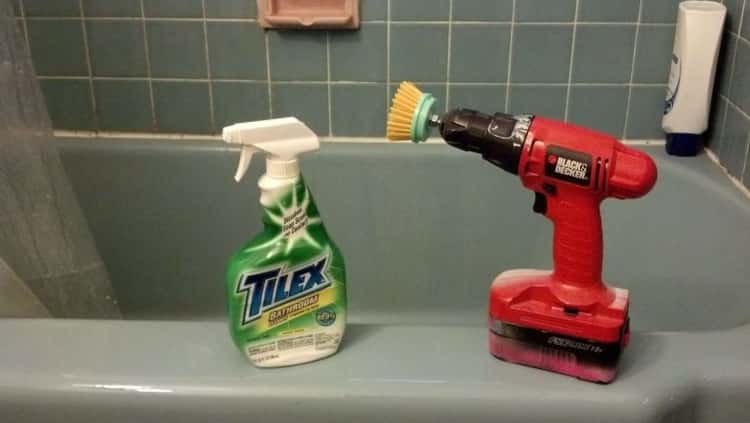 11. Shower curtain mold catcher no more!
Mold and mildew in the shower are the worst. Does your shower curtain bunch at the bottom? If it does, it's a breeding ground for mildew. We all know how necessary it is to have the curtain fall at just the right length to keep water in the shower and not all over the floor, so the trick is getting your curtain to fit just right. One way to make sure it does is to cut it so that it hangs just below the edge of the bathtub to prevent bunching.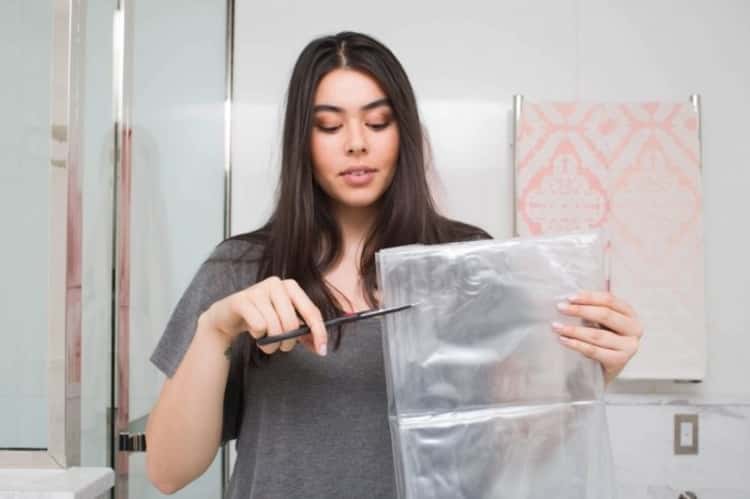 12. Wash with salt to prevent mold.
Would you believe you can clean your shower curtain BEFORE you even use it and it will help it stay cleaner over the course of it's lifetime? Apparently, if you wash it with salt when you first buy your shower curtain, you'll never have to worry about mold in the first place.
13. Shower cleaning tips aren't just for walls, floors, and doors! Organize toys to prevent clutter that needs more cleaning.
Don't forget that organizing your kids' bath toys can go a long way towards preventing clutter in your shower! The more surfaces that get wet in your shower, the more areas that will hold on to leftover soap and grime. This goes for toys, too. You don't want all the fun in the tub to be interrupted by thoughts of germs and scum, do you? Consider using containers that allow the toys to drain and have good air circulation so they'll dry quickly and not hang on to leftover moisture after playtime!
14. Shower cleaning tips for shower door tracks
It seems like all the nooks and crannies show up when it comes to where water travels. It's not until you're doing a deep clean that you realize the hidden places where grime hides like shower door tracks. Shower door tracks can often get SO GROSS! This tip is simple and quick. To get rid of the gunk with paper towels, vinegar, a toothbrush, and some q-tips simply pour vinegar into the tracks, cover with paper towels to hold in the moisture, and let sit for 30 minutes. Use the towels to wipe up access liquid and start to remove the grime. Use the toothbrush to loosen the tough spots and the q-tips to get in the tight spots. Just like that – shiny and fresh!
15. Lemony fresh shine
This fresh idea will round out our shower cleaning tips. Using natural ingredients around the house that freshen and clean really feels good and is good for you! In this tip, a common lemon acts like a magic eraser on hard water stains. Use a lemon to get rid of hard water stains on your shower faucet by cutting it in half, rubbing it on the area needing to be cleaned, and then rinsing the juice away. Bonus: Your shower will smell amazing!
From these shower cleaning tips to the rest of the house, keep on sparkling!
Here are a few other posts that will keep the shower-shine going throughout the house:
Which of these shower cleaning hacks works best for you?
More Bathroom Cleaning Tips & Hacks: