If you're like most people, you're always looking for ways to save time in the kitchen. Well, look no further—one pot pasta recipes are the answer! With minimal clean-up and hardly any dishes to wash, these recipes will help you get dinner on the table quickly and easily and are perfect for busy weeknights. From classic Italian dishes to more exotic flavors, there's a one pot pasta recipe here for everyone. So check out these delicious dishes, choose one for dinner tonight, and start cooking!
Love pasta as much as we do? You don't want to miss our list of pasta salads that are perfect for potlucks, picnics, and barbecues.
Southwest Chicken Pasta
This Southwest Chicken Pasta from Kids' Activities Blog is perfect for feeding a large family or a crowd. It's fast, convenient, and so tasty. You can even freeze some for a quick dinner later when you think you just don't have time to cook. Made with chicken, black beans, corn, Rotel, queso fresco, and a few other simple ingredients, it's a delightful taste of Tex Mex in one simple dish.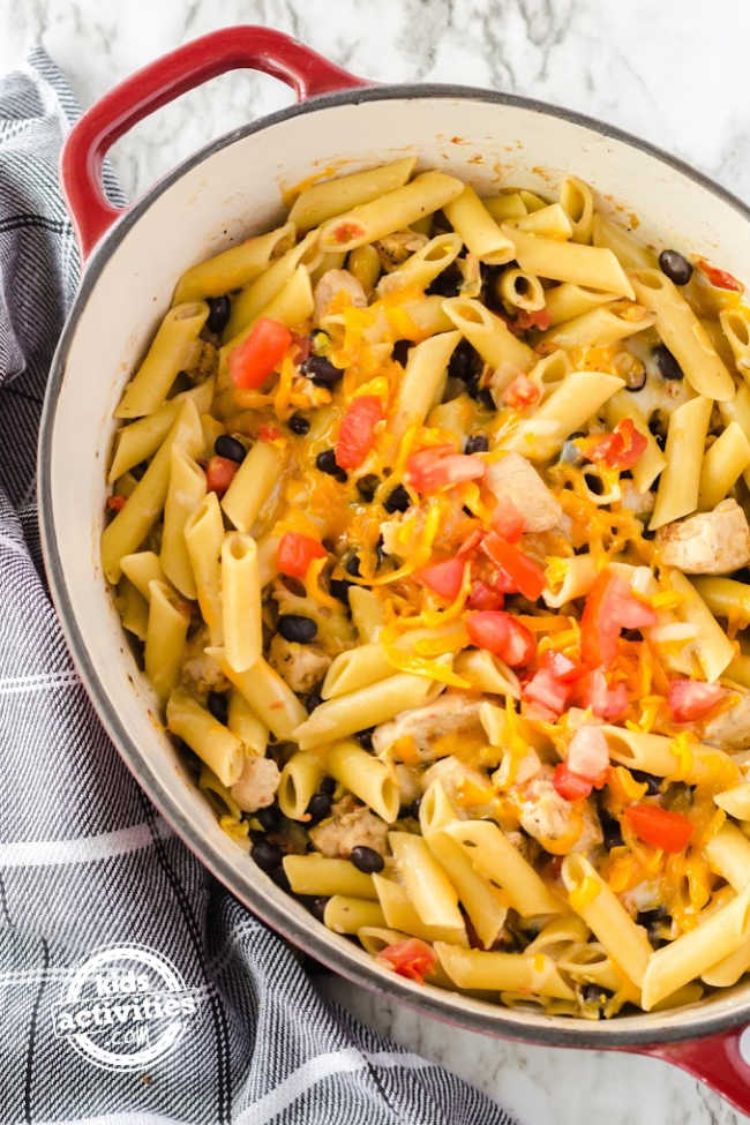 3-Ingredient One Pot Pasta
You can't get much simpler than this 3-Ingredient Pasta by Kim's Cravings. Using very lean ground beef allows you to make this in one pot without fussing with draining the meat. Just brown the beef, add your marinara sauce, and add the pasta. Mix in some water so there's enough liquid for the noodles to cook, and dinner is ready in about 45 minutes.
One Pot Sausage Pasta
Whip up a pan of this Sausage Pasta from Two Peas and Their Pod for a crowd-pleasing meal that requires very little effort. Use a type of pasta that cooks right in the pan with the other ingredients. Even though this pasta has kale and red peppers, it's still kid-friendly because it is packed with sausage and cheese.
Tomato Basil Pasta
Penne pasta, juicy tomatoes, spinach, fresh basil, and pancetta come together in a seasoned broth that makes for a mouthwatering Tomato Basil Pasta. If you have leftovers, they're even better the next day. You can easily adapt this recipe from Cooking Classy by subbing in a different protein (chicken, ground beef, or sausage), making it super cheesy, or adding in sautéed veggies like zucchini.
Enchilada Pasta
If you've never tried enchilada sauce with pasta, you'll be surprised and delighted with this one-pot pasta recipe from Number 2 Pencil. Using ground turkey meat makes this dish a little lighter, but feel free to use ground beef or ground chicken if that's what you prefer. It's topped with loads of Colby Jack cheese, green onions, and olives, for a mouthwatering Enchilada Pasta the whole family will love.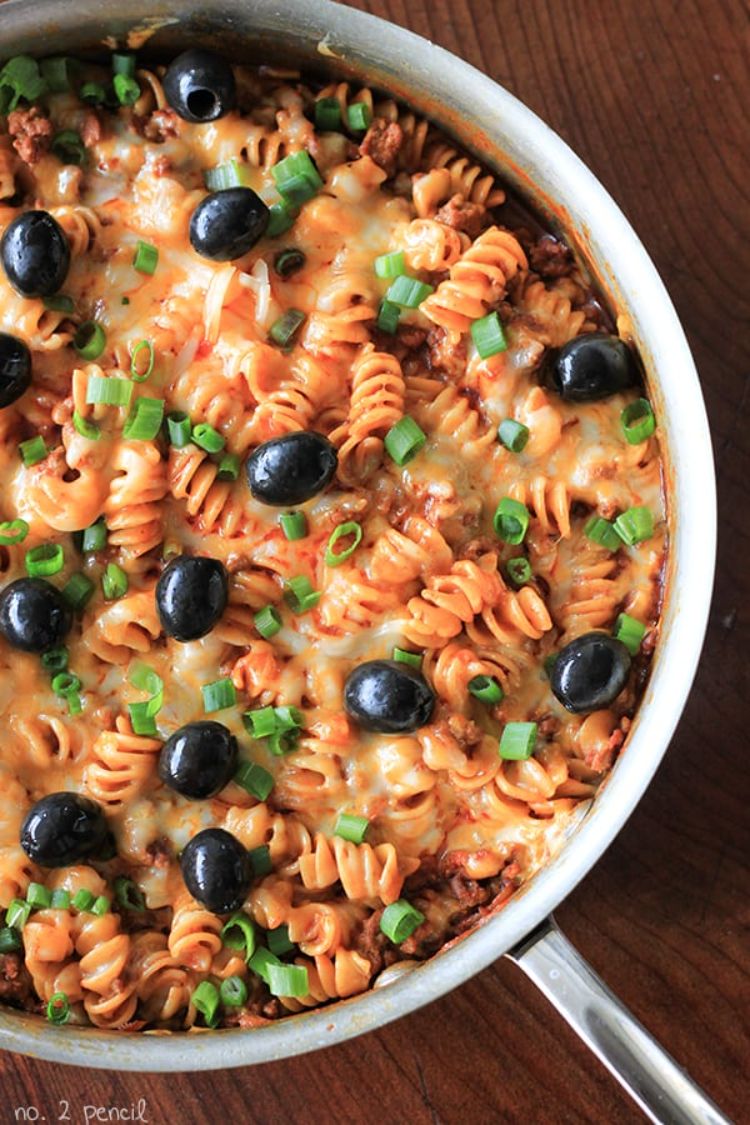 Mushroom and Spinach Pasta
Make a healthy and veggie-filled pasta meal for the family with this Mushroom and Spinach Pasta from Kids Activities Blog. For this recipe, you'll need:
Mushrooms
Baby spinach
Onion
Fettuccine pasta
Cream cheese or olive oil
Add in more vegetables like bell peppers or fresh tomatoes… whatever your kids like. This is the perfect dish for Meatless Mondays or on Fridays during Lent.
Broccoli Beef Pasta
31 Daily's recipe for Broccoli Beef Pasta is almost effortless and is light and flavorful without marinara or cream sauce. Can you believe that? Use your family's favorite short pasta shape to make it, and adapt the veggies to whatever you have on hand. It's even a terrific way to use up leftover veggies if needed. Ground turkey, ground pork, or ground chicken may be used in place of the ground beef if you'd like.
Chicken Parmesan Pasta
Ready in 30 minutes, this tasty Chicken Parm Pasta from Creme de la Crumb is one of our favorites on the list. There are so many ways to switch up this recipe so that you never tire of it. Sprinkle red pepper flakes for a spicy kick, add veggies, swap out the type of sauce you use, and so on. Serve with crusty, buttery garlic bread on the side.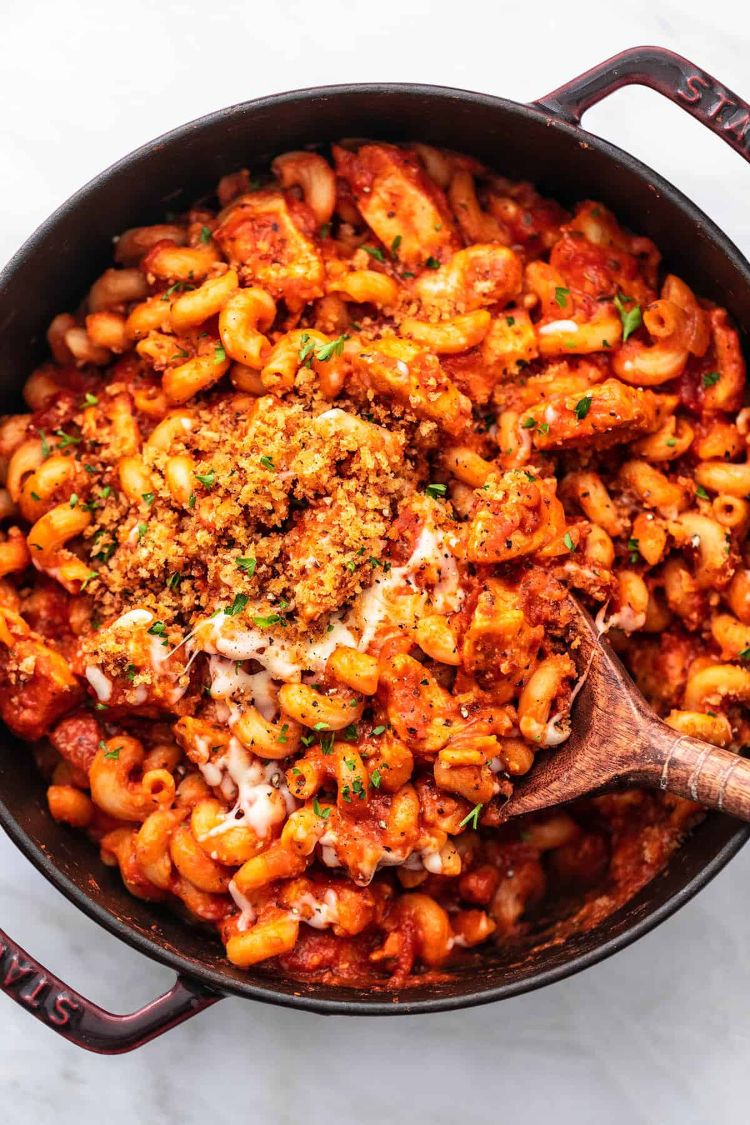 One Pot Pasta in the Oven
Instead of cooking on the stove, this easy Oven Pasta from Fit Foodie Finds bakes without all the fussing with boiling, straining, and sautéing. Mix it up in a casserole dish or use your Dutch oven to prepare it. This version is packed with roasted red peppers and mushrooms. And because it's made with chicken broth instead of water, it's a lot more flavorful when it cooks up.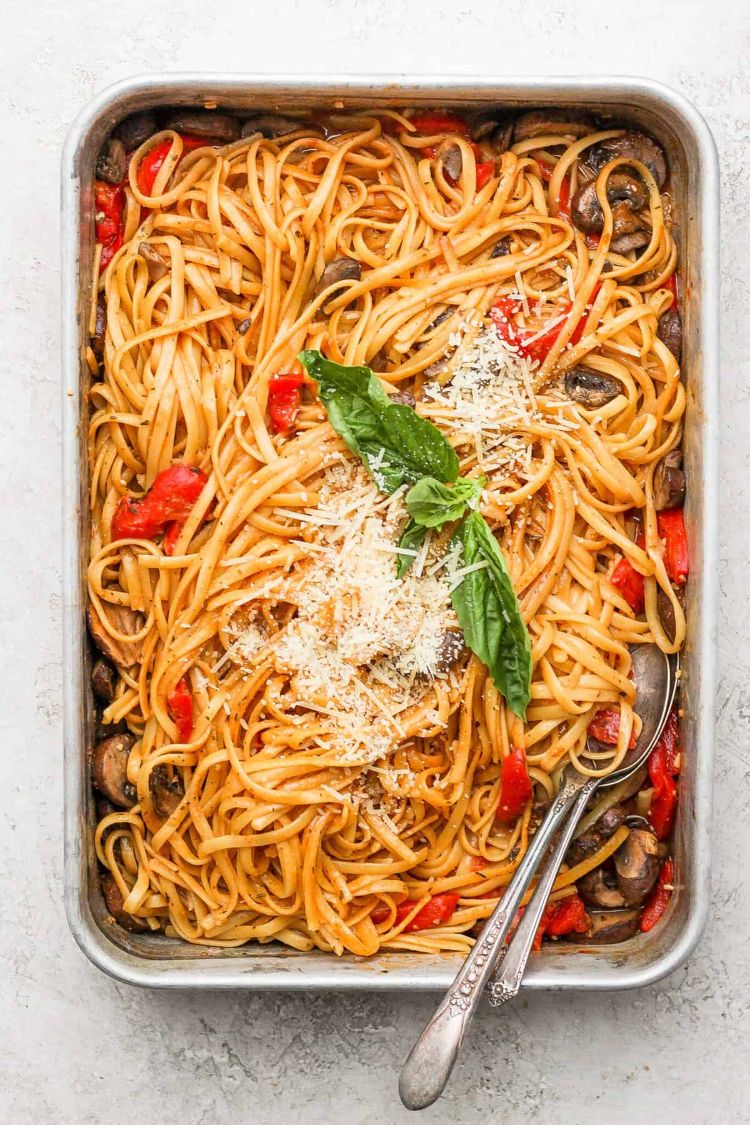 Whole Wheat Pasta with Asparagus, Peas, and Parmesan
Part comfort food, part health food, this Whole Wheat Pasta with Asparagus, Peas, and Parmesan is fantastic for a light springtime meal, but you can enjoy it anytime. It's from the book Healthyish, which tells you everything you need to know about this recipe. This recipe from Two Healthy Kitchens can be made ahead of time and reheated during the week when you're busier.
Fettuccine with Spicy Sausage
If you like your pasta with a bit of a kick, this Fettuccine with Spicy Sausage is for you! Olivia's Cuisine created this 20 minute recipe while looking for something that was tasty, easy, and somewhat nutritious. Plus, it's made in just one pan, so you've gotta love that it cuts down on the dishes, too. Creamy, flavorful, and fast? Sign us up!
Here's what you'll need to make one pot spicy fettuccine and sausage:
Olive oil
Garlic
Spicy Italian sausage
Fettuccine pasta
Heavy cream
RAGU sauce
Basil
Parmiagiano Reggiano
Salt, pepper, and water
Red Pesto Pasta
One Clever Chef's Red Pesto Pasta is made with sun-dried tomato pesto, but you can sub roasted red pepper pesto instead. Or, if you prefer, green pesto made with basil, that's a great option, too. Ready in just 30 minutes, this is an easy weeknight meal for a family of 6 or fewer.
Spaghetti Aglio e Olio
Have you ever made Spaghetti Aglio e Olio? That refers to a pasta dish made with a mixture of olive oil and minced garlic with a parmesan cheese sauce. You need only 7 simple ingredients for this one pan pasta recipe—spaghetti pasta, grated Parmesan cheese, sun-dried tomatoes, garlic, olive oil, black pepper, and fresh parsley.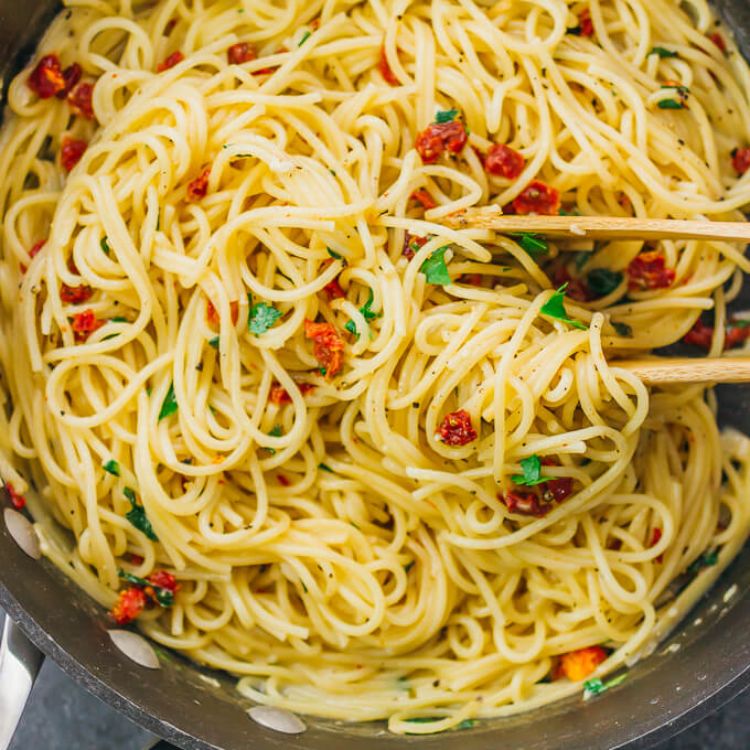 Polish Sausage and Peppers Pasta
Cheesy, meaty, and hearty, this Polish Sausage and Peppers Pasta from Must Have Mom is a total winner. It feeds 4-6 people, but if you're just making it for yourself, don't worry—the leftovers are divine! Smoked Polish sausage is cooked with bell peppers, tomatoes, onions, garlic, and cheddar jack cheese for a dish that works just as well for serving to company as it does on a crazy busy weeknight.
Mediterranean One Pot Pasta
Who wouldn't love a 20-minute Greek Pasta that's loaded with the flavors of the Mediterranean. Onions, tomatoes, garlic, artichoke hearts, olive oil, olives, fresh dill and crumbled feta cheese come together in a scrumptious dish from Midwest Foodie Blog. Double the veggies for an even heartier pasta dish. Pair it with salmon or chicken or serve it by itself for a delicious vegetable-laden meal.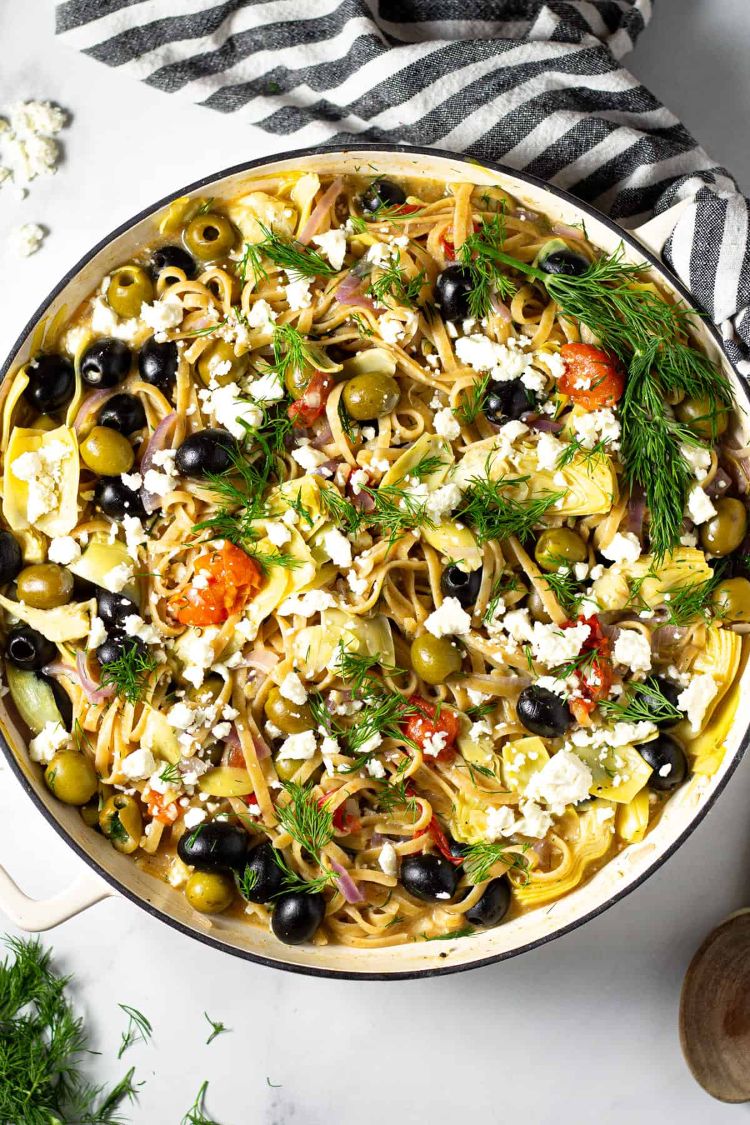 Lemon Garlic Pasta
You won't believe how light and flavorful this Lemon Garlic Pasta from Spain on a Fork is! The lemon zest gives it a bright flavor that pairs beautiful with the Manchego cheese. Parmesan can be substituted for the cheese if you'd like. With only 9 simple ingredients (most of which you have in your pantry), this dish comes together in no time.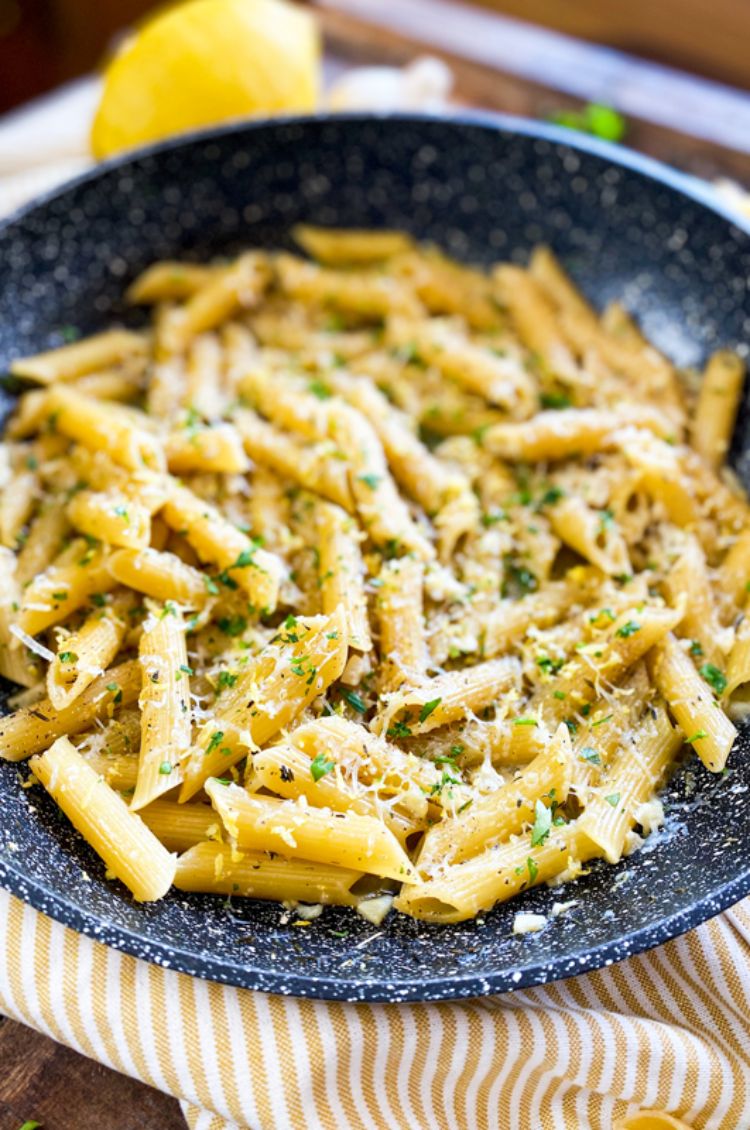 One Pot Pizza Pasta
Now this dish is sure to get the kids excited for dinnertime! Chew Out Loud's Pizza Pasta is chock full of all your favorite pizza flavors and ingredients. Pepperoni, Italian sausage, mozzarella cheese, parmesan cheese, Italian seasonings and tomatoes are cooked in pasta sauce for a mouthwatering meal the whole family will love. What a fun take on pizza night!
Here are the ingredients you need for pizza pasta:
Italian sausage
Pepperoni
Pasta sauce
Canned tomatoes
Sugar
Onion powder
Garlic powder
Dried oregano
Dried basil
Rotini pasta
Mozzarella cheese
Parmesan cheese
Salt and pepper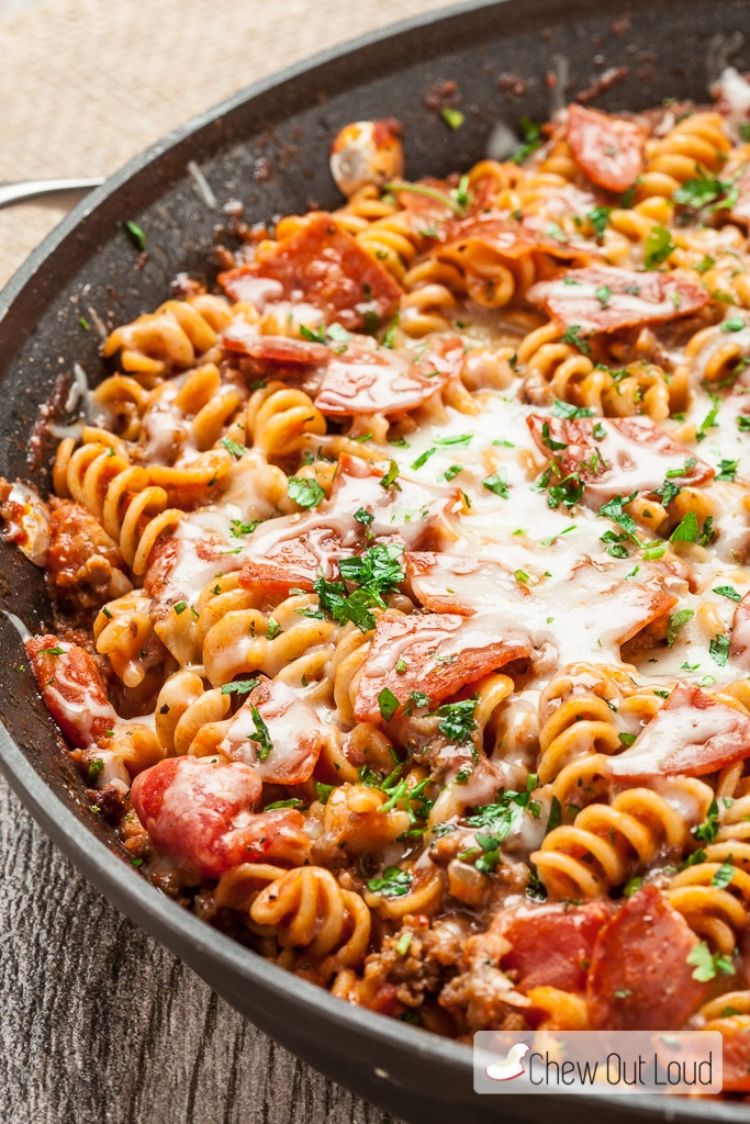 Sun-Dried Tomato Pasta with Whipped Ricotta
Want to make a classy yet easy dinner for company? Half-Baked Harvest's Sun-Dried Tomato Pasta is bursting with flavor. You'll love the slightly spicy pasta tossed with whipped ricotta cheese. Sun-dried tomatoes in oil are best for this dish because you can use the seasoned oil to intensify the flavors of the sauce.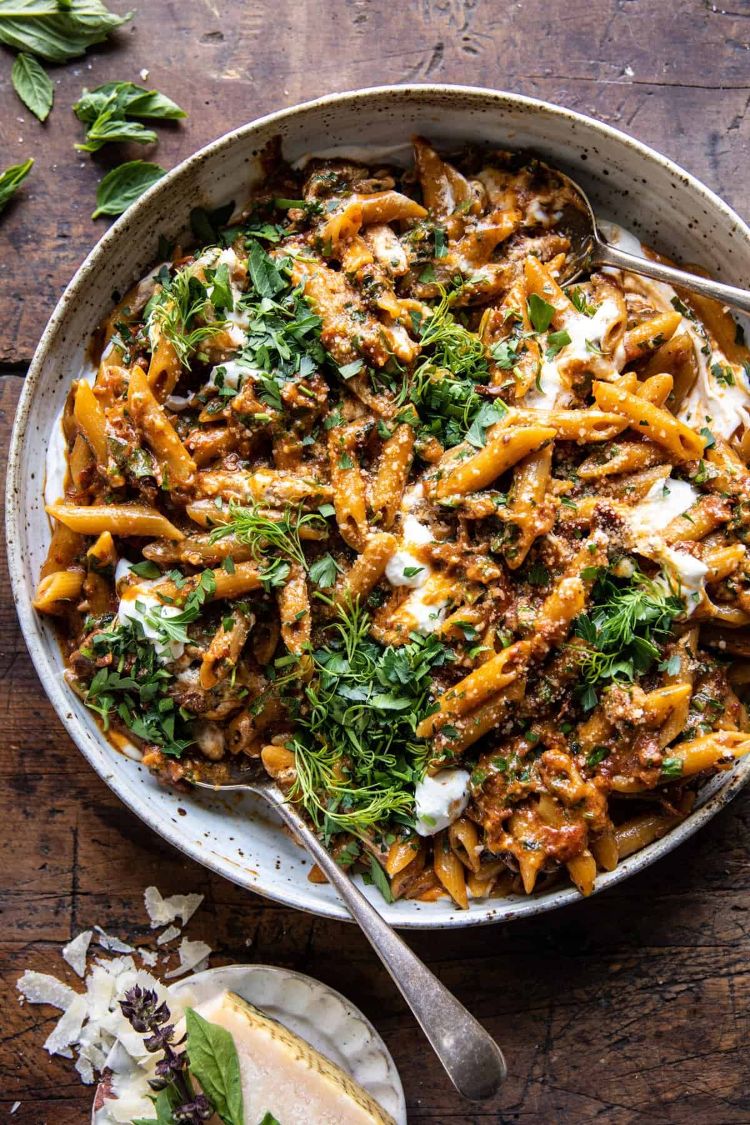 One Pot Mac and Cheese
You can't have a list of one pot pasta dishes without an easy Macaroni and Cheese recipe like this one from The Recipe Rebel. Six ingredients, 30 minutes or less—that's a total win for busy moms! It's rich, creamy, comforting, and most of all, kid-friendly.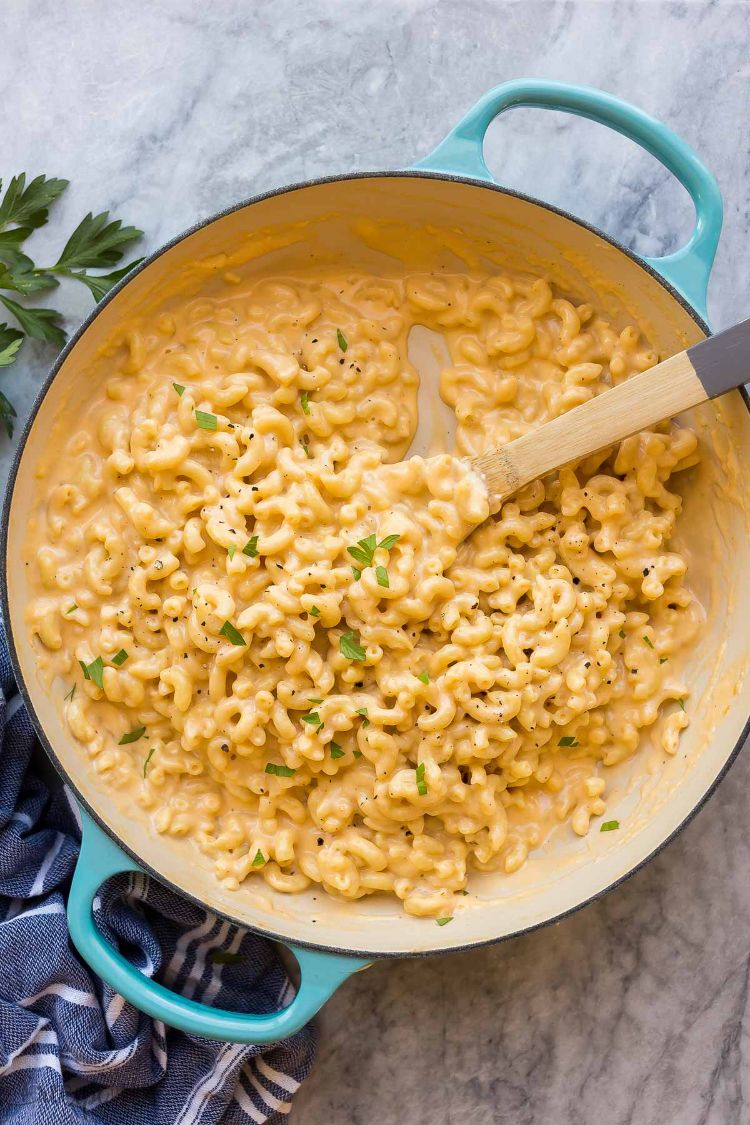 Chicken Ranch Pasta
Cheesy pasta seasoned with ranch and topped with crunchy bacon sounds amazing, doesn't it? This Chicken Ranch Pasta will become a staple in your menu rotation. Stir in some steamed broccoli for a healthy dose of veggies amongst all the cheesy goodness.
Creamy Cajun Chicken Pasta
When I go to a restaurant that serves pasta, I always go for the Cajun Chicken Pasta if it's on the menu. I had no idea it was so easy to make at home, though! Chicken, bell peppers, and onions are cooked with pasta in a creamy sauce flavored with Cajun seasoning. Cooking Classy recommends some fun variations like substituting shrimp for chicken or making it vegetarian by substituting more veggies for the chicken.
More Pasta Recipes You'll Love: