When it comes to potlucks, pasta salad recipes are always super easy and generally well-received. And what tastes better in the summer than a delicious pasta salad? You can never go wrong with getting pasta for that family dinner or party.
There are so many pasta salad recipes that you can come up with that will make such delectable salads. From classic flavors to some you've never thought of (BBQ pasta salad, anyone?), you'll find some real winners that we've lined up for you here! I bet you are not ready for us yet! Haha! Let's dive right into the recipes. Shall we?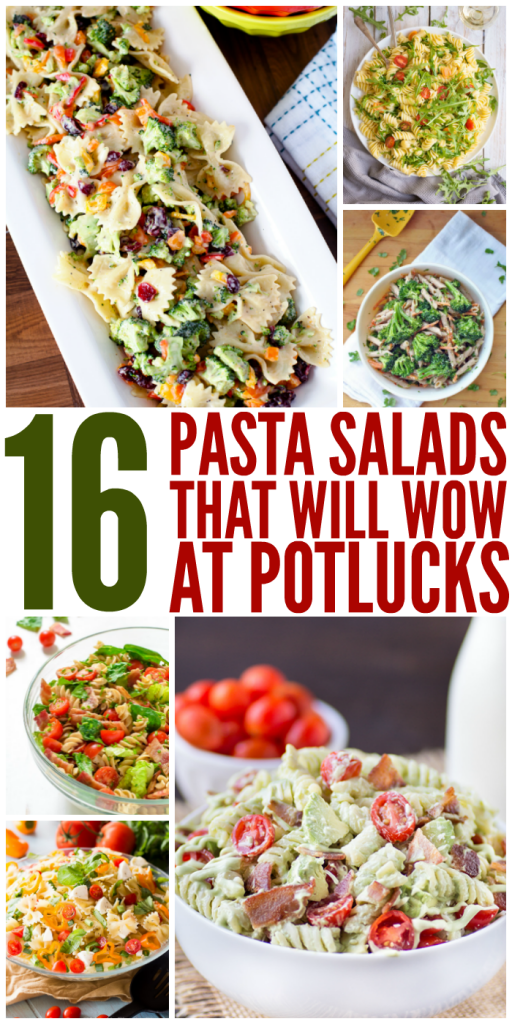 Best Pasta Salad Recipes That Are Easy to Take
I love these easy pasta salad recipes that are great for potlucks or any summer gathering because they are easy to make and easy to take with you.
1. BBQ Pasta Salad Recipe
Use ready-made pulled pork or chicken to make this quick and easy BBQ Pasta Salad. On top of the pasta the salad has BBQ pulled pork, sharp Cheddar cheese, crisp corn, and other fresh veggies. Doesn't this just look so yummy! I am honestly salivating at this moment. To get the meal cooked within the shortest time possible, you need to use pre-prepared pork so that it gets easier to come up with the recipe!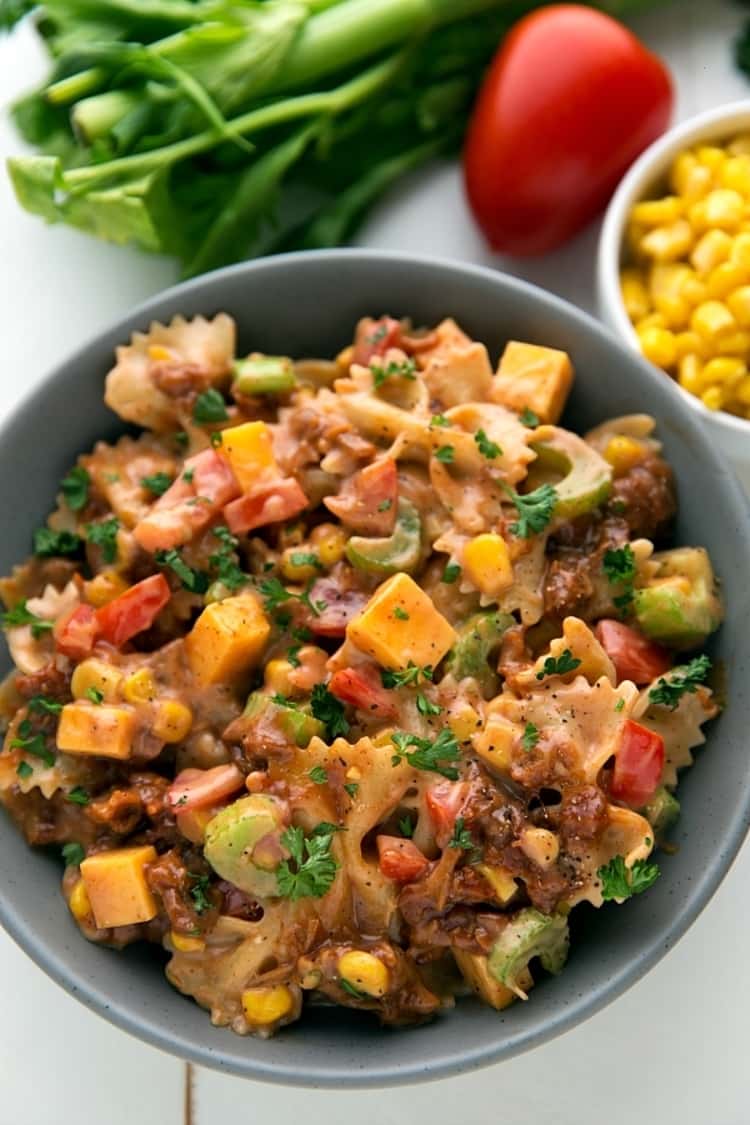 2. Cucumber and Tomato Pasta Salad Recipe
Are you a vegetarian? Yes? You can knock yourself off with this vegetable-filled penne pasta recipe. Beautiful summer vegetables are the key to making this scrumptious Cucumber and Tomato Pasta Salad. These fresh cucumbers and tomatoes are the best thing you can have during summer. And dressing your pasta with homemade vinegar is the taste that you'll be craving for long after even having the meal.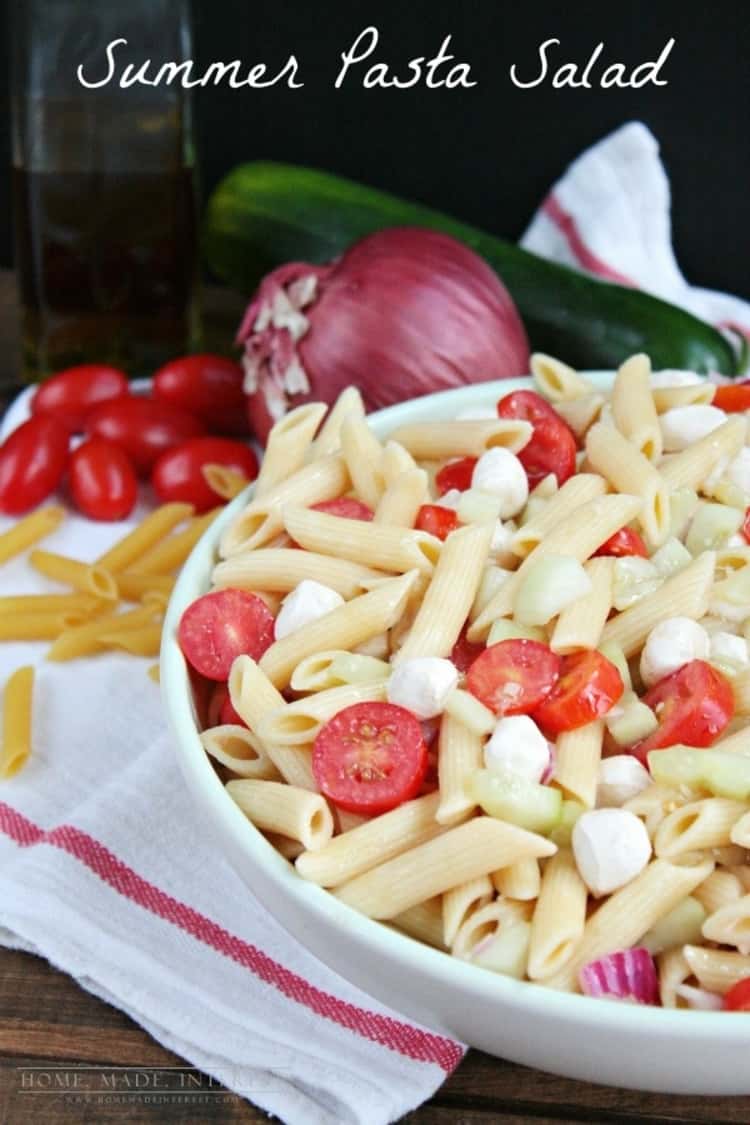 3. Easy Greek Pasta Chicken Salad Recipe
Is your family tired of the same old pasta recipe you prepare for them? Well, this Greek pasta salad recipe here is a lifesaver. It will make your evenings joy-filled as you all dine. Matter of fact, the kids will ask for this Greek Pasta Chicken Salad again and again. It's a family favorite!
Plus it is easy to go with an evening meal when there's no time to think of what to prepare for the family. Ingredients comprise a mix of crisp veggies, Kalamata olives, tangy feta cheese, tender pasta, and topped with chicken, this salad recipe is just the epitome of delicious.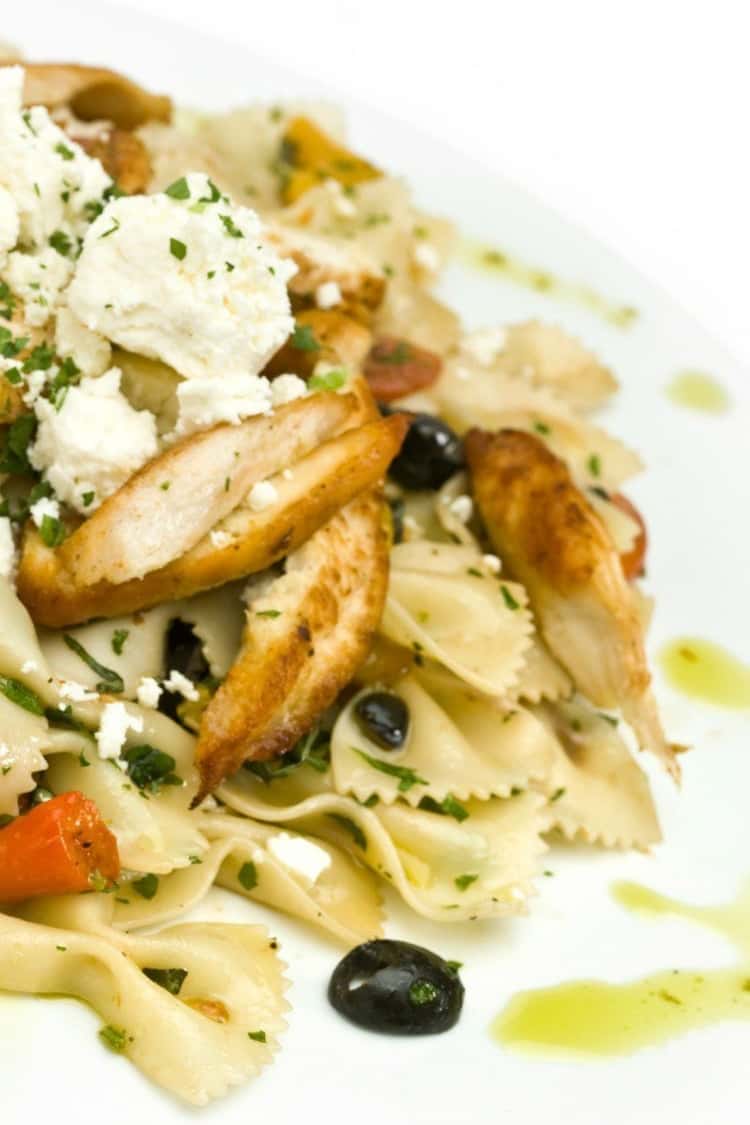 4. Lemon Rocket Pasta Salad Recipe
Fresh lemon juice and arugula leaves make this colorful and crisp Lemon Rocket Pasta Salad the perfect summertime dish. The dish looks so inviting and super ideal for a hot lunchtime setting. Vegetarians get to enjoy their pasta without having to worry. Given that it is also easy to prepare, you can have this meal in just a few minutes of preparation.
5. Make Easy Broccoli Pasta Salad Recipe
Broccoli Pasta Salad pairs crunchy broccoli with creamy three-cheese dressing. YUM! Fans of broccoli crunch and chilies? You've got to try this super colorful pasta recipe on your next visit to a friend or family. It looks so tasty and well made for enjoyment. The meal consists of crunchy broccoli and peppers with tart cranberries and chewy farfalle pasta. From these you can tell it is a good meal to have.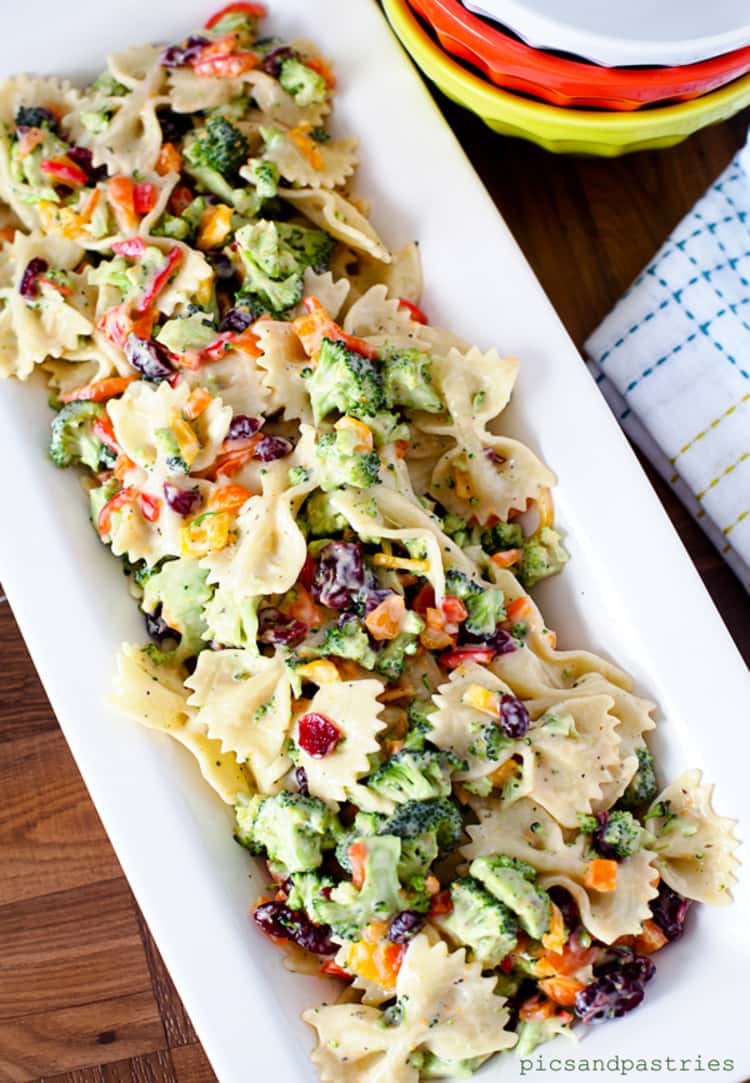 6. BLT Pasta Salad Recipe
If you like BLT sandwiches, you'll go nuts for this BLT Pasta Salad. It's chock full of bacon, tomatoes, romaine lettuce, and spinach. Another low-carb, rich in fiber and vegetarian-friendly pasta recipe. You can just see how fresh the vegetables are and the much color they add to the pasta making it so delectable by just a look of it! You can imagine how juicy this one can get! Has a green salad ever looked this good before!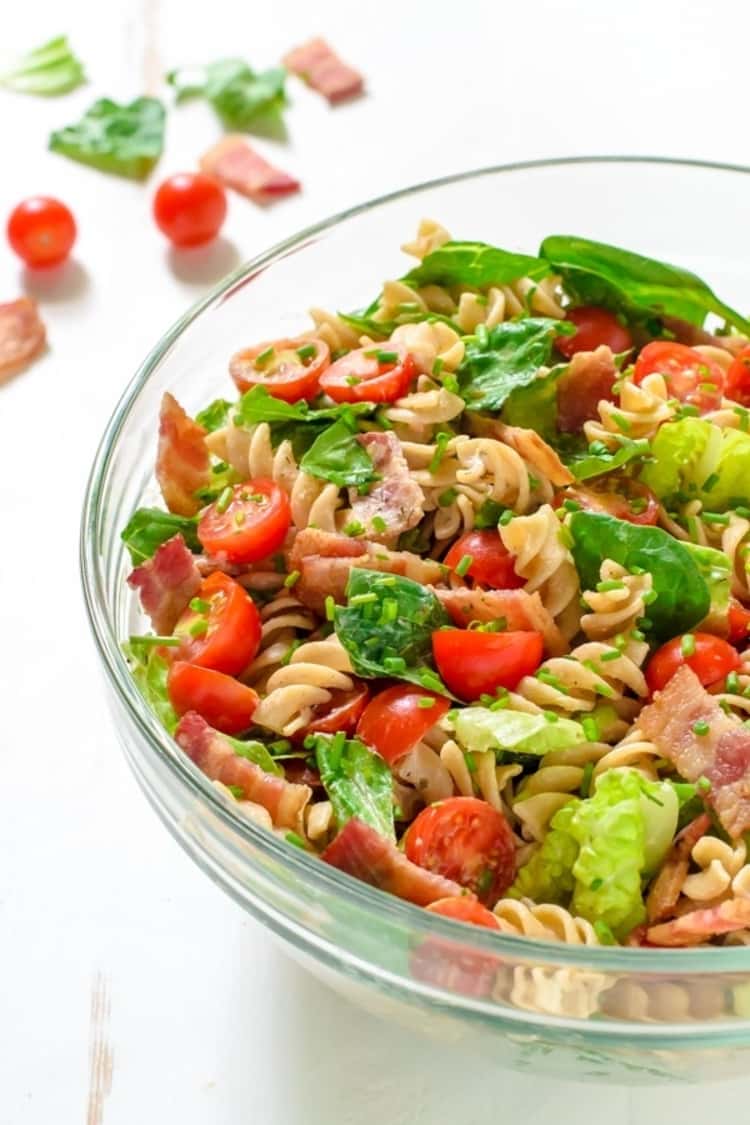 7. Italian Sausage Pasta Salad Recipe
Use low-carb pasta for this amazingly delicious Pasta Salad with Italian Sausage, Zucchini, Red Bell Pepper, and Olives. It's so full of flavor that you'll never miss the carbohydrates! For a potluck, this is a perfect meal that will serve everyone right. It is not a boring low-carb meal. Having this as a family takeaway in celebration of a happy event or just during Thanksgiving or Christmas dinner is a perfect arrangement.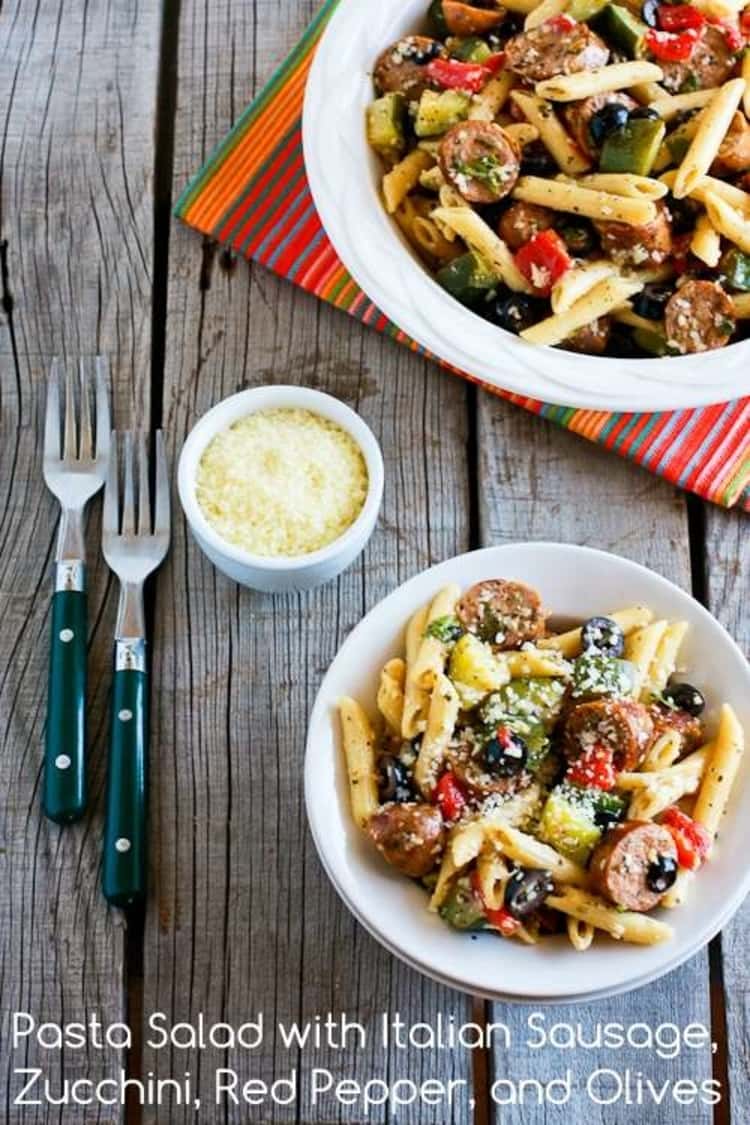 8. Easy Pizza Pasta Salad Recipe
I swear this is the first time I am hearing of pasta going hand in hand with pizza. Never seen that before. And it sounds like a beautiful recipe journey to go on. Add your favorite pizza fixings to this super easy Pizza Pasta Salad. This version calls for pepperoni, black olives, green peppers, and mozzarella – all my faves!
For the Italian dressing, some of the ingredients are:
1/2 cup extra virgin olive oil
1/4 cup red wine vinegar
3 tablespoons Parmesan cheese, grated
1 teaspoon dried oregano
1/2 teaspoon garlic salt
pinch of red pepper flakes
liberal grinding of pepper
On our next family hangout or barbeque, I will be taking this to them as a side dish! So yummy looking.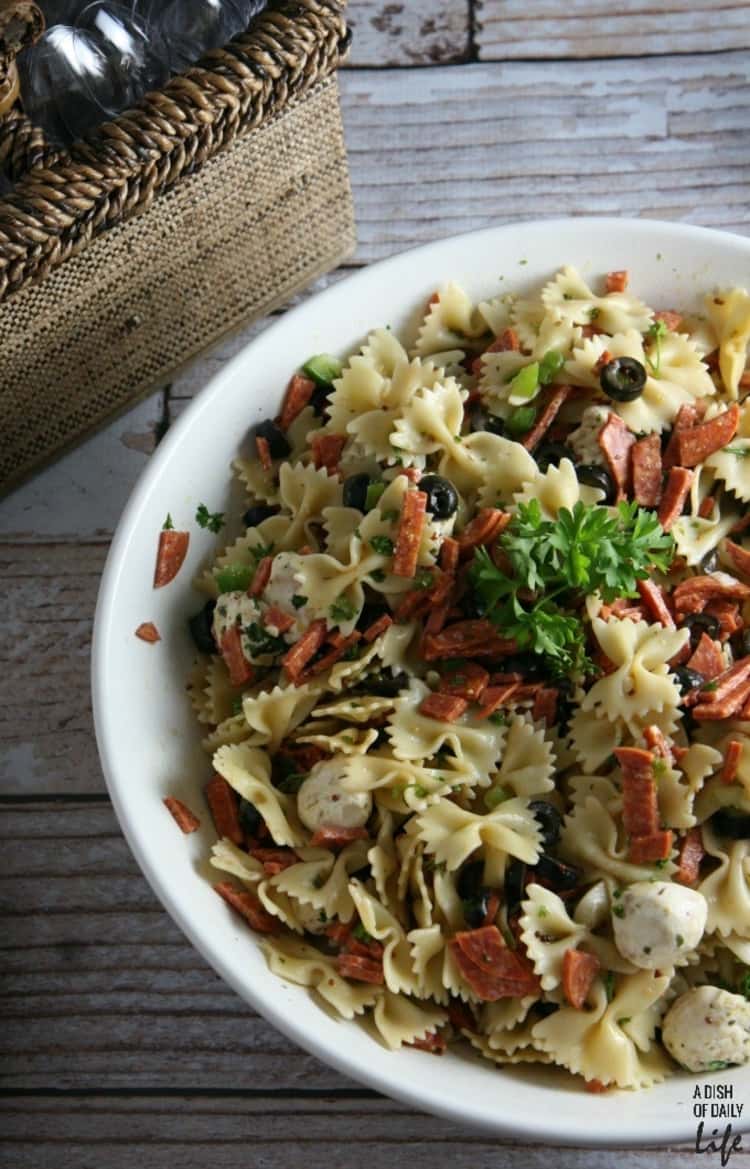 9. Make Easy Taco Pasta Salad Recipe
Ground beef, lots of cheese, and vegetables make up this Taco Pasta Salad. The flavored beef makes the majority of this meal with vegetables and a little pasta. So we can call this recipe protein-filled pasta recipe. It'll quickly become a family favorite once you start preparing it! Every other time you have family reunions guys will want you carrying this as your giveaway.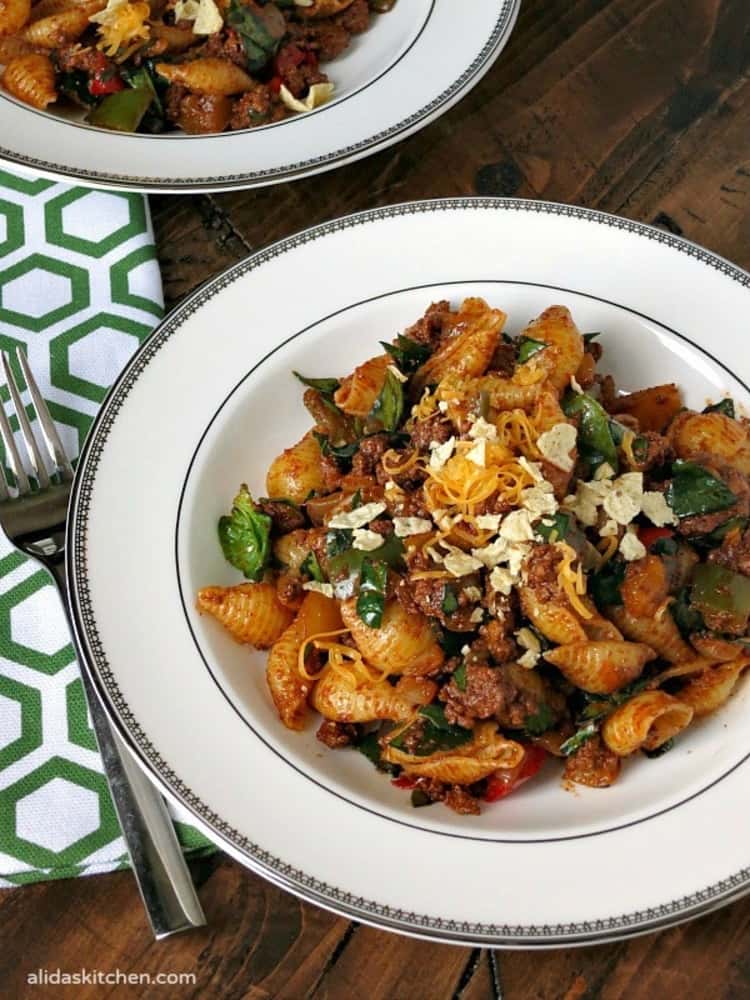 10. Modern Macaroni Pasta Salad Recipe
Need a gluten-free version? Modern Macaroni Salad is where it's at! It is not only gluten-free but also has little amount of calories. On top of this, the pasta recipe is grain-free! I think guys, you've found your vegan veggie recipe that is super healthy for your summer hangouts.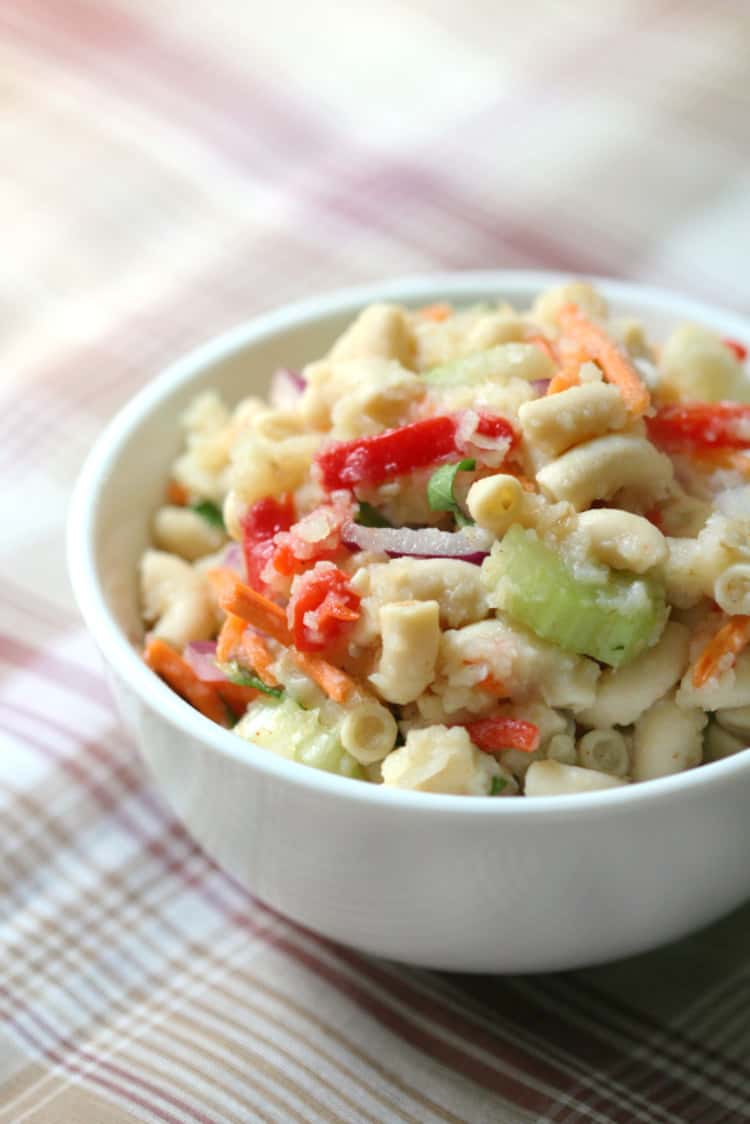 11. Caprese Pasta Salad Recipe Perfect for Summer
Oh my! This is one of the colorful pasta recipes I have set my eyes on. Caprese Pasta Salad is filled with tomatoes, fresh mozzarella, and basil and topped with a tangy roasted garlic balsamic vinaigrette. It looks so freshly made and just delicious to ingest. One of the best pasta salad recipes to prepare.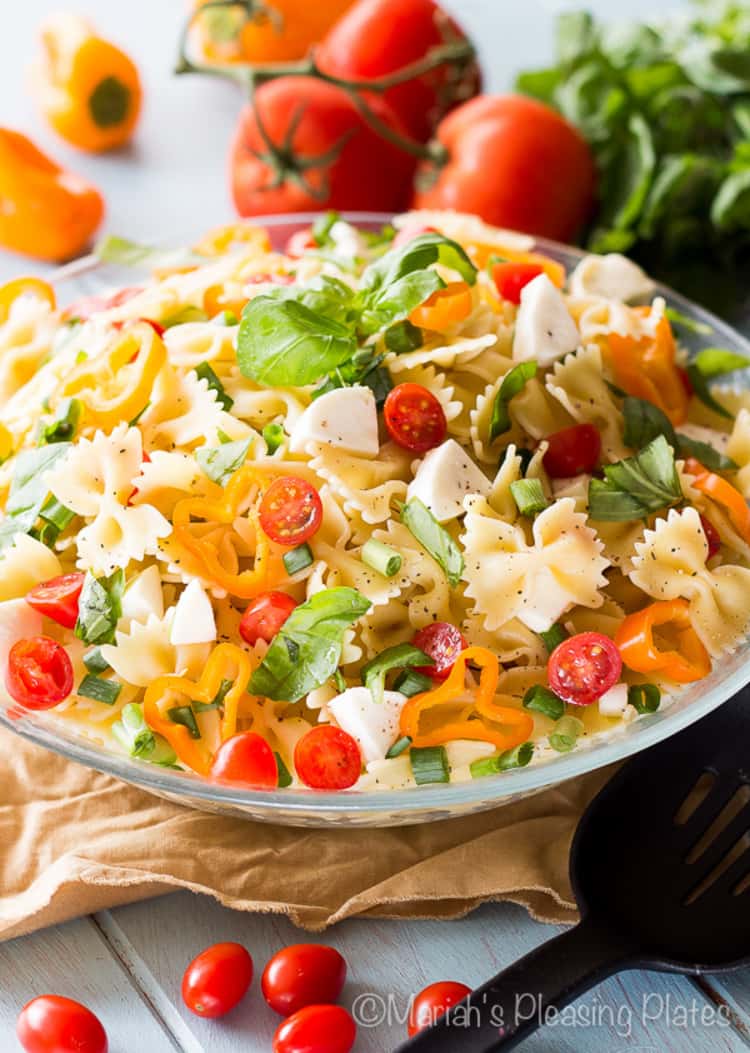 12. Make Chipotle Pasta Salad Recipe
This Chipotle Pasta Salad packs just the right amount of heat without being too spicy for the kids. The recipe is a combo of creamy chipotle dressing with cooked pasta, plenty of veggies, and just a hint of lime! The creamy look of it just draws one to want to have a taste of it. I promise I will give this one a try for sure.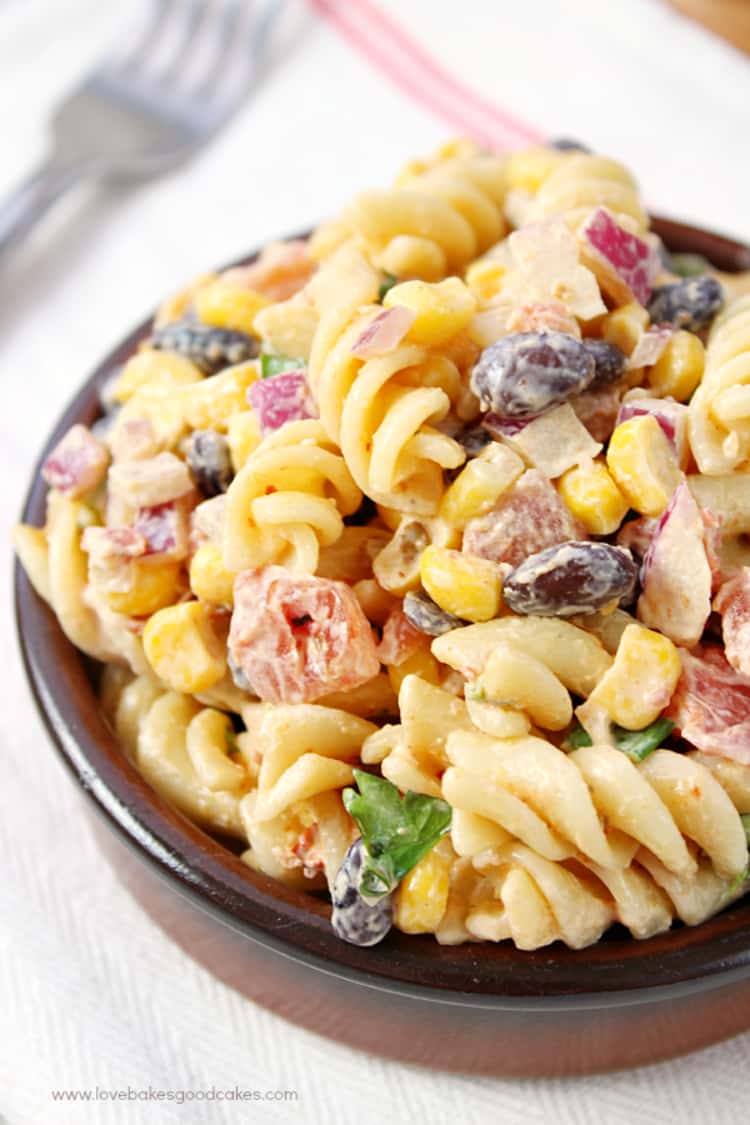 13.Southwestern Pasta Salad Recipe
The dressing on this Easy Southwestern Pasta Salad is ah-mazing. Add some chicken, and you have a complete meal! It can as well serve as a side dish for a meal that you have prepared. More to this it serves as a good salad especially when you just want a light meal. Also, a perfect giveaway for your family hangouts.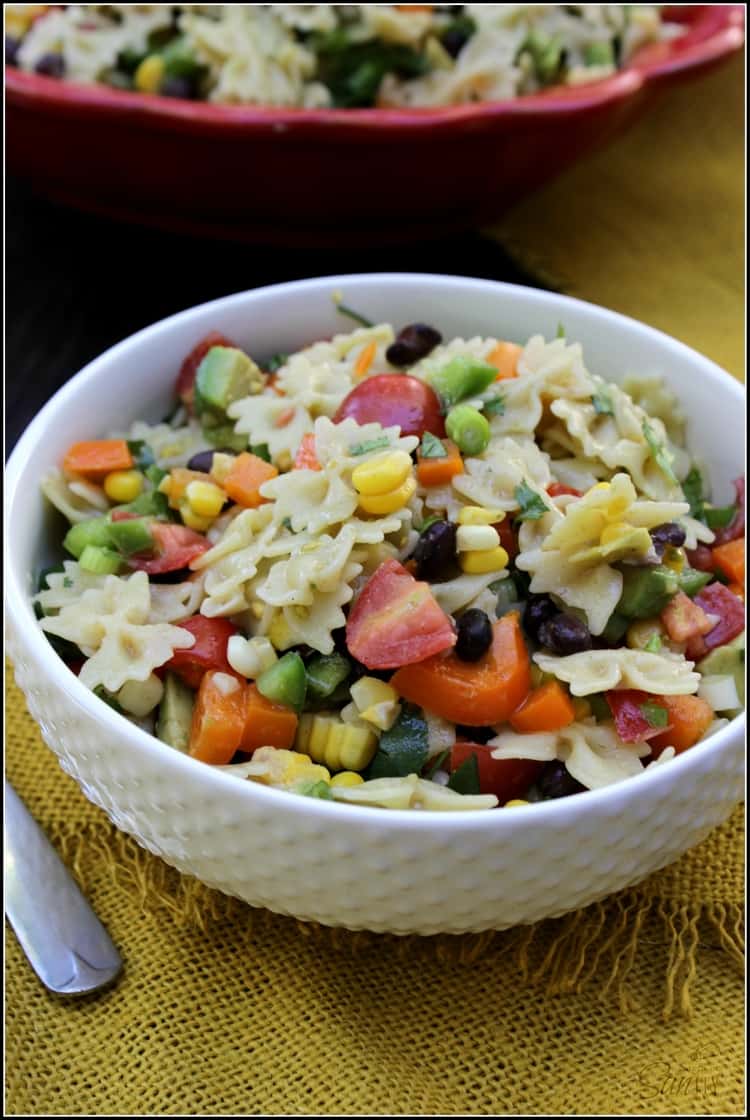 14. Simple Veggie Pasta Salad Recipe
Pack lots of vegetables and nutrients into this colorful and delicious Very Veggie Pasta Salad. This is one of the pasta salad recipes that make such a quick, simple, and healthy side dish, lunch, or snack recipe. And on top of that, it is super healthy for the vegans in the house. You need not worry about calorie count while sharing this in your potlucks.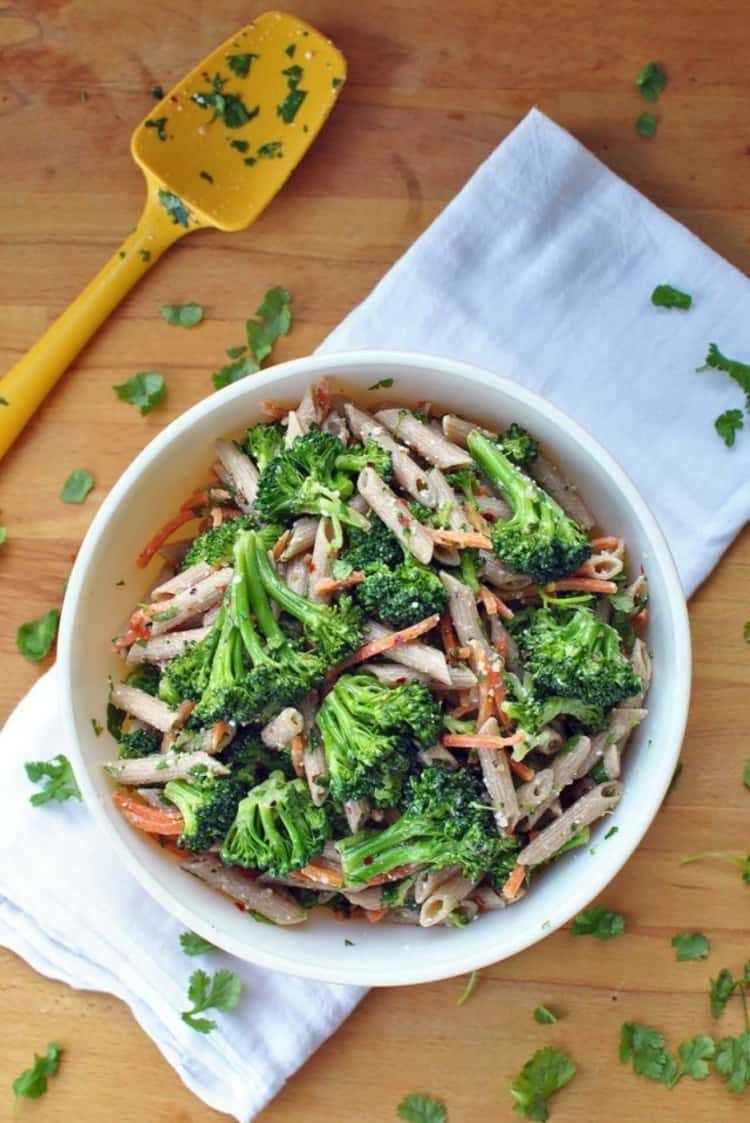 15. Make Avocado Bacon Pasta Salad Recipe
After apple avocados are my favorite. I mean, who doesn't love the green good looking fruit! You must be damned! Haha just kidding! So here is an avocado-based pasta recipe that you will definitely love. Avocado Bacon Pasta Salad is full of bacon, fresh cherry tomatoes, Parmesan cheese, and chunks of avocado. Delish. Wow! I am just salivating over here. Coz boy! This food is lovely.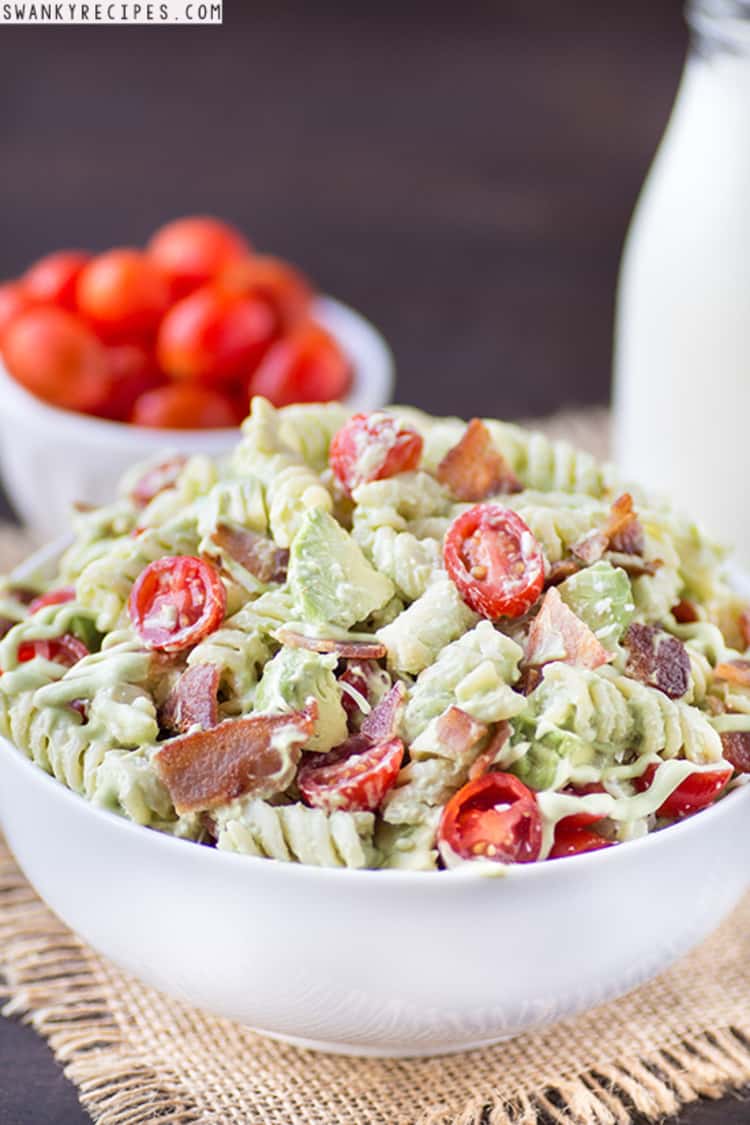 16. Tortellini Pasta Salad Recipe
Tortellini Pasta Salad is a yummy twist on classic pasta salad. It's the perfect side for your summer soiree. It is inspired by an Italian recipe and is so yummy. It is so easy to prepare. Simply toss cooked cheese tortellini in with fresh spinach, diced salami, cherry tomatoes, sliced olives, fresh parmesan and toss together with your favorite Italian dressing! You won't feel like finishing this meal as you want to savor the moment.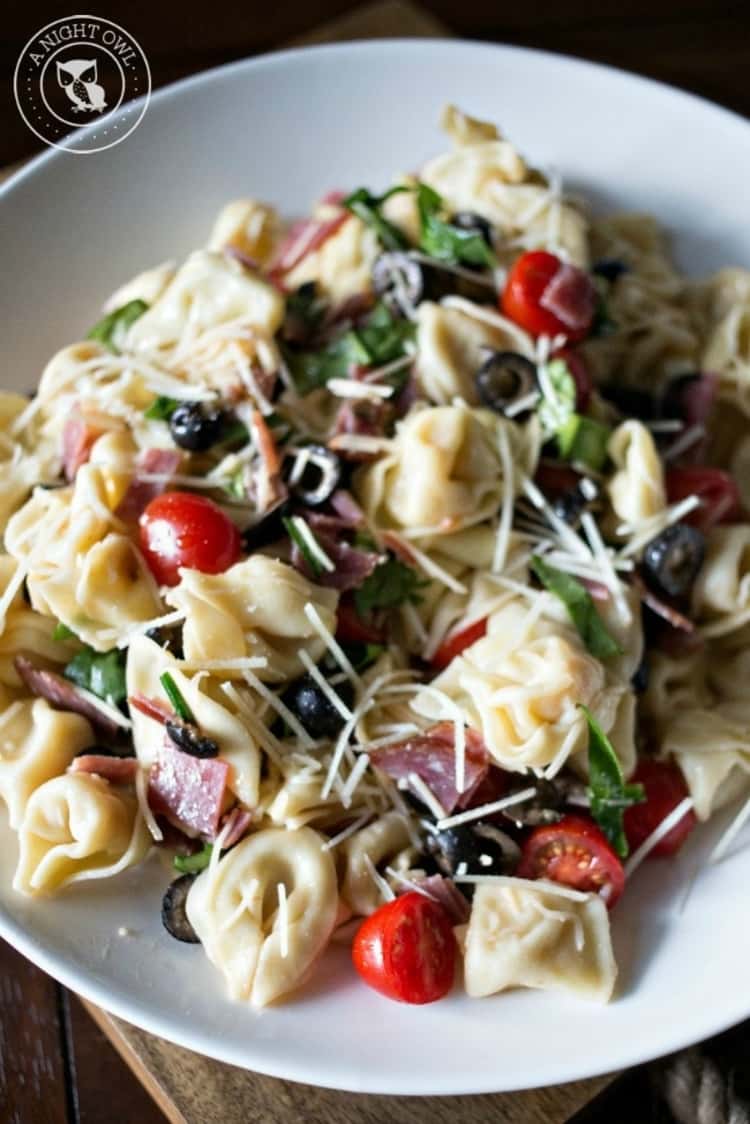 17. Super Easy Classic Macaroni Pasta Salad Recipe
This classic but super easy macaroni salad recipe is one of my very favorites.  I think the nostalgic taste transports me back to the summer picnics of years gone by.  No summer potluck would be the same without the classic pasta salad.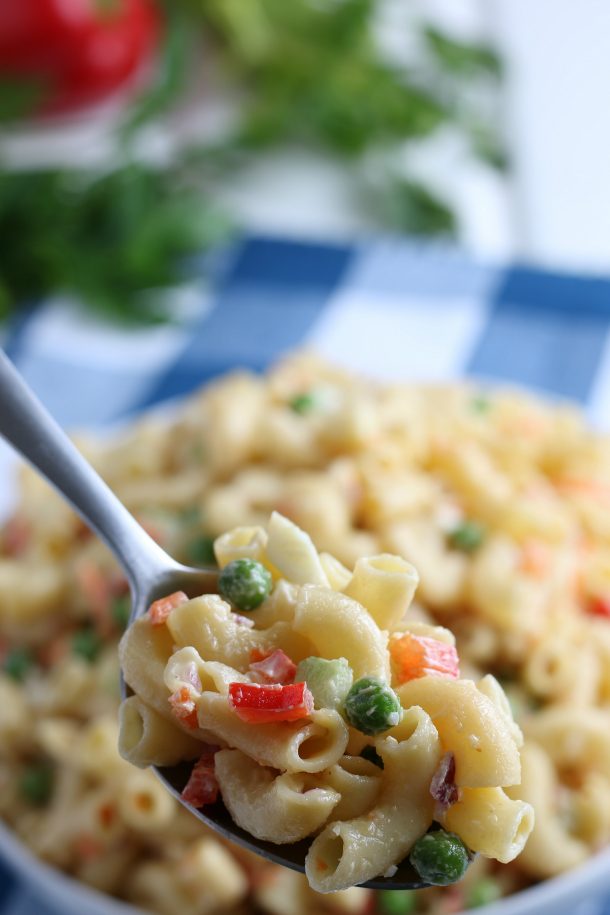 Simple Pasta Salad Recipes Delight…
Is there a moment that you can go wrong with pasta? I doubt there is especially now that you don't have to keep on cooking your one recipe kind of pasta. It can get pretty boring and unadventurous for family and friends who love new tastes every now and then. With all sixteen recipes we got for you, you sure have a lot of options for you to go with the summer potluck. Your family and friends will definitely be thrilled once you always carry the different types of made kinds of pasta to gatherings. Food is a love language they will appreciate. Food is a love language everyone appreciates.
Once you've tried out any of the pasta salad recipes we've got for you, you can let us know what the entire experience was like for you. We are happy to help you get around your favorite pasta meals. Happy meal making folks!
Those places I don't understand, just doing bad food. It takes some doing. Making good pasta is so much easier than making bad stuff. It actually takes quite an effort to make poor linguine pomodoro. – Antony Bourdain.
Do you love the above pasta recipes we got you and want easier meal ideas? Check out these posts!
What pasta salad recipe are you going to try tonight?