Keeping our kids safe, and healthy is not always an easy task – especially if mom is sick – you can survive! Over the counter meds are there to help us, but taking them safely and responsibly is sometimes easier said than done.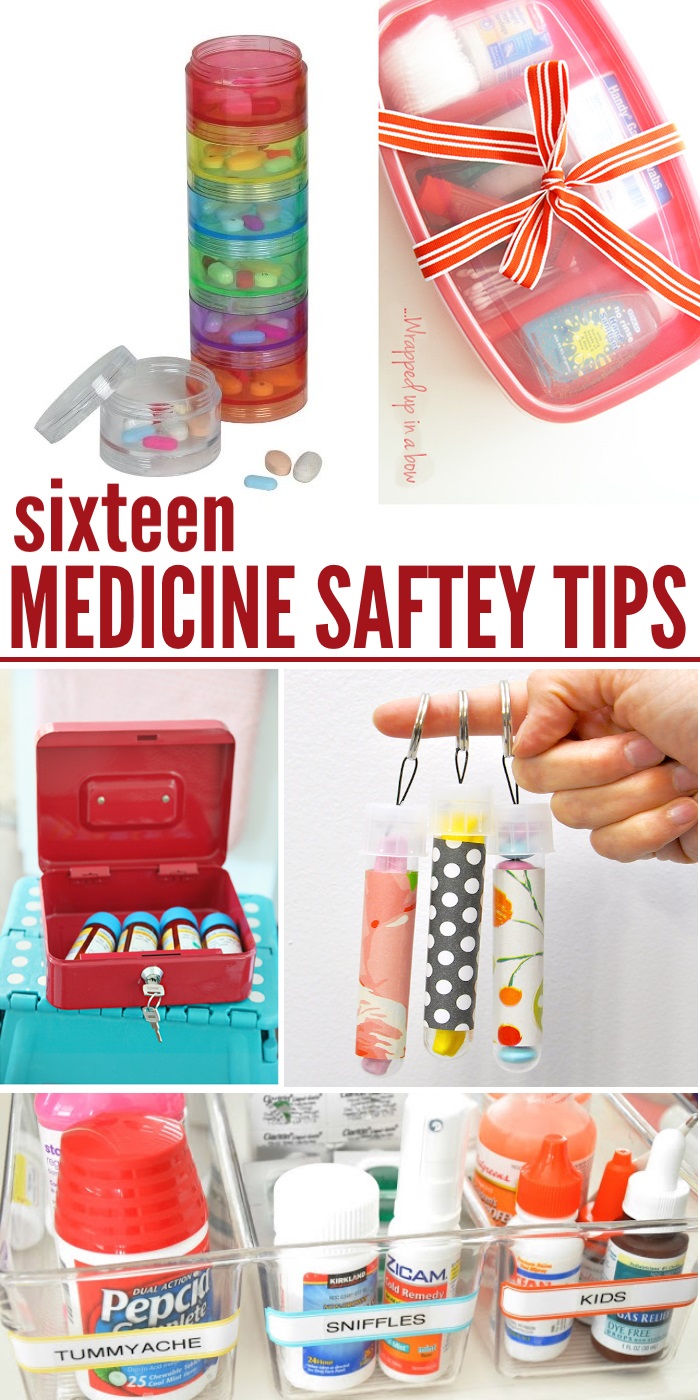 Tips for Medicine Safety
The right tools definitely help you organize your meds, and organized medicines are less likely to be misused accidentally. Try separating meds by the day of the week for a tween who is just beginning to give themselves their own medicine.
If in doubt, lock it up! This is an example of how a mom multipuposed a money box, making it into her prescription "safe".
If you are traveling, or have a teen who needs to carry medication on them for whatever reasons, this nifty carrying keychain might work! Transform a test tube into a dispenser. By carrying fewer pills there is less of a likelihood of misuse.
Be sure to be organized! Labels can help you find the medications you need, when you feel your worst.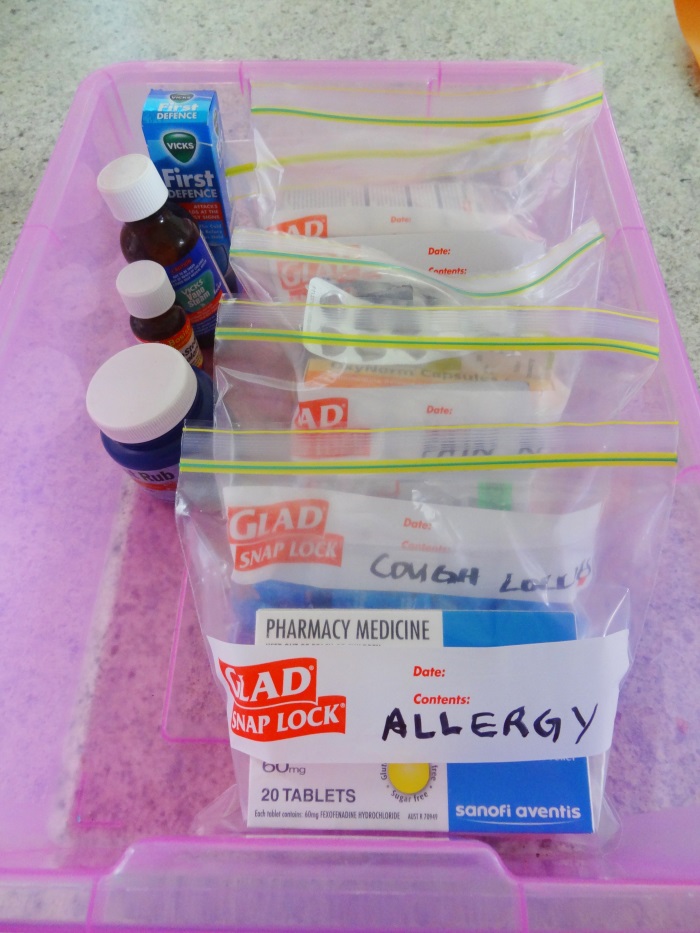 Organize Your Medicine Cabinet
I love this organization system. Use a locking bin and ziplock baggies to organize medicines and supplements, broken down by the symptom or by the person who needs them.
It is especially important to share the importance of medicine safety with our tweens and kids who are just starting to self-medicate. Over 10,000 tweens and teens a year visit ERs due to medication dosing errors. Protect them by making instructions obvious!

Often an ounce of prevention is worth a pound of cure! Washing your hands a LOT will totally help – this sink hack for moms will totally make handwashing easier!
You can even write the dosages that different family members require on the back of the bag. Perfect for when a sitter or grandma needs to care for your kids.
Medicine Box Ideas
Don't forget about your pets! Pets can also have dosing accidents and get into the medicine stash. Be sure to secure prescriptions and over the counter medicines from them as well! Here is a pet medical kit.
Keep your younger kids safe! Be sure to always lock your medicines, even the over-the-counter medications. Every year more than 60,000 kids are sent to the ER as they got into the medication when their parents weren't looking. Lock boxes are a must if you have kiddos.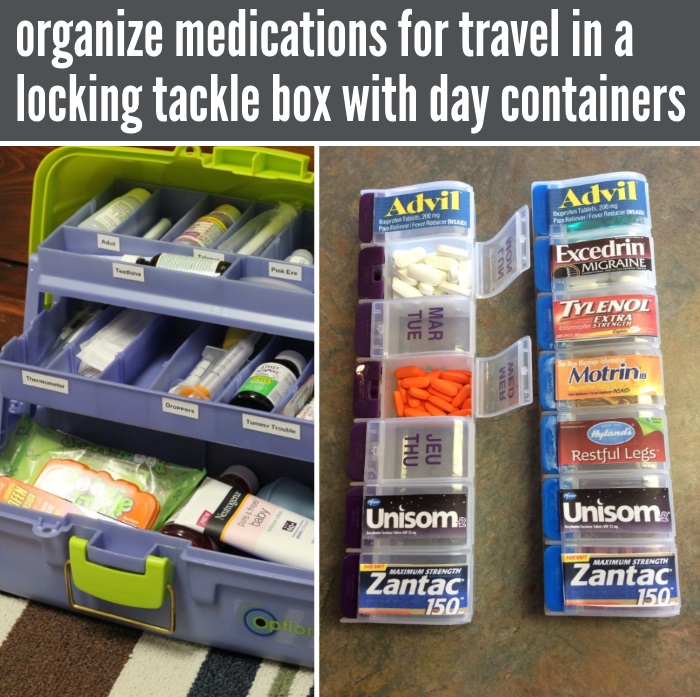 Ideas to Help Keep Medications Safe
Check out this tackle box transformation!! Into a portable medicine cabinet! Genius!
And when you are traveling, consider transforming a day pack into a mini-medicine cabinet. With the labels you know what you are taking and don't need to deal with lots of boxes.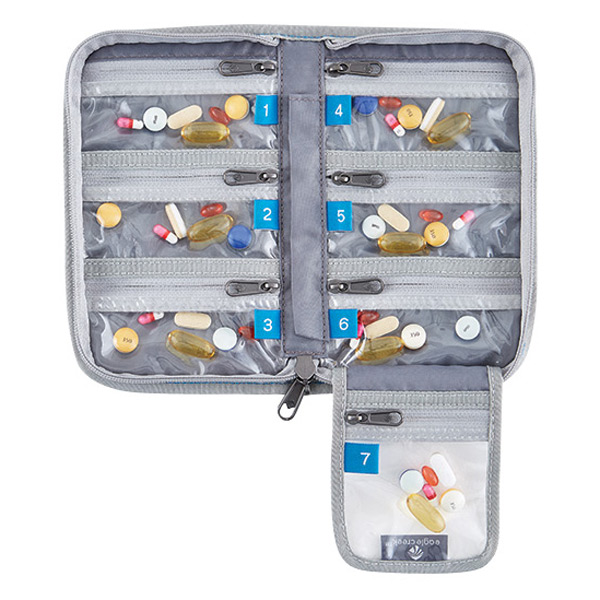 If you or your loved one is on a regular regime of medicines, invest in a locking portfolio. It is small, easy to transport – locks!! – and you can see which days were taken and which ones are left!
Don't forget your car! Bring a small first aid box with you in your travels. Note: OTC Medicines are intended to be stored in a consistent temprature. You might want to save your first aid kit for the items that do not spoil. Check the bottle labels.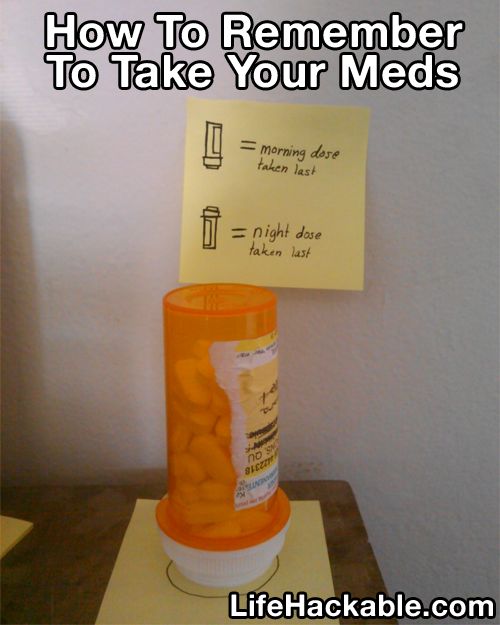 Do you wonder if you remembered to take your meds that morning? Or if you forgot? You are not alone! This nifty "bottle turning" hack can help!
It is especially important to share the importance of medicine safety with our tweens and kids who are just starting to self-medicate. Have your kids refer to this fun, and informative e-book for more details.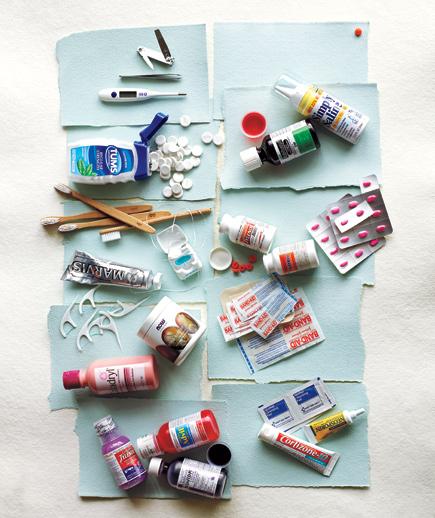 What a great – and free – Ebook. Over at Scholastic, they have a fun, illustrated storybook to demonstrate medicine safety, including a medicine safety checklist, an action plan and outlines for safe storage practices. Here is a list of common items that we should have in our medicine cabinets.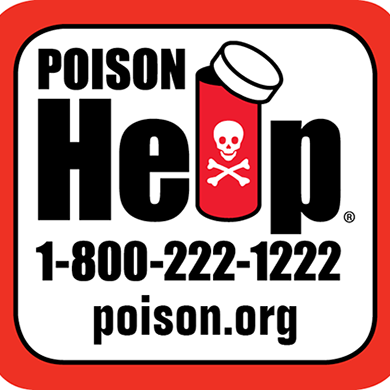 I know I have had to call the poison control center in the past with my kids, and this blog post is my thanks to them, for answering the phone and helping to keep my family safe.
If you ever fear that you or your child may accidentally be poisoned contact 1800-222-1222 << And be sure to have that number on or near your medicine cabinet!