Want to throw a summer soiree that your friends and neighbors won't soon forget? It's easier than you think! We've found some fun, fabulous, and most importantly, easy summer party ideas that anyone can do. They're not expensive… they're not difficult…and they're not time-consuming. But they'll take your party from "eh" to "amazing" in no time!
Favorite Easy Summer Party Ideas
There are enough ideas here that you'll want to host a bash every weekend. Consequently, you'll be the talk of the town when guests rave about the wonderful time they had at your party!
What's even better than rave reviews? Quick and easy summer party ideas that become a sensation! Make sure to save the dates and party ideas in your calendar. You may just find that some of these ideas become beloved family traditions!
1. A Summer Party Favorite for All Ages
Put together a self-serve ice cream social sundae bar. Add ice cream to mason jars, and put them on ice. Set out all the toppings (and spoons!_, and your guests will be ready to enjoy. As a result of your preparation, they'll love helping themselves as they create these easy summer party treats. What a fantastic way to entertain a crowd!
Favorite party toppings include:
Sprinkles
Mini-marshmallows
Chocolate chips
Broken pieces of candy bars
Gummy bears
Fruit
Syrups
Nuts
Cookies
Peaches
Cherries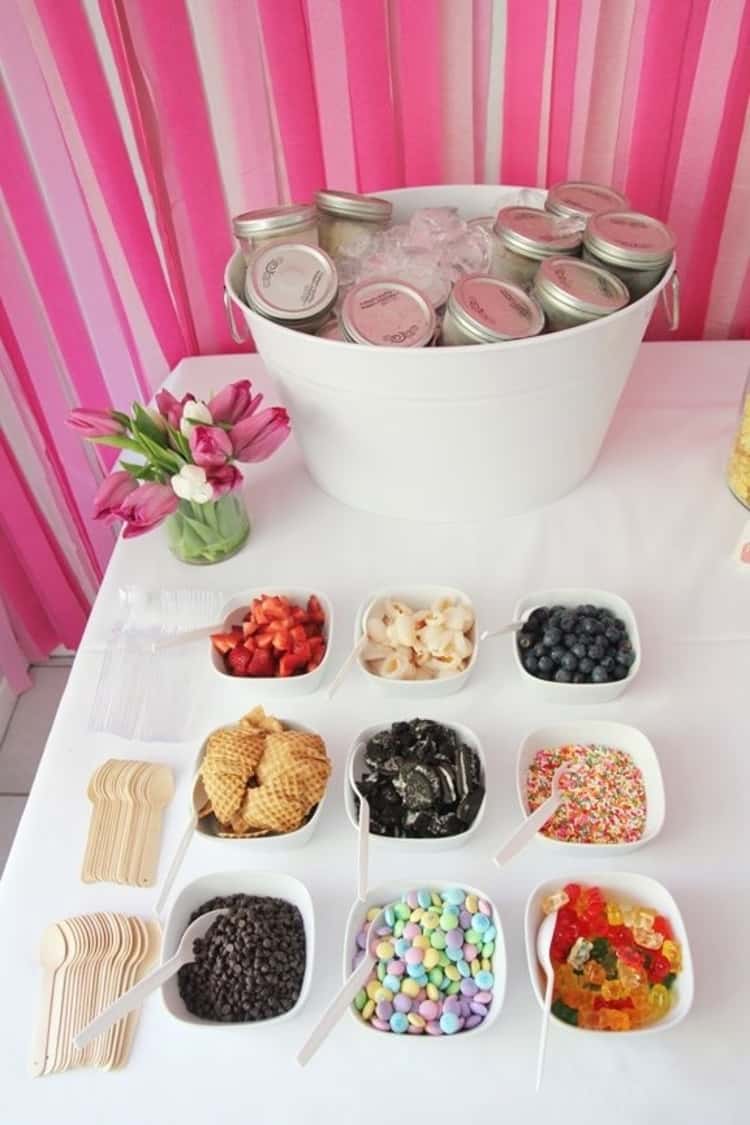 2. Summer Drink Hack
Keep bugs out of your drinks
with cupcake liners. Have you ever taken a sip of your drink only to find a bug in your mouth? Not any more! This tip is simple, but GENIUS! You can also write your name on the liner so everyone knows how to find their own drinks. It's so easy! This is an important summer party favorite!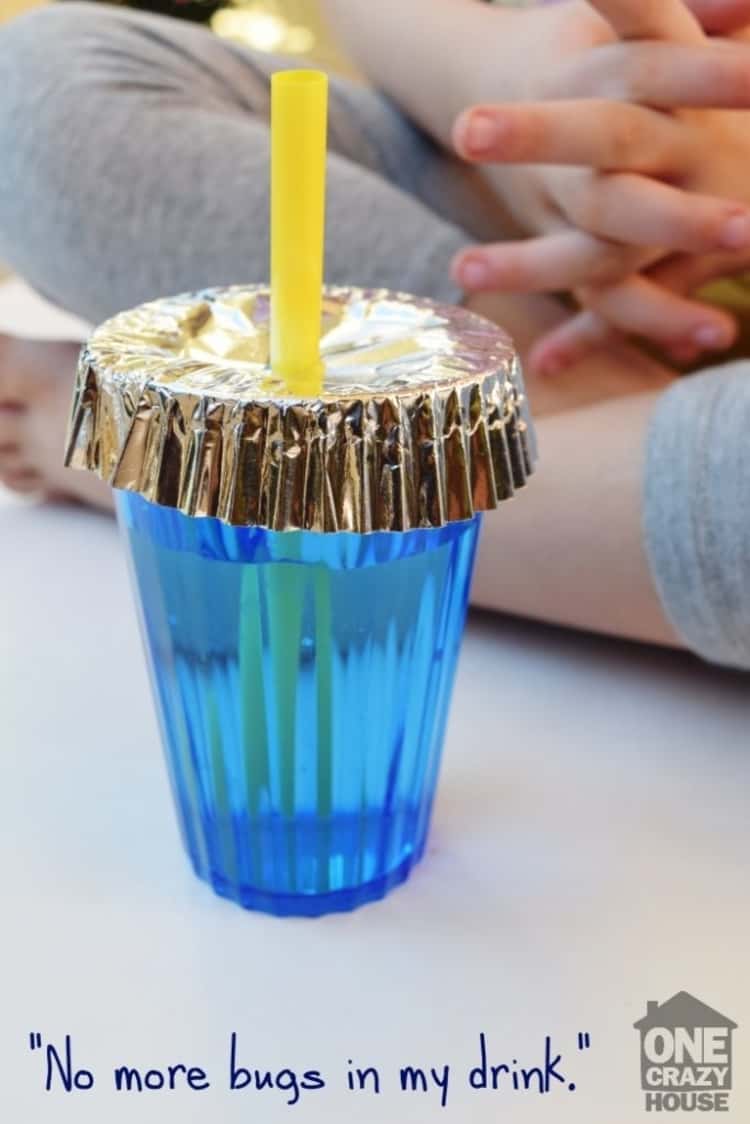 3. Serve Your Favorite Picnic Food In Style
Serve watermelon on popsicle sticks. This classic idea cuts down on the mess, plus it's cute! The kids will love this healthy treat that only takes minutes to assemble. Next time you are getting ready for an outdoor picnic, pile these treats high on a platter. This treat is so popular, that you may want to prepare a second tray! Besides, everyone knows that watermelon is a summer party MUST!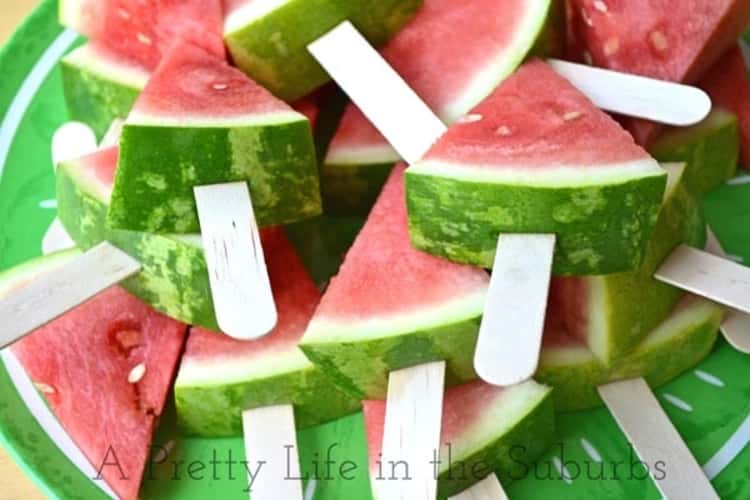 4. Putting on the Chill for a Fun Summer Idea
Keep beverages cold with frozen water balloons. It adds a bit of color and fun to the beverage bucket, don't you think? And at the end of the party, let the kids play water balloon toss! Make sure to have a few towels at the ready! This is a summer party idea that the kids will love! Make a fun cooler full of frozen balloons for your next party! You can even fit a party theme by using character balloons for added fun.
5. A Twist on Some Family Favorite Outdoor Games
Use spray paint to create an outdoor Twister game for your party guests. Fun! Use this same idea to create a checkerboard or your favorite childhood game board. This is a summer party idea that anyone can do. My family loves the outdoor Candy Land Game we made. Not only is it a lot of fun, but we are creating family memories that everyone will treasure. Recruit the kids to help with the creation of your backyard games!

6. Summer Party Safety Station
Don't forget the sunscreen! What kind of hostess would you be if your guests went home with a sunburn? Set up a sunscreen and bug spray station. You can also set up a station with hand sanitizer, wipes, and tissues. This is a good way to keep all party guests feeling comfortable and ready to participate in all the fun. Your guests will appreciate your thoughtfulness!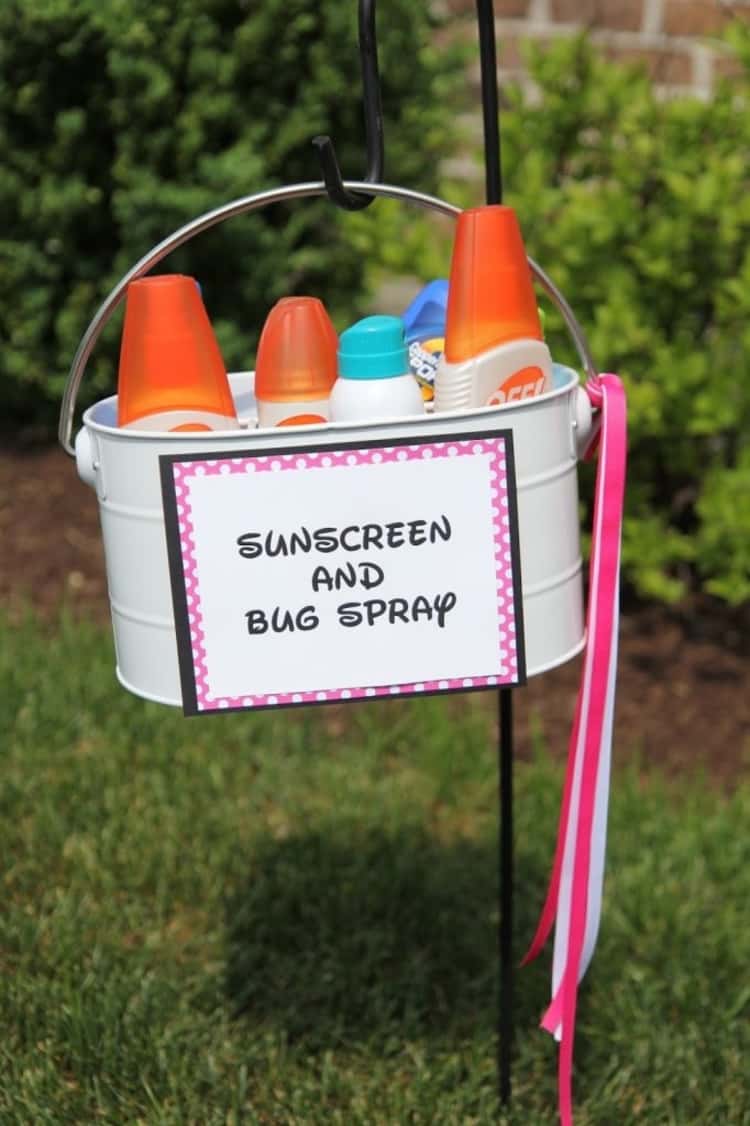 7. Summer Party Banners
Create pretty, colorful party decor and banners on the cheap with paint chips! It's fun to decorate, and these banners are easy to assemble. You can also use Sharpies to write a personalized message…just add one letter to those flags! Therefore, your personal message will be seen and appreciated. This can be another great way to have the kids participate in decorating.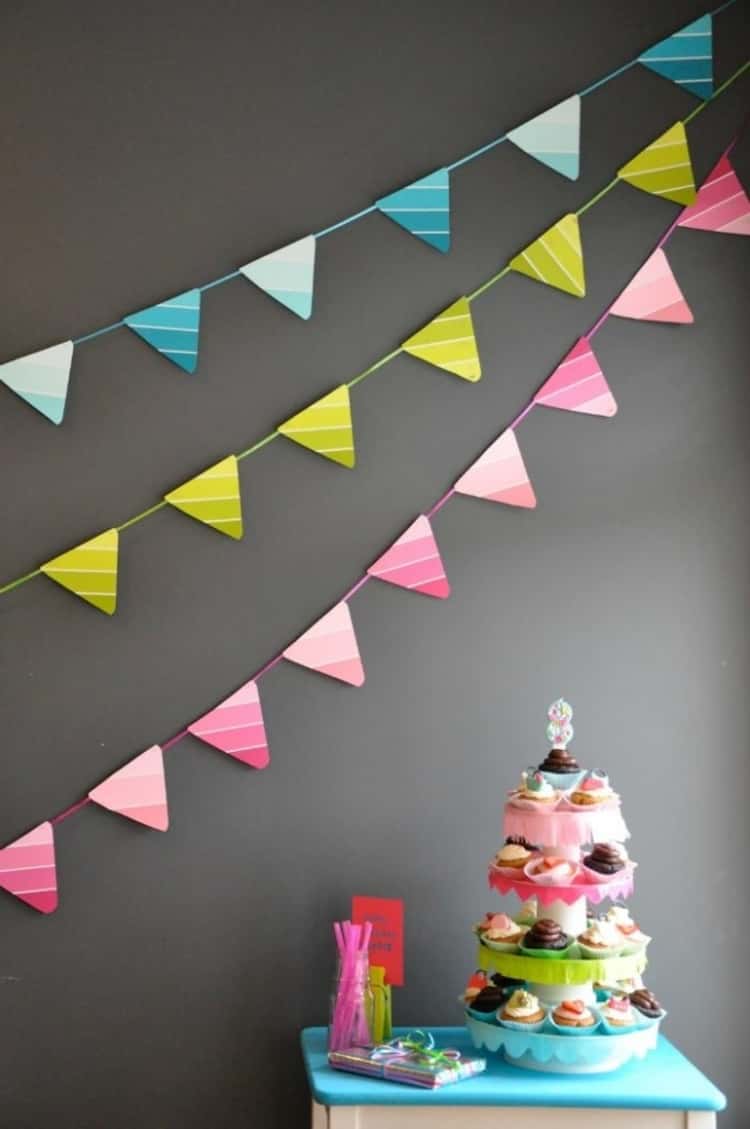 8. Host a Neighborhood Movie Night in Your Backyard
A backyard movie night is an excellent idea for a summer fun party. Just hang a sheet that will serve as a projector screen in the background. Easy, and the kids (and neighbors) will love it! Get the kids involved by voting on the movie, and creating movie posters, and invitations. Have plenty of popcorn and treats, burgers, hot dogs, and barbecue for the moviegoers because what's movie night without snacks?! Don't forget to set up a comfortable sitting area by spreading quilts on the ground, beanbag chairs, and pillows. This will become a neighborhood favorite!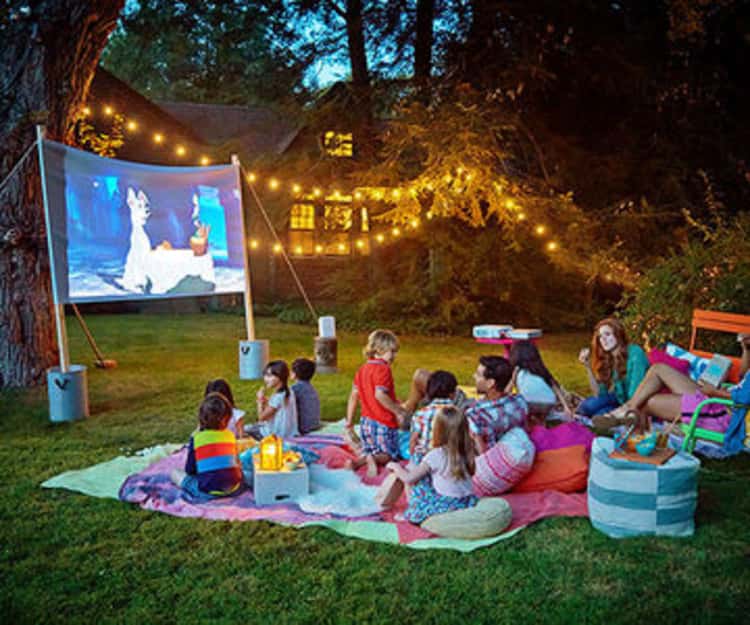 9. Creative Summer Party Serving Containers
Serve chips, pretzels, and other snacks in beach pails with shovels to portion them out. Cute! It's so fun to be creative when it comes to decorating your table! Start with an easy theme, and add simple container options to delight your guests. It's easy to make it festive and functional. As a result of a little creative planning, your party will be memorable.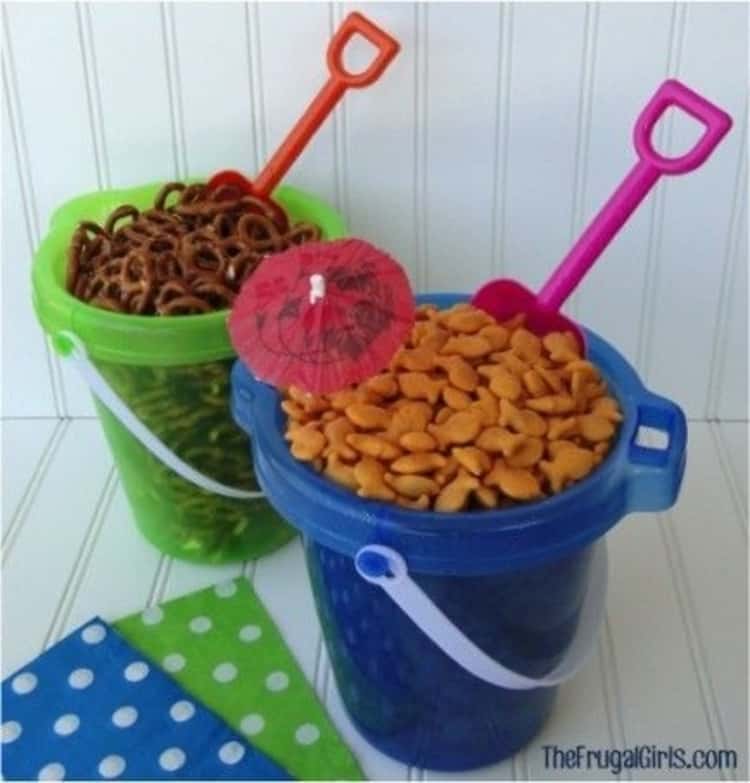 10. Easy Breezy Recyclable Paper Dishes for Summer Fun
Add something healthy (and pretty) to the snack table. Put blueberries and strawberries in wax paper cones for easy serving. This will be a refreshing treat on a hot summer day. You can also use the paper cones for candy treats, or substitute waffle cones for the paper cones–yummy!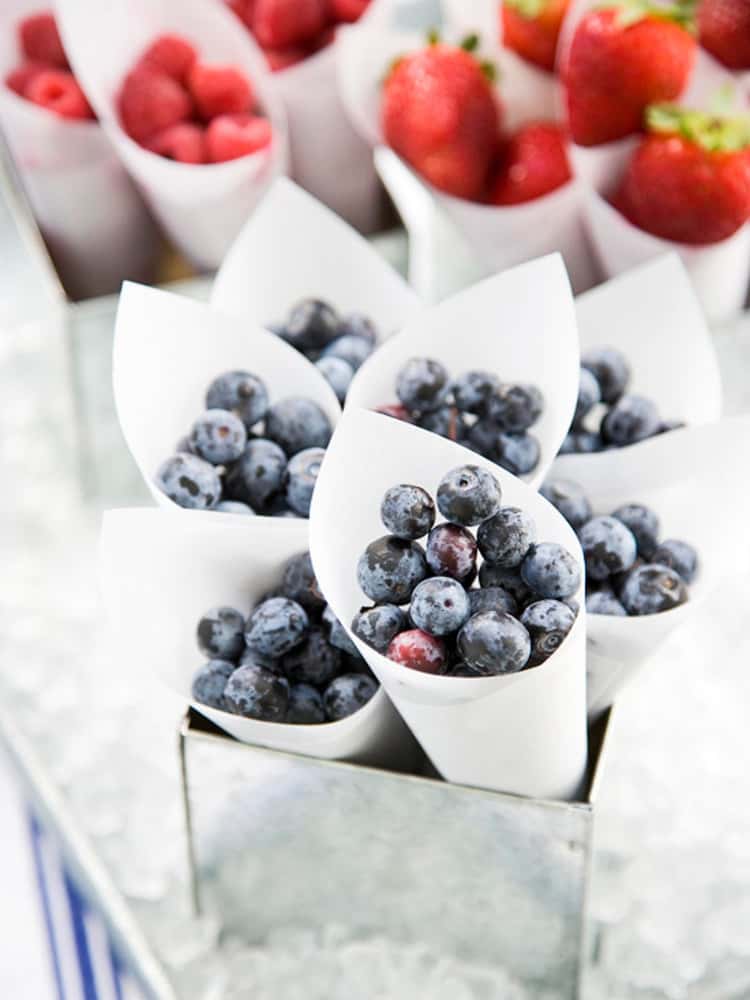 11. Single Serving Party Snacks Make Your Summer Party Fun
Speaking of healthy things, veggies and dip can be served in individual cups to avoid a pile-up at the buffet table. Veggie cups are easy to assemble; therefore, they save you time! Another eye-catching treat is fruit skewers. String various pieces of fruit in a colorful arrangement, and serve. Moms especially love this healthy alternative for party snacks!
12. Beach Ball Welcome Arch Screams Summer
Make a splash with a beach ball arch! All you need are some beach balls, inner tubes, and glue. This is a festive and fun way to welcome your guests to the party. You can choose bright colors to match your theme. Besides, decorating the entrance to the celebration really sets the tone, and is a whimsical way to get the party started!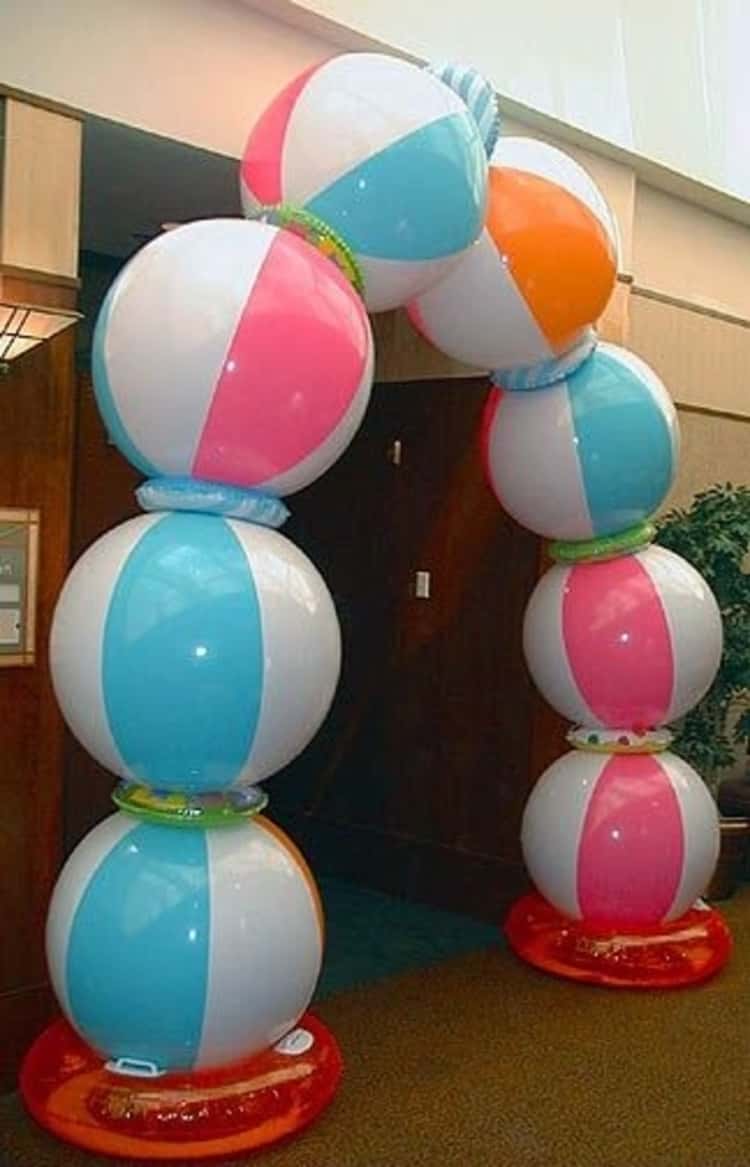 13. Walking Taco Dinner Makes Cooking & Cleanup Easy
Looking for something easy to serve that's kid-friendly, as well? Walking Tacos are where it's at! Put all the taco fixings into individual chip bags, and that's that! Besides being quick, it's easy cleanup! While you're at it, set up a Taco Fixin's bar so the kids can make their own Walking Tacos…keep things simple!
Ingredients Needed for Walking Tacos:
Shredded cheese
Lettuce
Tomatoes
Olives
Onions
Peppers
Black beans
Sour cream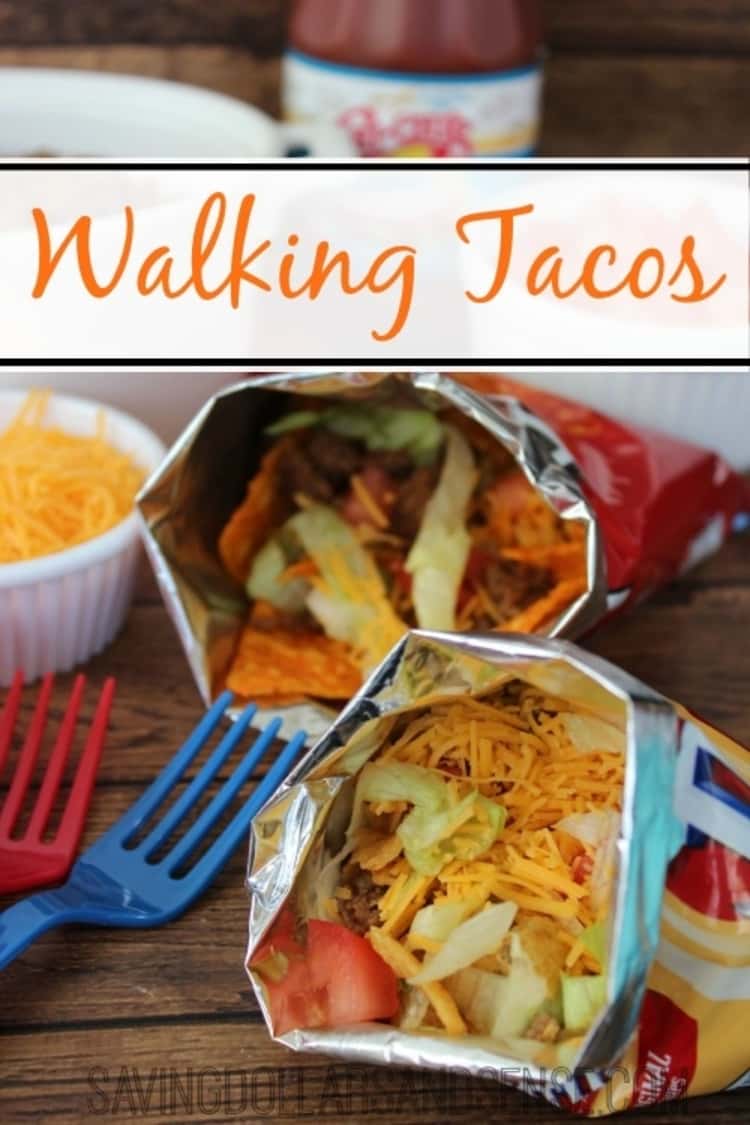 14. Vertical Summer Party Platter Ideas
When you don't have enough table space, go vertical! Check out these disposable platters! For summer party tables, use brightly colored paper-wrapped boxes to create vertical space for serving platters.
One of my favorite Christmas holiday table decorations is an antique sled. This allows an elevated shelf to put serving bowls and platters. Decorate around the sled with pine boughs and cranberries to add more interest. As a result of being creative, you'll have a functional and pretty setup.
15. Cool Summer Party Ideas Glow at Night
Entertaining at night? Because you want to create a festive atmosphere, here's a quick and easy idea to get everyone in a festive mood. Insert glow sticks into several balloons and toss them in the pool for a night swim. You can always choose the colors of the balloons to coordinate with your party theme.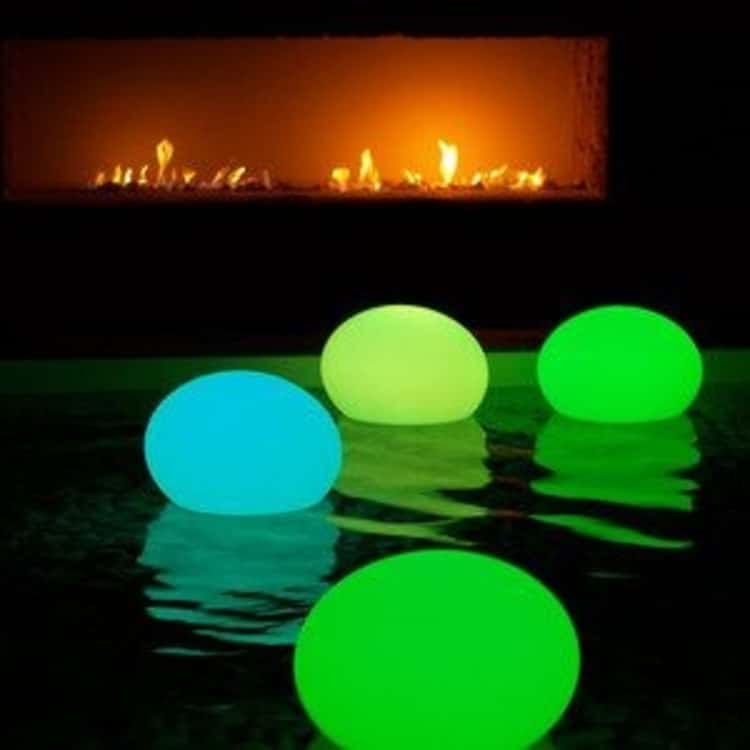 16. Decorate Your Summer Party with a Splash of Color
For a fun and festive surprise, decorate with painted pineapples. Fun and festive! You can use them for table centerpieces or to line the walkway. Decorated pineapples are such a memorable and festive way to line the path to the party entrance!
17. Everyone Wants S'more Summer Party Fun
It's just not a summer party without a build your own S'mores station. Prepare ahead of time, to make this an easy and fun dessert. You'll need:
Sticks or campfire forks
Graham crackers
Chocolate bars
Peanut butter cups (my personal favorite!)
Marshmallows
Various nut spreads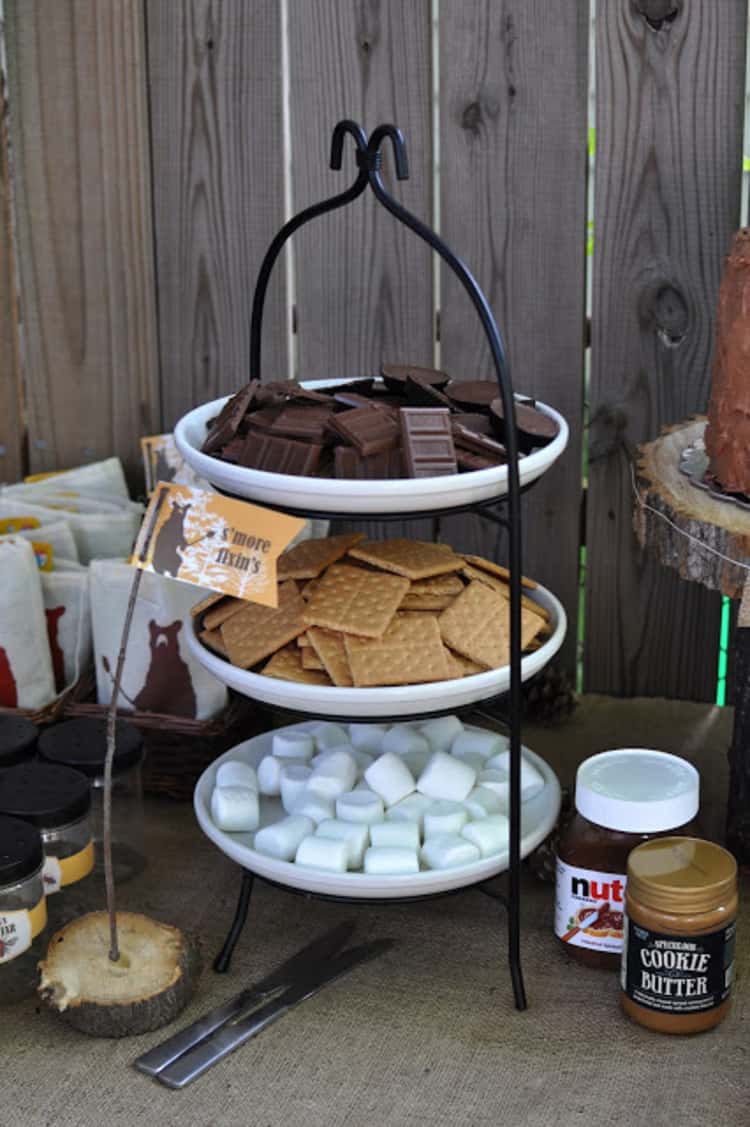 18. Frozen Flavor Summer Treats
Add flavor to drinks while keeping them cold — freeze fruit to plop into your cups, instead of ice. Grapes work well, as do citrus fruits! This is a great way to add flavor to water, too. Try adding frozen lemon slices, cucumber, or strawberries for a refreshing treat.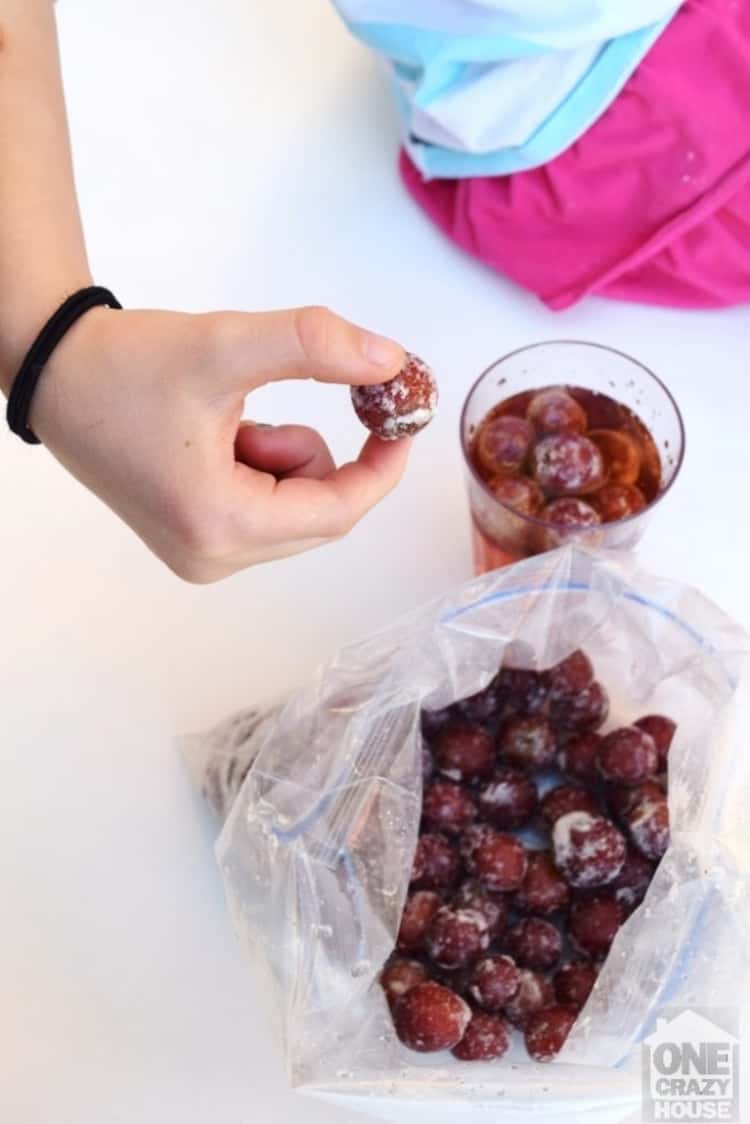 19. Pretty Bug Lanterns for Summer Nights
Keep bugs at bay with these summertime candles in a jar. They're made with citronella, and they smell and look great! For a pretty decoration, line the candles up in the middle of the picnic table. Another great idea is to hang the jars with raffia or jute that you tie around the top, and then secure to a shepherd's hook. This is a pretty and effective way to keep the bugs at bay.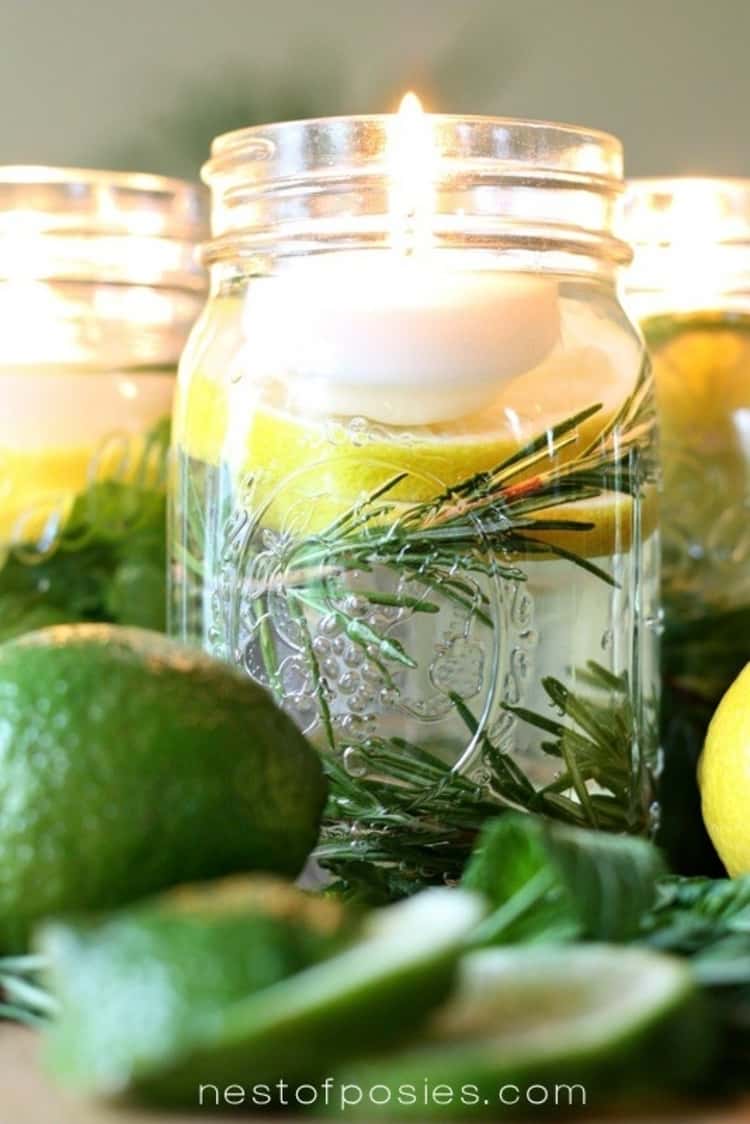 20. Ready, Aim, Fire for Summer Party Laughs
Set up a squirt gun refill station for the kids (or for the grownups… no judging here). This is a fun way to cool down on a hot summer afternoon. Because of all the fun, I bet you can imagine the laughter and screams of delight! The kids will love this!
More Fun Summer Party Ideas From One Crazy House: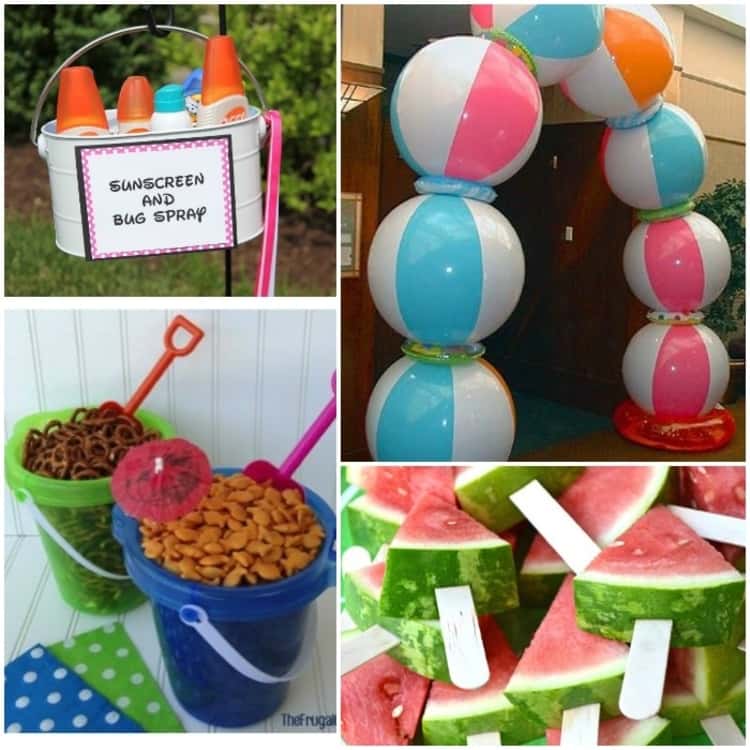 Which of these cool summer party ideas would you want to try this summer? Let us know in the comments!