If you have a cat, you know how irresistible it is to pamper them with homemade cat treats. All they have to do is give you those cute kitty eyes, or do that adorable thing where they rub their head against your hand, and as pet parents, you're ready to give them anything they could possibly want.
From toys to treats, it seems we're always looking for something to spoil them with. And if you're anything like me, you're also often seeking out ways to keep your cat healthy, so they can live longer as our cute and cuddly (or adorably cranky depending on the cat) companions. Mass produced commercial cat treats are often made with fillers and preservatives that make them shelf-stable and cost effective for manufacturers. Check out these homemade cat food recipes that you can do instead of those commercial cat foods.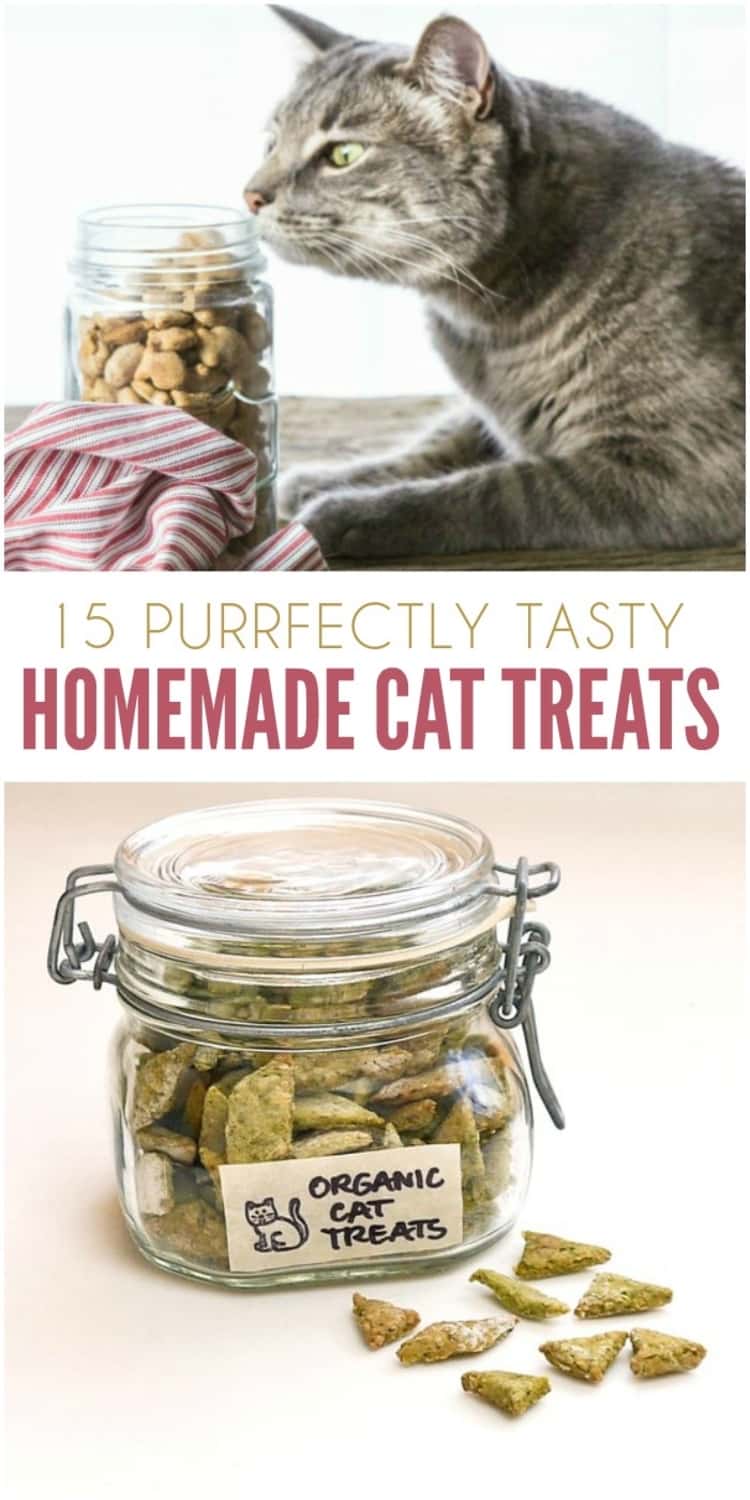 Homemade Cat Treats – Recipes for Kitties
These often aren't things that your cat necessarily needs, nutritionally, and worst-case, can even be harmful! Not to mention- they can get expensive for the consumer! So why not get creative and make your favorite feline a few of these easy and affordable homemade cat treats? In these 15 pet food recipes, you'll find your own cat food crunchy snacks, chewy treats and even a couple of frozen delights to suit even the finickiest of cats.
1. Simple Salmon Cat Treats
Cats will go crazy for these super simple 3-ingredient Salmon Cat Treats by The Cookie Rookie. It's pretty much a given that your cat will love Salmon – most cats do! But The Cookie Rookie lets us know that you can use any oily fish in this recipe, so if your cat is more of a tuna or mackerel fan – this recipe can still work for you. It's also got the essential nutrients your cat needs! Plus, how adorable is it that she used cookie cutters to make them into little fish? They almost look like human goldfish cracker snacks! And with only three real food ingredients – even a human could snack on these if they wanted. Also, we have to say, her cat Scout is a real cutie!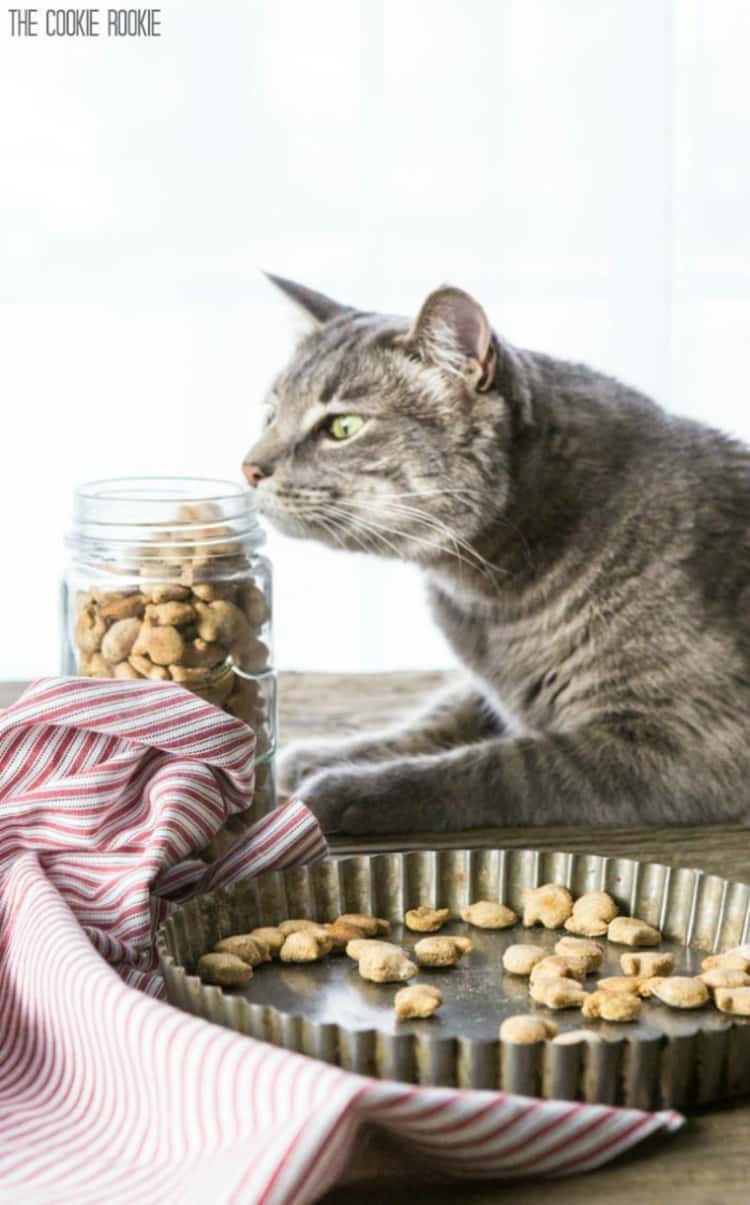 2. Crunchy Tuna Cat Treats
My cat, Rosie, loves all things tuna-flavored, so these Crunchy Tuna Cat Treats by Evermine Occasions are perfectly suited to her palate. It's also no secret that some cats can be a bit picky when it comes to texture. If your cat loves the crunch, these are the absolutely purrfect choice. It'll make your cats want to roll over and show you their bellies to rub! Just be careful and watch out for food allergies that you cat might be sensitive on when you bake theses the first time.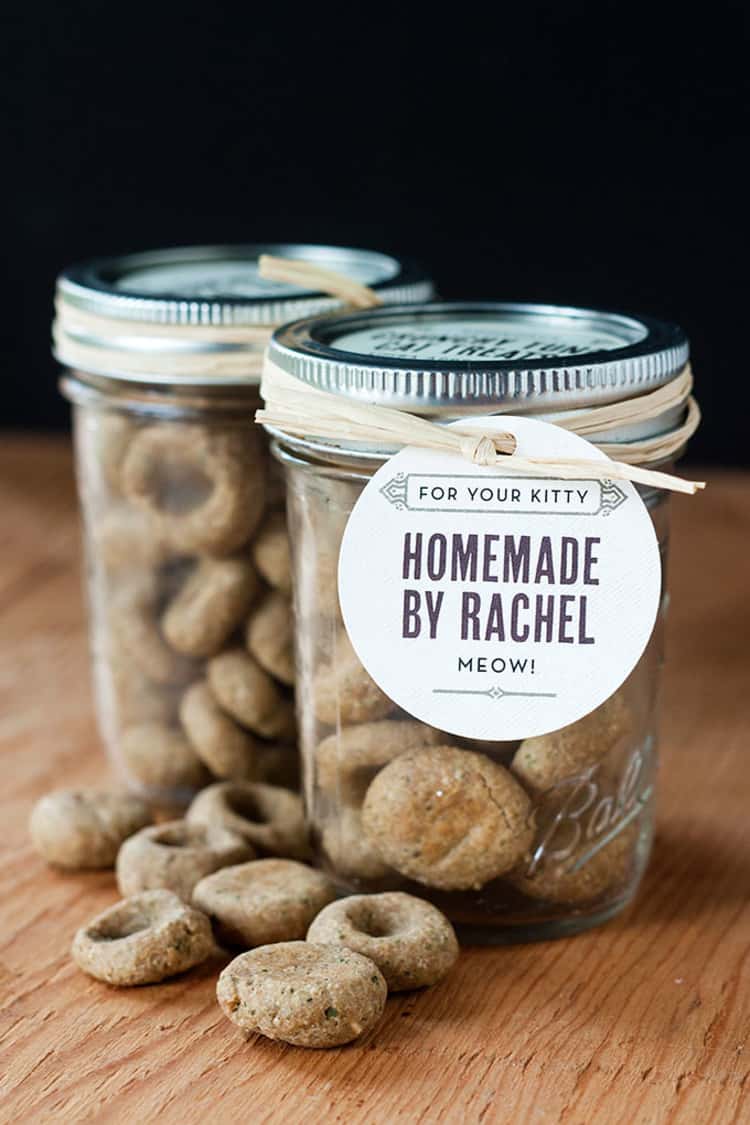 3. Frozen Tuna Homemade Cat Treats
Do you just love reaching for a popsicle in the hot summer months? They're great for helping to cool us down. It's good to remember, though, that cats can get overheated too! Let's pass on the raw cat food and make some cool treats! These Frozen tuna treats by Wonder Forest are the perfect summertime snack for your kitty. Bonus: you can store them in an airtight container or bag in the freezer for up to 6 months, so it's okay to make a big batch at once!
4. Healthy & Organic Spinach and Chicken Cat Treats
Cats are primarily obligate carnivores, but that doesn't mean they can't benefit from the nutrients found in healthy veggies. Give your beloved feline the vitamins, minerals (like calcium and phosphorus!) and nutrition they can get out of veggies, boneless chicken, and some egg yolks. It can be difficult to get a cat to eat veggies on their own, however these Spinach and Chicken cat treats by PopSugar are filled with healthy veggies and meat, completely organic, and also include catnip for an added fun factor. Cats will gobble them up without a second thought!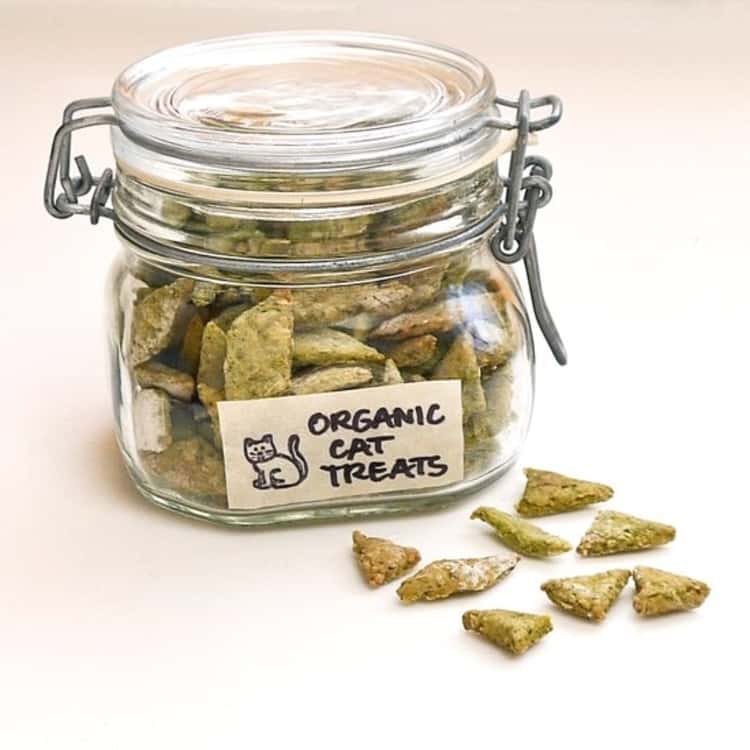 5. Simple Ingredient Salmon and Oat Homemade Cat Treats
Grains can be good for kitties too! Sometimes, the less ingredients, the better. This recipe for Salmon and Oat cat treats by Joy the Baker combines only oats, pink salmon, eggs, oil, and catnip to make Cat Cookies that will keep your kitty purring. bake them in the oven for some homemade diet snacks!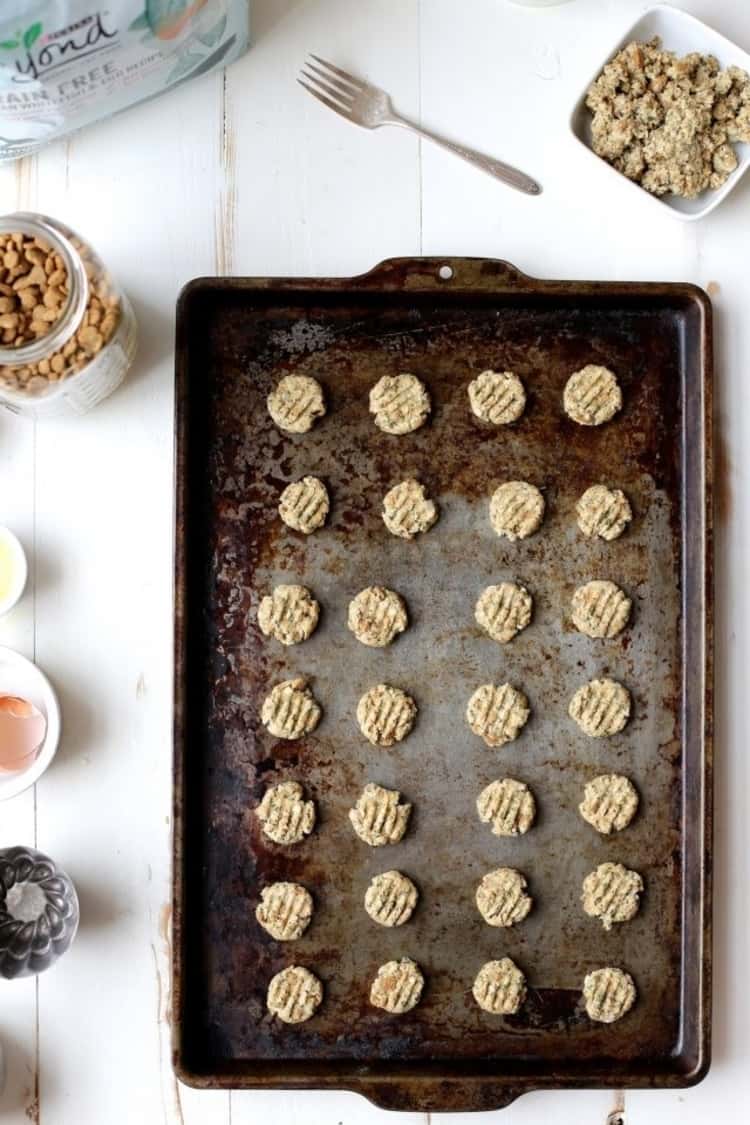 6. Tasty Goat Milk Popsicle Treats
Vets would recommend that you help your cats get cooled down in the summer. Another great frozen summertime option, these Goat milk-sicles by Catster are a creamy, tasty way for your cat to cool down when the weather is hot. You can also freeze a few of their favorite treats along with the goat's milk to make them even better. Catster also offers an alternative option in for goat milk in the recipe, for cats with more sensitive stomachs. Frozen treats are also fun for longer, since it usually takes cats a while to get through them – a great game-like option for introducing more activity into your feline's life, as they chase it around the plate while it melts!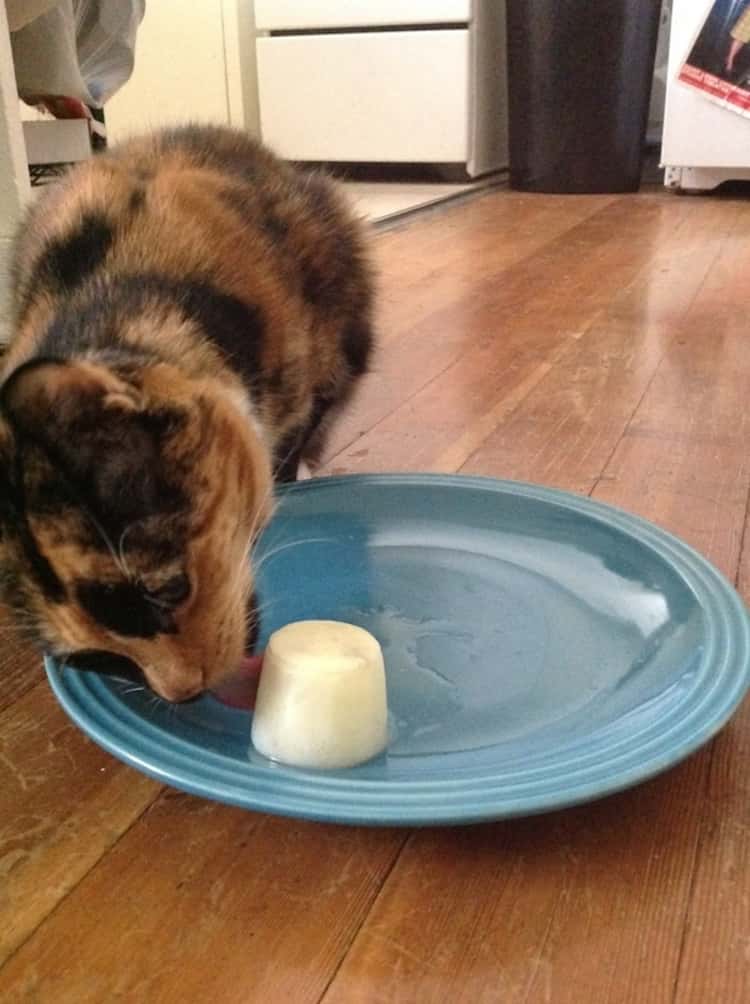 7. Cheesy Tuna Cheddar Cat Treats
Skip the onions, garlic, corn, chicken liver, or other raw food we sometimes offer the cats. If your cat's a fan of cheese, he or she will devour some Tuna Cheddar Cat Treats by Adventures in Cooking.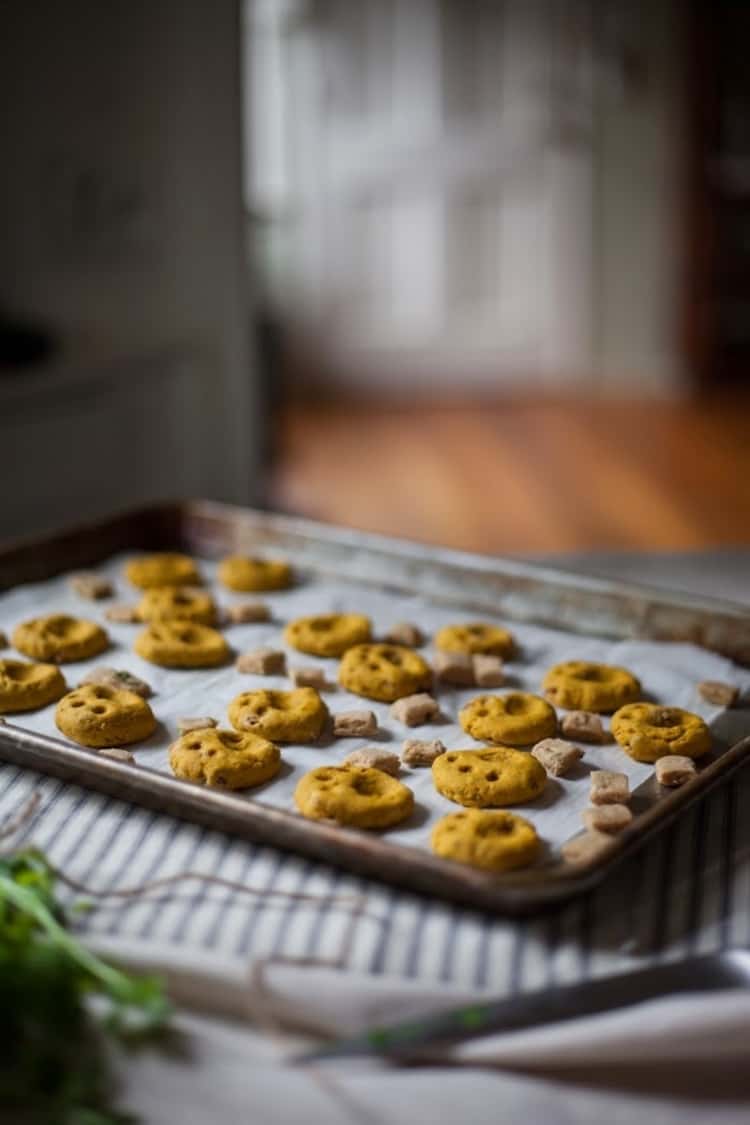 8. Holiday Leftovers Chicken and Cranberry Cat Treats
Who doesn't have leftover cranberries around the holidays? I know we do. And I hate wasting food, but I can only eat the same foods so many times before I get sick of it. Next time I run into this issue during the holidays, I'll make these Chicken and Cranberry Cat Treats by All Roads Lead to the Kitchen for my little furball. Inserting some poultry products saves the day! Happy holidays for everyone, including the cat!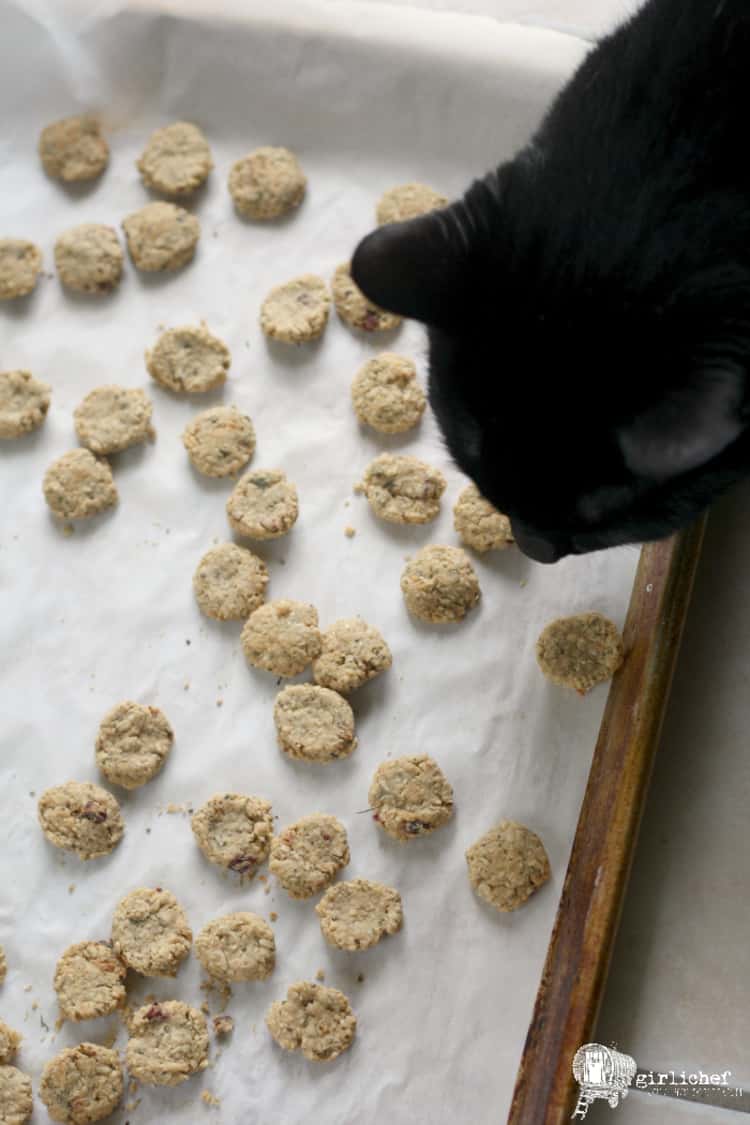 9. Sardine and Catnip Homemade Cat Treats for Finicky Felines
These Sardine and Catnip Cat Treats by Offbeat Home and Life are another fish flavored option that is sure to be a hit with even the finickiest of felines. I'm also loving the cute little heart shape. Just another way to express my love to my sweet kitty companion! They will surely love this treat from their thighs to their bones!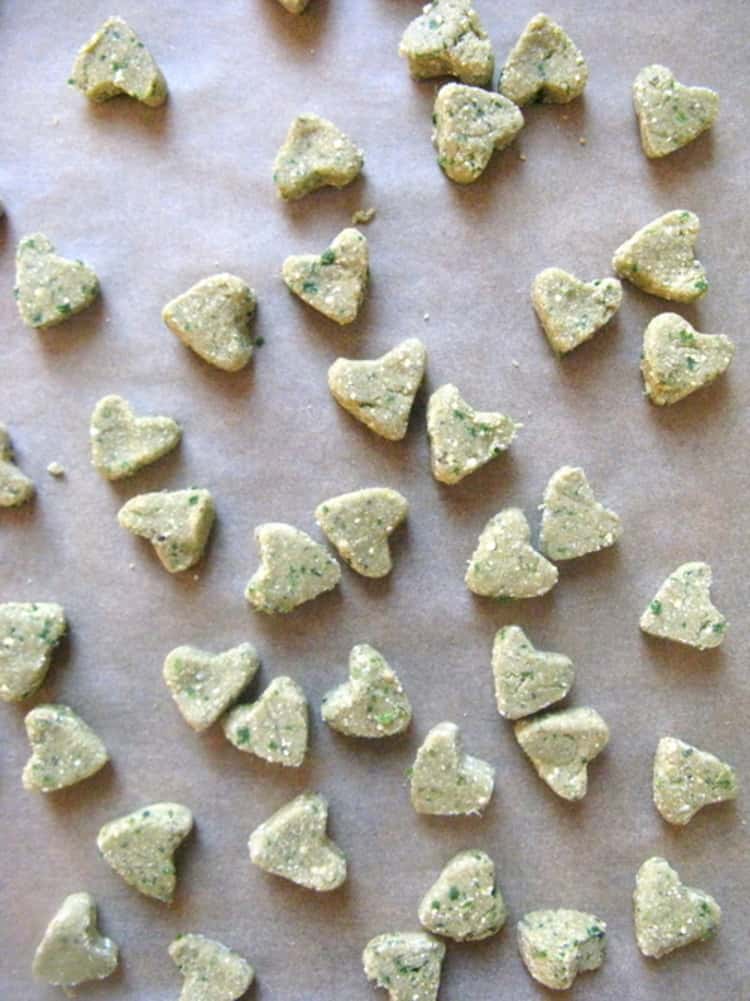 10. Easy and Affordable Crunchy Tuna Cat Treats
Figaro's Favorite Cat Treats by My 3 Little Kittens are another crunchy tuna version that's sure to please your cat. This cat owner has 9 (!) cats, so they took special care to create homemade cat treats that were easy and affordable to make. Just put it in ta jar for storage, and it will remain crunchy and crispy. And apparently, they became the favorite of one cat in particular, Figaro. Could they be your cat's favorite too?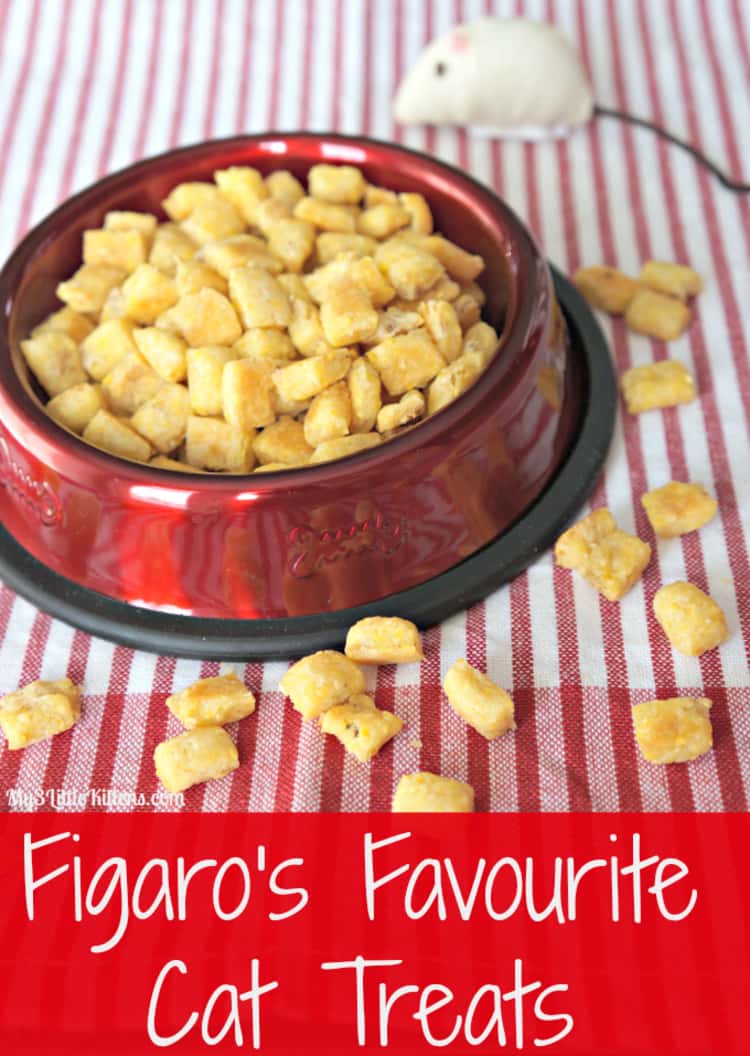 11. Irresistible Tuna and Catnip Cat Treats
Your kitty will love eating (and sniffing!) these irresistible Tuna and Catnip Croutons from The Cookie Rookie. They are another amazing option for crunch-lovers since they have a crispy crouton-like consistency. Whole wheat and enriched with some protein, vitamin E, iodine, and other supplements and important nutrients, your cat will fall in love munching these and avoid spilling them on the litter box. Just don't accidentally toss them on your salad! Although, with all real whole-food ingredients, it wouldn't be the worst thing in the world.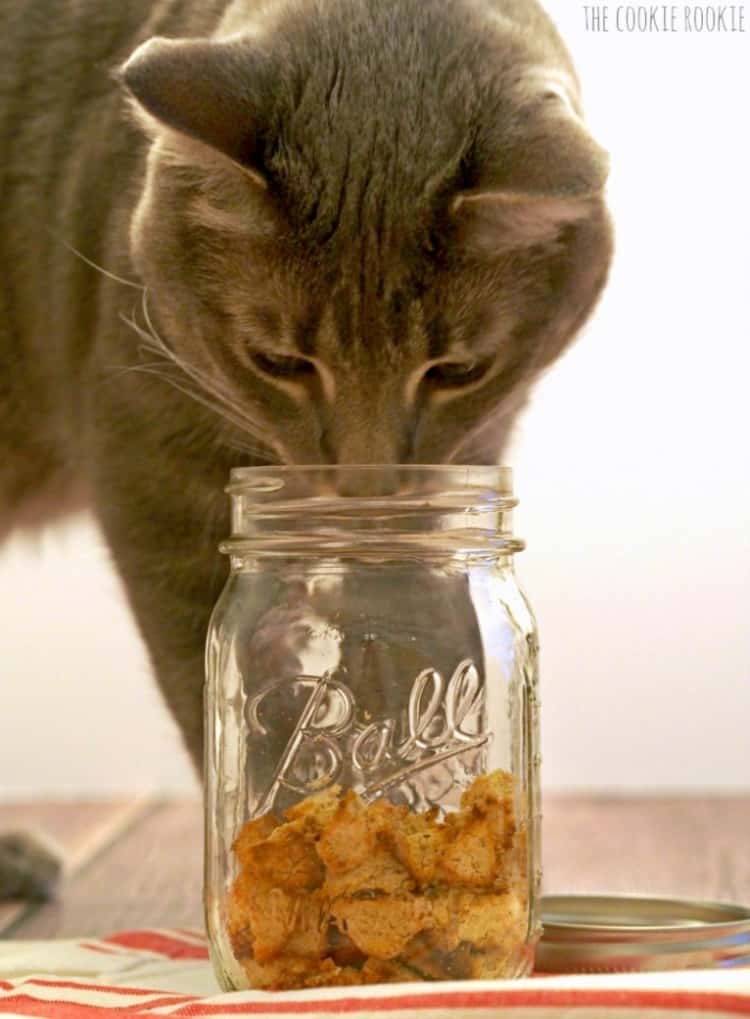 12. Soft Salmon and Sweet Potato Cat Treats
Not all cats love the crunchy texture of a lot of cat treats. Particularly if they are used to wet food only. These Salmon and Sweet Potato Cat Treats are soft and chewy, so they're a great option for those wet-food trained cats, older cats who may not have strong teeth, or cats with kidney disease issues and with bacteria (and those who easily gets diarrhea!) that could benefit from the additional moisture content in these softer treats. The kitties will love the fatty acids in this snack! It's also a great idea to use silicone molds to make your treats in all sorts of fun shapes! But of course, for a salmon cat treat – a fish shape is classic.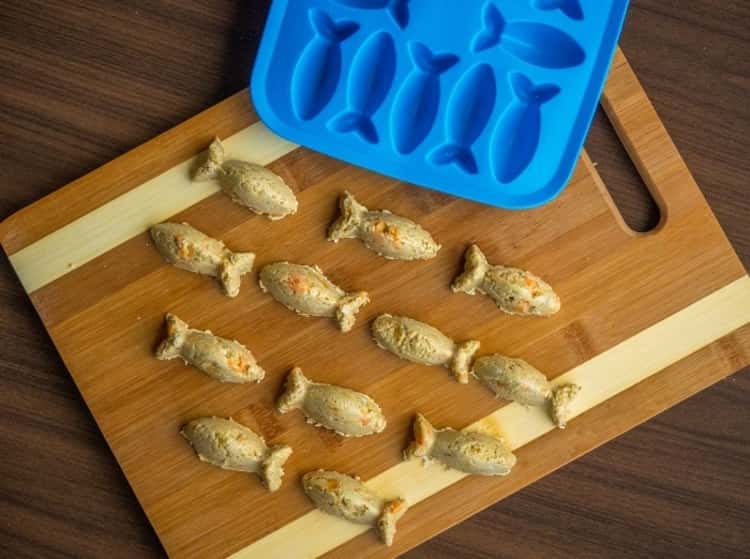 13. Amazing Tangy & Cheesy Cat Treats
Some cats love cheese, some cats hate it. If your cat is the former, you'll want to save this recipe for Cheesy Cat Treats from The Spiffy Cookie. Sour cream or yogurt is used to make these a little extra tangy. While her cat ended up not being a big fan, she assures us that she knows plenty of kitty friends who devoured them. You'll have to try them out with yours to see if they satisfy their picky palate!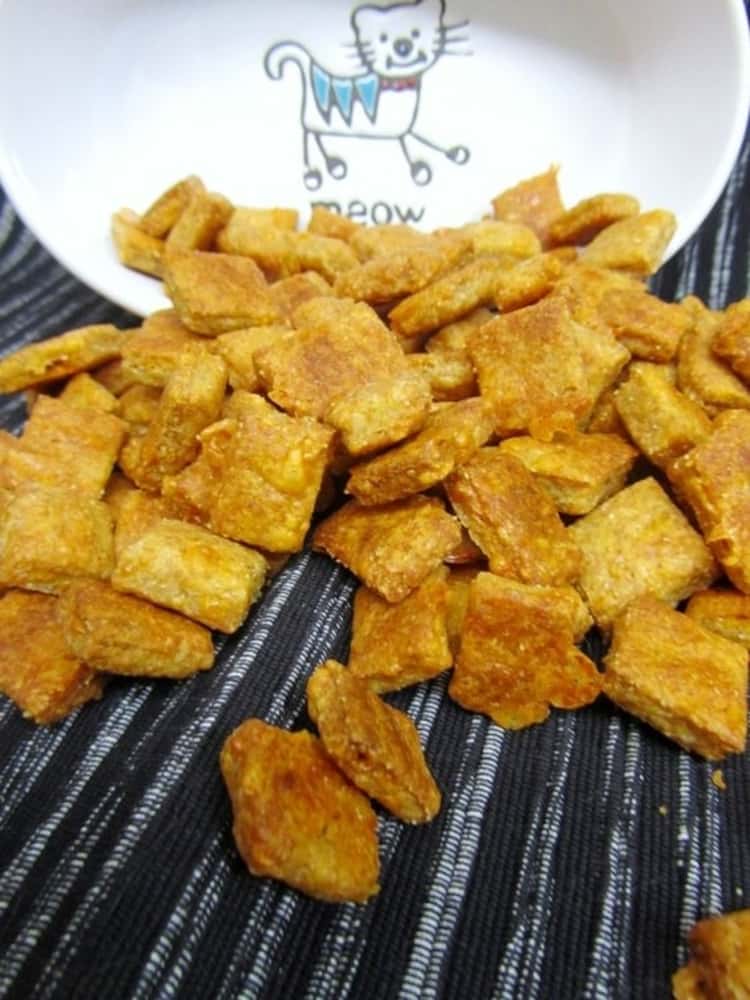 14. Tuna and Oatmeal Homemade Cat Treats
Tuna and Oatmeal Cat Treats from We Made That are another feline-friendly option that uses healthy ingredients most cats love. Have you ever met a cat that doesn't totally love tuna?! They may not like beef or turkey or pork or lamb meat, but they will always say yes to TUNA. Oatmeal is another natural ingredient often found in the healthiest cat foods. Bonus: The kids will also love helping you make these. You'll all just have to avoid stepping on the inevitably curious cat around your feet as you do!
This is a different variation you can try!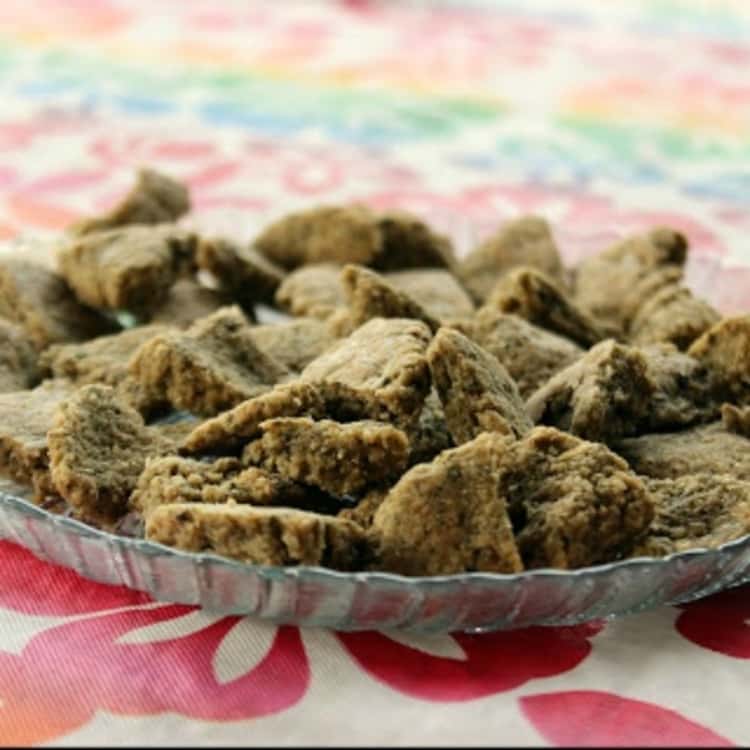 15. DIY Baked Biscuit Chewy Cat Treats
These Chewy Cat Treats from DIY Network are a good biscuit template for cats that you can add and test flavors with to see what best suits your kitty. Because just like humans, no two cats are exactly alike! So get your bake on and get to experimenting. Your feline friend will thank you for it. The chewy biscuit texture also makes them another purrfect option for those cats who like a little less crunch.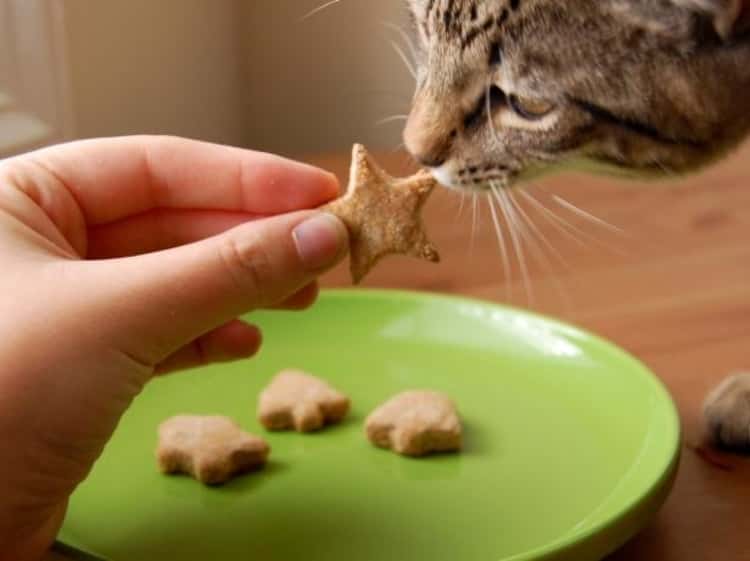 While making your own homemade cat treats might take a little more time and effort than just buying a pre-made package of them at the store, experimenting with flavors and cooking the treats can be a fun individual or family project. And there's no doubt your cat (and your wallet) will be thrilled by your efforts. With these 15 recipes for homemade cat treats, you're sure to find at least one (if not several!) that your kitty will love. Just be prepared for the begging that might come after they're introduced to such delectable treats. But we know you won't be able to resist spoiling your feline friend – and perhaps you'll even get inspired to use some new ingredients in your own cooking and baking!
More Fun for Feline Lovers
If you enjoyed these homemade cat treats, you'll also want to take a look at these posts for cat-lovers: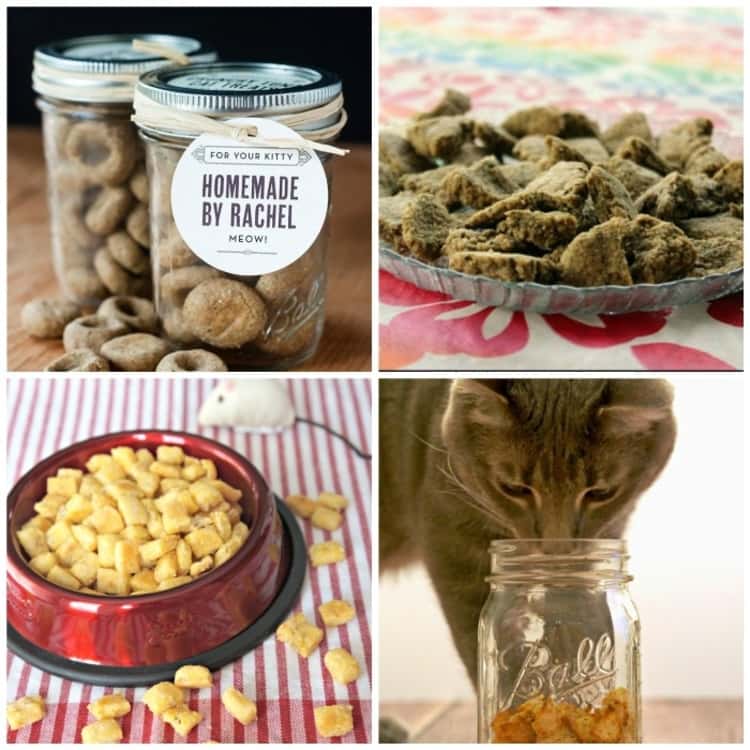 Which of these amazing homemade cat treats is your cat's favorite?