For all the cat lovers out there, have we got a post for you – here are 13 Weird Cat houses and gifts that you can be inspired by, and your feline could purr with envy over.
Cat Houses
Cat Shelves – Adapt your bookshelves to be fun layers of perching for your feline.
Cardboard Cat House – This Cat house is looks like a little house (fun for kids to decorate) and is perfect for cats to explore and hide in.
Get Boxy with a Cat Tower – These cardboard boxes are interchangable. You can build a tower or asort them along the floor to make a tunnel of sorts (we suggest some sort of tape if you go that route.
Cat Bunk Bed – Complete with yours for them to bat at when they wake up.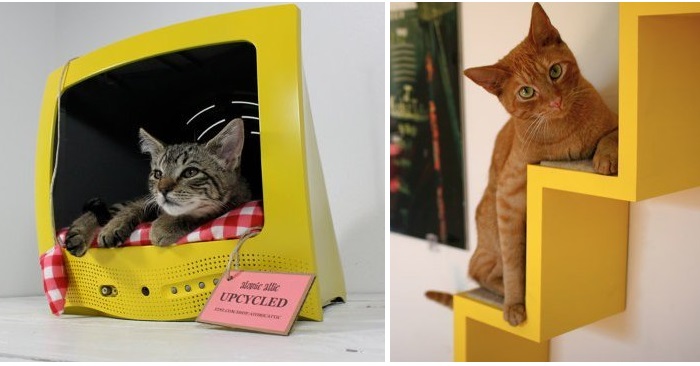 TOO COOL! Check  out this wacky Cat Bed. It was repurposed from an old TV.
Weird Cat House – this house wins the prize. They made a cat obstacle course that traverses across walls, over doors, and into little cubbyholes around their home.
Weird Cat Houses
As an unusual Cat House, this one stands out – this cardboard Teepee is easy to assemble and surprisingly durable.
Cat Basket. This basket reminds me of the hobbits! Your kitty can have it's own kitty hobbit hole! This is a fun place for them to curl up.
Go big and vertical with your Cat House. You can make this giant tube yourself and add to the architecture of your home with a cat friendly place to climb.
Make a cat wall –  out of hammock shelves. This is a genius way to add wall decorations while giving your cat places to exercise.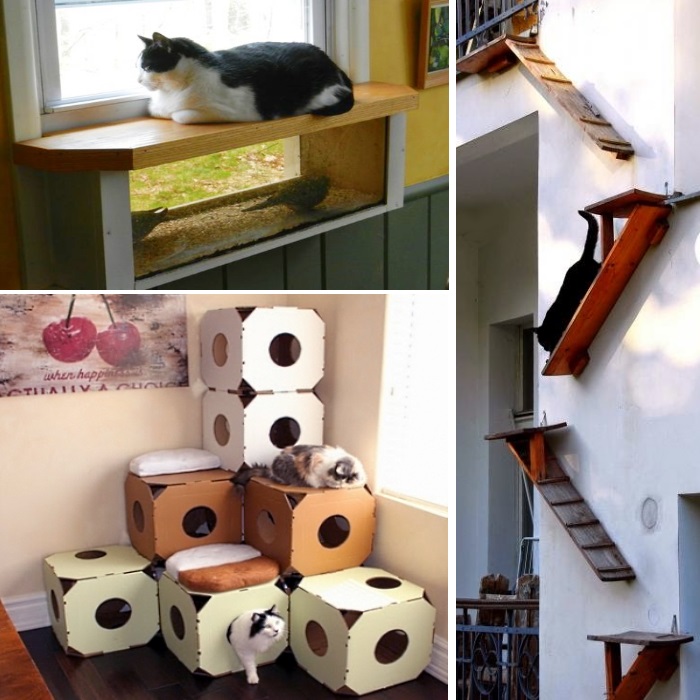 Cat Watching Window – this window addition gives your cat a sunny place to watch the outdoors and provides an alcove for birds to feed.
Do you have an outdoor/indoor cat? Check out this outdoor cat walkway that a person added to the side of their house giving their cat the freedom to come and go.
Modular Cat Home – This cardboard cat house is made from a variety of cardboard boxes, with holes perfect for climbing. It's great for exercising and lounging!
Gifts for your cat
Here are some Cat Products worth mentioning – they will be great additions to your home.
Multi-level Cat Play Scape.  Give your cat the Gift of Play.
Easy to install Cat Door. Give your cat the gift of independence.
Animal Essential Oils
Did you know they make Essential oils for animals? Essential oils can help calm roudy pets as well as promote their skin and overall health.

It includes shampoos and repellents to help our furry friends thrive.
Attached is a link to How to Buy Essential Oils, the Animal Scents Kit is often out of stock. If you sign up in our wholesale program we will let you know when it is in stock again!