Looking for cool ways to recycle t-shirts? These awesome tips and tricks will have you reusing them in no time at all.
What's the one thing that sports teams or events, field trips, church trips, and family reunions have in common? T-shirts. Almost every time you sign up to these, or things similar to these, you are given a shirt to commemorate your participation. But how many of those shirts do you actually wear anymore?
If you're honest with yourself, probably very few (because let's face it, the generic fundraiser shirts just aren't that cute). But you have memories tied to those shirts and you can't possibly get rid of them. But you need to do something with them because they are taking up space in your drawer or closet that could be used by clothes you regularly wear. So what do you do? RECYLCE!! You can make all kids of awesome (and cute) things out of those shirts that will actually be used.
To give you some ideas, we've gathered up 16 different projects to recycle t-shirts and give them new life.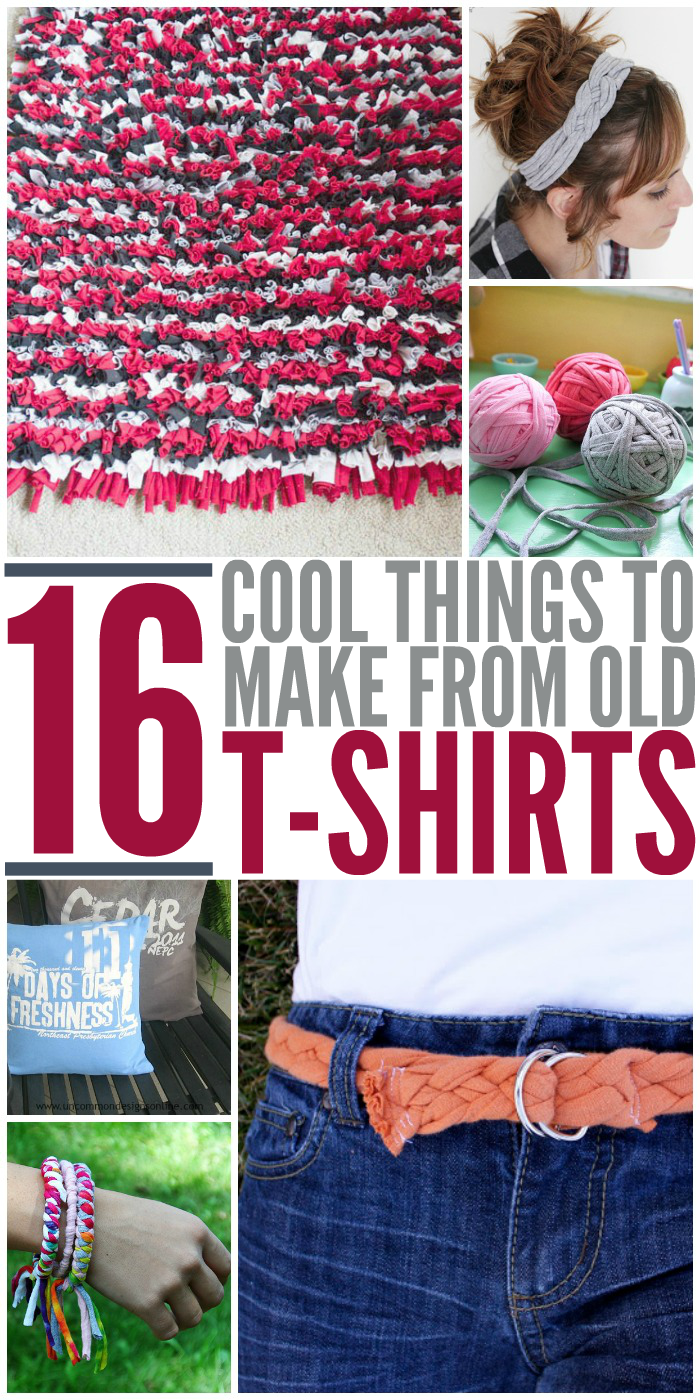 Creative Ways to Recycle T-Shirts
Make some cool capes for the kids. The world needs more superheroes!
via The Tiptoe Fairy
No sewing skills? No problem! Make a no-sew tote for yourself or for a friend.
via Practically Functional
Learn how to turn t-shirts into t-shirt yarn for craft projects. You'll find several fun ways to use it further down in the post!
via Everything Etsy
Use a couple of t-shirts to create this chic designer-inspired scarf. Gorgeous!
via How Does She
Can you crochet? This t-shirt was turned into an adorable Easter basket.
via The Things We'll Make
Create a few new belts to add to your wardrobe. Stylish!
via Delia Creates
Turn too-big t-shirts into no-sew t-shirt dresses for the kiddos.
via Kids Activities Blog
If you have 10 minutes, whip up one of these easy peasy skirts. Seriously… how cute are those?
via Make It Love It
Use some of your t-shirt yarn to create this pretty knotted headband. Great for kids or adults!
via Sugar Bee Crafts
And here's a braided headband that's just as gorgeous.
via As the Bunny Hops
As your kids outgrow their t-shirts for school sports, save them to make a school spirit t-shirt blanket. What a neat idea and a great keepsake for the kids.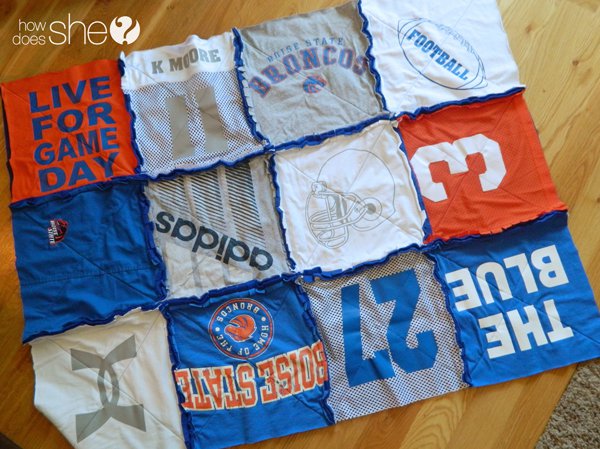 via How Does She
Tired of water rings on your coffee tables? Turn some of those shirts into handy dandy t-shirt coasters.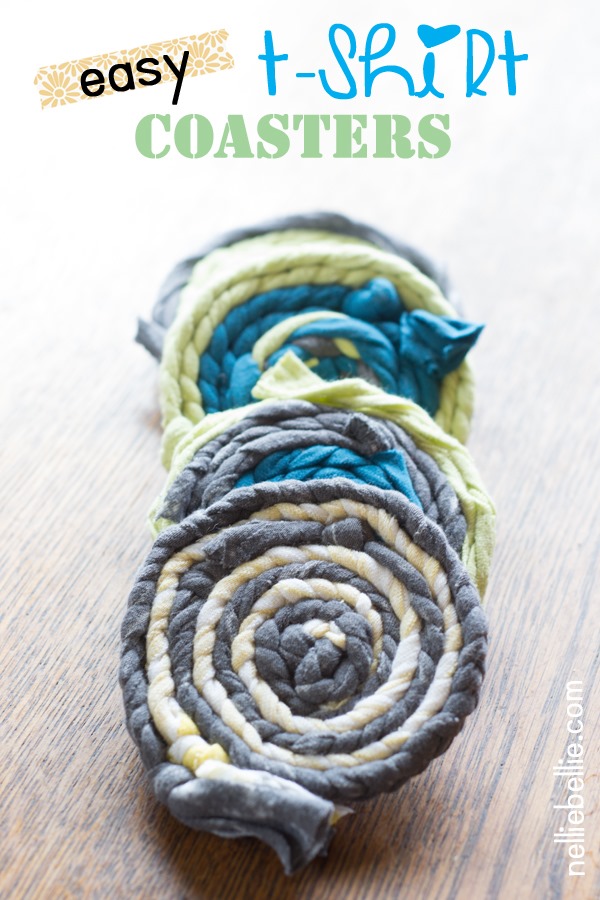 via Nellie Bellie
Make some playful t-shirt throw pillows for the deck furniture (or for your couch).
via Uncommon Designs Online
Save some t-shirts for your tween or teens next sleepover. They'll love making these bangle t-shirt bracelets.
via Crafts by Amanda
Don't forget these ways to recycle t-shirts!
Make a t-shirt rug for the kids' room.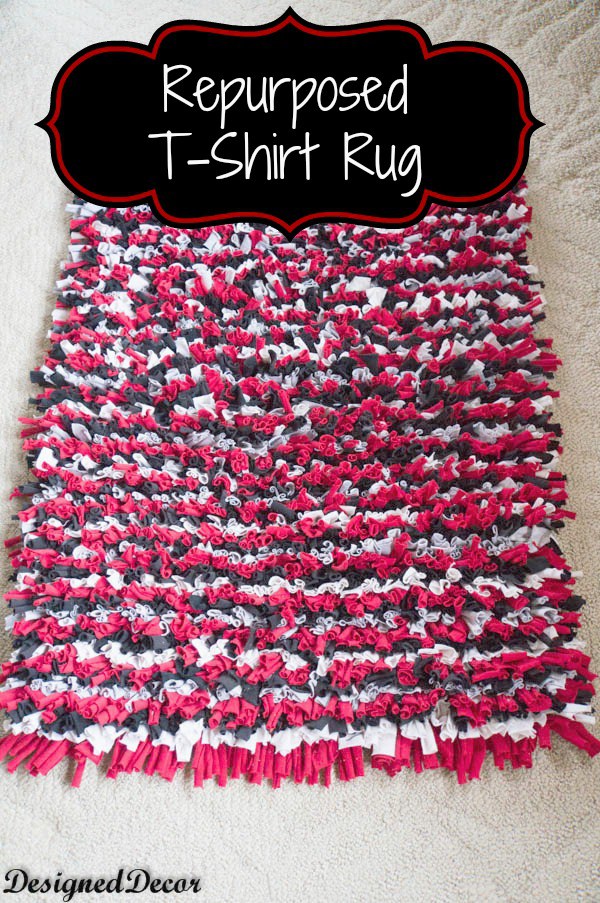 via Designed Decor
Cover a binder with an old t-shirt to add a touch of flair and an extra layer of protection. Neat way to keep using binders after they're looking a little ragged.
via Carolyn's Homework
Goodbye to guilt over getting rid of memories. So long crowded closets and drawers. You can make space for the things you need and give your t-shirts new life and purpose while still hanging onto those memories, and maybe bringing them to mind more often since you'll be using the "shirt" more. Which idea inspired you most?
Want more upcycling ideas? Try this list of wine cork projects!
And if you love those creative ways to reuse t-shirts, don't forget about how practical they can be around the house as well! You can use old t-shirts as paint rags, dusters or even as items to wrap up things when you move. (old t-shirts make the best packing material, ever!)
The next time that you think you don't have a need for a certain t-shirt, it's time to give it new life by turning it into something else! Be creative and use your mind to create something amazing!
Do you have any ideas on how to recycle t-shirts that you no longer need or wear?