Tired of the same old camping food ideas? No offense hot dogs and burgers, but sometimes change is good. Give these brilliant meals a try! There is a lot to love about camping, but one of the best bits has to be all the yummy food!  If you are ready for some new camping food ideas that are creative, yet super easy to prepare…keep reading!
Summer is here and that means it is finally camping season, and we're raring to go—armed with lots of camping tips! But if you're tired of the same old campfire meals (hot dogs, anyone?), you're not alone. So pack up the camp stove, cast iron skillet or head to the backyard grill, we've found 28 totally irresistible camping food ideas that you'll love, including everything from quick breakfasts to decadent desserts!  Just be sure to keep the s'mores on the menu, or you'll have some very unhappy campers.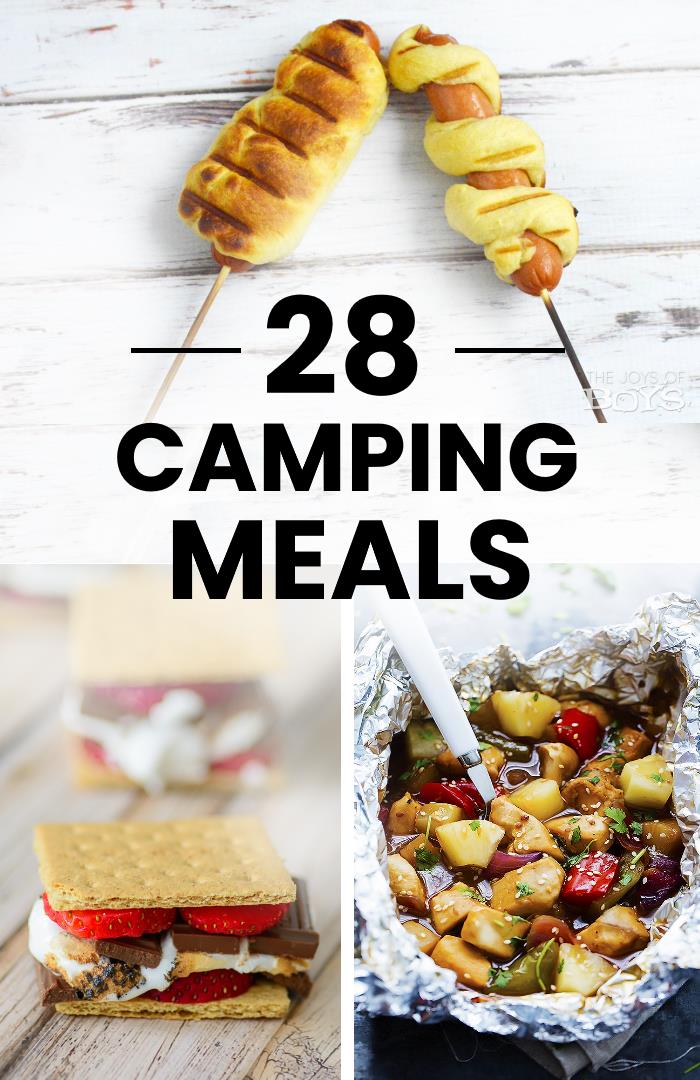 Even if you're not heading out to the wild outdoors to hit the trail, some of these camping menu ideas would work for those backyard adventures. From family gatherings to neighborhood BBQs, these foods are sure to be crow-pleasers!
Camping Food Ideas That'll Impress Your Friends and Family
1. Ridiculously Good Hot Dogs on a Stick
Ditch those hot dog buns and make these hot dogs on a stick. Skewer a hot dog onto a sick, then grab a can of crescent dough. Roll your dough into a long snake, then twirl it around the hot dog.
Cook it over the fire for about 3 minutes and enjoy! They are convenient, tasty, and finger-licking good. I love doing quick meals like this that are less messy and easy to make.
2. Delicious Foil Chicken and Pineapple Camp Meal
Foil packets are a great make-ahead option for camping. Even better? Grilled pineapple chicken tastes like a gourmet meal from the comfort of your campfire. Those juicy pineapple chunks and pepper pieces scream comfort food.
3. Campfire S'mores With Fruit
Take your traditional campfire dessert to the next level by making fruit s'mores! All you need to do is add fruit like strawberry slices, pineapple, banana or raspberries in. Practically any fruit you can imagine tastes AMAZING toasted on a s'more – trust us!  You'll never go back.
4. Planning Ahead Makes Camping Cooking Easier
Looking for meal planning and cooking tips to take your camping meals to the next level? Look no further than the Happier Camper Camping Bundle! This ultimate printable bundle includes the Camper planner, the Campfire Crew Kids activity pack, and the Ultimate camping companion ebook. With meal planning guides, campfire cooking tips, and tons of delicious camping recipes, this bundle has got you covered. And for a limited time, you can get the bundle for just $7! Don't wait – grab yours today and start planning your camping menu.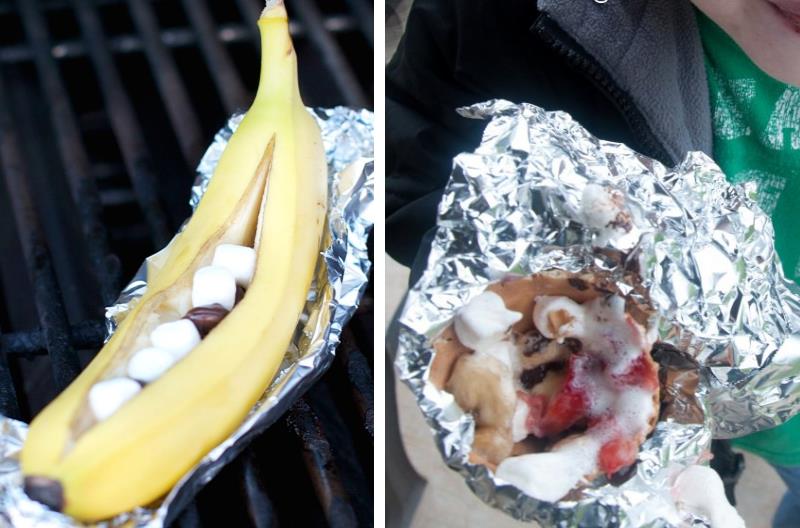 Favorite Camping Recipes that Can Also be Used on the Backyard Grill
5. Fire Toasted Banana Boats
For something sweet (and at least kind of healthy), make banana boats. Bananas stuffed with chocolate and marshmallows…what could be better? This camping dessert is a family favorite in our household.  Super easy foil pack idea! Pssst…I like to add a little peanut butter.
6. Easy Grilled Fruit Cones
Here's another camping dessert hack using a foil pack! Instead of s'mores with graham crackers, use an ice cream cone. This cone was filled with chocolate chips, marshmallows, and fruit, then wrapped in foil before being grilled. It's the BEST tradition EVER!!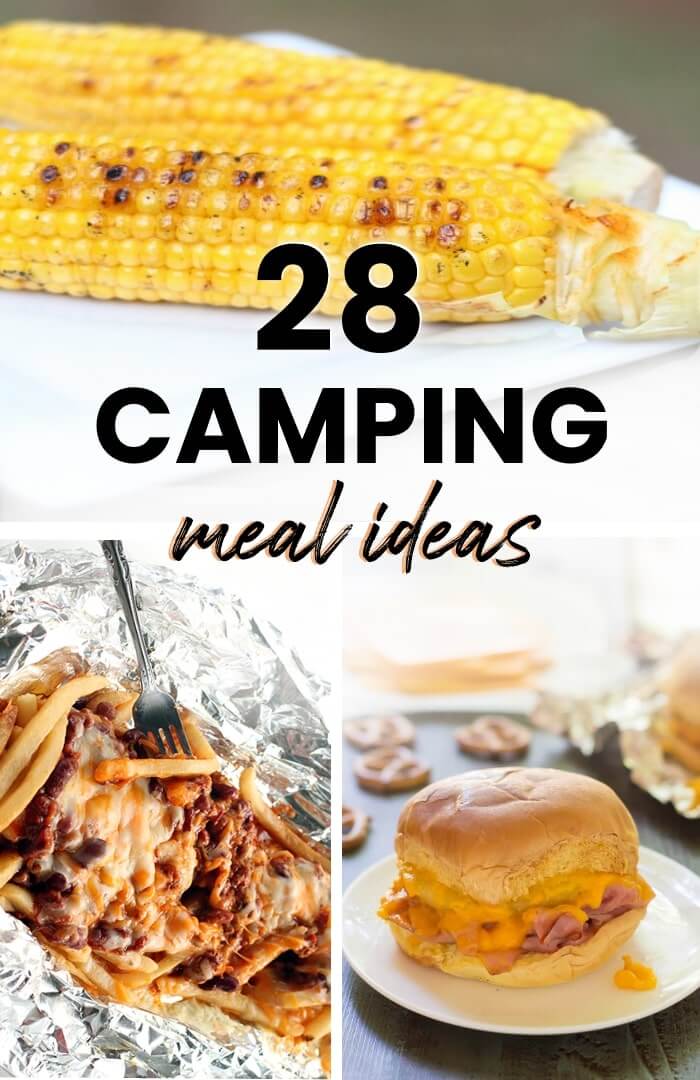 Easy Camping Meals Your Family Will Want to Make at Home
7. Cravable Food: Foil-Wrapped, Fire-Grilled Corn
This is by far my FAVORITE way to eat corn on the cob. Grilled corn is the perfect accompaniment to any campfire dinner. You get smokey, salty, and sweet all in one veggie. Making this side dish is simple and one of our best easy camping food ideas.
All you need to do is butter your corn cob, and wrap it in foil. Then, place it on charcoals for about 20-30 minutes, depending on the heat of your fire. YUM!
8. Incredibly Good Foil Packet Chili Cheese Fries
This triple-tested meal is to DIE for! Seriously, it's so EASY. And when you are camping, that's exactly what you want! Simply grab a package of fries, a can of chili, and some shredded cheese.
Wrap your fries in foil and cook them on the grill following the temperature listed on the fries package. Open it up, add the chili and cheese, and cook for a few more minutes. Voila, chili cheese fries!
Kids LOVE this one and gobble it up with zero complaints. Promise, the campfire chili cheese fries are even better than the version you'll get at a restaurant. Yum.
9. Wrapped Warm Camping Sandwiches
The easiest meal EVER. Make sandwiches with meat and cheese, then wrap them in foil. Next, put them on the grill until the cheese melts. It will take you about 5 minutes flat from start to ready to eat!
There are so many variations you can make with this brilliant camping food idea. One of our favorites is this cheesy ham and pineapple sandwich…make this on your next camping trip!
10. Breakfast Outdoors – French Toast
Make breakfast for a crowd easily with this scrumptious campfire French toast recipe. To make this recipe place a sliced loaf in a pan covered with parchment paper. Whisk together an egg and milk mixture, and pour it over the bread. Cook over the fire until the bread is no longer soggy!
You can slice the bread (or buy pre-sliced), and have the eggs already cracked ahead of time to make this an easy meal. Don't forget to pack the syrup!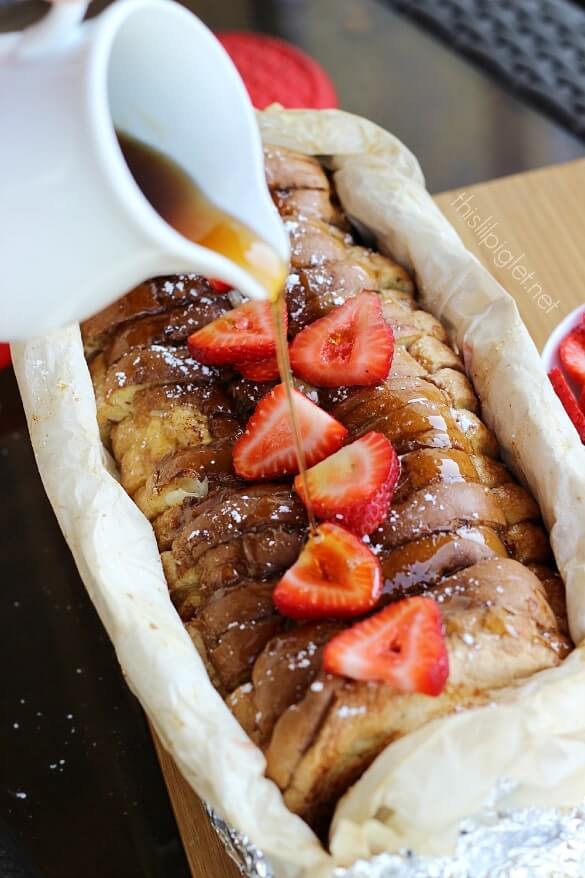 11. Brilliant Camping Food Ideas: French Toast on a Stick
Don't want the foil french toast?? This version is a little harder, but definitely more fun! Campfire cinnamon roll-ups would make a great breakfast or dessert.
All you need to do is wrap crescent dough around a skewer, roll it in a cinnamon-sugar mix, and cook while rotating. Top it off with a homemade glaze and you've got the perfect way to start the day!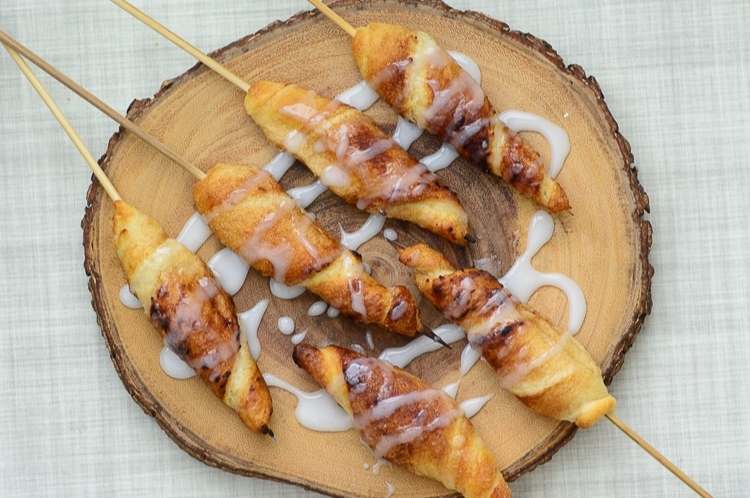 12. Breakfast Camp Tacos
These make-ahead breakfast tacos don't need to be prepped at the campsite. Grab some tortillas and stuff them with your favorite breakfast burrito toppings like scrambled eggs, bacon, and cheese, then roll them shut.
Then, warm them up over the fire. You can't get much easier than that. Don't forget to pack some toppings like cilantro and avocado too!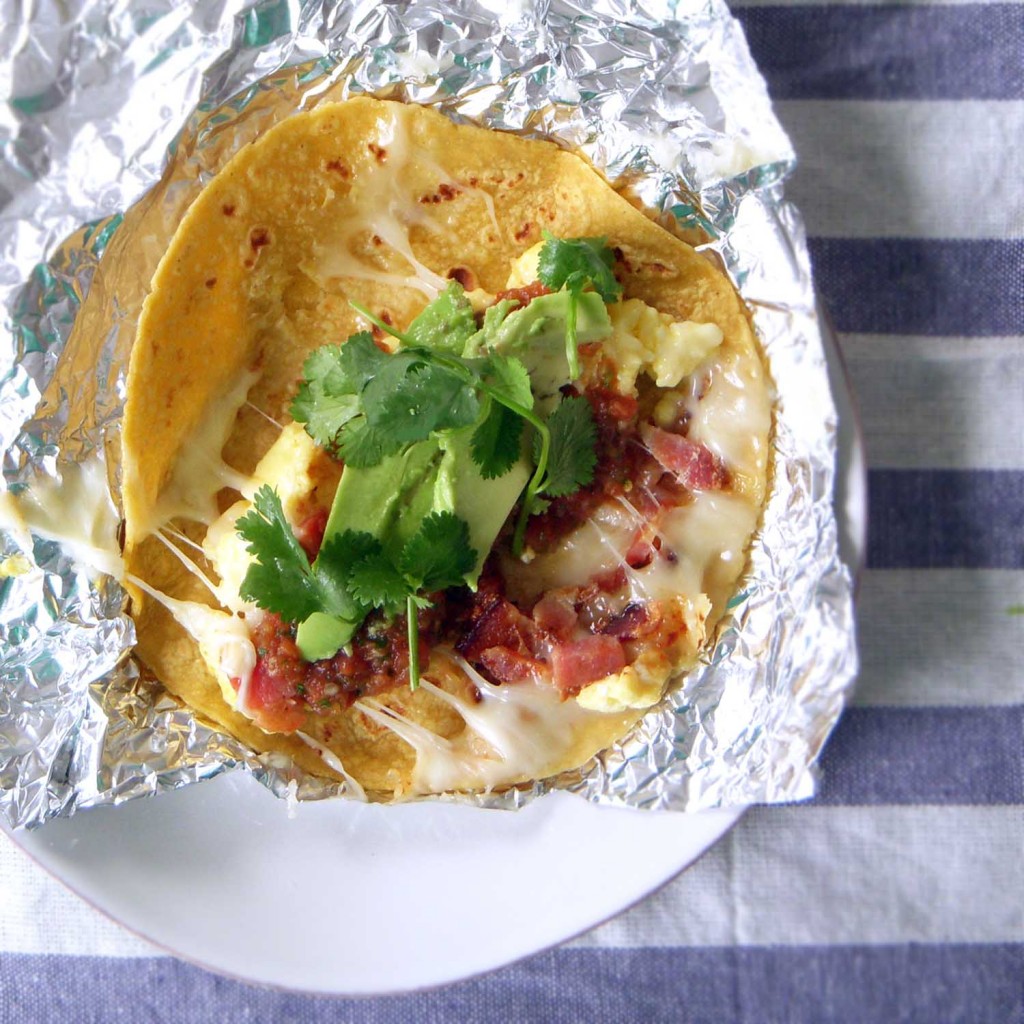 13. Foil-Packed Macaroni and Cheese
Camping Mac and Cheese is divine. It gets a thin layer of crispy cheese on top, and the ooey, gooey, stretchy cheese will just make your day! Premake your favorite mac and cheese recipe, then divide it out into individual size pie tins. Sprinkle an extra layer of cheese on top, then heat the entire dish over the campfire. Yum!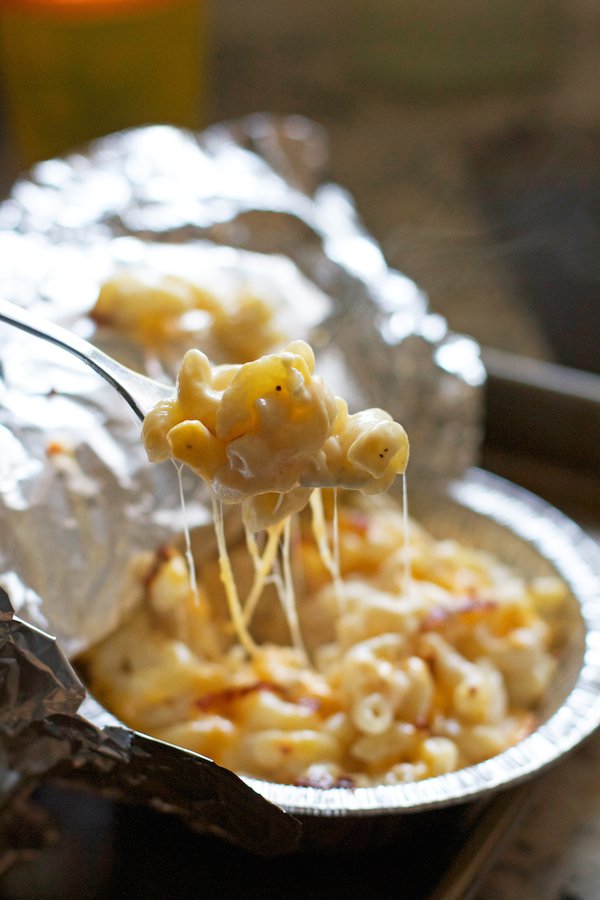 Want another yummy cheesy idea? Try this pulled bread!
14. Spicy Foil-Wrapped Hot Dogs
Instead of grilling hotdogs, spice it up with peppers, onions, and sliced potatoes. You'll love these! It just isn't summer camping without some hot dogs, but these Foil Packet Hot Dogs pack a lot more flavor than simple hot dogs on a bun.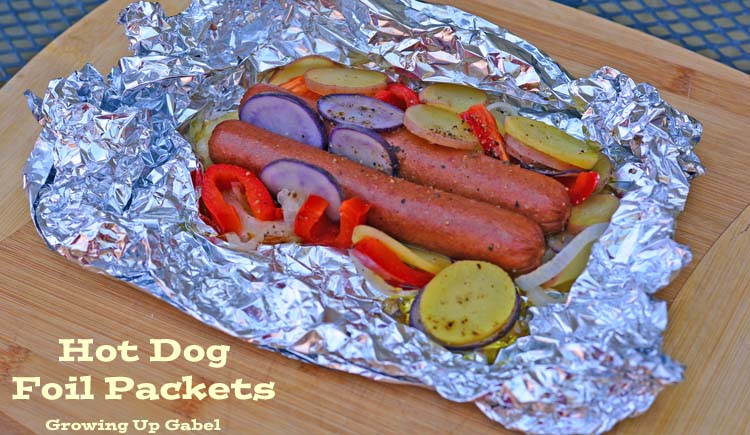 15. Brilliant Camping Food Ideas: Kabob Skewers
Marinate pieces of steak and fresh veggies the day before to prep these amazing steak kabobs. Then, cook them over the fire. They're real crowd-pleasers.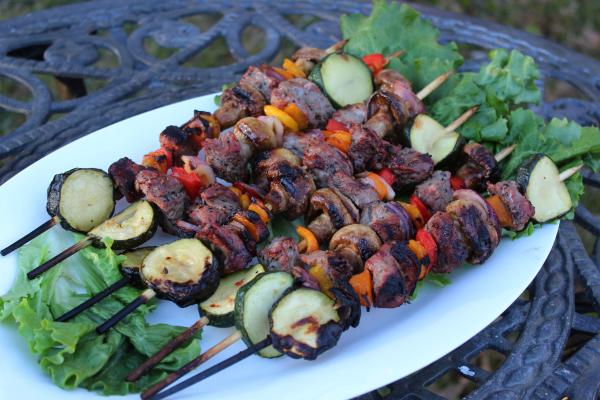 As your packing your ingredients, don't forget to read these 19 camping hacks every outdoorsy family needs to know.
16. Foil Packet Chicken
Looking for a way to sneak some protein and veggies into your camping food ideas? Santa Fe chicken packets pack lots of veggies (and cheese!) into one yummy dish that the whole family will love. Plus, it's a really affordable meal!
To make these, place raw chicken breasts, chopped veggies, beans, and salsa into the center of a foil sheet, then seal it. When you are ready to cook, place it on the grill for about 25 minutes. Then, open it up, sprinkle some cheese and enjoy!
17. Kid-Loved Cheesy Fries
Or how about some grilled foil-pack cheesy fries with bacon and green onions? Add your favorite brand of frozen french fry to a foil square, then toss them with melted butter. Place them on the grill then cook until done. Sprinkle on some cheese, cook another minute and serve them with sour cream or ranch…yum!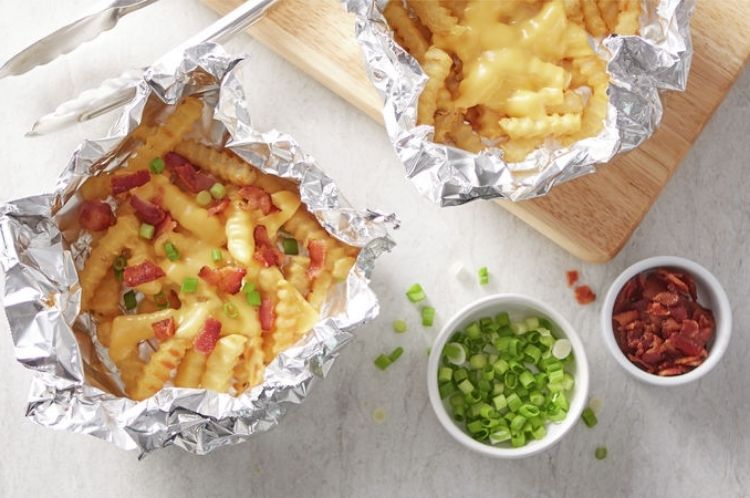 18. 25 Min Charcoal Grilled Wings.
Wings make a great campfire food, and these jerk chicken wings are super easy and ready in 25 minutes. Simply toss wings with vegetable oil and 3 jerk seasoning (or another seasoning you'd like). Then, put it in a foil packet and grill for 20-30 minutes.
Fun. Fast. Guaranteed to be a family favorite.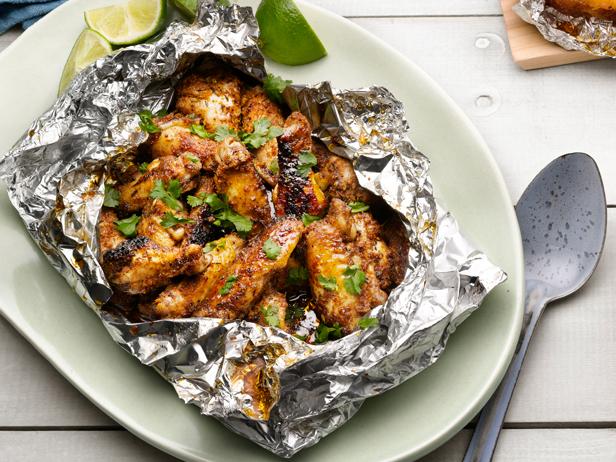 19. Appetizer Campfire Food Ideas: Spinach Dip!
Enjoy an appetizer around the campfire with crusty bread and a big batch of campfire spinach dip. Mix together sour cream, frozen spinach, parmesan cheese, and cream cheese together in a foil packet. Then heat, dip, and enjoy!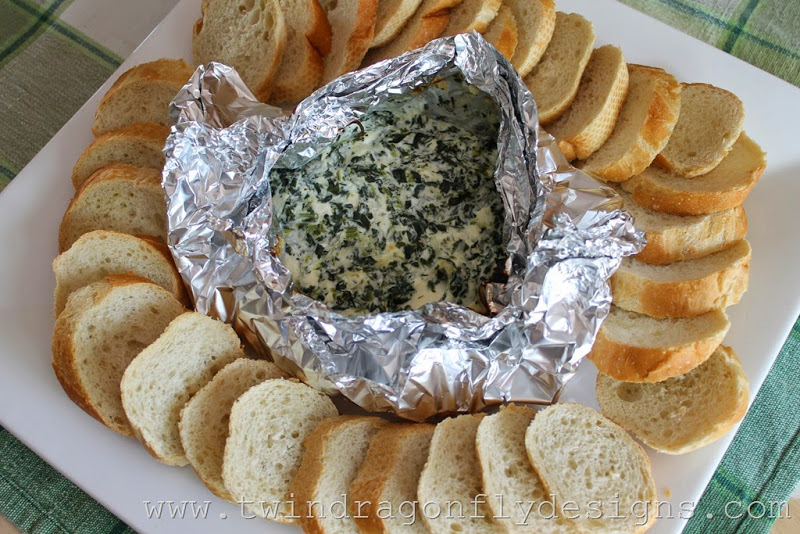 20. Eat Pasta in Foil Packets
If you prefer lighter fare, whole wheat pasta in foil packets may be right up your alley. You can cook the pasta at home to make meal prep even easier. Then, toss the pasta together with tomatoes and cheese, seal it in a packet, heat, and eat!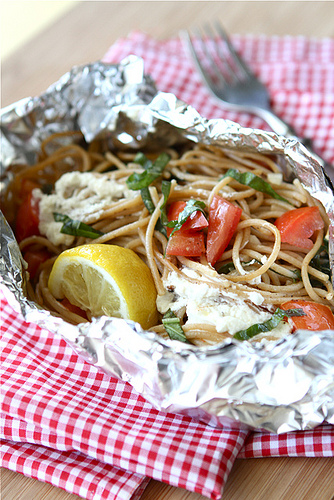 21. S'more…Brownies!
A simple skillet dessert will make campfire cooking so much easier. Try these Skillet S'more Brownies on for size. Make brownies and top them with graham crackers, marshmallows, and chocolate.
You'll make them again and again!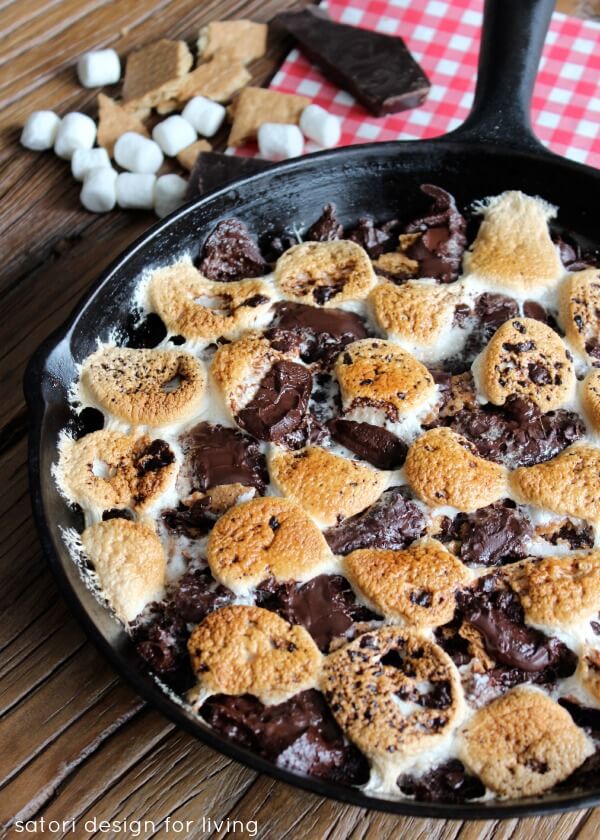 22. Campfire Monkey Bread
I am a huge fan of monkey bread, but to make it while camping takes a new technique. Try this campfire monkey bread that is perfect and easy for cooking while you are roughing it outdoors.
23. Dutch Oven Dutch Baby
If you own a dutch oven this is a must-make. This dutch baby is smothered in berries and will be devoured as soon as the family smells the delicious fragrance. If you are not aware, a dutch baby is also called a german pancake. They are very delicious and offer a certain amount of sweetness. The berries on top make this a home run.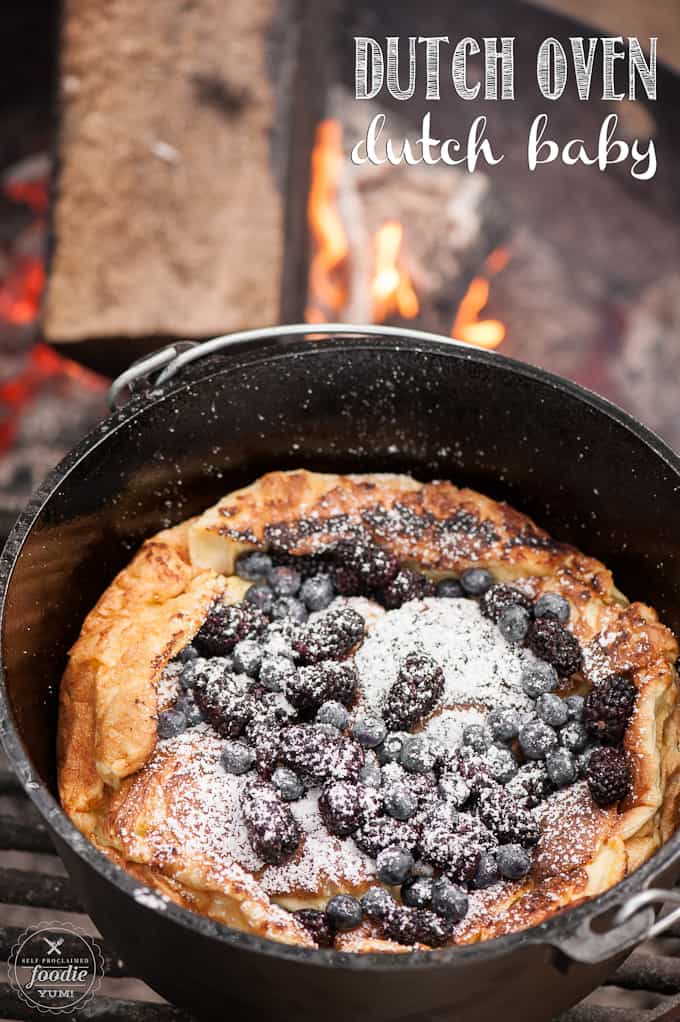 24. Fruity French Toast
Another great breakfast option is this campfire blueberry peach french toast. You use chunks of diced-up bread and create a casserole-style french toast that will wow your entire family.
Warning: this will make the whole campground dream about having breakfast with you guys.
25. Cinnamon Buns in an Orange Peel (Yes, Really!)
Growing up when we camped we always had cinnamon buns, here is a classic camping breakfast option that makes it easy to serve up to your family. You can make cinnamon buns in an orange peel. Simply slice an orange in half and scoop out the fruit (keep it as a snack for later!). Then, grab a pop-top tube of cinnamon rolls and place on in the orange.
Put the top of the orange back on, and wrap it in foil. Cook for about 12 minutes, open, and drizzle with frosting.
Not only will it amaze the kids, but the orange gives the buns a little hint of citrus. It's fantastic!
26. Make a Super Easy Dump Cake
Dump cakes are not only great to make when you are at home. They are also the perfect camping food idea. This blueberry dump cake is perfection! Just grab frozen blueberries, lemon curd, a yellow cake mix, and a can of lemon-lime soda. Layer them into a dutch oven, and cook over the fire. Yum!
27. Birthday Cake S'mores
These birthday cake s'mores are enough to make you forget all about regular s'mores altogether! They are seriously that good!
To make them, roast a marshmallow and sandwich it between two chocolate wafers. Top it off with icing and sprinkles and enjoy.
28. Make Crowd-Pleasing Campfire Nachos
You can't go camping without some campfire nachos! You have the tortilla chips topped with tons of ooey gooey cheese, beans, and you can't forget the delicious toppings. They are finger-licking good.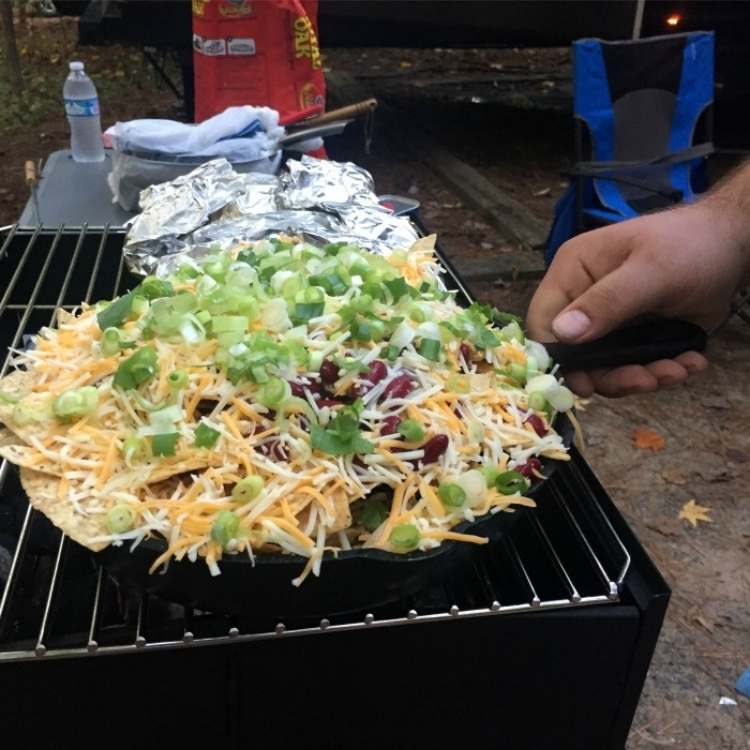 29. Simple Skillet Dinner
This skillet campfire dinner is very hearty and filling. Cubed hashbrowns, sausage, and onions are mixed with chopped carrots and cream of chicken soup to create a delicious dinner.
These are great to make because you can make this whole dish in one single pan, which is perfect when you are out camping.
30. Easiest Campfire Popcorn Recipe of Them All
Shhh…our campfire popcorn secret includes something that you might remember from your childhood…good old Jiffy Pop!  What is great about taking Jiffy Pop butter popcorn along for the camping trip is it has everything you need to make great popcorn whether you are using a grill or campfire.  It comes with its own aluminum foil pan and even the salt is included!
More Packing and Camping Food Ideas:
If you're eating all these great camping foods, remember some of these awesome tips as well!
Arrive at your campsite and then head to the store and buy groceries. It's less to pack and keep cold while you're setting up camp.
Experiment with your recipes. It's amazing how ANYTHING tastes good over the campfire!
Here are our very favorite camping hacks to make your next camping trip so much easier and more fun.
Make certain that any fire starters you use are food safe.
Pack paper plates for your camping trip to eat off. That way, you can recycle and not have to do as many dishes.
Keep the entire family having fun with these camping games.
Speaking of the entire family, do you have a family tent?  We know how important it is!
Oh and if you are cold weather camping, we have the scoop on that too.
Make sure you have everything packed by going through this free camping checklist!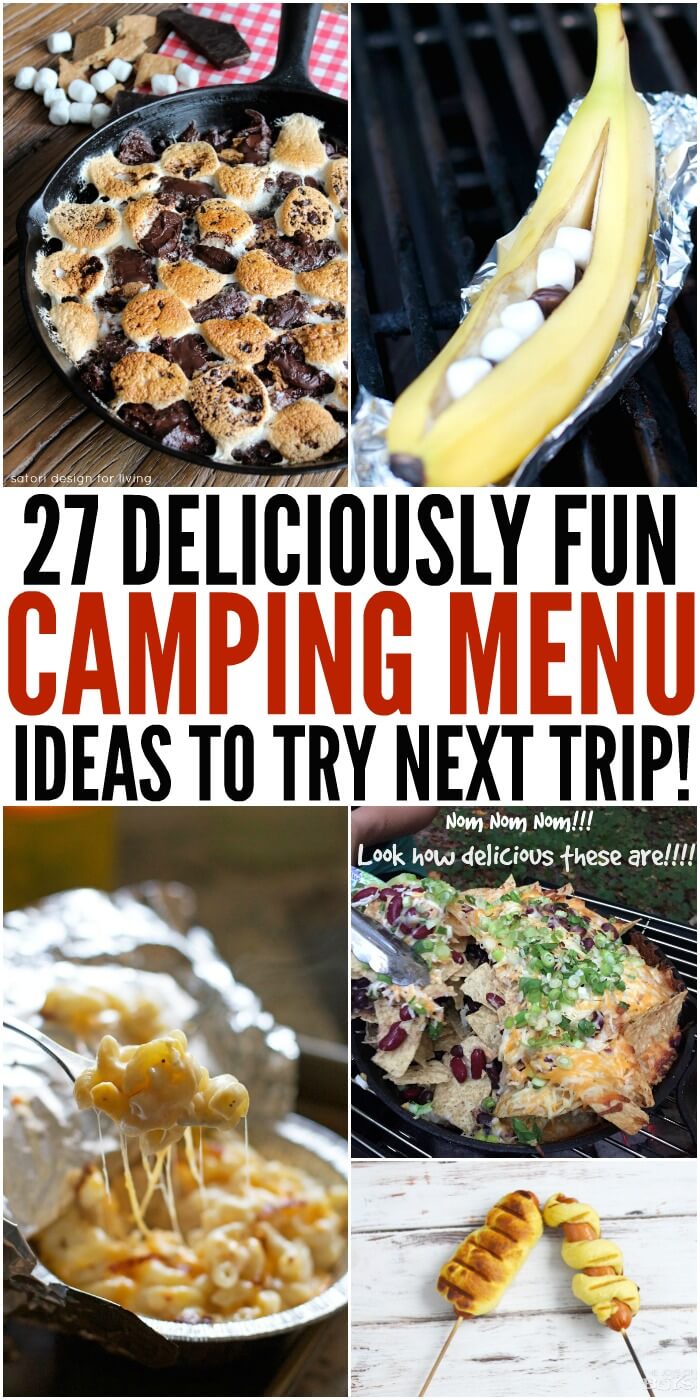 Do you have fun camping food ideas to share? We'd love to hear them!