Looking for ways to make your car cleaner?? You've been living out of your car for a few days, and boy, can you tell it!
You're slightly embarrassed to open the car too wide in the pickup line at school, afraid that someone may see the dust, the used tissues or the stained floor mats.
Take heart, busy parent. We've found 15 unexpected ways to make your car cleaner, and we think they'll help you keep it that way!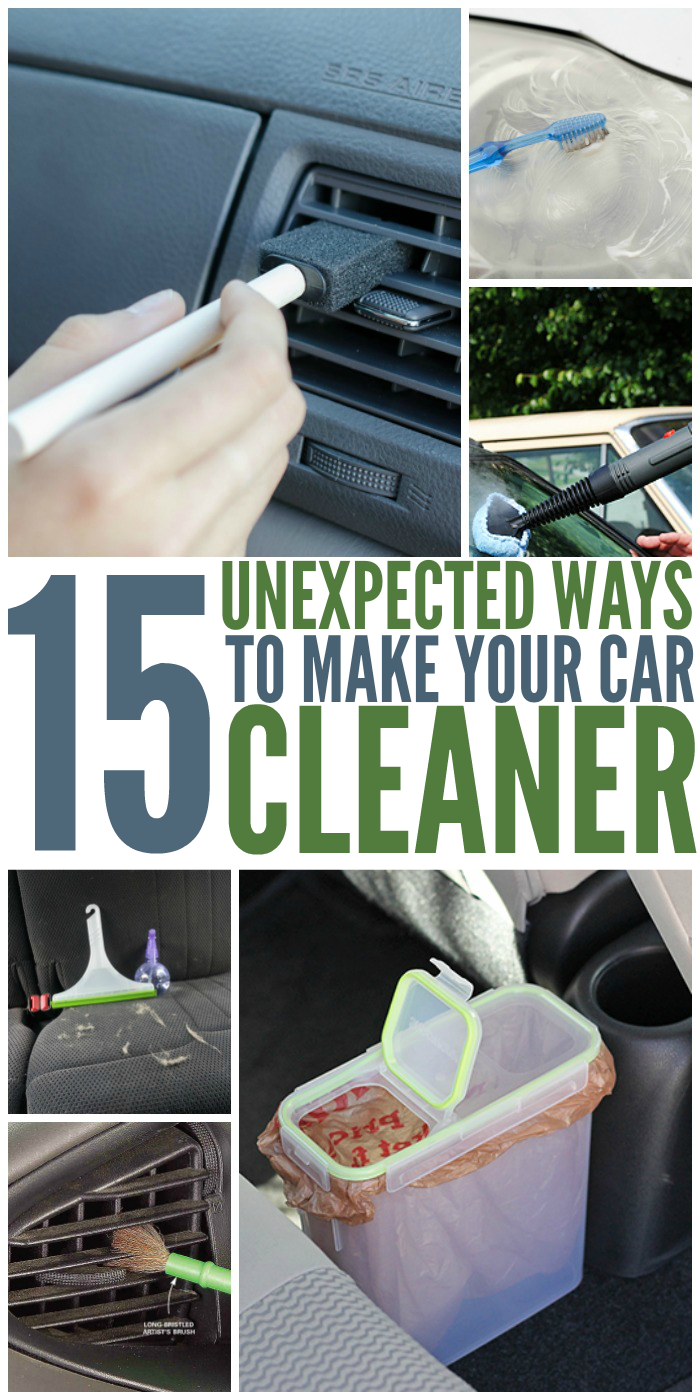 Ways to Make Your Car Cleaner
Hate scrubbing your car floor mats? Put them in the dishwasher instead!
via One Crazy House
Clean out your cup holders, and then insert silicone cupcake liners to keep them clean once and for all. The cupcake liners (affiliate) are so much easier to wash because they're removable.
via Kids Activities Blog
Put tissues in a to-go cup so they'll sit neatly in your cup holder. You may want to put an empty cup in the other cup holder for used tissues. Brilliant!
via Curbly
For a super shiny car without waxing and buffing, apply hair conditioner after washing. Don't worry; you'll be rinsing it back off!
via Pop Sugar
Use one of your kids' clean paintbrushes to brush out the air vents in your car. No more dust!
via Family Handyman
A foam brush does a great job, too!
via The Krazy Coupon Lady
Add a little vegetable oil to a coffee filter to clean dust off your dash.
via Lifehacker
Use a wet dryer sheet to get sticky dead bugs off your bumper. (More dryer sheet hacks here.)
via Solo Travel Girl
Do you have dull, dingy headlights? Make them cleaner and brighter with toothpaste!
via Living Well Mom
Put a cereal canister lined with a grocery bag in your car to use as a trash can. Put one in the backseat for the kids, too.
via One Good Thing by Jillee
Sometimes the best cleaners are homemade. This blogger got her cloth floor mats unbelievably clean with her own homemade cleaner.
via All Things Thrifty
After you clean your car, help it stay fresh with this essential oil trick. You only need a few drops, and it will last for ages!
via One Crazy House
Get pet fur out of your car seats with a squeegee. (Read more squeegee cleaning tips!)
via CareaBearaSara's Randomness
Clean your car windows with your steam cleaner! That's much easier than wiping them down with Windex and cloths.
via Adventures of Mel
See More Car Hacks:
15 Clever Ideas to Organize the Car
The Product to Rescue a Stinky Car