Looking for ways to make your car cleaner? We've found 15 unexpected tricks, tips, and hacks keeping your car clean, fresh, and neat regardless of the season!
Whether you are the crazy busy parent whose slightly embarrassed to open the car too wide in the pickup line at school, or you are the guy who feels like he simply lives out of his car with the dust, used tissues, or stained floor mats, we've got you covered! Your glove compartment is a mess, the dashboard is filled with car clutter, the seat cover is stained, and the list goes on.
Take heart, car folks. Here are some great ways to make your car cleaner, and we think they'll love them so much, they may help you keep it clean!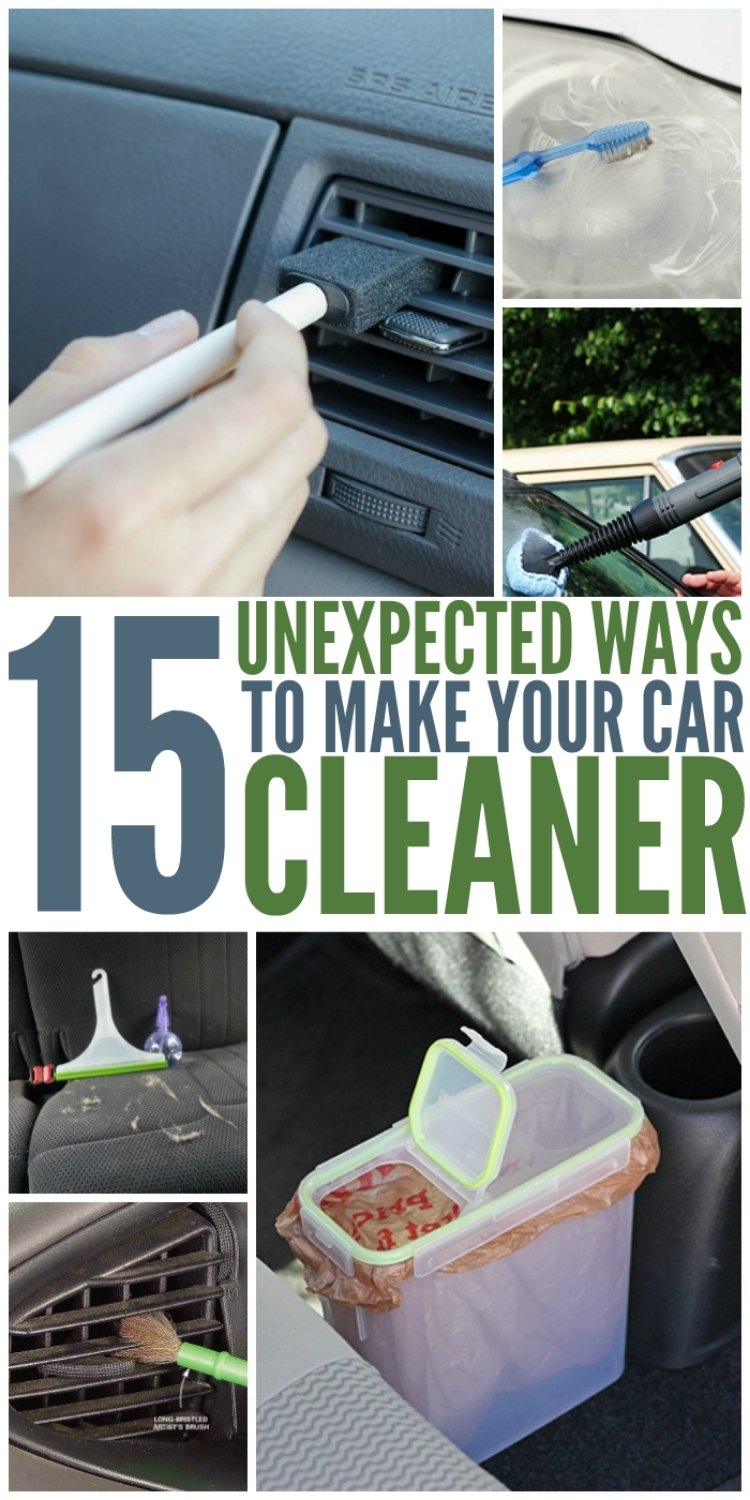 Keeping Your Car Clean in Simple Ways
1. Wash Smarter, Not Harder
Hate scrubbing your car floor mats/ carpets?  Let's face it, they tend to get the brunt of the junk leftover from our kids trampling all over our cars. But for this hack, you don't need a carpet cleaner Next time your mats need a good cleaning, try this! Take them out and give them a good shake or quick vacuum, then put them in the dishwasher! That's right. Instead of spending an hour scrubbing them down, toss them in and let the dishwasher do the dirty work. Meanwhile, you can work or cleaning our the rest of your car.
via One Crazy House
2. Make the Car Cleaner with Cupcake Liners
Ok, why have I never thought of this until now? Clean out your cupholders, and then insert silicone cupcake liners inside to keep them clean once and for all. It will catch spills, dirt, crumbs, and anything in your car's interior stuff. The cupcake liners (affiliate) are not only removable but way easier to wash because they're rubber. Pop them in the dishwasher if you need them, but honestly, this trick makes it so easy mainly because all they take to clean them is a simple wiping.
BONUS TIP: Want to get those cup holders spotless before you try the liner idea above? Slip a sock over a travel mug or old coffee cup, spray a little all-purpose cleaner on the sock and slide the cup into the cup holder. Rotate the sock-covered cup left to rights until all the gunk and grime wipes clean. You're welcome.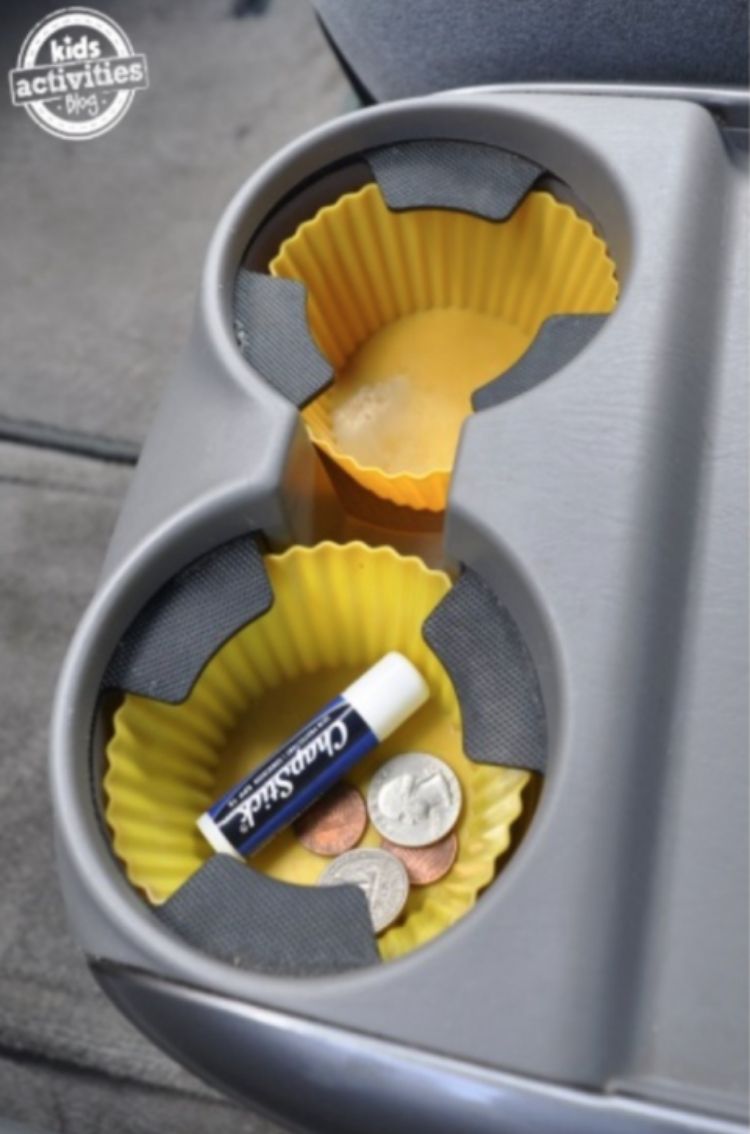 via Kids Activities Blog
3. Genius Travel Tissue Hack
Speaking of old coffee cups…who else can never find a realistic place in their car for those huge, rectangular, awkward shaped tissue boxes? It can't just be me. Toss the cumbersome classic tissue box and try this clever idea instead. Put tissues in a to-go cup so they'll sit neatly in your cup holder. You can stick tissues in the back for your kids to easily reach. You may want to put an empty cup in the other cup holder for used tissues, or they double great as emergency cups for those not-so-pleasant times for those of us that get car sick. Brilliant!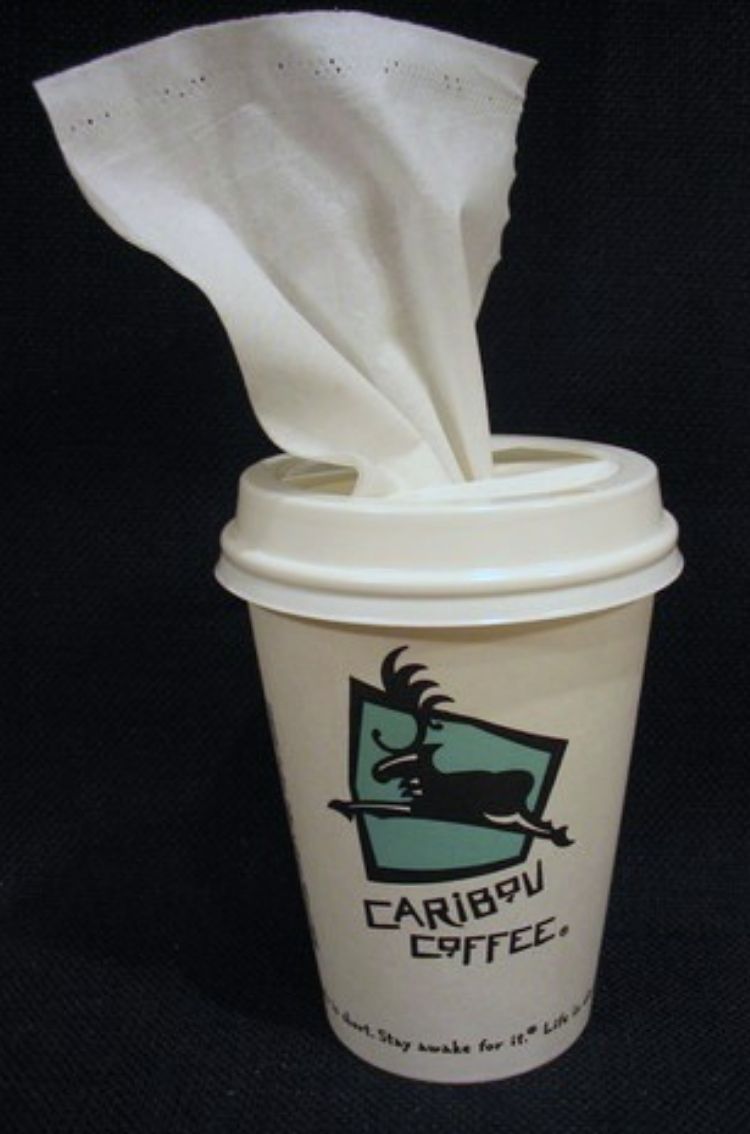 via Curbly
4. Wash, Condition, Shine, Repeat!
Ok, so I don't really think about my car while I'm washing my hair, but after reading this unique car cleaning tip, maybe I should. For a super shiny car without waxing and buffing, apply a hair conditioner after washing. Yes, the same stuff you put on your hair after you wash it. Don't worry; you'll be rinsing it back off! And hey, it will probably smell pretty good too.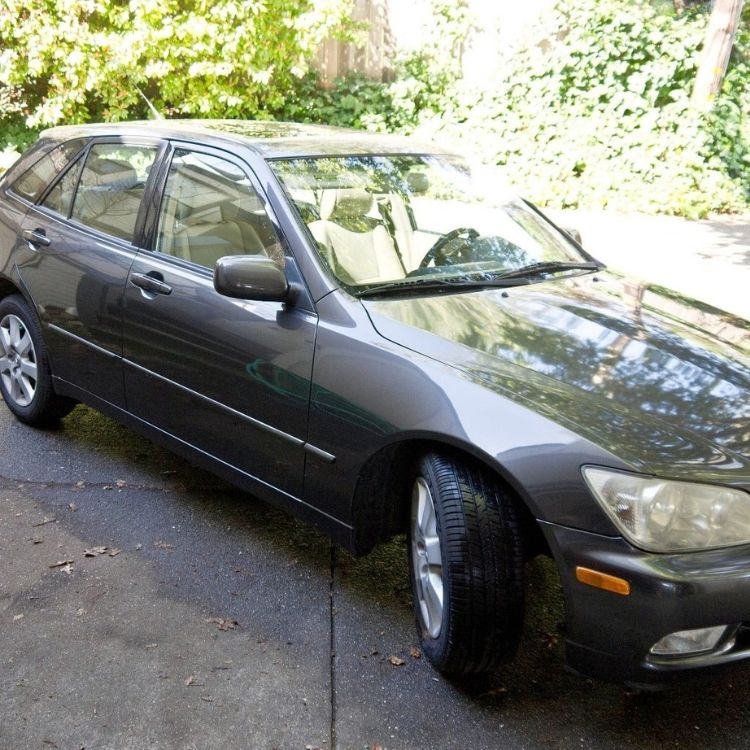 via Pop Sugar
5. Brush the Car Cleaner
Do you know all those little paintbrushes that come with your kids' watercolor sets? Those little buggers come in handy for all kinds of things. One great way is to use them to clean your car. Use those little paintbrushes to brush out the air vents in your car. Their little bristles are great for getting in all the hard nooks and crannies. No more dust!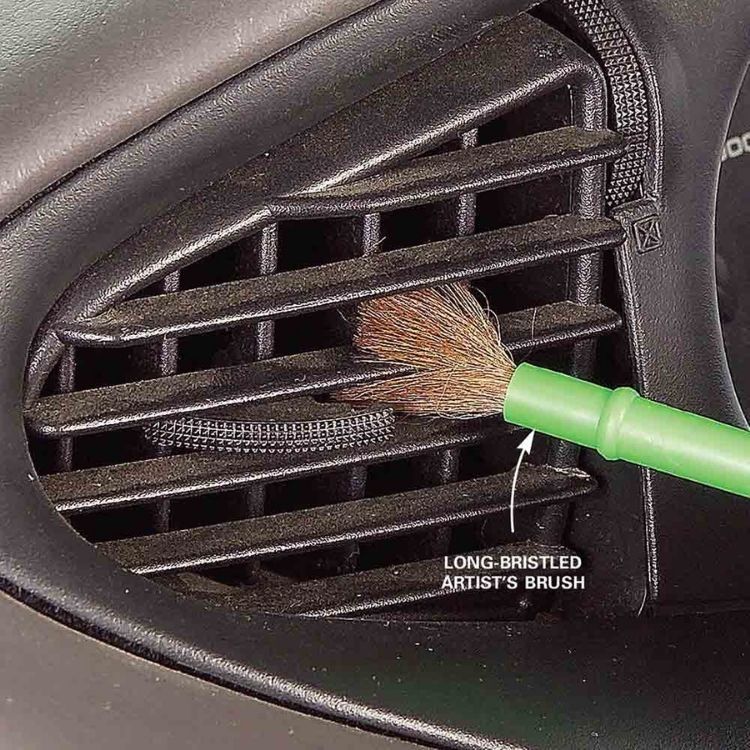 via Family Handyman
6. Car Clean with a Sponge
If you don't have a brush around a foam brush does a great job, too! These are great for areas you may need to scrub a little harder but don't want to damage your interior. Cleaning products absorb well into these if you need a little extra cleaning help.
via The Krazy Coupon Lady
7. Interior Car Cleaner Hack
You go to grab your favorite dash cleaner when you realize the bottle is empty. You forgot to pick up more. No worries, simply make a quick trip to your kitchen. Add a little vegetable oil to a coffee filter to clean the dust off your dash. Easy and affordable. We like it!
via Lifehacker
8. Nifty Car Bumper Bug-Be-Gone
When was the last time you actually looked at your front bumper? Does yours look like a bug graveyard too? Did you know you can use a wet dryer sheet to get those sticky bug guts off your bumper? (More dryer sheet hacks here.) That's right, dryer sheets. Even better yet, you don't have to use fresh dryer sheets, used ones will work just fine. So not only are you getting your car clean, you are recycling as well. Look at you!
via Solo Travel Girl
9. Make Your Headlights Shine
Do you have dull, dingy headlights? Well, toothpaste isn't just for your teeth anymore. You can brighten up those dull headlight covers with a simple brushing. Think of those headlights as really big teeth. Grab an old brush and a tube of toothpaste and start rubbing in large circular motions. Simply wipe with a clean paper towel when finished. No need to floss.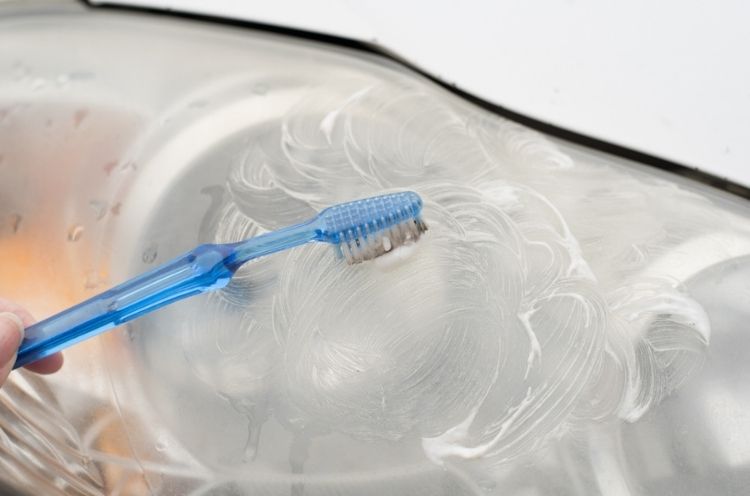 via Living Well Mom
10. Try This Trash Tip
Tired of constantly picking up the trash off your car floor? Or, maybe you have a trash bag, but it always seems to get knocked over. Well, put a cereal canister lined with a grocery bag in your car to use as a trash can. This works especially well for traveling on long trips, when you may have cramped space. It also makes it a breeze to empty, just tie off the bag and toss it. This idea works in the front or in the backseat for the kids, too.
ROAD TRIP TIP: If you have little kids, get them excited to put their trash where it goes by offering a treat if all the trash is in the new bag and not on the floor at your next stop.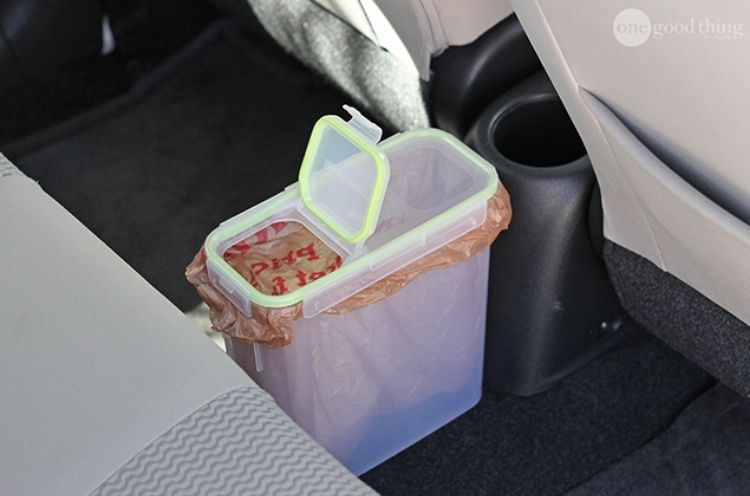 via One Good Thing by Jillee
11. Make Your Own Car Mat Cleaner
Sometimes the best cleaners are homemade. This blogger got her cloth floor mats unbelievably clean with her own homemade cleaner. Go from nasty and dull to new car look, just like that!
via All Things Thrifty
12. Smell Fresh and Cleaner
It's sad when that new car smell finally fades and the all too familiar smells of kids, pets, and fast food starts to creep into the car. Want to keep your car smelling pleasant and inviting? After you clean your car, help it stay fresh with this essential oil trick. You only need a few drops, and it will last for ages! This is a great way to ensure you get a car freshener smell you actually like, and you can switch it up whenever you like.
BONUS TIP: If you have someone who suffers from car sickness traveling with you, add peppermint oil to your homemade oil freshener to help fight nausea.
via One Crazy House
13. Unexpected Fur Fighting Hack
Dog moms of the world REJOICE! Any of us who have spent hours vacuuming and lint rolling our back seats because we love our fur babies too much to leave them home; this genius hack is for you. Get pet fur out of your car seats with a squeegee. (Read more squeegee cleaning tips!) Seriously, where has this hack been my entire pet parent life?
via CareaBearaSara's Randomness
14. Way Crazy Car Window Cleaning Tip
Every time I go to wipe off that darn smudge that has been bothering me for weeks on my windshield, it only seems to smear and grow bigger instead of actually cleaning the problem. Can you relate? Try this! Clean your car windows with your steam cleaner! That's much easier than wiping them down with Windex and cloths.
via Adventures of Mel
15. Clever Car Caddy Tip
I don't know about you, but I have a heard of kids in my car at any given time. Each kid comes with an array of snacks, toys, games, gear, and any other given treasure they may haul into the car with them. And, as any mom knows, all that STUFF usually ends up all over the floor. With all the chaos of kids and everyday living, our cars can get cluttered and messy pretty fast, leaving it almost impossible to find what we are actually looking for in there when we need it. Try out this car caddy tip to cut down on clutter and as a little organization to your space. These are great because each kid can have their own if needed. You can use these for everything from snacks to extra diapers and doggy bags (if you only have fur children).
via Nifty on Buzzfeed
There you have it, 15 of our favorite car cleaning tips. We not only loved how different some of these hacks were, but also how affordable. Most of these tools can be picked up at your local Dollar Store for cheap.
A few unique car cleaning tools to add to your shopping list:
Toothpaste
Dryer Sheets
Olive Oil
Squeegee
Squirt Bottle
Clothes Pins
Paint Sponge
Cupcake Liners
Cotton Balls
Essential Oil
Hair Conditioner
Now that you have some motivation, got get to cleaning out that car. Which one will you try out first? If you loved these tips and are craving even MORE ways to get your car looking good, we have more ideas below to help you out!
Try These Clever Ways to Keep Your Car Even Cleaner:
Which of these car cleaning hacks is your favorite?