Whether you're a coffee addict or you don't let the stuff touch your lips, we have some surprising coffee filter uses you've never thought of. You're seriously going to need a big stash of coffee filters. Why? Well, they're great for so many household uses! Check out these surprising coffee filter uses when cleaning, gardening, crafting, and more.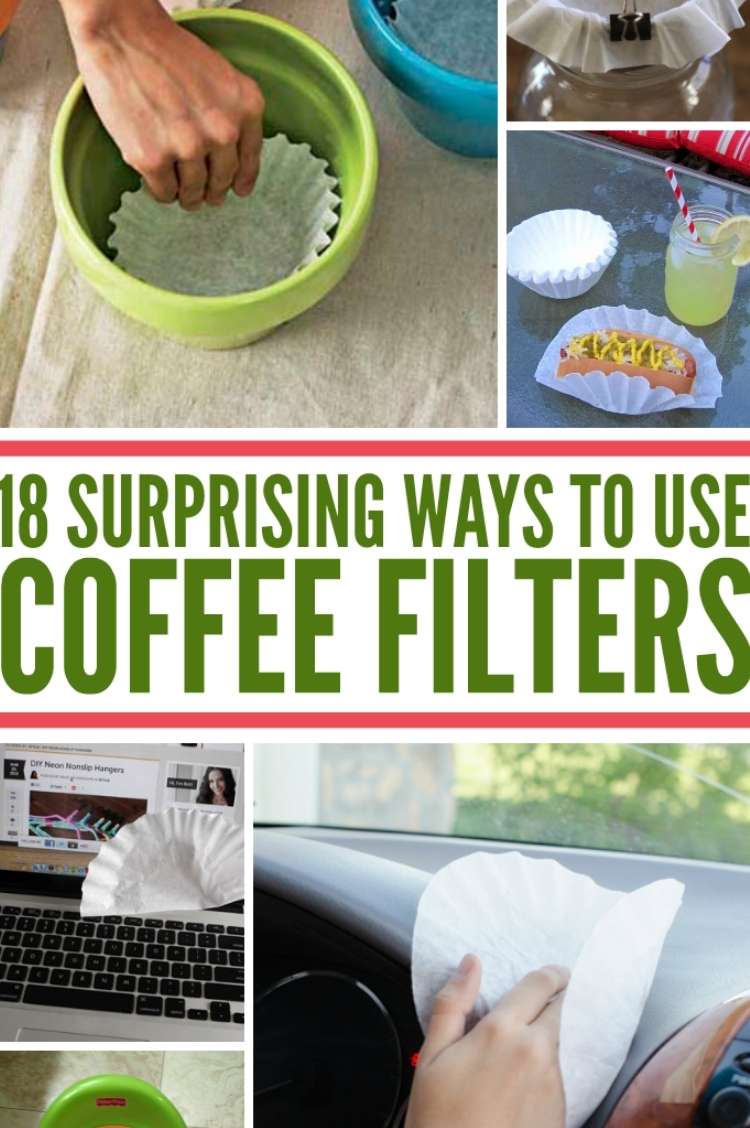 18 Surprising Coffee Filter Uses
If you're a coffee drinker, you probably have coffee filters in your kitchen cabinet.
But even if you don't drink coffee, you may have them lying around because coffee filters have so many uses beyond making coffee. Whether you're using them for food or crafts or gardening or cleaning, coffee filters are a super handy tool you should have in your home. You never know when you might use one!
1. Coffee Filters Uses for Gardening
Keep potting soil inside the pots by lining them with coffee filters. The soil won't fall out through the drainage holes, leaving you with a gigantic pile of dirt that you need to clean up. Who wouldn't be excited about no more mess on your floors!
Here's another way to use coffee filters while gardening!
2. Coffee Filters as Stand-In Strainer
In a pinch, you can use a coffee filter to strain foods. Coffee filters work perfectly to strain out the seeds from lemons and other citrus fruits. You can use it to strain broths when you're cooking. You can even use it on a wine bottle to strain out broken cork bits. Coffee filters are a very versatile strainer option.
3. Coffee Filter Fun With Cookouts
Coffee filters make the perfect holder for eating hot dogs at cookouts and BBQs. They keep all the ketchup, mustard, or other condiments from dripping everywhere, making them an outdoor eating necessity! How smart is that?
And they are super inexpensive, making them a practical disposable tool. Win, win!
4. Coffee Filter Uses—Cleaning Your Car
Because coffee filters don't leave lint behind they make a handy tool for cleaning the dashboard inside your car. Wipe down your car interior with a coffee filter and save the cleaning rags for something else.
5. Clean Your Electronics with a Coffee Filter
Dust off your electronics when you don't have a microfiber cloth on hand.
6. Potty Training With Coffee Filter
Potty training is not the most fun part of being a parent. So let's do what we can to make it a little easier.
If you're potty training, you can put a coffee filter in your toddler's potty for #2. It makes the cleanup process a little less…difficult. And parents everywhere can appreciate the usefulness of this coffee filter hack. You'll wonder "Why didn't I think of that?"
7. Clean Glass With Coffee Filters
Washing windows is never a fun job, at least not for me. But I do love looking out a shiny clean window! If clean windows are something you enjoy, here's a tip to get the job done with less hassle.
Clean your windows and mirrors with glass cleaner and coffee filters. They only cover a small area at a time, but it's a lint-free way to get your glass shiny clean. How genius is this coffee filter trick!
8. Absorb Some Oil With Your Coffee Filters
When you're cooking bacon or adding pepperoni to a pizza, coffee filters can help soak up some of the extra greases. Simply slip a filter between the plate and the greasy foods to absorb some of the oil. It will make for a healthier, less heavy dish.
9. How About Some Coffee Filter Roses?
Here's a fun craft idea that uses coffee filters.
Make beautiful coffee filter roses. They're great for parties.
You simply need coffee filters and watercolor paints. Use one filter at a time and paint your "flower" as pretty as you wish. When it's dry, cut your filters in a spiral shape. You can cut 2 or 3 filters at once if you want to save some time. Then roll each one to make it as thick of a rosebud as you want. Attach the bud to the base of a wooden skewer. You can fluff your flowers as much or as little as you wish.
The coffee filter roses are a simple, pretty way to dress up a room in your home.
10. Speaking of Craft Projects…
When you're crafting with your kids, put small dollops of paint in coffee filters or paper plates for easy cleanup. You may find it's easiest to use a few layers of filters. This keeps the paint off the surface on which you're working and it makes it easy for your children to help in the clean-up process. When you're done, you only need to gather up the filters and throw them away.
11. Keep Your Microwave Clean With a Filter
Cleaning the microwave is another one of those kitchen chores I'd just as soon not have to do. To make the job easier, use coffee filters to cover dishes in the microwave to eliminate food splatter. How smart is this? Prevention is half the battle and the less splatter there is in your microwave, the less mess there is to clean up!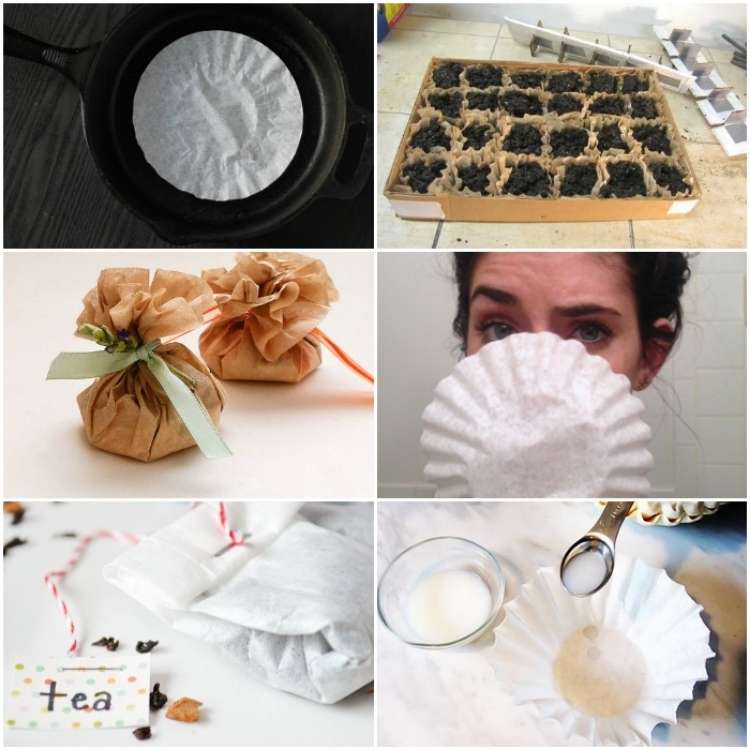 12. Cast Iron Protection
Protect your cast iron skillets between uses.
This is an easy way to take care of your precious cast-iron skillet. Lying a coffee filter inside the bottom of the pan will help absorb the moisture and prevent rust from forming. Take good care of your cast iron pan and it will last you forever! Your children and grandchildren will be using it.
13. Coffee Filter Dryer Sheets
If you are looking to save some money, and who isn't, here's a savvy idea!
Add liquid fabric softener to coffee filters to make your own dryer sheets. You'll save quite a bit over buying them in the store.
Add 1/2 to 1 full teaspoon of fabric softener to each coffee filter. Rub the filter sides against each other to spread the softener around. Let dry fully and then store in an airtight container.
How genius is this filter hack?
14. Another Gardening Tip With Filters
Did you know you can start seeds for your garden inside a coffee filter? Fill the filter with soil and seeds to get the seeds going. When the seedling is ready for planting, you can transplant the whole thing into your garden. The coffee filter will break down. In this case, unbleached filters might be more desirable.
What a fun way to garden!
15. Coffee Filters as Beauty Supplies
Here's a neat little beauty trick involving coffee filters.
Use them as DIY blotting papers! Blot your face with a filter when your skin is feeling oily and icky. The filter works the same way blotting papers do. But they are significantly cheaper and if you go through a lot of blotting papers, using filters instead will save you a considerable amount of money. Plus, the filters are readily available in your kitchen. I love this idea!
16. DIY Scented Sachets
I love this hack so much!
You can use coffee filters to make scented sachets to put in your drawers and closets. Start with a tablespoon or so of baking soda. Then add whatever strikes your fancy, like cinnamon sticks, lavender, mint, sage, cloves…the options are endless. Twist the top closed, then tie them up with rubber bands, twist ties, or a pretty ribbon.
Pop your homemade sachet into any drawer or closet that needs a little boost or wherever you'd like to be delighted with scent when you open up space. The scent will last for several months.
17. DIY Tea Bags
Learn to make your own teabags out of coffee filters even if you prefer loose leaf tea. It's a skill that will come in handy when camping; you can just take a few tea bags along with you.
Simply cut the filter into a rectangle shape. Put your tea in the center of the filter. Securely fold the filter into a tea bag shape and staple it at the top. You can use baker's twine to make a string for your teabag if you prefer.
Funny how coffee filters can be used for coffee and tea!
18. Children's Activities
Try one of these coffee filter projects that you can make with the little ones. From making fall leaves to hang on your windows to paper animals, these coffee filter crafts will keep your children entertained for hours. That might give you time to enjoy a cup of coffee!
Best Ways to Use Coffee Filters Other Than Coffee
Who knew coffee filters had so many uses?
These 18 clever ideas for using coffee filters are so smart! There are so many ways you can use the filters:
gardening,
cooking,
cleaning,
crafting,
even potty training!
With these genius coffee filter hacks, you have lots of ideas for getting more use from your filter beyond just your average cup of joe! Which one will you try first?
Like These Coffee Filter Tips? Here Are More Clever Household Hacks from One Crazy House