With so many available planner options, choosing one may feel overwhelming. Here are some tips for choosing the best planner for 2020 that fits your needs, as well as a few recommendations of terrific planners to help you get started.
A new year means it's time to choose a new planner. But with so many options out there, it's hard to find one that's perfect for the way you plan.
Choosing one can be a surprisingly personal decision. Some people look forward to the clean slate a new planner can bring, while others can quickly become overwhelmed by the sheer amount of choices available these days.
While it's true that there is certainly a large volume of paper planners available, there are certain qualities you should look for in one, regardless of the brand. A good planner should be:
Sturdy and able to withstand daily use

Have enough room for you to write down your appointments, to-do lists, notes, etc

Dated (or an undated option, if you prefer that)

Portable enough for your lifestyle.
Beyond these basic similarities, the number of options and accessories feels nearly endless. To help you sort through the options and choose a style for you, I've broken down how to choose the best planner in 2020 and thrown in some terrific planner options that I know you'll love.
HOW TO CHOOSE YOUR BEST PLANNER FOR 2020
Choosing a planner is a very individual decision. Picking the right planner means you have a tool that you use to organize your life and be more productive.
This means that choosing the wrong planner is a waste of money as you watch it get buried under piles, never to see sunlight again.
When you find the right planner, it's like everything clicks into place. You can keep track of appointments, plan your to-do list, make notes, remember to take your kids to activities, set goals and more.
Here are a few quick questions to help you narrow down what you need and want in your 2020 planner:
Size.

What size planner do you want? Do you want a pocket planner, something that fits in a purse, or something larger?

Color.

Do you like a colorful planner? Or do you prefer a minimalist planner?

Customization.

Do you want a planner that's customizable or one that is well-suited to your needs so you can start using it right away?

Layout.

What layout works best for you? Vertical? Horizontal? Daily planner vs weekly planner? Or monthly planner?

Space.

How much space do you need to track activities?

Other features.

In addition to your calendar, what other features would you like to have? Do you hope to use your planner for goal setting, meal planning or business planning? What about tracking your exercise or water consumption?

Hourly vs daily.

Do you like to track things by the hour? Or just by the day?

Binding.

Do you want disc-bound, spiral, leather cover, or something else?

Price range.

How much do you want to spend on a planner?
Before you purchase a planner, take a few minutes to really consider what you want and don't want in a planner to provide the best organizing tool for you.
Be Willing To Experiment
Sometimes the only way to find out if you like a planner is to start using one. You may think you prefer hourly tracking but later realize that daily or weekly is what you really want.
Once you use a planner for a while, you'll discover what you like and don't like. This will make your next planner purchase much easier. Some companies even offer printable pages on their website so you can give it a try to see what you like before committing to a purchase.
WHAT ARE THE BEST PLANNERS FOR 2020?
The above all being said, sometimes the best way to choose a planner is to get a recommendation from a trusted source. If you're looking for the best planner for 2020, these are my top picks.
Passion Planner
The Passion Planner is perfect for the person who has big goals and wants accountability as well as a personal organizer to help focus on what really matters.
This planner includes hourly/daily, weekly, and monthly options. It also comes in both dated and undated options and personal and work to-do lists to help prioritize.
$25-35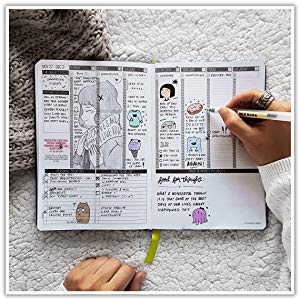 Panda Planner
The Panda Planner is part agenda, part gratitude list, part journal, part scheduler, part goal planner, and part life organizer.
This minimal planner is all about accountability and guiding you through setting priorities and goals. Its focus is on helping you be more productive and more grateful – there's even a guarantee to back up the claim.
$25-38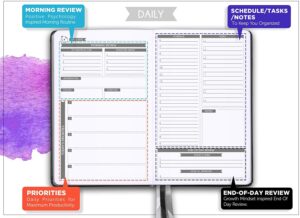 Happy Planner
The Happy Planner is the planner for anyone who loves color and combines the love of creativity with the need for organization. This is the one I personally use because I love all the fun accessories!
With this fun, functional and completely customizable disc-bound system, you can add pages, remove pages and accessorize it any way you want. There are both dated and undated options available.
With the Happy Planner, you can also purchase special inserts focused on wedding planning, budgeting, fitness, faith, and a plethora of other subjects.
$22-33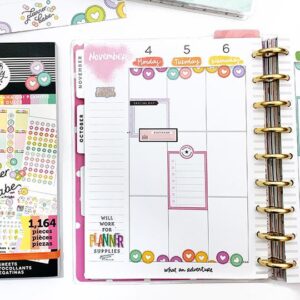 Erin Condren Lifeplanner
The LifePlanner offers three different layouts to help you find the one that works best for you. Choose between vertical, horizontal and hourly and start planning!
You can also further customize your spiral-bound planner by choosing to include things such as quotes, year overview, goal sheets, notes, contacts, coloring pages and more!
$47-55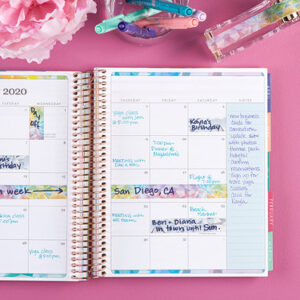 Blue Sky Planner
Simple and functional, the Blue Sky Planner comes with helpful extras to accommodate all your scheduling needs.
This calendar is perfect for the minimalist who wants a place to keep life organized and everything written down but doesn't necessarily want stickers or customizable options.
$15-60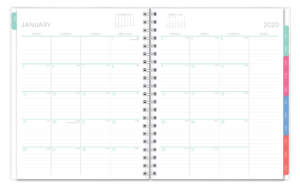 Whether you are looking for colorful or minimalist, goal-setting or habit-tracking, you can find a planner that fits your lifestyle and helps you stay organized and on top of everything.
Try Bullet Journaling
One other option I love is bullet journaling. This popular style of planning can track your daily to-do list, monthly goals, spending, or any other thing you'd like to note. You can bullet journal in any notebook, and the process is simple and fun.
Here are some mind-blowing ways to use a bullet journal to plan your daily life.
---
Take some time to consider the available options before you purchase your 2020 planner so that you choose the style that will help you increase your productivity and crush your goals.