Finding trick food doesn't have to be hard. Simply use your imagination (or some of these silly recipes) to prank your family and friends!
Want to prank your family or friends for April Fool's Day, during the Halloween season… or just because? One of the easiest ways to prank people is to mess with their food… but not something means replacing sugar with salt in their coffee. No, these trick foods are unexpected but fun. And they're still tasty, too, so that's a bonus. Some of these are actually healthy versions of trick food, but be mindful of your loved ones' food allergies and which allergen triggers them to be safe. Make one of these fun foods today, you little trickster!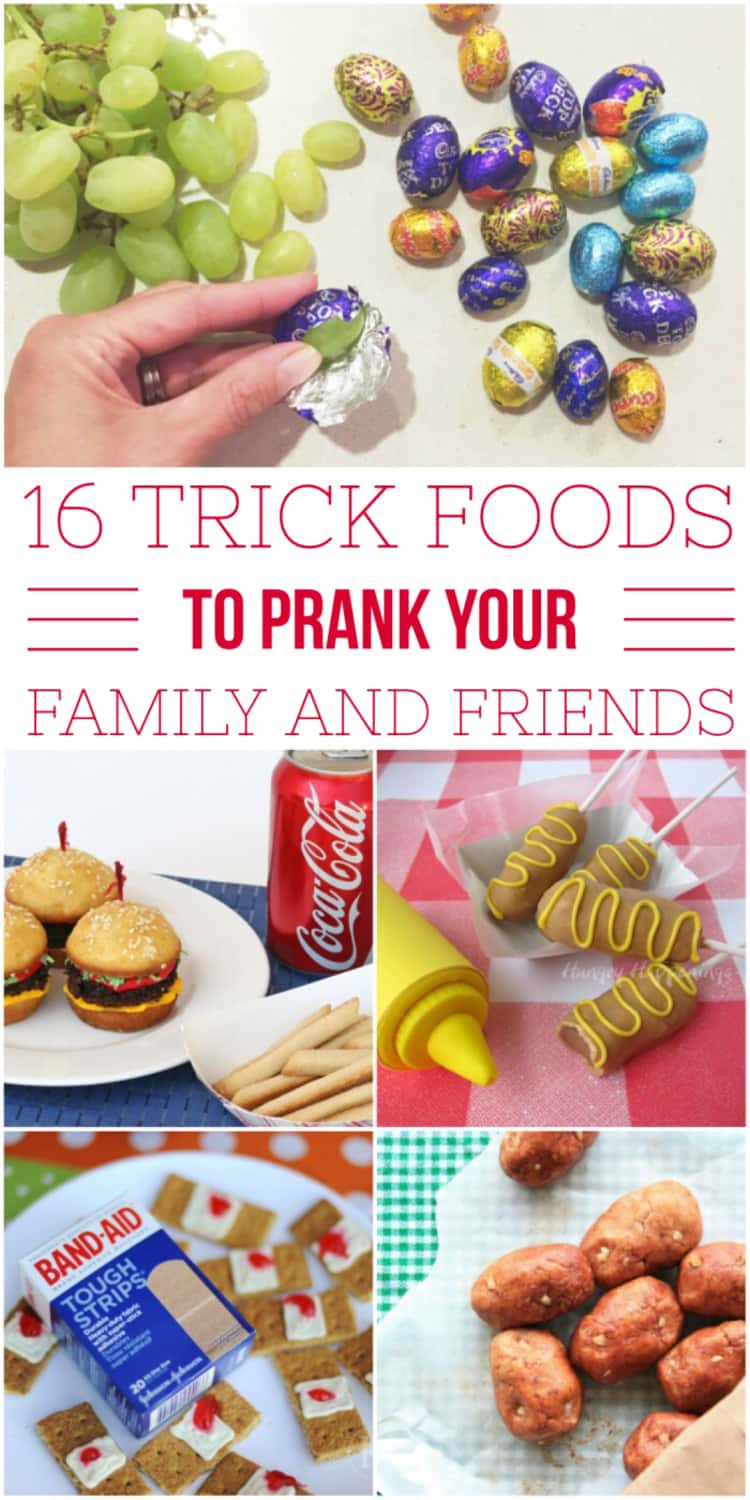 Trick Food for the Funniest Pranks Ever
1. Incredibly Cakey Corn Dogs
Can you believe these corn dogs are really cake-pops? They look so real! Imagine biting into a corn dog to find it really sweet and more like cake than meat? I would be surprised, but pleasantly. These cake popcorn dogs are such a fun party treat guests will be talking about them long after the party is over, or even on their first bite. In under one hour, you can have these babies ready to devour or to share. Safe treats, but cool prank!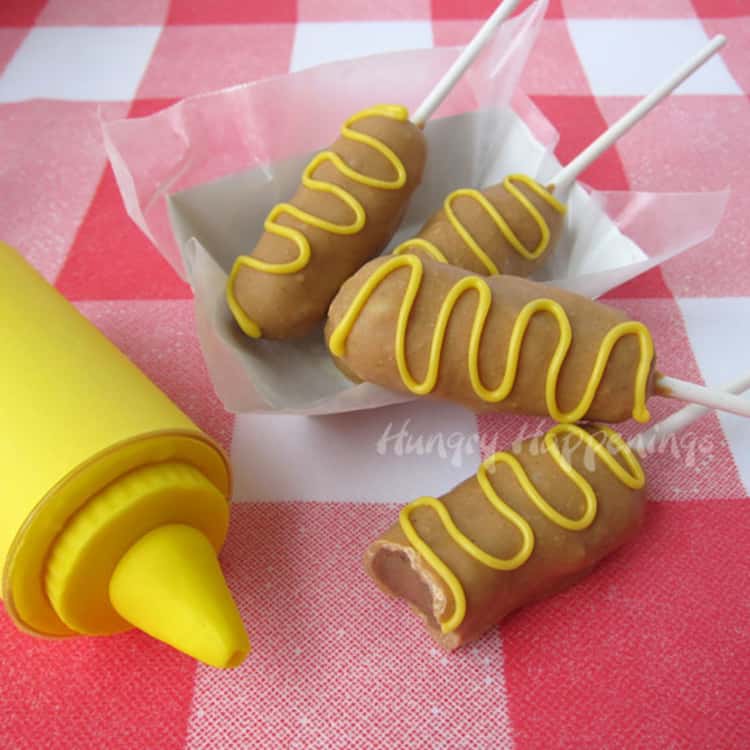 2. Totally Evil Trick Foods For The Craziest Fool's Day Prank Ever!
Isn't this the evilest thing you've ever seen… expecting donuts to find vegetables?! This prank is so easy to pull off – all you need is a doughnut box and vegetables to pack inside. Pull this one on the kids and you might never get the mum of the year award. Or you might if they have a sense of humor. regardless, the veggie flavors are still tasty so…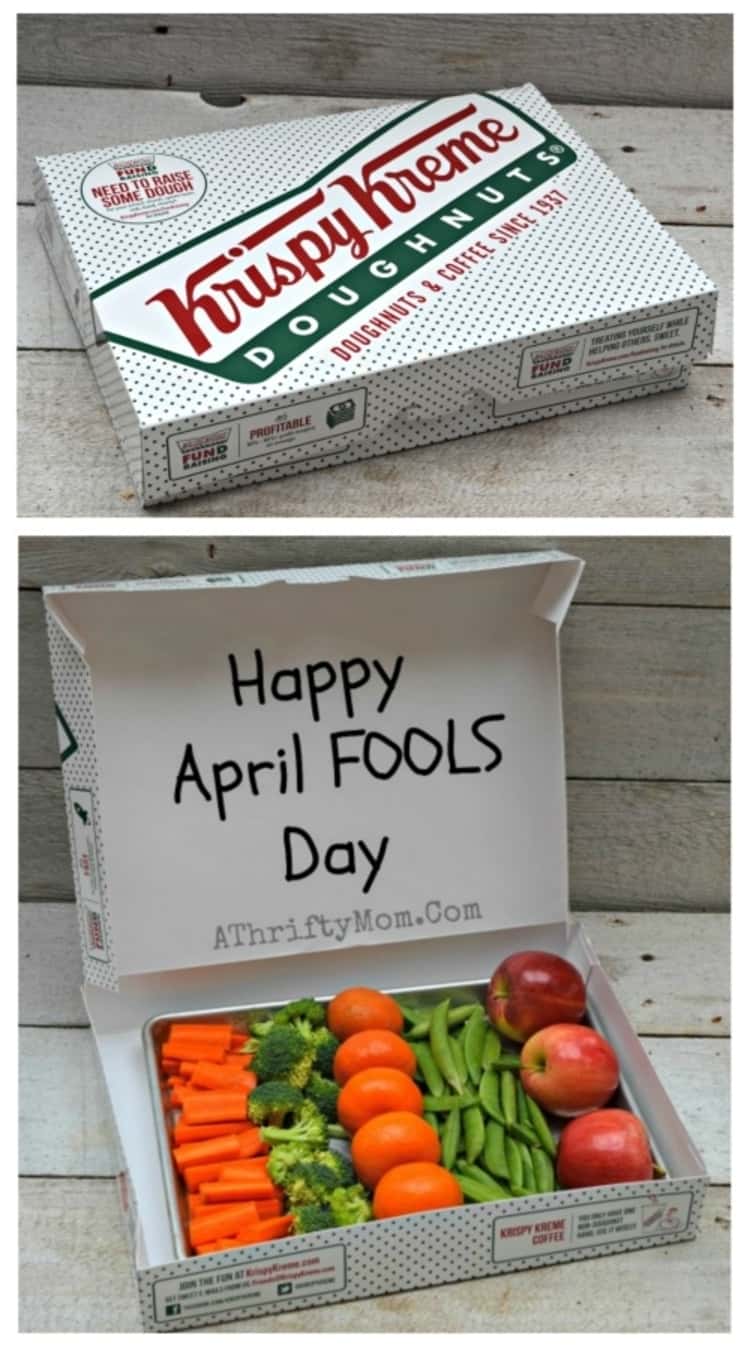 3. You Can Never Go Wrong With Spaghetti and Meatballs
April fool's day food pranks? If the kids love spaghetti and meatballs, these spaghetti and meatball cupcakes are a fun surprise. You can make your own cupcakes at home or buy some unfrosted cupcakes from your local bakery. Use the round tip of a piping nozzle to pipe the 'noodles' onto the cupcakes. For the meatballs, dip a Ferrero Rocher into red strawberry jam and place them on top of the noodles. Drizzle a bit of jam and voila! A trick food they never saw coming.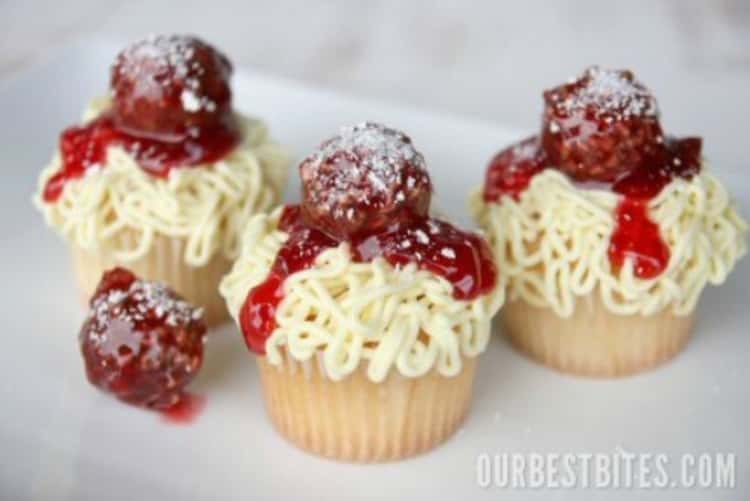 4. Creepy Trick Foods Make For A Lovely Halloween Treat
Feeling hungry? How about snacking on some used band-aids? This label is sure to get an "eww!" from the kids before they realize what they are. Make this creepy treat with a few graham crackers, frosting, and some red jam! Creative, right? The first aid volunteers might also want to grab some of these!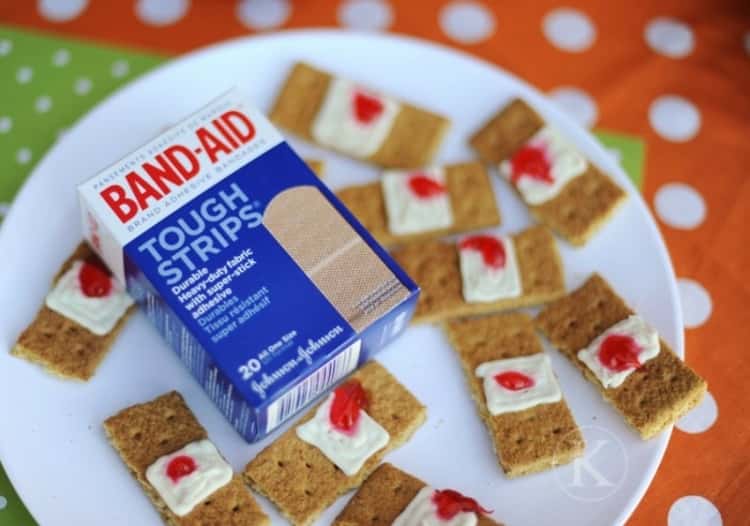 5. Trick Foods To Give Veggie Lovers A Sweet Shock
The only people I can think of who would jump on this treat are veggie lovers. Give your vegetable-loving friends a sweet shock with these clever peas and carrots! You'll have no problem getting your kids to eat these… they're made out of green skittles and orange starbursts.
What You Need:
Orange fruit chews, cut into 1/4 inch cubes
2 tablespoons vanilla frosting
Green gel food coloring
2 tablespoons green candies
How To Make This Treat
Color vanilla frosting with green food coloring and spread it on top of one cupcake
Arrange the fruit chews and green candies on top, pressing them into the frosting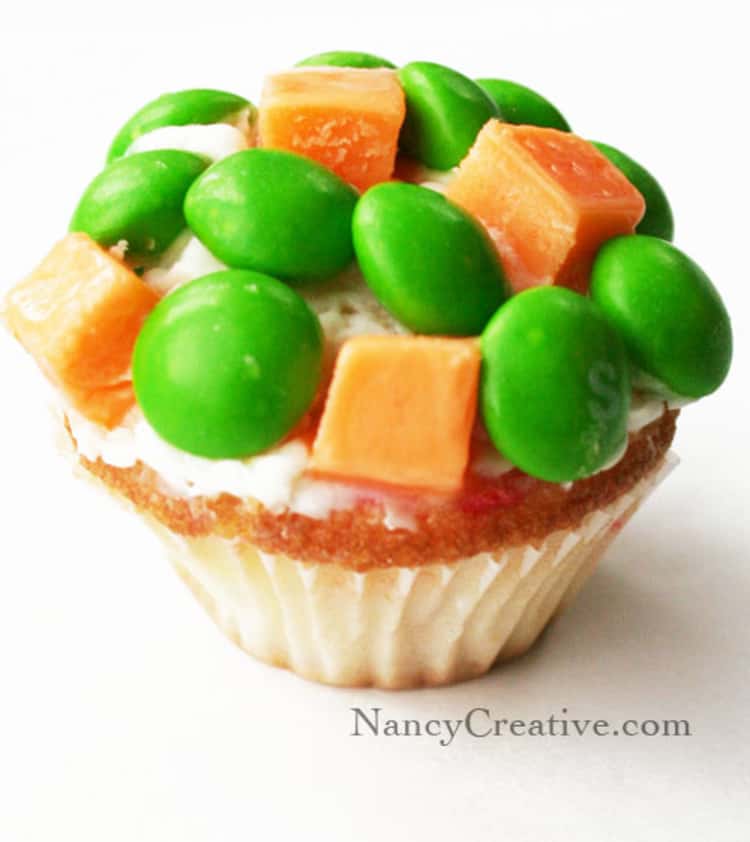 6. This April Fool's Day Prank Is Just Sneaky
Since April Fool's Day is so close to Easter, you should have plenty of those little chocolate eggs around. Save the wrappers, and wrap grapes in them to trick your kids at lunchtime. Even better when Easter falls on Fool's Day! This should teach 'em to eat healthily.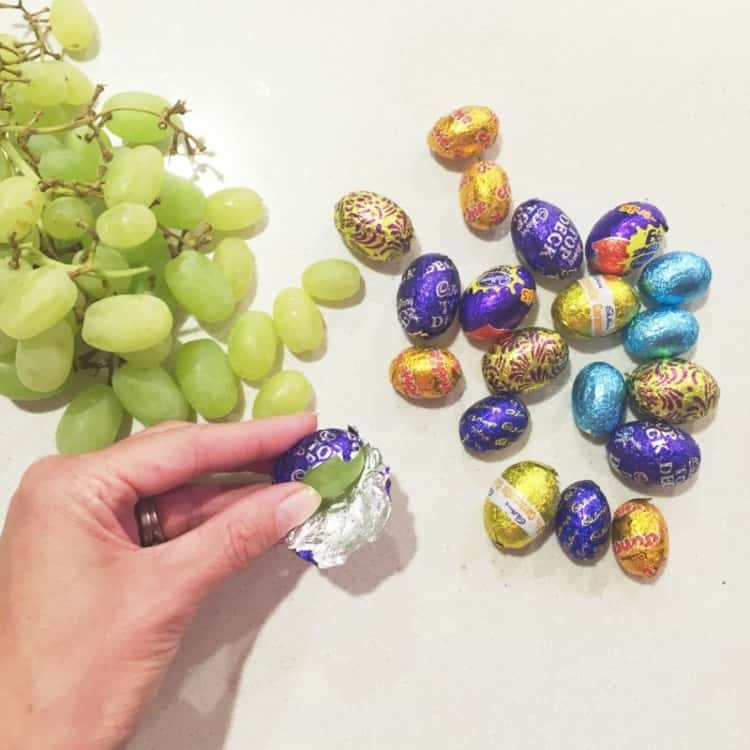 7. A Sneaky Snack For Your Doughnut Addicted Friends
If I were to bite into a muffin disguised as a glazed doughnut from Krispy Kreme, I would think you the meanest person on earth. I don't know about you but this is just evil. And your family might agree with me on this. Make English muffins look like donuts and trick the most unsuspecting victim. Poor them.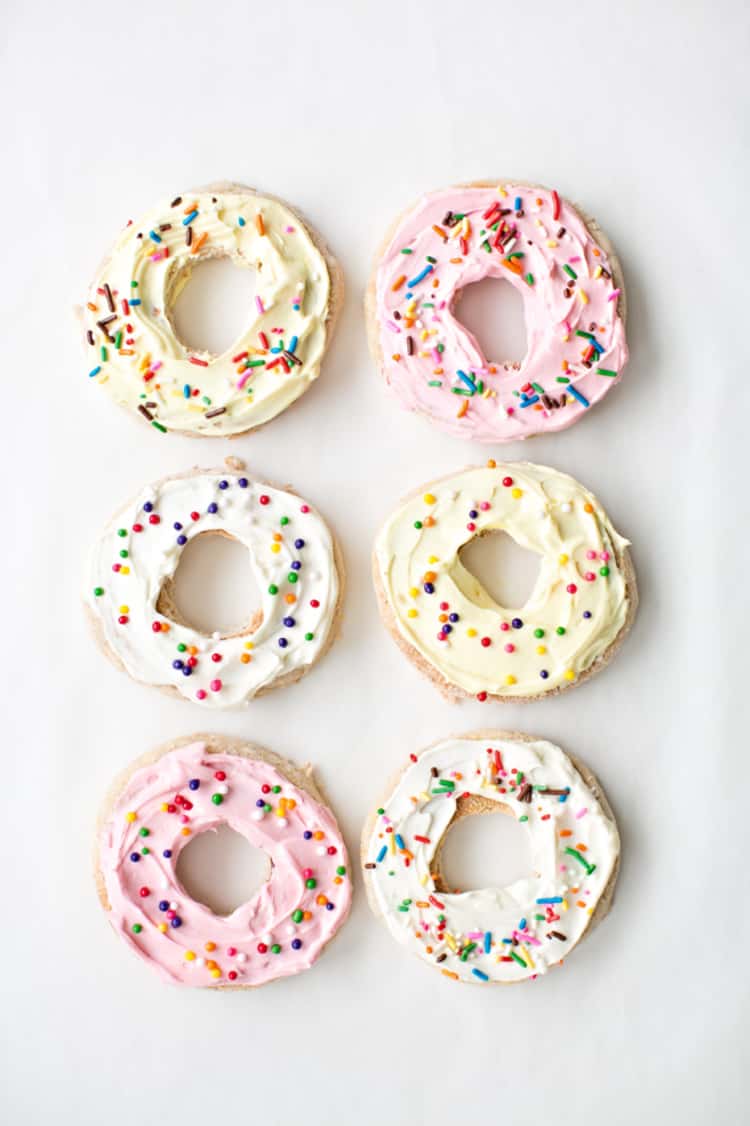 8. Some Trick Foods Are Just Gross – A Bonus For You!
Gross your family out and have dog food for breakfast! It's really Cocoa Puffs and a biscuit in the shape of a dog bone. Simply get a clean dog food bowl and fill it with cocoa puffs. For the 'dog bone', use a bone-shaped cookie cutter to cut out refrigerated canned biscuits. Be careful though, you might end up in the dog house after this prank!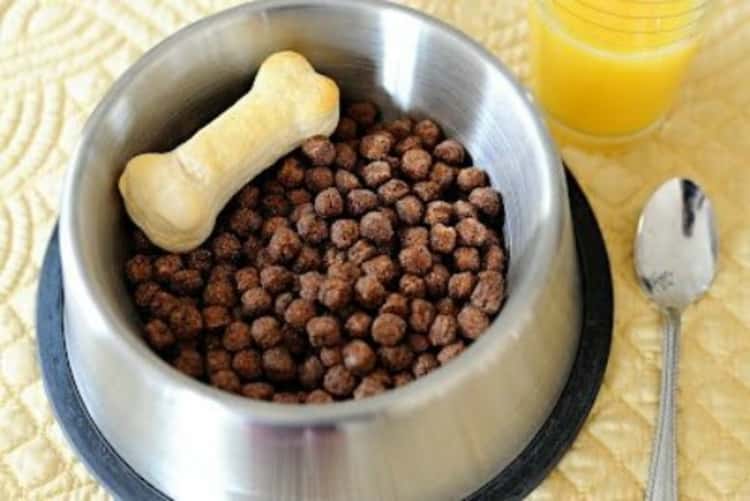 9. These Dog Poop Cookies Are The Craziest Trick Foods Ever!
These dog poop cookies have such an ick factor that I'm not sure I could eat them with a straight face… they are super tasty though! Granted, people will think you crazy for serving them dog poop, but once you get them to bite into these treats, you just might be forgiven.
You Will Need:
1 box of chocolate cake mix
3 ounces of cream cheese
4 tbsp butter
1 egg
Sparkle gel (optional)
What To Do:
Preheat oven to 177 degrees celsius
Combine egg, softened cream cheese, and butter till well combined
Add cake mix and mix well. You can use your hands
Roll and shape the cookie dough however you want. Be creative
Place the poops in the fridge for 10-15 minutes
Bake for 8 minutes or until cookies bounce back when touched lightly then remove from the oven and cool completely
For that extra poop sheen, add sparkle gel with a brush
Scatter these dog poop cookies all over the house or serve them for breakfast. You'll be sure to get a handful of expressions!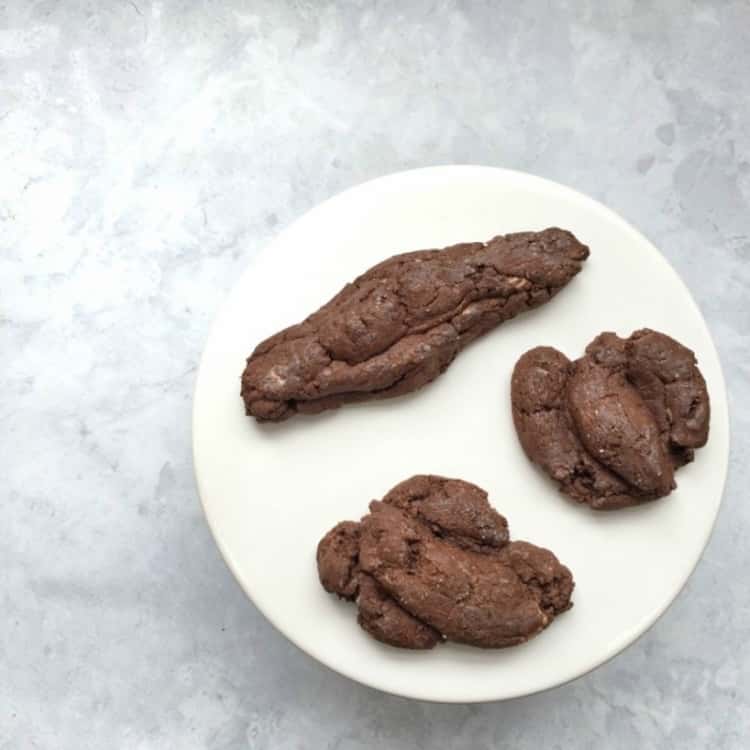 Don't forget these trick foods as well!
10. Try Feeding Someone Raw Potatoes For Dinner!
They say there's more than meets the eye and I have to admit, I thought these were dainty Irish potatoes when I first came across them on the web. Well, here we have some tasty potato-shaped sweets. They're made from cream cheese, butter, powdered sugar, and cinnamon. This is a prank that's sure to get people talking for a long time. Imagine serving them to guests at a dinner party. Hilarious!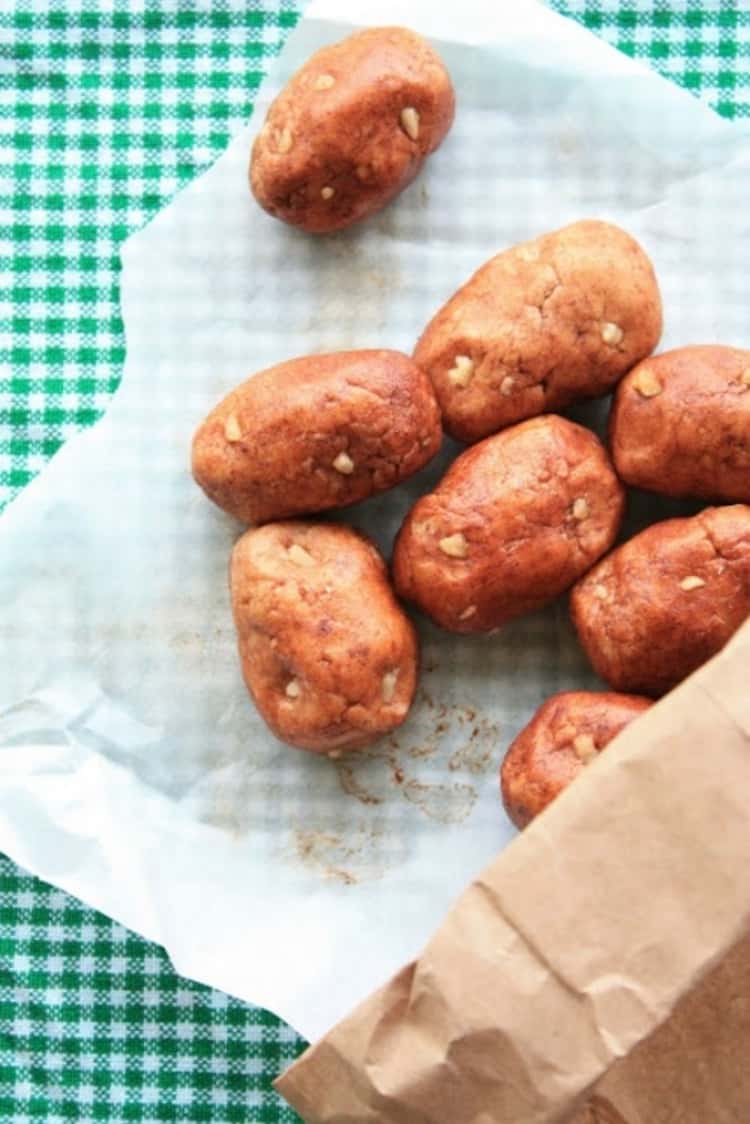 11. These Crazy Trick Foods Will Blow Your Mind Away
Please tell me you thought those were actually hamburgers because I did! With a side of KFC-looking fries. These hamburger cupcakes and cookie fries will take a bit of work to put together, but can you imagine the delight on your kids' faces when they get to eat them for lunch or dinner? Mom of the year! If you pull this off, I'll vote too!
Although this meal looks like a lot to pull off, it actually isn't. You just need to bake a batch of vanilla cupcakes and another of chocolate cupcakes. It's better to bake the cupcakes without the paper liners to avoid having those tiny ridges on your 'hamburger bun'. The lettuce is made from shredded coconut colored green and the mustard and ketchup are simply made from cream cheese frosting. How delightful! You might even enjoy making this treat for the kiddos.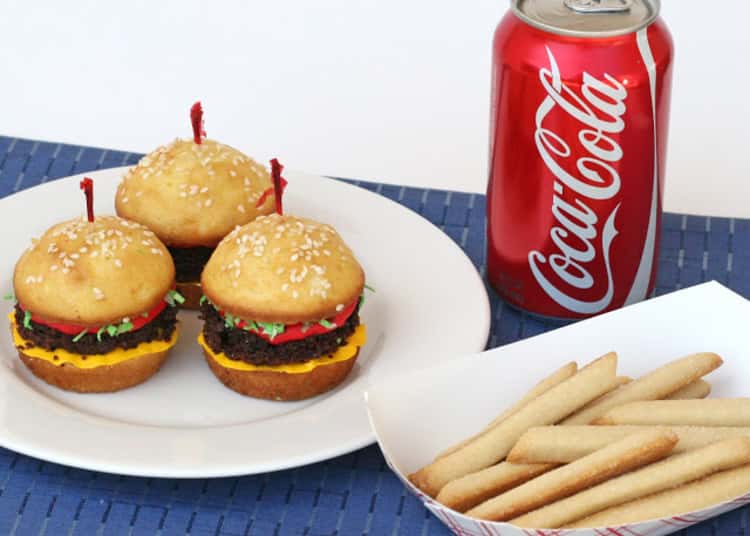 12. You Thought KFC Was Good? Wait Till You Try This!
This bucket of fried chicken looked so realistic that I had no idea it was really a dessert made with cereals, marshmallows, chocolate, and pretzels. I know it looks a bit complicated to make but it really isn't and you'll be sure to pull one on any KFC lover. It's probably the best prank I've seen so far!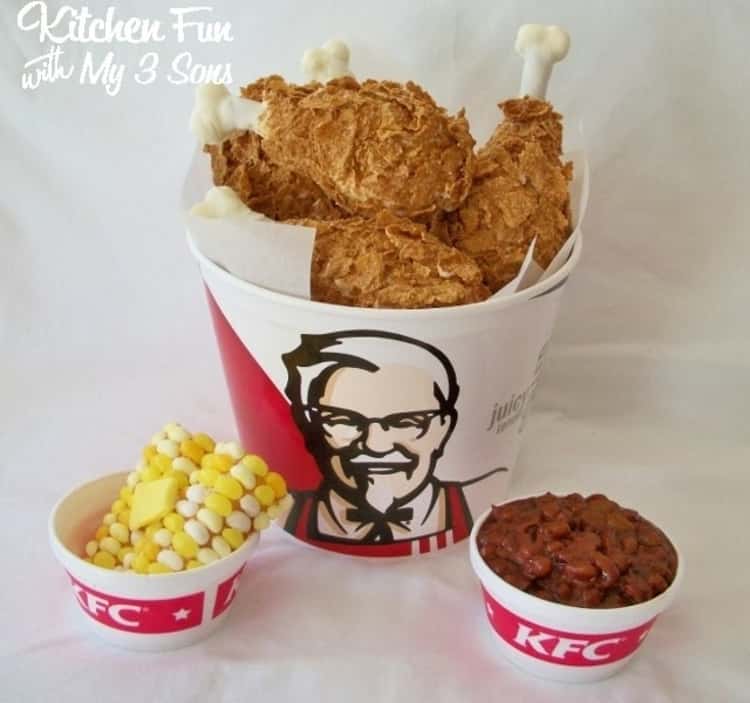 13. This Is Not Really A Trick Food But It's…Different
Ever thought of cinnamon rolls with meat? This food is a bit of a novelty but let's be honest – everything is good with a bit of pork! At least for me, anyway. Make savory cinnamon rolls! These are filled with pulled pork and BBQ sauce, but honestly, they sound really tasty to me. That could be because I love BBQ, though.
These pulled pork cinnamon rolls are made just like cinnamon rolls but I bet are tastier and more filling!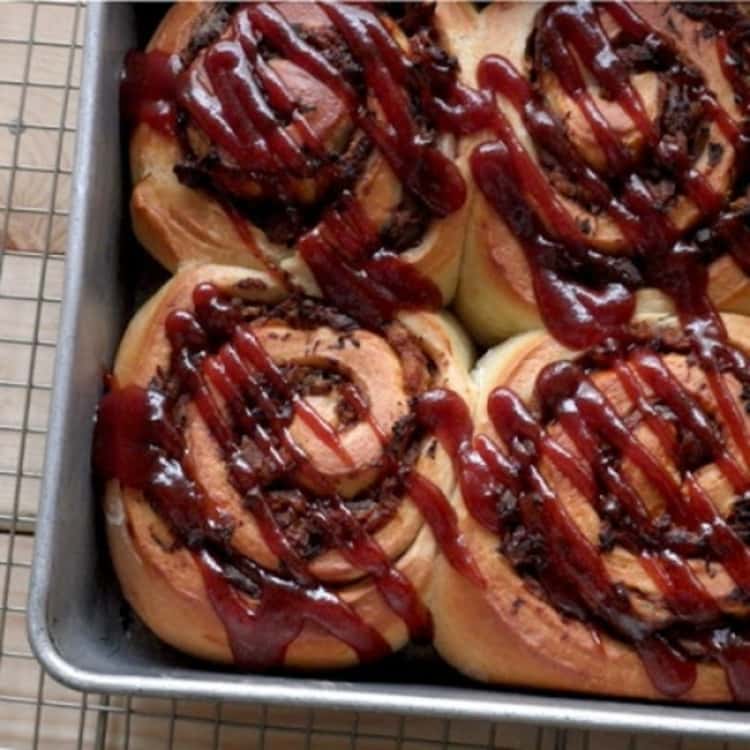 14. Here's One Of The Coolest Trick Foods Ever!
To be honest, I don't think this meal deserves its name. I'd call it 'Not-Chicken Not Pie' but I guess Chicken Not Pie will do. This Chicken NOT Pie looks like the real thing! They're made with pudding, candy, and a sweet pie crust. It's pretty creative but for chicken lovers like me, not interesting. At all.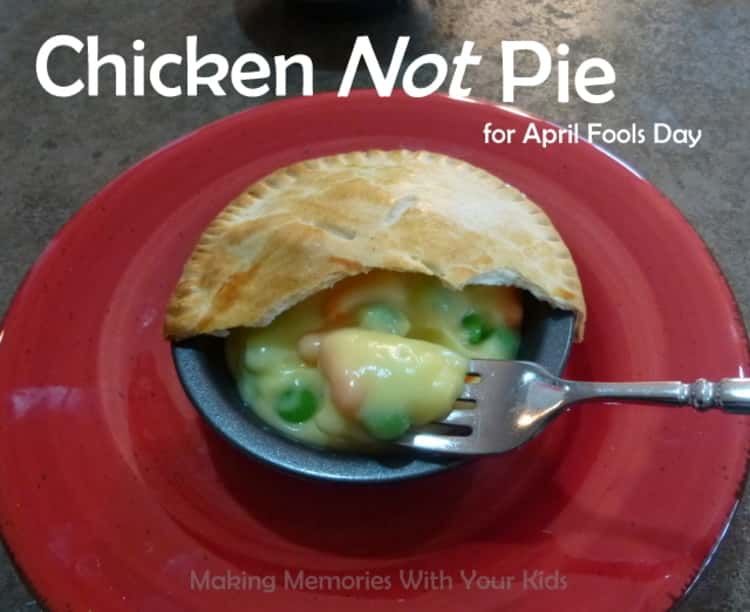 15. Pranking Someone With Pizza Is Just Cruel – But You'll Love It!
Don't tell whoever you choose to prank that I gave you this idea because I am so sorry for them. I wouldn't want to open a box of pizza and find fake pizza. Would you? Put this dessert pizza in a real pizza box to surprise your family at dinnertime. The crust is made from a sugar cookie mix and the toppings are pretty much anything you can find in your pantry depending on what type of "pizza" you want to make.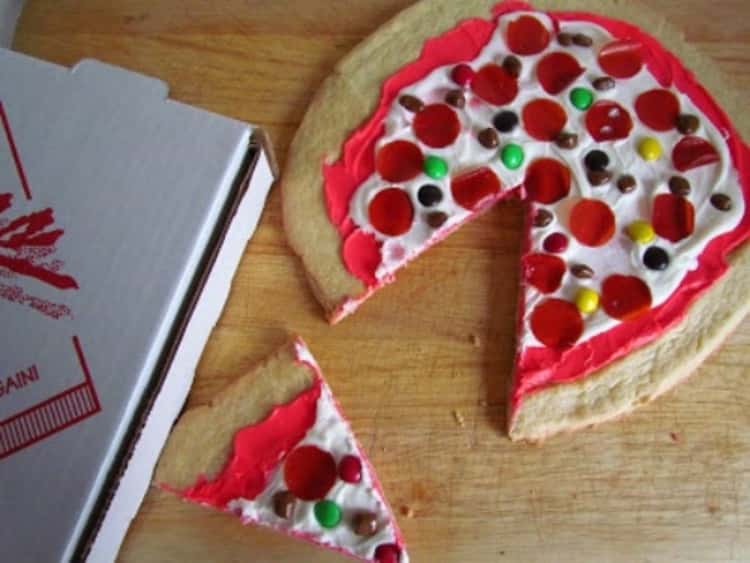 16. A Classic Prank To Pull On Your Friends
I love how you can make fries out of a lot of things. From sweet potatoes to vegetable fries, it's easy to disguise foods to look like French Fries. I bet you never thought of trying fruit fries. Pair these apple fries with a raspberry or strawberry dipping sauce, and anyone who takes a bite will get a real shock to the taste buds!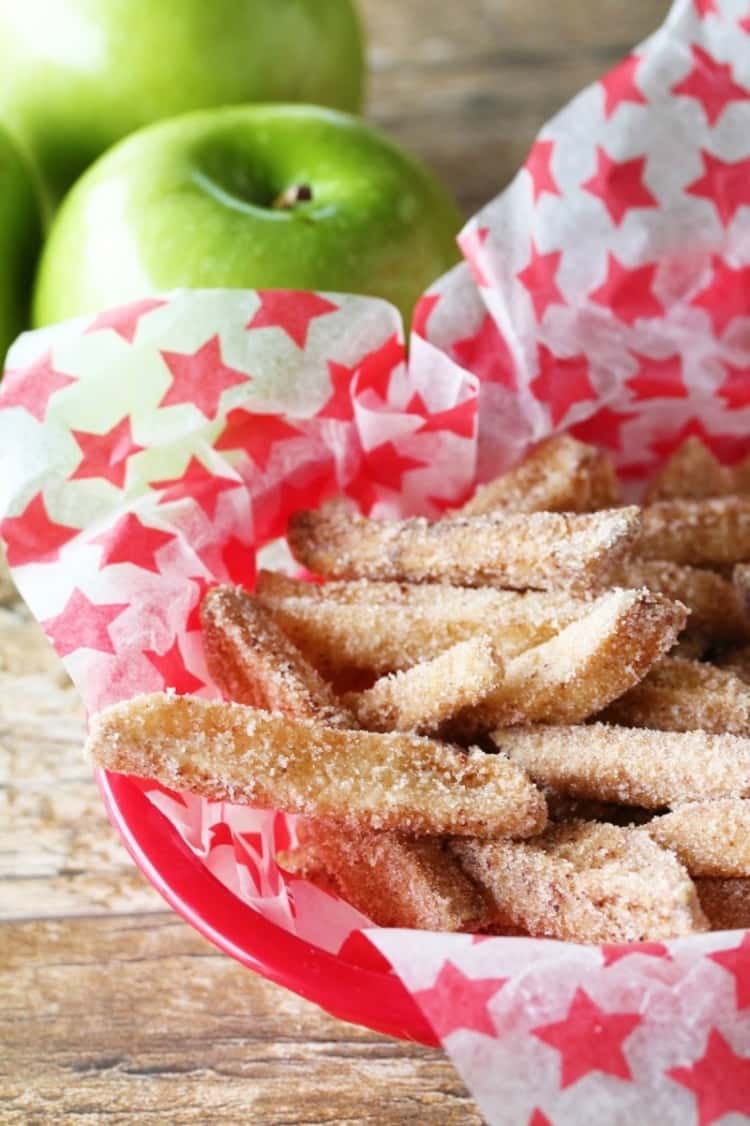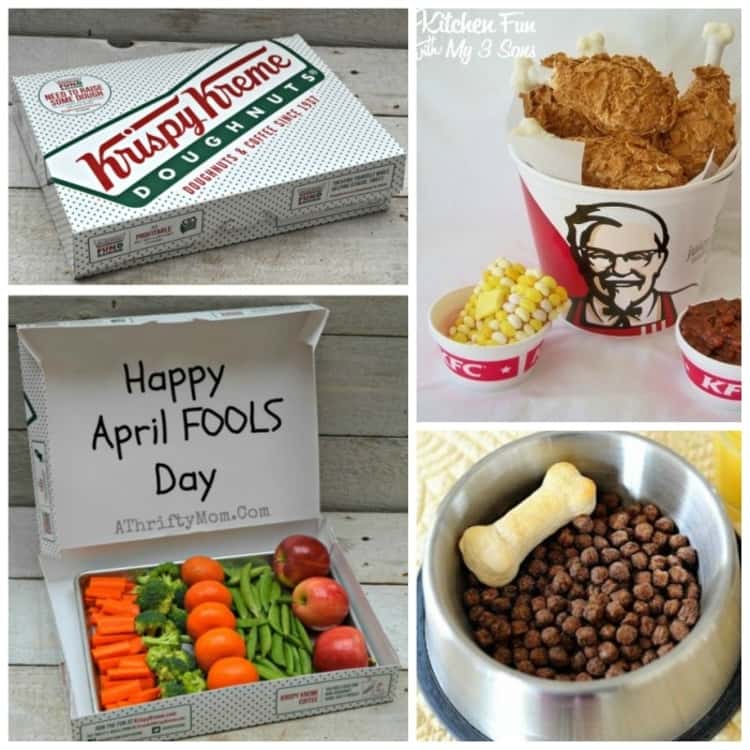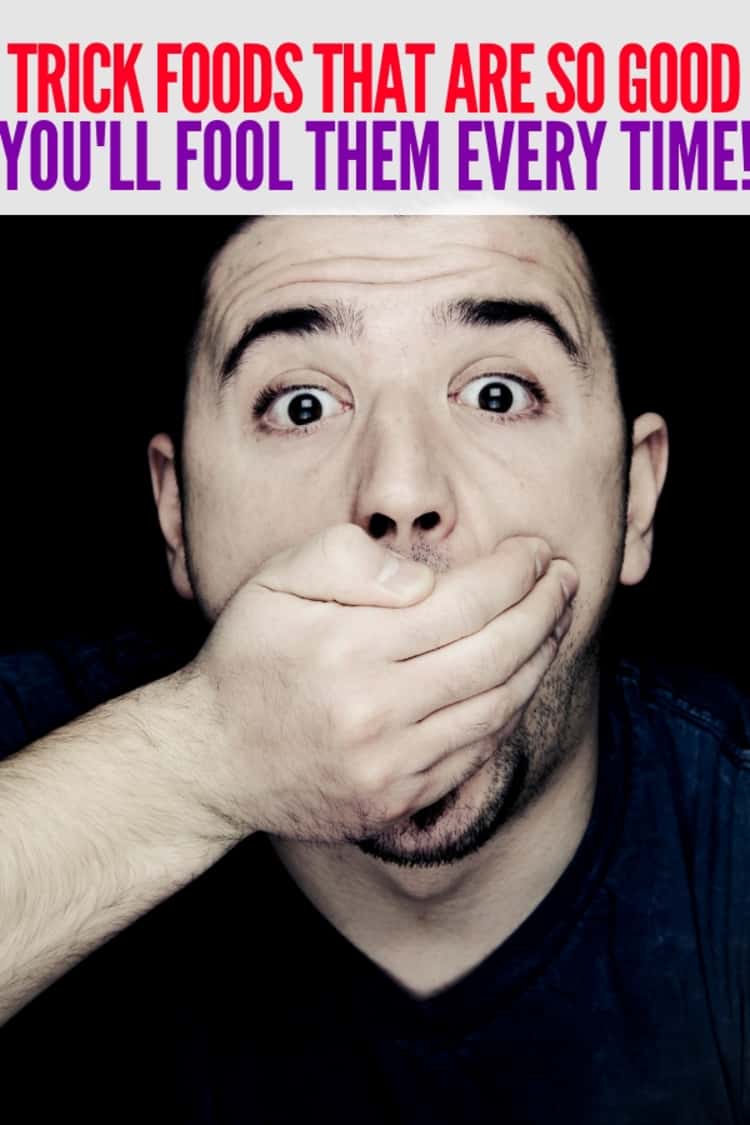 Loved This Compilation Of Trick Foods? Here Are Other Interesting Ideas You Might Want To Try Out!
Aren't these trick food hilarious? Which one is your favorite?