We have a bean bag chair in our house, it's massive, roughly 5 feet across and has long been one of our favorite pieces of furniture. The kids jump on it, cuddle on it, curl up with books.
There is just something fun about a bean bag chair.
Here are 19 Poof Chairs for you to join me and drool over.
*This post contains affiliate links.*
Jaxx Sac Jr Bean Bag – you can remove the cover to wash it (always a plus). It is roughly 3 feet in diameter and light enough your kids can move it around the room.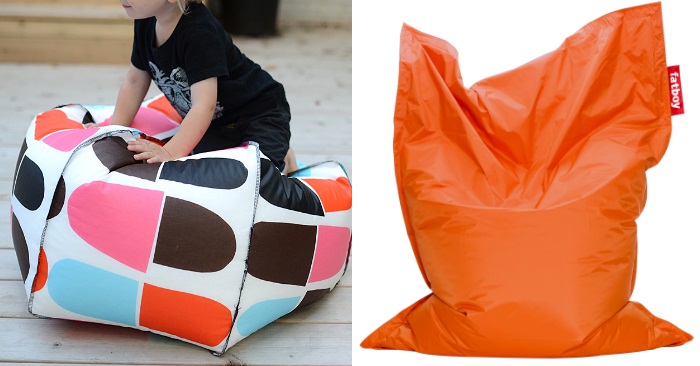 Instructions to make your own bean bag poof. Easy to follow and you can make it any size you want!
The Fat Boy bean bag chair. My kids want like ten of these! They are HUGE – nearly 6 feet tall – and fun.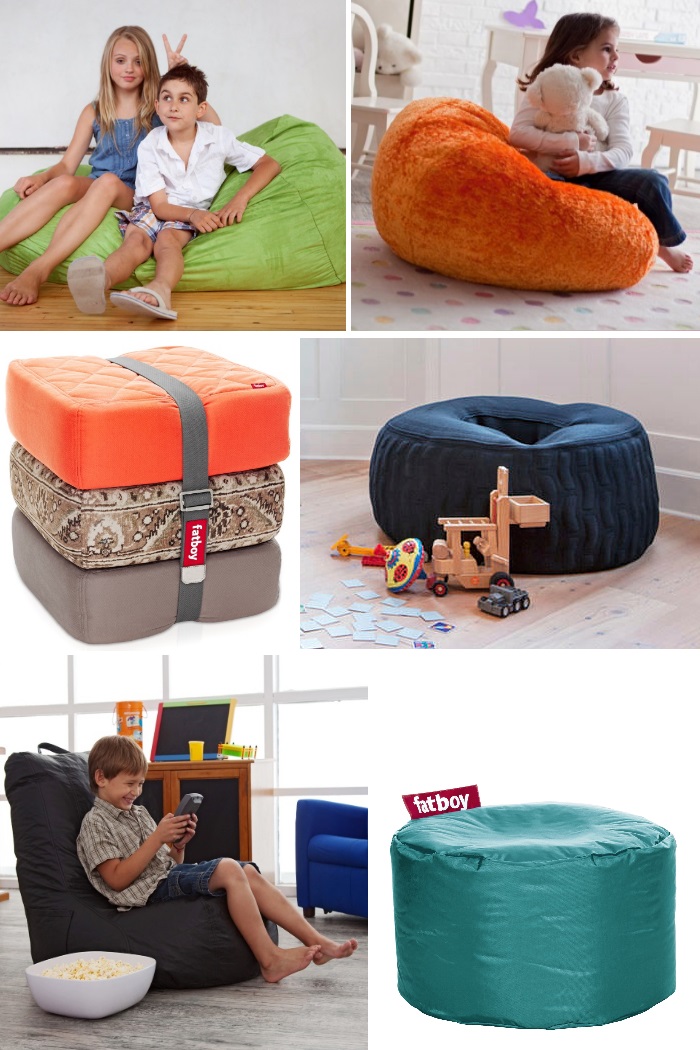 Bean Bags for Kids Rooms
The Jaxx Lounger Jr. Bean Bag is perfect for movie night or cushioning for a pillow fight. It's made from micro suede and the cover is washable.
Slightly larger than 2 feet in diameter the Ace Bayou Bean Bag Chair is SUPER soft.
This Baboesjka Pillow Stack is both a set of floor pillows and an ottoman. Just band them together for a seat!
Got a kiddo who loves all things transportation? Get them a wheel floor pillow for them to roll around in.
This Vinyl Bean Bag Chair is hook-shaped so your kids can sit upright in it and watch movies or play games comfortably.
I think we want ten of these Round Bean Bag Chairs. Lots of colors! My kiddos say they want to build an igloo with them. We'll see. They are 20″ in diameter and 8lbs.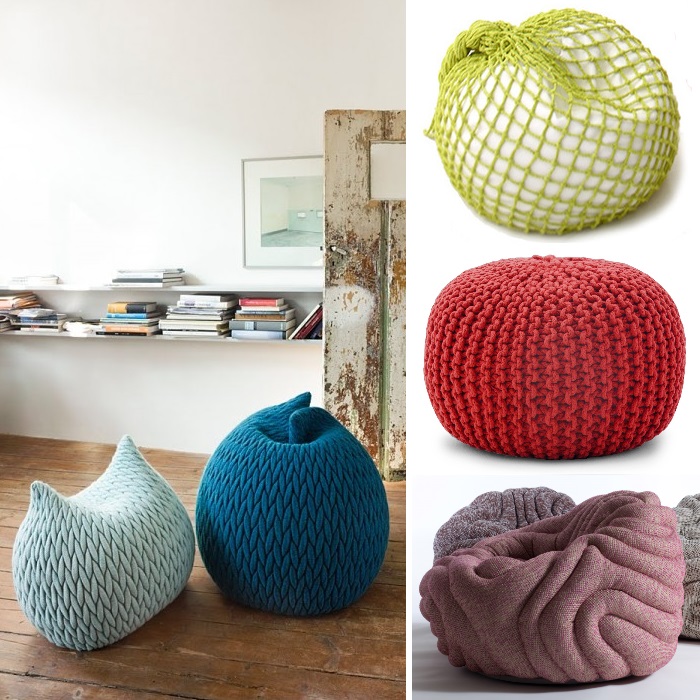 Unusual Bean Bag Chairs
Add an element of natural design to your house with this bean-bag-like chair "the Slumber Pouf".
I could not find where to purchase these, but if I did… the top bean bag has a nautical feel with a knit net covering over the bag. Makes it easy to carry!
This orange Small Bean Bag is covered in a soft rope knit. It's roughly a foot and a half in diameter, perfect for a toddler or an accent piece in the room.
This lounge chair has hand stitched details that give it a rippling water feel – it's a peaceful design.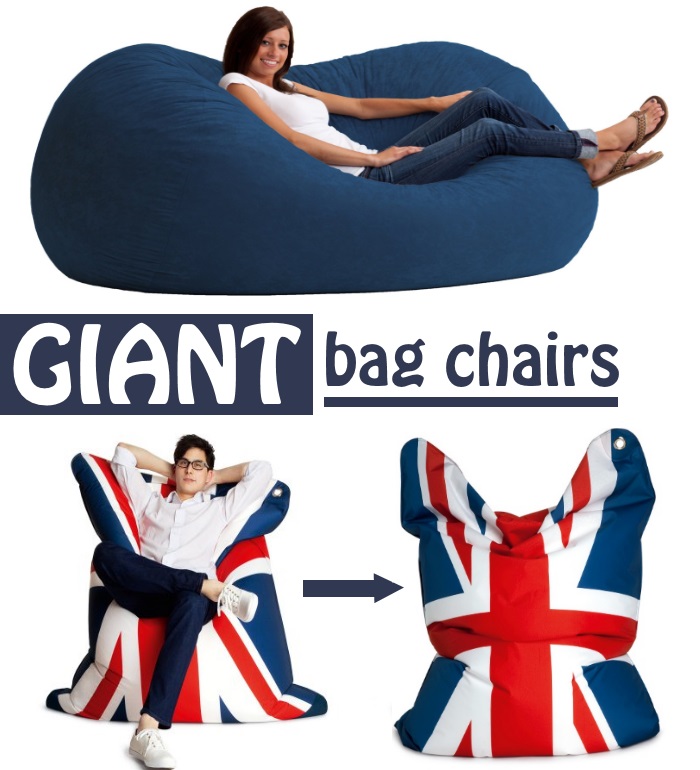 Giant Bean Bags
Go big or go broke, these are HUGE.
The top bean bag is a bean bag sofa. It is 6 feet long, 4 feet in diameter and is perfect, perfect for lounging.
The UK flag bean bag on the bottom is the same chair. It's gianormous! More than 6 feet long this is perfect as a floor mat for guests and also as a chair.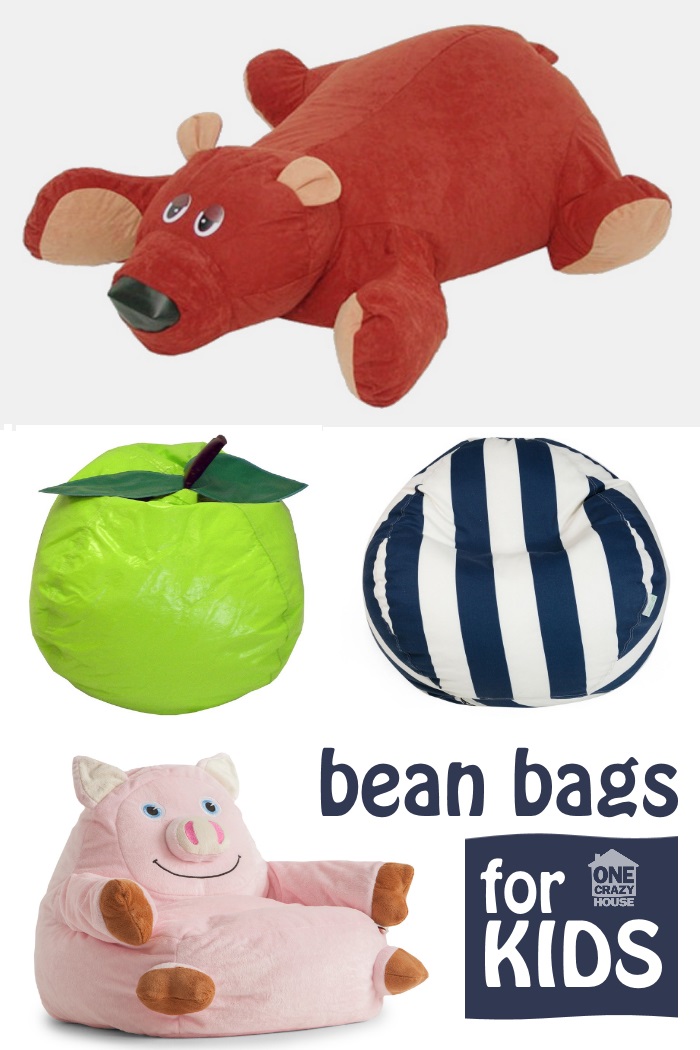 Honorable mentions (i.e. my kids picks):
The biggest stuffed bear your kids could ever want. This stuffed animal doubles as a bean bag chair – fun!
Have an apple. This bean bag is rather small and great as an accent piece in the room.
Looking for a classy look in your kids room? This one is timeless.
This last little piggy is a bean bag arm chair. It is toddler sized and super comfy.