No matter how organized and pretty a room is, wires strung along the walls or floor can ruin the look. Cable management doesn't have to be hard.
With these 15 cable management hacks, you will have the cords and wires in your house organized in no time at all. Even if you don't have a lot of time these DIY options are a great way to get the beautiful look and feel you want your home to have. The best part is that you don't need a bunch of tools or to cut holes into your walls to make these options happen.

Cable Management Tips and Tricks
Every person deals with wires throughout their home. You work hard to make sure your home is beautiful and put together. Looking at those wires can ruin the look and atmosphere you are going for in a room. These 15 cable management tips and tricks will help you sneakily hide wires without a lot of work. These projects can easily be done in a day without a lot of tools.
1. Zip Ties – manage cables by attaching them together
Using zip ties to keep multiple cords bound together is a great way to manage your cables. When it comes to your entertainment center it is easy to get bogged down with cords. If you have gaming systems it adds another level of mess. By gathering cords that go to each system and organizing them it allows you to easily know which cord belongs to which item.
Using command hooks on the back of the entertainment center helps keep them hidden and off the floor. Zip ties are a great way to organize cables throughout the whole house, not just for the tv.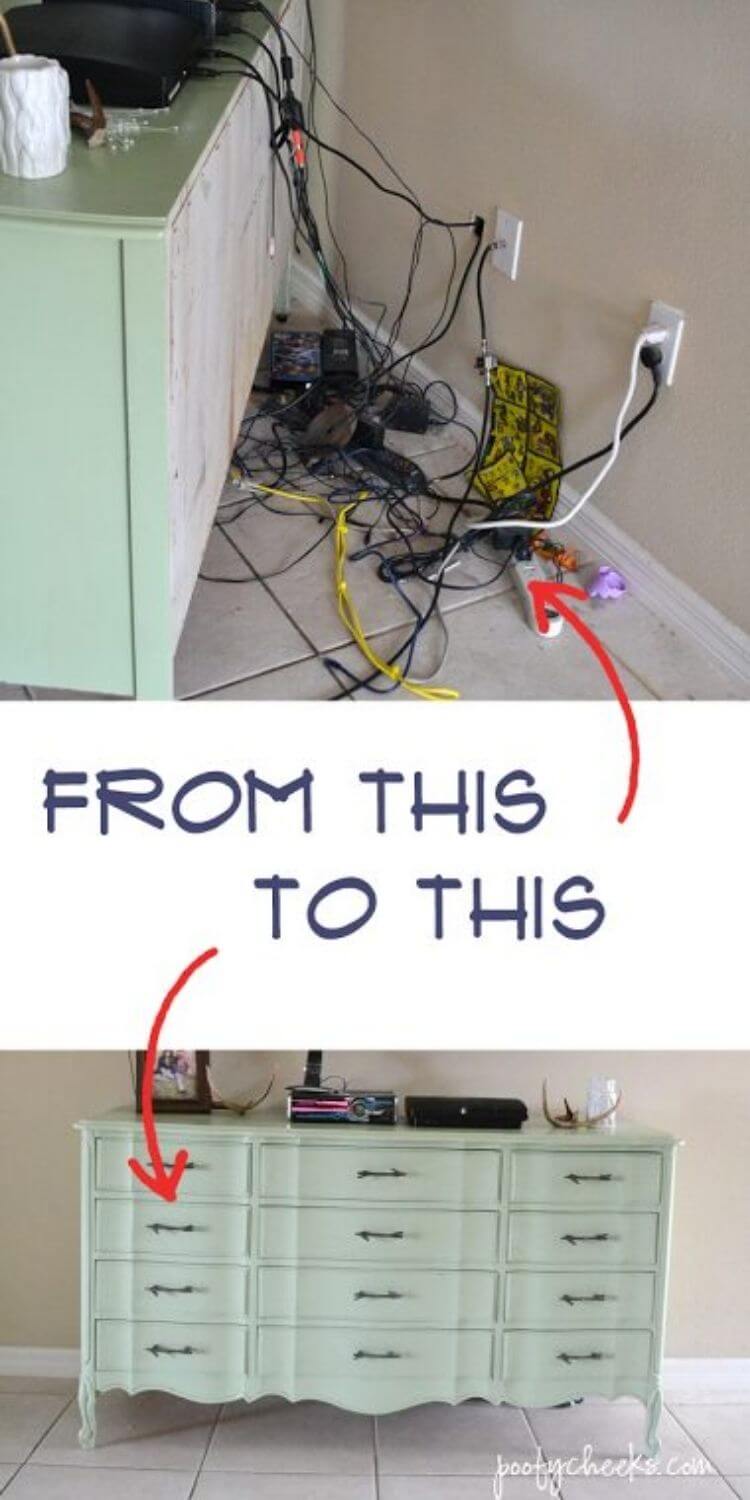 2. Hide Flat Screen TV Wires – easily hide ugly cords without making holes in your wall
Making a fabric sleeve can be a great way to hide flat-screen TV wires if it's mounted above a mantle. It doesn't take a lot of supplies and if you use fabric that matches the wall it will blend in perfectly. Here are the supplies you'll need:
Fabric – in a color that matches your wall if you want it to blend in
Velcro – sticky back
Zip ties
Scissors
Start by cutting your fabric to the length of the cords that you are trying to hide. You can hem the edges by sewing them or by using no-sew hem tape. Wrap the cord around the cables and secure it with Velcro. Congratulations your flat screen tv wires are hidden!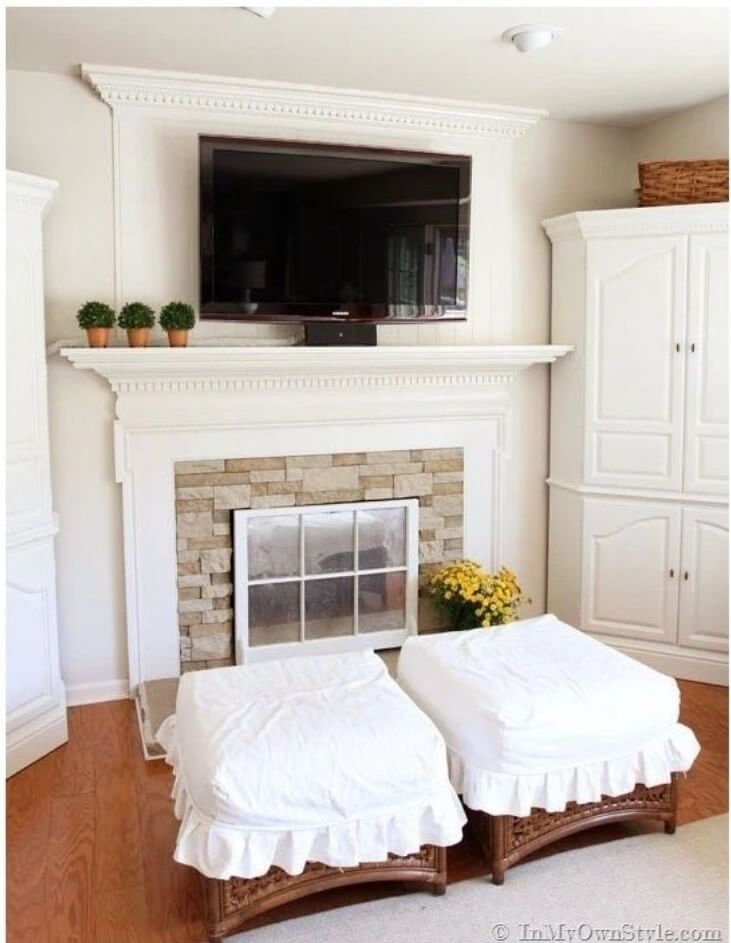 3. Wire Cover – cable management for cords that can't be hidden
If you prefer a more decorative cable management system, here's a tutorial for a no-sew ruffled wire cover. You use no-sew hemming tape and an iron to make a pocket for the cord to slide through. You get the ruffled look by bunching the fabric up. The tighter you push the fabric across the cord the more ruffles it will have. One awesome part about this no-sew wire cover is that you can get the fabric to match the rest of your decor.
If you would like the cord to blend in more you can try to match the fabric to the color of your flooring.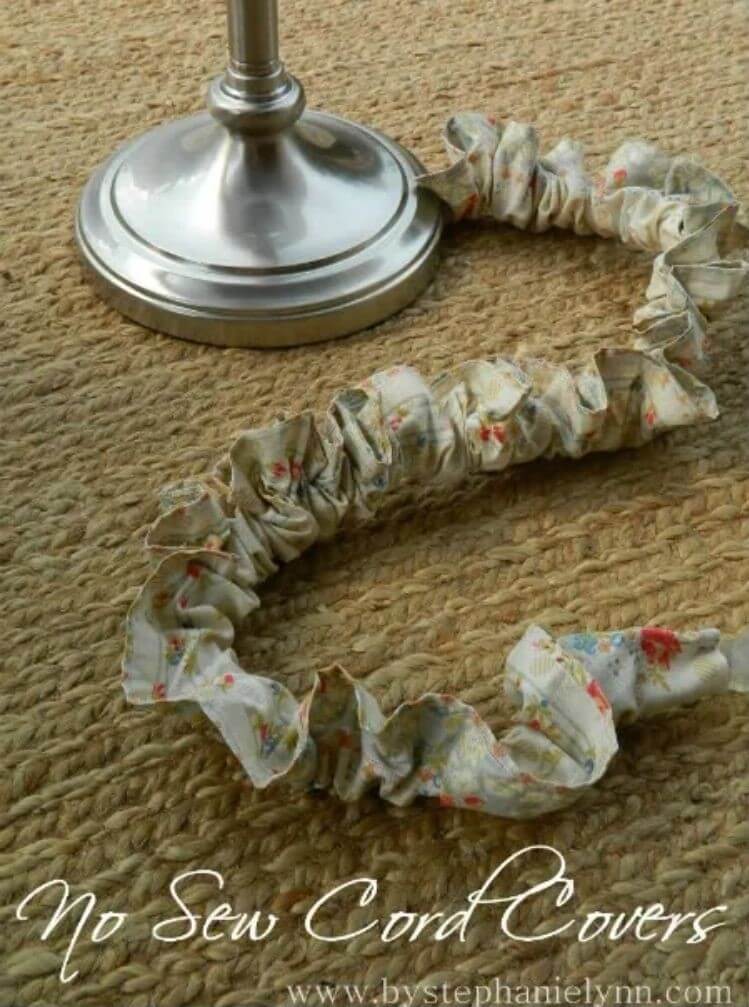 4. Basket – hide cords strung through a shelf using a cute basket
This genius cable management hack uses a square basket to hide cords on a bookshelf. You start by removing the bottom and one side of the basket. After that, you slide the wires through the open side. That's it! Ugly cords being strung through your bookshelves are hidden and are no longer an eyesore. Who wouldn't rather look at a cute basket instead of ugly wires any day?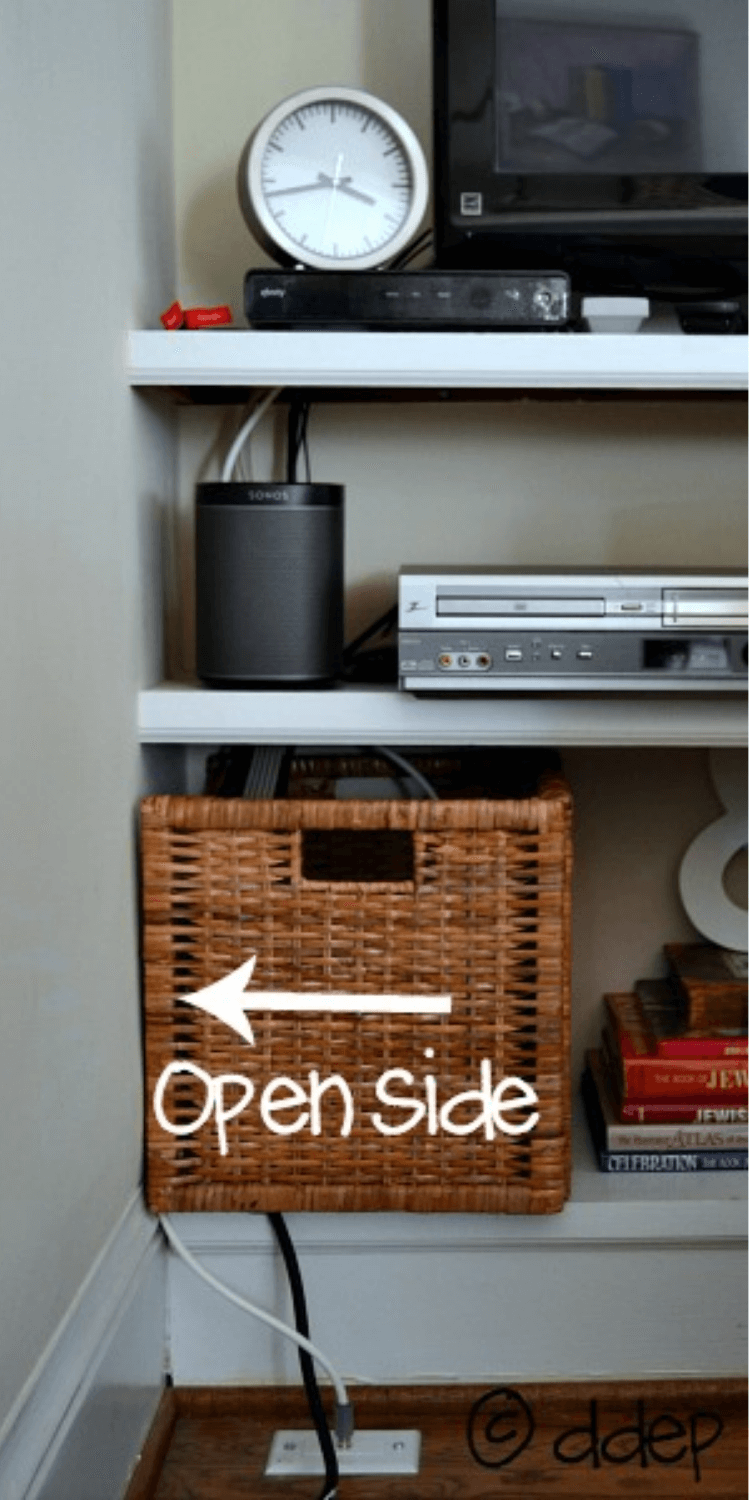 5. Tic-Tac – upcycle cable management to keep power cords organized
Keeping extra cords organized can be hard. This cable management hack uses empty tic-tac containers to keep cords untangled and easy to find. Once you wind up your cord and place it inside the tic-tac container, add a label so you know what the cord goes to without having to open the container to check. Long gone are the days of a box stuffed with random cords!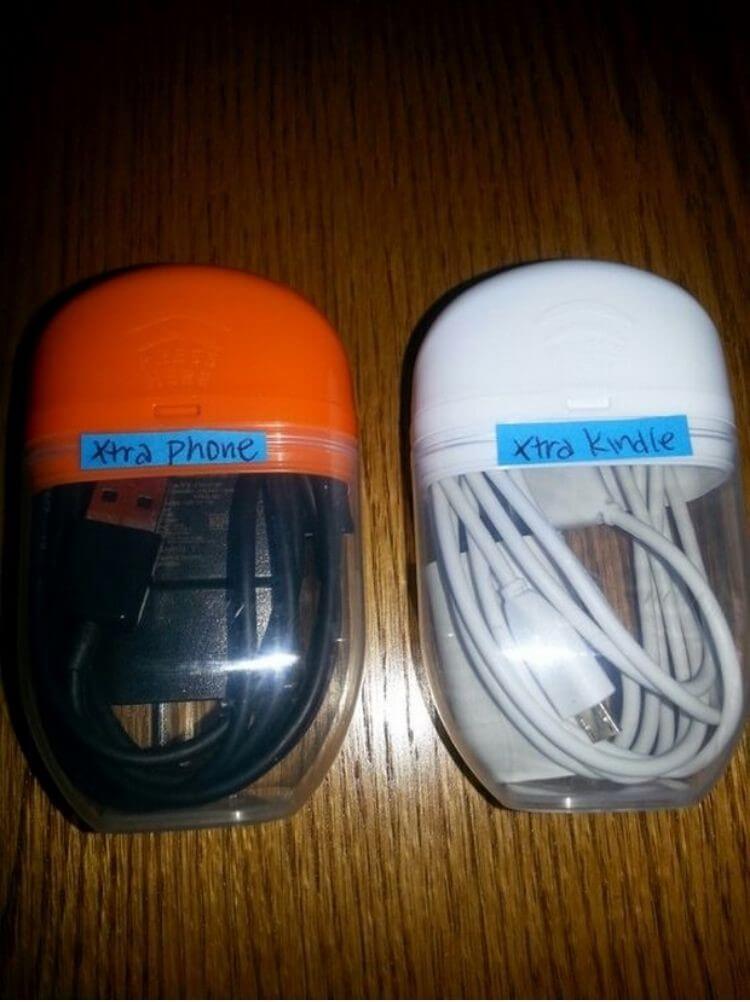 6. Computer Wires – no more mess of wires under your desk
You can hide computer wires under your desk using binder clips. You use a washer and a screw to attach the binder clip underneath the desk. Once that is complete you can string cords where they need to go and clip them up with the binder clips. Mounting the power strip underneath the desk is a great way to have all of the power cords plugged in at one spot and allows for a more finished look when you are done. This is a fantastic cable management idea to keep your office looking great!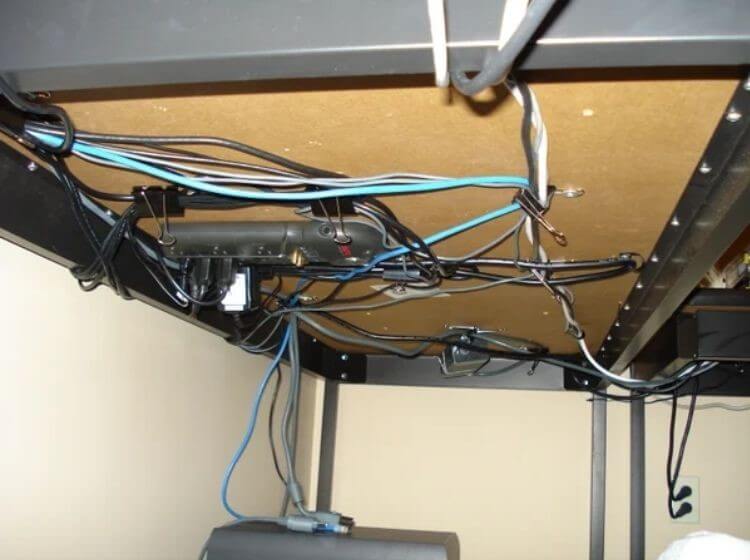 7. Fabric Curtain – cute cable management keeping your decor style intact.
How cute is the idea to attach fabric around your desk to help keep all your wires hidden with ease? Not only is the curtain functional by hiding the wires but it's also a pretty way to make your office more cheerful. Using a tension curtain rod will let you change up your curtains and not permanently attach them to your desk. This cable management system can take 5 minutes to do!
8. Command Hooks – keep furniture free of wires laying around them
Using command hooks can be another great alternative to hiding cords. By attaching command hooks to the back of a table or other piece of furniture you can keep the excess cord hidden out of sight. It's a great way to manage the cables on end table lamps and not have them laying on the floor. Overall, command hooks are an easy and affordable way to keep cords out of sight.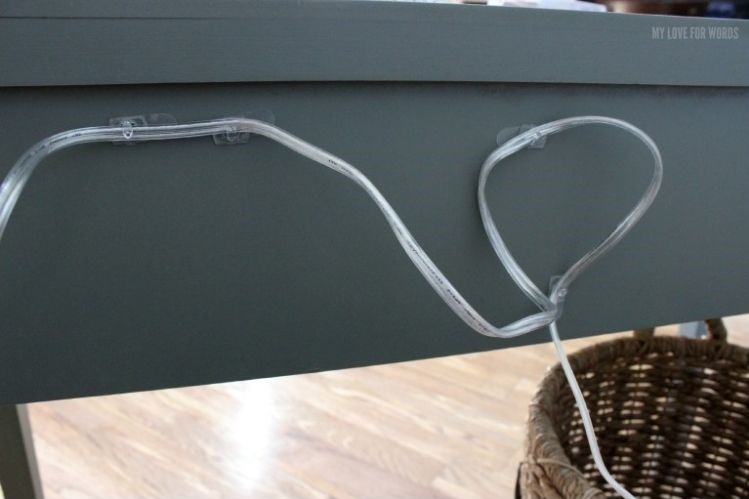 9. Fabric and Magnets – manage cables on metal areas
If you have a piece of furniture that has metal, you are in luck! This DIY cable management system uses fabric and magnets to hide power cords. You cut a piece of fabric to the size of the space you would like to cover and attach the fabric to the stand using magnets. This is a quick and easy installation that lets you change the fabric as often as you would like. You could even change the fabric based on holidays, seasons, or if you redecorate.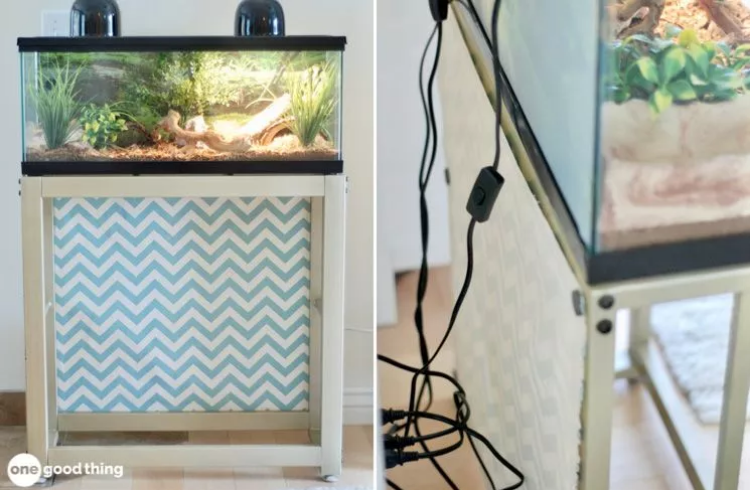 10. Tension Rod and Valance – make hiding cables cute
The space above a washer and dryer can be so hard to decorate and make cute. There are lots of wires, hoses, and that funny-looking box for the waterlines. A tension rod and valance (or dust ruffle) is a pretty way to hide the mess above the washer and dryer in your laundry room. Another great use for a tension rod and valance is to disguise wires and perhaps an internet modem on a shelf. It allows everything to be accessed easily if needed and still gives your room the style you like.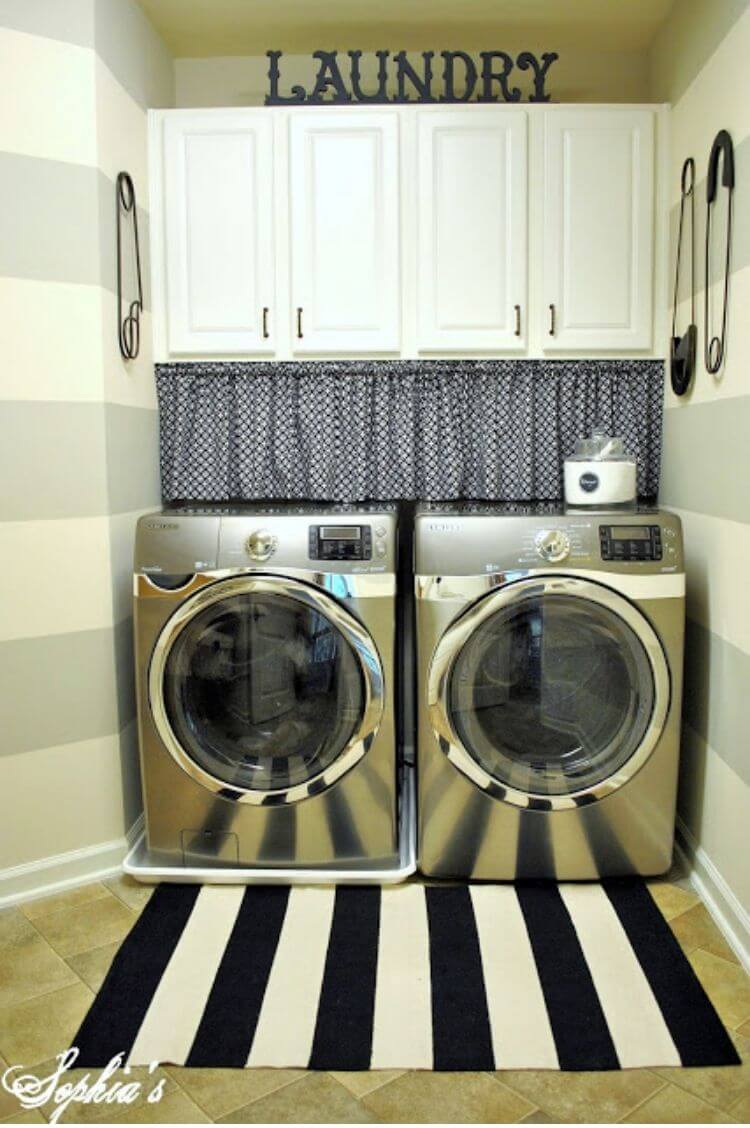 11. Wire Basket and Zip Ties – cable management to hide wires under furniture
This under the desk wire basket DIY cable management system is a helpful way to get rid of the wad of wires underneath your desk. A lot of the materials needed come from the dollar store. Start by picking up the following supplies:
Wire basket
Outlet strip
Extension cord
Zip ties
Command hooks
Small metal hooks
Wire cutters
Wire mold cord protector – optional
Once you have your materials here are the steps:
Use wire cutters to open a spot for the outlet strip to go through the side of the wire basket.
Zip tie the power strip to the inside of the basket.
Use the metal hooks to hang the basket upside down underneath the desk.
Run an extension cord from the outlet to the power strip.
Use command hooks and the wire mold cord protector to hide the extension cord under a rug and attach it to the leg of the desk.
Run wires from lamps and computers to the power strip.
Use command hooks to attach those cords to the sides of the desk and underneath if needed.
You are all set! You officially have all of those unattractive wires around your desk organized and up off the floor!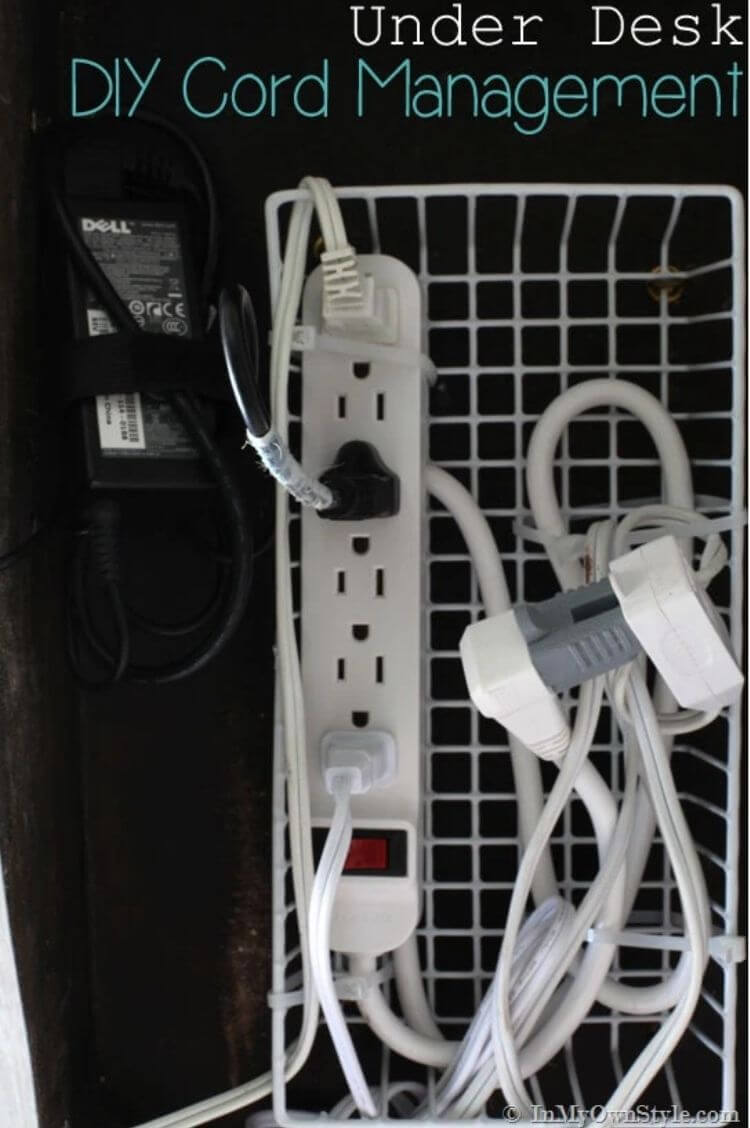 12. Twine or Yarn Cord Cover – cords go from ugly to matching your decor
If there's no possible way to move a cord out of sight, cover it with rope or twine for a rustic look. To do this you add a drop of hot glue at the base of the power cord. Attach the end of the twine using hot glue. Next, you wrap the twine or rope around the power cord. When you get to the opposite end use another dot of hot glue to hold the twine in place. You can now trim your twine from the leftover roll. It turns a cord from ugly and misplaced to a part of your decor!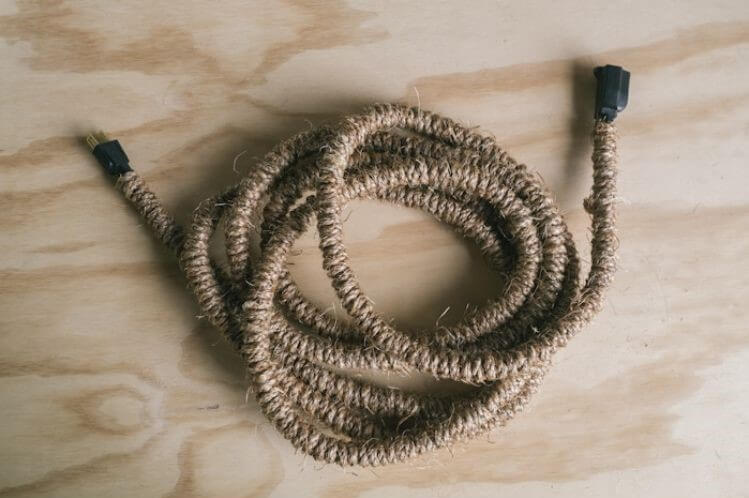 13. Washi Tape – cable management to fit your style
Decorating a cord with washi tape is a fun way to add your personality and style to a power cord. There are lots of interesting colors and patterns that make individualizing each cord a breeze. You cut each piece of washi tape to 1.5″ and wrap it around the cord to get the pattern and style you want. This is also a great way to make sure no one steals your phone charger again!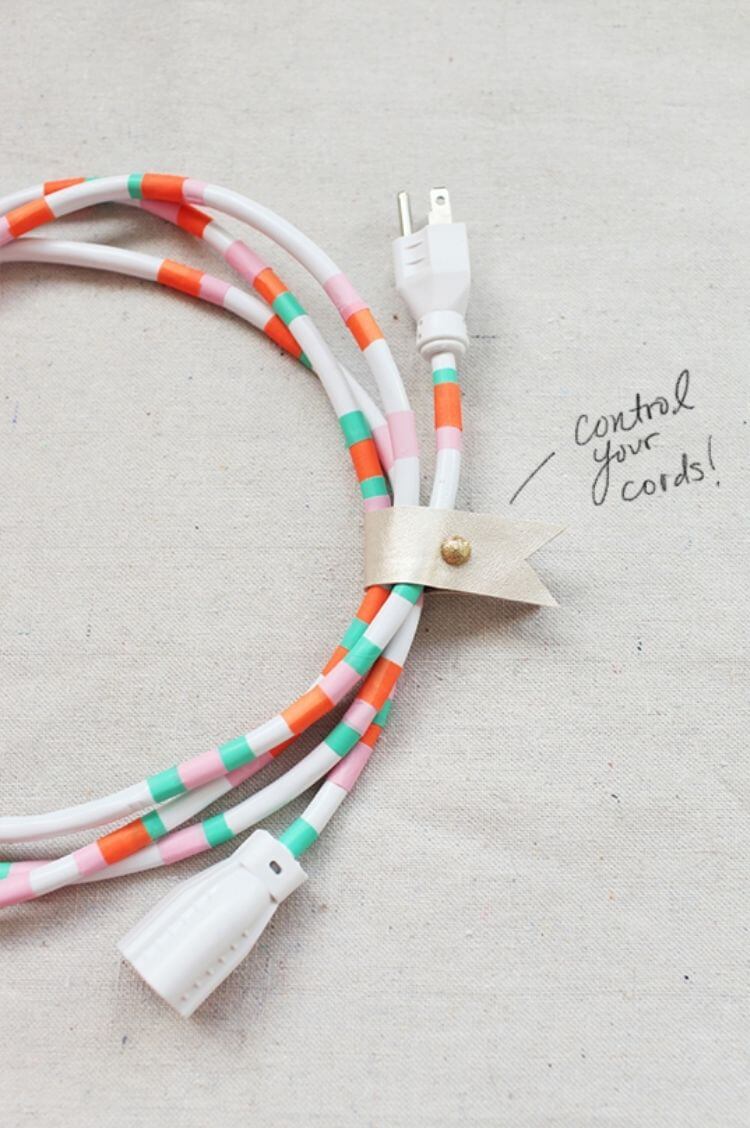 14. Command Hooks for Curved Surfaces – organize cords to the style of furniture
Small command hooks can help you with cable management by contouring cords to even the curviest of furniture. Don't let different shaped furniture become overly tricky or hard to hide cables around. Just grab yourself some command hooks, place them on the piece of furniture where your cord is least likely to be seen, and attach your cord. You now have a great-looking piece of furniture without all of the dangling power cords!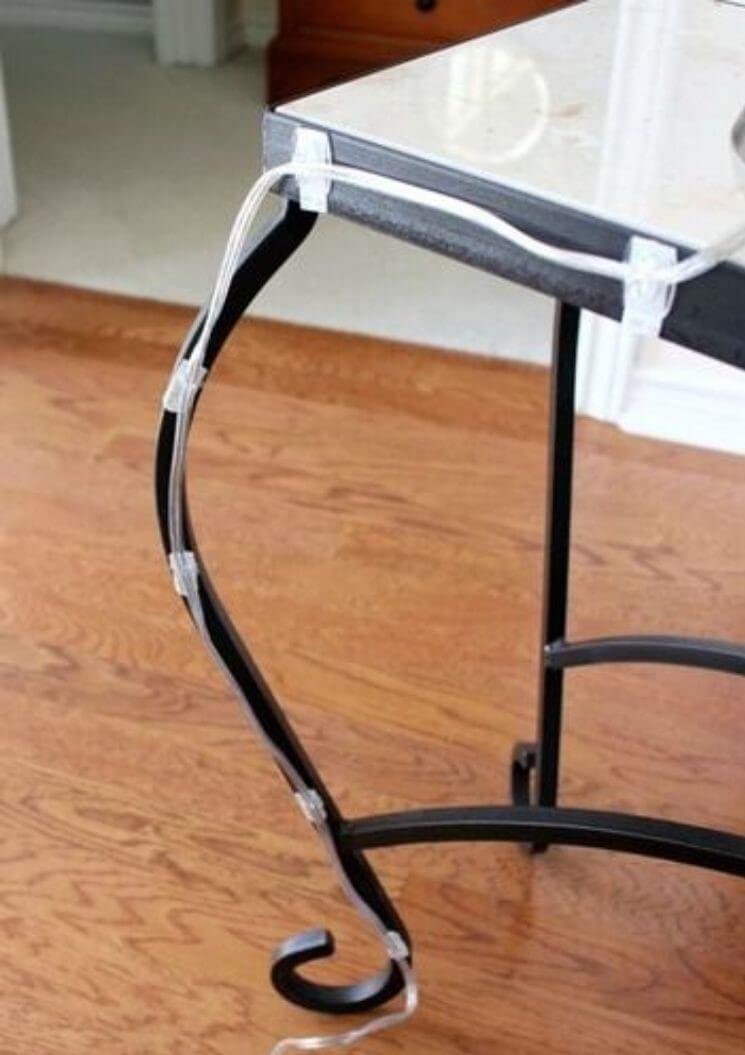 15. Upcycled Toilet Paper Roll Power Cord Storage – organization for unused cords
Long gone are the days of a box filled with tangled power cords. Take your power cord organization to the next level with this upcycle toilet paper roll DIY idea. You collect empty toilet paper rolls and place them vertically in a box or storage container (dollar store idea). Next you wind up your cords individually and slide them in the empty toilet paper rolls. That's it! Your cords are officially organized and you no longer have to fight with a whole box of them.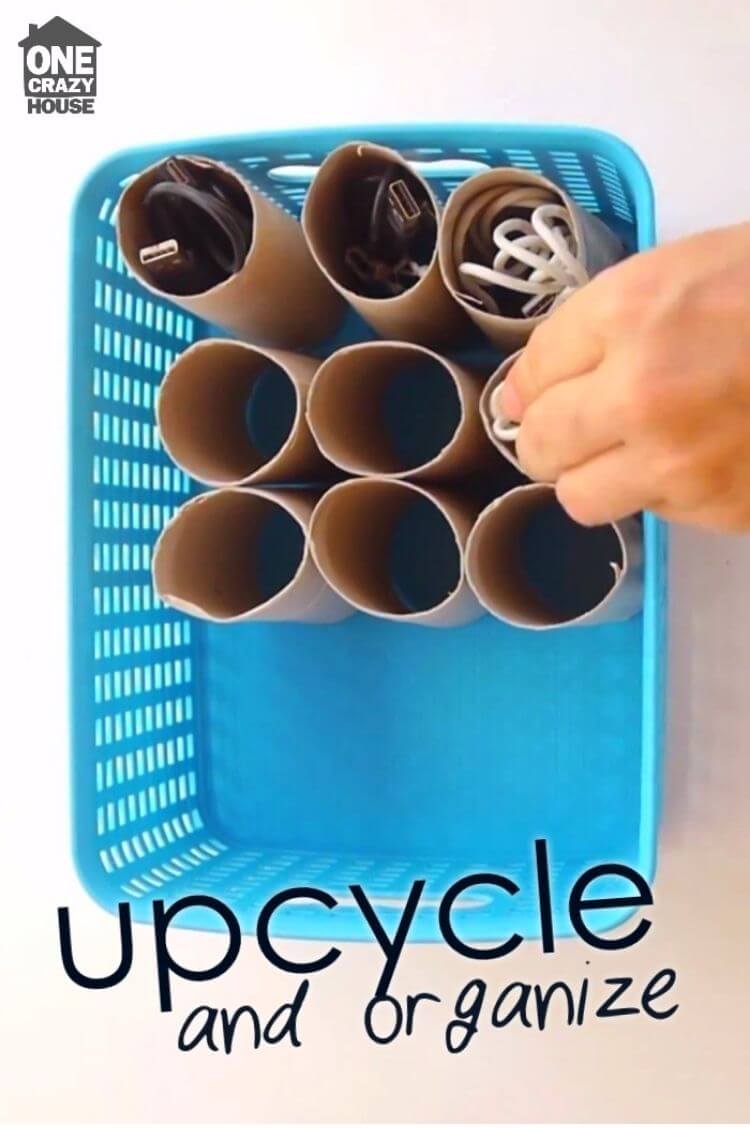 Bonus Tip 1: Night Stand Cable Management – organize your charging area easily
How many cords are around your nightstand? Cutting a hole in the back of your nightstand and feeding a power strip through will provide a place for everything you need to be charged. Keeping all of your devices in a drawer will keep you from waking up from those little flashing notification lights through the night, too.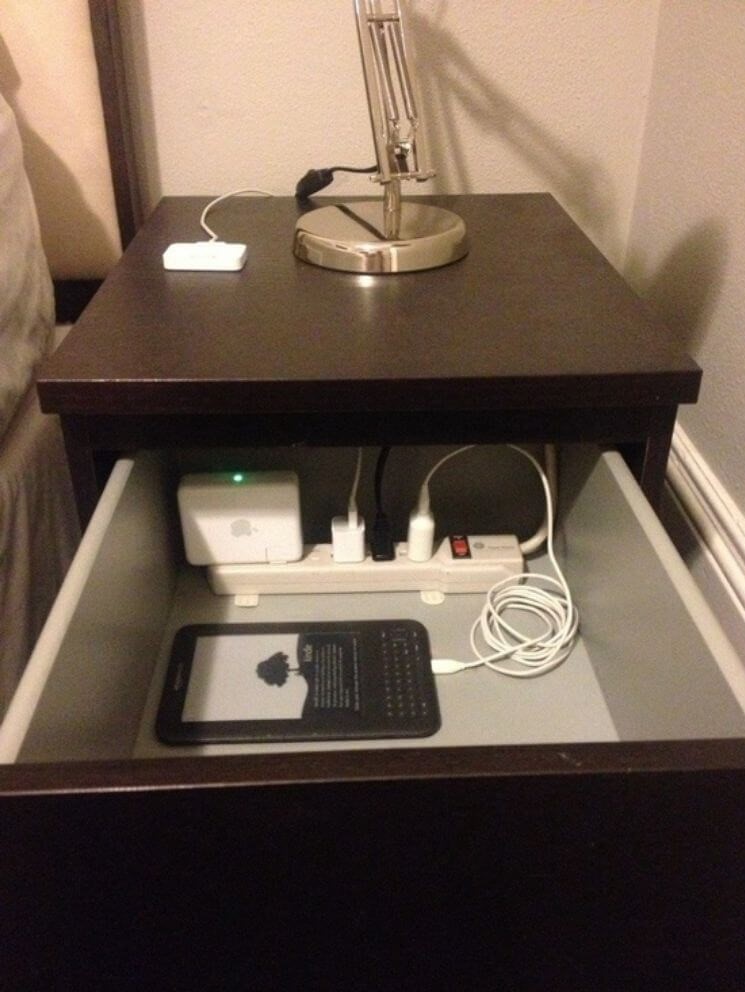 Bonus Tip 2: Yarn Wire Covers – make cords look nicer with this cheap DIY
Here's a cheap and easy cable management idea anyone can pull off; yarn wire covers! Just pick a color that matches your wall background or flooring, and wrap the yarn around bundled wires. Easy peasy!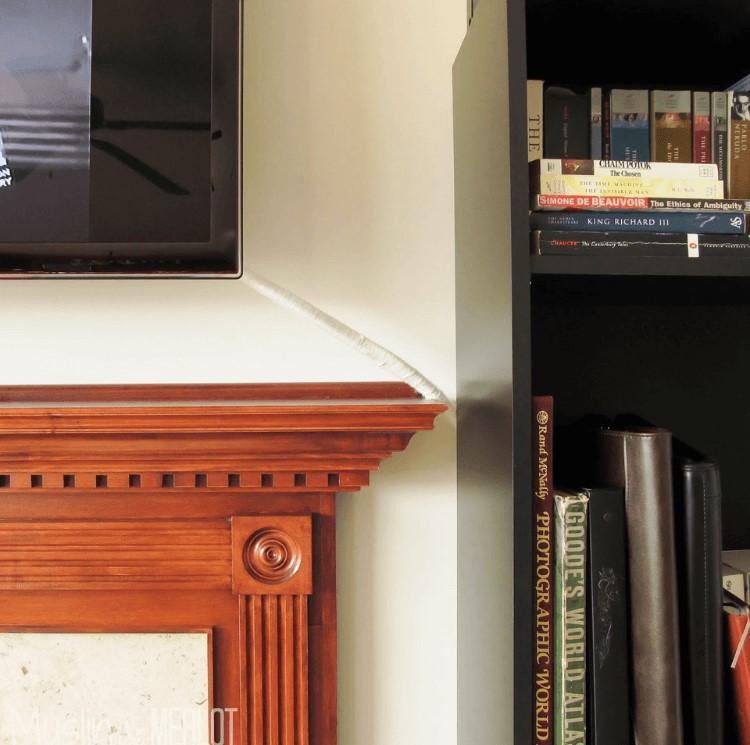 Cable Management Ideas
Hopefully, these quick and easy cable management ideas help you organize the wires throughout your entire home. Whether they are in a box waiting to be used, or currently plugged in somewhere in your home these easy cable management tips and tricks are sure to take the atmosphere and decor in your home to the next level.
Want more ideas on organizing power cords and your home? Visit these links to get lots of ideas: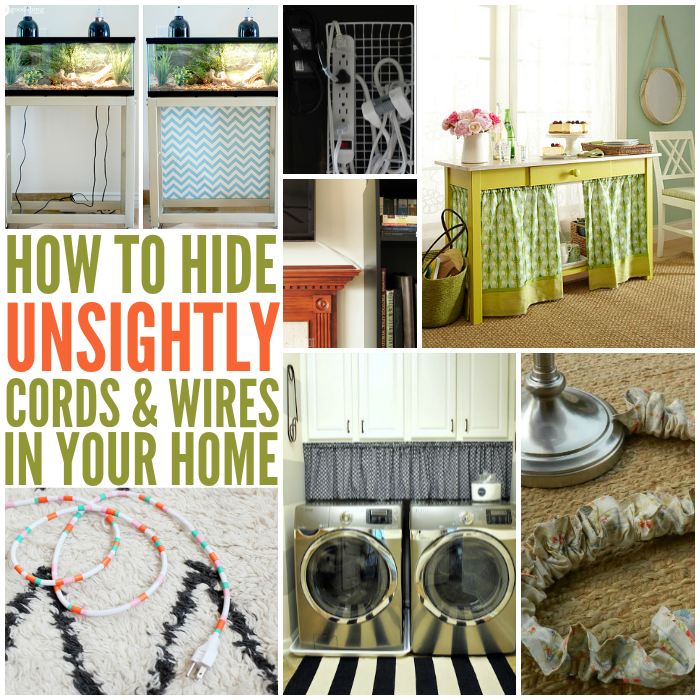 Want MORE Organization Tips?
Join our email list! We will send you an e-book with over 100 hacks that will revolutionize your house.