Pallets are all the rage right now, and for good reason. They are SO versatile and most of the time you can find them for free! They give you that weathered wood look that is so hard to replicate.  So, be on the look out for pallets because we are going to show you 17 of the most fun DIY projects we could find!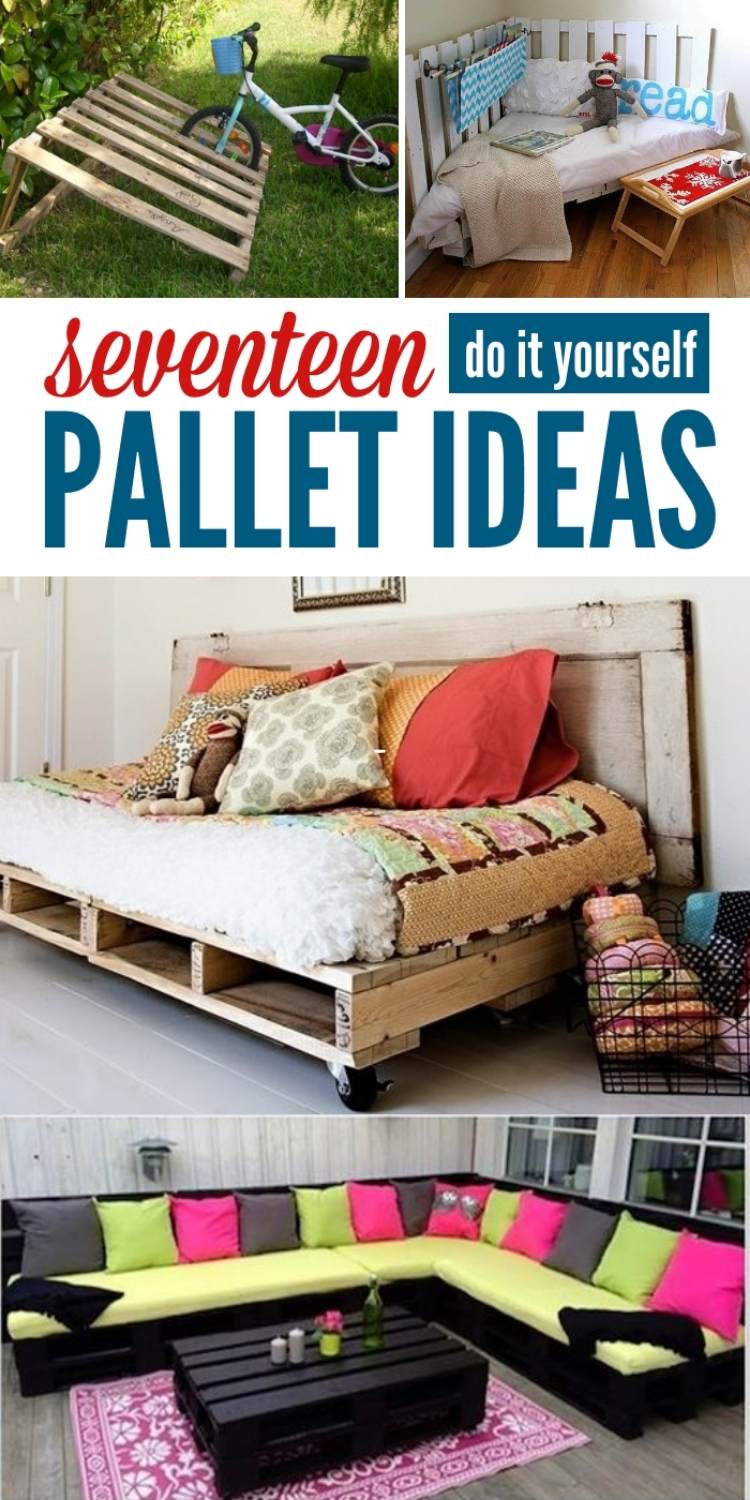 These pallet hacks are great for inside or outside of the house. You don't have to bust your budget making over your home, these pallet ideas will save you money while looking like a million bucks!
Got your pallets? Let's get started! 17 DIY Pallet ideas you'll love!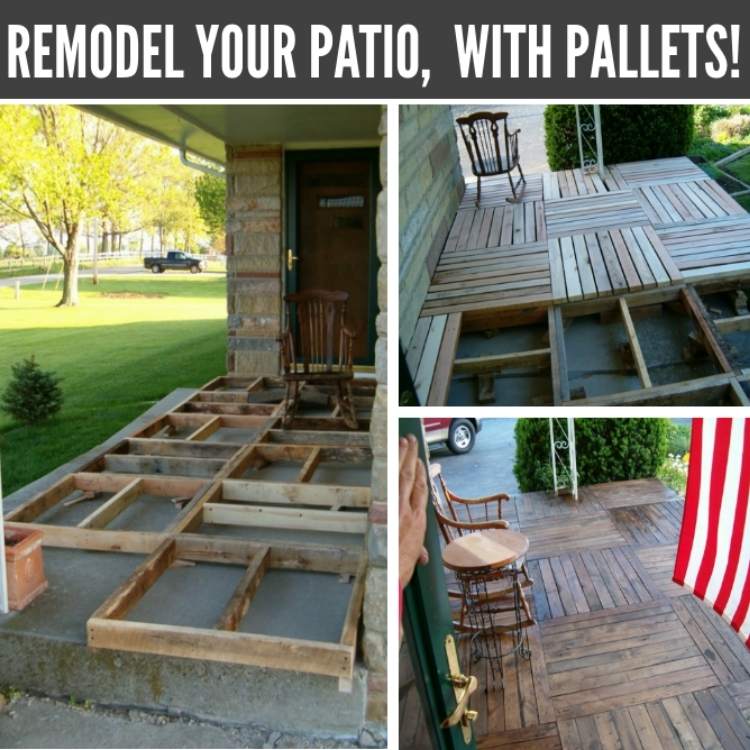 DIY Pallet Ideas – Pallet Furniture Projects
1. Wooden Pallet Ideas for Your Patio
Building patio furniture is a great idea for pallets.  You can easily do a Patio remodel and its not going to cost you much money.  If that is what your next project is then look no further. It's hard to believe this flooring was made from pallets. The fact that you can a large outdoor couch with tables, all handmade from pallets. That is a splendid idea. So rustic and so beautiful!  I love this idea so much!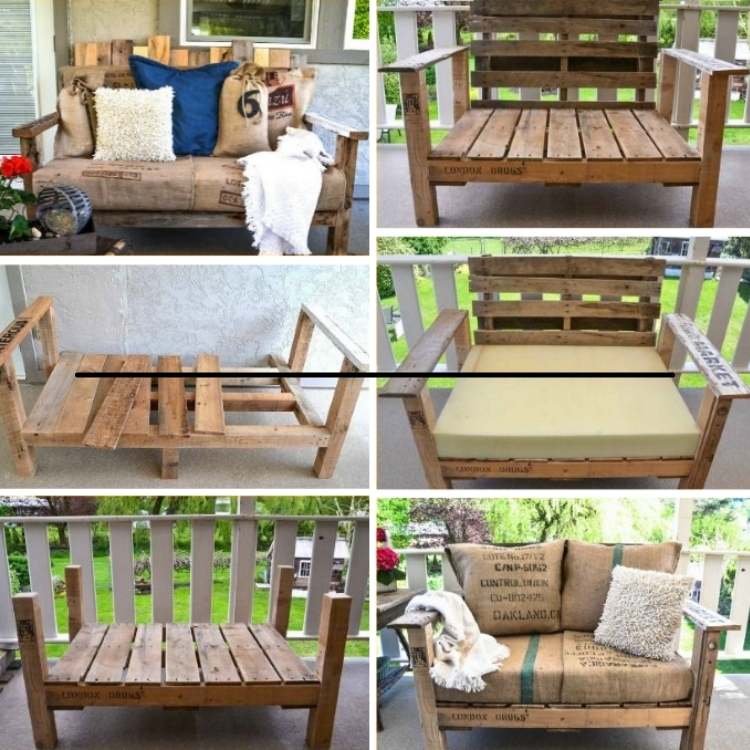 2. Make this Patio Furniture Out of Wooden Pallets
It's not hard to make a Pallet wood chair – So much character in this pallet chair. We just love the cushions made out of burlap coffee bags. You could easily put a set together in a weekend and be sitting cocktails on your chairs in the evenings.  This simple design is easy to make and looks great.  Does it get any better than that?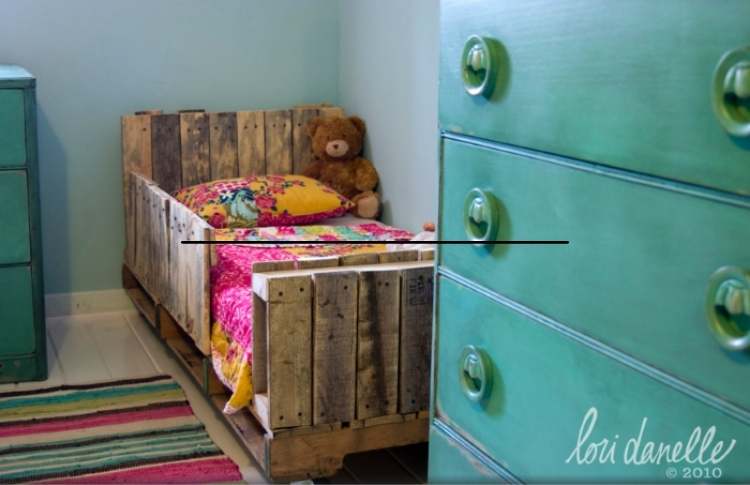 3.  DIY Pallet Ideas for Toddlers
It's always so exciting when a toddler gets to graduate to a big kid bed.  But wouldn't it be even more exciting if they got to help build it?  You can make your own toddler bed! It doesn't have to cost a fortune to look great.  This toddler bed has a rustic charm to it, and even has storage underneath. There won't be any rolling off the edge with pallet sides.  Under the bed is a great place for tiny tennis shoes.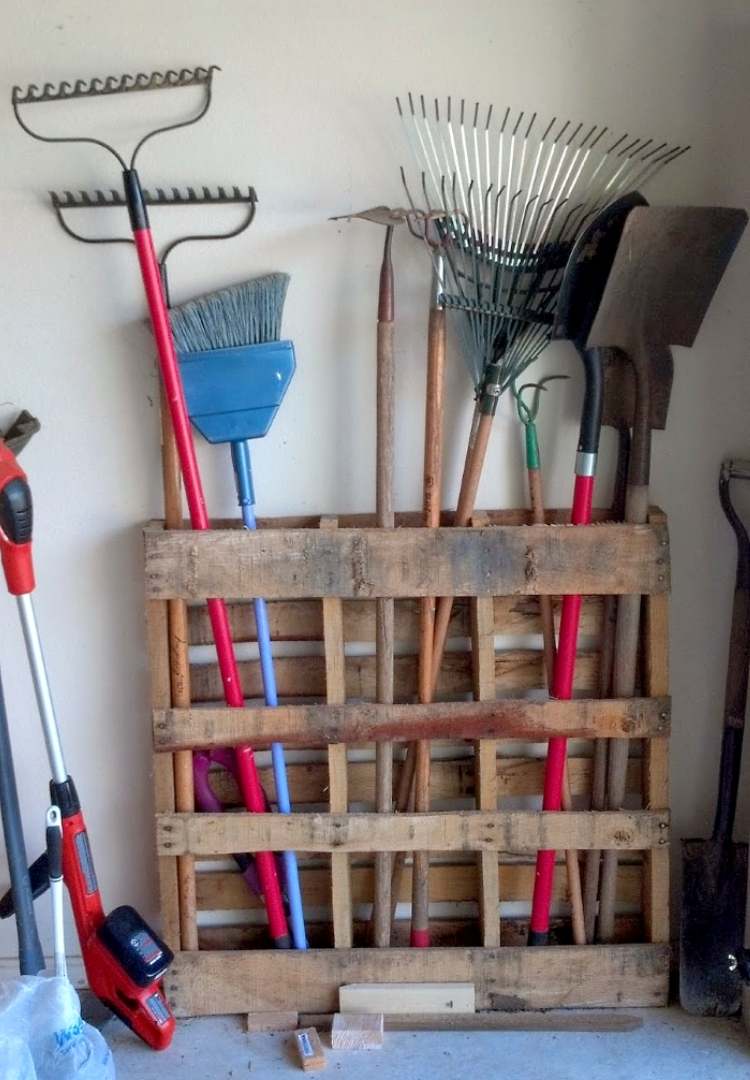 4. DIY Pallet Ideas for the Garage
Everyone always seems to be looking for better Garage Storage. You always need a place for all the rakes and shovels in your garage. A pallet is a perfect solution. The best part? No additional work needed!  Just lean a pallet up against a wall and put your tools in the slots.  Easy peasy!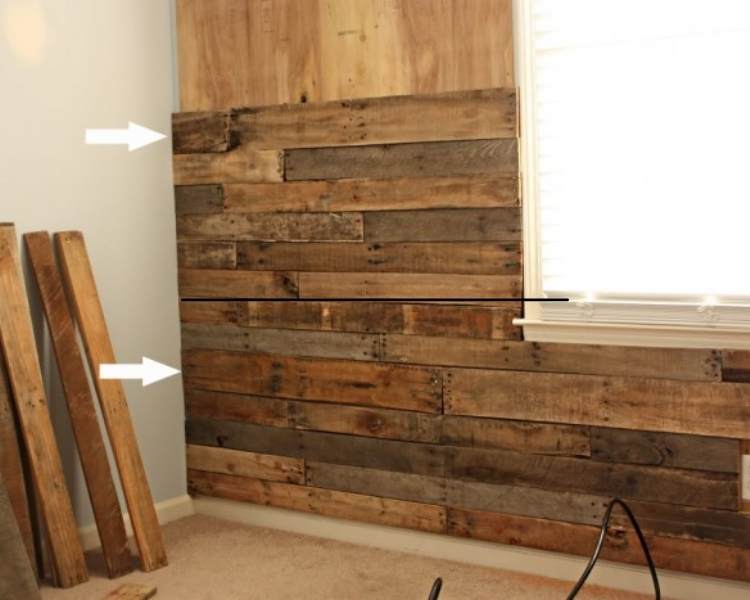 5. DIY Pallet Ideas in the Nursery
Add warmth to your baby's room by using a pallet to build a Nursery Accent Wall. It doesn't have to be just for the nursery room.  You can take any room from drab to fab by adding a pallet accent wall. This wall is made entirely from broken down pallets. I'm in love with this wall. I love accent walls anyway but with pallets it adds a beautiful rustic feel. There is so much character!  Simply gorgeous.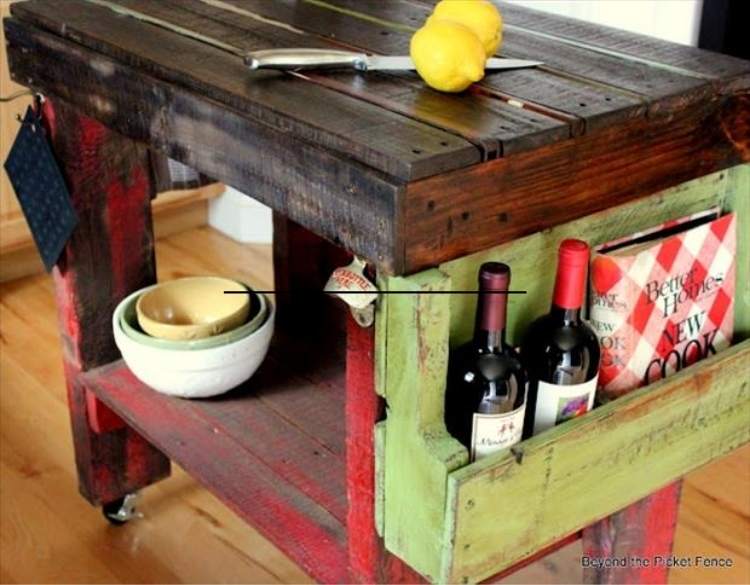 Kitchen Pallet Projects
6. Make a Kitchen Island from Pallets
Do you need more counter space?  You can easily make a Pallet Kitchen Island.  This kitchen island is made entirely from pallets. It fills a lot of roles from storage, to cutting board to cook book holder. It has so much character, and you can make it on the cheap!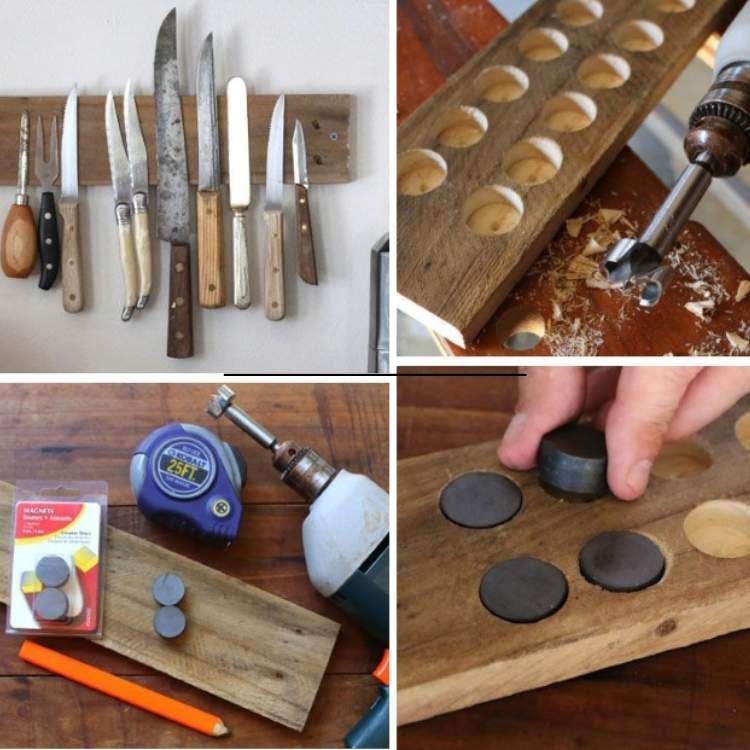 7. Display your Knives with Pallets
Seriously great idea for a Knife Rack. Have you been looking for a creative way to display your knives?  Knives are tricky because they are sharp.   They need to be somewhere accessible but also safe.  Nobody wants to cut any little fingers!  This knife rack is the perfect solution. You can free up counter space by ditching the knife block, and make this rack for the price of a pack of magnets.  Brilliant!
8. Pallet Flooring
Oh my word, I love the look of pallets for flooring.  Have you seen Pallet Flooring? It's beautiful.  If traditional hardwood flooring outside of your budget then you definitely need to consider using reclaimed pallet wood. The tutorial in the link is terrific! A coat of varnish really brings out the character of this wood. Wow!  This looks stunning!  Get me some pallets stat!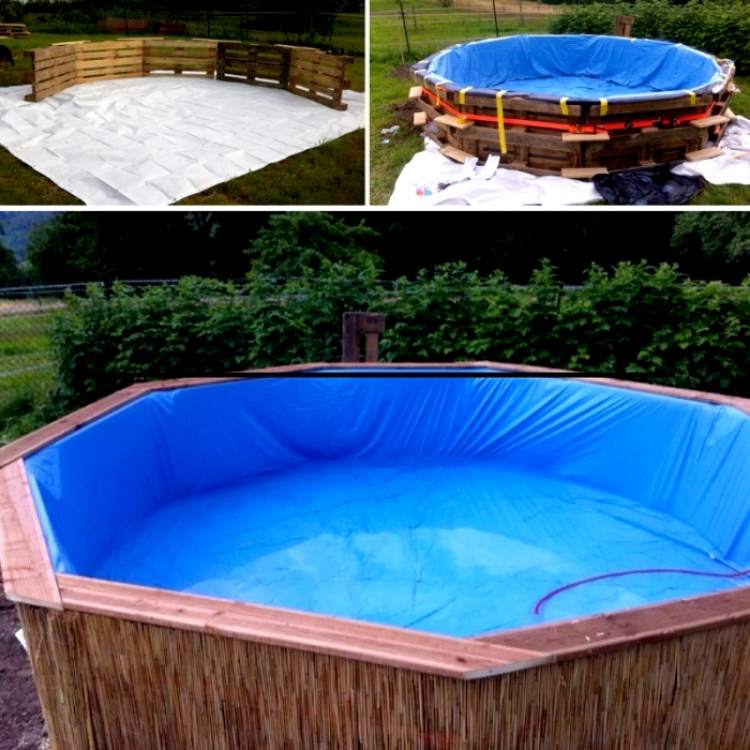 Outdoor Pallet Projects You Can Build
9. DIY Pallet Swimming Pool
Ok seriously.  Did you know that you can use pallets to Create Your Own Pool?  You will be the coolest house in town!  All you need is gumption, a lot of pallets and some super sturdy tarps! Can you believe it?! This one only cost $75 to make!!  The amount of fun that will be had is priceless!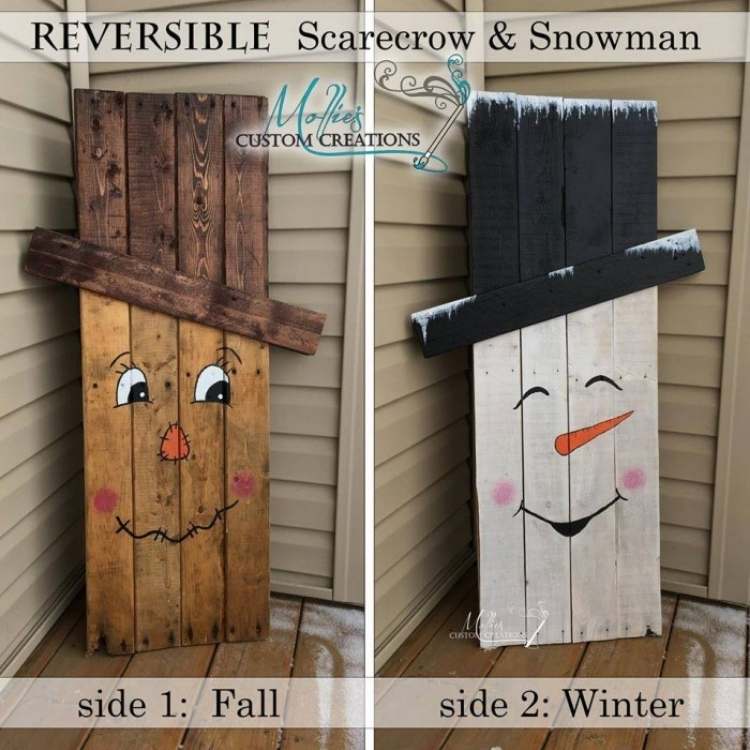 10.  DIY Pallet Porch Art
Decorate your front porch with reversible patio art. It is adorable and really fun project. One piece, two seasons! Scarecrow in the front, snowman in the back. This gem only takes 5 pieces of wood!  This would be an excellent gift for someone on your list.  They will definitely appreciate the love you put in it and they can display it for 2 whole seasons.  Win for everyone!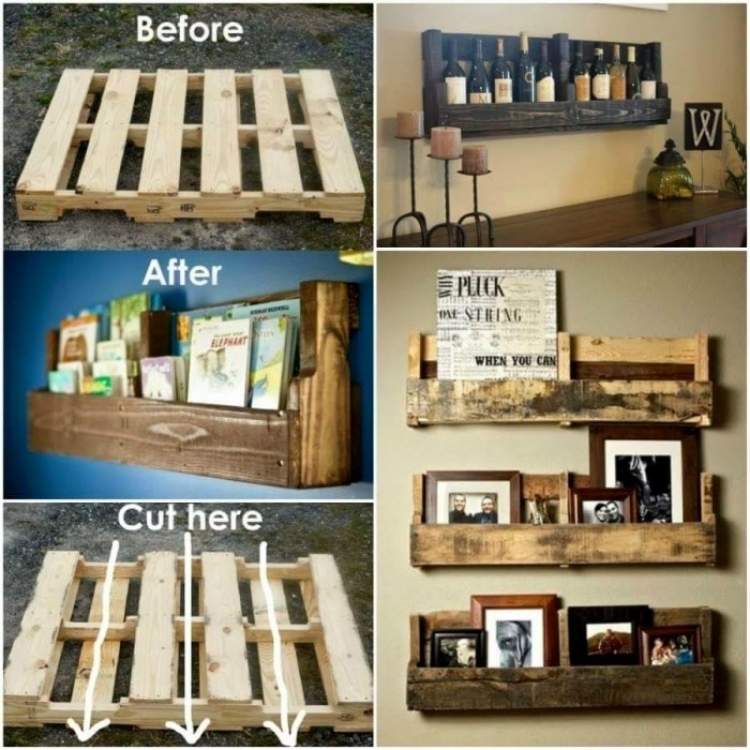 11. Make Shelves from Pallets
Holy cow, do these ever look neat!  Make your very own Pallet Shelving.  Just make three cuts to one pallet and viola!  I love how they stored pictures and frames in the shelves here. This piece could also be used for a bookshelf, or a wine rack.  You could store reading material in the bathroom, or you can put cookbooks in the kitchen.  So many options!
12. DIY Bike Rack
Clean up the bikes all over the grass with a Pallet Bike Rack.  Are you tired of bikes laying in your yard? This pallet bike rack solves that problem quick and easy! Personalize the slats with each of the names in your family and you'll have a bike rack the kids love to use. Think "personal parking spaces!"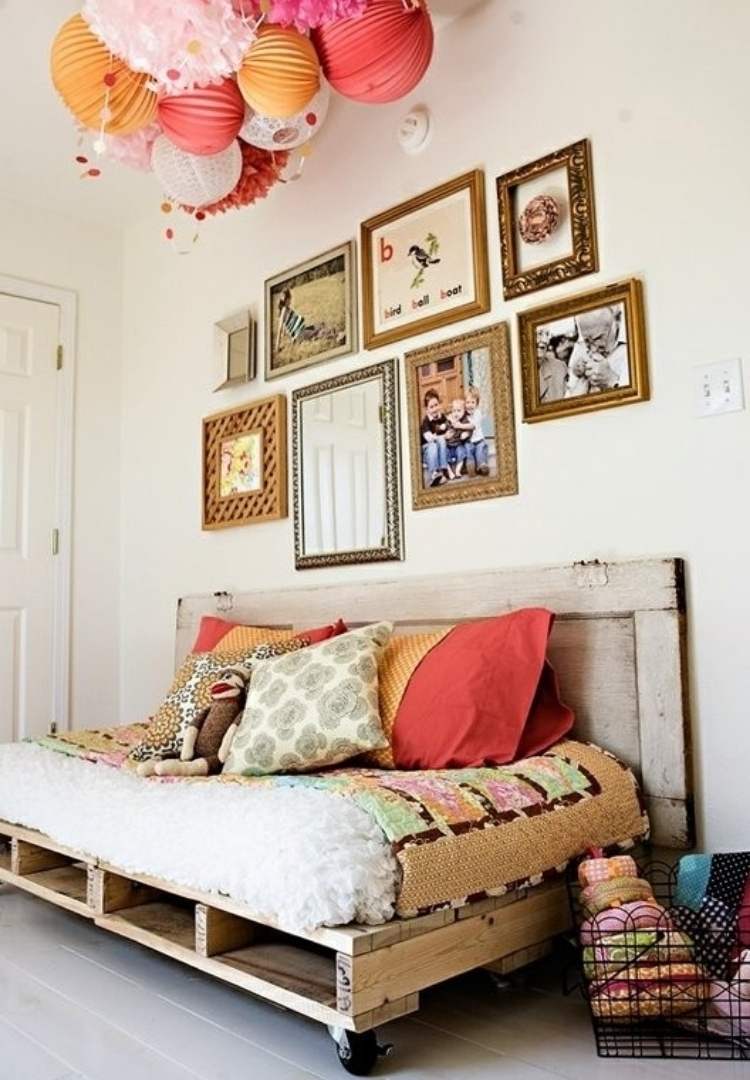 Beds Made from Wooden Pallets
13. Daybed made from Pallets
You can make a Pallet Day Bed.  Furniture is expensive but this one wouldn't have to be.  And it looks great too!  This simple day bed design assembles in seconds. Add an old door behind it for a headboard!  This would also be adorable seating in a small apartment.
14. Make a Pallet Bed
Pallet Bed – A bed fit for a king (or queen!) This bed is as functional as it is beautiful. And the best part is that it wouldn't cost much to make.  A little bit of elbow grease on the weekend and you have yourself an awesome bed.  The added storage using crates underneath makes this a winning design.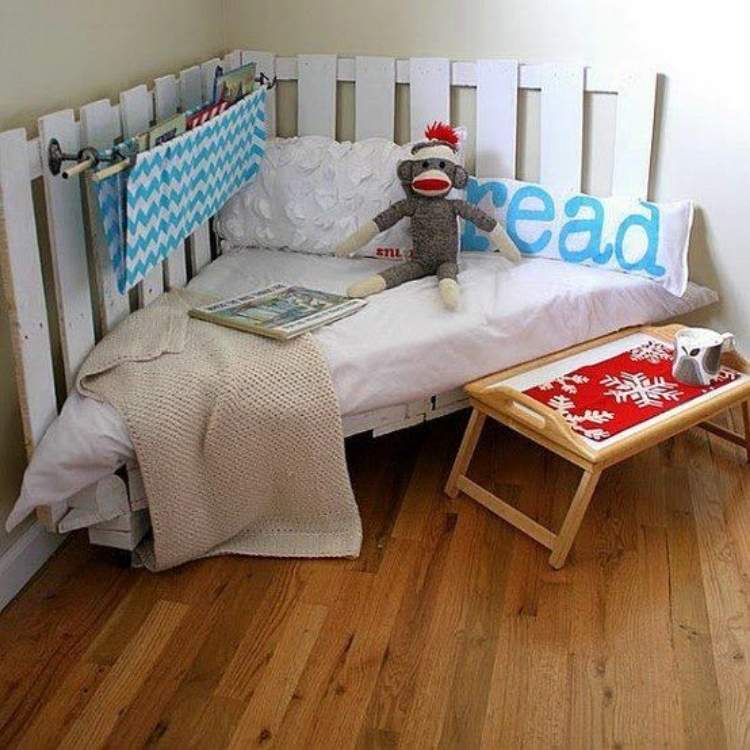 Really Cool Pallet Ideas
15.  DIY Pallet Reading Nook
Look at this cozy corner to curl up in with your favorite book.  A Pallet Reading Nook would be a hit with anyone.  We are in love with this reading nook made from pallets. Your little reader is sure to be inspired by this special spot.
16. Make a Coat Rack from Pallets
This colorful coat rack will brighten up any mudroom. Just add paint! These would also be great for a kids bedroom or in a bathroom to hang towels. You could even use it in your own bedroom to hang belts and purses.   It is so simple and yet so perfect!  We love these unique ideas!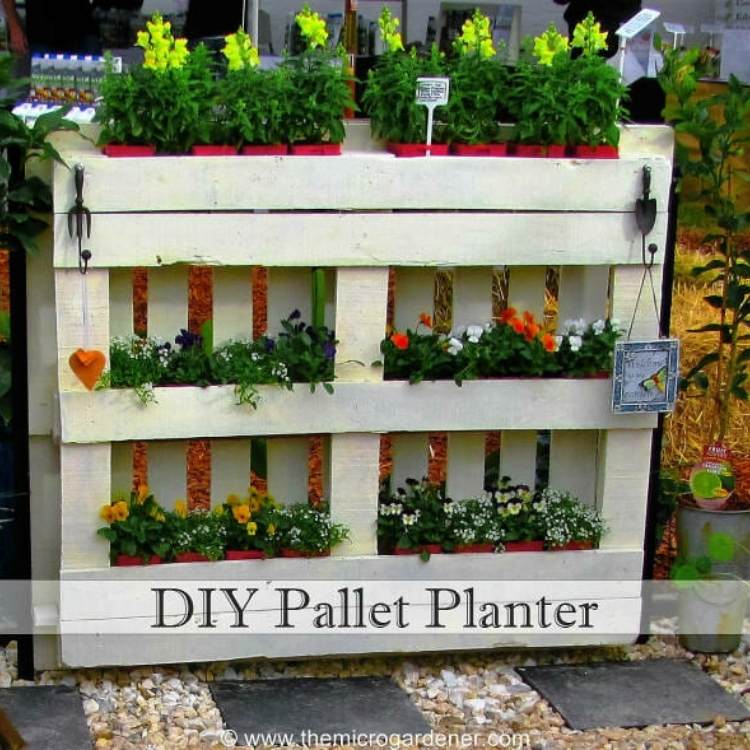 17. DIY Pallet Ideas for a Planter
This pallet planter would be such a cute addition to anyone's garden.  You can plant flowers and make it into a flower bed.  Or you could plant your favorite herbs.  It would easily double as  herb garden for the kitchen.  Either way it will look like a masterpiece in your yard!
Are you ready to find some pallets yet?
You can get pallets free (or very cheap) from:
Craigslist or Facebook's Marketplace. A lot of the time people just put them on the curb for free for you to pick up.
Local businesses, distribution centers and stores (e.g Garden and Hardware Stores, Motorcycle Shops, Home Improvement Stores). You will see them sitting out back of stores.  Pro Tip: Always ask the manager before you take them because they could be rented pallets and need to be returned.
New Businesses – When a new business opens in your area, that is a great time to find a lot of pallets too. They are often shipping in a lot of items and looking to get rid of pallets.
Nurseries and garden supply stores
Hardware and home improvement stores that are local, rather than nationally franchised
Stone yards
Construction sites
We just cant get enough of these DIY Pallet Ideas. The possibilities are endless. Just grab some pallets and a nail gun and have some fun. There's something so gratifying about making things yourself. Go for it!  I hope these ideas help you create your unique living space with little money and effort! Do you have any additional pallet ideas you'd like to share? Send them to us or let us know on our Facebook page!
If you liked these ideas then be sure to check out: