You've probably heard of mason jar meals? You've definitely heard of mason jar salads (who hasn't?), but you're not confined to just salads. You can make lots of meals in those handy, portable jars.
Try mac and cheese, chili and cornbread, or an omelet in a jar. We've found all those and more. Check out the recipes for mason jar meals that are perfect for lunch at the office or a picnic with the family. Prepare to be amazed!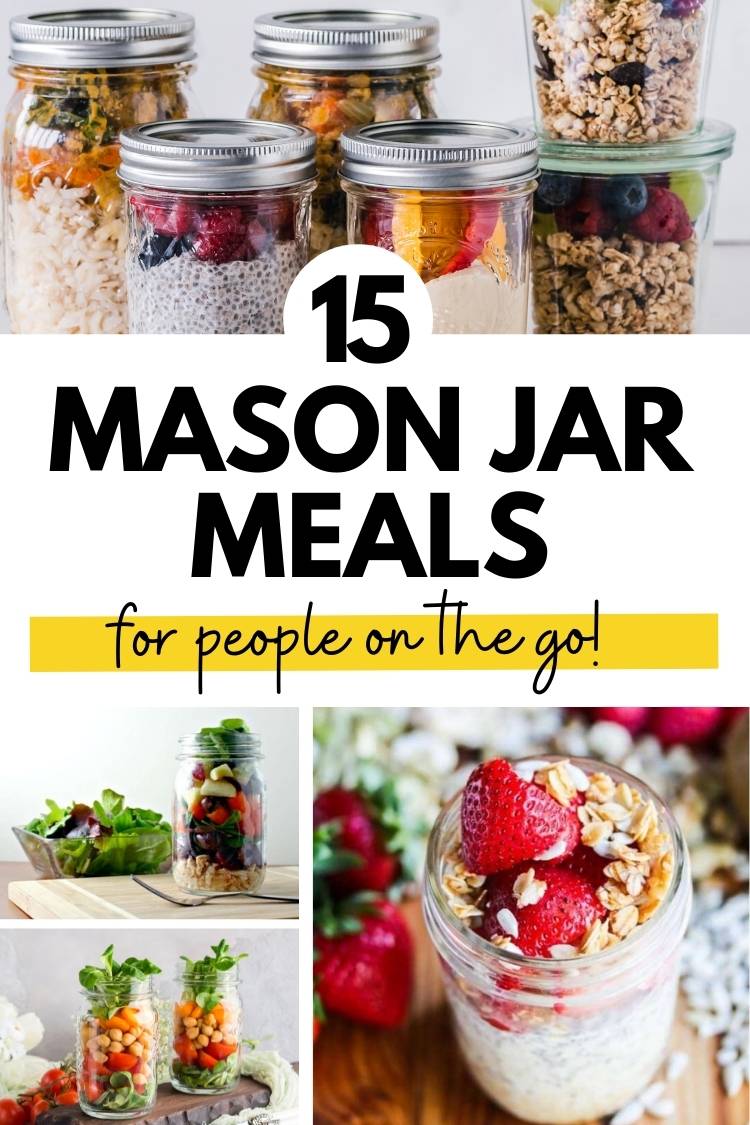 Yummy Mason Jar Meals for People on the Go
1. Pasta Pesto Salad in a Jar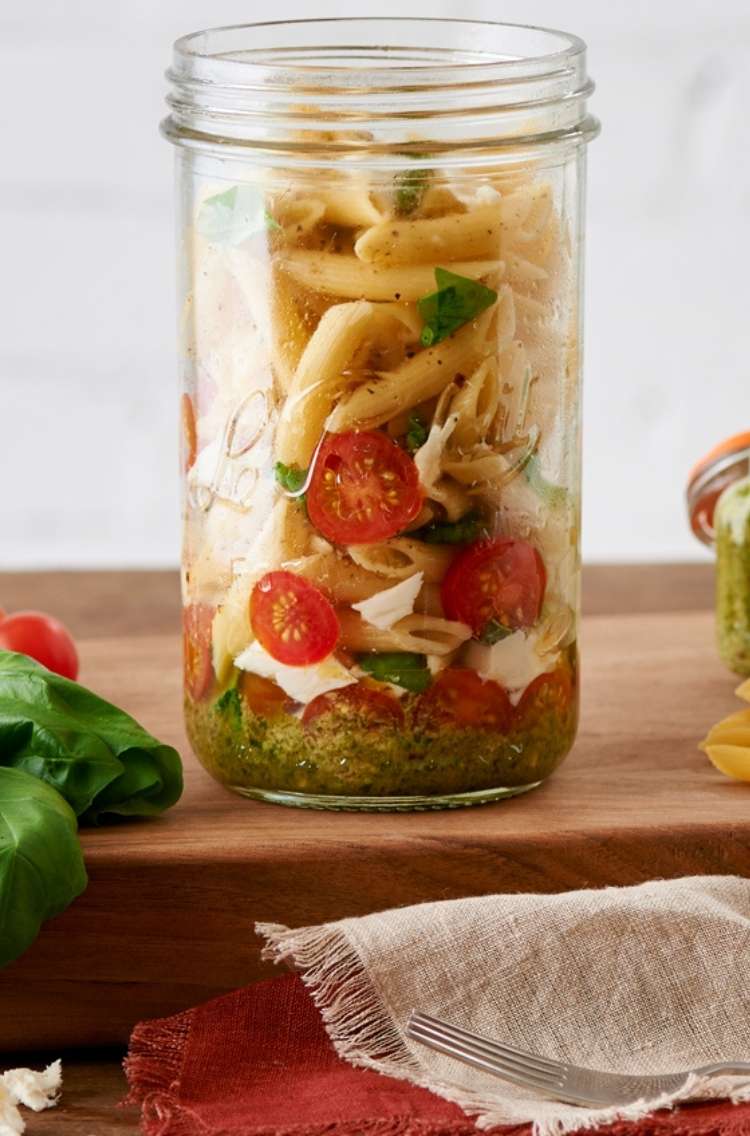 via Rodales
What's better than pesto in the summer? So light and refreshing when paired with cherry tomatoes. Pesto Pasta Salad is the perfect combination of fresh and hearty, and it's a great mason jar dinner for entertaining. Looks delicious, and tastes even better.
Looking for more quick and easy salad recipes for your mason jar meals :
2. No-Bake Mason Jar Strawberry Cheesecake
These no-bake mason jar strawberry cheesecakes are the perfect dessert to make without having to turn your oven on during those hot summer months, or to make whenever you feel like making a great last minute dessert for your family members or a party you're attending! I'm in love, and need to make them!
Try these crockpot chili recipes if chili is on your menu tonight:
All of the recipes are not crockpot specific, but if you put them on low for 6-8 hrs (or for 3-4hrs on high)  in your crockpot the result will be tasty chili that the entire family loves.
3. Chicken Pot Pie Baked in a Canning Jar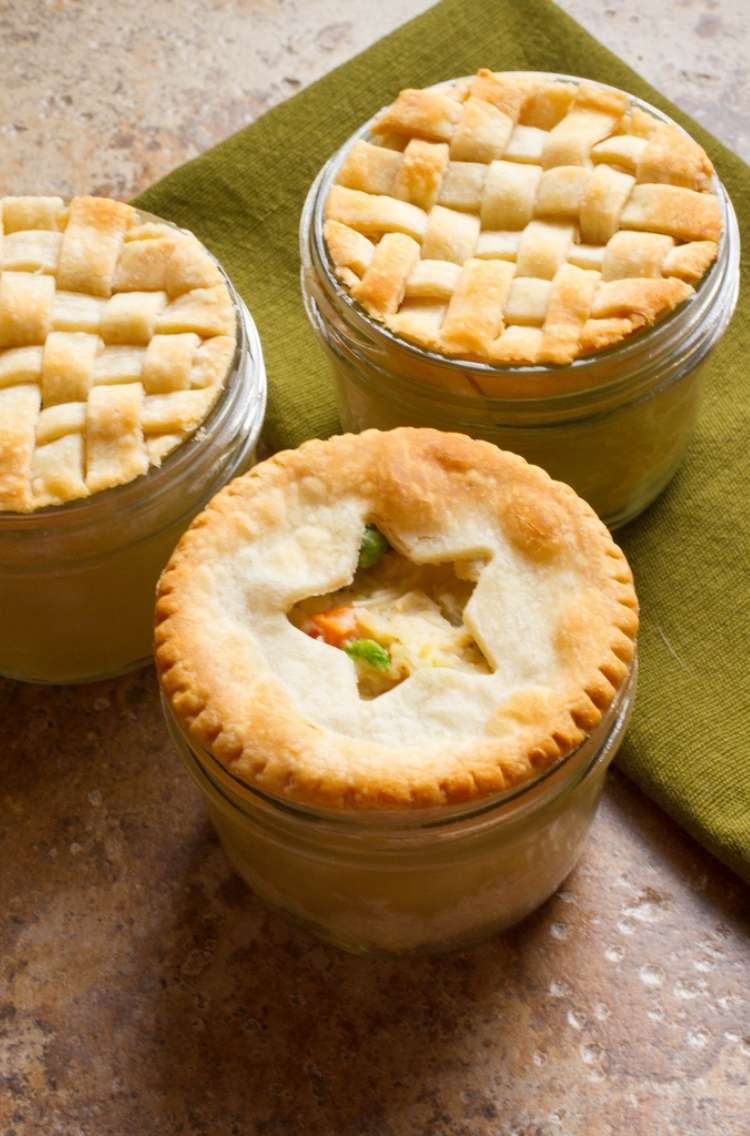 via Foodie Fun
Another cool weather staple is a filling chicken pot pie. Flaky, golden crust, savory, seasoned chicken broth, shredded chicken, and chopped veggies make full bellies, and warm bodies on cold days. They can be made individually and stored for quick consumption on busy days.
The ideal mason jar meal that isn't a salad for those of us who aren't on a diet. Mini Chicken Pot Pies will be a HUGE hit with kids and adults alike. Aren't they gorgeous?
4. DIY Fresh Cup of Noodles Ready to Go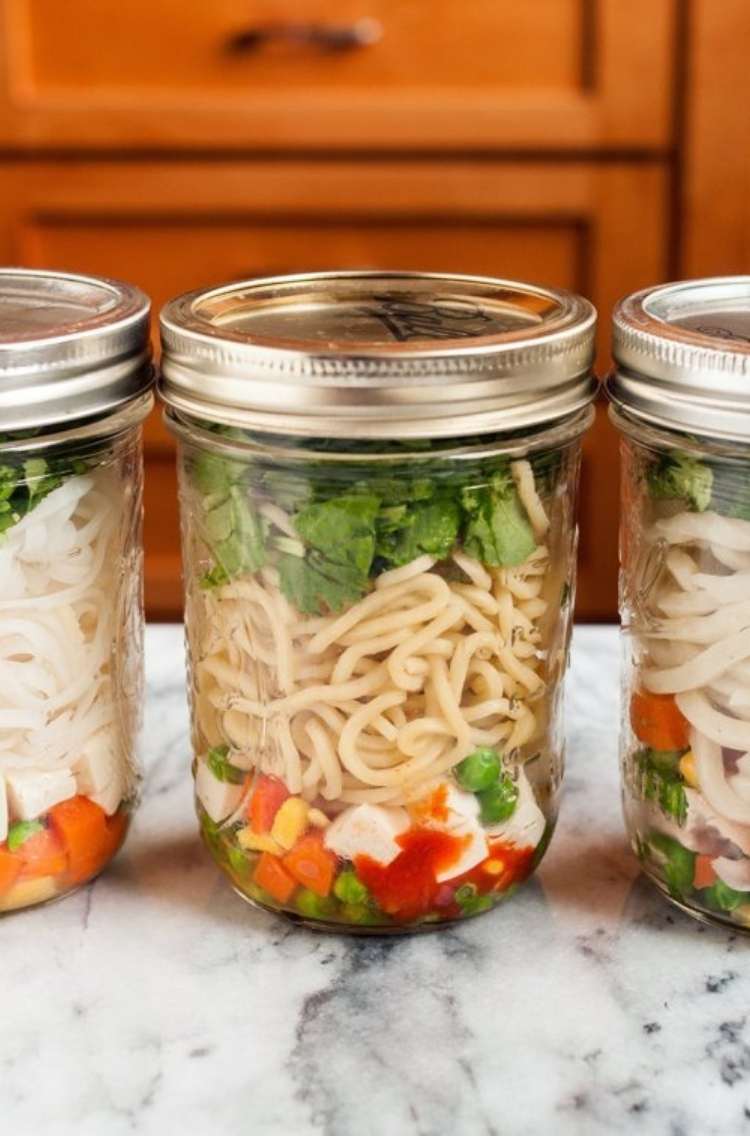 via The Kitchn
Looking for mason jar lunches for school? Try creating your own school lunch menu like these Instant Noodle Cups. Switch up the flavors. Make them sweet, tangy, spicy, or savory. Options are endless, and the taste is way better than any store-bought, prepackaged meal noodle soup. That way, you and your kids have lunch that is healthier and more flavorful.
Good ramen toppings:
Bacon
Chili sauce
Meat (pork, beef, chicken-fried or boiled)
Corn
Moyashi
Eggs
scallions
garlic flakes (or minced)
seaweed
Bak Choy
5. Baked Mason Jar Corn Dogs
Do you love fair and festival food? If so, you'll go crazy for these baked corn dogs in mason jars. Summer food for the kids. Nothings better than baked corn dogs. It combines the ease of a corn dog and the memory of an exciting time
Ferris wheels, cotton candy, and corn dogs! What a day!
6. Sushi Mason Jar Meal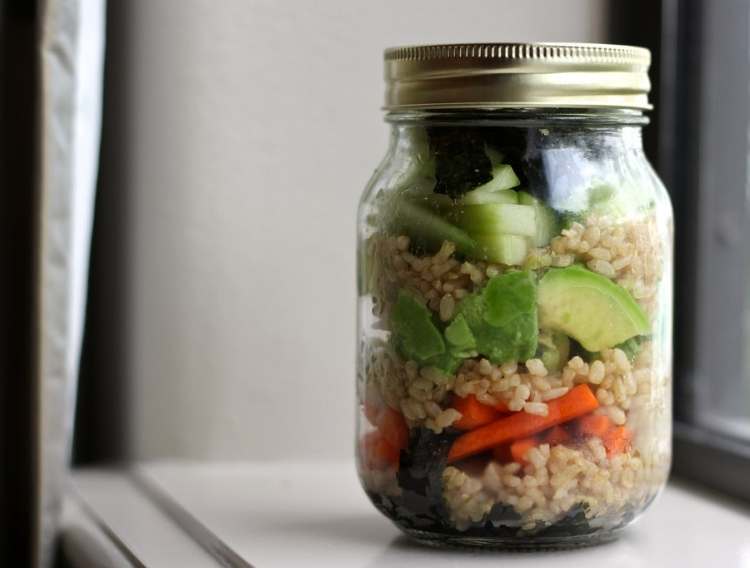 via Spoon University
Never would I have imagined this meal could be any easier. Love sushi? Who doesn't?  With this Asian-inspired mason jar meal, you'll be tempted to have sushi every day.
Pack a healthy and delicious lunch with this Deconstructed Sushi in a Mason Jar. Delicious is an understatement!
7. Glass Jar Omelets
Breakfast is the staple of our mornings. Cereal is great but rarely filling. Want a breakfast that's high in protein, low in calories, and sneaks in a few vegetables?  Nothing hits the spot like Sausage, Spinach, and Pepper Omelettes (in jars)!  A healthy mason jar meal that's both delicious and nutritious. What's left to want?
8. Pasta in a Jar
More refreshing summer mason jar meals. Our summer days are filled with fun activities and busy days. Especially once we have kids. If you're trying to avoid drive-thru's, and possibly even save a few bucks on those super active summer days, pasta. Yes, I said it, "Pasta". It's a foolproof plan. Pasta is one of the few dishes all kids love. Pasta Primavera Salad is all pasta, a few veggies, and light dressing. Little for kids to hate and a lot for them to love.
9. Tuna Salad Ready to Go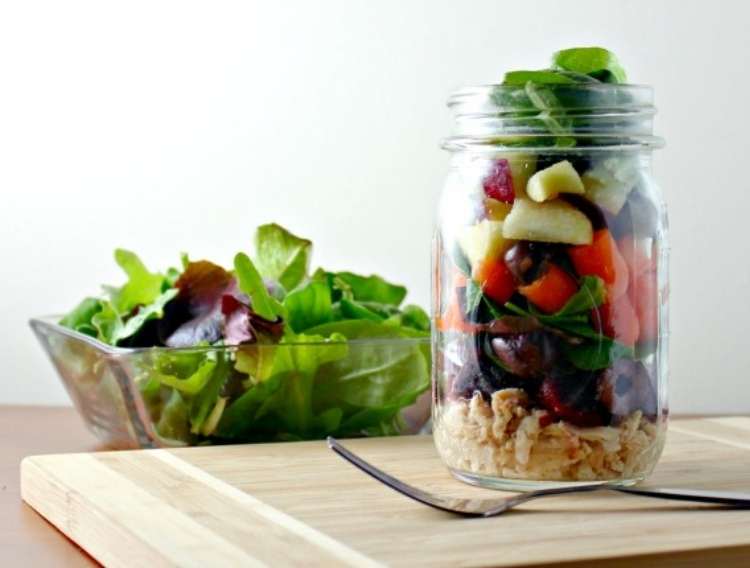 via Confessions of an Overworked Mom
Tuna salad has never looked as good as it does in this Easy Loaded Tuna Mason Jar Salad. Beautiful mason meals to go make it easier to stay healthy when your life gets chaotic. You want to eat it. It's as appetizing as it is appealing to look at.
10. Mason Jar Egg Bake
Having company has never been so easy. Make a Mason Jar Hashbrown Egg Bake for your next brunch. Pop all of the ingredients in a jar, and bake. Voila! Meals prepared in no time. Hassle-free for you.  Tasty and portable for your guest. Cut fruit, mix a pretty punch, and you've managed to serve up a brunch to be rivaled in little to no time!
11. Mason Jar Meal Mac & Cheese
via Hello, Wonderful
Eating macaroni and cheese is a guilty pleasure of mine. Here we have a simple mac and cheese recipe made to go. I don't know about you, but I could easily make a meal out of Mac-and-Cheese in a jar. It only takes five minutes to make!
Milk
Butter
Elbow noodles
Cheese
Panko bread crumbs (If you're looking to switch it up)
12. Individual Veggie Mac and Cheese
Speaking of mac and cheese, why not make it a little healthier? Without compromising the taste of a classic mac and cheese dish this mason jar meal is packed with gooey cheese and nutrients. With a few minor adjustments, this Mason Jar Veggie Macaroni and Cheese can double as a vegan mason jar meal as well.  Tasty and filled with vegetables.
13. Overnight Oats – Single Serve Oatmeal in a Jar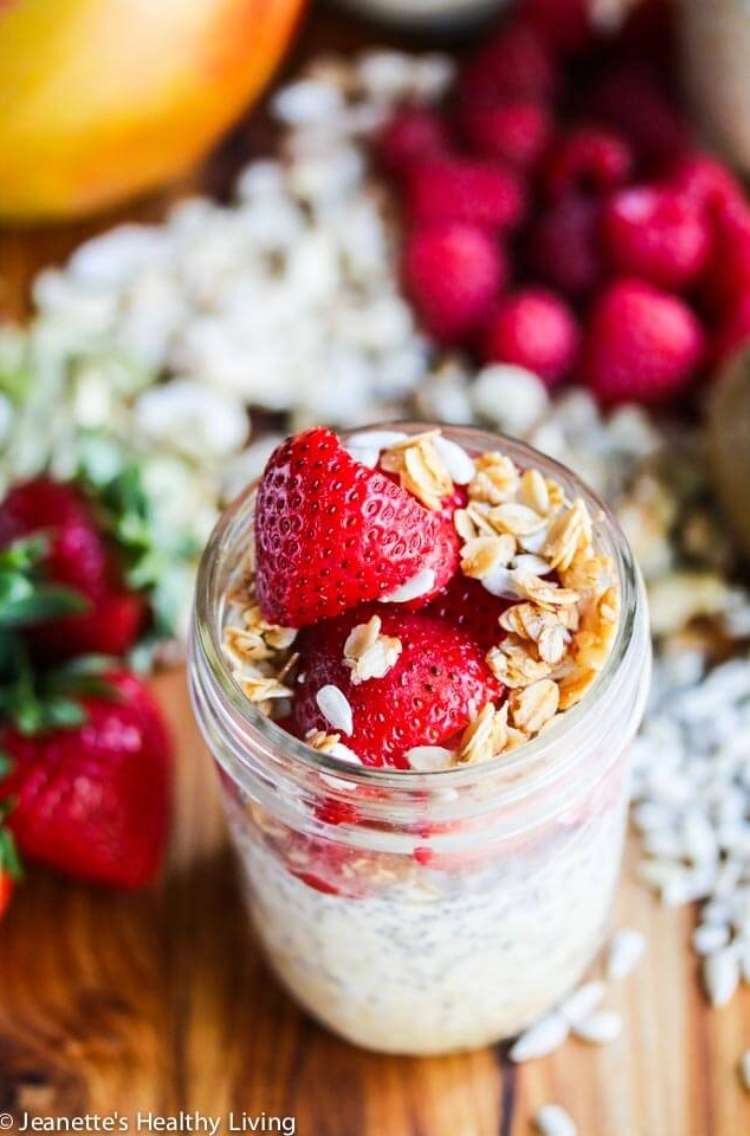 via Jeanette's Healthy Living
No time for breakfast in the mornings? Healthy Overnight Oatmeal is the answer to your problems! Dump everything into a jar, and it's ready for you by morning. Letting it sit expands the oats faster. Leaving you with an instant option that's much healthier than instant oats. These grains are sure to keep you full throughout your busy day while satisfying your tastebuds with every bite.
14. Breakfast In a Mason Jar
In a hurry, breakfast becomes a challenge. Simple is always the way to go. You can't get much simpler (or much tastier) than plain old eggs and bacon baked in a mason jar. Traditional American Breakfast flavors. Simple and satisfying taste. Add spinach, tomatoes, or other vegetables to ensure you get your daily serving in early. Pop it in the oven as you get ready for your days. No stress mason jar meal to go in no time.
15. Mason Jar Tacos
Tacos in a jar are tasty and fun! Low-calorie mason jar meal that's not a salad! I'll choose this over a salad any day. Once you try it, you will too. But, if a taco isn't a taco to you without a shell, have no fear. You can easily take some soft taco wraps or tortilla chips with you. They're portable and adds a little texture to your taco mixture.
Need an easy party dish? Mason jar tacos feed a lot of people on a small budget. It doesn't take long to brown the ground beef. And, if you're really in a pickle for time, all of the toppings can be purchased prepackaged and precut. Who knew tacos could be so versatile?
The best part of Mason Jar Meals to go is that they are quick and easy. Raising a family is hard work. Working, keeping up with all of the things can be huge feet. But, with a  little planning and creativity, we can have good meals with busy lives and full schedules. These delicious mason jar meals are proof.
Want more ideas for quick and easy meals. These posts share delicious dinners that can also be made to go or simply cooked quickly for busy nights.
More Quick and Easy Meals Ideas From One Crazy House: