Let's chat about some practical back-to-school best teacher gifts that will let them know how appreciated they are! Can you believe that it's time to gear up for a new school year? Time flies during the summer, doesn't it?
It's time to start thinking about school lunches, backpacks, and school supplies. No one deserves a summer break more than teachers, but many of them tell us that they're ready to get back to it by summer's end.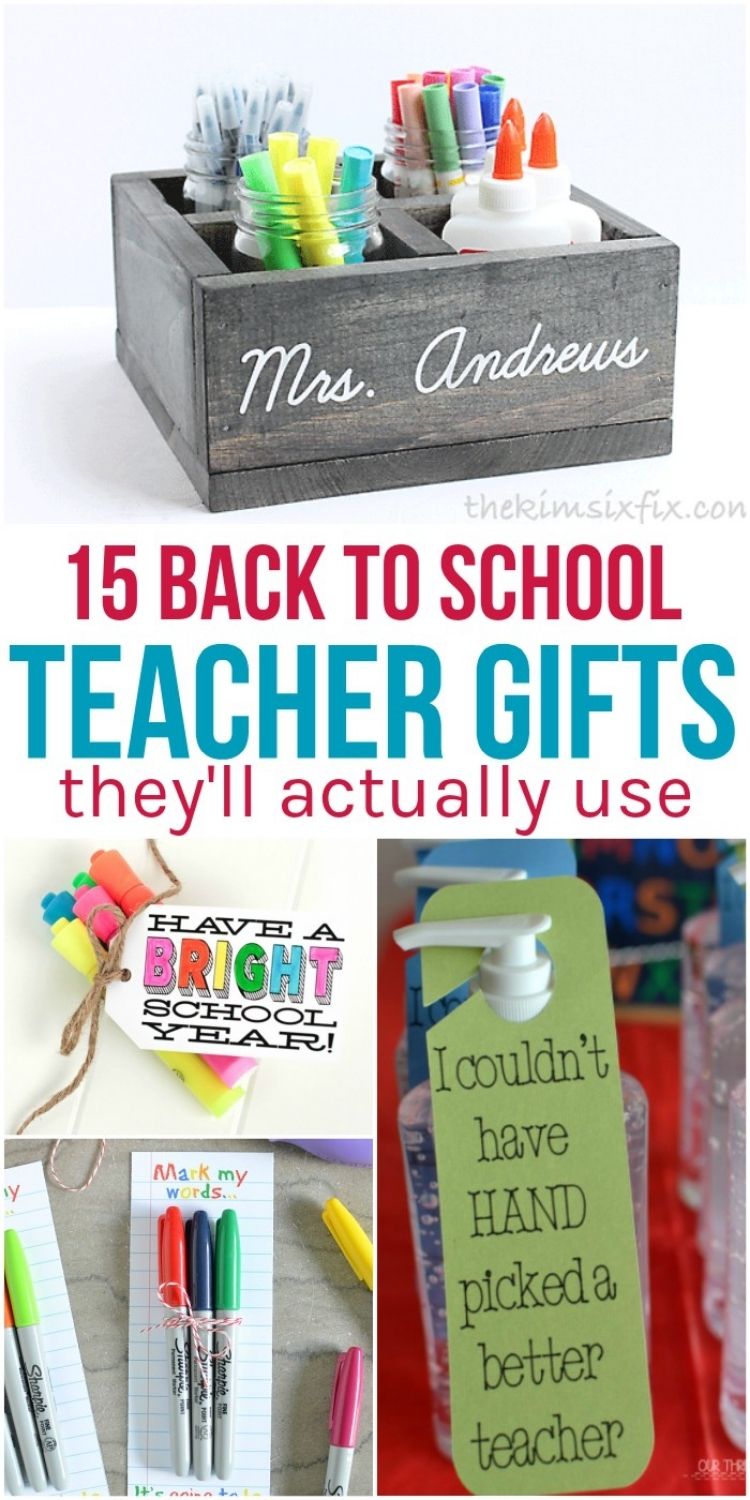 Practical Welcome Back To School Teacher Gifts
It has been traditional to gift their teacher at the end of the school year.  But, why don't you show your child's new teacher your appreciation for their hard work and a year full of new challenges with one of these back-to-school teacher appreciation gift ideas?  
Your child's awesome teacher has been busy planning and preparing for the school year for some weeks already. Receiving a practical small gift will be a welcomed surprise and such an encouragement for your child's teacher. You won't find cookies or trinkets here. We've selected gifts that we think they'll actually use and gift tags with wonderful sayings to lighten up their day and give them the support they need as they head into a new year. 
1. Sharpies are ideal back-to-school teacher gifts!
A teacher can never have too many Sharpies, right? I don't even teach, and I have a big collection to use with crafts, DIY projects, and more. Your child's teacher is always preparing new posters or bulletin boards to help direct attention to the newly discussed topic, finding new ways to make learning come alive in his/her classroom. This cute "Mark My Words…" Sharpie pens teacher gift kit is the perfect way to gift some markers to your child's new teacher.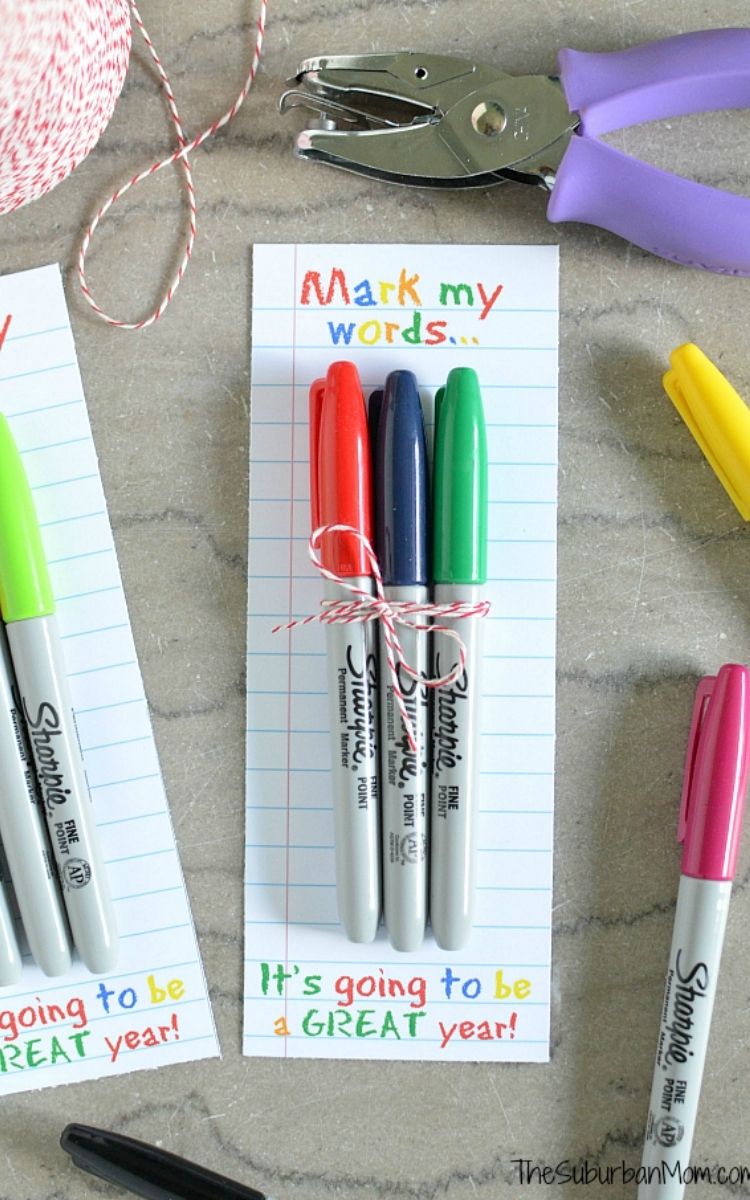 2. Teachers have loads of ideas for their return to school
Who wouldn't love a large selection of sticky notes in a planner? Teachers are full of great ideas and eager to help their students brainstorm new ideas, too. Imagine the word wheel or wall of words, as students shout out all their great ideas. Your child's teacher will love this practical back-to-school gift.  This "Let's Stick Together" sticky note gift in mugs is not only a great idea for teachers, but also for their students,  friends, teammates, and more.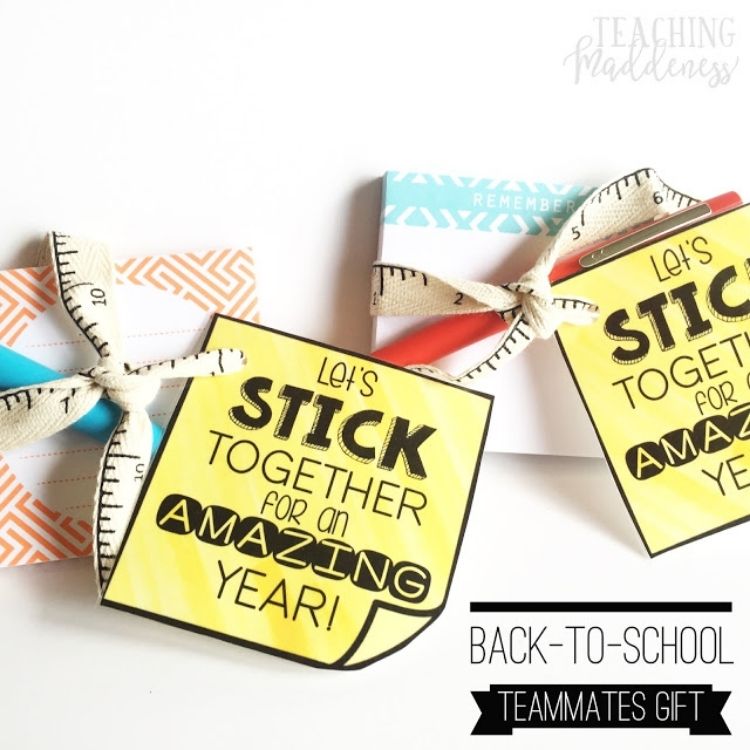 3. Returning to school requires hand sanitizer
We all know that children spread germs so easily and so innocently. Teachers seem more susceptible to catching colds from their students, especially teachers of young children. They will no doubt appreciate this hand sanitizer gift idea that reads, "I couldn't have HAND picked a better teacher." Aren't you thankful for this one-a-kind teacher? Then this is a perfectly thoughtful gift for teacher appreciation week.
4. A tote bag is a treasured one-of-a-kind back-to-school teacher gift
Nothing makes a teacher smile more than a beautiful tote bag filled with snacks, candies, and or chocolates. Every teacher needs a nice tote bag to carry books, lesson plans, and teaching materials back and forth from home to school every day. It seems like their hands are always full of books and things.
And a tote bag with a touching quote is even more awesome. This one is sweetened with these touching words that ring so true. It is definitely a shout-out to all our teachers heading back to the classroom.
"A teacher takes a hand, opens a mind, and touches a heart."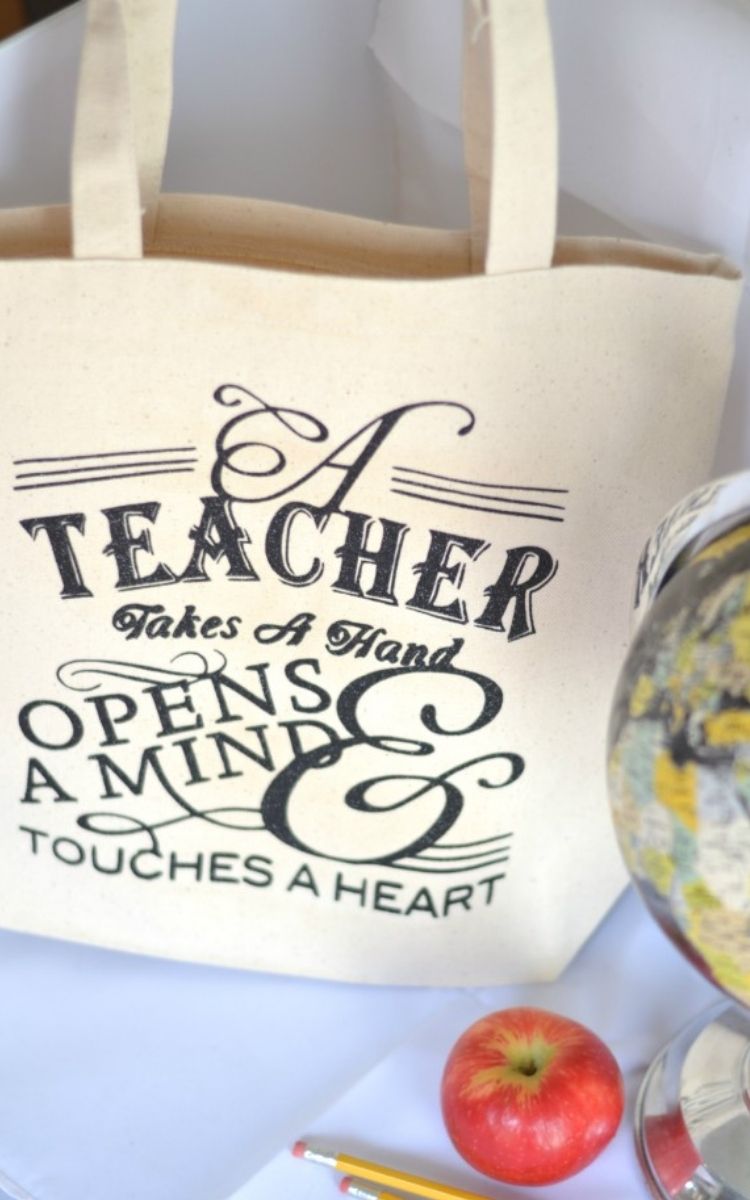 5. A practical, useful, and inexpensive back-to-school teacher's gift
On those dry days when preschool teachers can't get enough water in and their lips are so dry, they will be so appreciative of this simple, yet practical and useful gift. If you're on a tight budget and need an inexpensive gift, try one of these Burt's Bees lip balm great gifts that read:
"I'm so happy I get to bee in your class."
What wonderful words for any teacher to hear! Add this personalized, colorful artwork, scents, and your kid's teacher will be beaming from ear to ear.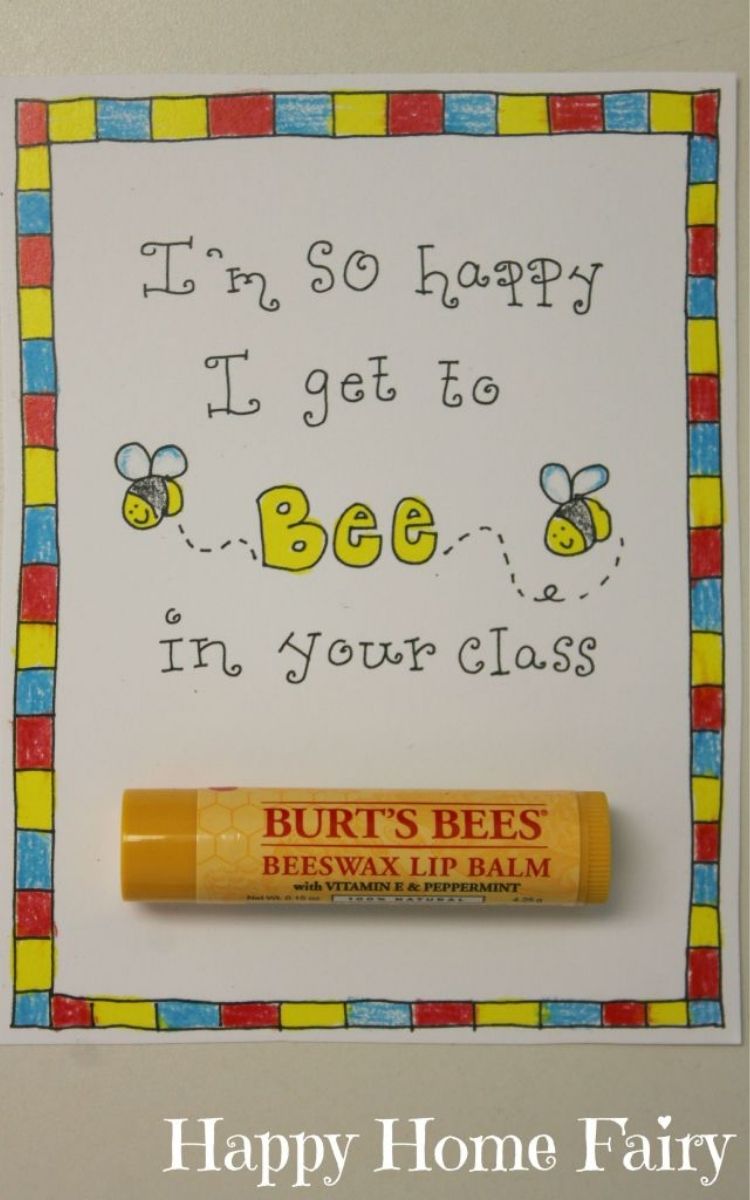 Apple Themed Teach Gifts for Back to School
An apple for the teacher is a traditional gift, but these ideas are a lovely twist!
These two back to school teacher gift ideas follow the long-standing tradition of an apple for the teacher. Why is an apple associated with teaching? It is a symbol of knowledge and these gifts would certainly help your child's teacher as he or she presents new knowledge  to the classroom.
6. Apple Gift Card
This apple product may not exactly be red and juicy, but none the less, it will be appreciated. Have a teacher who uses an iPhone or iPad? He or she will love this iTunes gift card idea that reads "An app(le) for my teacher."
I can't stop thinking about how genius that is…an apple for the teacher.
7. Amazon Gift Card
A is for Apple, A is also for Amazon. This amazing teacher Amazon gift card is a great back to school teacher's gift idea. We know that teachers have an unending list of teacher's resources that they'd love to purchase to add to their classroom collection. This is a gift that gives back as your child could be the recipient of the classroom supplies.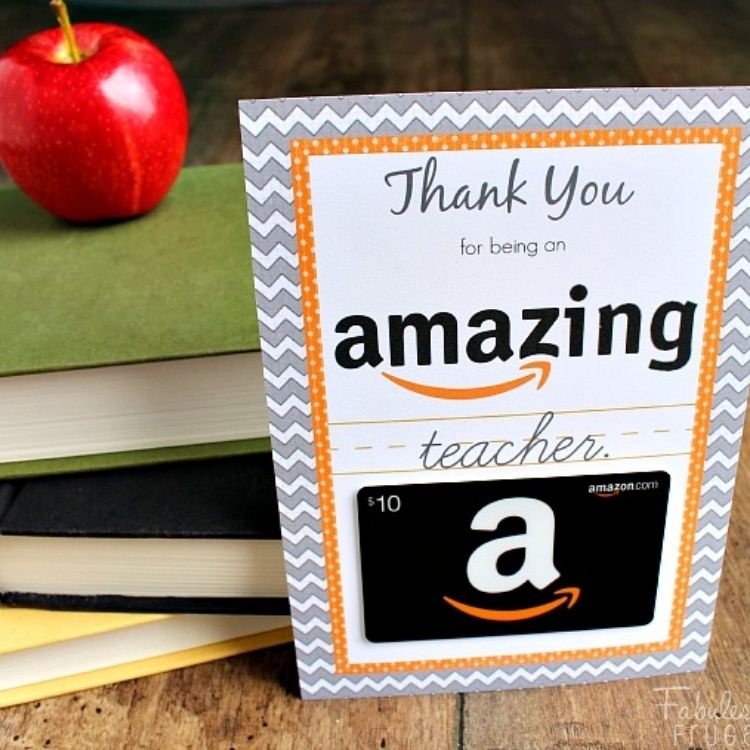 8. Back-to-school dinner gift card for your child's teacher
When the marking and lesson preparation gets overwhelming, your child's favorite teacher will be so thankful to reach for this dinner gift card. Support a local business for advertisement and give your child's teacher a yummy meal to look forward to with a thoughtful restaurant gift card.  And add this quote and you will warm their heart.
Teachers feed young minds, make little hearts feel full and create a hunger for learning.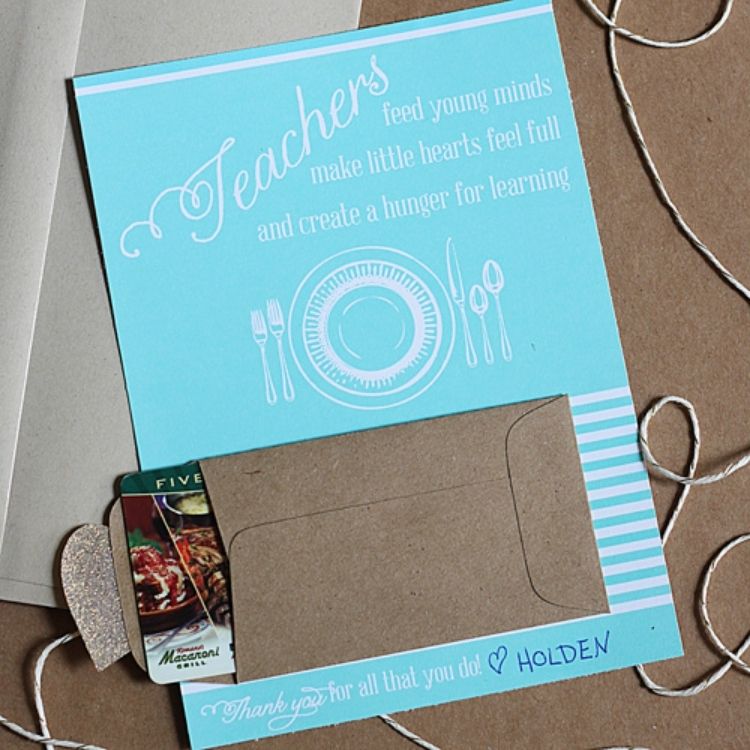 9. Caffeine + meaningful words make a unique teacher's gift
Lots of teachers I know run their tastes on caffeine, so this coffee cup idea with flavored coffee (or a Starbucks gift card) is a great idea! The warm words add flavor to this welcoming gesture.
And they are going to need a lot of caffeine with my kid in their class. A unique gift for that coffee lover teacher!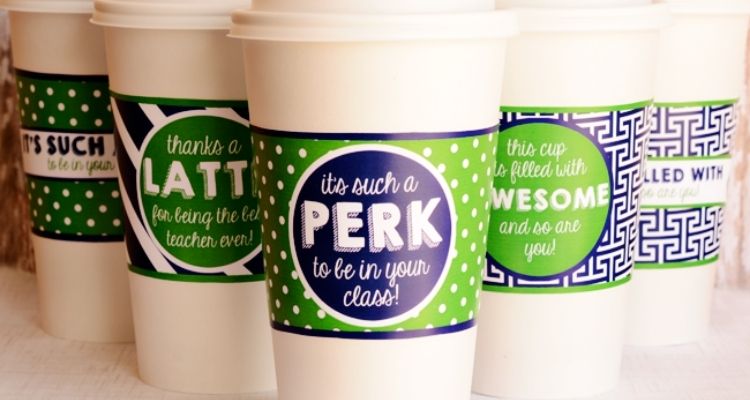 10. A cake full of useful teacher supplies!
Your kids will love this back-to-school teacher gift idea. Extra school supplies in the shape of a cake! Add a cupcake with a candle to the top and you'll satisfy the sweet tooth as well! Such a right gift, perfect for teachers!
Extra school supplies are an essential ingredient in every classroom. Some kids may not be able to afford them, and as you know, kids often break their crayons and pencils or run out of glue, etc. Let alone the kiddo who can never find their supplies when it's time to use them. A school supply cake allows teachers to keep some much-needed extras on hand!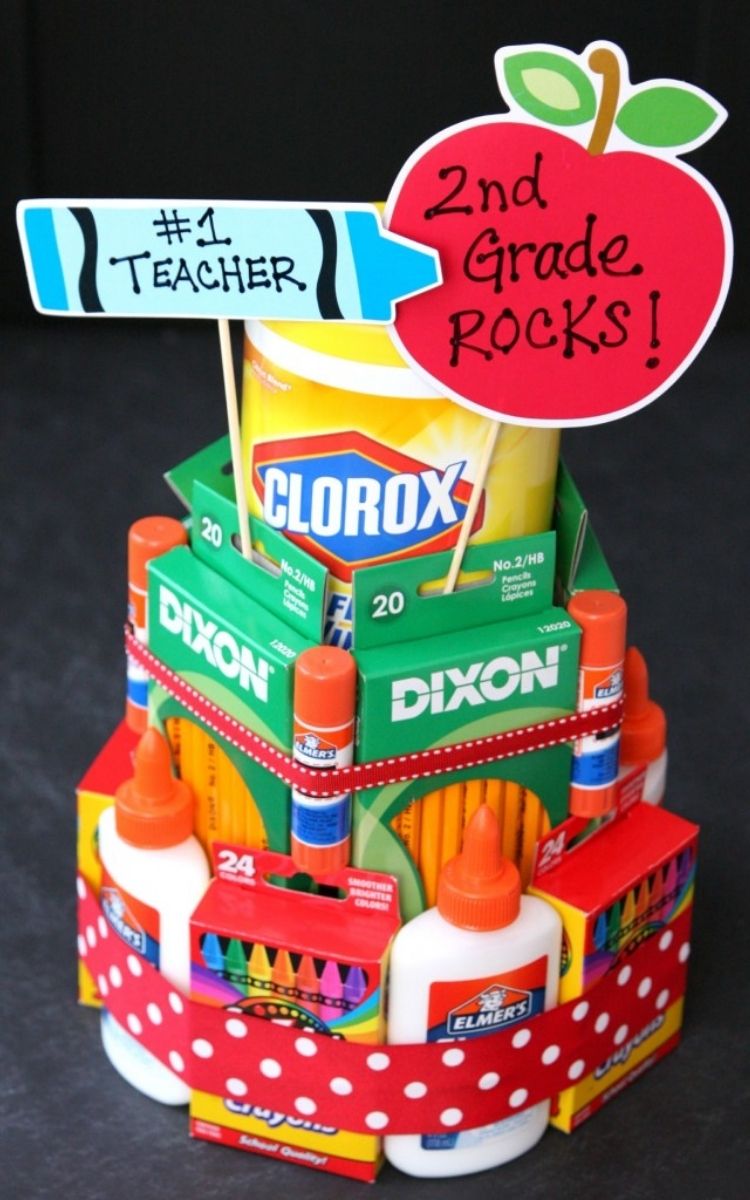 11. More memory is a valuable teacher's gift
Isn't more memory something we all need? Our kids' teachers will appreciate this extra support. With so many handouts to print and so many reports to write, your child's teacher will be thrilled to be gifted an extra memory stick. Best gifts!
Memory sticks or flash drives or thumb drives— whatever you want to call them — can come in handy, especially for teachers who cover multiple subjects. The sweet little apple keychain with the teacher's name adds a nice touch.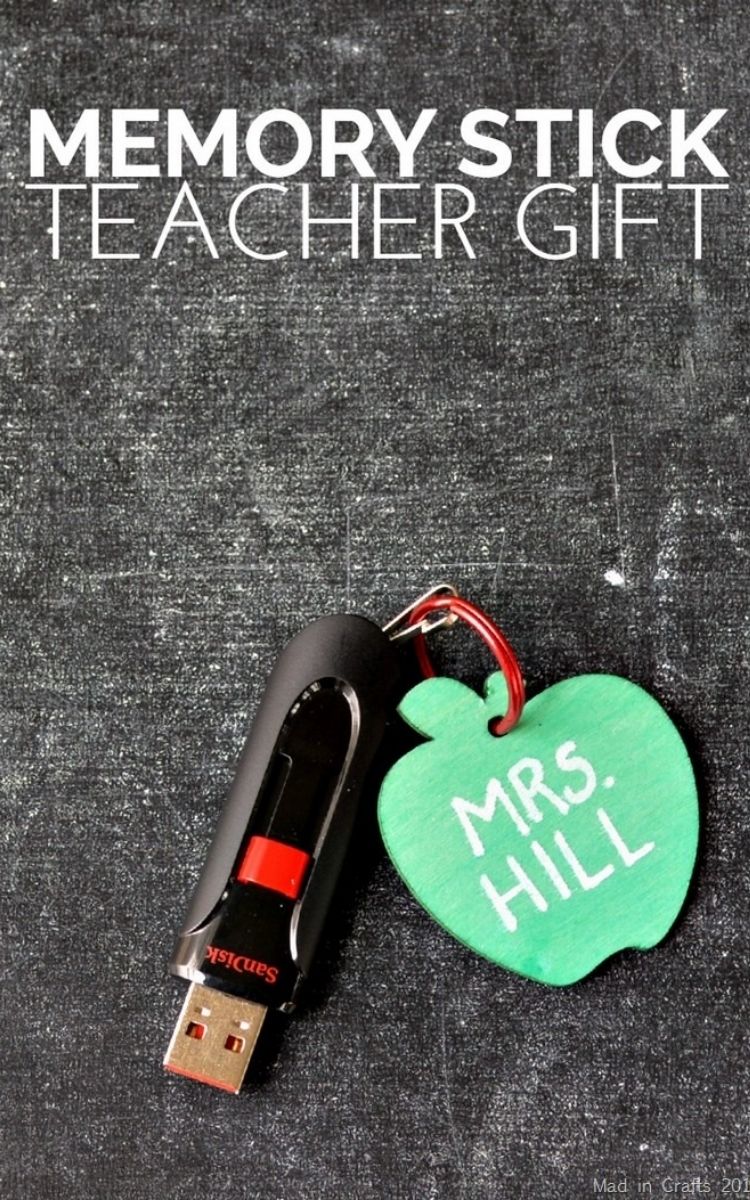 12. Personalized school organizer is a welcomed teacher's gift
Teacher supplies seem to grow feet and walk away. You know it because it happens at your home as well. What teacher wouldn't be thrilled to receive this personalized school supply organizer and pencil holder. What a great way to find what you need when you need it. And if the teacher doesn't use it in the classroom for supplies, I'm sure he or she can find a use for it at home.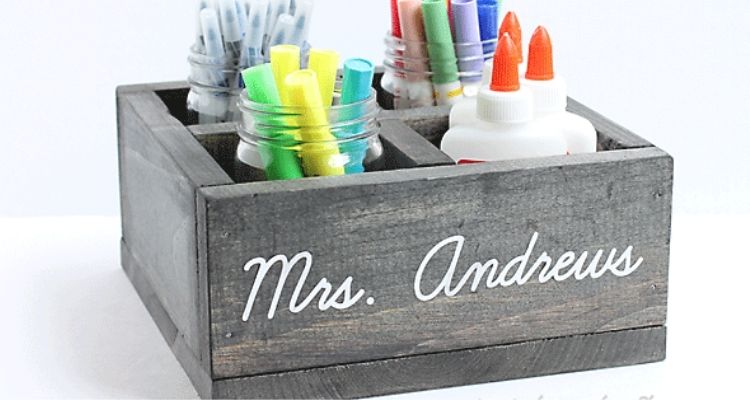 13. What teacher doesn't need an extra USB Car Charger?
Now here's a practical back-to-school teacher's gift idea. For those mornings, when the phone isn't charged and he/she just needs a little more 'juice' as they head into school for the day. Car chargers are super practical, but the attached gift tag makes it fun and says it all. Who couldn't use an extra charger in the car?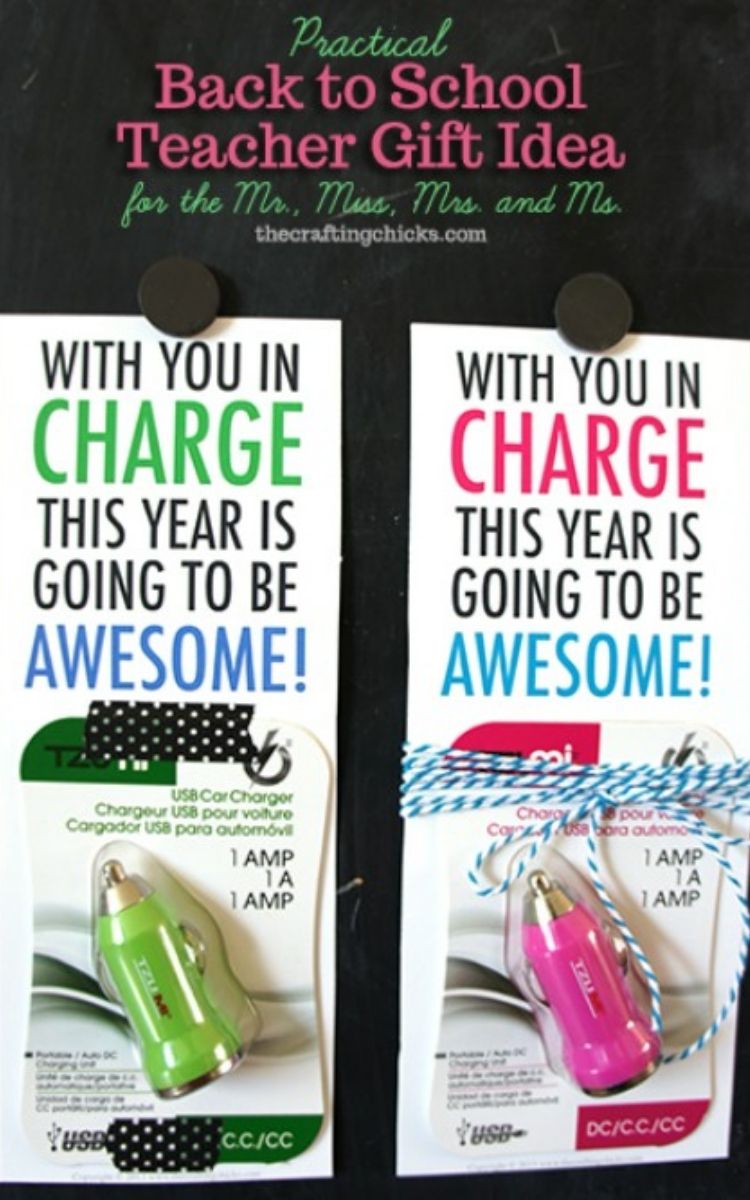 14. Highlighting the AHA moments makes great back-to-school teacher gifts!
Colour and highlighting go hand in hand with our kids' teacher. We know they love to highlight their notes for keepsake, and their course textbooks in order to remember the most important information. Teachers are the givers of knowledge and always looking for the AHA moments to share with our kiddos. Brighten up your teacher's day with some new highlighters and this "Have a bright school year" printable tag fun gift!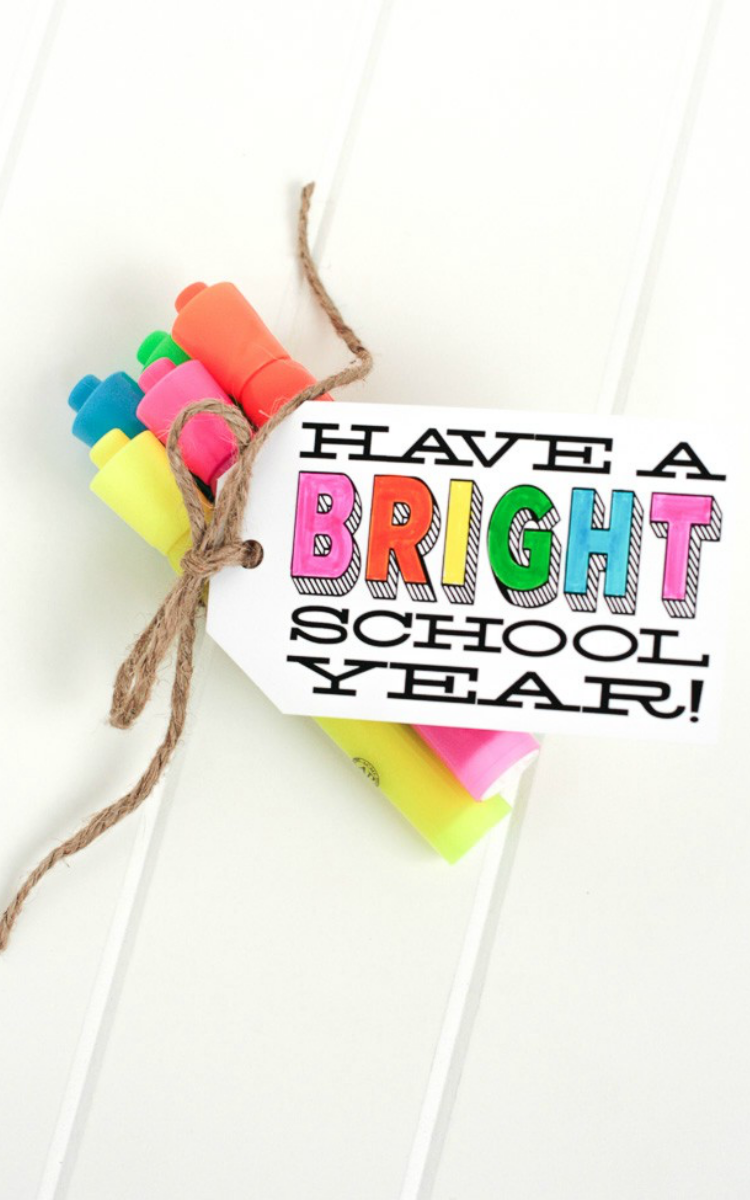 15. Water bottles are useful containers for practical back-to-school teacher gifts
Water is an essential part of every teacher's day and a new water bottle is always a welcome addition. Let's help to save the planet from all the disposable water bottles. And what a useful container to gift our thoughtful present. Add some sharpies, pencils, or markers to a reusable water bottle or mason jar for a practical back-to-school teacher's gift anyone can get on board with.
More Fun Teacher Gifts From One Crazy House:
Which of these easy teacher gifts would you like to try with the kids first? Let us know in the comments!