Are you ready to learn how to update your exterior on the cheap? Then check out these 15 clever (and beautiful) ways to add curb appeal to your home. Try these DIY hacks, tips, tricks, and more to make your landscaping and curb appeal the coolest on the block!
As the warmer weather approaches, we know that we aren't the only ones who are getting excited about creating amazing outdoor spaces. If you are anything like us, the first thing that you have on your DIY to-do list for spring and summer is to look for ways to add curb appeal to your home without spending big bucks and breaking the bank. Well, you are in luck! Because we are here to show you how to get a big bang for your outdoor home projects on the smallest of budgets. With these easy and cheap DIY projects, you will be sure to give your house a much-needed facelift without spending a lot of cash. Are you ready? Let's get to it!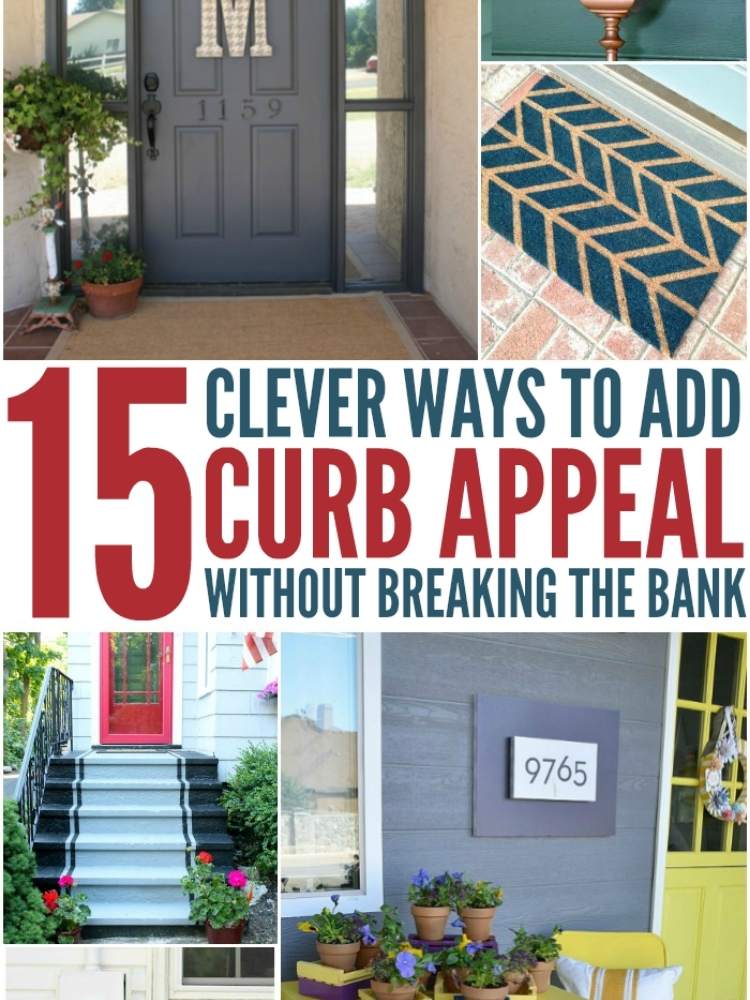 Easy (and Cheap!) Ways to Add Curb Appeal
If you are looking for easy and cheap ways to add curb appeal to your home, then look no further! We've compiled a list of some seriously amazing DIY home projects that even the most noncreative person will love! Simple and easy. That's the motto that we live by!
And even if you aren't pinching pennies, these clever do-it-yourself ideas are so much fun that you'll want to try them out anyway! Try one of them or try them all to make your home the envy of the neighborhood. You will be able to add a ton of curb appeal to your home with these fun and creative tips and hacks.
1. Painted Concrete Steps
Not everyone has the money to replace old concrete steps and that's okay! If you are looking for a super cheap way to update those old, ugly steps, all you need is a little bit of paint. We love how these steps were painted to look as if there is a runner on them. So creative and much trendier than plain and boring concrete steps!
2. Upgrade Your Mailbox
You may not think that it's a big deal, but if your mailbox is the first thing visitors see, then it makes perfect sense to give it an updated look. Luckily, making over a mailbox is a super cheap DIY project and it is totally worth it! Check out the difference between this mailbox before and after!
3. Update Old Outdoor Light Fixtures
Nothing is worse than a rusty old exterior light fixture that does nothing for your house's looks. Thankfully, all you need to fix it is a fresh coat of copper paint. This will give your outdoor light fixture a whole new look. We absolutely love how the copper color pops against the green siding! Simply gorgeous. Don't you agree?
Don't worry, we have even more light fixture makeover ideas for you to check out over on the blog!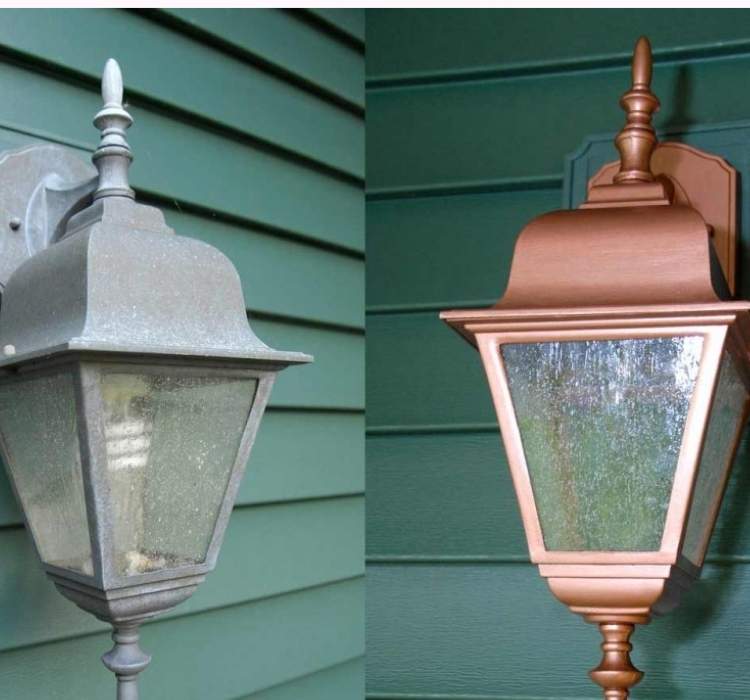 4. DIY Wood Garage Doors
Everyone loves a beautiful wood garage door. But, not everyone can afford one (those bad boys are crazy expensive.  OUCH!) That's why this DIY wooden garage door is one of our favorites! Just use a gel stain to give your current garage door a faux wood look for just a fraction of the cost! That's a major win in our books!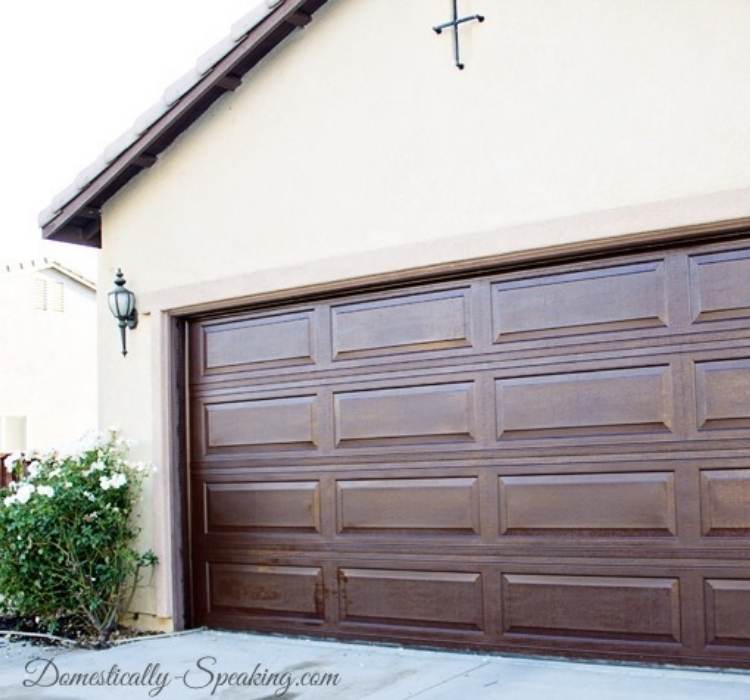 5. Flower Pot House Numbers
Are you tired of seeing the same style of house numbers in your neighborhood? The solution? Spruce up your house numbers with this fun DIY project. All you need are flower pots! You will want to make sure that you plant easy-to-care-for flowers. Because we don't think that dead flowers scream curb appeal. Do you?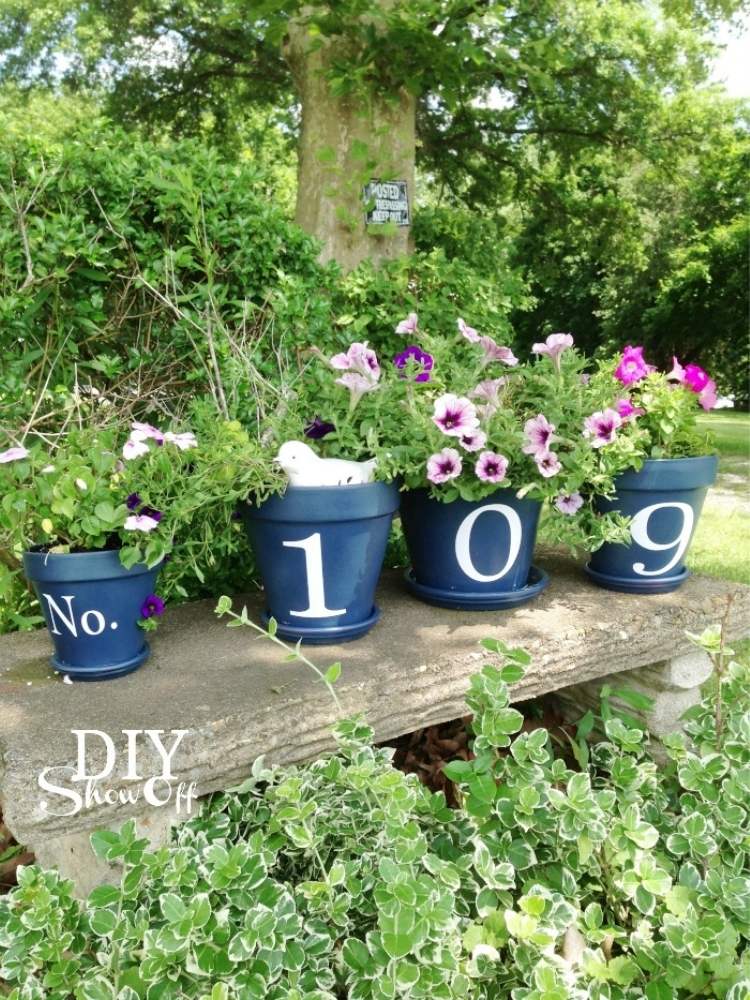 6. Disguise Your Electric Box
What is something that screams ugly with a capital U? An old, metal electrical box. Yuck. If your electrical box is on a prominent side of the house, then you know what I'm talking about. But, you know that we've got a great tip for you so that you can disguise it to blend in with your house. Just camouflage it with a coat of paint that matches your siding. It's so simple that you'll be asking yourself, "Now why didn't I think of that?" It's perfect because everything matches and you won't have to stare at that u-g-l-y eyesore anymore.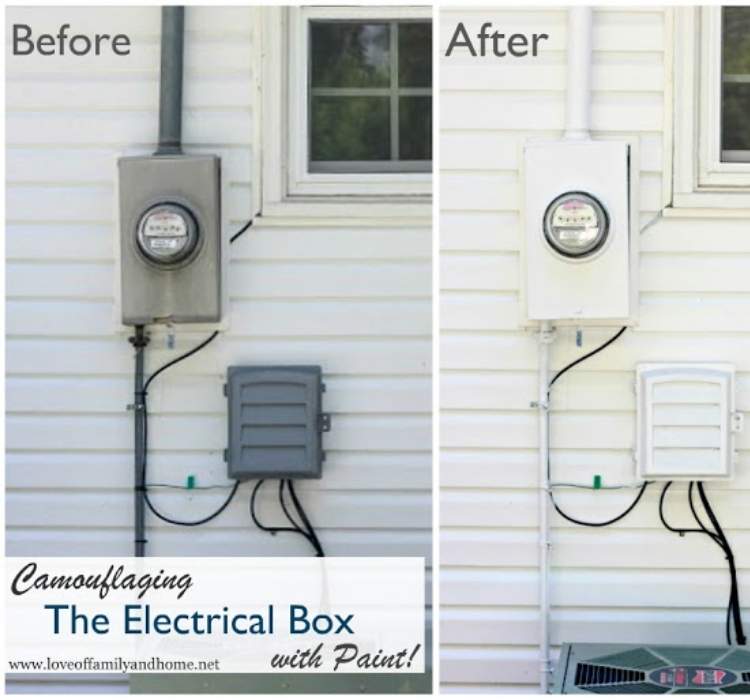 Keep Going for Even More Ways to Add Curb Appeal on the Cheap
Don't wimp out on us yet! We have even more tips and hacks for you to get that beautiful curb appeal for less than you spend a day on Starbucks. ?
7. DIY Painted Doormat
Ditch that expensive designer doormat and create your own! All you need is a coat of paint and a little creativity. You'll never find anything like this at the store or online!
Supplies Needed:
Doormat
Spray Paint
Your own imagination!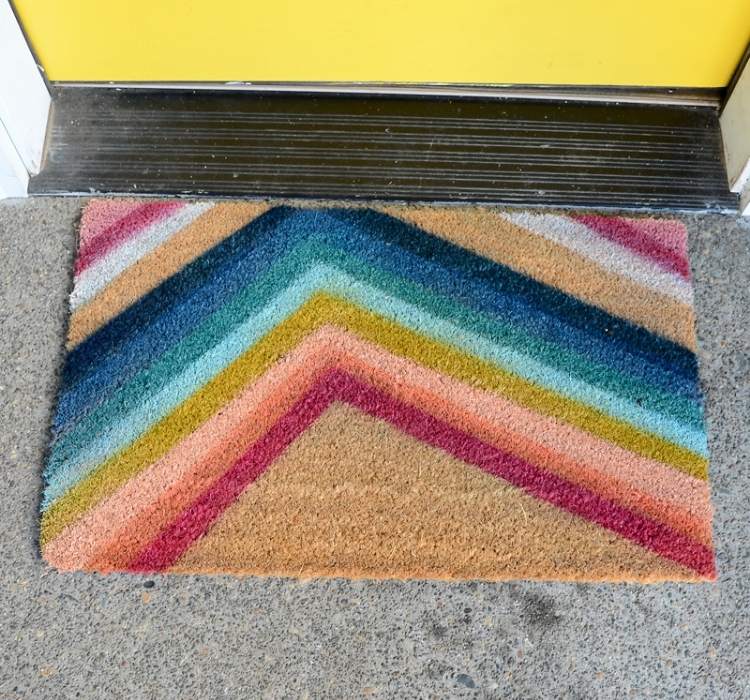 8. DIY Window Shutters
Does the front of your house lack character? Guess what? We have a fix for that! All you need to do is build your own shutters (or you could buy some if building your own is too big of a project) to give some major personality to your windows! These board and batten shutters are absolutely amazing and give this home a whole new look! The matching flower window box is a cute addition as well.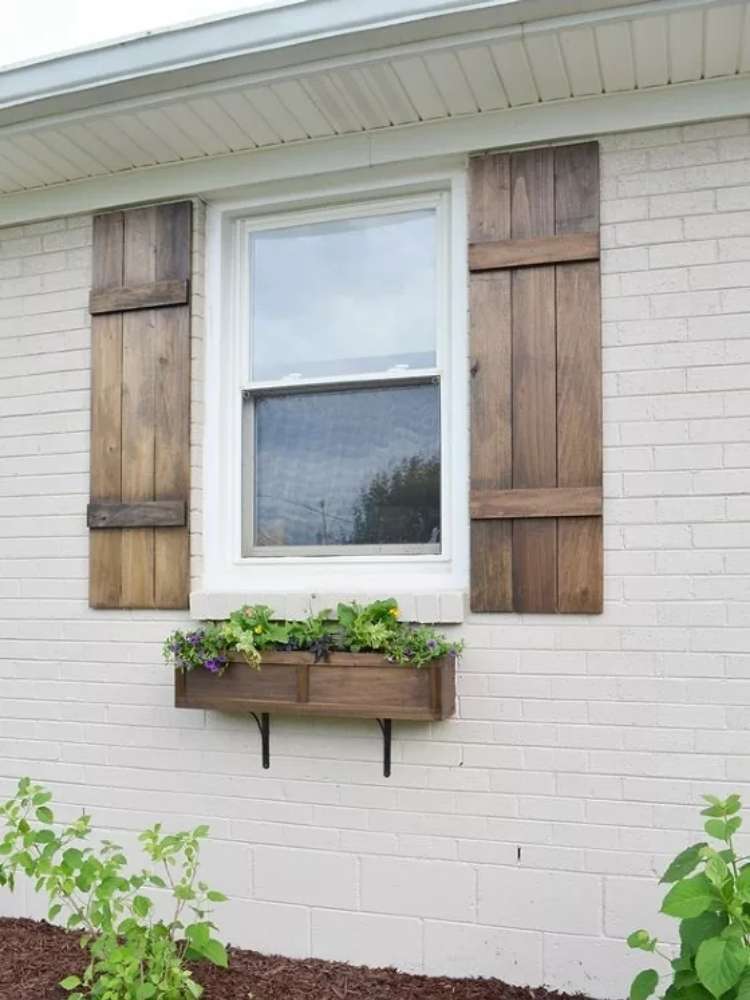 8. Window Box
Speaking of window boxes, this is another way that you can add some much-needed curb appeal to your home. All you need to do is just add a window box underneath a large window for an added pop of color to your home. Also, did you know that instead of flowers, you can add certain herbs to your window boxes? What a great idea for a mini-garden! Imagine standing at your kitchen window and just opening it to pick herbs whenever you needed them! Brilliant!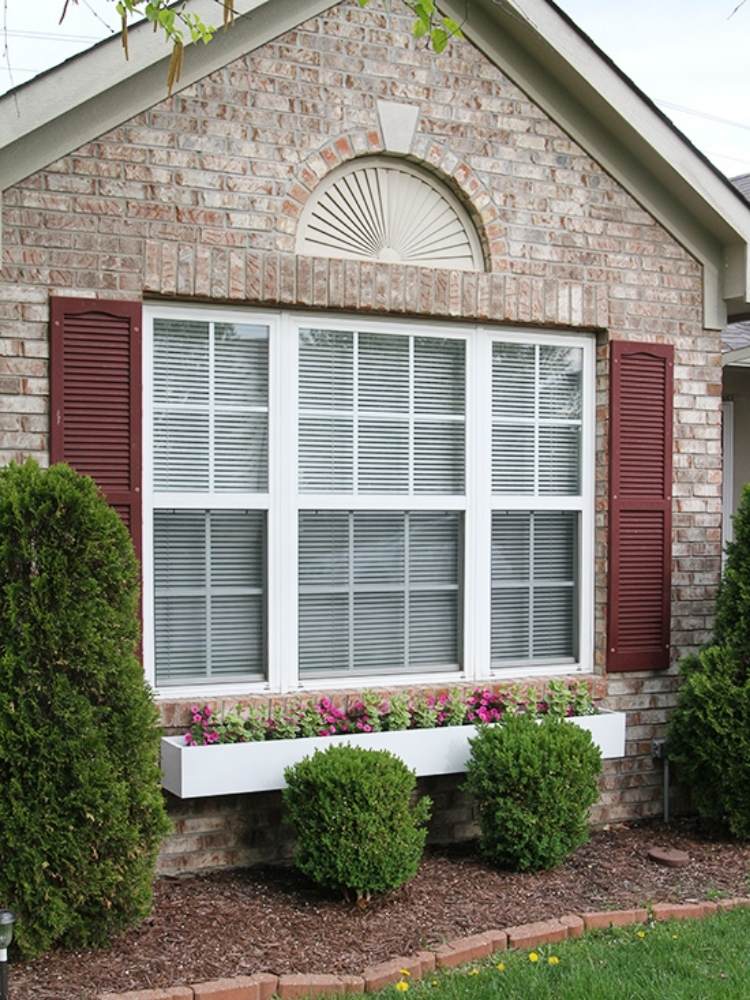 9. Outdoor Storage Bench
Do your little ones leave their things lying all over the backyard. If you want to cut down on deck or backyard clutter, get one of these storage benches (affiliate). It is a great place for hiding extra pillows, outdoor toys, tools, and more.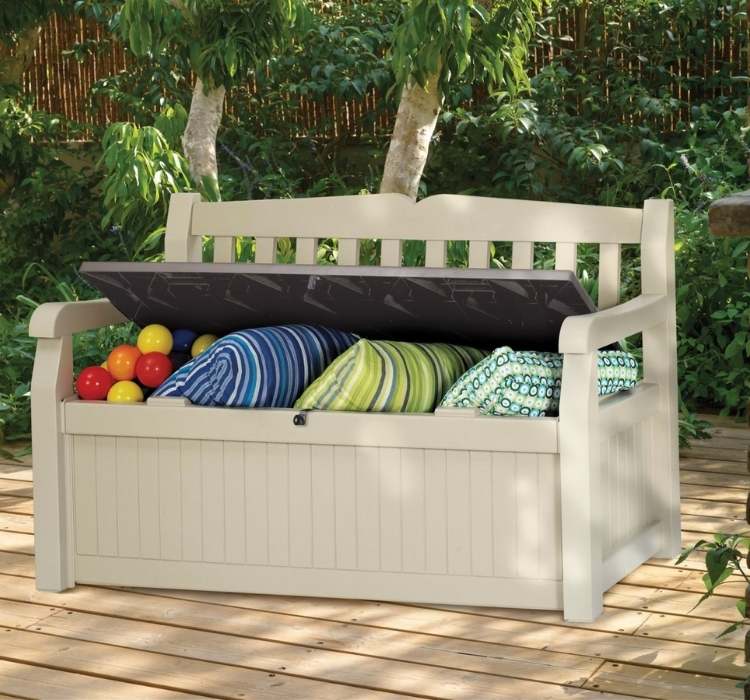 9. DIY Barrel Planter
Adding some flowery around your home is a great way to add a pop of color, which instantly adds to your home's curb appeal. We love this cute DIY repurposing planter and we are sure that you will too! If you have an old barrel or can find one for cheap, try converting it into a charming planter for your patio. It's extremely cute, don't you think?
10. Update House Numbers
House numbers aren't always the most exciting feature of a home. Am I right? If you want your house numbers to stand out from everyone else then try this DIY to make your own mid-century modern house numbers. We love their clean, simple look.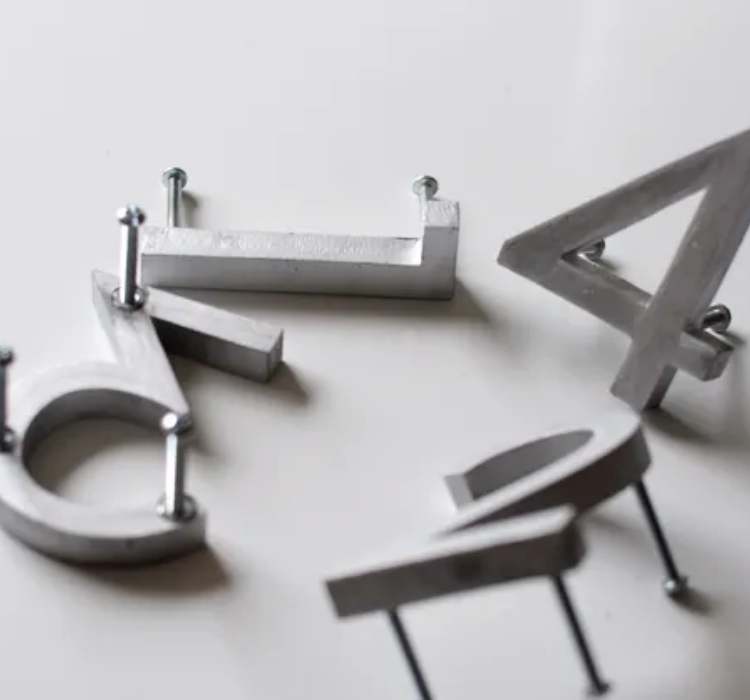 11. Door Update
We have another great way to give your house curb appeal! All you have to do is update your entryway. Try giving your outdated wood doors new life with a coat of paint, some nice house numbers, and a giant monogram wreath. Look at how beautiful it turned out!
12. Concrete Porch
Do you have a concrete porch that is covered with horrible outdoor carpet? (We did. Yuck.) We say to get rid of that ugly and nasty carpet! Just rip that carpet off and give it a fresh look with some paint, flowers, and a chair in a bright color. This will not only look better, but it will be less stinky than having that old, wet carpet on your steps (it's literally the worst!) Doesn't that look much better?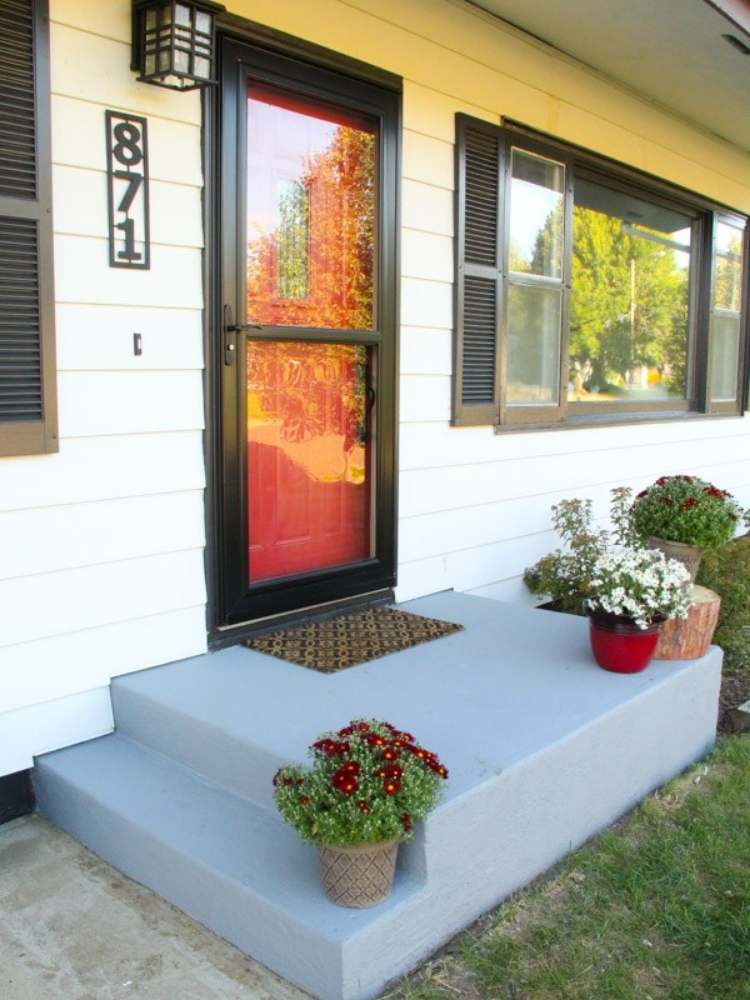 13. Outdoor Crate Centerpieces
Do you have a patio or deck that is lacking in personality and color? Then try adding a bright-colored table to it with a few of these centerpieces to give it a little more character and a pop of color. Thrift store crates make wonderful centerpieces when they are given a fresh coat of paint and a potted flower to hold. They will give your space a bit of color and personality! And the best part? They are simple and easy to make!
In fact, it's so simple that all you need on hand are:
Crates
Paint
Flowers
Potting soil
And voila! You've just created a beautiful addition to your deck or patio!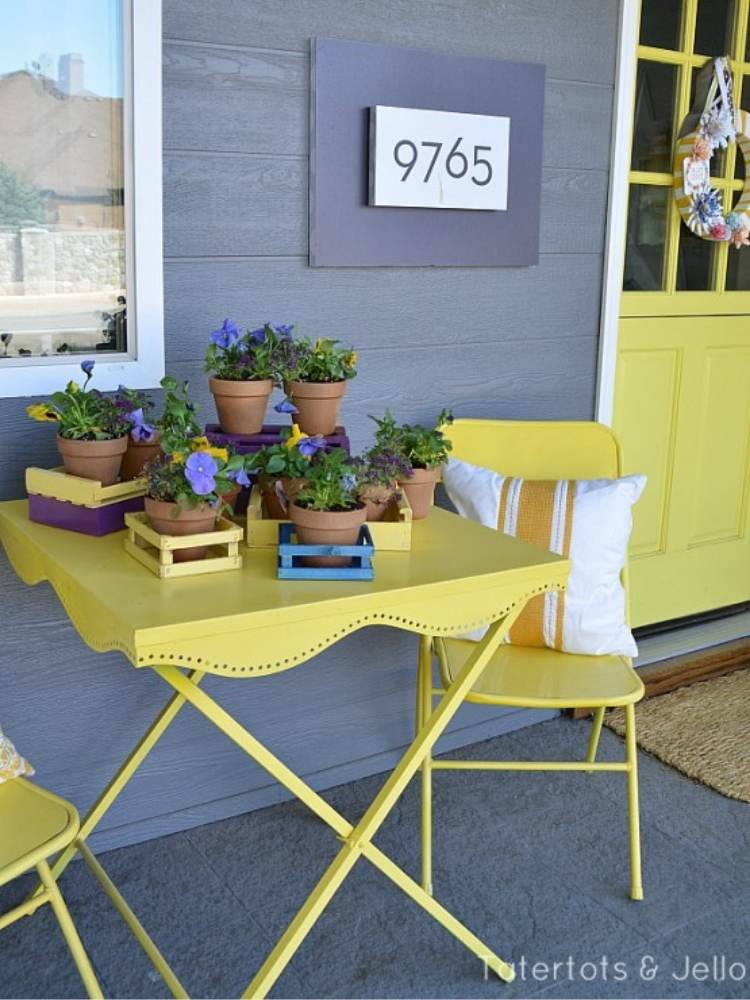 DIY Home Projects to Add Curb Appeal to Your Home for a Small Budget
Adding curb appeal is a great way to update your home. It makes you feel better and is a great way to increase the likelihood of getting a buyer if you are trying to sell your home.
If you are looking for some easy and fun DIY projects that match your small budget, then these ideas and hacks are sure to give your home an added touch of personality and curb appeal! With just a little creativity, a little paint, flowers, and some old treasures, you'll be able to create something new and update those pieces of your home that need the attention the most!
If you liked Clever Ways to Add Curb Appeal, we are sure that you will also enjoy:
15 Ideas to Organize Your Garage
Tips for an Organized Basement