A room makeover can be expensive, but a quick and affordable way to add flair and ambiance to a room is by updating the light fixtures. No room in the budget for new fixtures? No problem. Get inspiration from these light fixture makeovers to get a new look on the cheap. Seriously, they look like designer knock-offs and are only a fraction of the price of the fixtures that you see in home improvement stores. This blog post might just be what you need! Let's get started!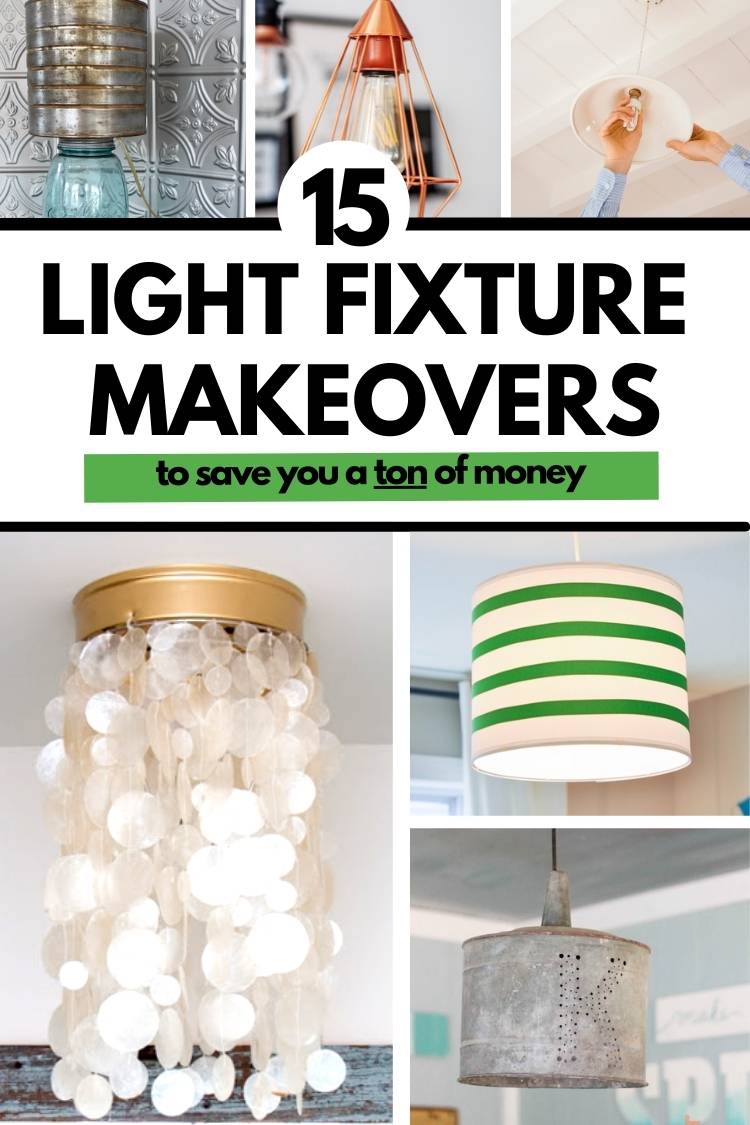 Before You Do Your Light Fixture Makeovers
New light fixtures involve playing with electricity, please look at these tips before we dive into our light fixture makeover tricks:
Switch off power at the consumer board before working on the fixtures
Switch old bulbs for energy-efficient LED bulbs. Be careful with changing light bulbs and don't touch the sockets!
Old chandeliers may have accumulated dust over the years, wear a mask
The points the fixtures are anchored at could be loose with age, be prepared to replace these screws and bolts
Old wires may have been chewed off their sheaths by rats, look out for any naked wires.
Do not paint over electrical points where the bulbs make contact with the wiring
Light Fixture Makeovers In the House and Outdoors
1. No-Sew Lamp Shade for Old Light Fixtures
This is one of the easiest DIY projects you can do for some cool light fixture updates, without the extra cost! Pick a fabric that really speaks to you and your taste in decor, have a glue gun and scissors ready, and I'll tell you how to make your lampshade look fresh. This will work with most lampshade shapes but it's easiest on straight ones (without flare-outs or complex shapes).
Wrap your fabric around the naked shade, making sure to create overlaps (including at the top and bottom). Then, secure the fabric with glue, and tuck in the top and bottom for a clean look. Finally, stick on some buttons for extra flair–and voila!
This No-Sew Lamp Shade with Cover Buttons is so simple that even I could do it. Just give me a glue gun and some fabric!
via Make It Love It
2. Spray paint your chandelier
Making DIY light fixtures doesn't have to be expensive or tedious. If you don't like the color of your old chandelier, you can always create your own dream fixture!
Skip black spray paint for now, and try Rustoleum oil-rubbed bronze spray paint, instead. It will leave your chandelier shiny and protected for ages. Such an easy, classy chandelier makeover!
An outdated brassy chandelier will look modern and chic after just one coat of spray paint! You won't believe the difference!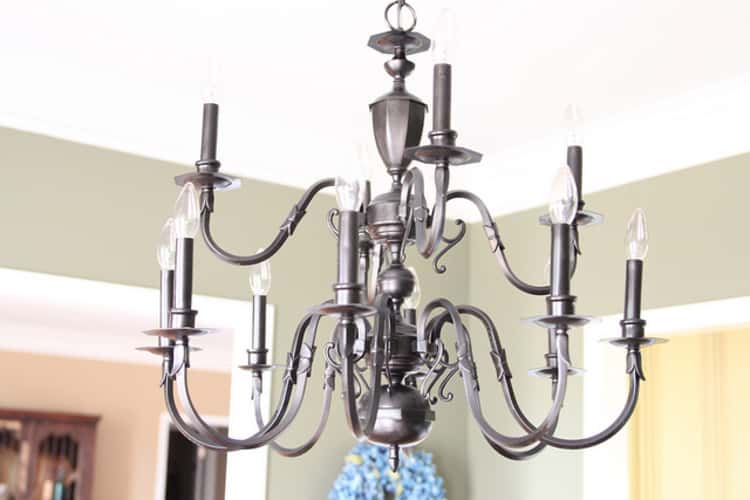 via Unskinny Boppy
3. Gold Faceted Lamp
Here's an easy hack to make a faceted lamp look AMAZING. Start with dark primer, and then add gold spray paint. Your friends will think it's a real gold faceted lamp that cost way more than it actually did!
This DIY Gold Faceted Lamp only costs about $30 to create yourself, versus purchasing the $200 designer version!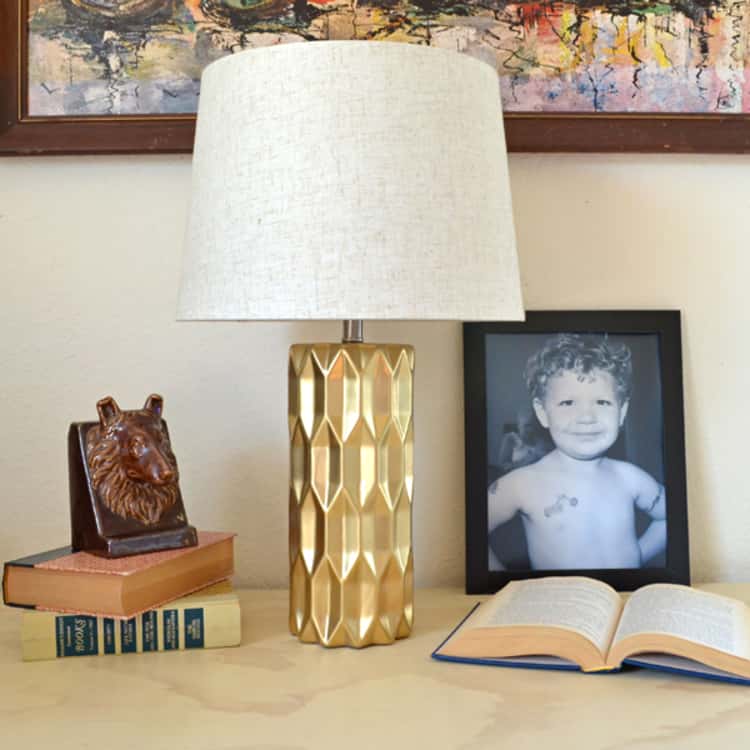 via Dream a Little Bigger
4. Spray Paint Your Electric Bathroom Fixtures
Does the light fixture in your bathroom look old, or maybe you just don't like its color? This DIY bathroom light fixture makeover is worth a try! Don't spend a small fortune on a new fixture when a fresh coat of paint is all you need!
Spray paint was all this bathroom fixture needed to match the rest of the hardware in the room. The darker look adds a little drama over the stainless steel. (via Create and Babble)
5. Convert Your Indoor Lamp Into An Outdoor Lamp
Your existing fixtures in the dining room can be repurposed! Take that extra lamp to the outside to bring more light to your porch or garden. You may not even need to wire it up if you replace the electric bulb with a solar bulb. Just place the lamp where it will have access to adequate sunlight. Save money, time, and possibly even a lamp or two from heading to sit in a landfill!
Here you have an indoor lamp converted into a solar-powered outdoor light fixture. I just love the rustic look!
6. Make a Drum Shade
An old IKEA light fixture can be updated with a drum shade and ribbon to make a modern, colorful fixture for a kids' playroom/guest room. Use a playfully colored ribbon for the best effect. This might be a better idea than crystal chandeliers, if you don't have the budget for that just yet.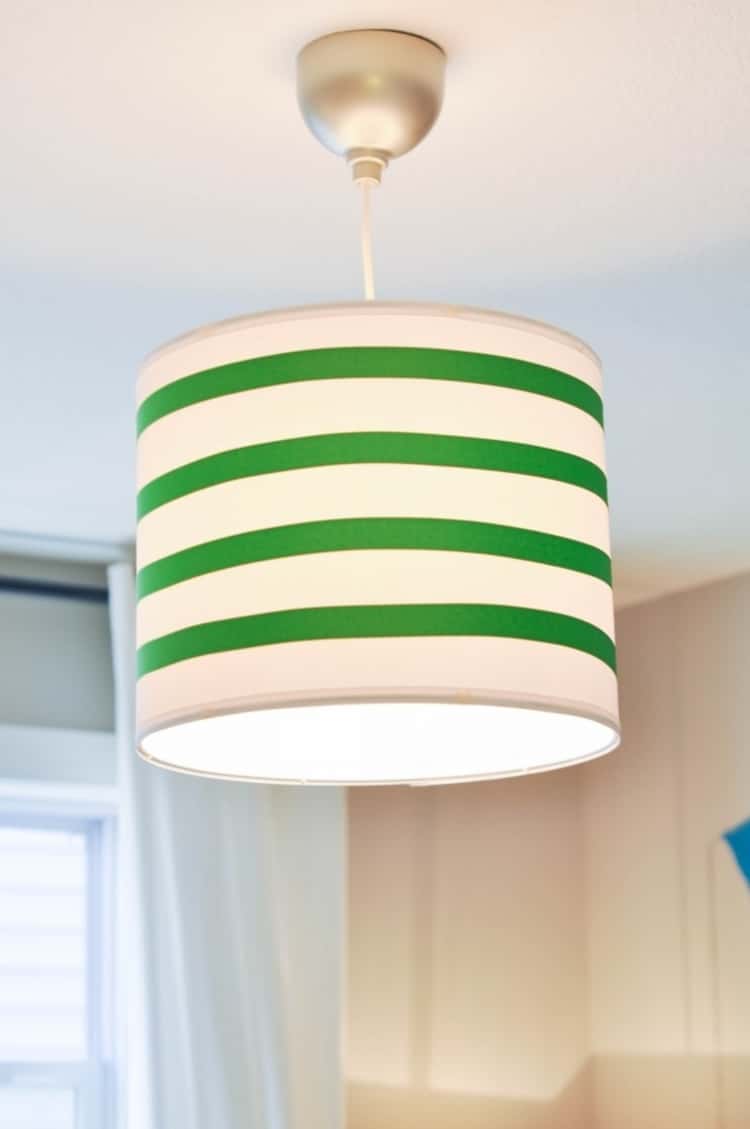 7. Paint Over Brass to Freshen a Shabby Chic Lamp
Sometimes a DIY can be even easier that you might think…
I wasn't feeling the brass handles on my shabby chic lamp, so I applied a coat of Zinsser primer (intending to paint over it). I ended up liking the color the primer brought out, so, I just added another coat and that was that!
You can easily repurpose your glass shades into something more impressive. See how this old brass light fixture turned shabby chic with paint!
8. DIY A Monogrammed Outdoor Pendant Light
Turn an outdoor pendant light into a cool, monogrammed galvanized light with a galvanized bucket and a few tools. I made mine with an old bucket, and I now have a very cool light for the poolhouse. A large galvanized iron funnel turned upside down could also work.
After all the metalwork is done, paint it your favorite outdoorsy color. Remember to apply a primer to the galvanized metal to make the paint stick well. Darker primers make those bright paints pop out a little more!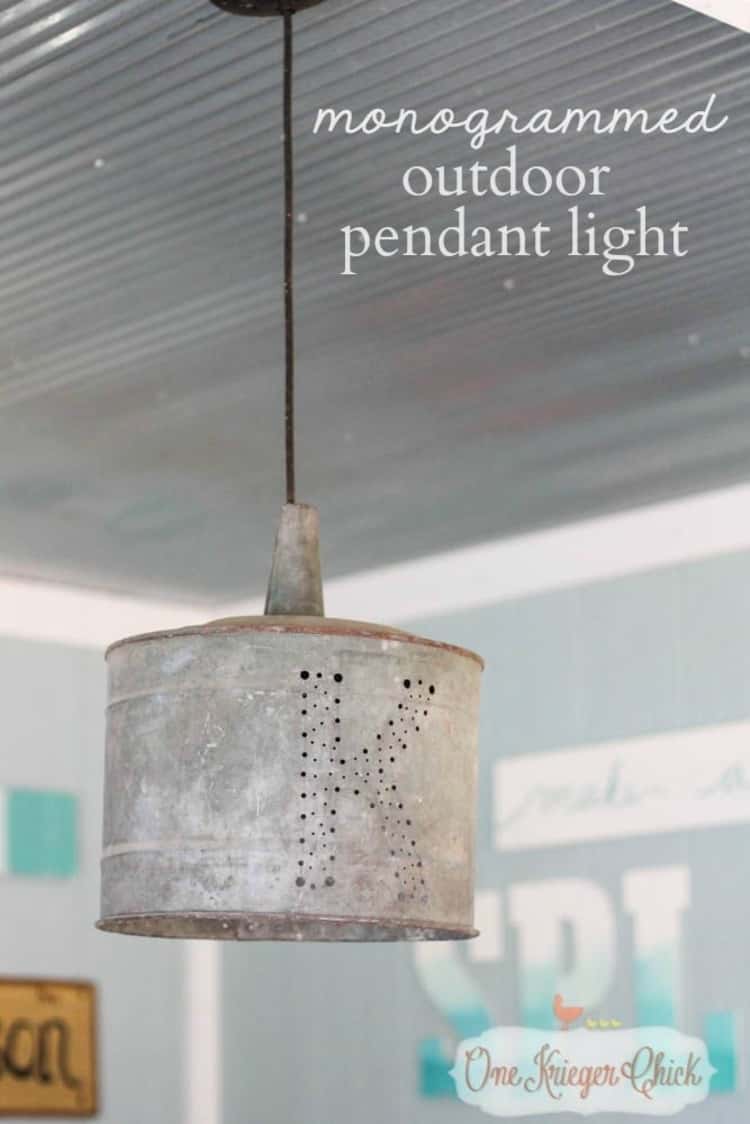 via Sugar Bee Crafts
9. DIY Mason Jar Lamp with Faux Zinc Shade
If your style is more country chic or rustic, create a Mason Jar Lamp with Faux Zinc Shade. Love this! I grabbed some Mason jars–and then had fun making my own shades from an unlikely kitchen item…
I reused an old aluminum coffee can to make the shade on which I applied zinc antiquating solution to give the lamp an aged look that was just fabulous. If you like, you can take a drill with different-sized bits to design your own monogram on the surface of your new lampshade!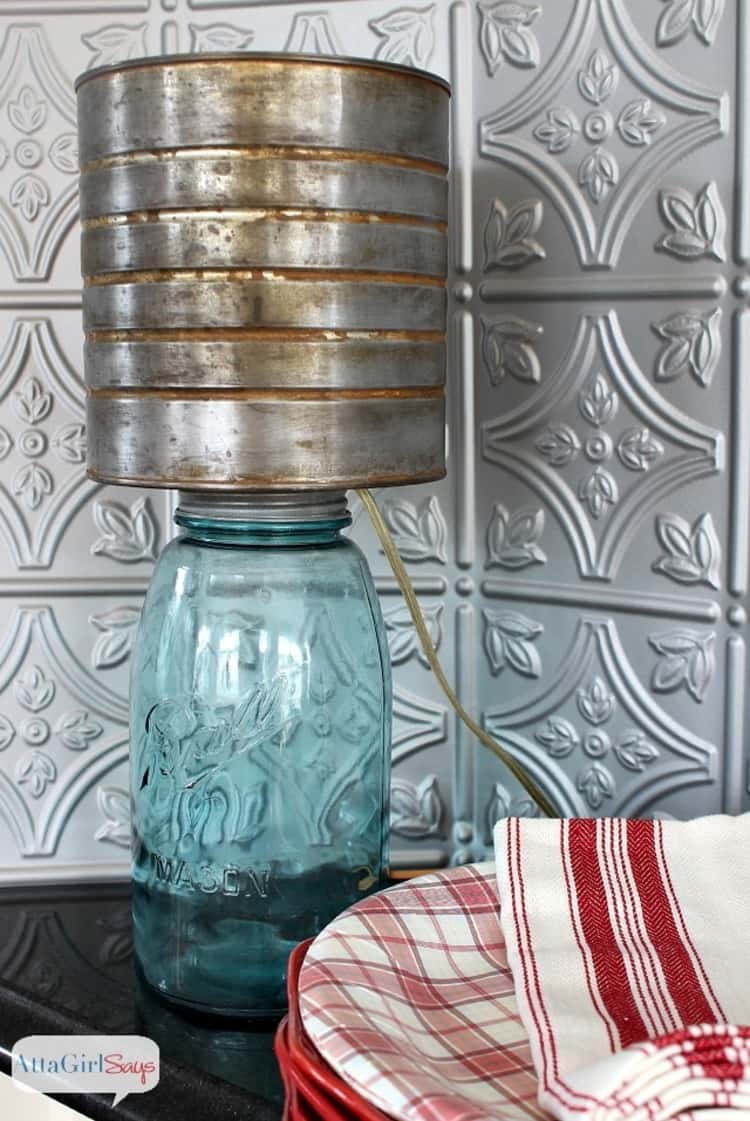 via AttaGirl Says
10. Capiz Shade for Boob Lights
Tired of the "boob lights" on your ceiling? A capiz shade can create lots of visual interest from what was once a pretty boring (and awkward) light fixture.
Remove the boob-like cover and replace it with a capiz shade by following these simple steps. A drum shade would also work better than a boob light if you can't find a capiz shade that you like.
11. Baseball Lamp
If your child loves baseball as much as mine does, this light fixture makeover is just for you! Turn his or her lampshade into a baseball and it will become the focal point of the room!
Want to turn a thrift store lamp into a baseball lamp for your little slugger? It's easy to do with just paint and duct tape!
12. Brighten Your Lamp With a Ribbon
Some lamps just need a bit of ribbon trim to spruce things up. You'll only need a steady hand and a glue gun to add a dash of color to that otherwise plain and boring lampshade. Doesn't the lampshade makeover completely change the character of the entire lamp?! The next step will be to paint that stand!
13. Spruce Up Your Chandelier By Changing The Globes
Sometimes the chandelier is a fantastic design, it only needs new globes to give it a look that suits your decor on a budget!
One blogger not only painted her chandelier (navy, yay!), but she also changed out the globes. The old ones were plain-Jane, but the new ones sparkle against the navy-colored frame.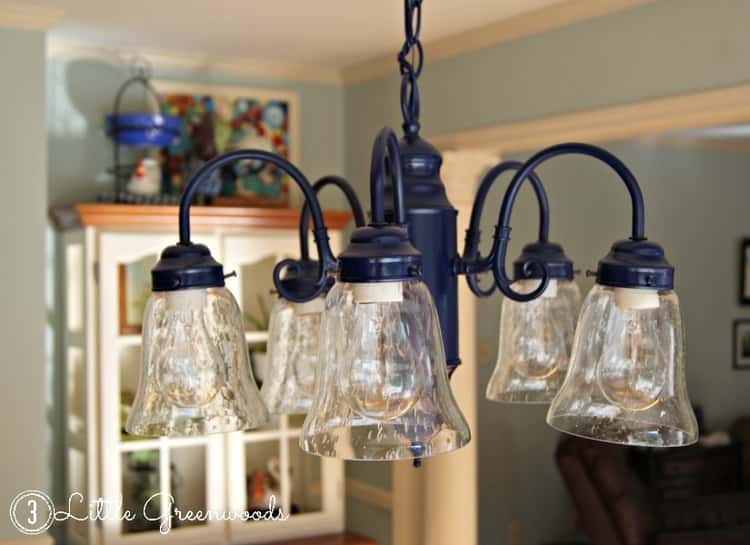 via 3 Little Greenwoods
14. Update Your Lamps With Drum Shades
Like changing the globes on your chandelier, sometimes your lamp base only needs new clothes, and the entire room is transformed. Go to the store and pick a lovely, modern-looking drum shade and switch out the old shades.
This tutorial shows you how to cut fabric to update your lamps with drum shades rather than using the old, outdated ones.
15. DIY Wire Baskets For an Industrial Look
Brass holders can look very old-fashioned, and you may not know what to do with them when making your house over. It's easy, just modify the bases to accommodate wire basket types of shades for a different look.
This light fixture was stripped of its brass trimmings, painted, and updated with wire baskets to create a more industrial look.
via Southern Revivals
16. Bonus Light Fixture Makeover Tip: Glass Painting
For those plain-looking glass covers and shades, break out your glass painting kit and give your fixtures a fresh look. Just remember that too much paint over the glass will cast a shadow over the room–so make sure to have a light touch with your paint!
Did you like these light fixture makeovers? Check out 3-Minute DIY Nursery Lights– they're gorgeous!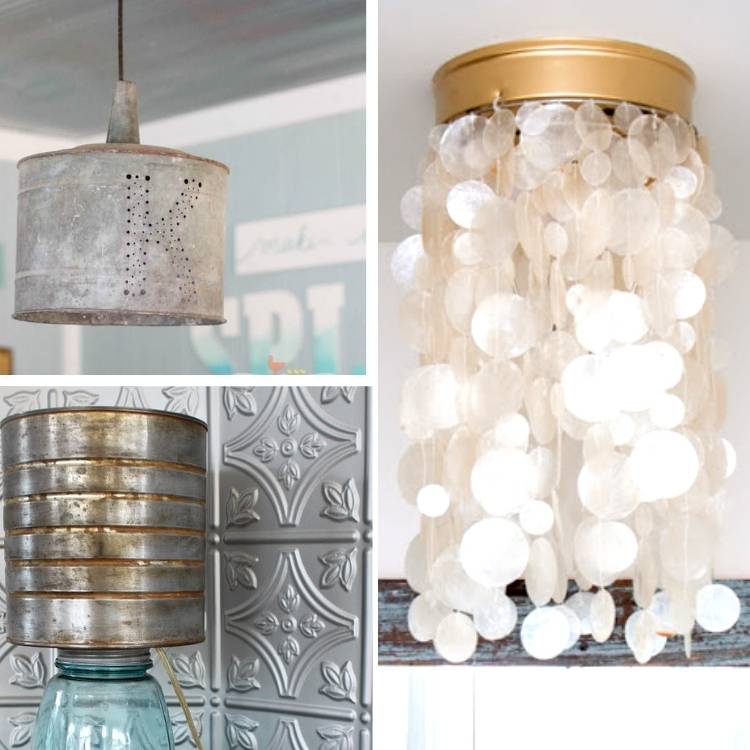 More Home Makeover Ideas From One Crazy House