Kitchen drawers can quickly become cluttered with cooking tools because we have so many. Most of us have loads of utensils, like wooden spoons, whisks, and more. And if you're anything like me, they're a jumbled mess in the drawer… or several drawers. I really had no idea how to organize utensils, until now. Get your utensils in order once and for all with these easy and pretty organization ideas.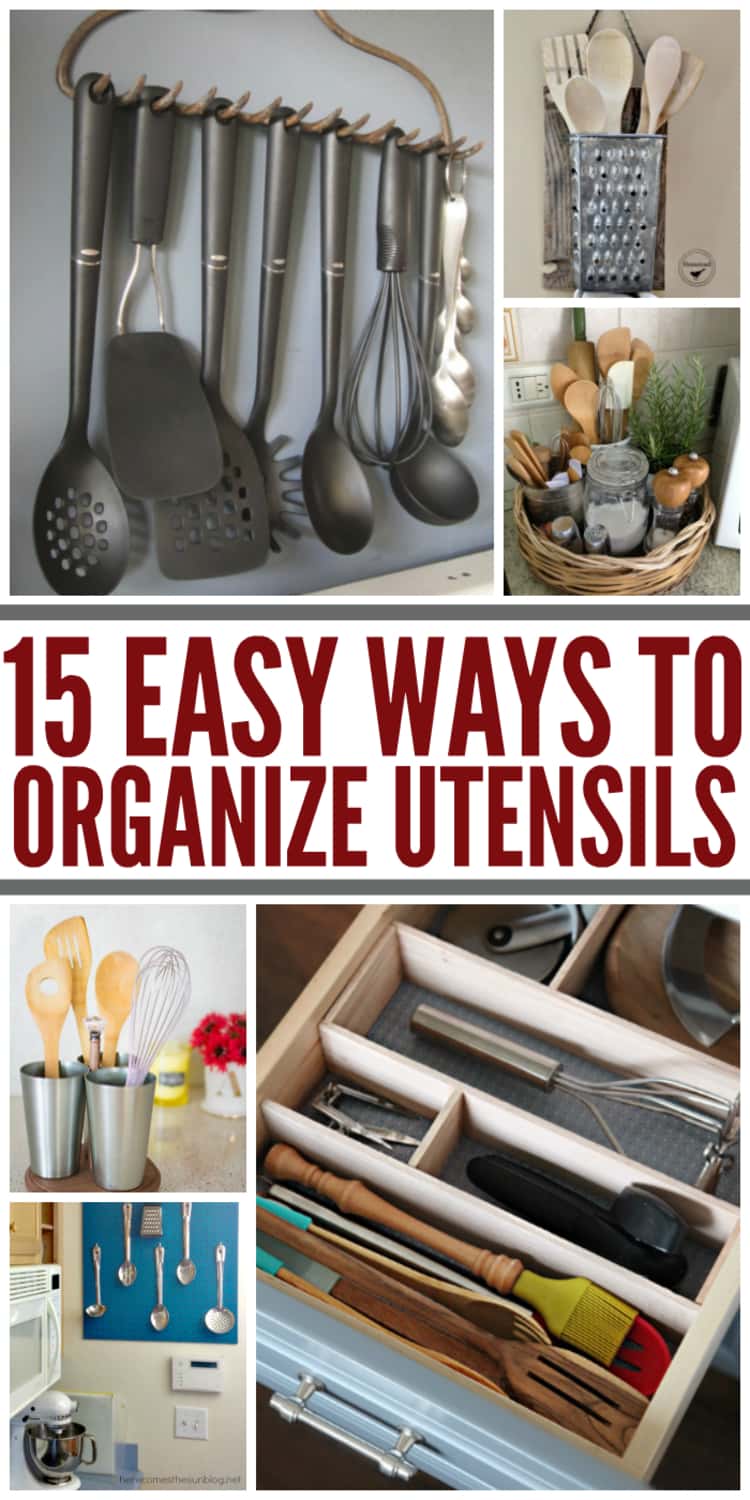 Decorative Ways to Organize Utensils
1. Organization Ideas for Inside Cabinet Doors
Have you ever wondered how to use all that vertical (unused) space in your kitchen? Store your utensils inside the cabinet door to avoid taking up valuable drawer space. This is really the perfect spot to hang many of your kitchen utensils. You can also install some wood spice racks for some of your favorite spices, like parsley, garlic, and onion powder. What a cool idea!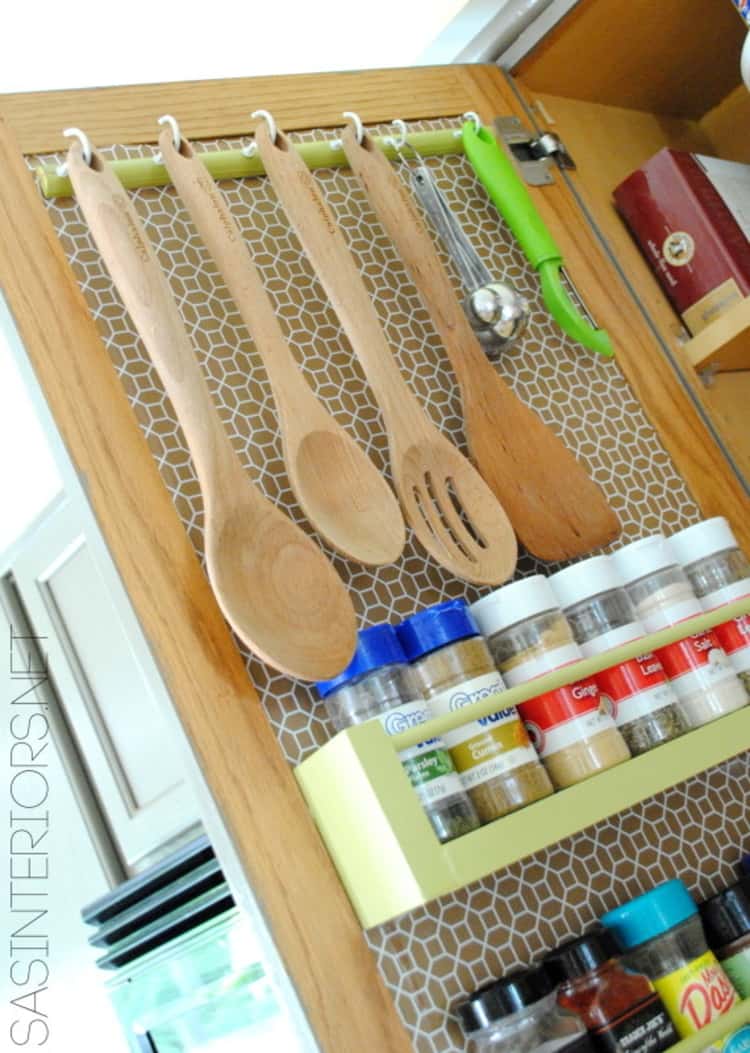 2. DIY Rotating Utensil Caddy
Have you ever pictured in your mind what you needed or wanted, but couldn't find it in a store? What if you could DIY it? Make your own rotating utensil caddy with a wooden circle, (a lazy susan) and some stylish stainless steel cups. This is actually pretty simple to make and you can glue the stainless steel cups onto the top of the utensil caddy. Pretty sweet right?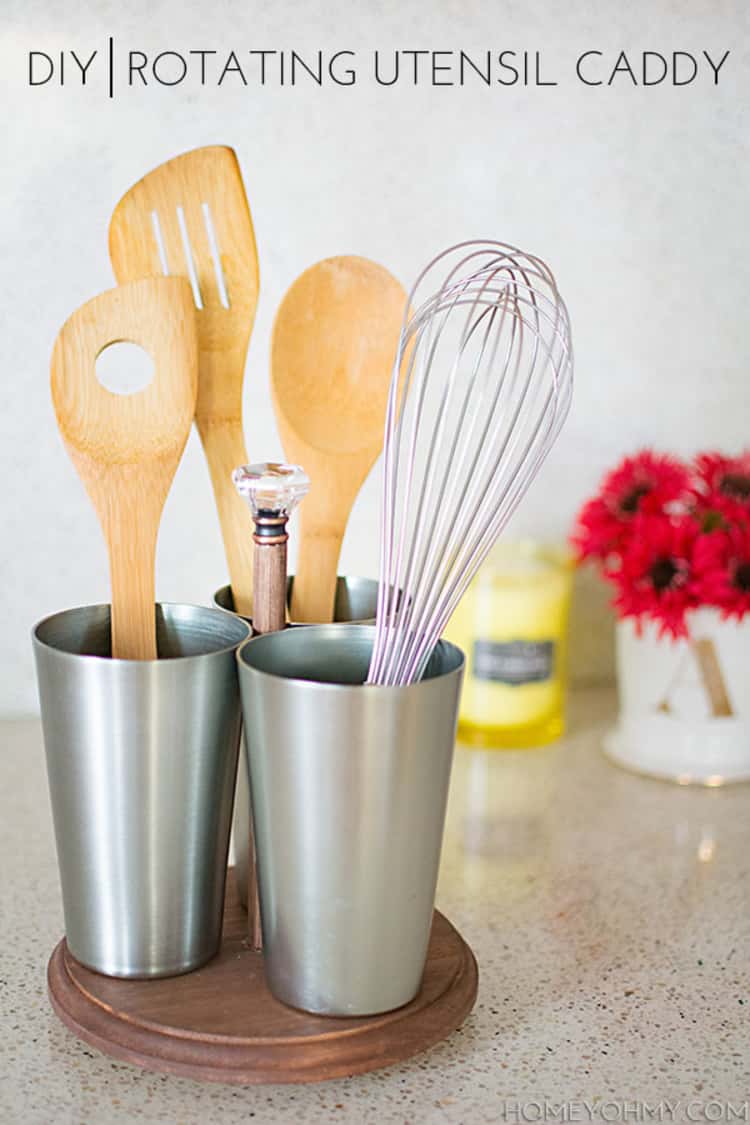 3. Rotating Lazy Susan Installed Under Your Cabinet
Install a rotating Lazy Susan under your cabinet to hang and organize your utensils. You can easily turn it, to get whatever you need. No more digging through drawers, because who wants to do that? You can also make the most of your drawer space with the help of diagonal drawers. They give you space for extra length!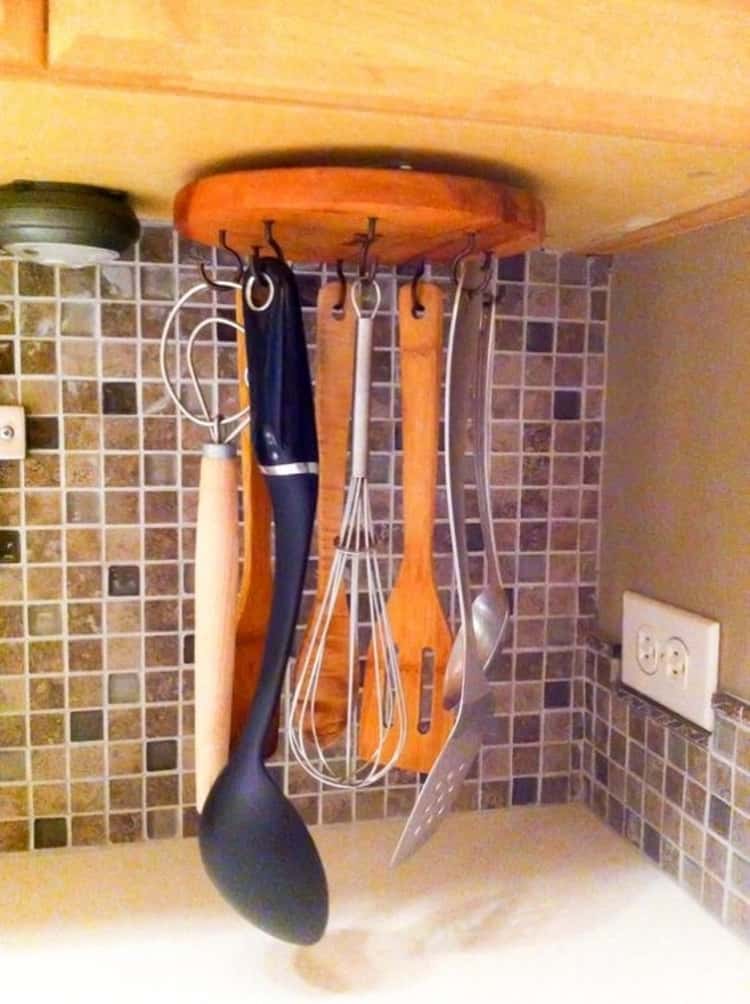 4. Pegboard Kitchen Organizer
Install a pegboard on the wall to hang your utensils and other small items. This is also an excellent way to clean up space from your cabinets and your drawers! You'll need a sheet of pegboard from your local hardware store which you can paint any color you like. To hang your utensils, you'll also need some pegboard hooks, but make sure you know how many you'll need (first), so you don't have to go back to the store. Isn't this a cool space-saving idea?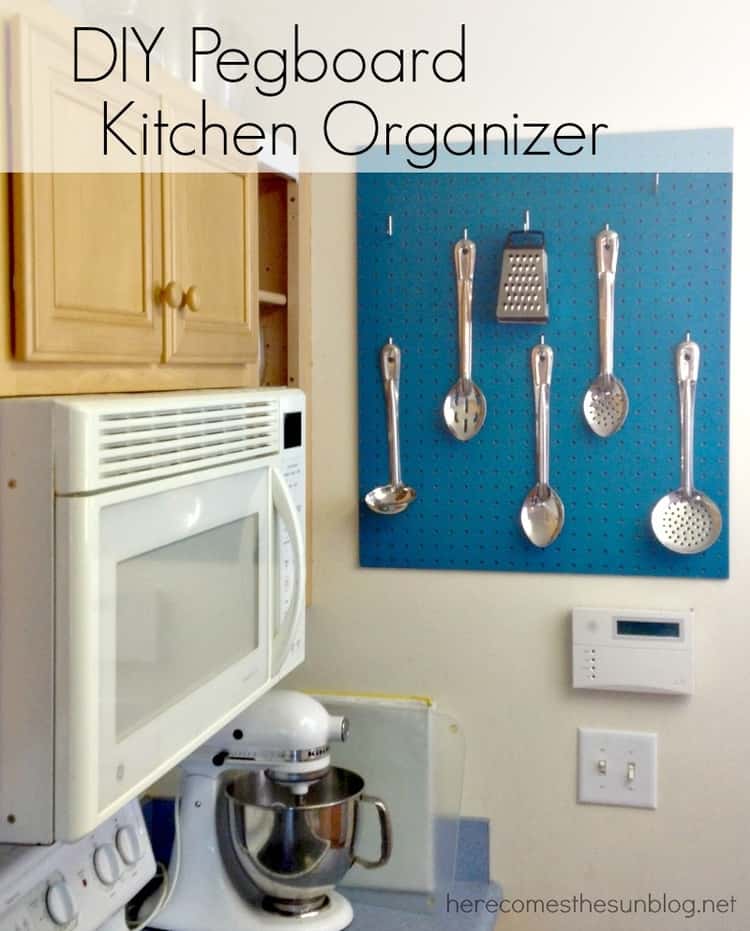 5. Nostalgic Crock Utensil Holder
I love this utensil crock idea because it would make such a great housewarming gift! Write your favorite cookie recipe on a cookie jar, and use that to hold your utensils. This would also make a nostalgic gift to give at Christmas or to pass down to your children. You could add more than one favorite recipe to your crock to hold your utensils. What a great way to keep your countertops neat and clutter-free.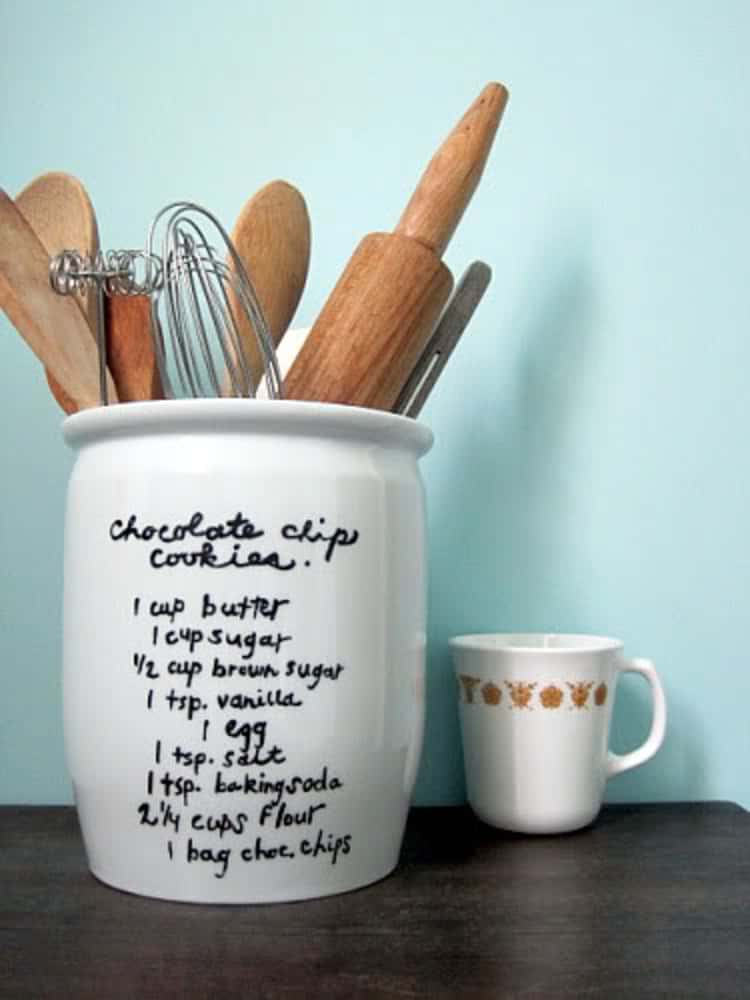 6. Organize Utensils for Small Spaces
Install a towel bar and shower curtain hooks to hang your utensils on the wall or inside cabinet doors. You can also install a magnetic strip to hang your knives alongside, so it's convenient to reach everything. This option is good if you have very little drawer space in your kitchen because hanging utensils on the wall is a great space saver. A hook or two on the wall can also be handy for other things, like your hand towels. This is such a great idea for small kitchens.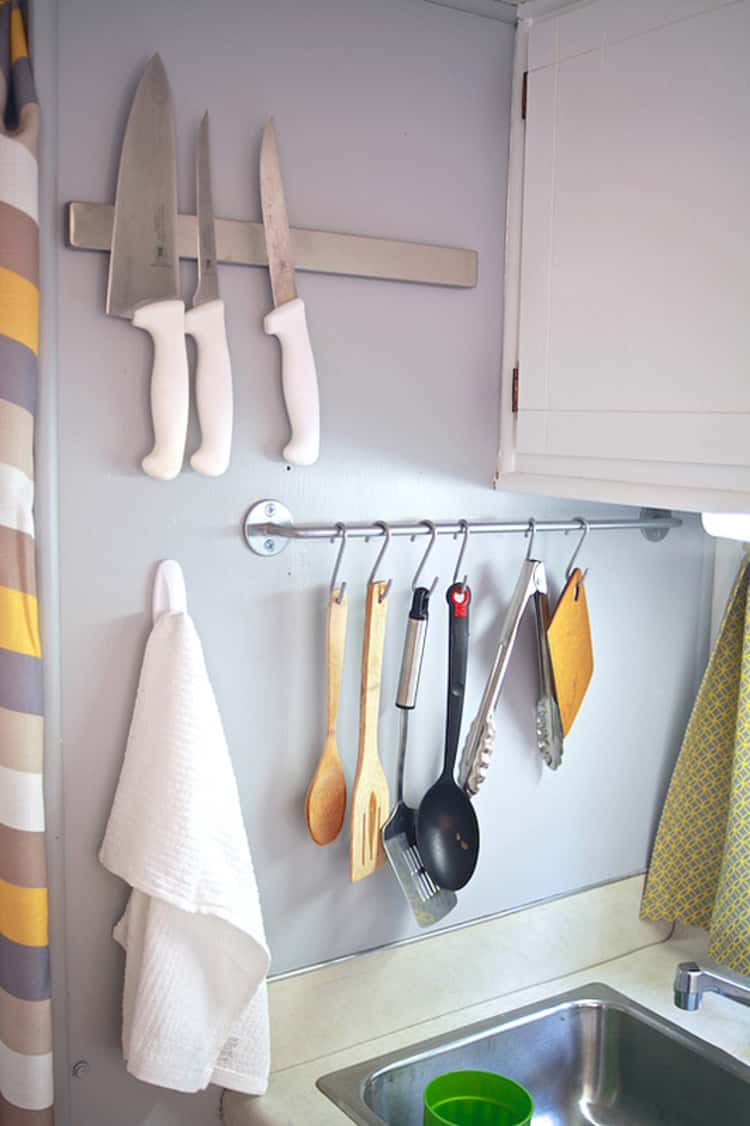 7. Towel Bar with Bamboo Canisters
Or, combine a towel bar and canisters to hold loads of utensils and kitchen tools. Gorgeous! Most of us want our counters to remain uncluttered, but if you have blank wall space, this could be a great option for you. A few simple supplies can be bought at your local Home Depot or Lowes, and it's pretty easy to install. The result is absolutely beautiful!
3 24″ towel bars
Bamboo utensil holders
Metal shower curtain rings
Power drill
When you hang the towel bars on the wall, you'll want to make sure to put the screws into studs. The weight of this utensil holder will hold well if it's secured into studs. Mixing this utensil storage idea (with some flower arrangements) makes such a stunning result. I can't wait to start working on this for my kitchen.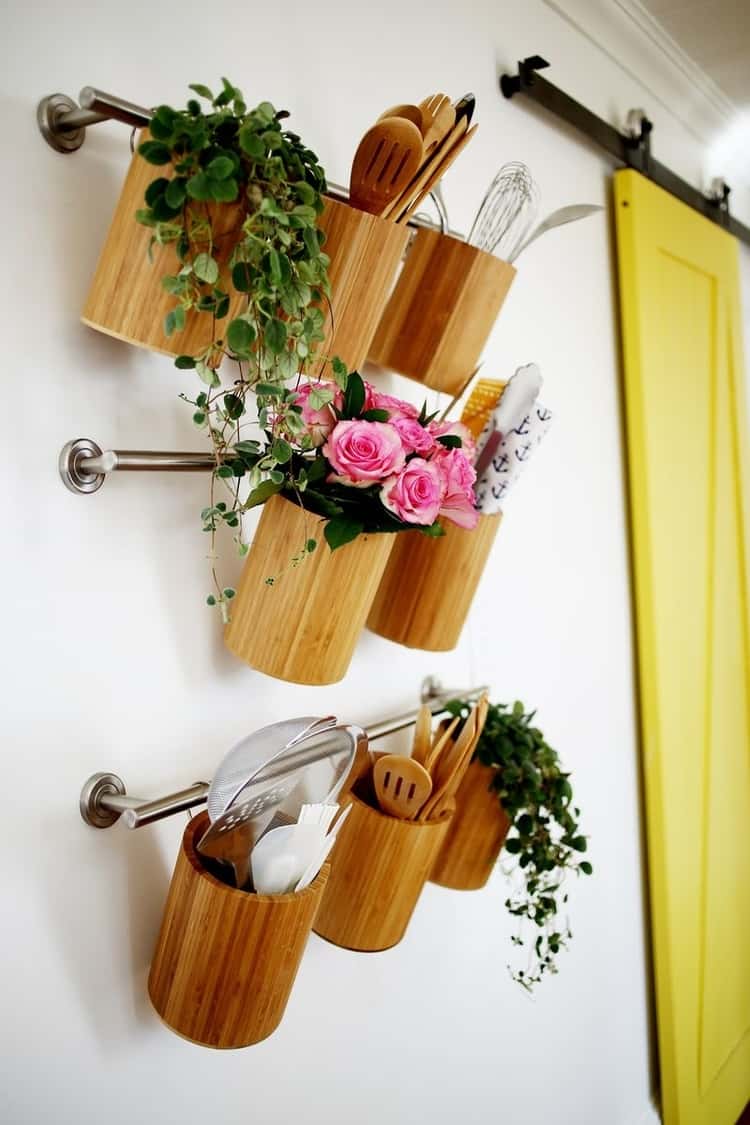 8. Super Cute Tin Cans to Organize Utensils
Clean and paint tin cans to serve as utensil holders. Aren't they charming? With clean, empty tin cans, painter's tape, a paintbrush, and your favorite colors of paint, this can turn into a super fun project. Before you begin, make sure to file the edges of the cans at the top with a metal filer, because those edges can be sharp. Also, you'll want to let the paint dry completely between colors, so the lines look neater.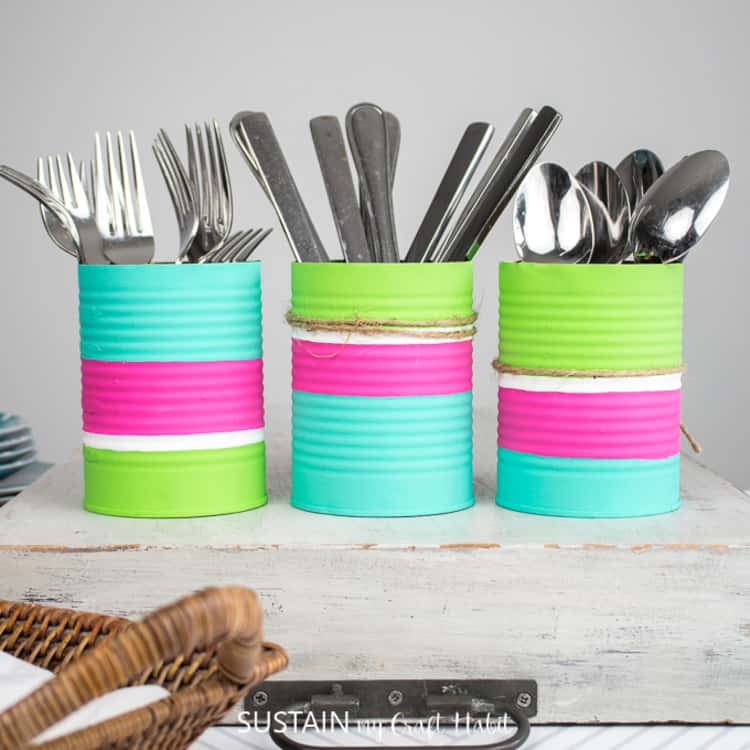 9. Charming Utensil Holder with Mason Jars
Clamp mason jars to a wooden plank to create this charmingly rustic utensil holder. What a creative way to add a little country charm to your area. You'll have to secure the back of this with something if you don't hang it, because the weight in the front could cause it to tip forward. Or you can permanently attach the wood to a wall, like next to your outdoor grill or in your kitchen. Add silverware to the jars or you can store serving spoons and spatulas if you'd prefer.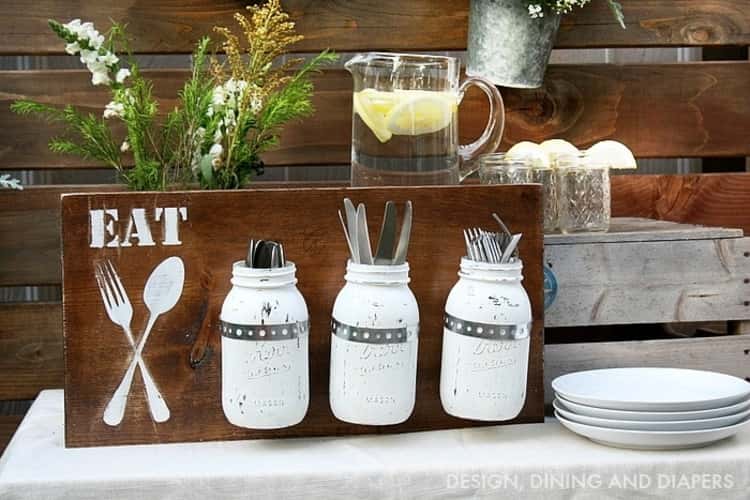 10. Organize Your Utensils in an Upright Drawer
We love this deep drawer that allows for upright utensil storage. What a great way to make use of large drawers. We remodeled our kitchen last fall and I have those big deep drawers that things seem to get lost in. This would definitely make cooking more fun because everything would be easy to find. I can't wait to start planning my drawer upgrade project!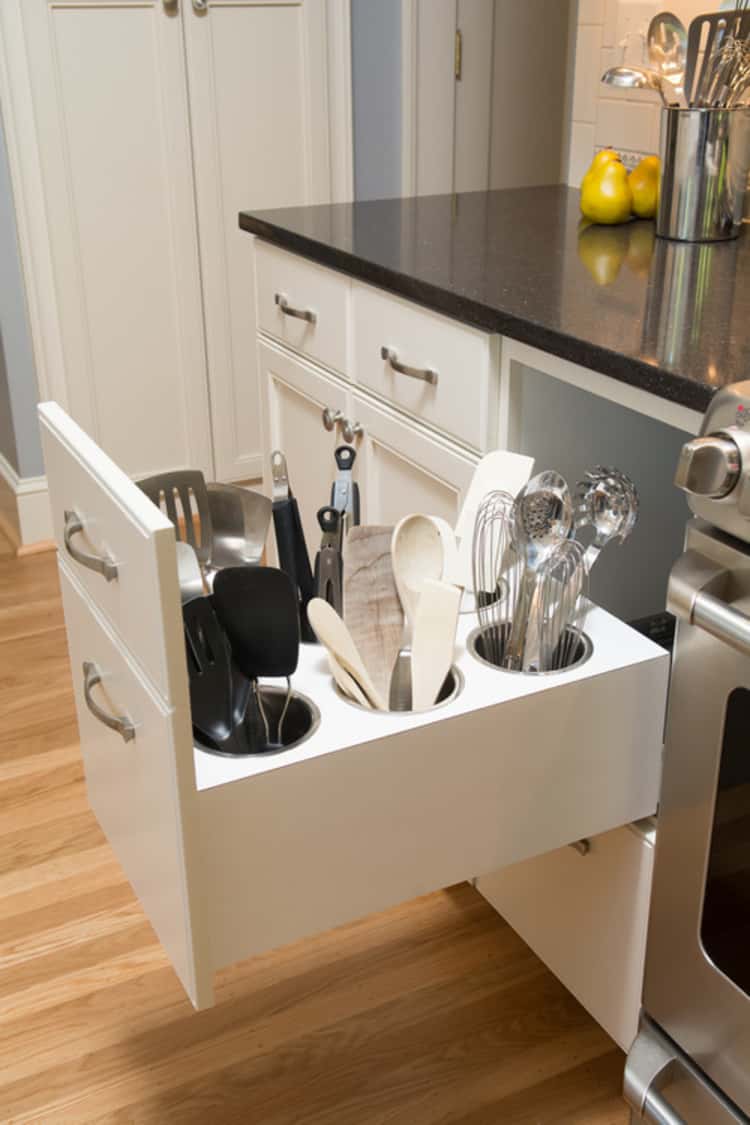 11. Organize Utensils With an Old Rake
If you're going for the farmhouse look in your kitchen, this rake utensil holder would look amazing! It gives your kitchen that nice vintage look while making organization easier for you. Attach the rake to your board using a screw, but remember to remove the rake handle first. You can add hooks to either side of it to hang more items, like pretty potholders. I'm a country girl at heart, so I can't wait to try this in my kitchen!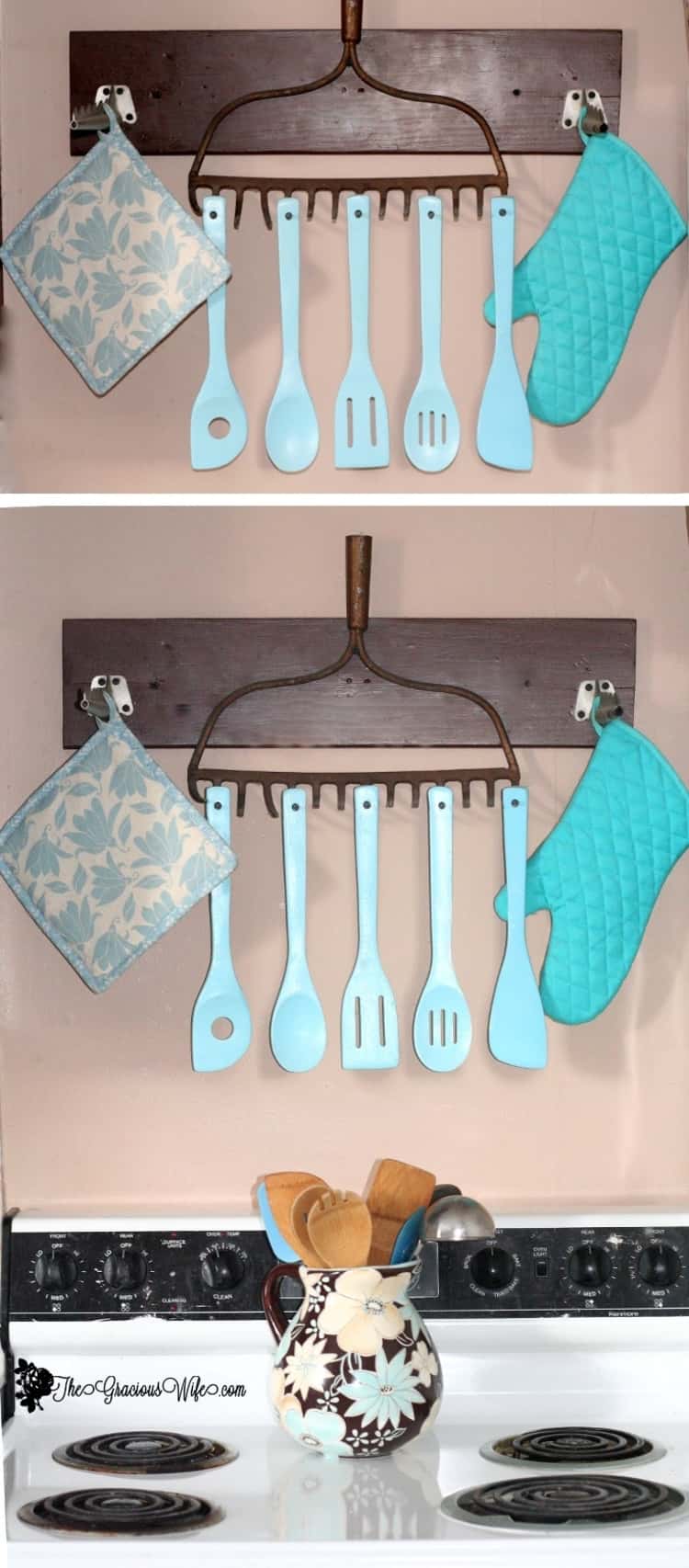 12. Build Your Own Utensil Drawer Dividers
Can't find drawer dividers to fit your needs? Build your own to accommodate your specific utensils. It's easier than you might think! This was done with simple pieces of hobby wood, some carpenters glue, and wax paper underneath (to protect the drawer while drying). You can also line your drawer with your favorite liner once the project is done.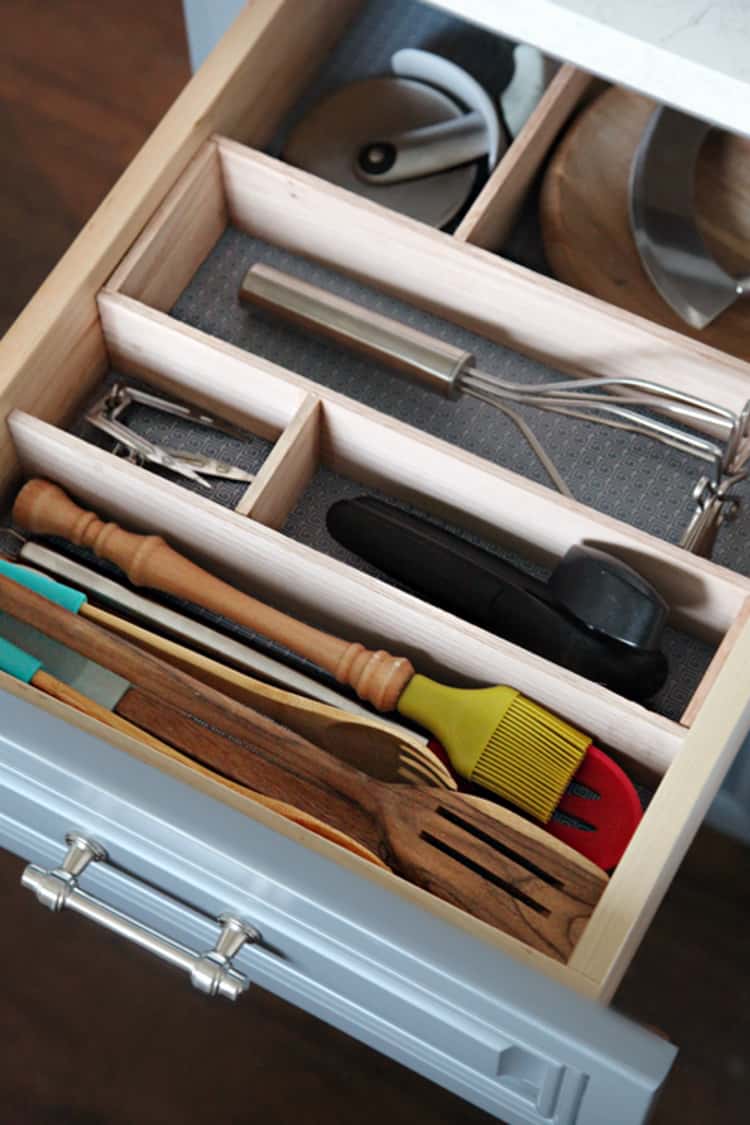 13. Turn a Cheese Grater into a Utensil Holder
Attach a cheese grater to an old board (upside down) to serve as utensil storage or a planter. You can attach something to the back or top of it for easy hanging, like a chain or a rope or string. Add in your kitchen spoons, spatulas, or even whisks, and you're all set to go. You can also use this for other things too, like holding pretty flowers or even storing rolled-up kitchen towels or washcloths. Plus, it's magnetic so you can add a little note or even a picture to the outside.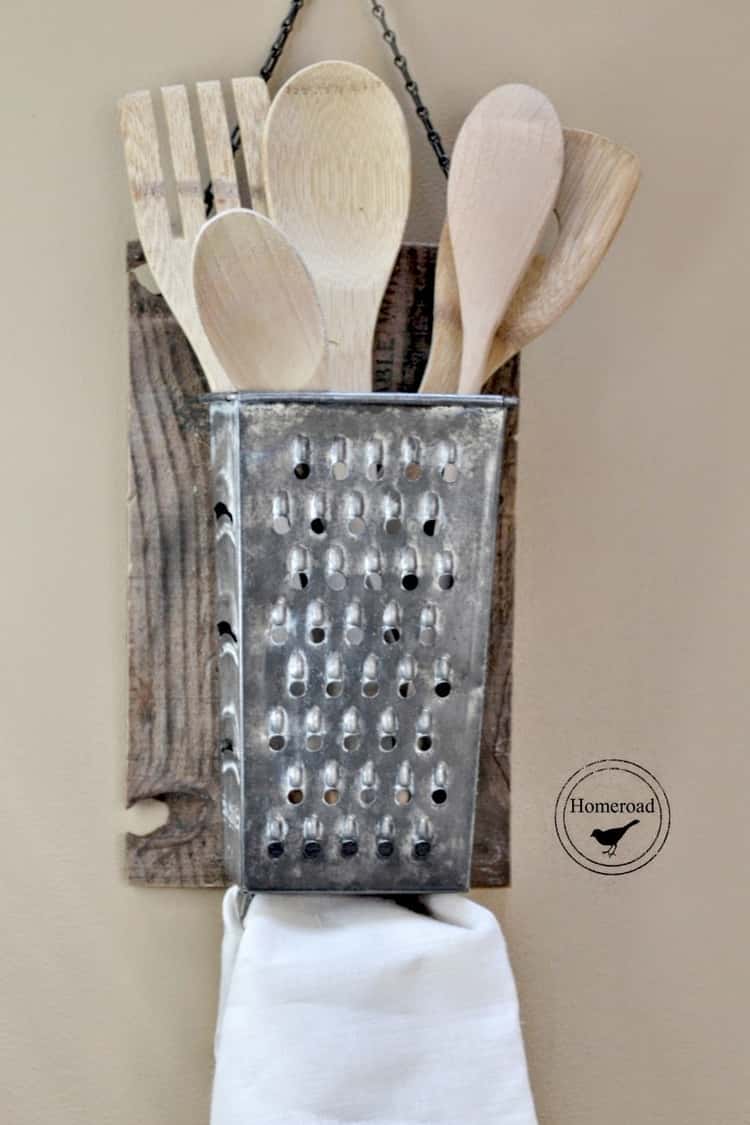 14. DIY Cutting Board Utensil Holder
Attach a dish towel to a wooden cutting board to make the perfect utensil holder for your outdoor cooking space. Won't it look great by the grill? It's easy to carry your utensils back and forth from the kitchen to grill using these utensil holders. But, you can just as easily use these in your kitchen to hold your serving spoons and spatulas. And the best part is, no sewing required!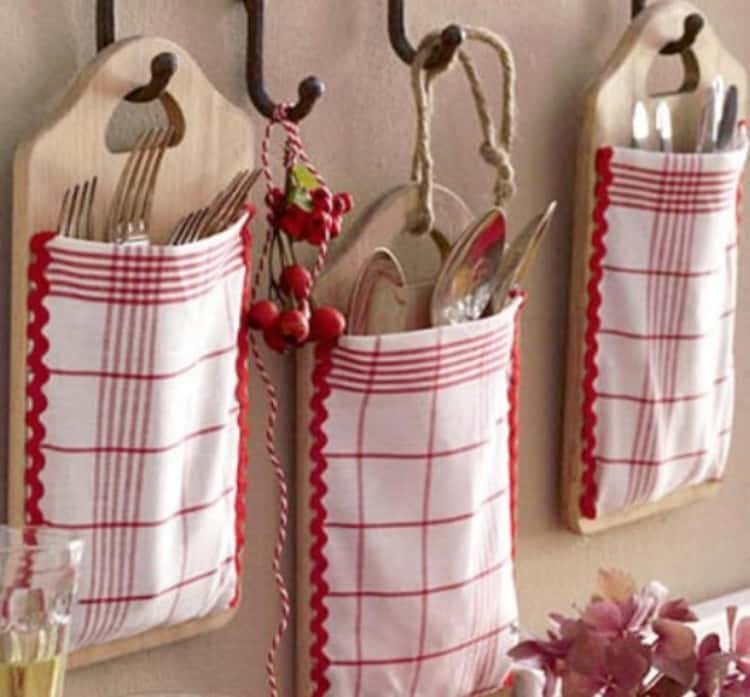 15. Organize Utensils in a Pretty Basket
And if all else fails, you can simply pull everything together in a pretty basket! This is a great way to minimize clutter on your kitchen counter, but still, keep your favorite utensils within reach. Depending on the shape of the basket you use, you can add in items to hold your kitchen items, like a crock or two, a cutting board, etc. Place your basket near your food prep area or even near your stovetop so it's easy to grab what you need.
Gather the items you'll need:
A shallow basket to hold your items
A crock or two (you can use cups or mugs for this if you like) to put your utensils in
A cutting board or two if you want to add that to your basket
Utensils
And an empty spot to put it when it's done
If you don't have a rectangular basket, use a circular one, or whatever you have on hand. You can change the items you put inside as well, but try not to add too much to it You don't want the cluttered look. I love this simple organization idea. Pretty, yet very functional!
The Kitchen is the Heart of the Home
So much time is spent in the kitchen. It's where families laugh, love, and spend time together. So many happy memories take place in the kitchen.
I love this quote about organizing your kitchen, and your life.
"If you can organise your kitchen, you can organise your life." – Louis Parrish
Love These Creative Ways to Organize Utensils? See More Organization Ideas Below.