How to organize your kitchen- now with 13 genius ideas to organize your kitchen. From the kitchen drawers to that seemingly unusable spot over the fridge, we're here to help you whip your kitchen into shape.
Whether you love being in the kitchen or getting in and out as quickly as you can, there are a number of ways you can organize your drawers and cabinets to make your time in the kitchen much easier. In fact, not only should organizing your kitchen be easy, but it should also be fun.
Learn how to organize your kitchen with these creative solutions. Whether you have a small or large kitchen, there is a kitchen organization hack to help you maximize your space and efficiency.
How to organize your kitchen with 12 genius ideas
1. Tip to Organize your Kitchen Cabinets
Don't hunt for your kitchen measurements or conversion charts! Use this tip to organize your kitchen cabinets by using the inside of your cabinet doors to help organize and meal plan. No more wondering how to measure out half of a quarter cup, or wondering where the measuring cup you need is.
Another great hack for organizing the inside of the cabinet door is buying holders for your spice bottles that you can glue to the door. This will help you free up valuable counter, shelf, or even drawer space. Using the inside of the cabinet doors is a great hack for maximizing your kitchen storage space.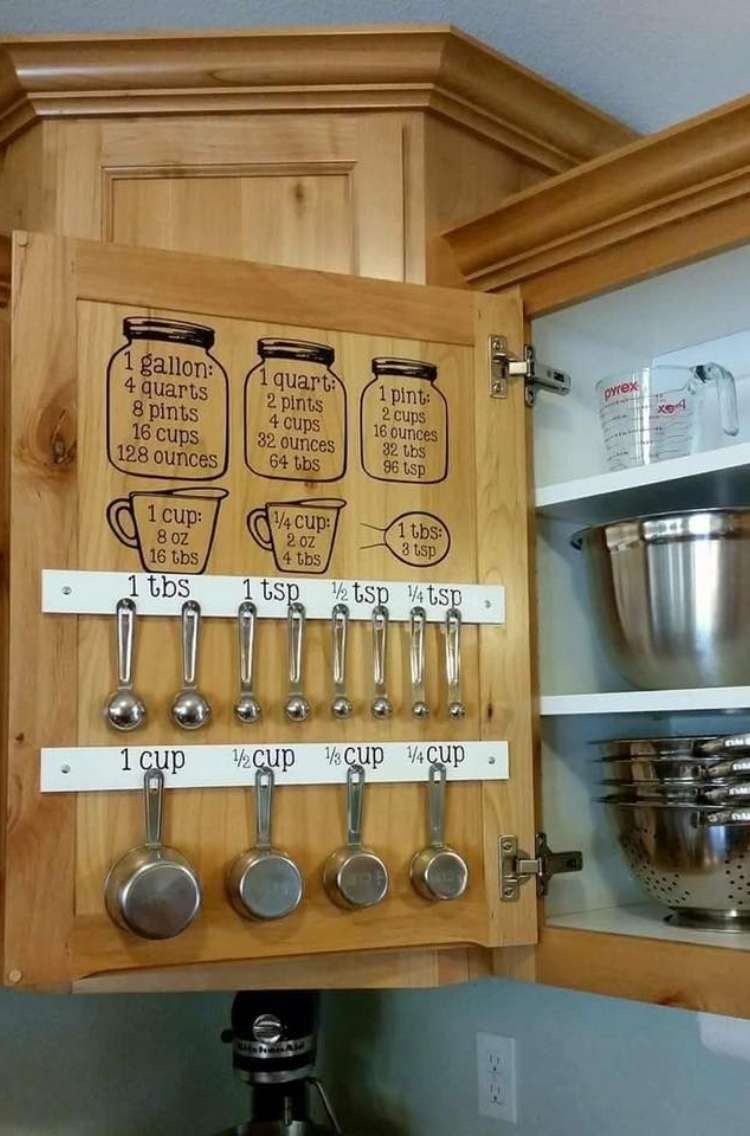 2. Use Corkboard Tiles to organize kitchen drawers and prevent utensils from sliding
If you have a wide drawer that is home for multiple kinds of kitchen tools, invest in a few corkboard tiles that you can place in the drawer (and even cut to size if needed) to keep your gadgets from slipping all over the place every time you open and close the drawer.
Another solution for the metallic utensils is to use a magnet covered in contact paper. You can use double-sided tape to stick the magnet in the drawer and use it to keep knives and other metal utensils from moving around every time you open the drawer. To make your utensil drawer extra safe, you can also put a magnet on a piece of cardboard and use it to cover the sharp part of the knives. It will stay in place with the magnet, but it's still very easy for you to access. This can help you keep tiny fingers safe if your kids reach into the utensil drawers by themselves.
Magnets are a great kitchen organization tool, but they can be used all over the house! Magnets can be used in bathroom drawers to keep things like bobby pins in place, in the craft rooms for things like needles and pins, and even in the garage to hold screws and nails.
Another solution to help keep utensils in place inside of drawers is drawer liners. These can come in a variety of colors and patterns that you can use to add a pop of color to your kitchen!
Source: imperfecthomemaking
3. Use Expandable Drawer Dividers to organize kitchen drawers
These expandable drawer dividers are relatively inexpensive but give you a HUGE bang for your buck. These dividers use tension to stay in place and are 100% customizable – make one section of your drawer super slim for straws or other small items. Make the other side of your drawer larger for those awkwardly shaped tools. Put 2, or 3, or 5 inserts in your drawer. Whatever you need, you can make it happen with these!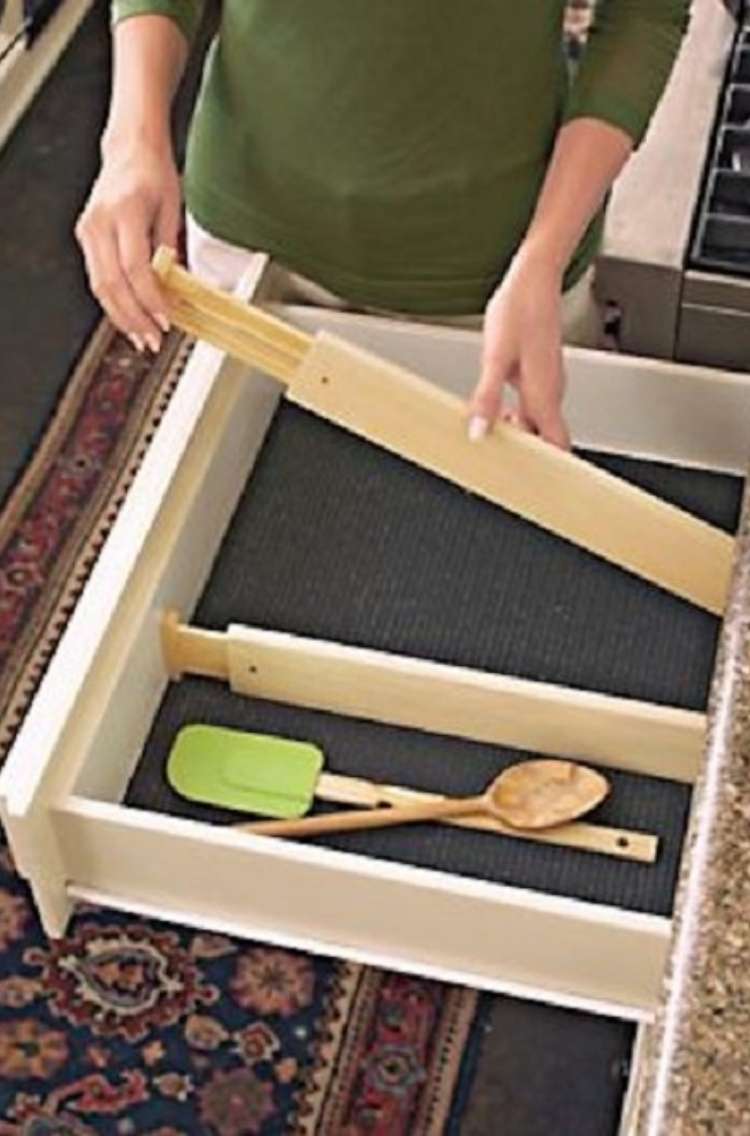 Source: listotic
4. Add a Towel Bar on the Outside of Your "Fake" Drawer
Usually, the drawer in front of the sink is a fake one, just there for aesthetics – utilize that front of the drawer by installing a towel bar! This DIY kitchen hack is perfect to redesign a relatively unused space. Your towels will always be within reach and it looks really nice as a welcome bonus!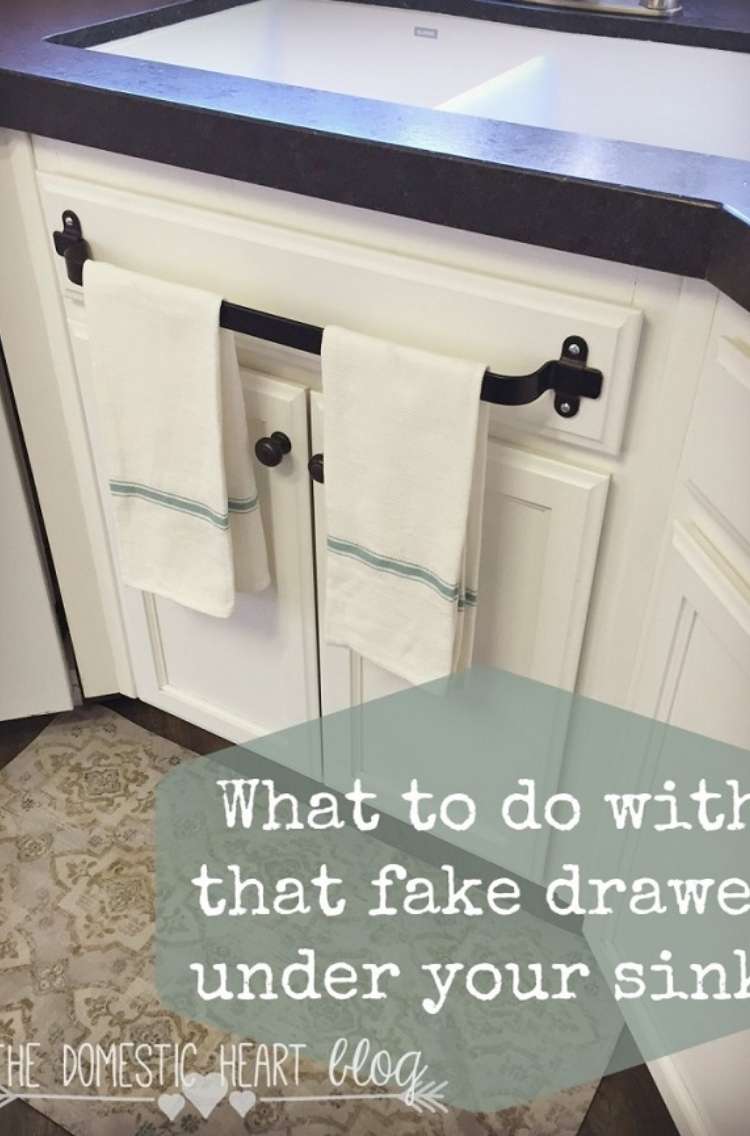 Source: thedomesticheart
5. Organizing your kitchen: Separating Plastic Containers From Lids
With just a simple board cut to size, you can separate your containers from their lids – this will gain a lot of space because you aren't trying to store containers with the lids on top. This can also work inside a cabinet instead of in a drawer if you use a plastic container to hold the lids in place. Take the headache out of storing and finding plastic your plastic containers!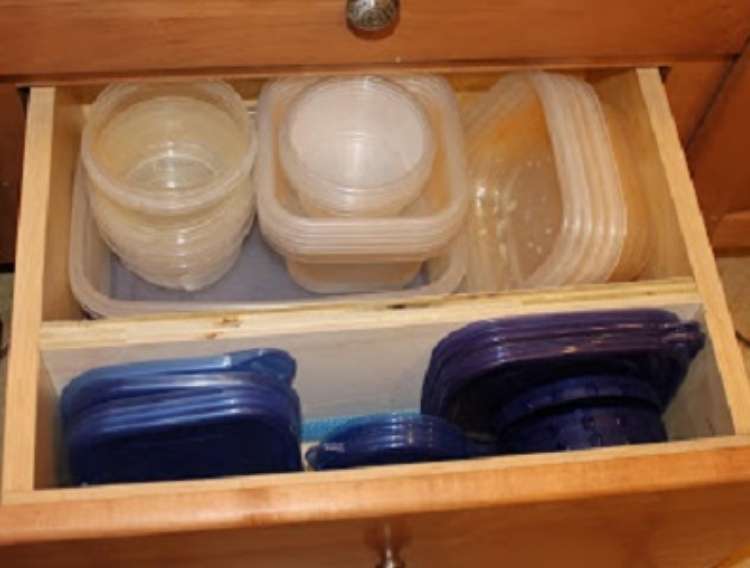 Source: mygreatchallenge
6. DIY Kitchen Organization Project: Make Your Own Customized Drawer Organizer
With a very small amount of lumber, cut and glued to size, you can create a completely customized drawer organizer based on exactly what you have. Everything will easily have its very own home in your drawer.
This project can be completed for less than $10. All you need is some 1/4″ thick craft or hobby board which you can get at your local hardware store. You can use wood glue or Loctite glue and can choose to glue the whole thing into the drawer, or just glue the pieces to each other so it is removable.
This is a great kitchen organization hack for those kitchen drawers that are odd shapes or sizes, or for odd-shaped utensils.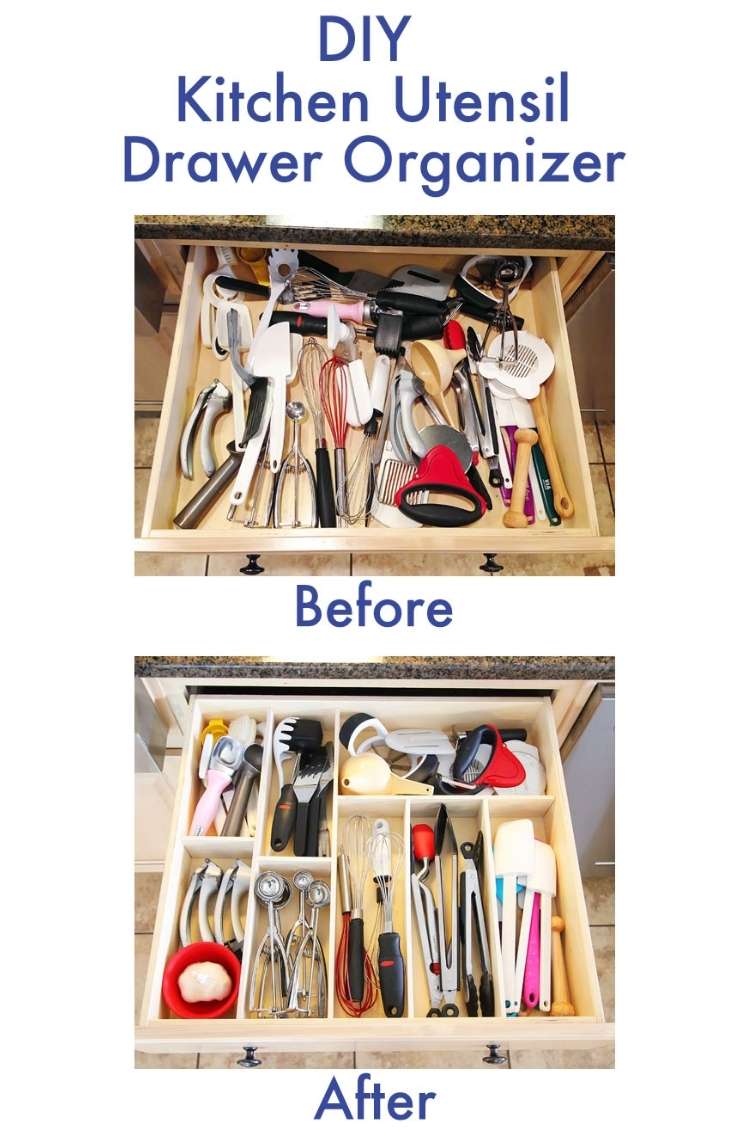 Source: kevinandamanda
7. Take advantage of Deep Drawers to keep your kitchen organized
Think vertical! If you like having your utensils standing upright, go with that! Have a drawer built into your kitchen that can hold your utensils vertically. Organizing similar utensils makes it super easy to find what you need at a quick glance. This is a great solution for those tall utensils since they can be so awkward to keep in regular drawers and can take up so much space on the counter! Having this deep drawer right next to the stove makes have this drawer smart, efficient and convenient.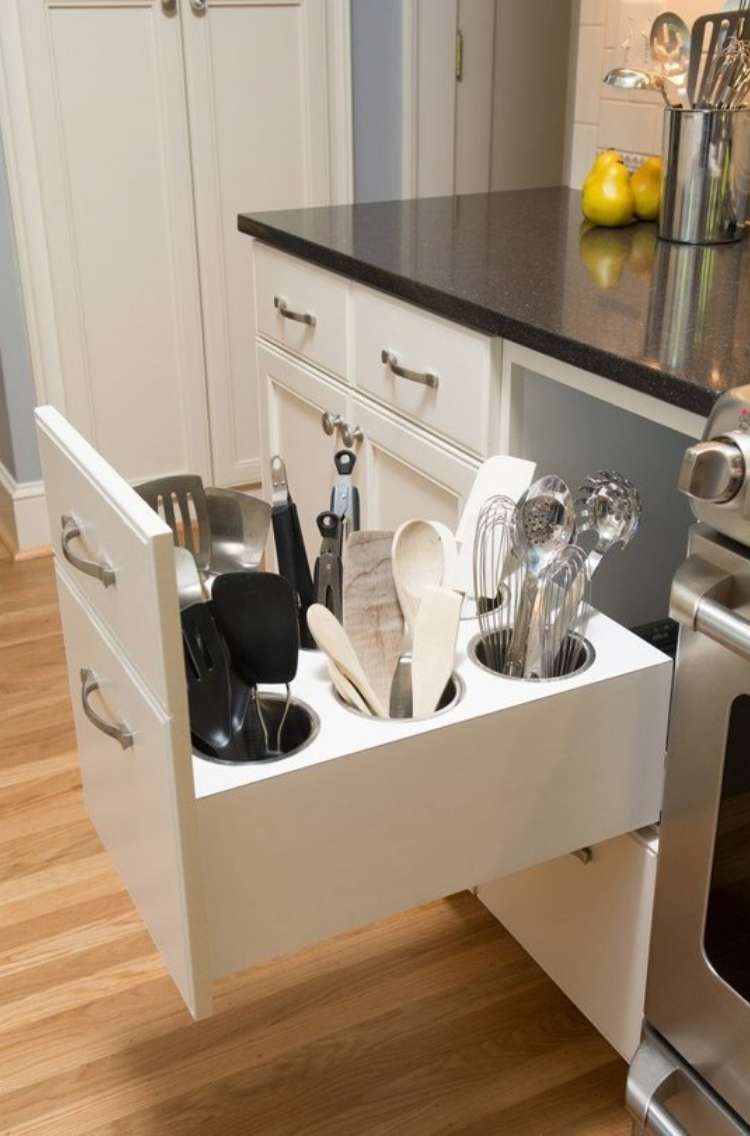 Source: apartmenttherapy
8. Add Dividers to the Cabinet Above the Fridge for an easy kitchen organization hack
If you have a cabinet above your fridge, it's very likely that the space is underutilized. It's so hard to get up there – whether you're tall or short! By adding some dividers, you can create usable space for cutting boards or cookie sheets that make it easy to get stuff in and out. This can also be achieved with tension rods.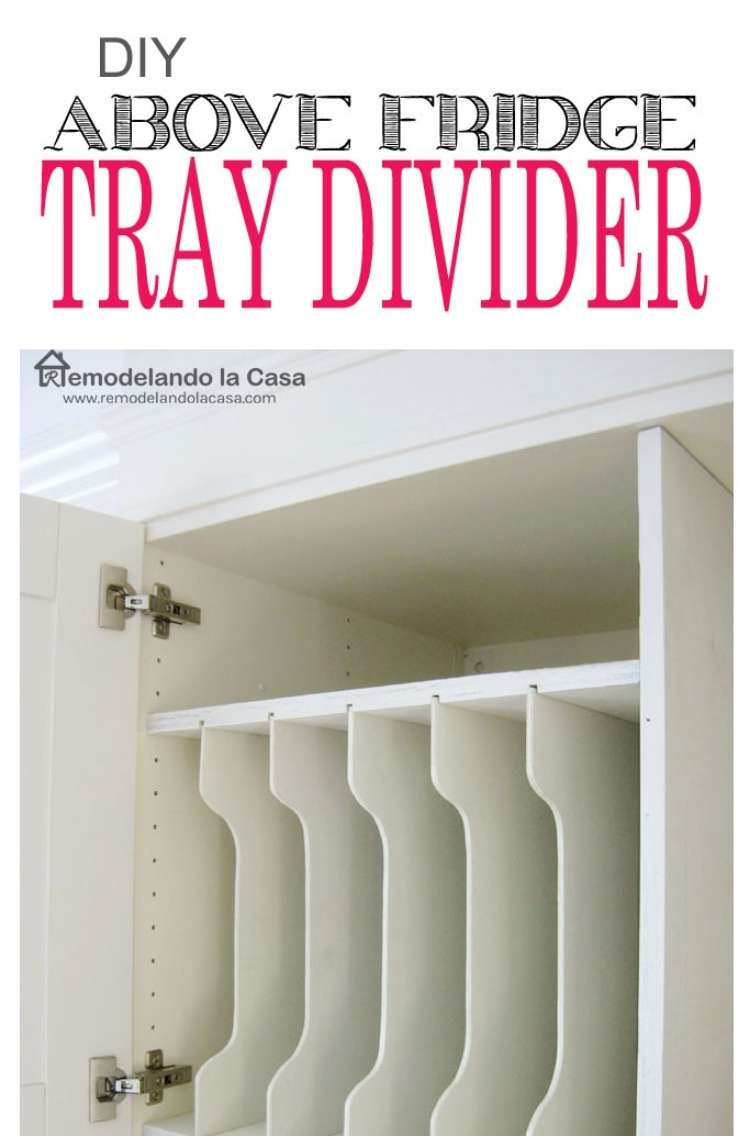 Source: remodelandolacasa
9. Hold Your pots and pans Lids in Place With a Tension Rod
If you have a deep drawer where you store bakeware, but can't ever seem to make all the pieces AND their lids fit correctly, try a tension rod near the front of the drawer. Leave just enough room to slip in the lids.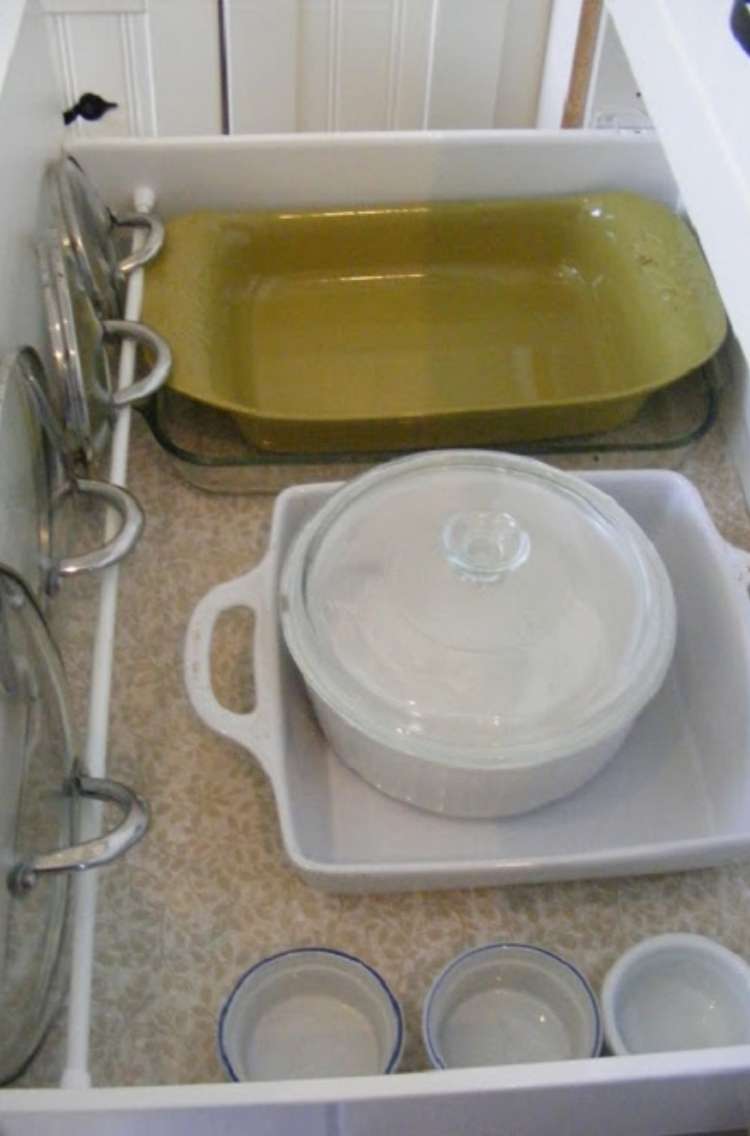 Source: imperfecthomemaking
10. Use a Pegboard Inspired Drawer System to keep your kitchen drawers neat
You can purchase this kind of system, or DIY it pretty easily. Place your pegboards in the drawer based on the cookware you have, and never worry about having to juggle a tall stack of glassware dishes to get the one you need that's inevitably on the very bottom of the stack.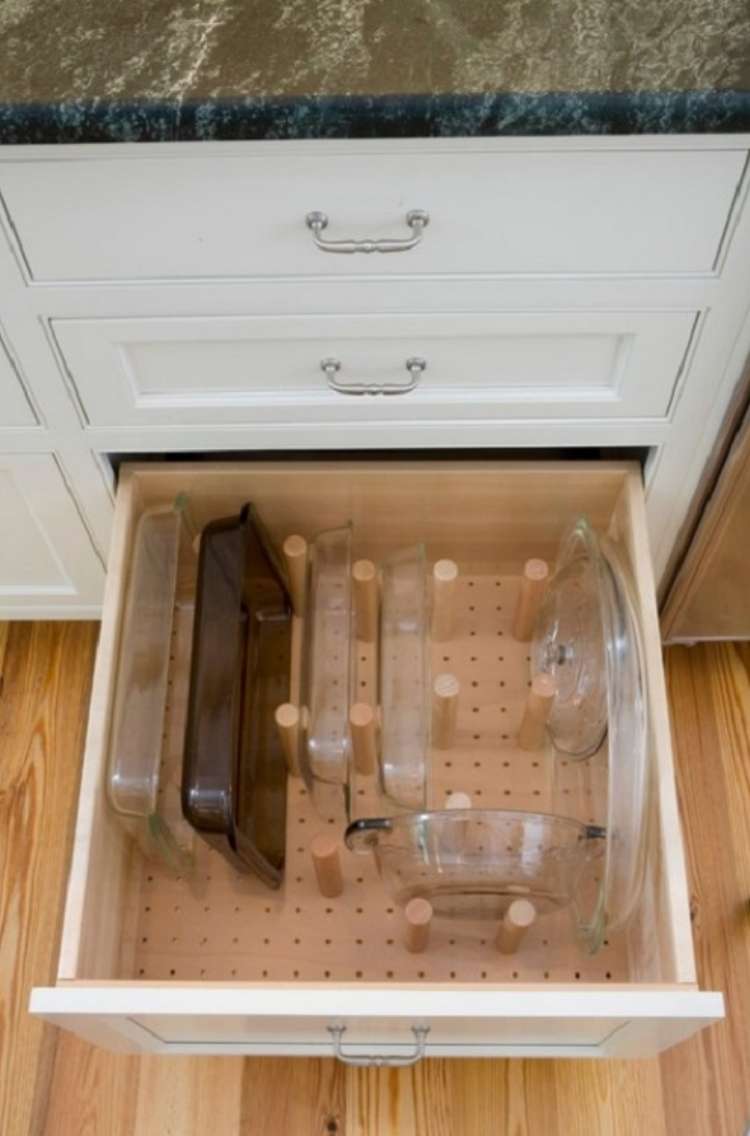 Source: diyncrafts
11. How to organize your large kitchen utensils: Store them Diagonally
Most of us have some shorter utensils, and at least a few really long utensils. This usually means wasted space whether you store them vertically or horizontally…but it doesn't have to be that way! Make the most of the space in your drawers by storing them diagonally.
You can also go the DIY route and make this kind of drawer organizer yourself. Look for thin, flat pieces of wood at your local hardware store or craft store. Just measure and cut carefully. Then, you just need some wood glue and you're good to go.

-TheKitchn.com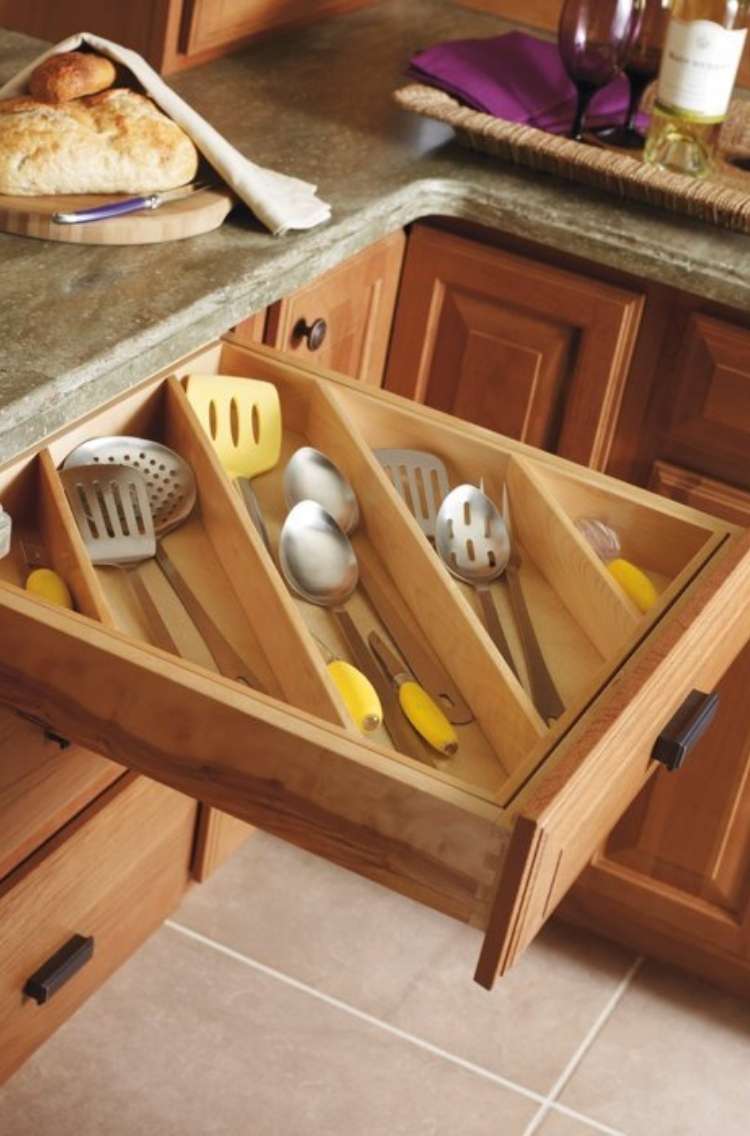 Source: thekitchn
12. Tension Rod to The Rescue- Under the sink kitchen storage
This is a genius idea for under your sink in the kitchen. A tension rod will get a large number of cleaning bottles off the floor, clearing up tons of space in there. Just make sure that the tension rod is tightly hung to be able to support your bottles. This is a great DIY kitchen project for kitchens with limited storage space.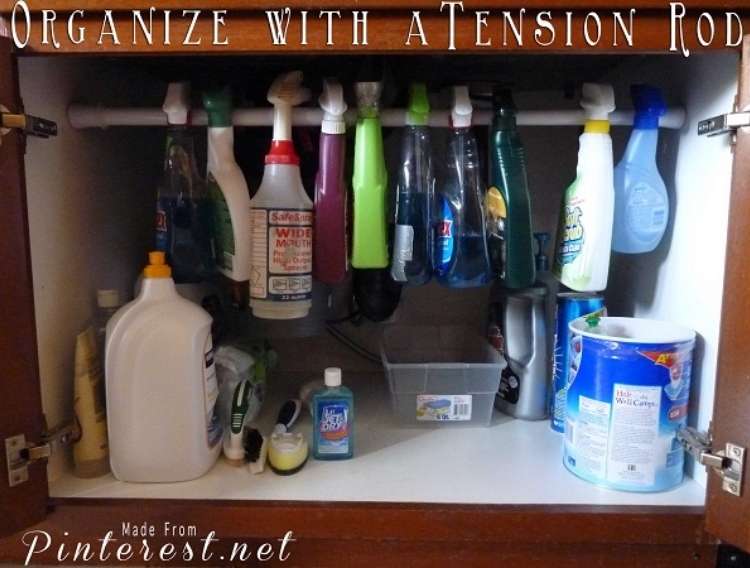 Source: thisgrandmaisfun
BONUS! Create Zones in Your Kitchen to keep things organized
Creating zones in your kitchen is one of THE best ways to manage your space – by taking some time to be strategic about where you place things in your kitchen, you can create more space and make sure every bit of it is usable.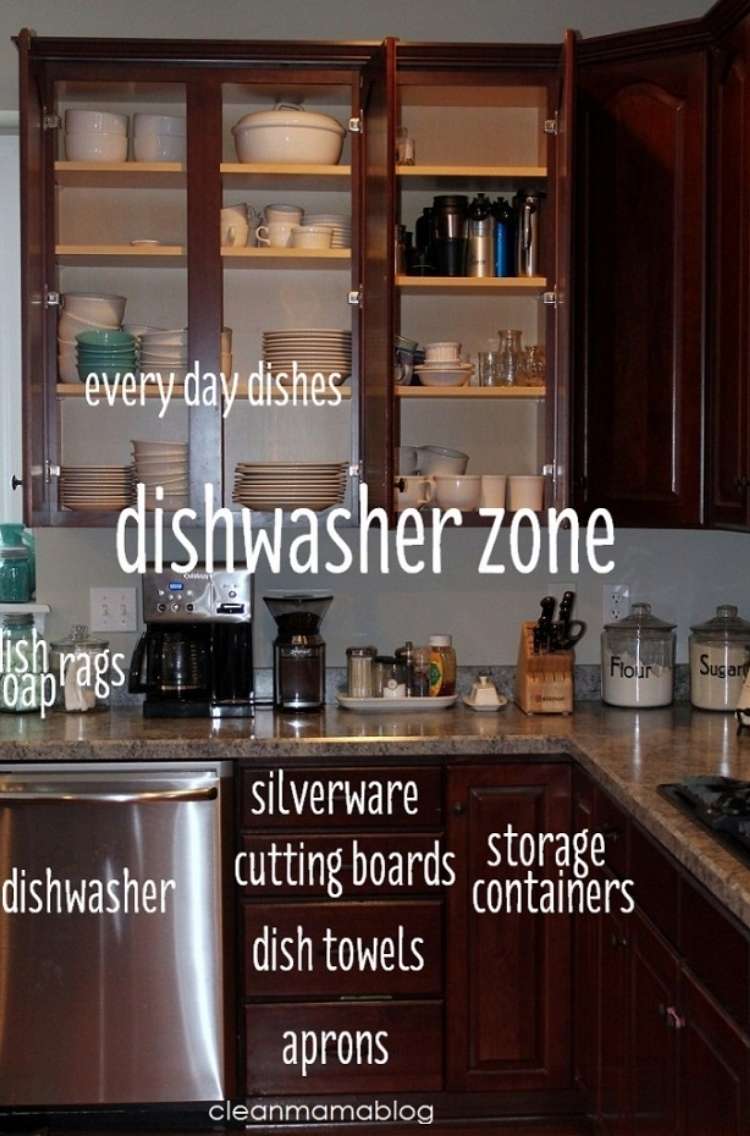 Source: cleanmama
We all love a little help in the kitchen, whether you have a passion for cooking and/or baking, or whether your time spent in the kitchen is out of a necessity to feed yourself and your family. Either way, we hope you're excited about some of these ideas to get your kitchen drawers and cabinets in tip-top shape! Which one will you try out first?
If you loved these tips on how to organize your kitchen, check out these articles, too.