Are you ready to get your grill this summer? Redefine how to grill with these helpful grill hacks and tips. Whether you're cleaning it or firing it up to cook the perfect burgers, kebabs, skewers, steaks and/or hot dogs you're sure to find something that you didn't know before. Happy grilling!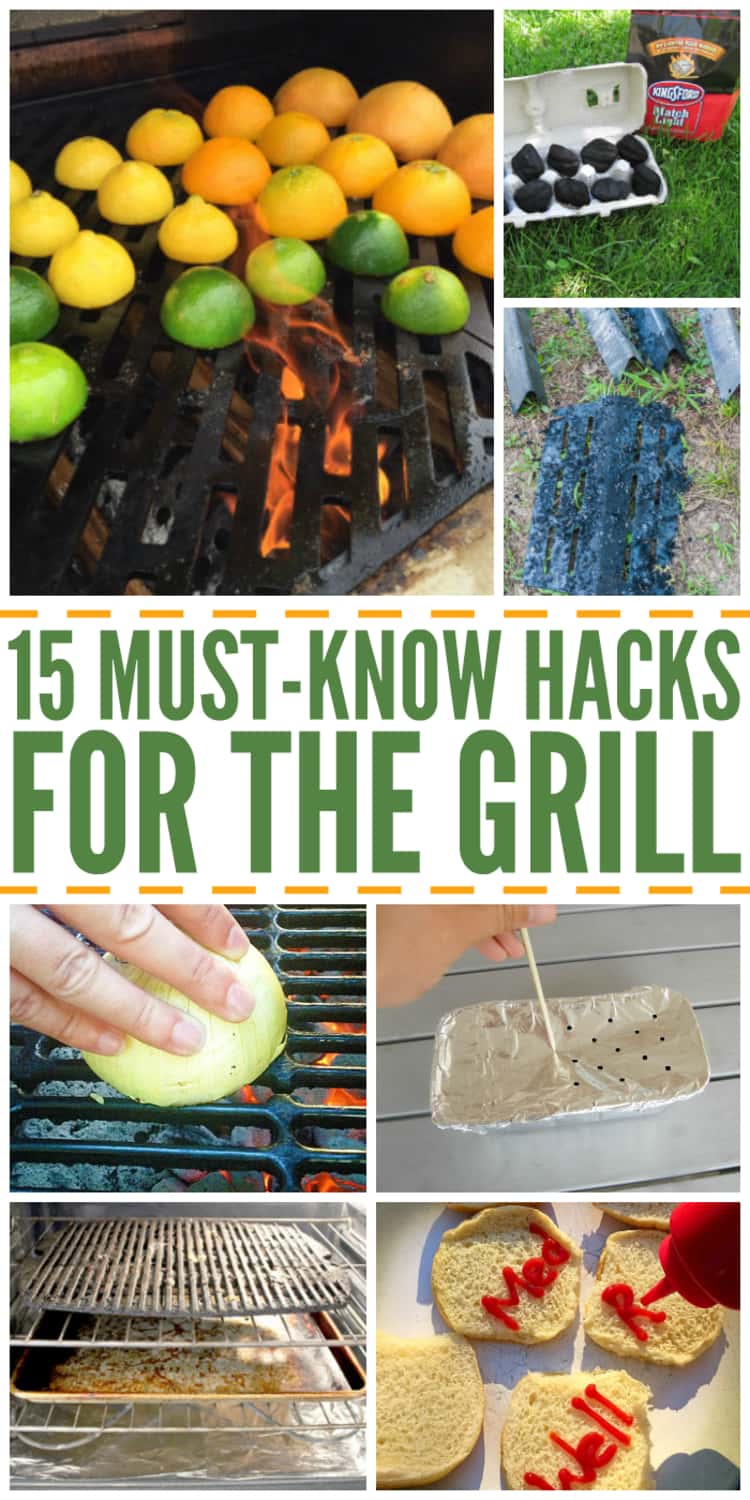 Grill Hacks that Make Backyard Grilling Easy
You are here for grilling 101, or you know how to grill and you are just feeling a bit insecure because the last few attempts did not turn out so well. Today I am going to give you a few grilling pointers in regards to;
Clean your grates and the entire grill
Get the smoky flavor even from a gas grill
Firing up your charcoal grill
Getting rid of bugs and mosquitoes at your BBQ
Taking your grill with you on a road trip
Whatever it is you need to know about grilling, you'll find a pointer or two here.
1. Clean Up Your Gas Grill
You have used your gas grill severally and the gank has built up, as a result, the food doesn't taste as good as it used to or you are getting flare-ups/fires whenever you light up your grill. The grill is probably dirty and requires you to clean it up before you have a real fire on your hands.
It's not that complicated, you only need some elbow grease and other household cleaning supplies. The trick is in disassembling and remembering how to reassemble the grill. Make sure to consult the manual, some parts require different care than others, and you could easily damage them with the wrong cleaning style.
Experiencing flare-ups or bad-tasting food with your gas grill? Here's how to clean it to get all the gunk off, because no one wants to eat gunk.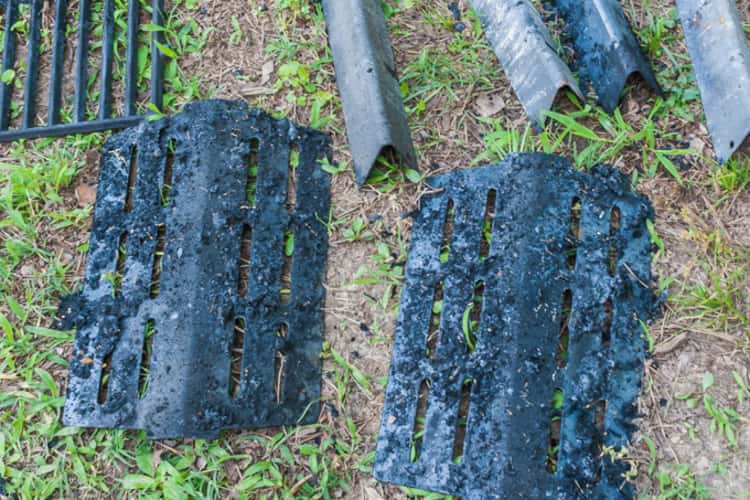 via Noshtastic
2. Make Your Grill Non-Stick
Don't you hate it when you leave big chunks of meat on the grill? The pieces that stick to the grate usually carry the most flavor, making it even more annoying to leave them. Well, I have just the thing for you; heat up the grill and rub an onion all over the hot grate, and voila!! the grill is non-stick.
Cut the onion in half and rub it on a heated grill to make it non-stick. It really works!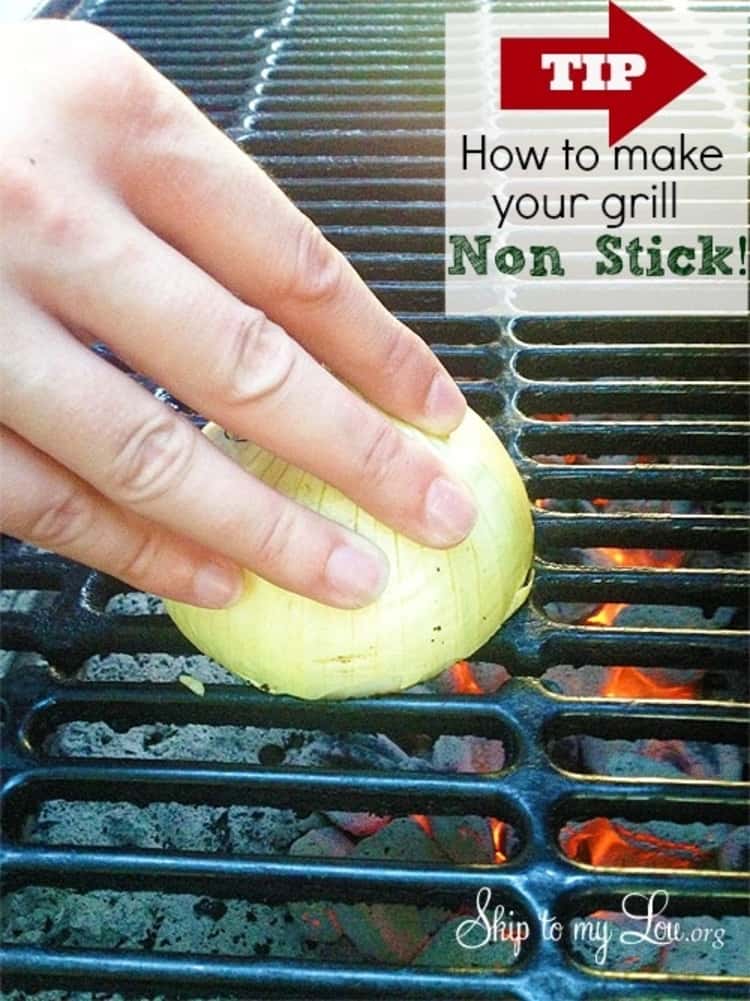 via Skip to My Lou
3. Easy Tip To Store Your BBQ Grill Utensils
BBQ utensils can easily clutter up your kitchen, so, you will end up putting them somewhere far away where you may even forget them and you won't be able to find some next time you want to fire up the grill.
To avoid this cluttering or losing some utensils like grill brush, bundle them up together in an oven mitt which you can hang up somewhere safe and out of everybody's way until next time.
Store your BBQ utensils in an oven mitt, and hang them on the side of your grill.
via Real Simple
4. Carry Only the Charcoal You Need For Grilling On That Road Trip
No matter how practical your car is, when taking a road trip, space for luggage and family is always going to be an issue. You only need to carry things that you will absolutely use for the trip. If you intend to do some grilling while on the trip, only carry the charcoal you need in a cardboard egg carton to save that much space.
If you're traveling with a grill (tailgating, anyone?) take your charcoal in a cardboard egg carton. It's easier than lugging around a whole bag of charcoal, and it's easy to light, too.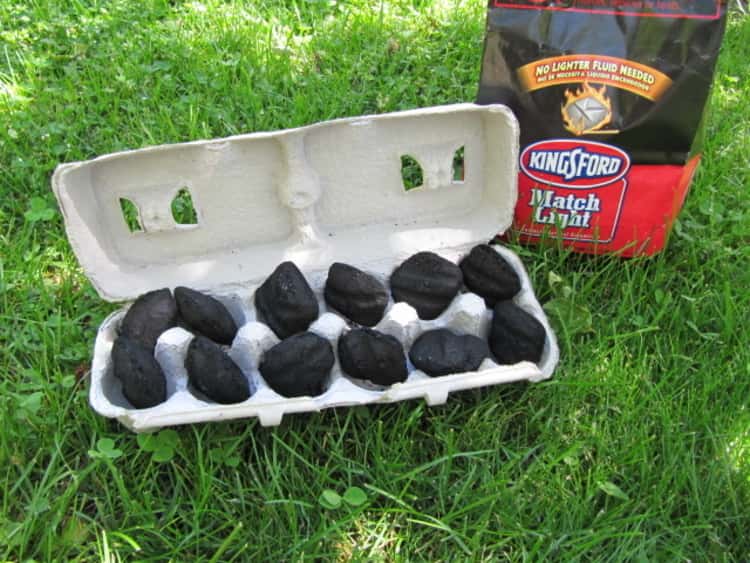 via Sew Many Ways
5. How to Grill on Point
Lighting up a charcoal grill can be daunting. Getting those coals burning takes some time and patience. This tip shows you how to use old newspapers to start up a charcoal grill.
Speaking of charcoal grills, do you know the proper way to light one? Super hot coals are the key to getting perfectly grilled food.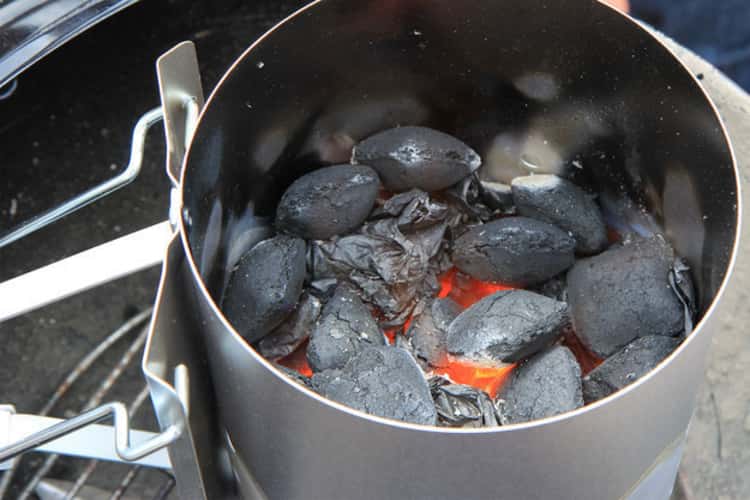 via Buzzfeed
6. Turn Your Gas Grill Into a Smoker
The gas grill is easy to use and very clean. Temperature regulation is as easy as turning a knob, however, it cannot infuse smoky flavors into your meat without a little help and I am going to show you exactly how to do it.
Use this cheap hack to turn your gas grill into a smoker for less than a buck, because it's genius! All you need are:
Disposable aluminum bread pan
Foil
wooden skewer or paring knife
Hickory wood chips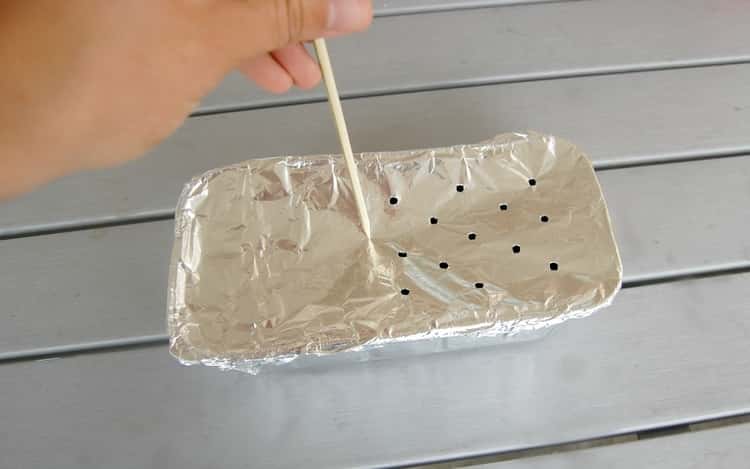 via Happy Money Saver
7. Grill Lemons and Limes
Before you squeeze your lemon or orange over the fish as you eat, cut it in half and grill the slices to get that tanginess to the peak. Use the same trick for your lemonade and margaritas. You can add the peals to the smoker for extra flavor on your grilled meat.
Grill lemons and limes (or any citrus fruit) to really bring out the flavor. Especially over fish or in drinks!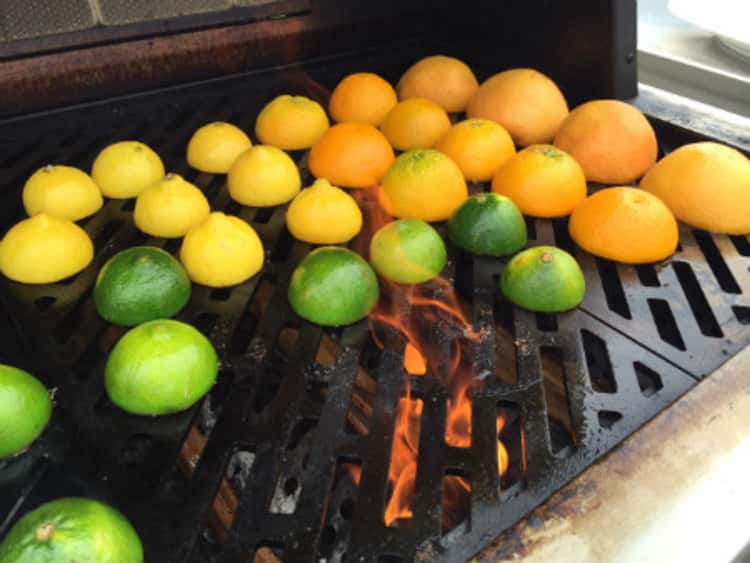 via Barbecue Bible
8. Cleaning Your Stainless Steel Grill
Stainless steel grills look awesome when new, however, after a few uses, the smoke from your grilling starts to show on the shiny metal. It can look quite daunting to clean up the grill again and you start regretting why you did not get the grill that had a black finish after all.
I have good news for you, cleaning stainless steel grills is easy with Mr. Clean Outdoor Pro Magic Erasers or Mr. Clean Outdoor Pro Spray bottle. Just spray on leave to sit for a few minutes and wipe off with the magic eraser.
Finally, cleaning tips to make your stainless steel grill from gross to gorgeous.
via Sand and Sisal
9. Keep Bugs Away Using Sage On Grilling Day
You have friends over for a grill, it's getting dusky, and mosquitoes have come out to play but nobody is particularly interested in these games. Other flying bugs are also circling your margaritas and now everyone is getting annoyed. Get a few leaves of sage and throw them in the grill, the smoke will throw out all these uninvited guests.
Add sage to your coals to help keep bugs at bay.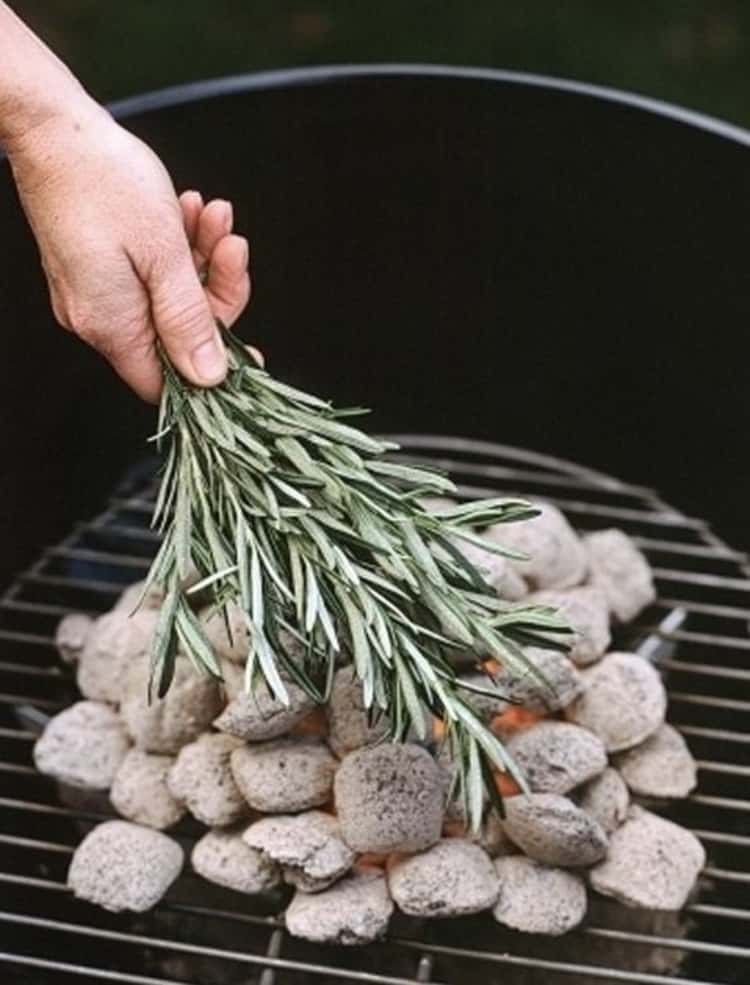 via Pure Wow
10. Perfect Grilled Sausages
If you are anything like me, you do not trust those grilled sausages. The outside seems to char way too fast for the sausage to have cooked through. Sometimes the core is as cold as the freezer you retrieved your sausages from.
For perfect grilled sausages, poach them first. It guarantees that the sausage is cooked through but still tender, and you can char them just right on the outside.
via The Kitchn
11. Aluminum Foil to Scrub the Grill
Cover your grill with foil, heat it up and then crumple it and use tongs to hold the foil to scour the grates clean. It's really easy to get the food and gunk off! Heating the foil hardens the creases you made when you crumpled up the foil making it a good scouring tool.
Herre's another way to do it!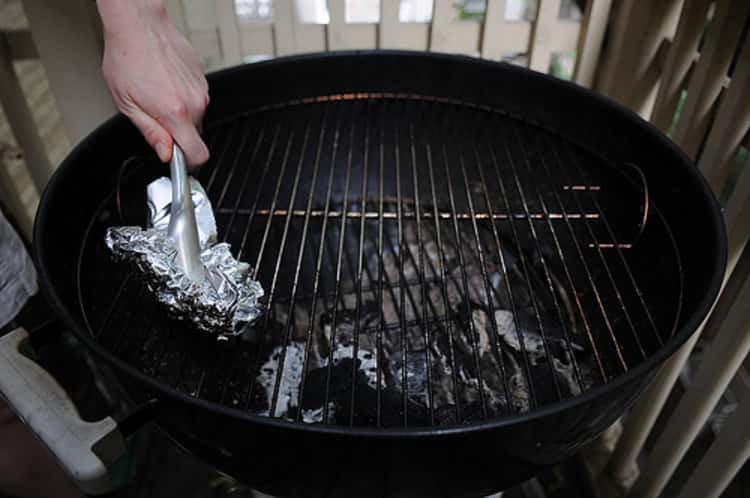 via The Daily Adventure
12. Write on the Buns for Grill
For the host with the most, write on the buns so the person manning the grill knows how many beef burgers to cook and for how long. Use ketchup or mustard in a squeeze bottle to mark the buns. The barbecue chef will know who wants what type of burger to avoid confusing orders.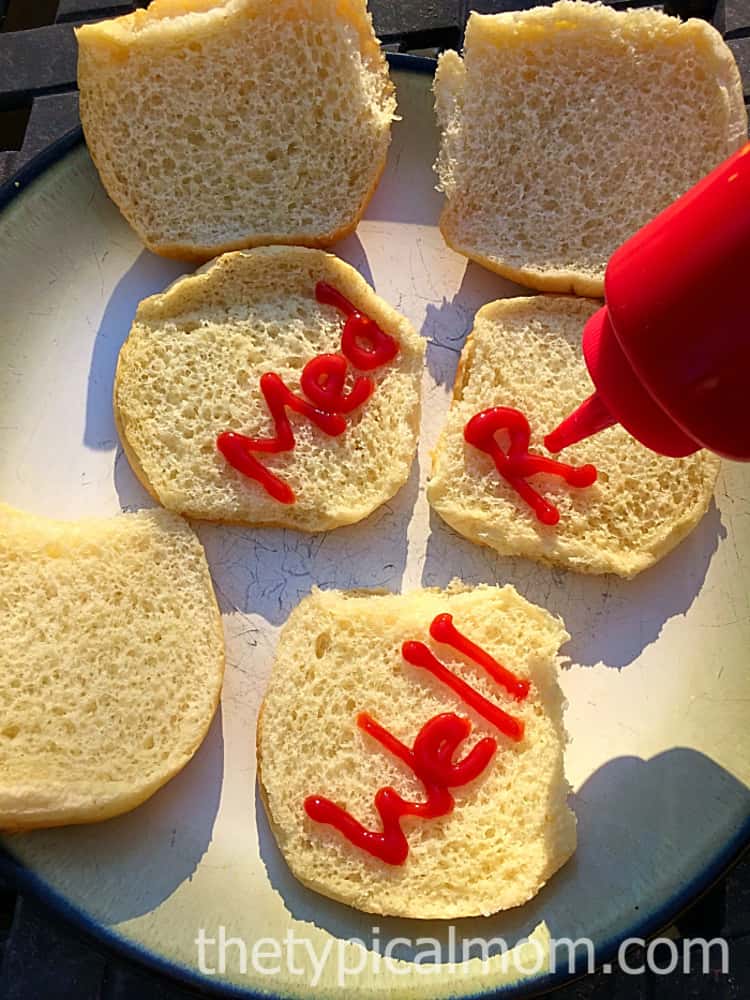 via Temecula Blogs
13. Prepare Patties Before Grill
Grilling day can weigh down on the host. Too many things need to be happening at the same time to make the party remember worthy. You need to prepare your meat, buns, heat up the grill, cool the beers, prepare the veggies all the while kids are running amok in your garden and the guests are arriving.
Take off some of the heat by doing as much as you can before the 11th hour. One way is by making the bugger patties and throwing them in the freezer days beforehand. These are usually the most time-consuming and most intense part of prepping for a grill and having them ready in advance is simple genius.
Put burgers in a bag, score them and freeze them before your next cookout.  Remember to put ice cubes to prevent them from drying out. And once you're ready to cook them, just break off what you need!
via Ziploc
14. Tired of Scrubbing Down Your Grill?
Pour a cap of household ammonia in a trash bag, throw in the grates and any other small pieces of the grill that will fit in, tie up the bag tightly, and leave it soaking overnight. In the morning you'll just need to rinse off your grates with hot water and they'll sparkle. Light scrubbing may be necessary.
Use ammonia and a thick plastic trash bag to clean your grill without scrubbing.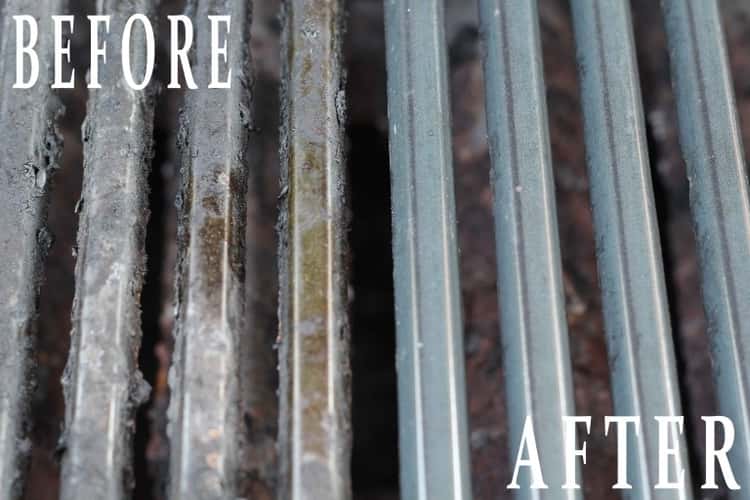 via Made from Pinterest
15. Bake Your Grill Grates
Or, if your grill grates are small enough, bake them in the oven at 500 degrees for one hour. This is a non-chemical solution, and it doesn't require much elbow grease. Let the grates cool down a bit before scrubbing the loose gunk off with a brush.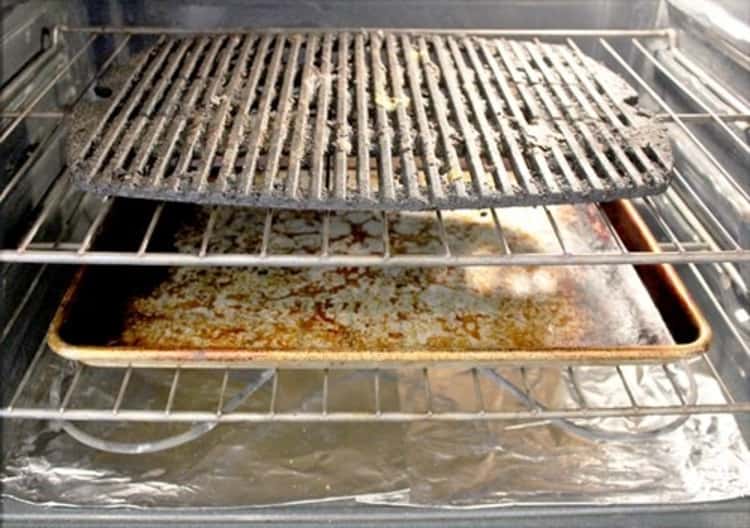 via One Good Thing by Jillee
If you enjoy these grill hacks, check these out:
Which grill hacks have you tried?