Wait just one second!! Who knew that the coffee machine could be so versatile? Here are some coffee pot cooking ideas that do not involve coffee.
You probably head to the coffee maker first thing every morning to get your caffeine fixed, but that amazing little pot can cook up more than a cup of your favorite beverage. College students, frequent travelers, and just plain clever people have figured out ways to cook everything from ramen noodles and hot dogs to pancakes that would rival your local diner — all with a coffee maker.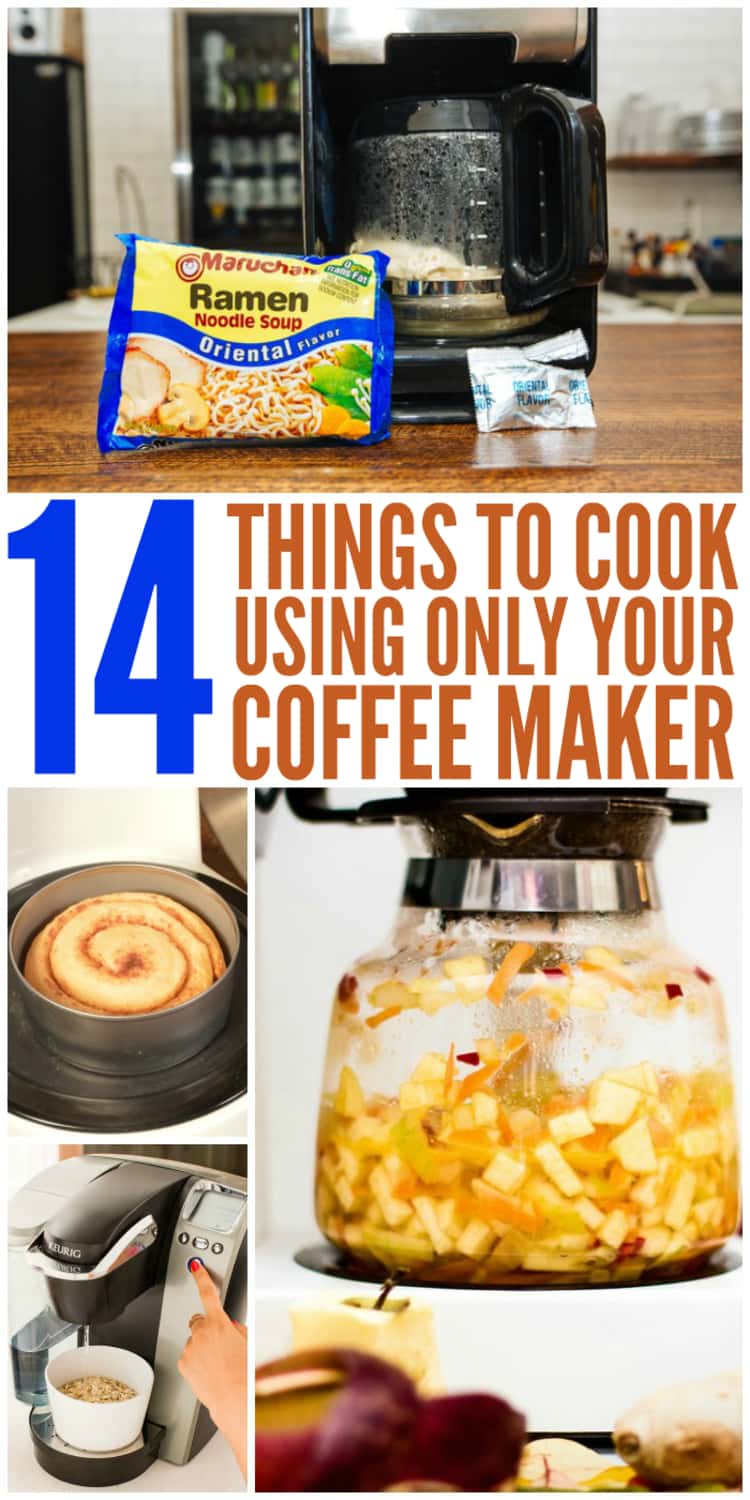 Coffee Pot Cooking Your Favorite Food
The coffee maker is a versatile little cooker that is not just good for brewing up a pot of aromatic coffee. Today, I'm going to show you just how much you are underutilizing that little jack of all trades. We are going to go step by step through;
Boiling apples, ramen, and eggs
Poaching sausages
Frying sausages and eggs
Grilling up a cheese sandwich
Simmering veggies
Coffee Pot Cooking Ideas
Baking up a cinnamon roll
1. Coffee Pot Baked Cinnamon Roll
Use the coffee pot burner to bake your cinnamon roll by preparing the dough as you would normally, arrange the roll in a baking tin, and set it on the burner. The cinnamon roll will grill nicely and slow on that burner.
Start your morning off with a delicious cinnamon roll made on the coffee pot burner.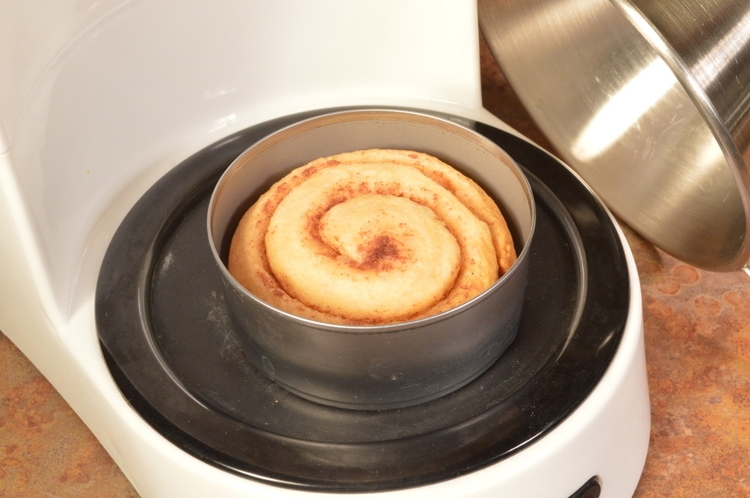 2. Sweet and Hot Apple Chutney in a Coffee Pot
Start your coffee maker and frizzle chopped onion with oil, ginger, and chili in the coffee maker carafe for half an hour.
Slice apples, grate the carrot, and add this along with the vinegar, sugar, honey, lemon juice, and spices into the carafe and pour the water into the brewer. After a while season with more spices, I made ​​my chutney really hot and nice (as you see) with all sorts of chili varieties I found at home. Let it simmer until everything has become as messy as you prefer it. Turn off the coffeemaker.
I recommend that you serve this yummy and spicy chutney with some cheese and crackers, but it will work just as fine together with a big, fat, and juicy steak!
Sweet and hot apple chutney will make your entire house smell amazing while it cooks. It's a great recipe for fall or winter!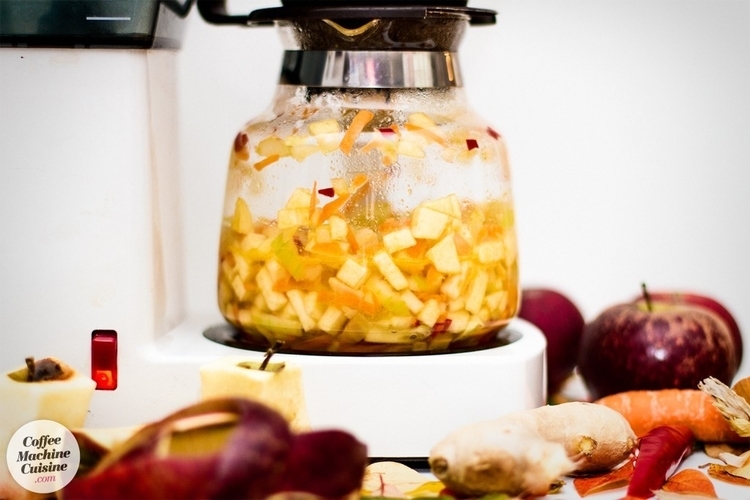 3. Cook Poached Salmon, Couscous, and Steamed Veggies in a Coffee Pot
The carafe at the bottom of the coffee maker serves as a simple vessel for poaching fish and chicken or make that couscous while the basket at the top is a great place to steam vegetables. You can throw in broccoli, cauliflower, or any vegetable that cooks at about the same time as those.
Make an entire meal in your coffee pot! NPR cooked up Poached Salmon, Couscous, and Steamed Veggies all at the same time. Healthy and handy.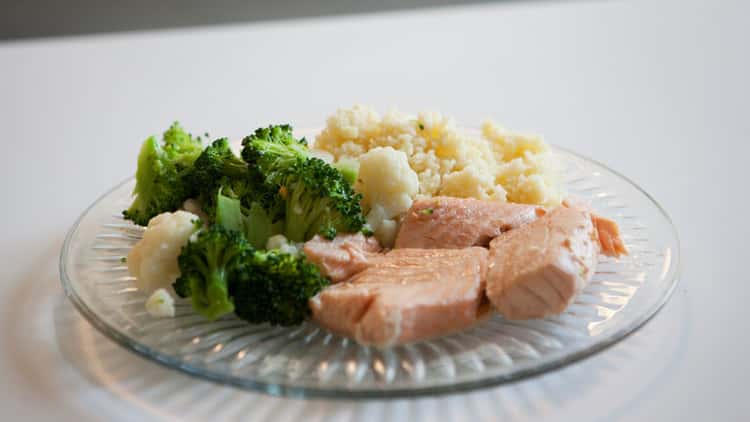 4. Coffee Pot Cooking a Grilled Cheese Sandwich
Set your burner on warm or, if your coffee maker is a bit older, brew a hot cup of coffee and immediately after, put the sandwich on the burner. Pro-tip: spray that sucker down with some Pam for maximum buttery goodness. You can also do this by putting a pan on the burner if you don't want to get it gross.
How about a nice grilled cheese sandwich for lunch? You can even heat up some tomato soup in the crock to pair with your sandwich.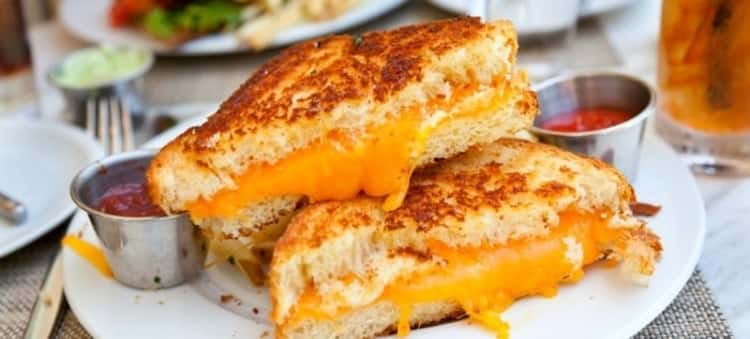 5. Cook Oatmeal in Your Coffee Pot
Put two packets of instant oatmeal into the carafe. Add an individual packet of honey, an individual packet of fruit jam, and a pinch of salt. Pour eight to ten ounces of water into the coffee maker, turn on the machine, and the oatmeal will be ready in about five minutes.
For extra flavor, put a fruit-flavored herbal tea bag into the filter basket.
Even old-fashioned (non-instant) oatmeal can be cooked this way, but it may take longer.
No honey? Try cut-up fresh or dried fruit.
Try hot and hearty oatmeal with your Keurig. Your breakfast will practically make itself while you get ready.
6. Coffee Pot Cooking Eggs
Hard-boil Eggs in a Coffee Pot
Throw two or three eggs in the coffee pot with clean water, turn the machine on and let your eggs boil as hard or as soft as you like them.
Eating a high-protein diet? Get hard-boiled eggs even when you travel by making them in the coffee pot in your hotel room.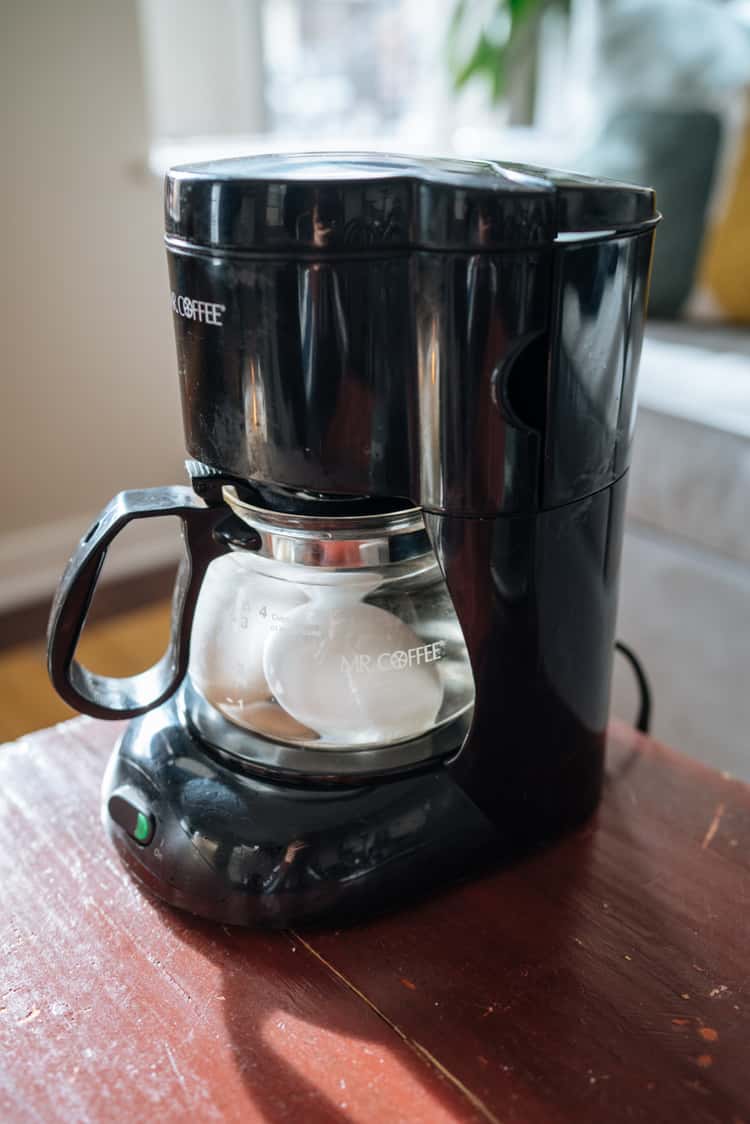 Scrambled Eggs in a Coffee Pot
The little pan will scramble one egg at a time. Keep the sunny side up!!
7. Chocolate Fondue in a Coffee Pot
This is easy, just follow these simple steps;
Heat 1 cup of heavy cream (10-15 mins).
Add 10-12 oz bittersweet chocolate and mix until creamy.
lice up strawberries and bananas for… a romantic chocolate fondue for 2!
Chocolate fondue sounds heavenly right about now. Add some strawberries, pieces of cake, and marshmallows, and you have a romantic dessert right in your coffee pot.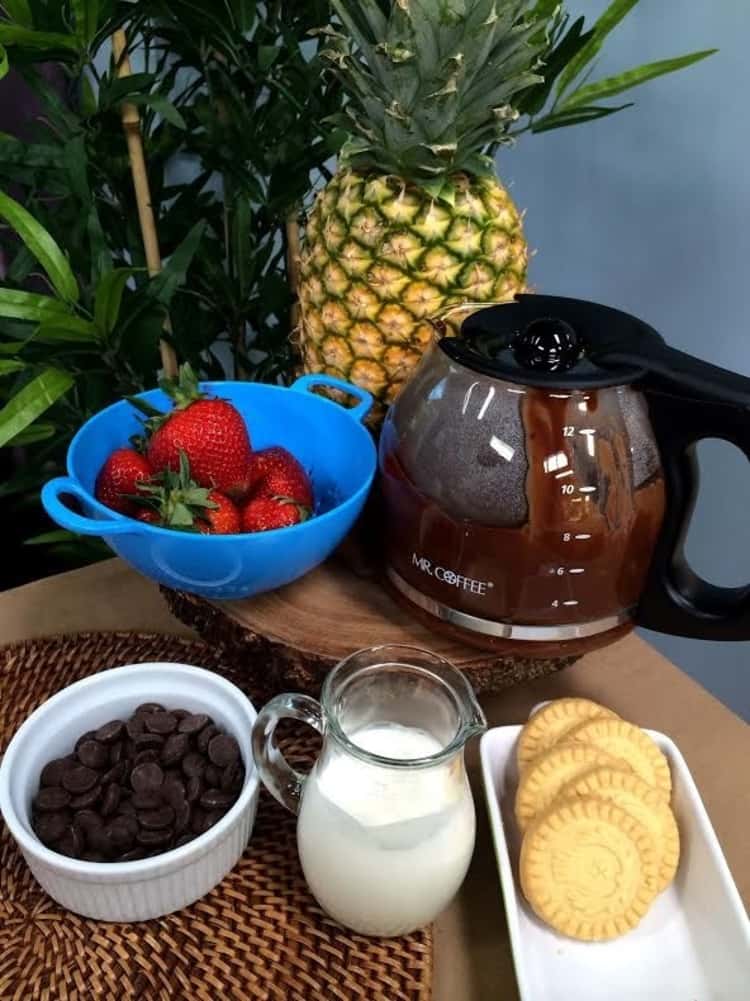 8. Fry Sausages On The Coffee Pot
Spray some PAM on your burner and fry up a few sausage links for breakfast, you know, to go with your hard-boiled eggs. With the slow grilling that the burner is able to achieve, you can be sure that your sausages will cook to the core before the skins start to char.
That hot plate on your coffee burner is such a nifty little grill.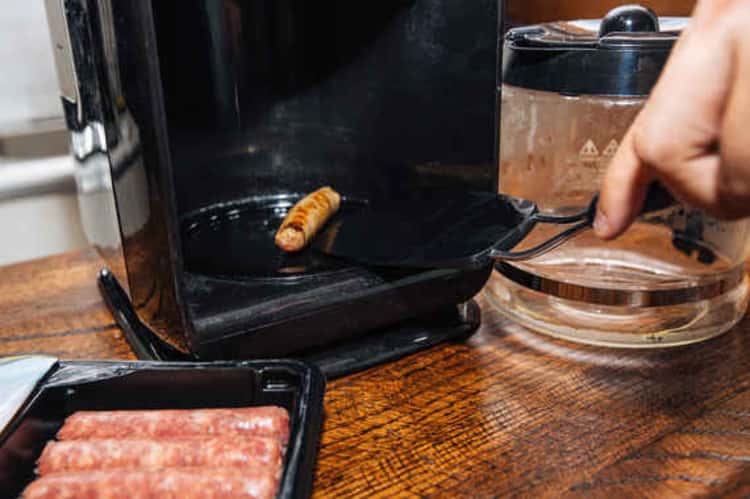 9. Coffee Pot Plates Can Make the Best Nutella Pancakes
Start the coffee maker and put a small piece of butter on the coffee maker plate. Mix flour, milk, egg, and salt smoothly.
Scoop the batter onto the coffee maker plate and cook until the surface of the pancakes have some bubbles and a few have burst. Flip carefully with a thin spatula and cook until browned on the underside.
Transfer the pancake to a platter and continue with more butter and the remaining batter. Turn off the coffee maker when finished.
Add Nutella, banana pieces, and whipped cream to the pancakes and fold them. Sprinkle some powdered sugar and chocolate over the pancakes, serve and celebrate.
You know we're crazy about Nutella here. Well, these bloggers made Nutella pancakes on the coffee maker plate, and they look out of this world delicious!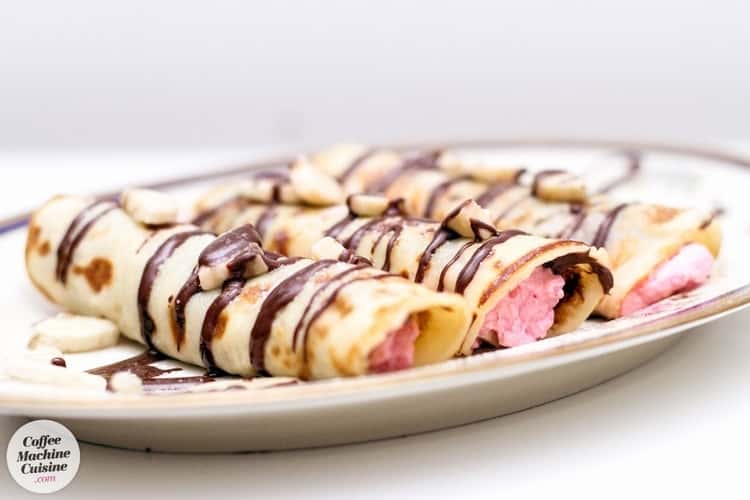 10. Coffee Pot Cooking Up Some Apples
Peel some apples and dice them up having removed the cores. Boil the apple cubes in the coffee maker for about 10minutes and let simmer for 20 minutes or so. You can add a pinch of brown sugar and apple sauce or some raisins for extra flavor.
Cooked apples are one of my favorite desserts! Serve them over ice cream while they're still hot. Yum!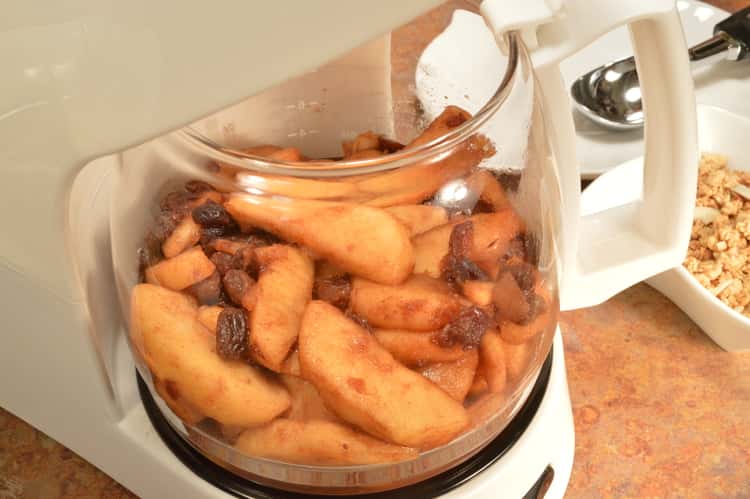 11. Coffee Pot Poached Hot Dogs
Just run the water through the coffee maker, add hot dogs and return the pot to the burner until they're plump and ready. You may laugh now, but in college, this would have been a welcome change from Ramen!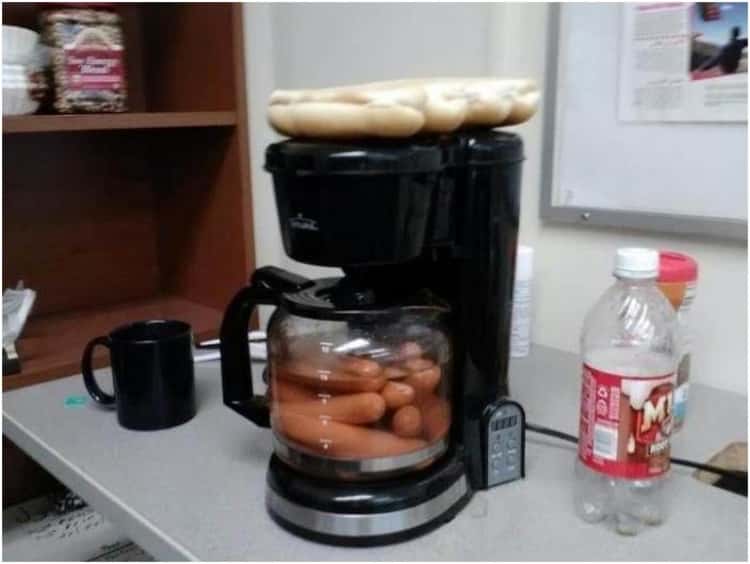 12. Easy Ramen With The Coffee Pot
This is probably the most talked-about tip on other things you can cook in your coffee maker, but I still have to mention it for those of you who do not know it. All you need to do is put the packet of noodles in the coffee pot and set it to brew.
Speaking of those cheap, tasty noodles, you can make Ramen in the coffee pot, too. Good to know if your roommate has stunk up the microwave with burned popcorn… again. (Looking for more college hacks? Check out our Dorm Hacks 101 post!)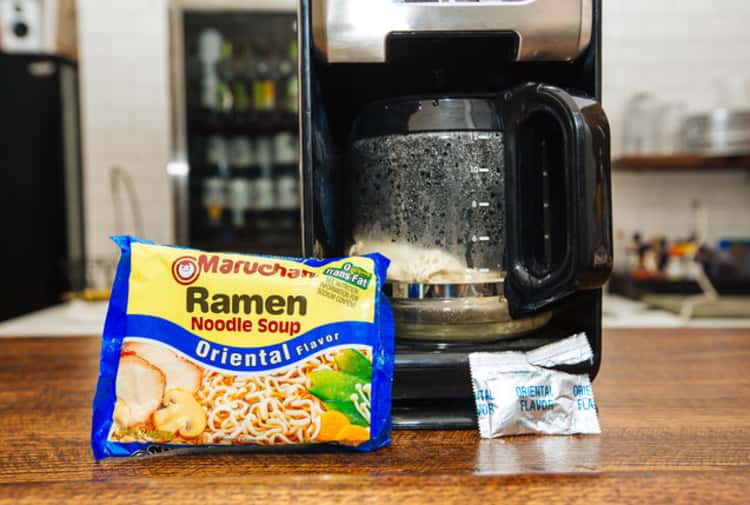 13. Boiling Food in The Coffee Pot
Coffee Pot Boiled Potatoes
This person cooked up some potatoes for potato salad. It takes about 2-3 hours to get them tender, but you'll have plenty of other things to occupy your time at the campsite while those are cooking.
Peel and cube the potato and place in the coffee pot with about ½ teaspoon salt. Run 10 cups of water through the coffee maker and let cook for 2-3 hours.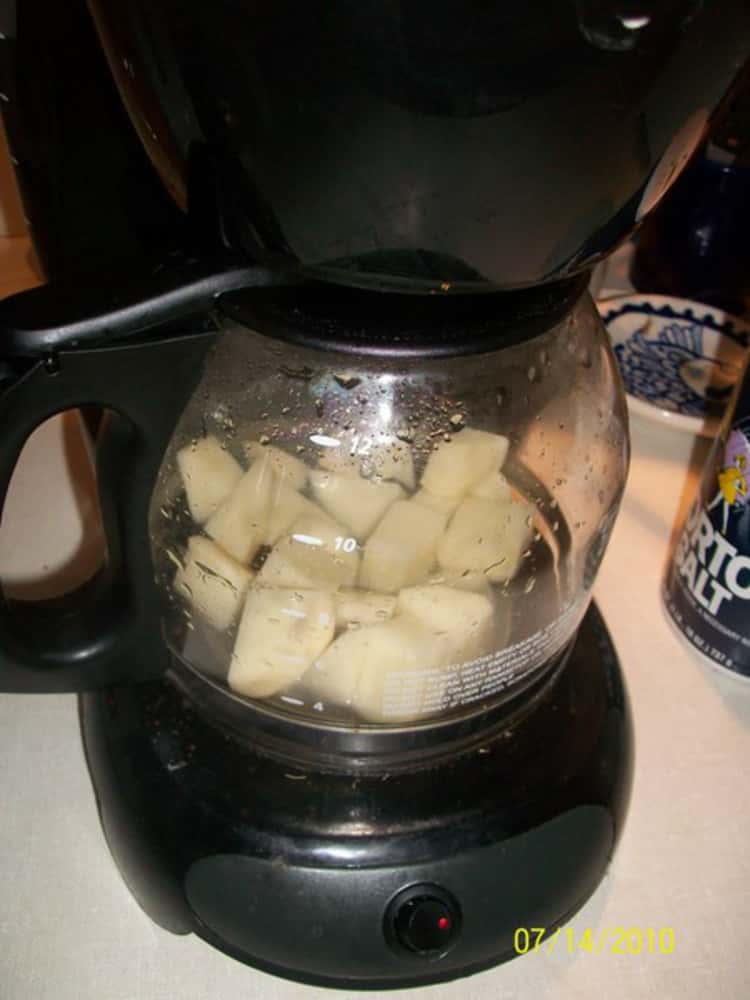 Coffee Pot Boiled Rice
Toss a cup of instant rice into the carafe with two and a half cups of water and set the coffee maker to brew for 10 minutes. You will love the results!!
14. Steam Veggies Using The Coffee Pot
But it doesn't have to be all unhealthy stuff. The coffee maker's filter basket can serve as a vegetable steamer in a pinch. Stick to carrots, green beans, broccoli, peas, and things like that. You don't want to stink up your room with onions or peppers.
Make sure to wash the filter thoroughly to get rid of that coffee smell in your veggies.
Do not use aromatic vegetables such as onions or peppers. Generations of travelers after you will curse your name as they drink spicy coffee.
You can cook more vegetables at once in the carafe, but the water may make them soggy. Empty the water frequently if you choose this approach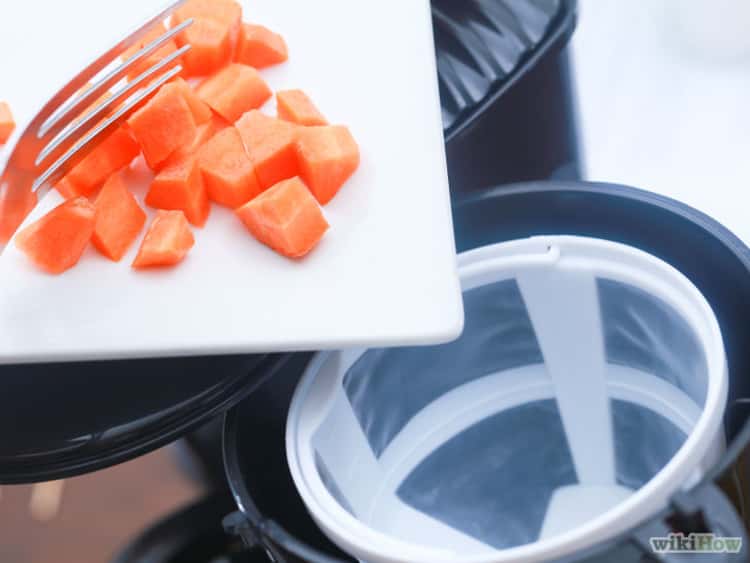 More Awesome and Simple Cooking Up A Meal Without Using The Stove from One Crazy House
Which will you cook with a coffee pot tonight?