Do you want to try a creative and fun project to make use of all those extra laundry baskets that you have laying around? Then keep reading for 16 laundry basket ideas you never thought to do with a laundry basket!
Let's face it, laundry with kids is pretty much a 24/7 chore. Am I right? It's a bin for linen, dirty clothes, fabric with odors, and stuff like that. Then it may come as a surprise to you to learn that laundry baskets can be used for more than just hauling dirty and clean clothes back and forth all day long.
And if you have kids, then you probably have a few laundry baskets around the house to help you cart laundry to and from the washing machine. Because that's what a laundry basket is for. Right? But have you ever thought about other creative and fun ways that you can use a laundry basket in your home besides putting dirty and then clean laundry in them?
As it turns out, there are many fun and unique ideas for repurposing a laundry basket. Because of its portability and easy access, you can turn your laundry bin with heavy loads to a creative house decor and more! And these ideas aren't just for adults! There are plenty of great ways to use a laundry basket that the kids will be sure to love as well!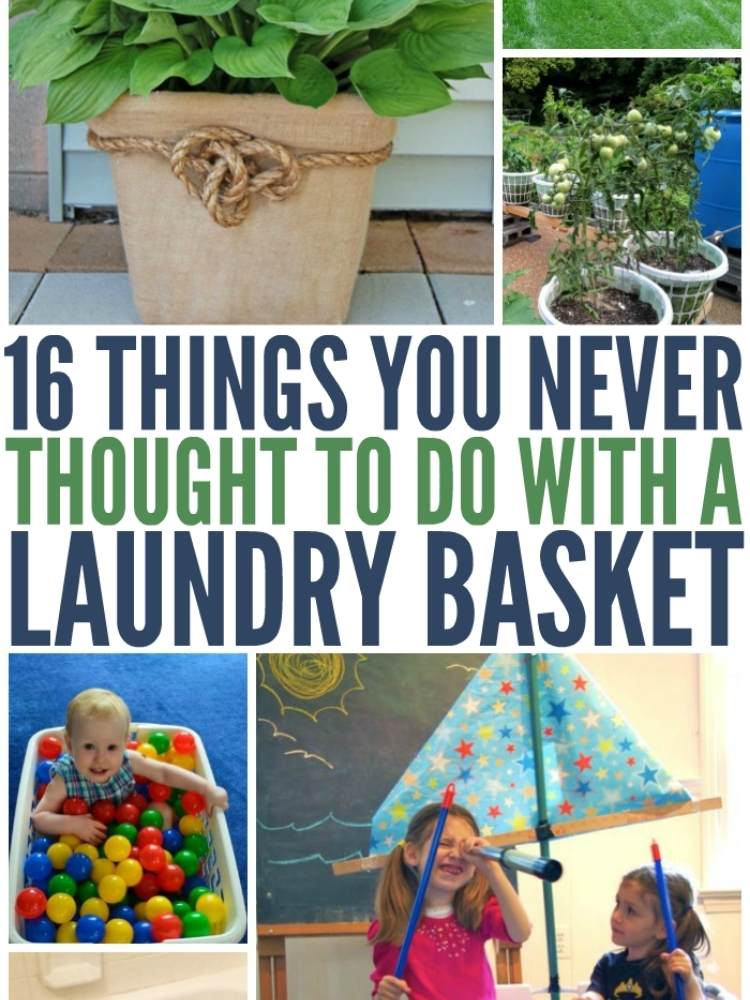 Fun and Unique Laundry Basket Ideas You can Do
Laundry baskets are one of those must-have items that everyone has lying around their house. But, maybe you've found that you have a few extra laundry baskets than you actually need for all that dirty laundry. No worries! We have got some really fun ideas that you can try if you want to repurpose one or two laundry baskets. Heck, these are so good that you may even want to go out and buy some laundry baskets just to try them! Turn the laundry day into crafty day!
1. Laundry Basket Bed
Forget about buying all those high-end, expensive cots for your little one. It's just the aesthetics we're looking for, and they an be budget-friendly! here's a great recommendation for you: If you have an extra laundry basket on hand, you can let them sleep in it when they are small! It's portable, easy to move from room to room, and it's more than enough space for that tiny, wiggly bundle of joy!
Just use a couple of small baby blankets to "soften" it a little. (Babies need a firm surface, so don't worry about making it super soft)
Be sure to follow the ABC's of Safe Sleep while you're little one is dreaming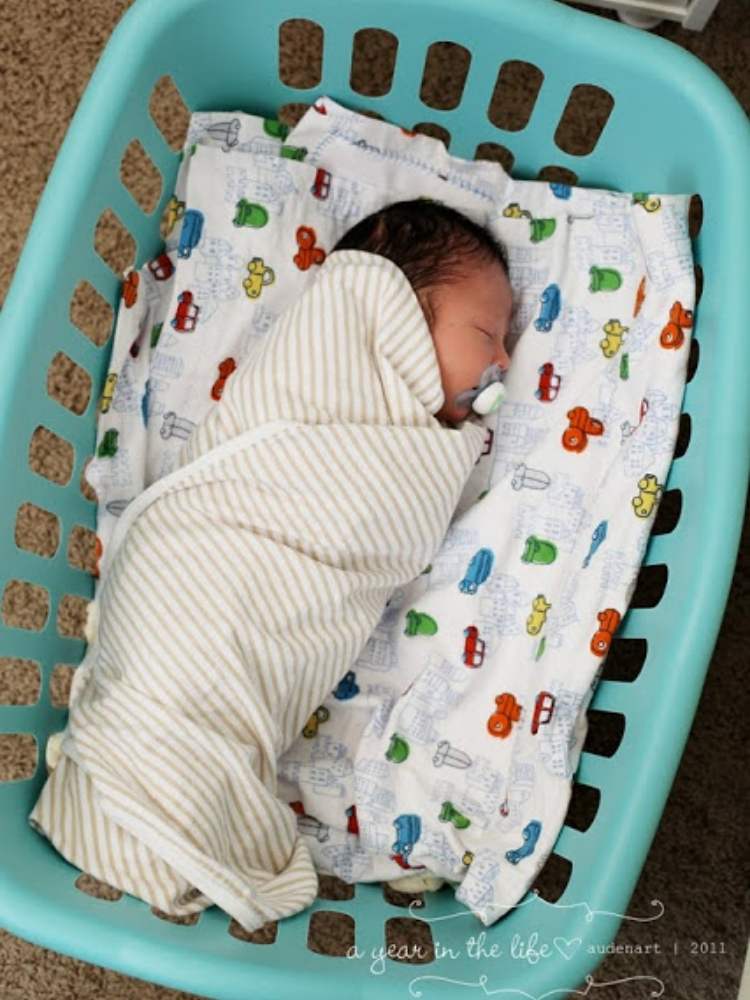 2. Container Gardening
This DIY laundry hampers hack is actually pretty neat and creative! You can use laundry baskets for container gardening. How cool is that? One laundry basket alone can yield 8-10 pounds of potatoes. Who knew gardening could be so simple? If you really want to go all out, you can even create an entire laundry basket garden with tomatoes, herbs, and more. This is such a creative idea for people with a limited amount of garden space.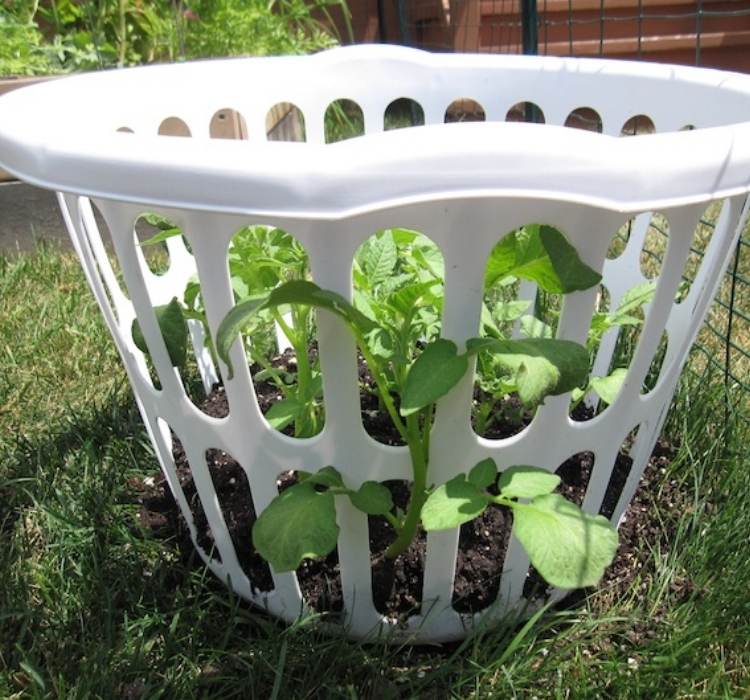 3. Beach Toy Storage
Get the that basket out of the laundry room and bathroom! Nothing says that Summer has arrived like a family trip to the beach! But, having to pack up all of those sand toys to and from the beach can be such a pain. And who wants all that wet sand in their vehicle? Luckily, we've got the perfect thing for you! All you have to do is take a mesh laundry bag hamper to the beach with you for easy toy storage. Then when you pack up to leave, the sand will fall out, so it won't get all over your vehicle! Goodbye bushels of sand! You'll love those stress-free beach days!
Psst…while you are here be sure to check out more of our amazing beach hacks.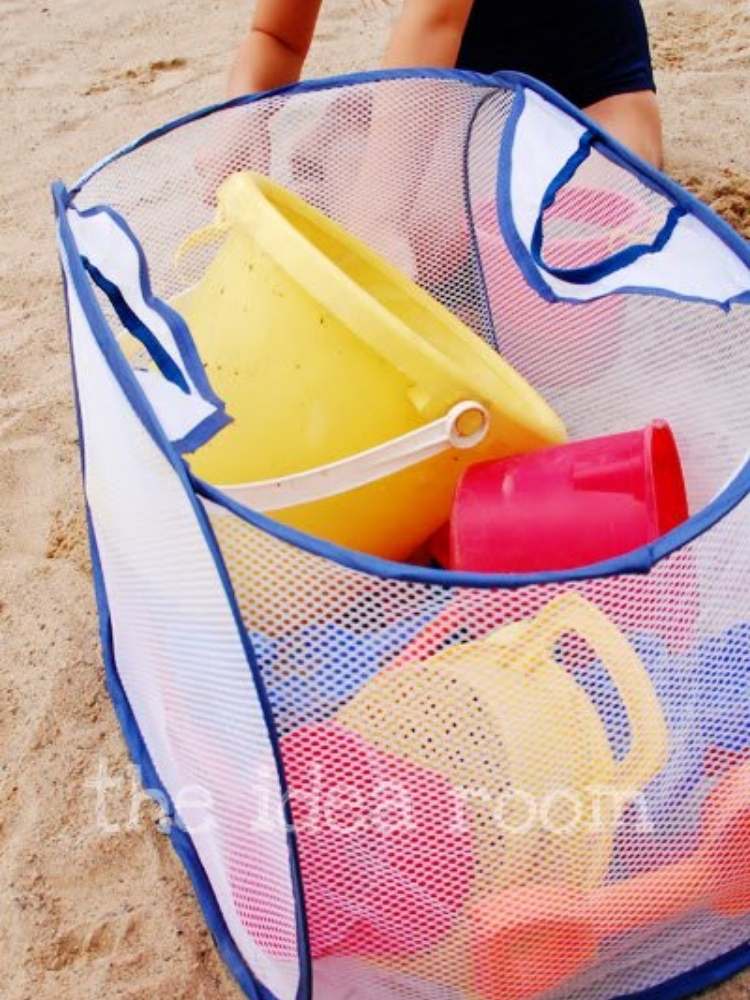 4. Laundry Basket Organizer
Here's one of the trends you shouldn't miss to get that best laundry hamper awards. It seems like something that most people never have enough of is a place to store and organize things. That's why we love this built-in laundry basket organizer! This genius laundry basket hack is super easy and can be used for a variety of items. Here you see this storage organizer being used to separate clothes. Everything has its place and you just grab the basket you want to wash and take it to the washer. Amazing!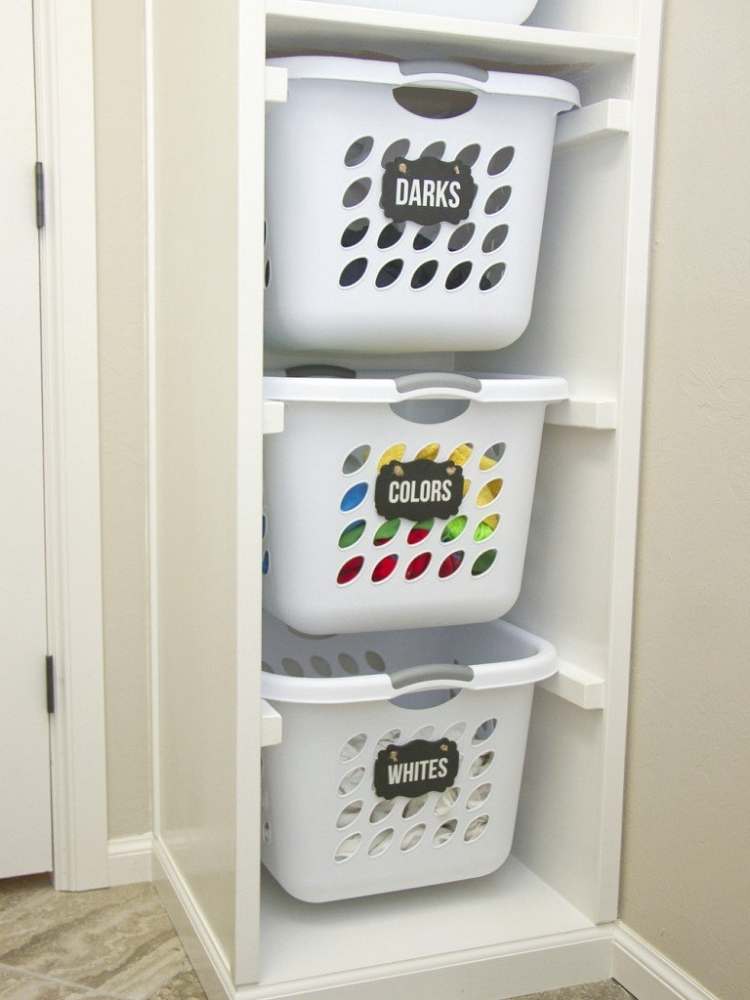 5. Hockey Goal
Are the kids driving you a little crazy always complaining of being bored? We feel you! Maybe try sending them outside for a game of field hockey! The kids will have a blast while getting full of Vitamin D from the sun and you can enjoy some time without hearing those dreaded words, "Mommy, I'm bored". Get this goal for easy transport!
All you need to make this fun and safe game are:
Laundry basket
Pool noodles
Plastic balls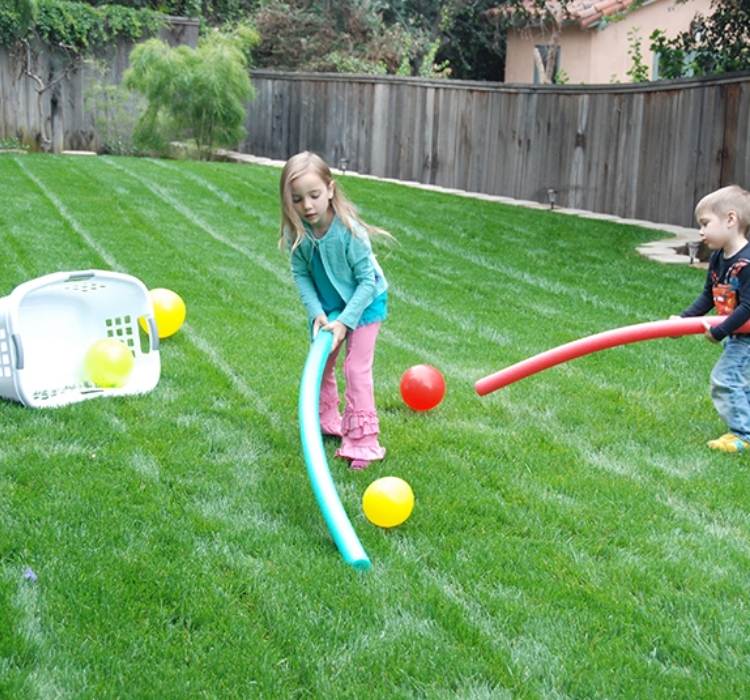 6. Create the Perfect Wreath
Everyone loves a beautiful wreath hanging on their door to welcome visitors! And the great thing is you can have a wreath for every season, whether it's a "hello spring" wreath or a "Merry Christmas" one! But have you ever wondered how they shape a wreath into a perfect circle?
Well, it's something that everyone has lying around their house. Yup! You've guessed it! It's a laundry basket! Use a round laundry basket to help you shape the perfect wreath for any occasion! Just follow the molding instructions and get the required things for purchases to create your perfect wreath!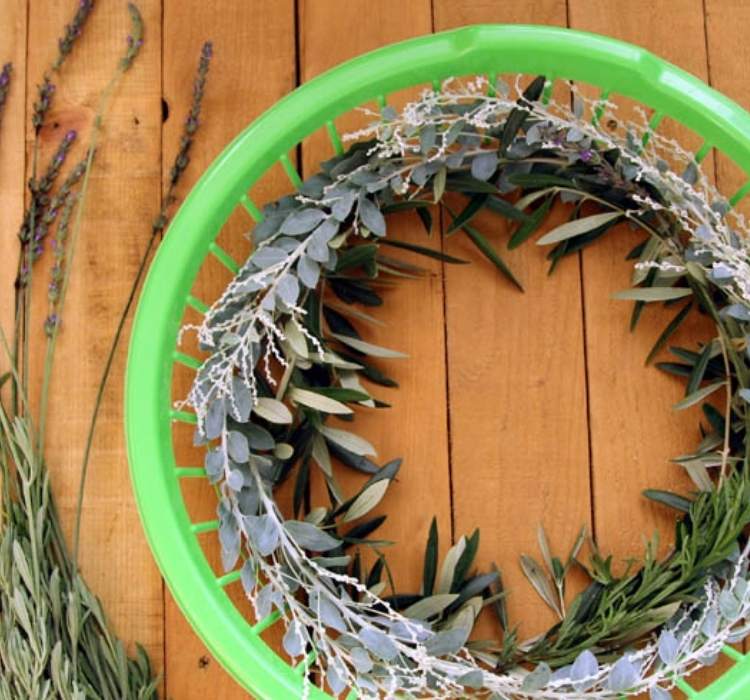 7. Oversize Colander
Most laundry baskets have holes in them to keep air flowing through your dirty pile of laundry so they don't get moldy and too stinky. But, you can also use it as an oversized colander! All that you have to do is take a laundry basket with you to the garden so you can wash your produce before you even bring it inside. What a wise produce dryer! The picture below shows a Tubtrug Colander (affiliate), but you can easily do the same thing with a small laundry basket. These make great gifts for that special gardener in your life!
Tip: Just be sure to wash the laundry basket first, unless you want your produce tasting like a wet sock. YUCK!
Are you an aspiring gardener? Check out our gardening hacks while you're here!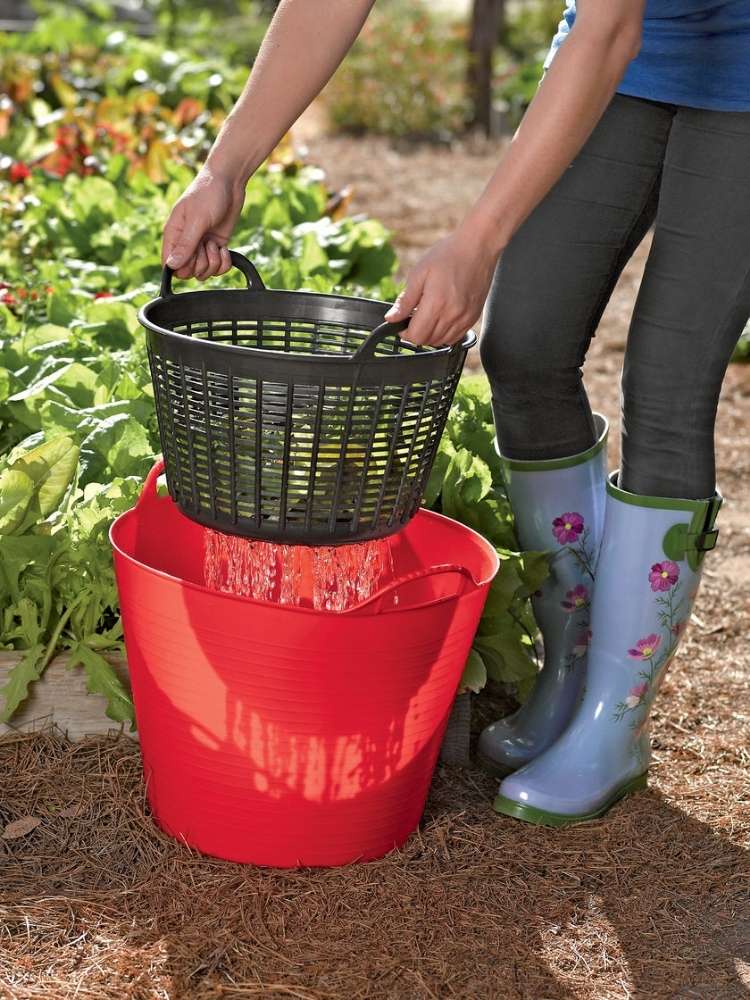 8. Baby Bath
There comes a time when you have to move your little one from the baby tub (or if you're like me, the kitchen sink) to the big tub. A great way to help your baby transition to the big tub is by putting him in a laundry basket in the big tub. It's an easy way to contain your baby and their toys. Less stress for mom, more fun for baby. Now that's a win for everyone!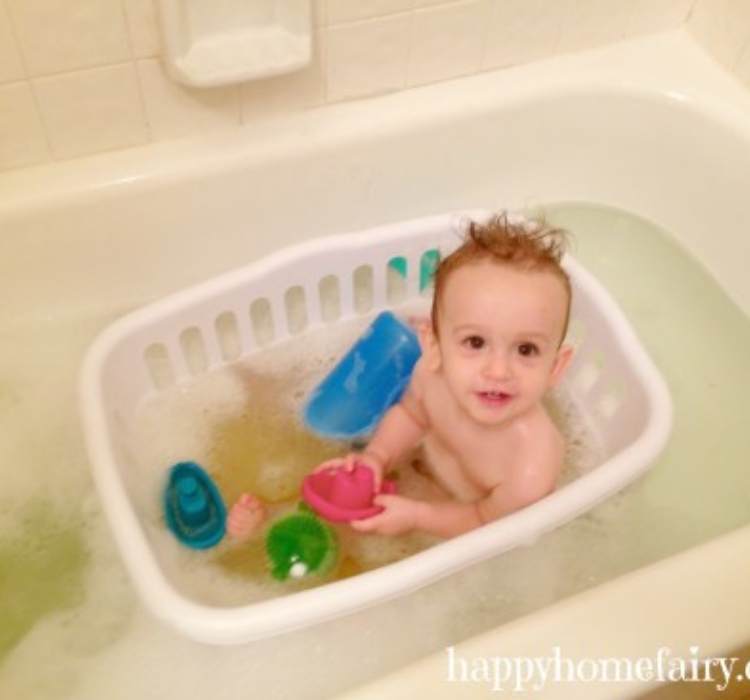 9. DIY Laundry Basket Planter
Have you ever noticed how crazy expensive a nice planter costs? Forget the expensive planters and try this DIY one instead by turning this laundry basket into a gorgeous DIY planter! All you need is some burlap and a piece of rope. How simple is that? I love how this laundry basket provides the proper ventilation for the plant.
Tip: These would make great and easy DIY gifts for the kids to give mom on Mother's Day!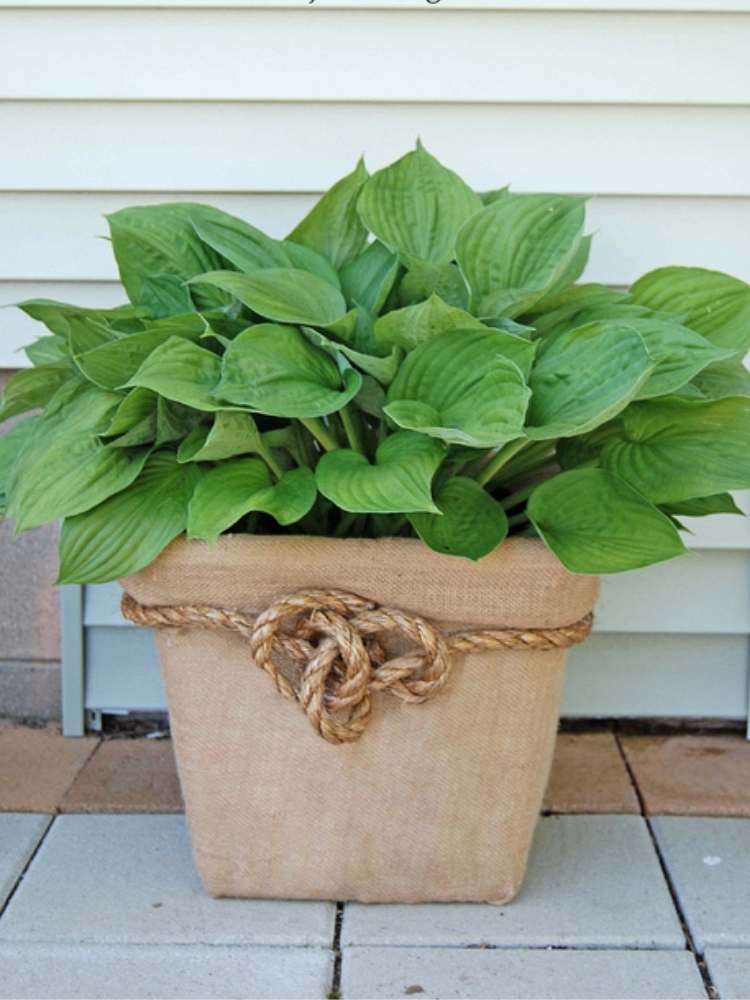 10. Laundry Basket Sailboat
As we've seen, laundry baskets aren't just for DIY projects or organization hacks for mom. They can also be used for the kiddos. Take their imagination out on the open waters (or at least the open waters of your child's imagination), by turning your laundry basket into a sailboat. Time for a voyage! Don't forget the telescope and oars! With any luck, your kids will spend hours playing while you can get some much-needed quiet time!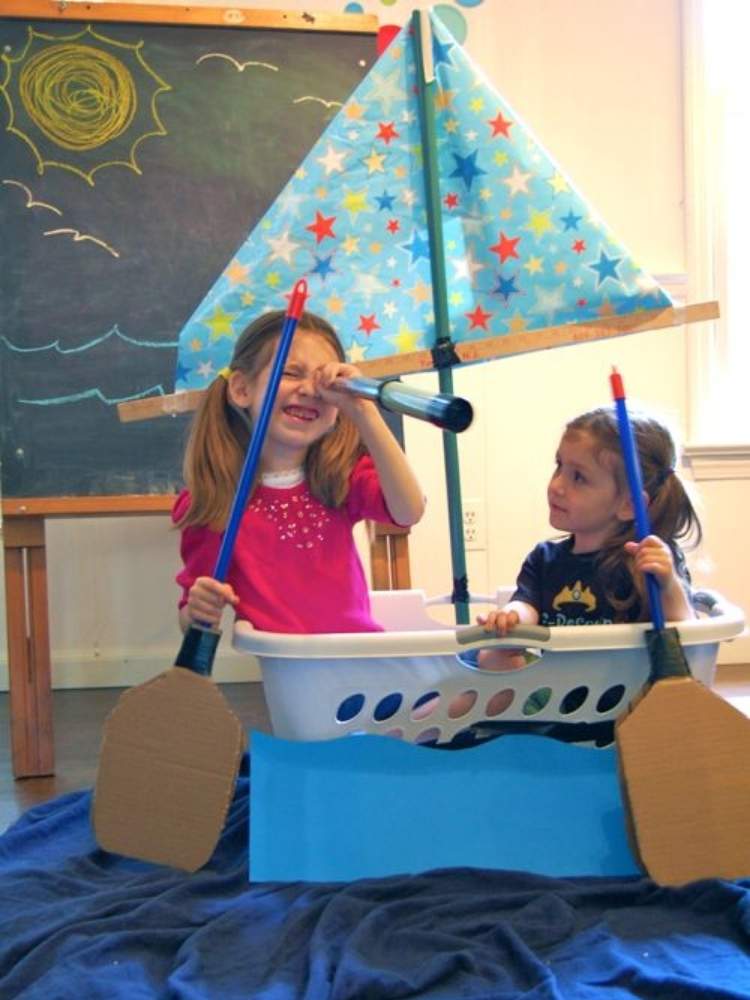 11. DIY Robe Basket
If you are looking for some extra decor for your home, then this is great little hack is perfect! Make a beautiful rope-wrapped basket to add some coziness to any room of your home. This would also make a great gift for someone!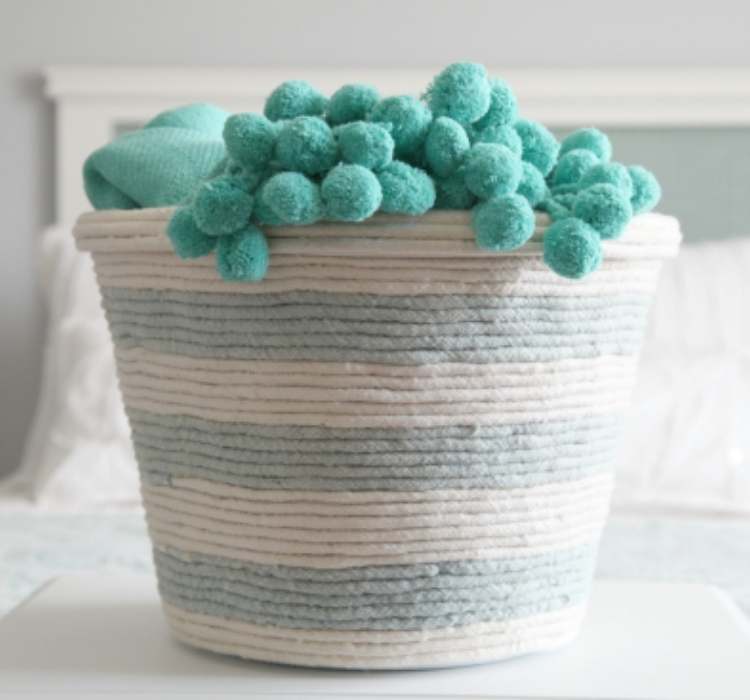 12. Basketball Hoop
Here's another one for the kiddos! Simply set up a basketball hoop that even the littlest family member will enjoy playing with! All you need is a laundry basket and some balls. If you want to make it even more fun, you can blow up some balloons and have them dunk those instead!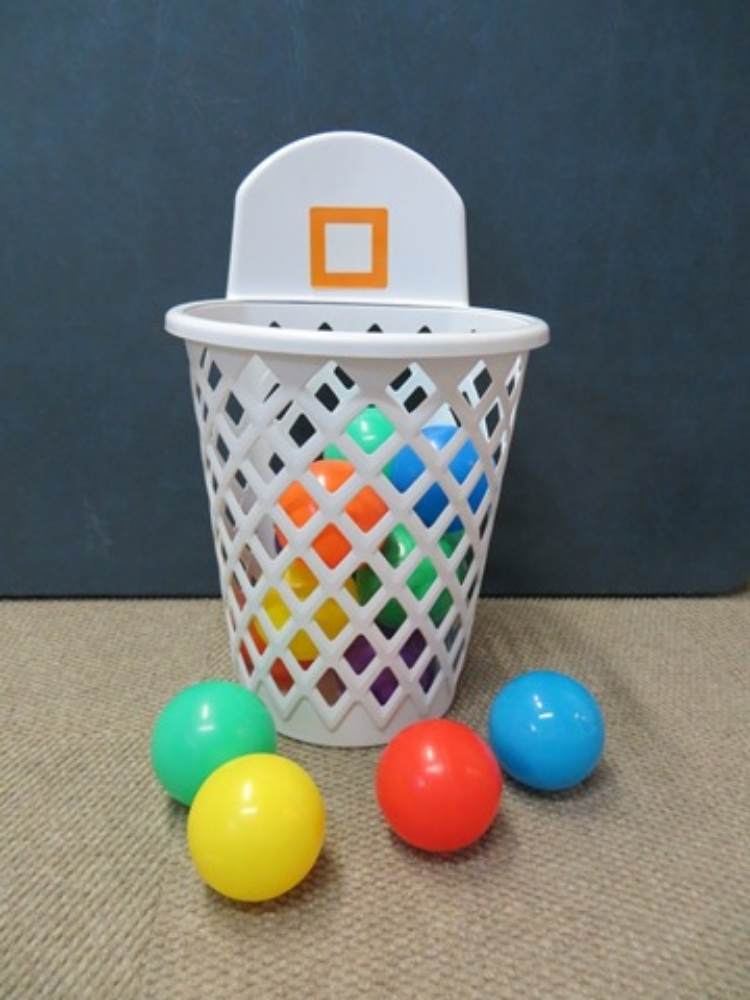 13. Style it Up!
Here's a creative way to make your laundry basket feel a little more like a fun decor instead of a basket that holds dirty laundry. Try painting your laundry basket to make it prettier. Maybe it will even make doing laundry a little more enjoyable, right?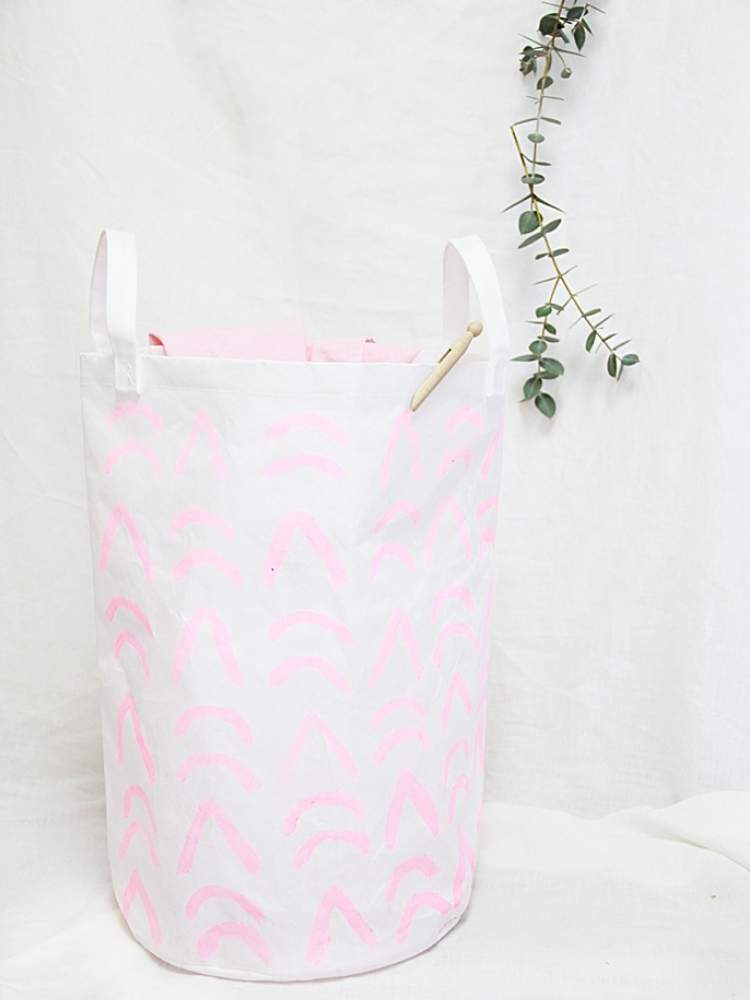 14. DIY Nightstand
If you're looking for a budget-friendly nightstand, then this upside-down wicker laundry basket is the perfect solution! It's simple, cute, and makes a great nightstand for a small space. In fact, you could even use it as an end table in your living room!
Tip: This would make a great housewarming gift! Fill it with towels or other essentials and then when they've emptied it, they'll have a nightstand as well! It's like the gift that keeps on giving.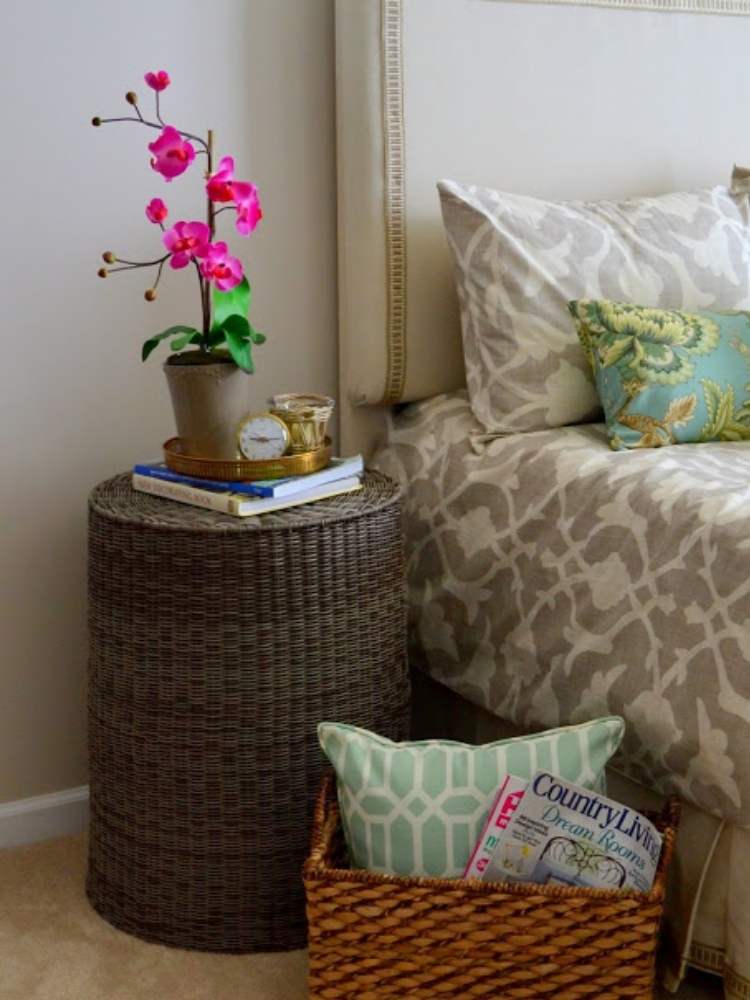 15. Ball Pit
Everyone loves a ball pit! Right? Turn your laundry basket into a mini ball pit for your little one to play in. It's pretty simple and your kiddo will love it. Laundry basket ball pits are safe, simple, and so much fun for your baby!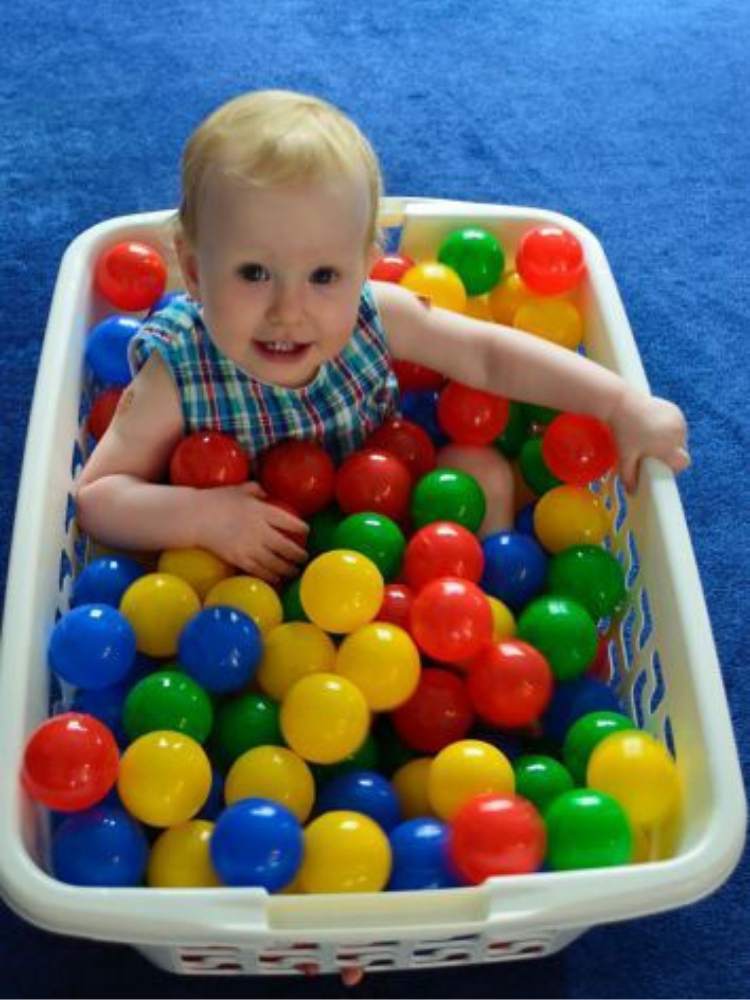 Creative Ways to Repurpose Your Laundry Basket
It's always fun and even a little exciting to find new ways to repurpose everyday household items. And the list is never-ending! Maybe you'll even be able to come up with your own creative use for repurposing your laundry basket!
Whether you're creating a game for the kiddos, using them for storage, or planting a garden in one, laundry baskets have a lot of potential besides carrying your laundry back and forth from the washroom.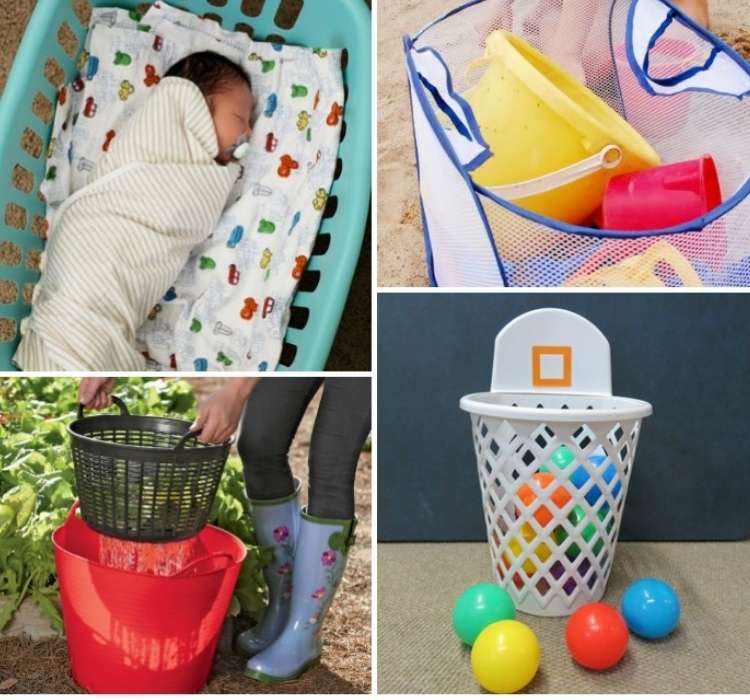 Want some more DIY ideas for everyday items? Check out these other posts for inspiration!
Which of theses fun laundry basket ideas have you tried?