Not many people love doing laundry, but don't you think it would be a little more pleasant if our laundry rooms were more functional, more beautiful and more organized? That's our theory, so we've found 17 beautiful laundry room organization ideas to implement in our own homes.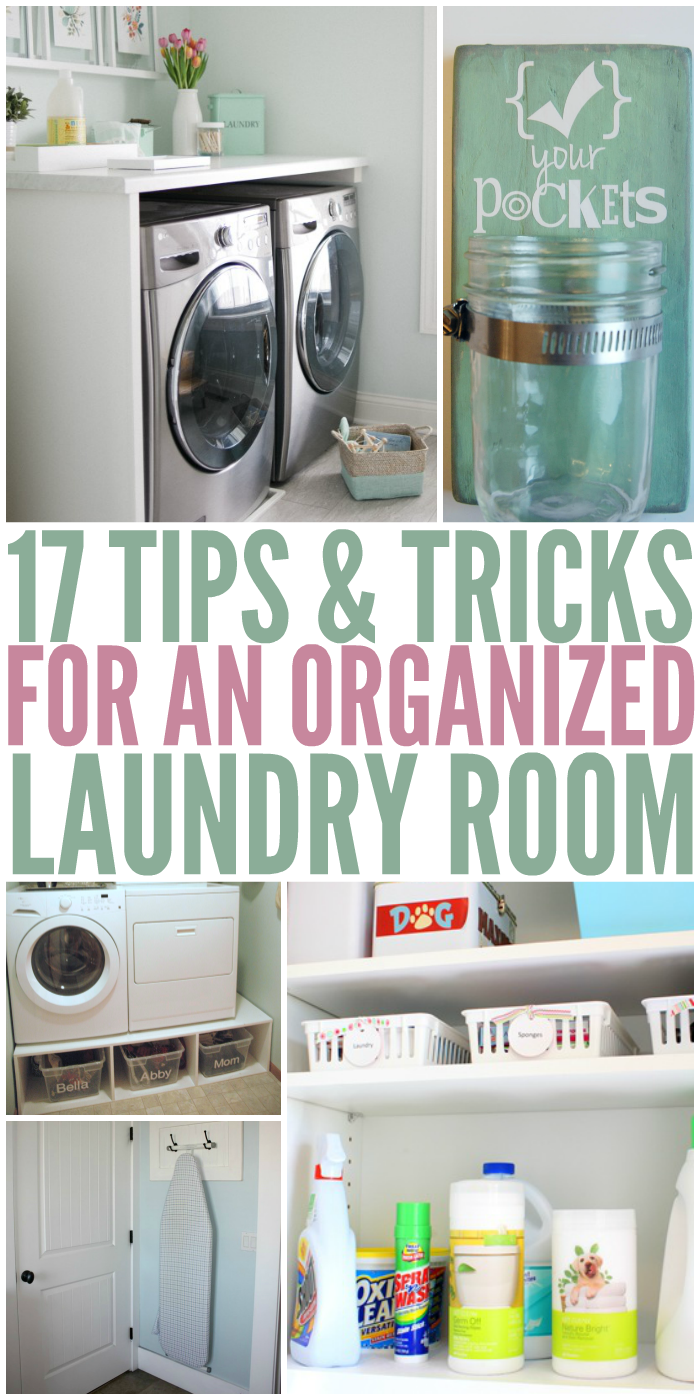 We love this folding station over the washer and dryer. It's so smart because you can fold the clothes as soon as they come out of the dryer, but if you don't have time to put them away right away, you can keep them off your bed or couch. They also have another folding station on the other side of the room. Totally jealous!
If you store your cleaning supplies in your laundry room, use small baskets to sort everything. The pretty labels are a nice touch!
Talk about putting your washing machine on a pedestal! This clever idea provides storage underneath the washer and dryer for individual laundry baskets.
Laundry Tip: Hang your ironing board on robe hooks to keep it out of the way until you need it.

A jar is a great reminder to check your pockets. You'll probably collect quite a bit of change over the course of a year!
Laundry bags are a terrific idea. Everyone can have some in their bedrooms, and when they're full, bring them to the laundry room for washing. These are labeled by color. Smart.
A hanging ladder as a drying rack is pure genius.
If you don't often need to air dry things, a small DIY drying rack will suffice.
Label the drawers. You won't believe how much that little trick simplified our life when the kids started putting their own clothes away!
We all have problems with missing socks. Put up a missing sock station to keep track of them until you find the match!
Have a stackable washer and dryer? Put shelves on either side for your detergents, dryer sheets, and all those other random things that seem to find their way into the laundry room.
Keep clothes hangers in the laundry room to hang your laundry as soon as it comes out of the dryer. No wrinkles!
Not a fan of ugly detergent containers? Make your own pretty laundry soap storage.
We actually have a laundry closet, so space is super tight. Just when I thought there was nowhere to add functional shelving, I saw this post. Even small shelves and containers can make a big difference!
If you're short on floor space, put the laundry baskets above the washer and dryer on a wire shelf.
Or use cabinets to house the baskets. Give everyone their own or sort by color.
Here's another clever laundry basket system.
A door rack works wonders for storing cleaners and detergents. If you don't have room in the budget for an actual door rack, a shoe organizer will work in a pinch, too.