We're all about getting organized to make life simpler, and we know you are, too. Our pantry organization ideas were a big hit. But if you're on a budget, the one organizational tool you need is a shoe organizer. Actually, you'll want several after you see these genius ways to use shoe organizers around your home.

Ways to Use a Shoe Organizer
Organize Legos by color – no more little bricks to step on everywhere.
Keep your child's Barbie dolls tidy and accessible, too!
Keep extra gift wrap tidy and neat.
Corral miscellaneous items in the kitchen, like oven mitts, spatulas, whisks, etc. You could also use it for the less frequently-used items to free up drawer space.
Store your gloves, hats and scarves in a shoe organizer during the winter.
Small bathroom? Keep your hair styling products and tools hanging on your door instead of cluttering up the sink.
Love to craft? Keep your craft supplies sorted in a shoe organizer. They're stilll easily accessible, but you can keep the crawlers and toddlers out of them.
Put your camping supplies in a shoe organizer! Roll it up for easy storage after your camping trip.
Store your cleaning supplies behind a door if you don't have under-the-cabinet storage available.
If you have more baby clothes than you have space, a shoe organizer is a great way to sort and store those onesies, baby socks, baby shoes, etc.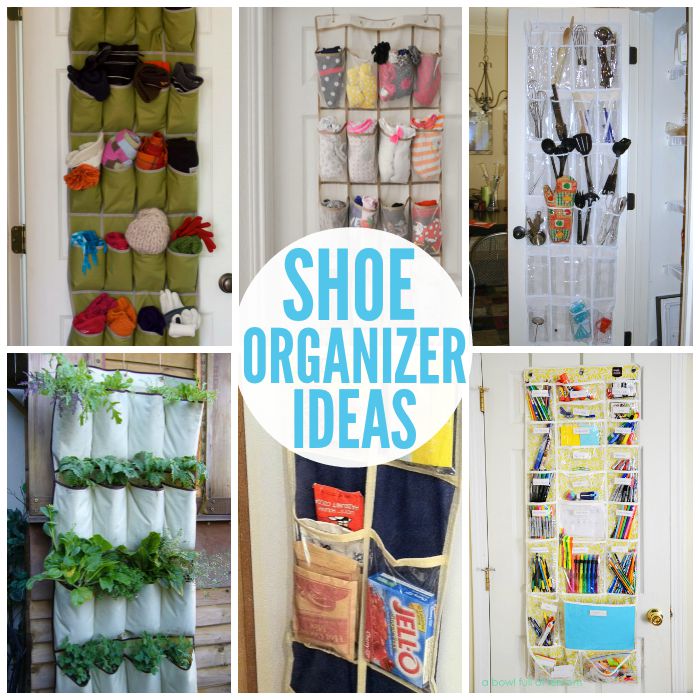 Shoe Organizer Ideas
Make an easy Advent calendar for Christmastime. You could create a fun vacation countdown or back-to-school countdown with one, too.
In the pantry, use a shoe organizer to hold seasoning packets, Jello and other small packets and boxes.
At the beginning of the school year, you probably buy loads of school supplies and have nowhere to put them. Well, now you do!
Grow a vertical herb garden if you have a small outdoor space.
Store fruits and veggies in your pantry. Keep your kids' favorites near the bottom to encourage healthy eating choices.
Nuts about doing your nails? Sort your nail polishes by color.
Get your headbands, hair elastics and other hair accessories organized.