Now that spring is finally near. Time for backyard DIY ideas. At One Crazy House, we're dreaming and scheming of back yard ideas to create the *best* backyard space.
Hammocks… deck beds… patio tables with built-in wine coolers… Isn't that the stuff summer dreams are made of?
Check out these outdoor DIYs (and do them!) to create a backyard your neighbors will be jealous of.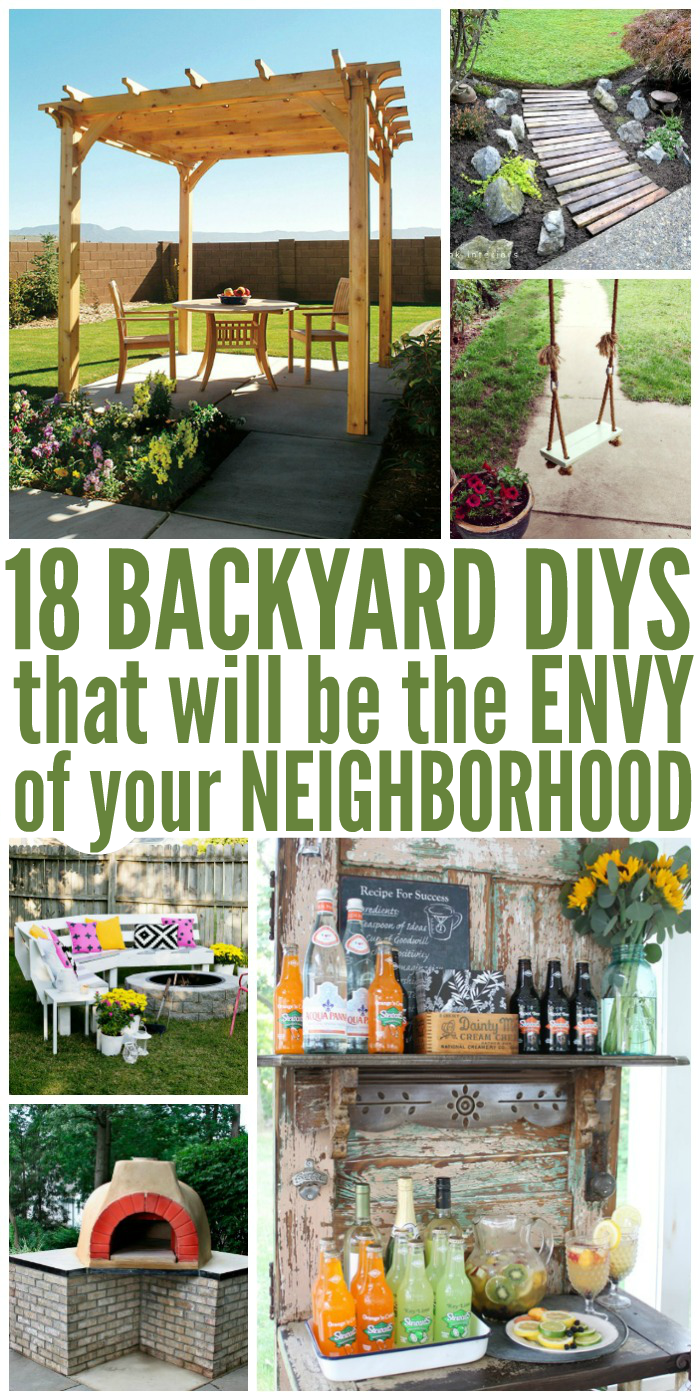 Backyard DIYs to Upgrade Your Outdoor Space
Build a pergola to help define your outdoor space. It makes for a lovely dining area.
via Popular Mechanics
Create a pallet walkway to add a bit of rustic charm to your garden or yard.
via Funky Junk Interiors
And if you have extra pallets, build yourself a vertical garden. It'll look gorgeous filled with flowers, herbs or succulents.
Create a backyard swimming pond! This pond is simply begging for a swim. It even comes with a beach!
via Design Sponge
No backyard is complete without a fire pit, but what really makes the space rock is a gorgeous seating area. Build yourself one of these curved fire pit benches to really wow your friends!
via A Beautiful Mess
We love, love, love this vintage beverage bar station made out of an old door. Isn't this backyard DIY ideas just gorgeous? Cream sodas and root beers all around!
via Finding Home Farms
The kids will have loads of fun drawing on their giant DIY outdoor chalkboard. How fun is that?
via My House and Home
A daybed on your deck? Why, that's just heavenly. Imagine reading there on a breezy spring or summer day. (See more of our deck hacks!)
via Apprentice Extrovert
Build a cobblestone patio or walkway to add some pizzazz to your yard. It's easier than you think.
via Home is Where They Love You
You don't have to be a DIY guru to build something fabulous. This outdoor seating area is made of wood and cinderblocks. Add some paint and a pretty cushion on top, and you're done!
via Simple Living by Lena Sekine
This DIY backyard playhouse will certainly be the envy of the kids in the neighborhood. It'll make the perfect kids' clubhouse.
via DIY Network
Want to use water to add a little ambiance to your outdoor space? This contemporary water feature only costs $30 to make. It'll look nice surrounded by some succulents.
via The Garden Glove
Is any food greater than the tasty, portable pizza? We don't think so, and if you agree, you'll want this outdoor pizza oven in your life. Homemade pizza is the stuff dreams are made of.
via HGTV
Wine bottles make beautiful torches. They'll look amazing lit up in the evening. Speaking of wine bottles, have you seen all the things you can do with wine corks?
via Design Sponge
A hammock, pillows, table and plants underneath makes for the most magical outdoor spaces I've ever seen. I could read there all day!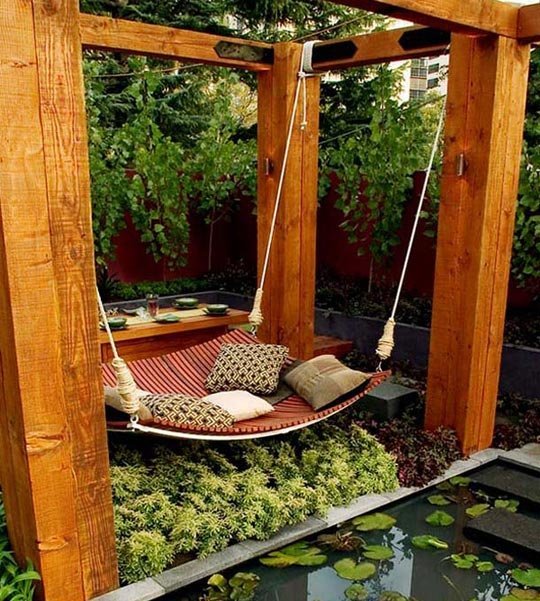 via Apartment Therapy
Even if you don't have kids, a tree swing is a must. There's no way you can feel anything but happy after playing on a swing.
via A Beautiful Mess
Build a bowling alley by your fence. In this version, the pins are attached to rope to make standing them up much easier.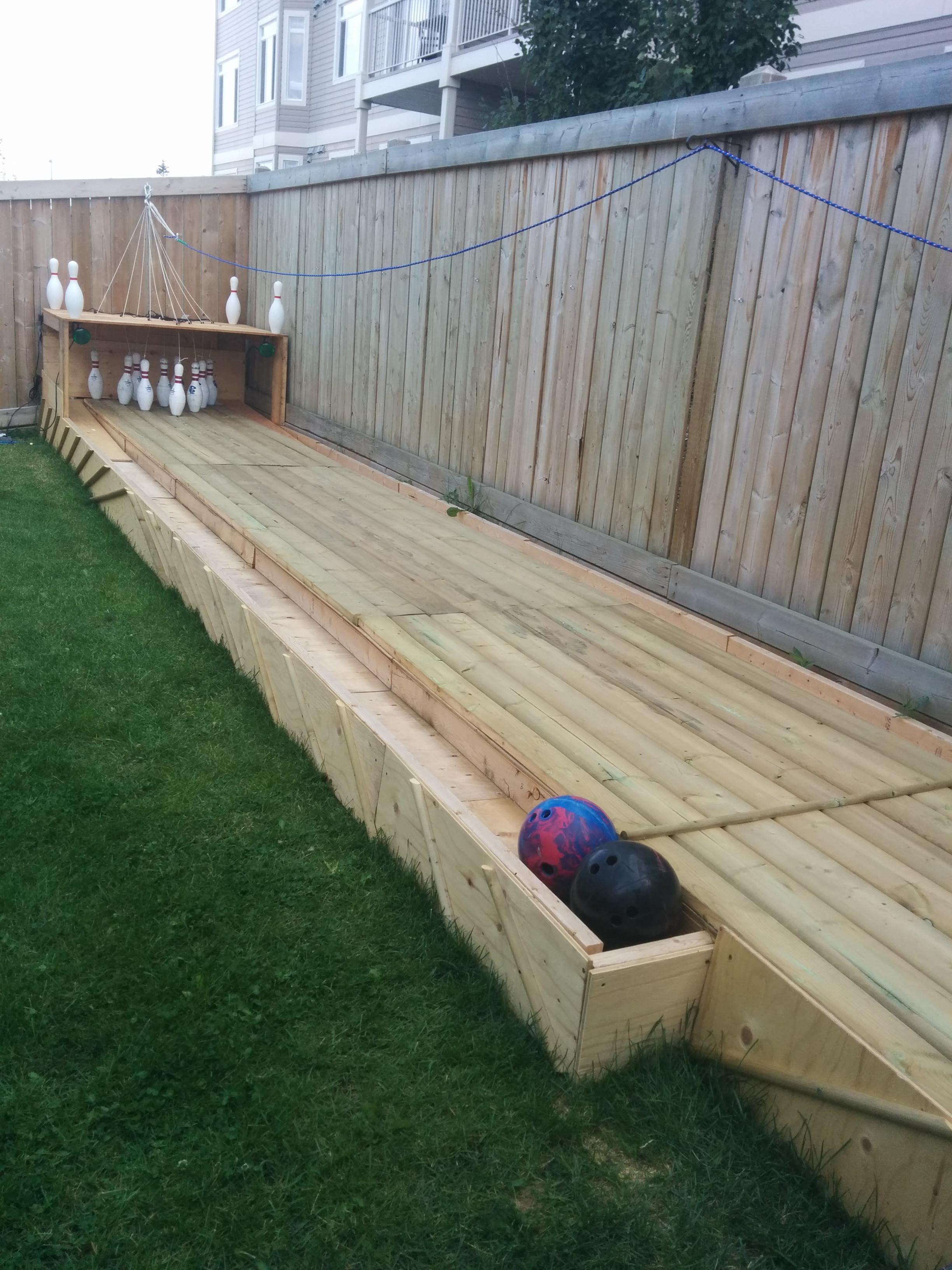 via Imgur
The word nerd in me loves this outdoor Scrabble seating area. Great for outdoor entertaining!
via Yahoo Lifestyle
And, finally, who can't appreciate a DIY patio table with a built-in wine cooler? Amazing.
via Domesticated Engineer
Here are some more small backyard DIY ideas:
If you have a small backyard, but still want to make a big impression, here's a couple of DIY backyard ideas for your small space!
Lacking Space, But Wanting a Deck: Use pallets to create a small yet effective deck! Pallets are trending in the world of DIY backyard landscaping because they are very user-friendly and are super versatile. Depending on the space you have available, you can put one or two together to create a raised deck. Sand them down, add some stain and seal for a chic look that's inexpensive.
Use Potted Plants: Instead of digging up what precious little space you have, or if you don't actually have grass to dig up, try using potted plants to add flair to your small backyard. Mix up between tall and short plant varieties and create your very own oasis in your backyard. The best thing about them being potted is that switching up the look of your yard is as easy as moving the pots around!
You can put those two ideas together and create a beautiful focal point in your small space. Just because you lack space doesn't mean you have to lack style!
Backyard DIY Ideas
If you enjoyed these backyard DIY ideas, you'll also love these posts:
19 Genius Garden DIYs You've Never Thought Of
16 Light Fixture Makeovers to Save You a Ton of Money
20 Clever Solutions to a Messy Garage