Now that warm temps are finally here, it's time for DIY backyard ideas. At One Crazy House, we're dreaming and scheming of backyard ideas to create the *best* backyard space.
Hammocks… deck beds… patio tables with built-in wine coolers… Isn't that the stuff summer dreams are made of?
Check out these outdoor DIYs (and do them!) to create a backyard your neighbors will be jealous of. Or use them for inspiration to create your own backyard oasis for every member of the family.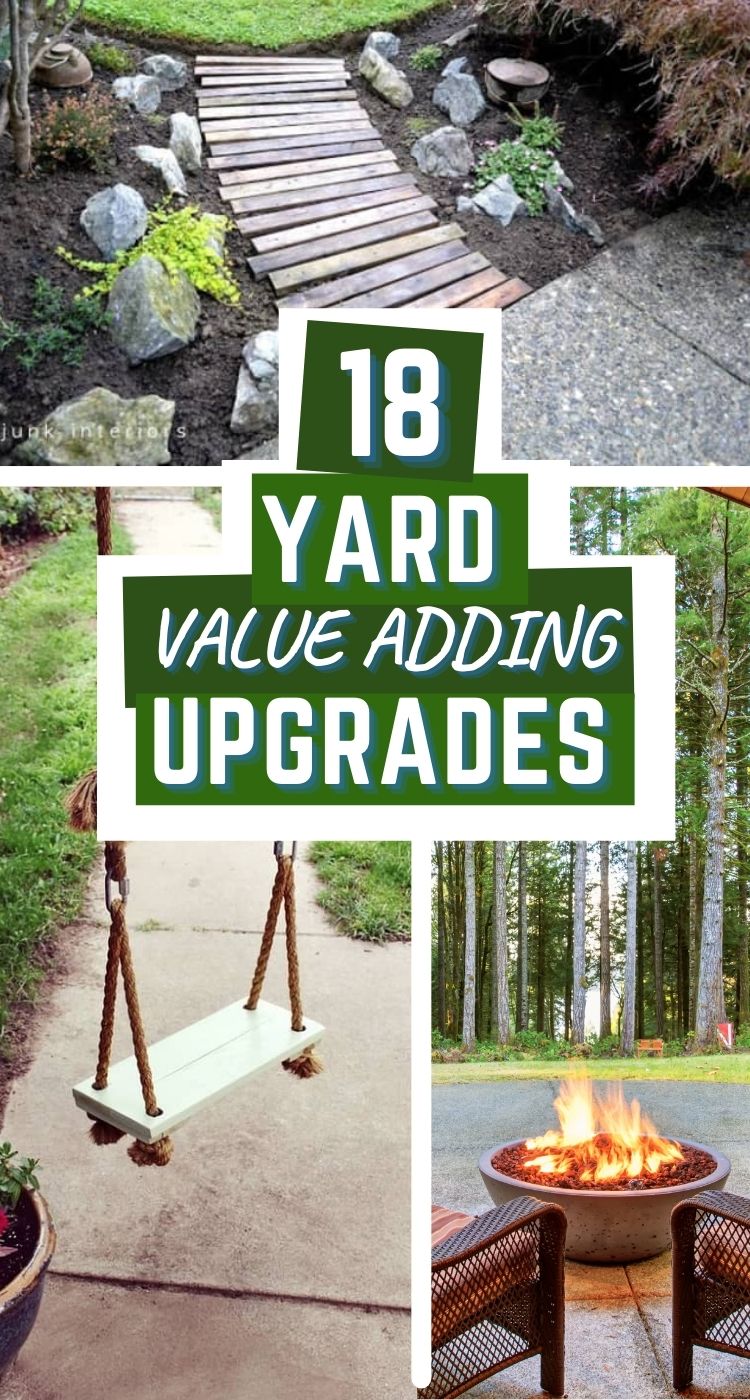 Best Backyard Ideas to Upgrade Your Outdoor Space
Any backyard can be made a little cozier with these ideas for making your space more beautiful, useful, and fun.
1) Create an Outdoor Dining Room
Build a pergola to help define your outdoor space. It can also add style and shade to create a lovely dining area. Just add your favorite seating or outdoor bench, and a rug to give a pop of color, and you are on your way to dining al fresco.
Here are more ways to build one!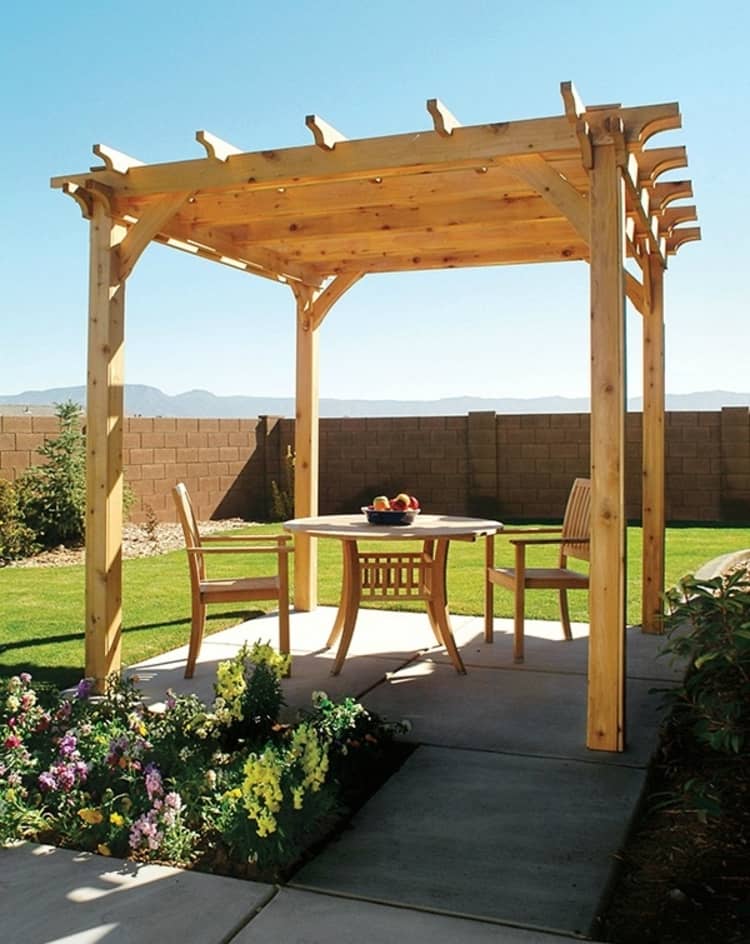 2) Wooden Walkway Creates Instant Charm
If you've ever desired a meandering pathway in your garden somewhere, you will love this easy project! Create a pallet walkway with wood pallets to add a bit of rustic charm to your garden or yard. You can make it in one afternoon with pallet boards or pretty much any scrap wood you may have on hand!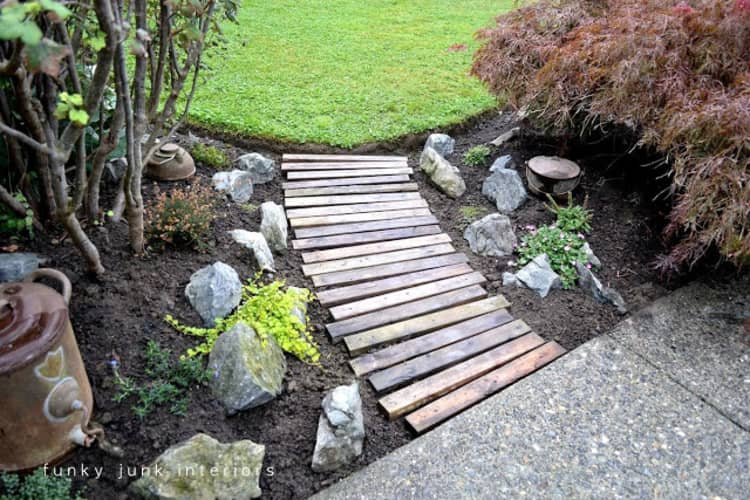 3) Nifty Backyard DIY Idea for Upcycled Pallet
Short on space, build yourself a vertical garden decoration. It'll look gorgeous filled with flowers, herbs, or succulents.
Here's another way to make it (with a video)! 
Materials to Update Your Backyard with Pallets:
a pallet (ask around – you can usually get one for free)
roll of landscaping paper (Since a full roll of this can be expensive, see if you can find remnants in a Buy Nothing group online.)
sandpaper
staple gun and staples
hammer and nails
potting soil (about 2-4 cubic feet depending on the size of the pallet)
adorable succulents or other plants of choice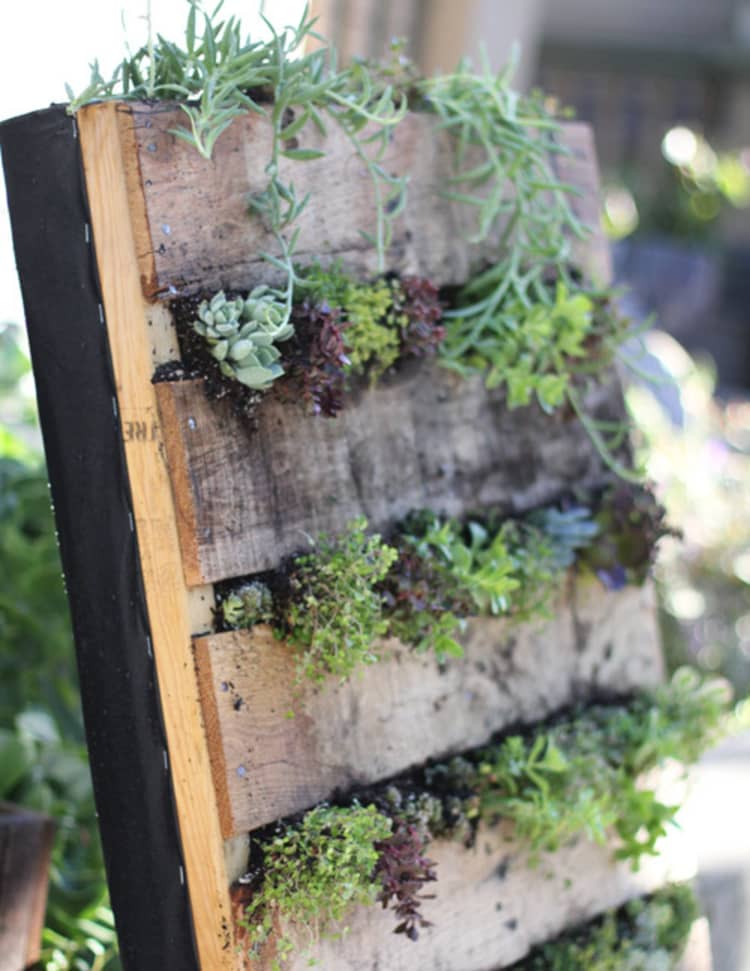 4) Add Some Chic Seating Around Your Fire Pit
No backyard makeovers are complete without a fire pit, but what really makes the space rock is a gorgeous seating area. Build yourself one of these easy DIY curved fire pit benches to really wow your friends!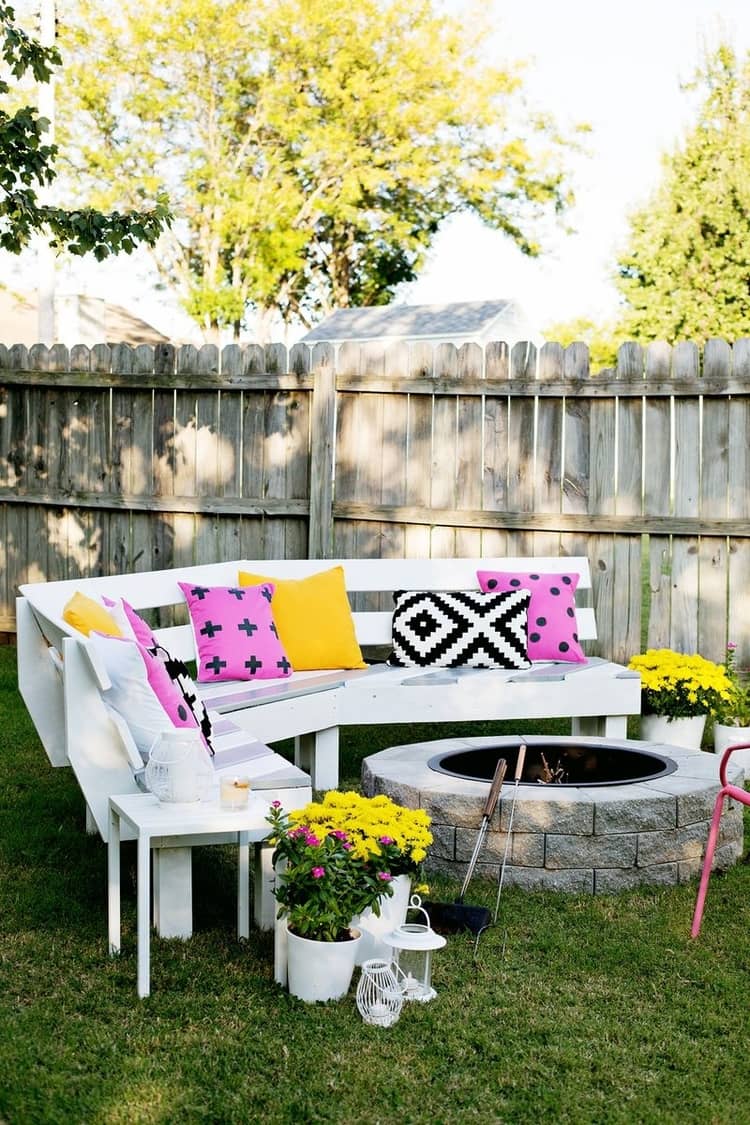 5) Makeover An Old Door To Create A Serving Space
We love, love, love this vintage beverage bar station made out of an old door. Isn't this DIY backyard project just gorgeous? Cream sodas and root beers all around!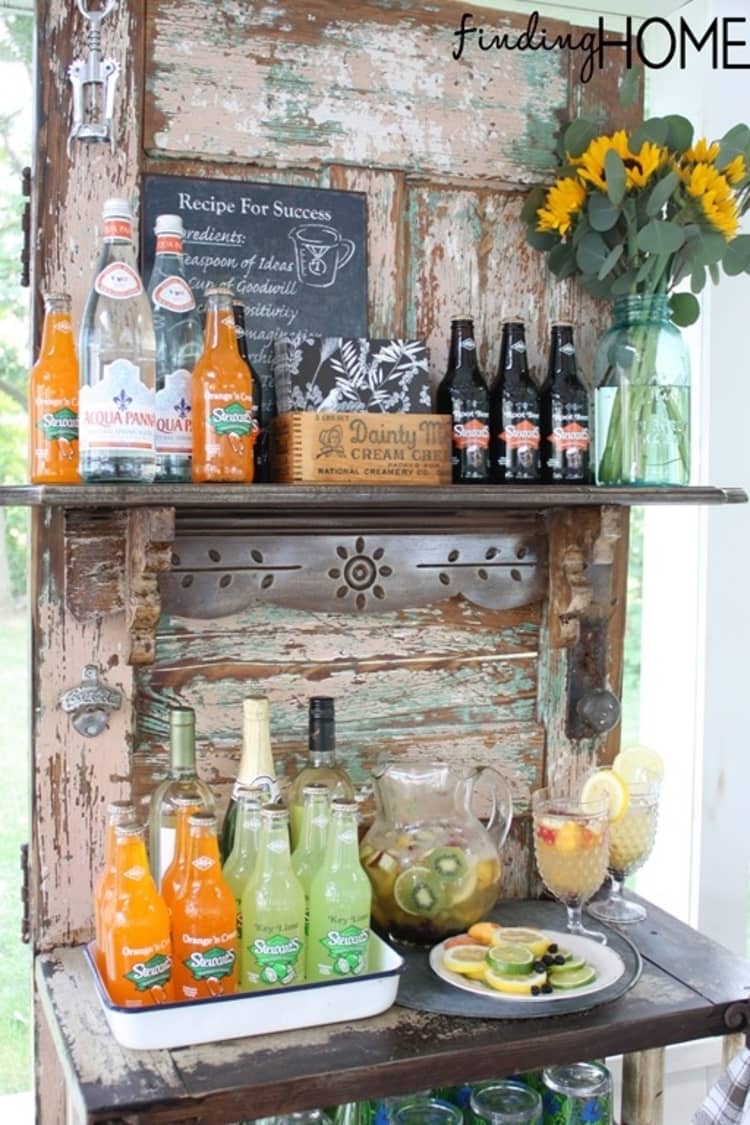 6) Free Your Kids' Imagination With Some Chalk Paint
The kids will have loads of fun drawing on their giant DIY outdoor chalkboard. How fun is that?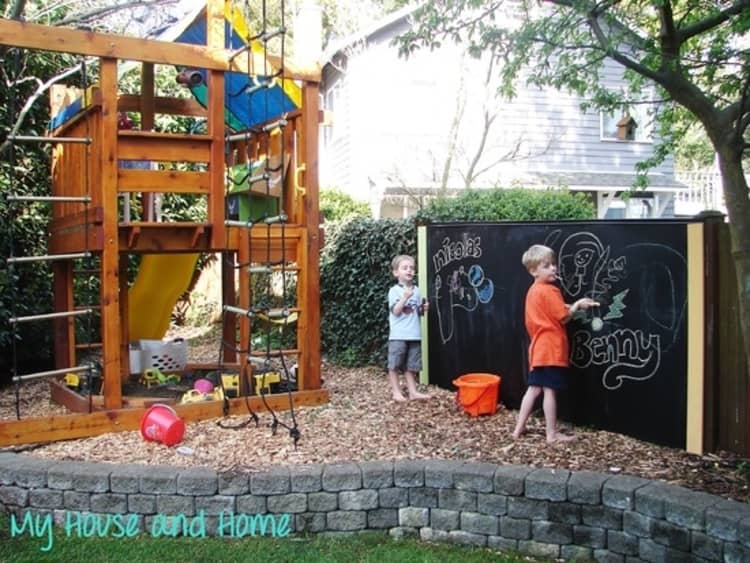 7) Build A Comfy Daybed on Your Deck
A daybed on your deck? or a DIY hammock? Why that's just heavenly. Imagine reading there on a breezy spring or summer day. (See more of our deck hacks!)
Here's another way to make an outdoor pallet daybed!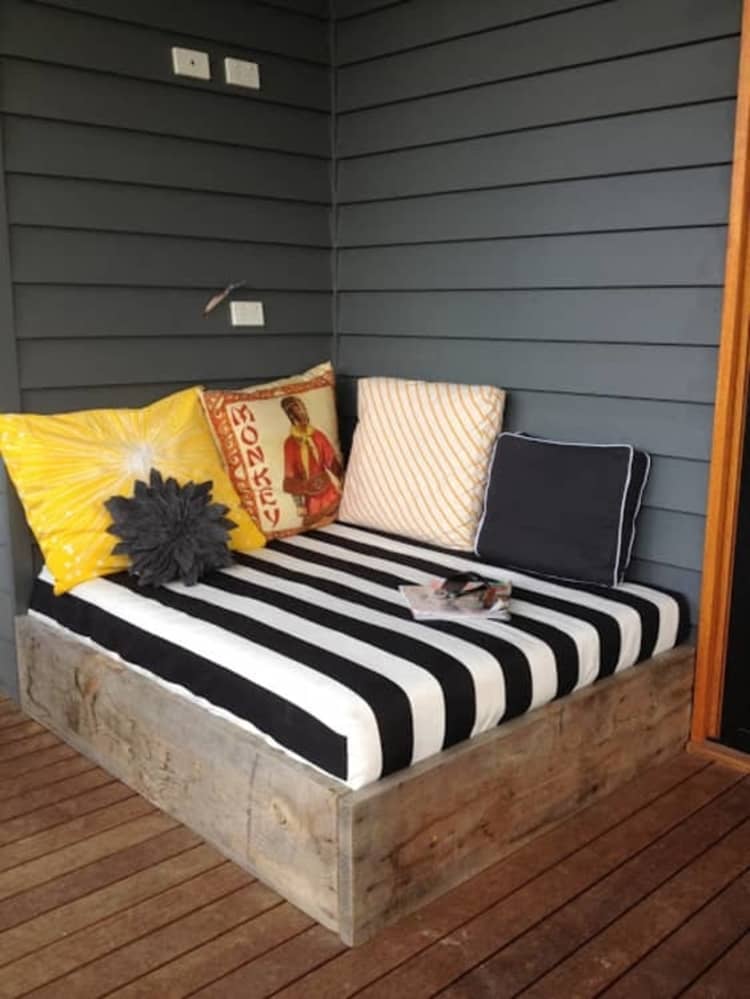 8) Use Pavers to Dress Up A Blah Corner of Your Backyard
Build a cobblestone patio or walkway to add some pizzazz to your yard. It's easier than you think.
You can get a mold to create pavers out of concrete or purchase individual pavers from a home store. Or for a more rustic look, see if you can mix-and-match pavers or remnants that you get on clearance or on from a neighbor.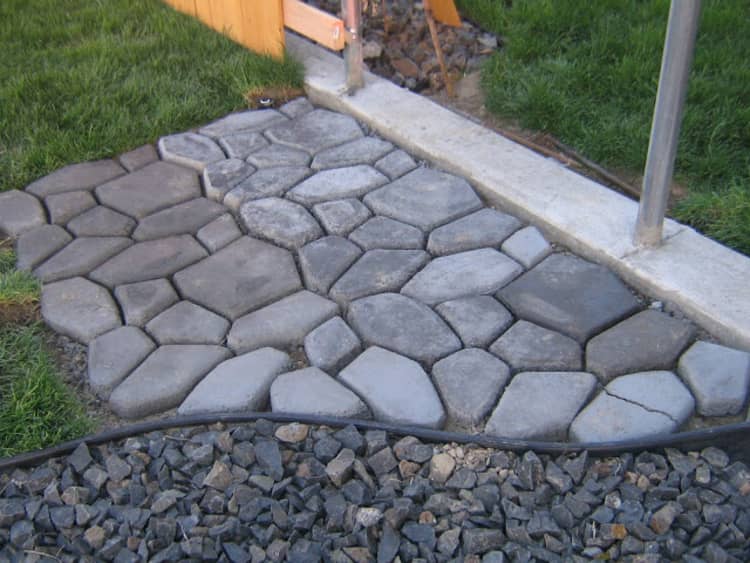 9) DIY a Simple Bench for Added Seating
From neighborhood barbecues to pool parties, backyard gatherings require plenty of seating. Don't rush to the furniture store, though, because this is a great chance for a DIY project!
You don't have to be a DIY guru to build something fabulous. This outdoor seating area is made of wood and cinder blocks – the hardest part is carrying all the blocks from store to car to the backyard. Add some paint and a pretty cushion on top, and you're done!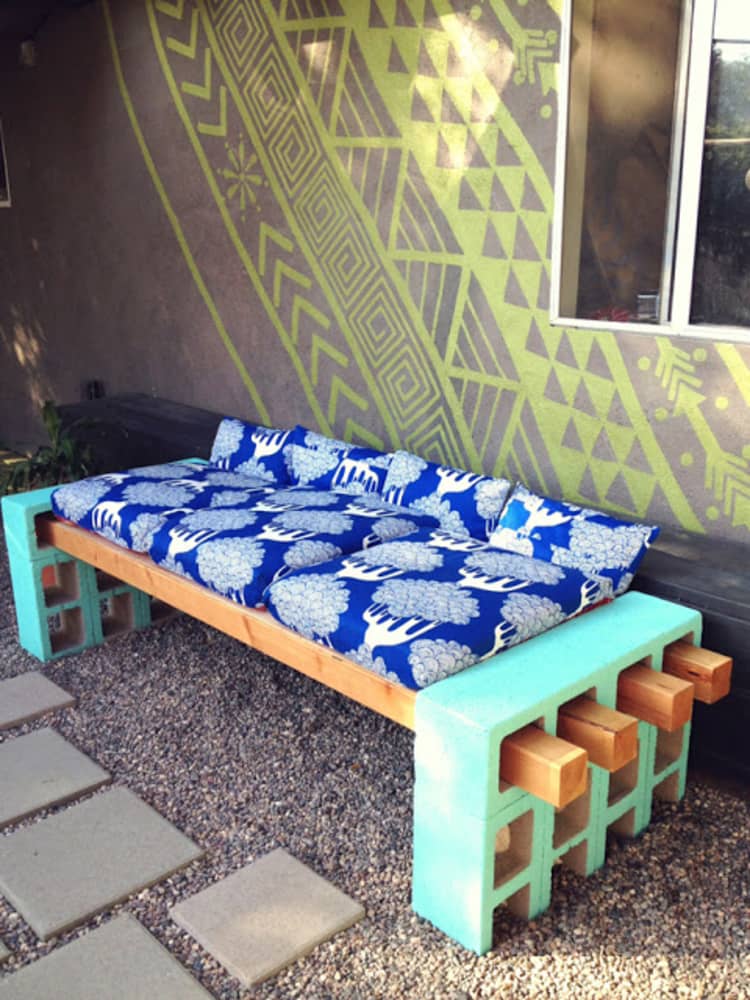 10) Built a One-of-a-Kind Playhouse For Your Kids
Not only is this a FUN hangout spot but it also is PERFECT as it closes up when not in use!! This DIY backyard playhouse will certainly be the envy of the kids in the neighborhood. The triangular space makes it interesting to look and it's got two stories. The epic roof hatch opens to a playhouse equipped with a chalkboard wall, storage underneath the floor, and a loft with a fixed ladder. It'll make the perfect kids' clubhouse.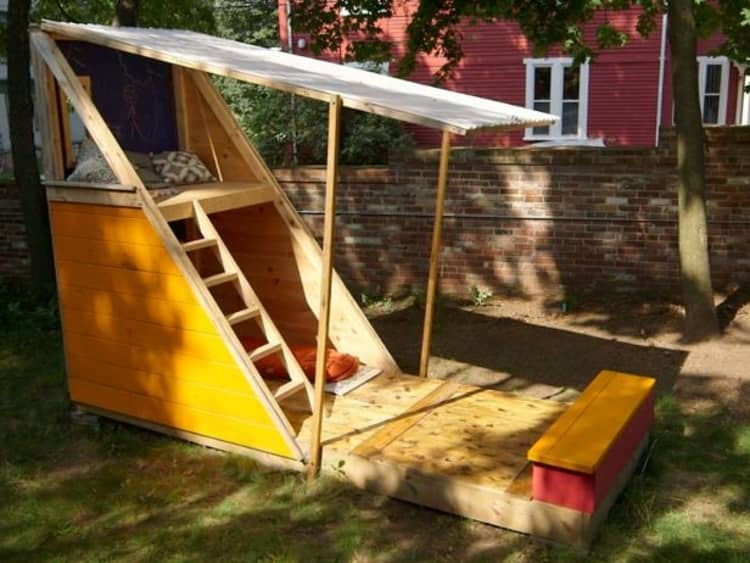 11) Create an Affordable Water Feature
Want to use water to add a little ambiance to your outdoor space? This contemporary water feature only costs $30 to make. It'll look nice surrounded by some succulents.
Don't forget, if you are looking to add live plants, you need to be sure to put this in a sunny spot!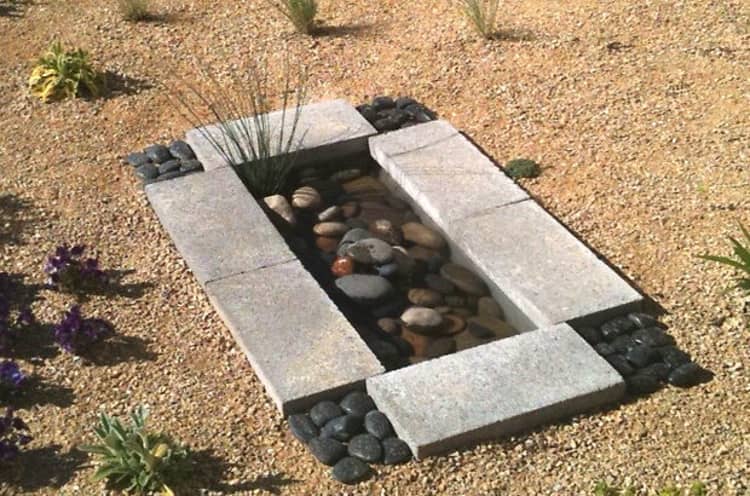 12) Awesome Pizza Oven Project for the Backyard
Beside your patio, add a pizza oven!!  Is any food greater than the tasty, portable pizza? We don't think so, and if you agree, you'll want this outdoor pizza oven in your life. Homemade pizza is the stuff dreams are made of.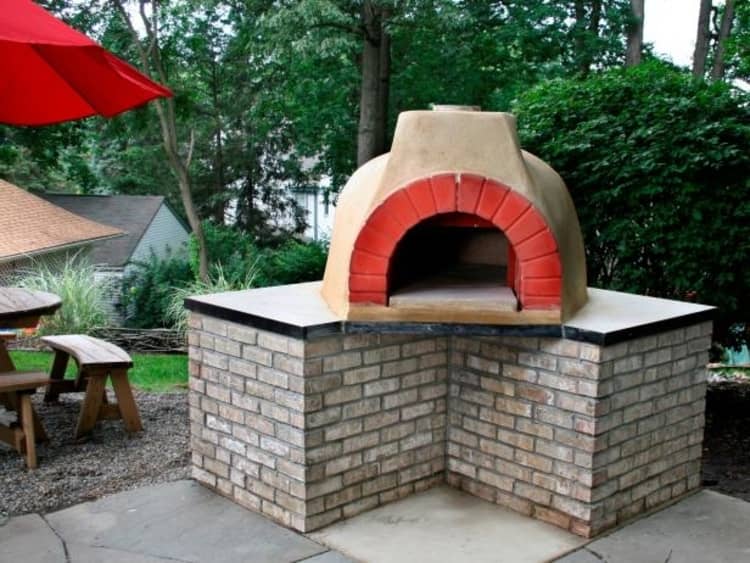 13) Backyard DIY Idea with Wine Bottles
Wine bottles make beautiful torches. They'll look amazing lit up in the evening. Speaking of wine bottles, have you seen all the things you can do with wine corks?
You don't need to use wine bottles for this project. You can use any bottle you like as long as it's glass and the neck is 1" in diameter. You can use regular oil or change out for citronella oil to keep the mosquitos away.
**For safety reasons, keep a fire extinguisher within reach when working with any type of fuel or fire.
Here's another way to make it!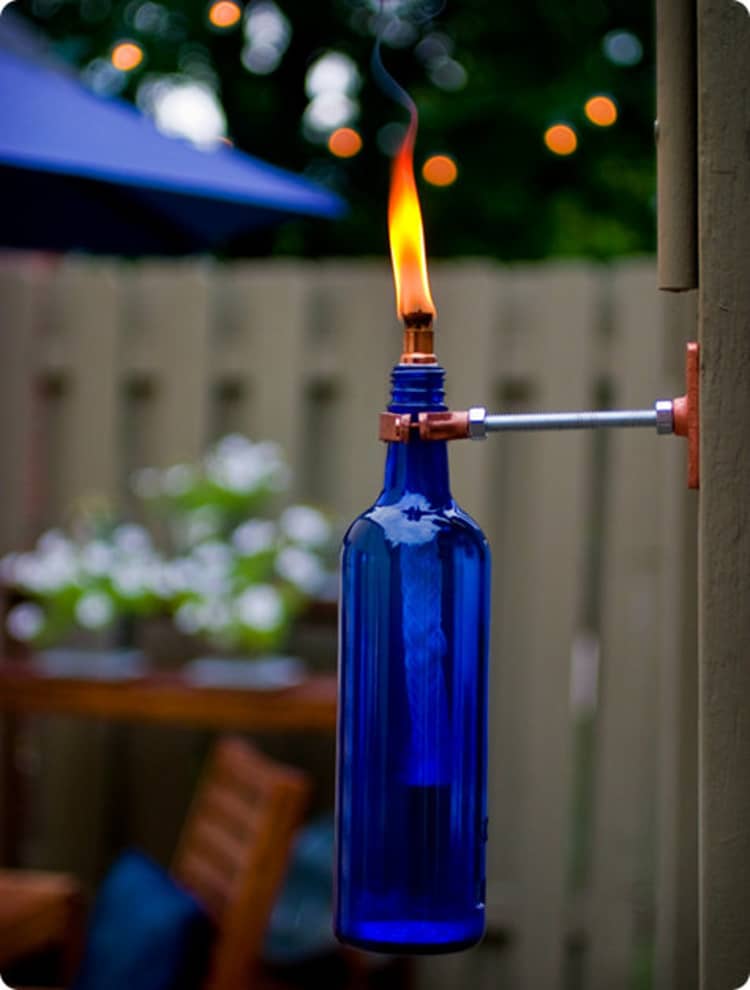 14) Create Your Own Peaceful Outdoor Sanctuary
A hammock, pillows, table, and plants underneath make this one of the most magical outdoor spaces I've ever seen. I could read there all day!
In front of a fence, corner is the perfect backyard spot to create a peaceful sanctuary like the one below?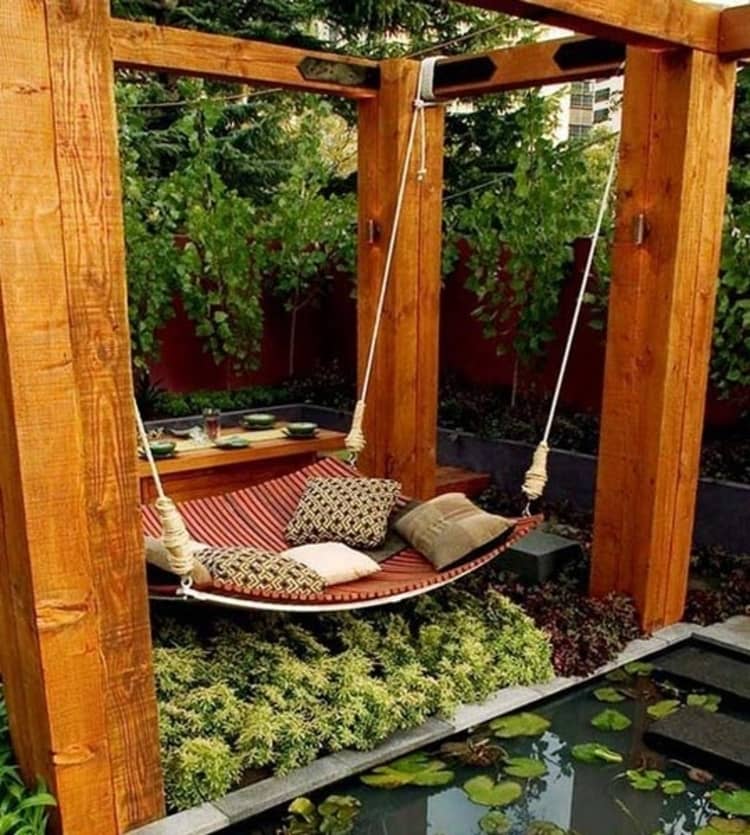 15) A Tree Swing Makes Any Backyard Better
All kids whether they are young or just young of heart want to fly, and every time they ride on a swing they get closer to that Peter Pan moment. But you don't need a whole playground to feel the spring breezes swoosh by. All you need is to make a good old-fashioned tree swing!
Even if you don't have kids, a tree swing is a must. There's no way you can feel anything but happy after playing on a swing.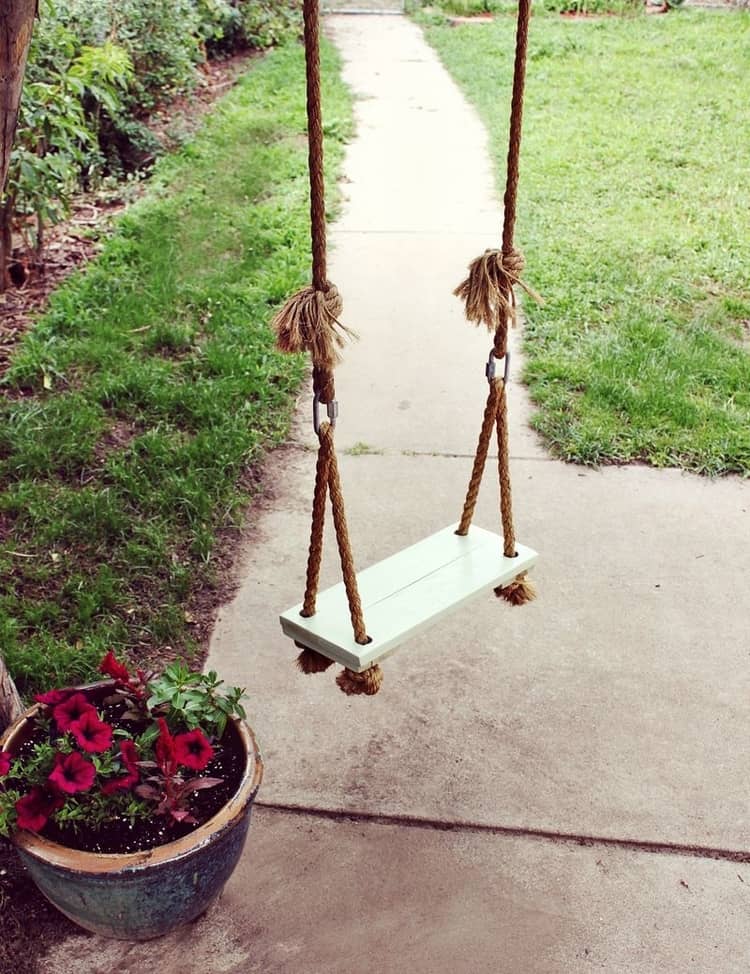 16) Clever Bowling Alley Project
Build a bowling alley by your fence. In this version, the pins are attached to a rope to make standing them up much easier. You could even make pins out of recycled water bottles.
This backyard game would take a little more skill than most to really set up nicely, but your yard would be the hit of the neighborhood!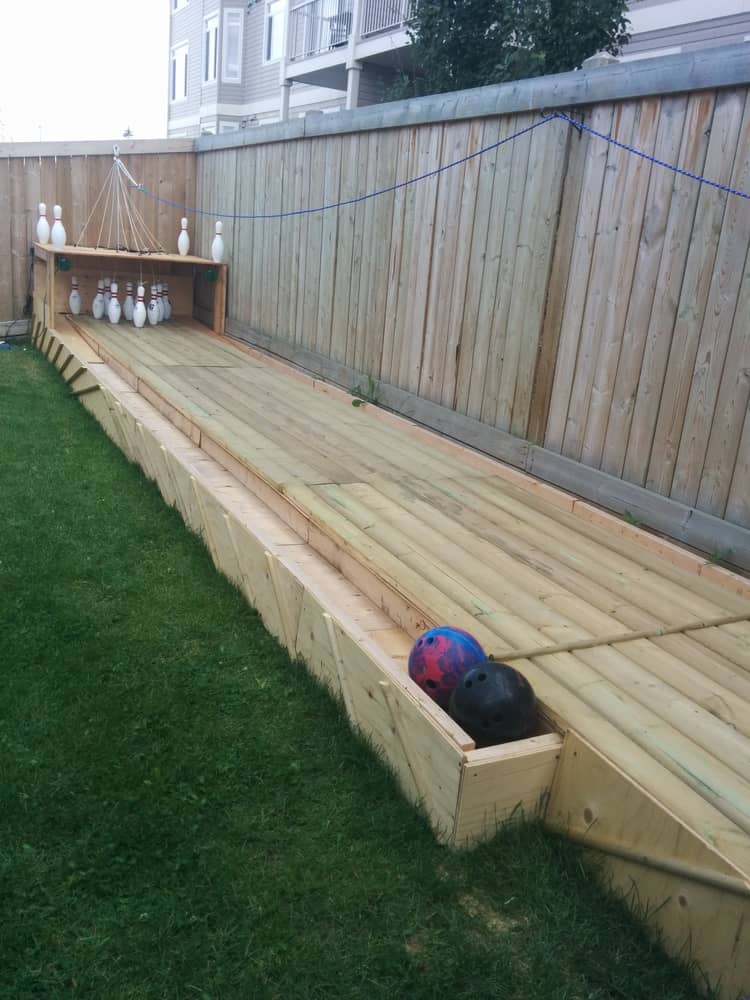 17) Make Giant Outdoor Versions of Your Favorite Games
Want a great way to get the family to spend more time outdoors? Bring Family Game Night outside.
The word nerd in me loves this outdoor Scrabble seating area. Great for outdoor entertaining!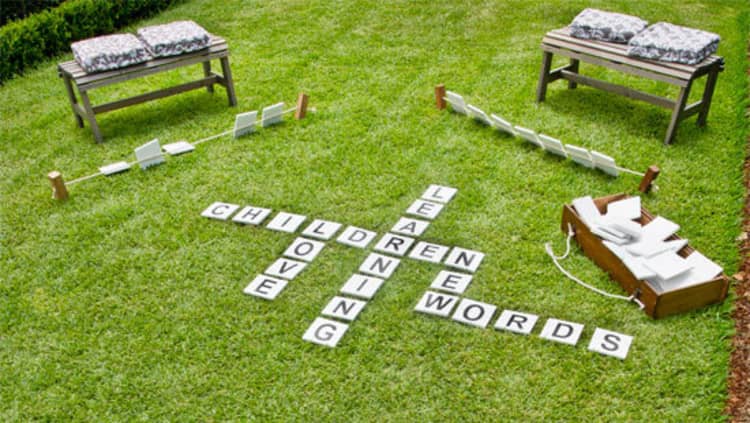 18) Build a Unique Table for Entertaining in Style
And, finally, who can't appreciate a DIY patio table with a built-in wine cooler? This is really a creative and clever idea for people who love to entertain in their backyard. Nobody wants to be at a party and have to search out for the drink cooler.  Or have to get up in the middle of a fun meal with friends and family just to get cold drinks, right
Here's another way to make it with a stylish metal insert for the cooler…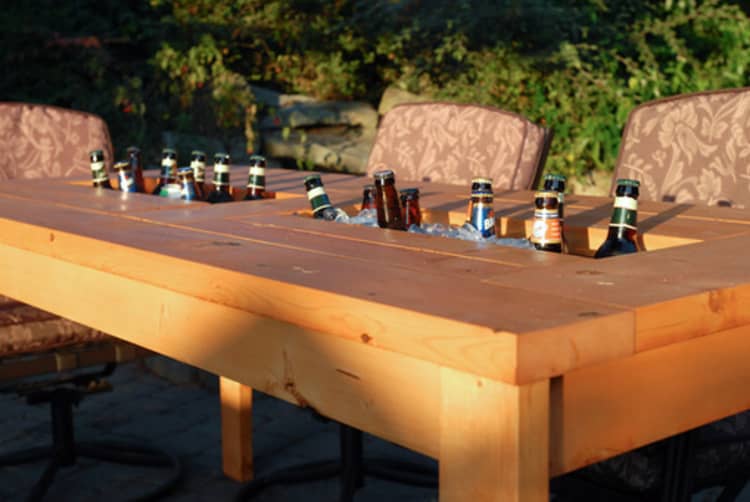 Extra Small Backyard DIY Ideas
If you have a small backyard, but still want to make a big impression, here's a couple of DIY backyard ideas for your small space!
1) Lacking Space, But Wanting a Deck
Use pallets to create a small yet effective deck! Pallets are trending in the world of DIY backyard landscaping. They are very user-friendly and super versatile. Depending on the space you have available, you can put one or two together to create a raised deck. Sand them down, add some stain, and seal for a chic look that's inexpensive.
2) Use Potted Plants
Instead of digging up what precious little space, you have, or if you don't actually have grass to dig up, try using potted plants to add flair to your small backyard. Mix up tall and short plant varieties and create your very own oasis in your backyard. The best thing about them being potted is that switching up the look of your yard is as easy as moving the pots around!
3) Add A Rug
Need something to jazz up your patio space without big renovations? Consider a large outdoor rug! Not only is this a good way to include a pop of color in your backyard, but it's also an inexpensive way to change up your space without having to go through the process of painting or staining a deck
You can put those three ideas together and create a beautiful focal point in your small space. Just because you lack space doesn't mean you have to lack style!
More DIY Backyard Ideas From One Crazy House: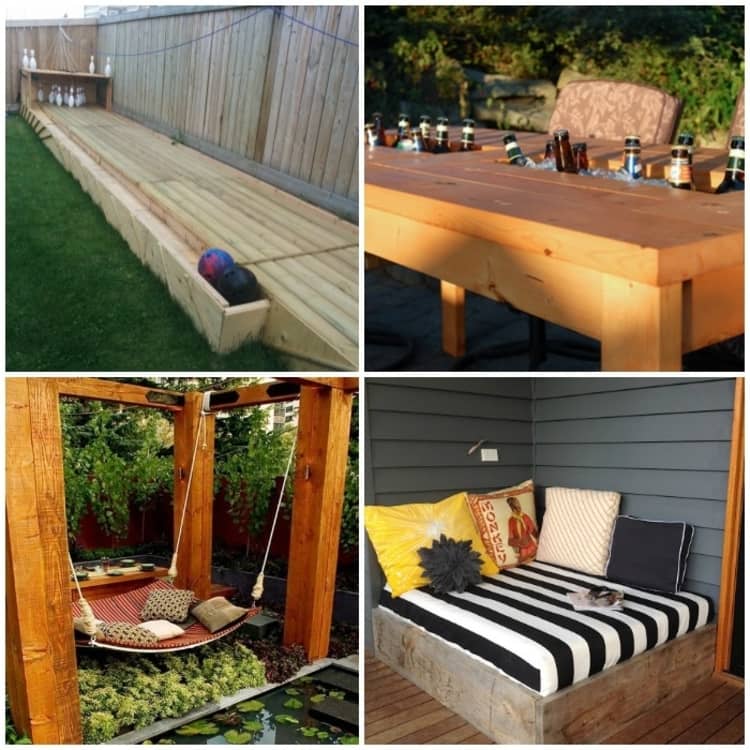 Which of these backyard ideas would you like to try? Mine is the DIY hammock!