Back Yard Ideas. Not everyone can Build a tree house. (<–Those are amazing!)  but that does not mean you need to have a boring yard! Just a few landscape changes can make all the difference, making a boring lawn into a neighborhood destination.
These back yards are full of fun and adventure!
Back Yard Ideas
Create a compost pile, this back yard science idea of creating compost soup will not only feed your yard, it will also feed your soul!
Make a back yard play zone. If you have a lot of trees in your yard this obstacle course is a MUST for your little adventurers.
Transform an old bookcase into a sandbox for you kiddos. Make an outside play space. Transform an old bookcase into a sandbox for you kiddos!
Make your fence into a canvas. Create an outdoor chalkboard for your kiddos to draw on. Create an outdoor chalkboard for your kiddos to draw on!
Ideas for a Back Yard Play Space: Forget the kids, I want to play in this mini city!

Your yard can become a place of soaring heights and adventures!! If your kids are old enough, consider adding a low-hanging zipline for your kids to swing across!
Projects for the Back Yard
Easy Back Yard projects.  There are so many things you can do with recycled tires! For example, these cute little rocker seats.
Outdoor Water Bed.  Create a huge water sensory mat for the kids to jump around on and explore!
Add a zipline to your back yard. A zipline is a great way for kids to burn up some of that excess energy.
Take a tree house tour, and have a blast playing and exploring with your kids. Their pretend worlds are waiting to be discovered.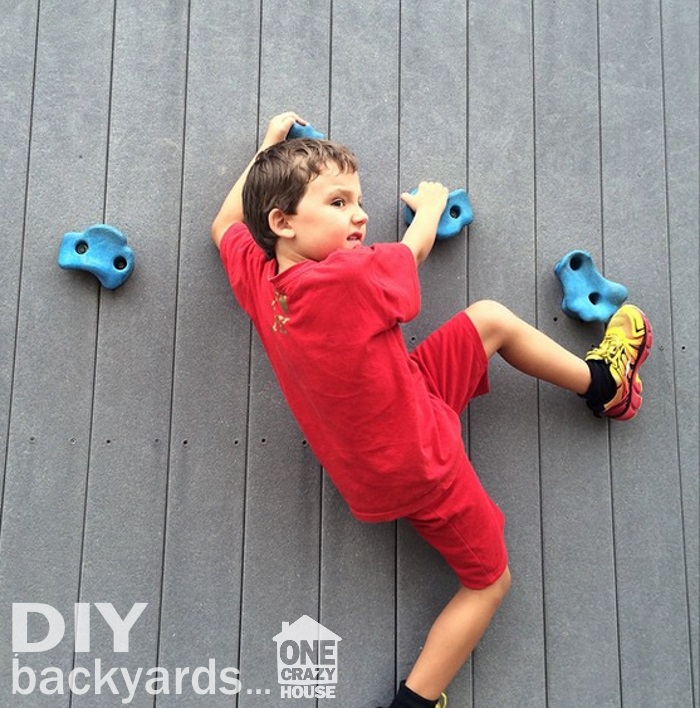 Make a Climbing Wall. Got a kid who loves to climb? This DIY climbing wall is perfect! Just screw hand holds into the wall.
Let your kids get muddy. Give your kids a digging zone in your back yard.
Do you need plans for back yard play grounds?  This book is a PENNY right now (who knows how long that will last) and it's full of detailed plans.
DIY Play Spaces
Get muddy and get cooking with this back yard mud kitchen for kids. Your kids are going to love this mud pie station!
Turn a mini trampoline into a DIY outdoor swing for the kiddos. Such a neat idea!
Outdoor music wall.  This family made their outdoor xylophone was made from planks of wood, strung together.
Have a collection of Outdoor Games ready and waiting for your kids to enjoy in the elements.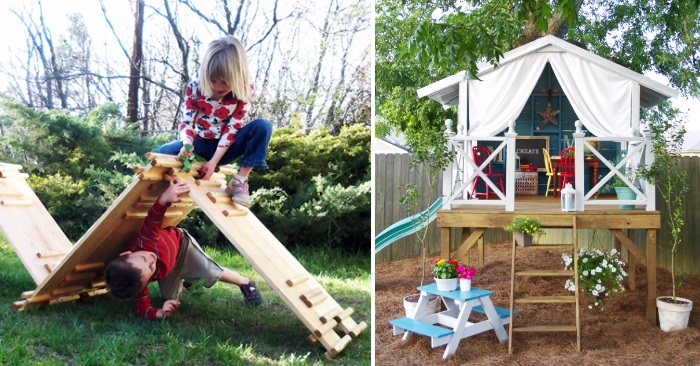 These Imagiplanks are brilliant! There are so many different ways you can assemble these backyard toys they are sure to keep kids entertained for hours!
Build a Play House. This raised playhouse is incredible! All the instructions you need can be found right here.
Your kids will have fun in the back yard – here are some more kids activities for outside.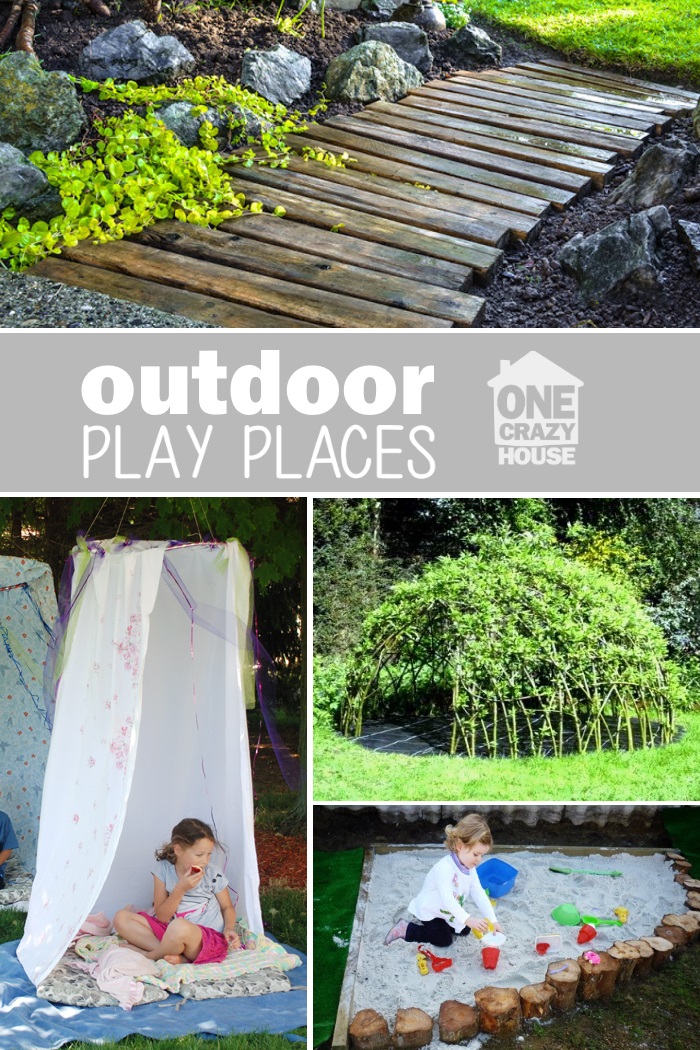 Make a willow house. This is a super cool – use live shubbery to create a place to hide and scheme.
This backyard weekend project is one your kids can do. Watch as your kiddos turn this pallet walkway into a huge bridge spanning a mighty chasm with their imaginations.
Make your own backyard hideout.  Hula hoops and sheets make up this super cool hideaway.
DIY Giant Sandbox. You can use a tree trunk to edge your sandbox!
 
Here are even more fun back yard plans that your kids will love:
The best way to get your kids involved with the back yard is to let them personalize it! Along with all of these wonderful ideas already listed, here's a couple more to get your children's imagination working and add that certain something else to your back yard.
Use reclaimed wood and some chalkboard paint to create artist stations throughout your garden where your kids can draw their own additions! Flowers, fairies, superheroes, you name it! There is no limit to how often they can change up the style and theme of your back yard with their own chalks! And a swipe of a wet rag or the rain will wash away and give them blank slates to start all over. You can keep chalk at each station by cleaning up a plastic ice cream container (make sure it has a tight lid) and paint it. You can partially bury it next to the artist station or simply set it out as part of the decorations!
Have your children make their very own stepping stones as a fun back yard idea. Pick up some quick-set concrete, petroleum jelly and some plastic molds and let the creative flow! Add in some mosaic tiles, rhinestones, or any other flat decoration to go along with their names, hand prints, or foot prints. When they're dry, your kids can set them around the back yard as their own personalized touch!