With summer arriving, warmer weather means a lot more time playing outdoors! Sometimes after your kids play for a little bit, you walk out and your yard looks like a tornado just struck! To keep that backyard clutter free, try these awesome backyard toy storage ideas! I have rounded up a variety of clever ways to store those toys, and help make your yard look open and organized! So scroll through the list and see if you find the perfect backyard storage idea that fits you and your specific needs! I love the bins that hang on the fence and the creative parking garage for your children's ride on toys, those are so creative!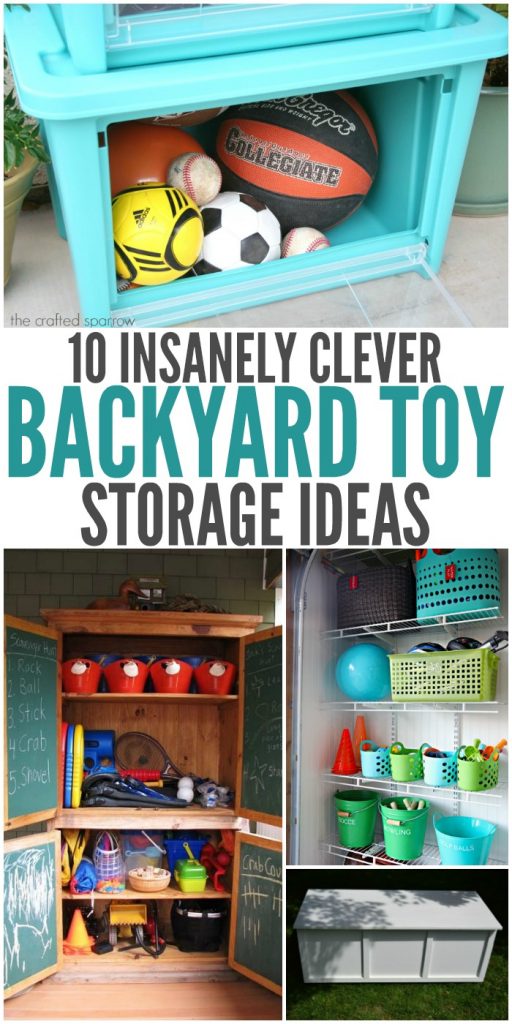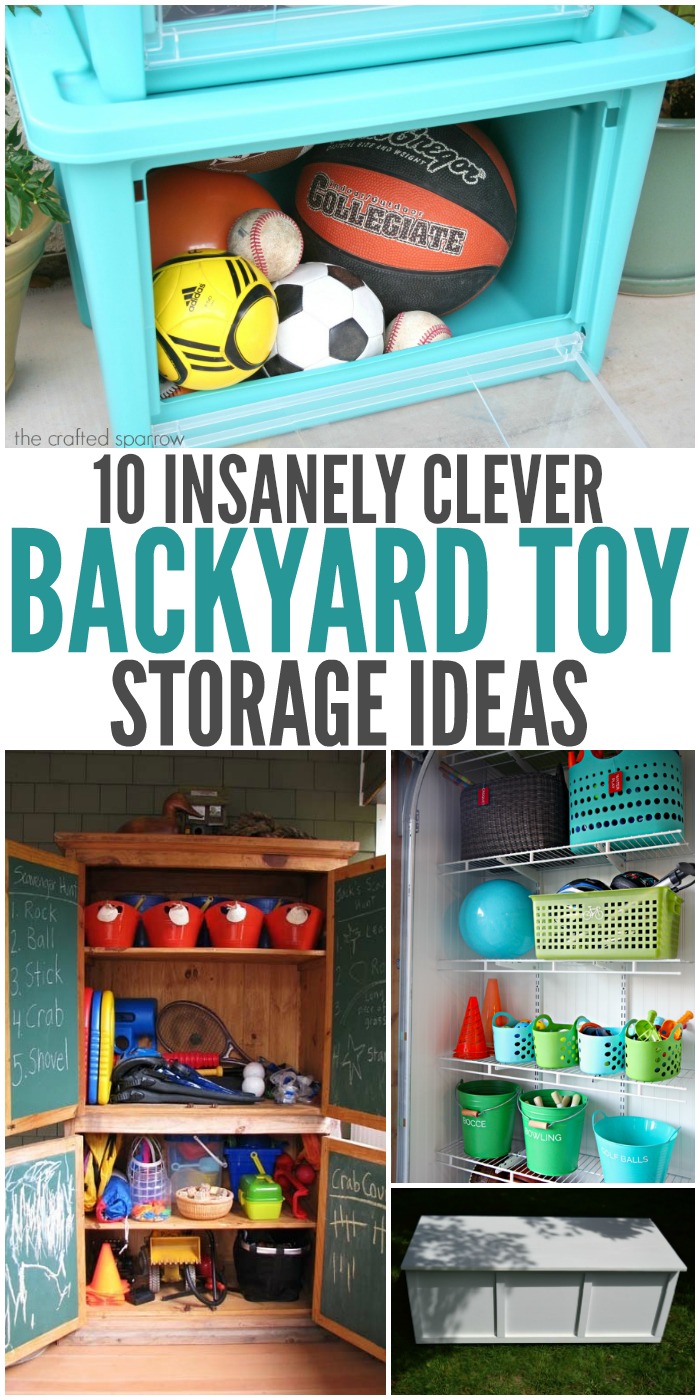 10 Insanely Clever Backyard Toy Storage Ideas
Pool Accessories
If you have a pool you know all those pool noodles, wet towels, and other accessories can really clog up a yard! Try this unique storage idea, to help declutter your yard!
Easy Storage Bins
This is a pretty affordable and easy option for backyard toy storage! Buy the bins, add a label and you are good to go! The Crafted Sparrow found the perfect bins to keep everything organized.
Parking Garage for Ride-On Toys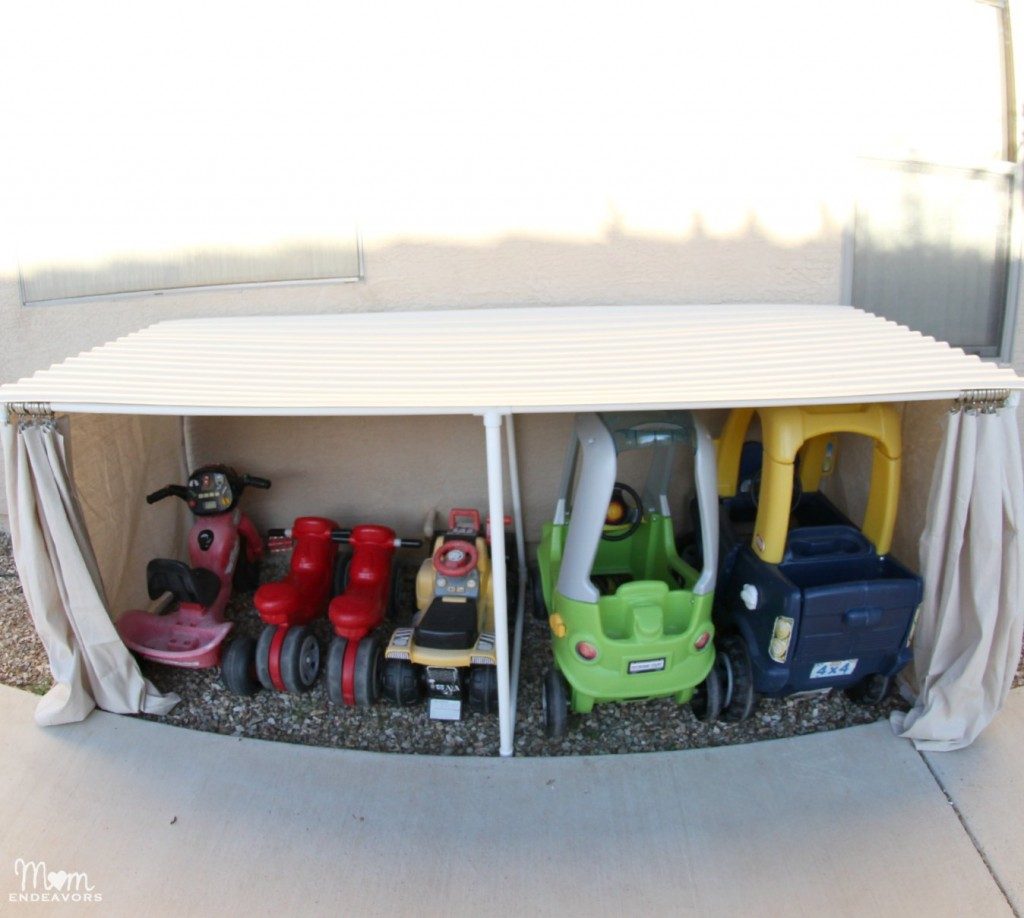 Create the perfect place for your child to store their ride on toys in their own parking garage [Mom Endeavors]! It is a great way to clean the yard up and protect them from the weather!
Galvanized Steel Buckets Toy Storage
If you like the look of galvanized steel, then create this stand to store your child's toys! They label each bucket, so your child knows where to put their toys!
DIY Rolling Storage Cart
If you are handy, then create your own rolling storage cart. Great for wheeling in and out from the garage to your backyard! Holds lots of toys, and looks neat! Check out a full tutorial at Shanty 2 Chic.
Bungee Cord Ball Storage
If your children love to play soccer and other activities with balls, you might benefit from this fun bungee cord ball storage [100 Things to Do]! Hang this in your garage, on the back of the house or even on your fence.
Backyard Pantry For Toys
Who would have ever thought to create a pantry for outdoors [Apartment Therapy]? This is brilliant and you can see, it has lots of storage. Buy or build a pantry, and then see all these great tips on how to organize it.
Bucket System for Fence Backyard Toy Storage
If you have a privacy fence, consider hanging buckets for storage [Our Wonderfilled Life]! That way the kids can toss in their toys when done, and be able to reach them easily. Great for water table toys, small balls or cars, or other fun toys.
Outdoor Storage Bench
If you are good with a hammer and nails, try making this storage bench idea [The Handyman's Daughter]. The seat lifts up and you can toss anything you want inside, and you can also use this as seating! It is versatile and I love it! Tutorial here.
Garage Storage
If you have room in your garage for a few toys, this is a great way to maximize your space and give those toys a home! This unique storage idea idea from I Heart Organizing is colorful & practical.
You can organize your yard just like you do your home! When your kids are done playing, they will know where the designated spots are to put their toys. Which of these ideas is your favorite?