When summer arrives, warmer weather means a lot more outdoor playtime!  After your kids play for a little while in the  playroom, living room or backyard, it looks like a tornado just touched down! To keep that backyard clutter-free from kid's toys (as humanly as possible), try these awesome backyard toy storage ideas.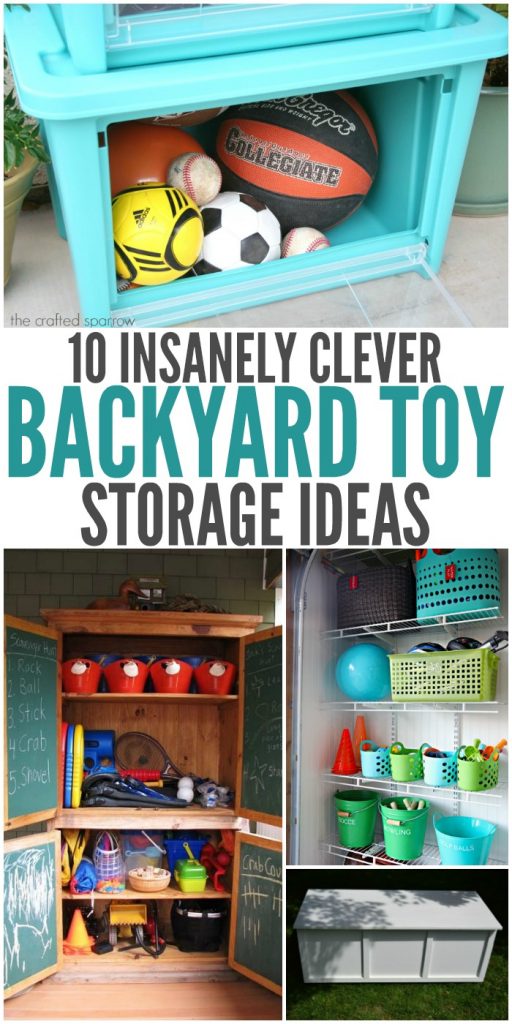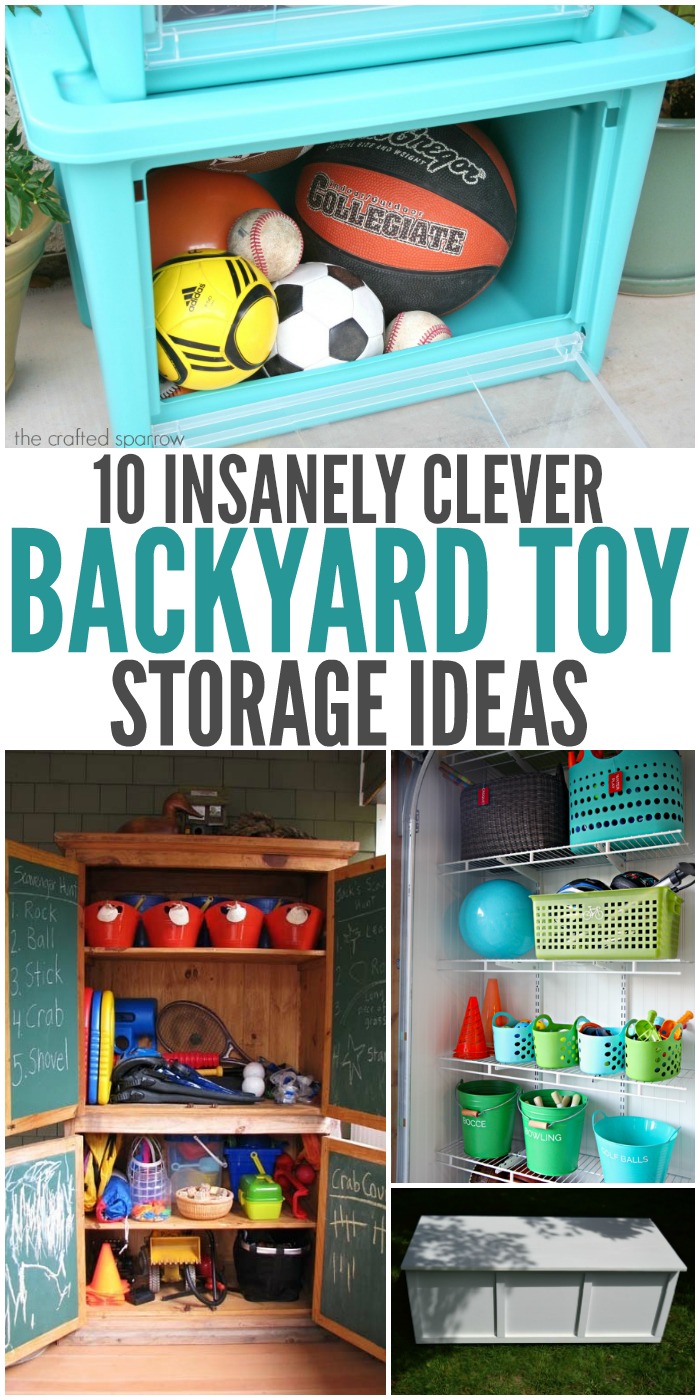 Genius and Best Toy Storage Ideas
I have rounded up a variety of clever toy storage solutions to help make your yard look open and organized! I personally love the bins that hang on the fence and the creative car garage for your children's ride-on toys. Very cool & fun ways to get the kids involved in organizing the backyard.
So scroll through the list and see if you find the perfect backyard organization ideas that fits you and your family's specific needs!
1 – Pool Toy Storage Ideas
Life by the pool isn't always picture perfect!  As much as it can be loads of fun to own a pool, it can also mean a messy yard or deck. If you have a pool, you surely know what I'm talking about.  All the pool noodles, wet towels, small toys, and accessories can really clog up your outdoor space!
Got a spare wooden pallet?  Try this unique and brilliant noodle storage space.  Add a few hooks and some hanging baskets to create a pool storage pallet! You can also use the hooks to hang the goggles, safety vests, or wet bathing suits. I love that it's also repurposing a used wooden pallet.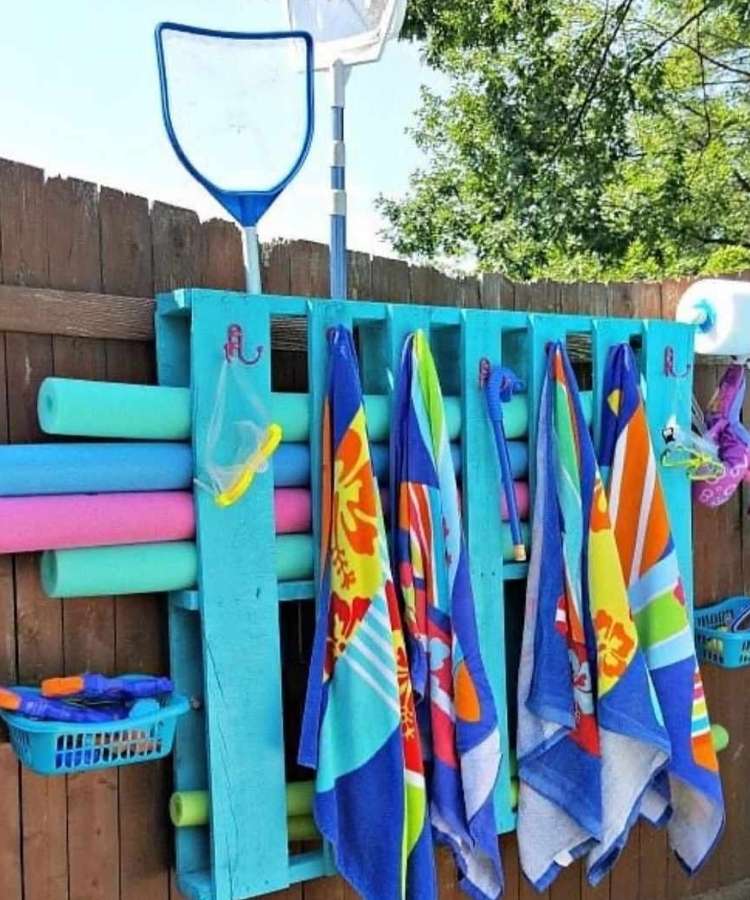 You could also give this pool towel rack a try if you feel a little crafty.  This genius idea may help with tidying up your yard!  No more towels all over the yard or deck. The towel rack is fairly easy to make and can hold up to 8 beach towels. You will need some white PVC pipes, some PVC glue – all supplies you can find at any hardware store. It also requires some tools for cutting the pipes.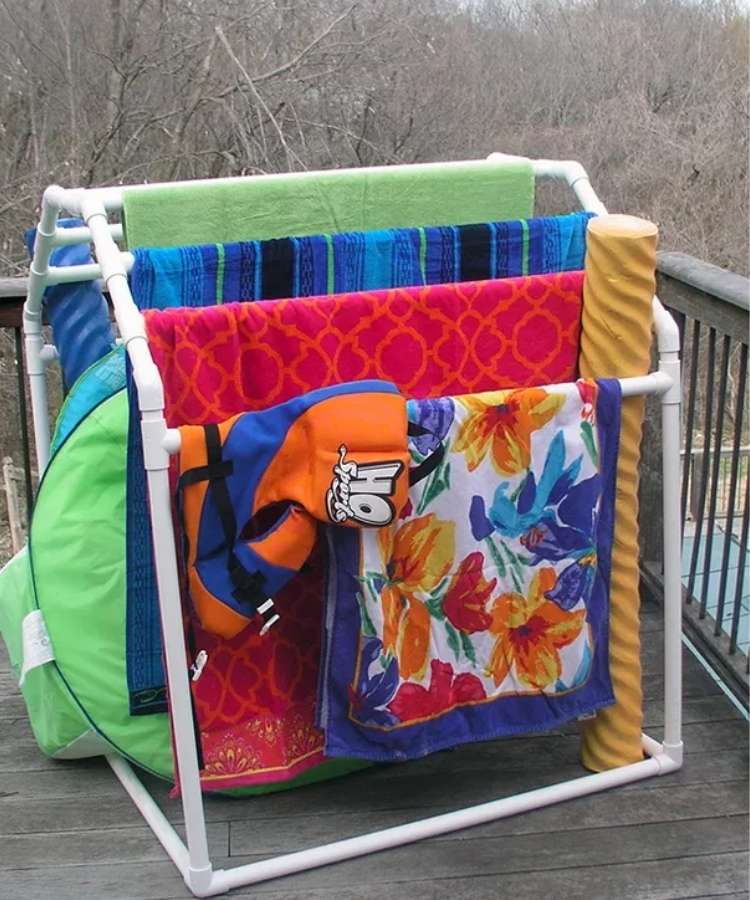 2 – Easy Storage Bins for Toys in the Backyard
This storage bin solution seems almost too easy, right?  It is easy and it works super well. You only need a few bins, some labels and you have yourself easy drawers storage solution. Honestly, you don't even need labels. Permanent markers can do the trick too!
I love that this solution is a very affordable option for backyard or garage storage! These are the perfect storage units to keep toys organized and easily accessible for little hands.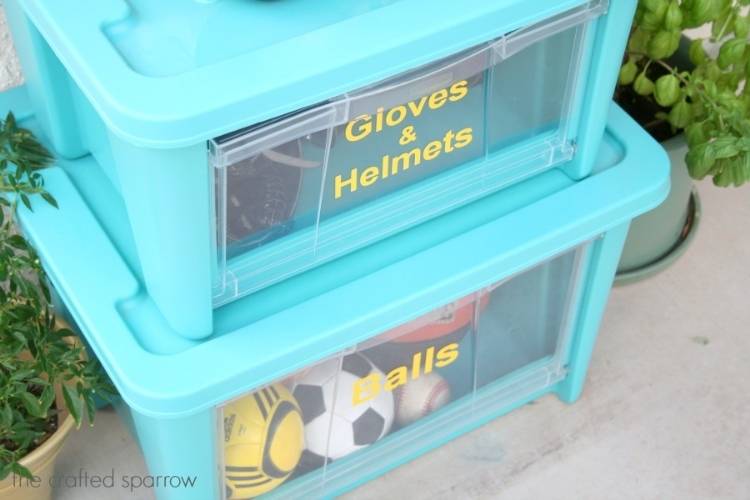 3 – Parking Garage for Ride-On Toys
Have you ever backed up or tripped over one of these ride-on toys?  At our house, it's sadly happened quite a few times. These ride-on toys are so much fun, but they also take up so much space!
I found a great solution. Create the perfect place for your child to store their ride-on toy in their own private parking garage! How cool is this idea!  Your child is going to love this.
It is such a great way to teach your child how to organize the yard and protect their favorite toy cars from the weather.  You can make it extra special for them by adding a special sign at the top of their garage with your kid's name + garage.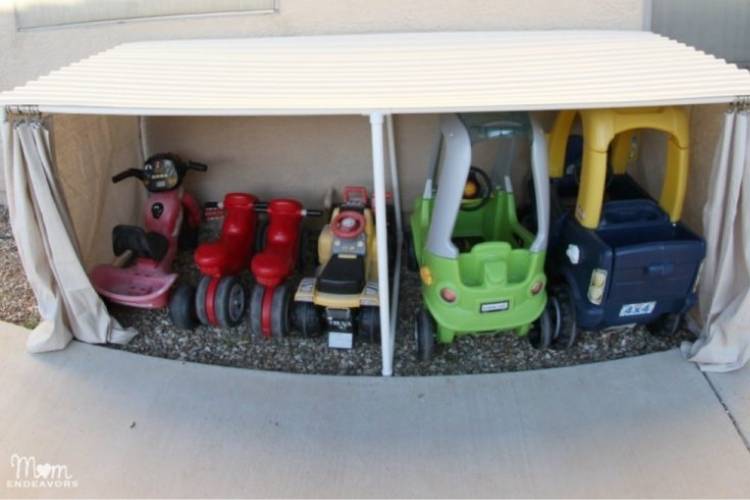 4 – Galvanized Steel Bucket for Outdoor Toys Storage
I love how the farmhouse look myself.  Galvanized buckets make my heart sing, more so now that I can use them for toy organizer!!!  Yes, storage buckets are not only convenient, but they can also decorate your space.
If, like me, you like the look of galvanized steel, then create this stand to store your child's toys! You can label each bucket, so your child knows where to put their little outdoor toys and fun things like chalk!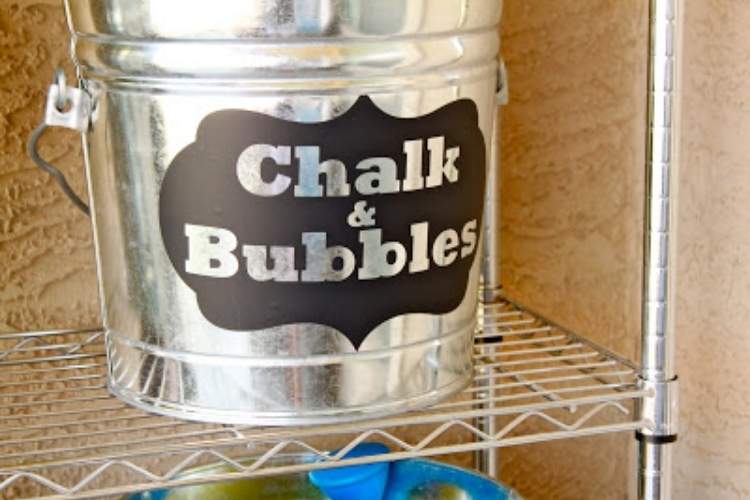 5 – DIY Rolling Toy Storage Cart is Perfect on the Patio
If you consider yourself a handy DIY person, then create your own rolling storage cart. This rolling cart is great for all kinds of outdoor toys and sporting equipment.  I love that it's easy to move around and roll in and out of the garage to your backyard!
The large compartment with bungee cords is an amazing storage space to hold a variety of balls.  Easy accessibility is a must for kids to grab their favorite ones!  Check out the full tutorial on Shanty 2 Chic.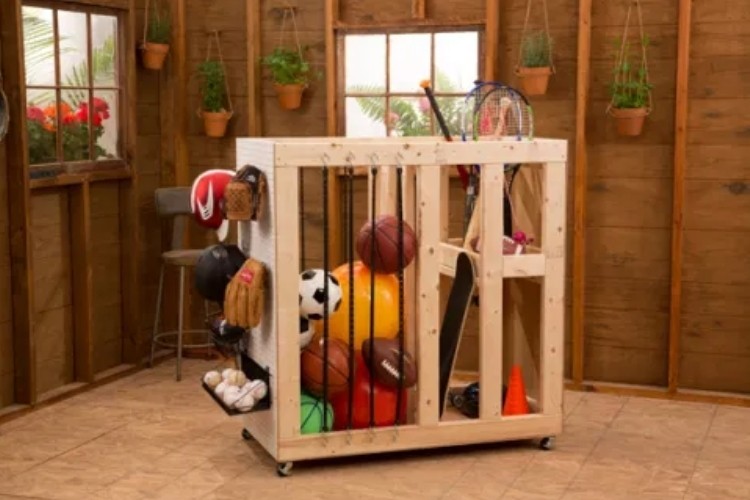 6 – Bungee Cord Ball Storage for Toys & Sporting Equipment
If your children love to play soccer and other activities with balls, you might benefit from this fun bungee cord ball storage! Hang this in your garage, on the back of the house, or even on your fence.
Again, I love this easy access storage solution for kids. They can easily grab their favorite ball without having to empty the storage.  A chaotic mess waiting to happen!!  You can surely imagine what that would look like. Let's avoid that situation for everyone's sake.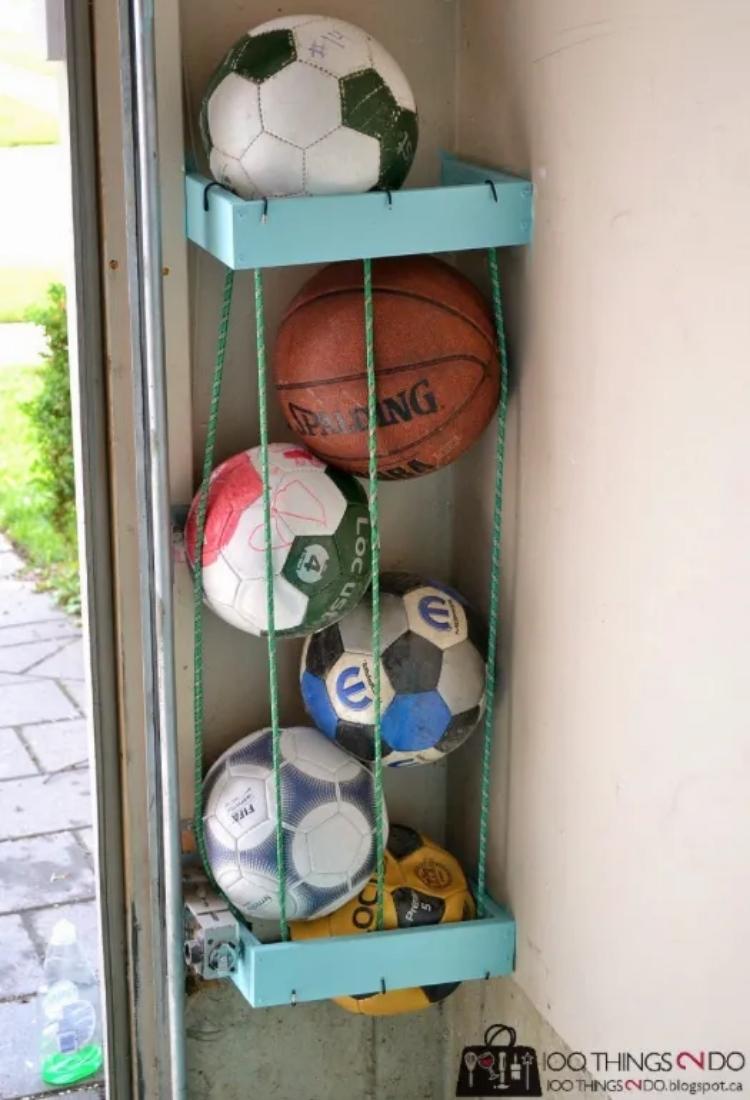 7 – Store Toys in Hampers
Sometimes the simplest solutions work best. Grab a plastic hamper (the sturdier the better!) and use the hamper as a storage container for the pool toys or in the garage for balls and toys. Kids can also carry them around pretty easily.
I love this idea because it's super easy and relatively inexpensive. Everyone has a hamper in their home somewhere (quite a few maybe!).  You could also use more than one to organize the different type of toy & accessories.  Add labels or use a permanent marker to label them accordingly.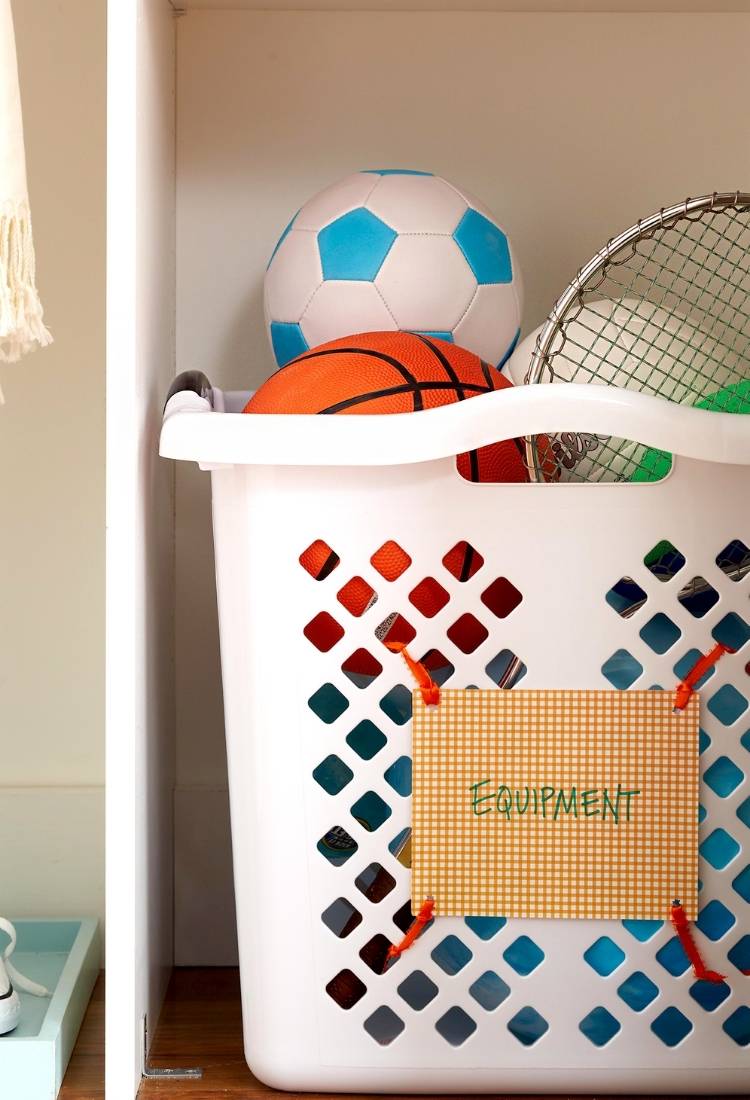 8 – Bucket System for Fence Backyard Toys Storage
If you have a privacy fence, consider hamper as a storage container [Our Wonderfilled Life]! That way the kids can toss in their toys when done, and be able to reach them easily. Great for water table toys, small balls or cars, or other fun tiny toys. If you have a sandbox, you could use the same system for all the sand toys.
Just make sure to drill holes at the bottom of the buckets for the water to drain!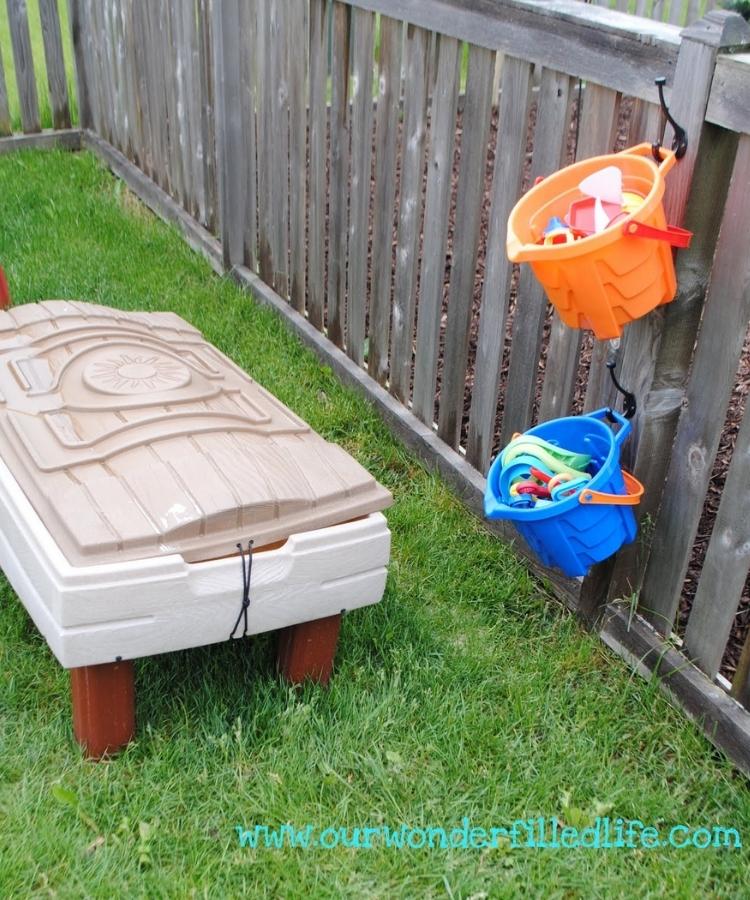 9 – Outdoor Storage Bench Hides Toys
A storage bench is a very popular solution for indoor storage and organizing. But what about using one for the outdoors? Not only will it provide some storage space, it will also provide a seating bench!  I love solutions that are multi-purposed.
If you are good with hammers and nails, try making this hamper as a storage container. It is designed with a seat that lifts up so you can toss anything you want inside, and then close it down to use as seating. It is versatile and I love it!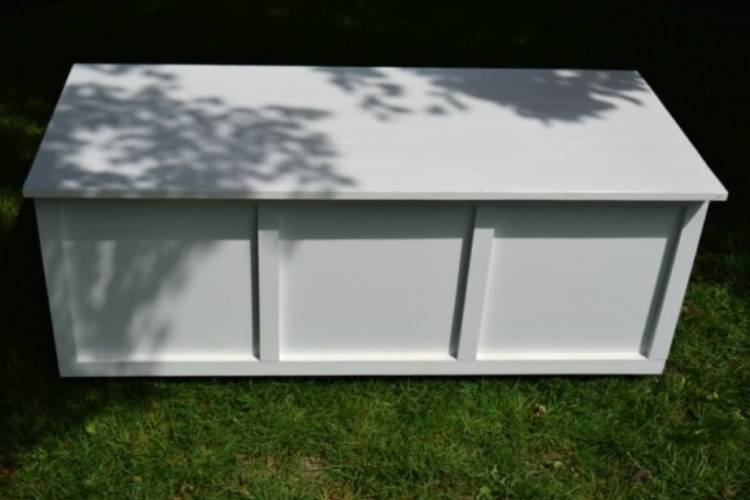 10 – Garage Storage Solution Works Great for Outdoor Toys
If you have room in your garage for a few toys, this is a great way to maximize your space and give those toys a home! This hamper as a storage container from I Heart Organizing is colorful & practical. All you need are a few metal or wood shelves, some plastic bins (colored might be fun!), and some labels or a permanent marker.
If you want the whole family to participate in the organizing, make sure you consider that when building your storage wall.  You will need to ensure that your kids can reach the shelves and bins.
And if by chance you have extra space in the garage, consider this cool trick to teach kids to "park" their "vehicles".  All you need is some tape!  This trick is really brilliant.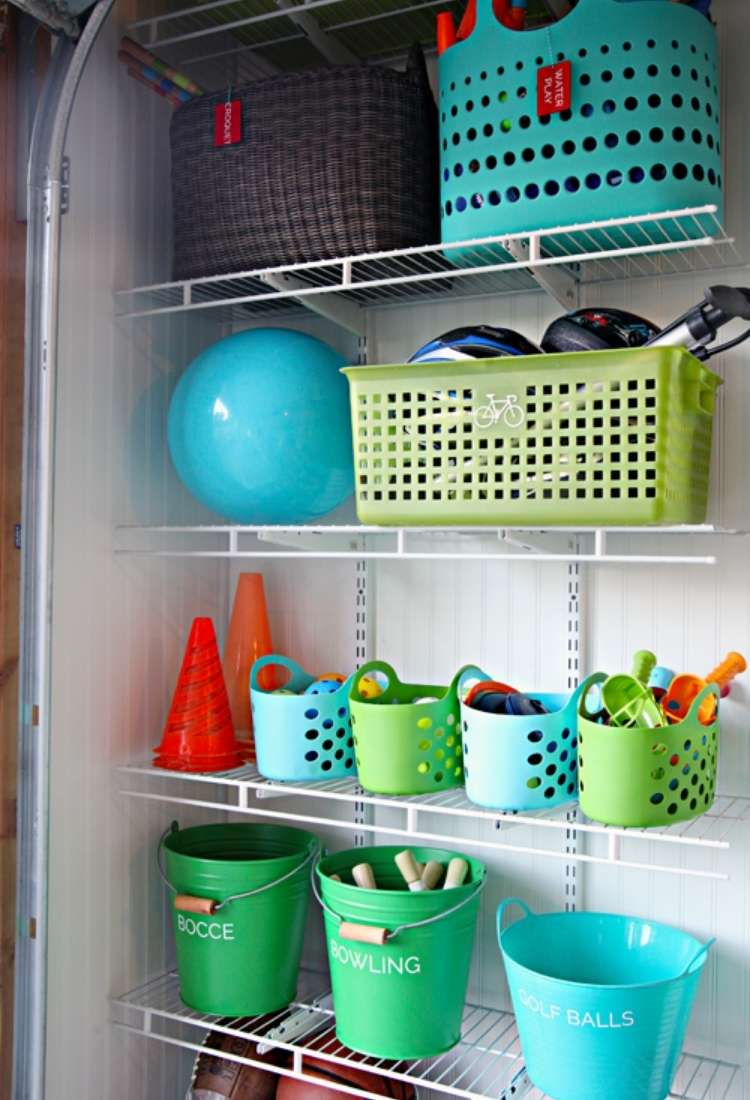 I know that cleaning up is probably not your family's favorite thing to do. But what if we could add some fun to your family clean-up sessions?  Try these fun tidy up games with your family and see how it turns out.
5 Fun Tidy Up Family Games:
I Spy – A fun twist on this popular game.  Name out things by color, shape, or other cool details for them to find and put away.  First, one to put their item away gets to name the next color.
"It starts with…" – Have them pick up things in alphabetical order.  Or make it more unpredictable by picking random letters.
Race against the clock – This one usually works well since kids love healthy competition.  Everyone wants to win!  Set up a timer and see how many things they can put away.  Whoever puts away the most wins!
Dice it out – Let them roll a dice (or two if you have lots of things to clean up).  Add the number of dices together.  The total number is the number of items they need to put away.  If they get doubles, they get to pick how many they will put away.
Freeze Frame – Play some fun music while everyone is cleaning up.  When the music stops they have to hold the position.  It will surely get them laughing.
As you can see, organizing your yard can be as easy as organizing your home!  You only need to be a bit creative with small spaces and resources you may already have at home. Once it's all set up, your kids will know where to find the designated spots to put away their toys. Plus, you can now make tidying up a playful time for the whole family.
If you enjoy these, see more ideas below to organize your family home:
What was your favorite outdoor toy storage idea?