Making your space feel like home when you're renting can be a real challenge. Check out these genius apartment decorating ideas made just for renters. They're great for college life, too!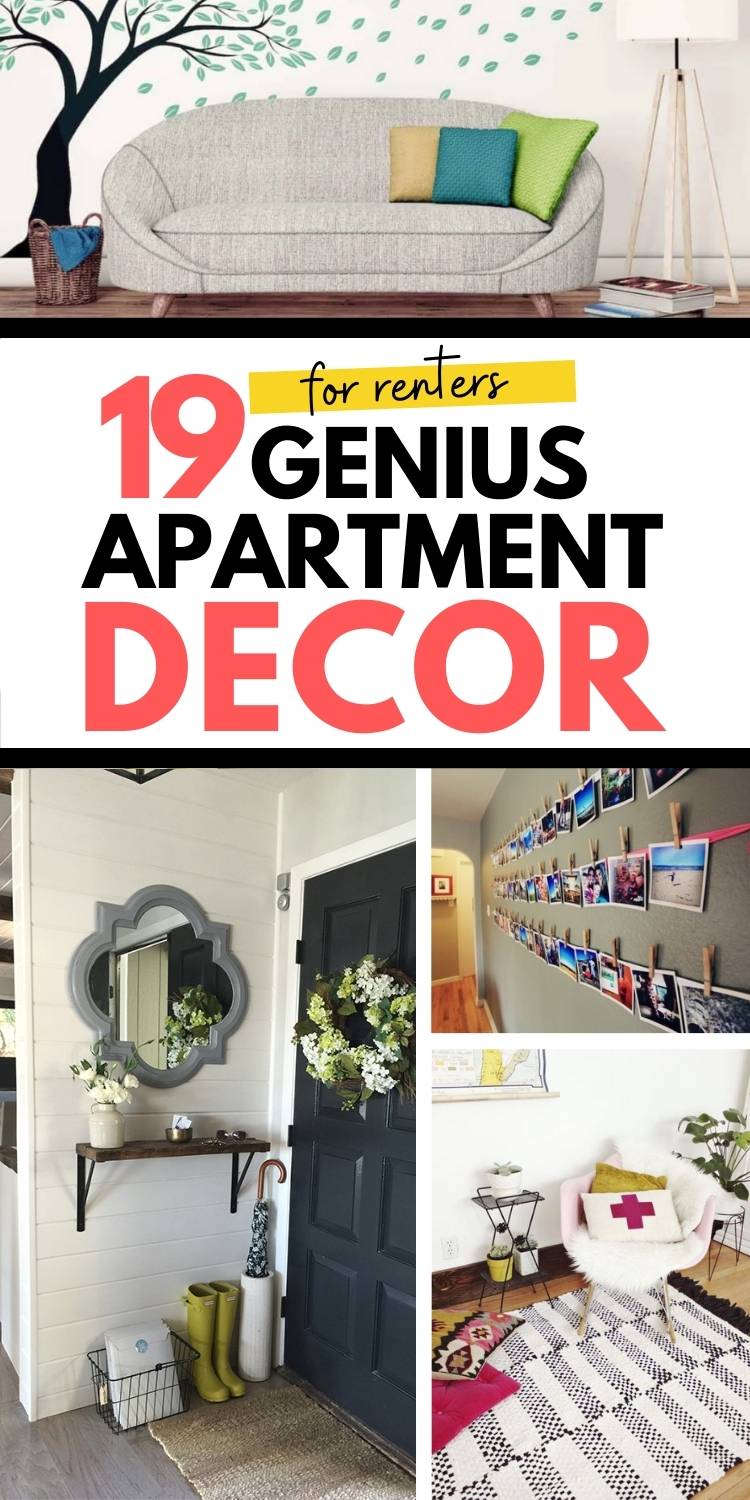 Looking for some apartment decorating ideas? What does the decor of your dream space look like? Does it have wispy curtains that just add that perfect soft touch? Maybe it has beautiful splashes of your favorite color throughout a room. 
Or, perhaps your dream decor means having your favorite wall hangings in place so you can see them each day.
Decorating rented space is a real challenge because most landlords don't allow any permanent changes to the apartment (or house, etc). To prevent damage to the rental, they have rules about painting, putting holes in the wall, and usually a bunch of other rules that can create design challenges.
A dwelling doesn't feel like "home" until you put your own personal touches on it, and let's face it: most rental units look and feel very sterile.
Despite the limitations that landlords instill, there are lots of things you can do to make your rented space really feel like home. Begin with the light fixture in your dining room or coffee table.
You CAN have a truly fabulous space as a renter by simply having a cute area rug here or there!
20 Genius Temporary Apartment Decorating Ideas For Renters
1. Create A Welcoming Entryway 
First impressions matter. Take the time to cultivate an appealing and welcoming entryway like this one!
All it takes are a few (small) items like a place to put your keys and a wreath on the back of the door to make it feel homey. Be sure to have natural light on your entryway!
2. Use Command Hooks To Decorate Your Apartment
Here's a simple fixtures suggestion for you: Add heavy-duty command hooks to the front entry for guests to hang their coats and bags.
Tip: Command Hooks can be easily removed, so they are great for anywhere you need hooks! Perfect for small apartment with small space! You can even use this as a wall art…but not too much.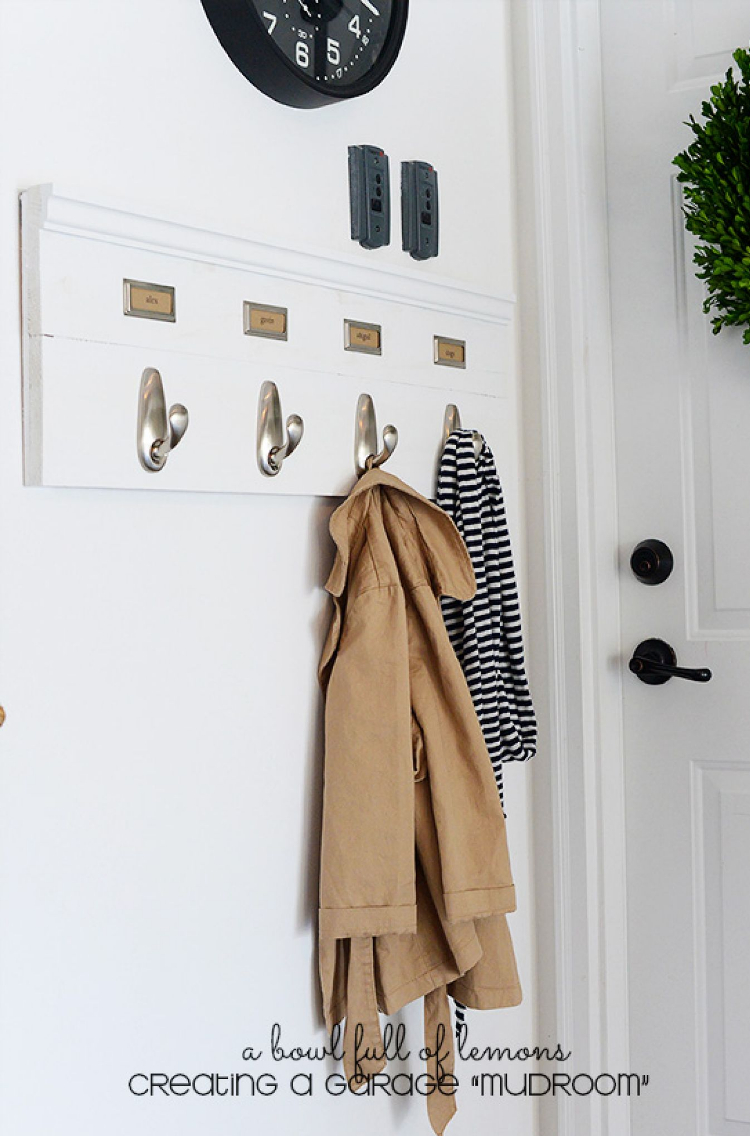 3. Use Furniture That Has Dual Purpose
A lot of households face the problem of having too much stuff, especially when you have a small living room (or apartment, generally).

Here's an apartment's design that can help you solve the problem: Choose beautiful furniture that doubles as extra storage, like this big ottoman. Having furniture that can serve two purposes helps save space AND provides functions that you might otherwise not be able to have in a rental. Yes to more storage space!

Pro Tip: Other ways of getting rid of clutter are to sell your items on buy and sell websites, to donate them to charity or even to throw them away.
4. Apartment Décor Friendly Window Treatments
To get that homey apartment feel especially in your apartment living room, remove those ugly blinds and hang curtains using command hooks so you don't add new holes to the walls. You can even cut them down if the hooks are too tall or spray paint them to match your wall paint, or any color palette of your choice. Lovely!

It's amazing what a difference some curtains and command hooks can make. Rather than putting holes in your walls to hang up blinds, curtains are a way to beautify your room without causing damage. The best part is that you can easily remove them if you want a change. Cool inspiration for the interiors!
5. Use Plants to Add Color To Your Apartment Or Studio
A lot of renters get frustrated with not being able to add their own decor and style. So, here's an interior design suggestion: Try adding splashes of color with potted plants.
Succulents are easy to grow and low maintenance! Succulents are great for people who have a green thumb, but they also work for anyone who wants to grow them. They don't require much maintenance, which makes them great plants to have in your home! They're perfect in your home office, or any workspace you have!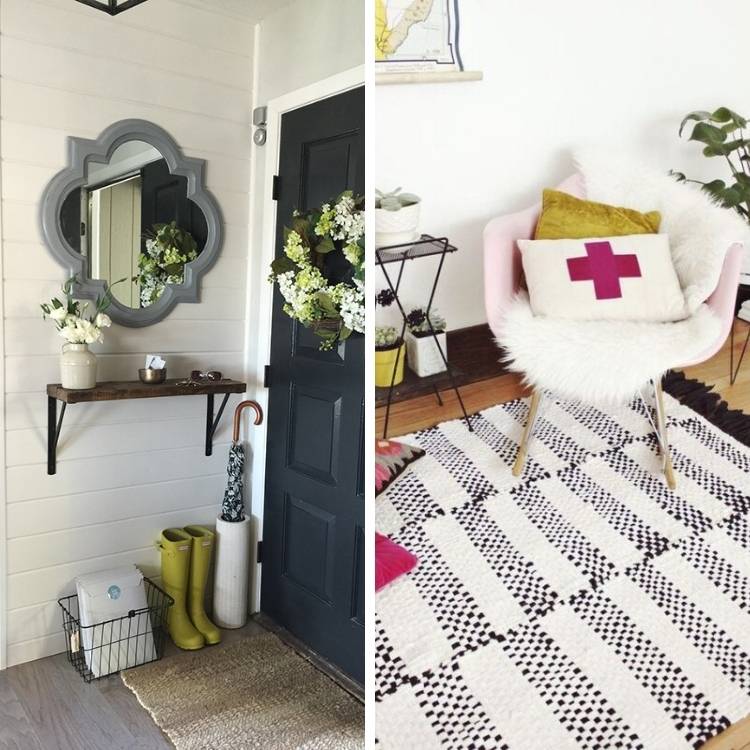 6. DIY Sconces (No Electrician Needed)
Light up the walls of your bedroom with an easy plug-in sconce.  You may not have a traditional bedroom set with a nightstand with a lamp. 
A sconce would be an excellent solution for your bedroom reading. Your bedroom is a great place to relax and read, but it's hard to see in the dark when you're trying to fall asleep. Sconces can solve that problem, so you can relax and read more comfortably.
7. No Headboard No Problem Use A Headboard Decal
How do you decorate an apartment bedroom without a headboard? If you're lacking a headboard, a headboard decal offers the perfect solution!
Enjoy a pretty design on the wall that's easily removable and repositionable. It works really well with throw pillows, you know.
8. Standing Screen as a Headboard
Another apartment decorating hack for a headboard is to use a decorative bi-fold or tri-fold screen. It's also SUPER easy to transport when you do eventually move.
9. DIY Removable Wallpaper Apartment Decorating 
Turn your bland wall into a work of art. Create your own temporary wallpaper with fabric and starch. This is a great idea for an accent wall as part of your apartment decor!
Now you can decorate your dining area, or any room to get your favorite room feel.
10. Temporary Wallpaper
Have you heard?
Wallpaper has been making a comeback recently, and there are tons of options out there that are both stylish and functional. It's a great way to add color and pattern to your space without having to spend a lot of money.
Have you thought of a wallpapered fridge for your apartment or studio?
Yes! This isn't your grandma's wallpaper, though. Purchase temporary wallpaper to add some color and pattern to your fridge. A wallpapered fridge? 
Pro Tip: Find one with a satin finish and is 100% wipeable, oh and it looks fabulous.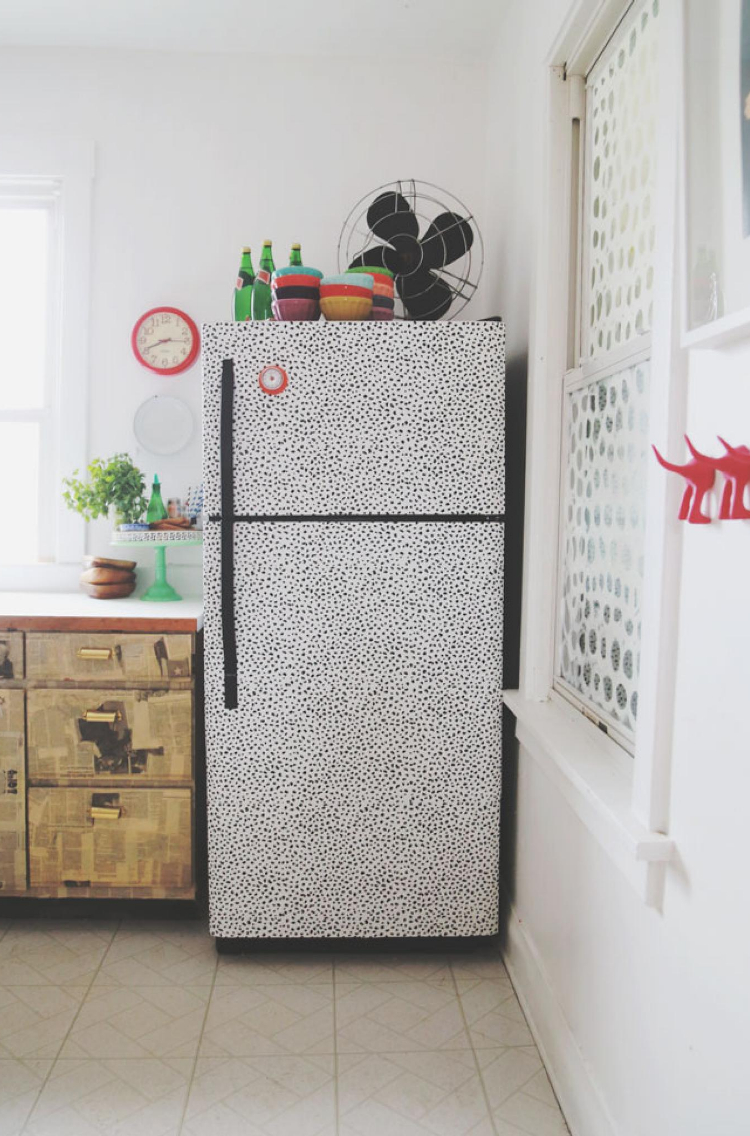 11. Add Pops of Color Through Furniture
If you can't decorate your apartment by painting the walls, paint your furniture instead to add pops of color wherever it's needed.
Aren't these gold-dipped raspberry pink bar stools gorgeous?
Yes! Small changes can make a huge difference to your living space.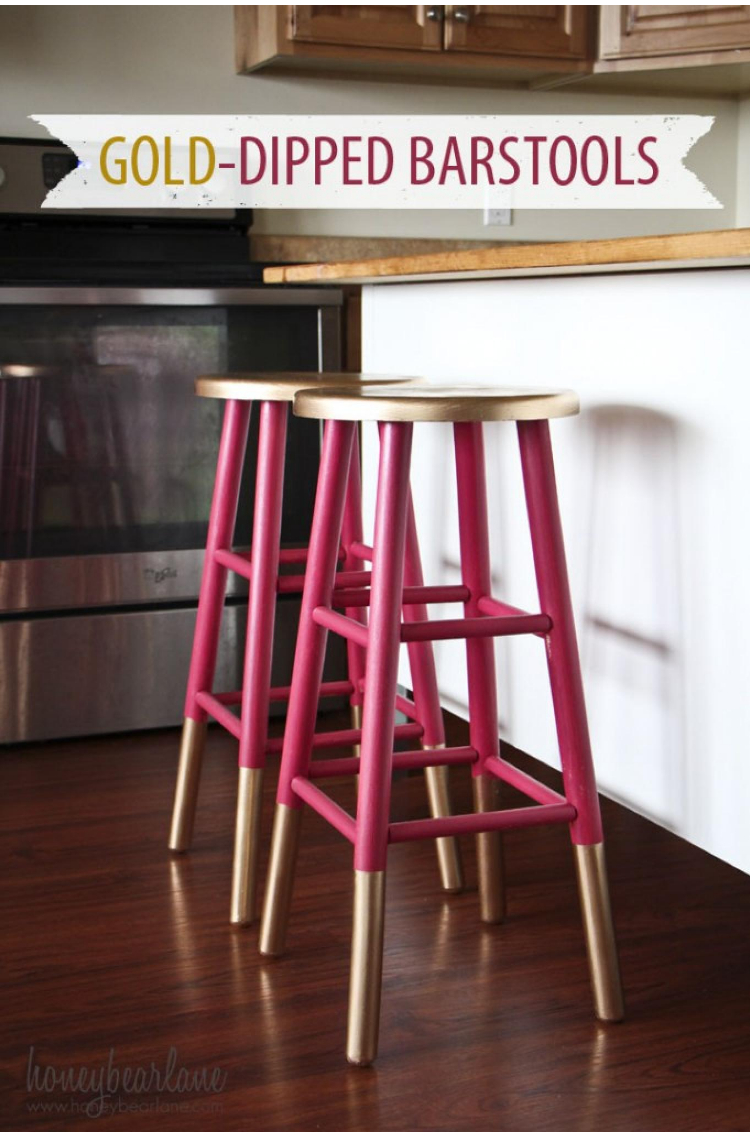 12. Frame Out an Unframed Mirror For Decorating Your Apartment
Add a bit of character to an unframed mirror. Use Velcro strips and pretty trim to create your own frame that you can remove when you move to another place.
I think this is a genius apartment decoration idea!
13. Hang A Divider To Decorate And Separate Rooms In a Studio Apartment
Hang a curtain anywhere you'd like to divide the room. It offers privacy without a permanent change to the room design.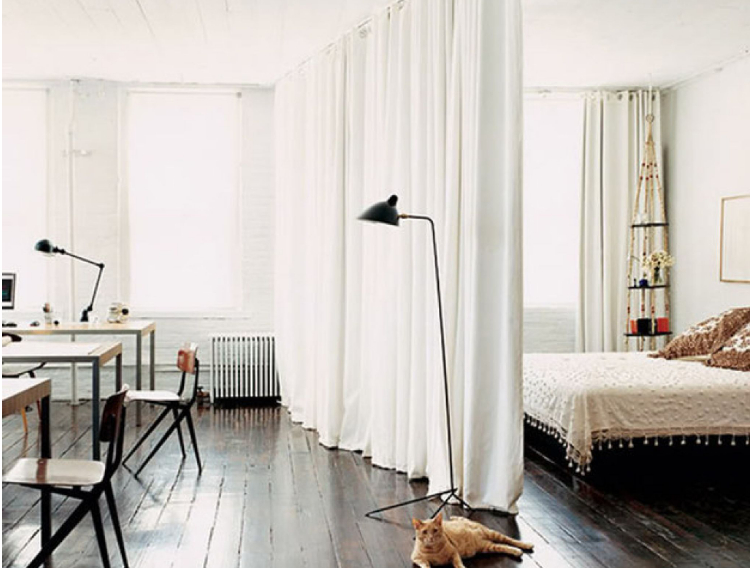 14. Hang Pictures on Ribbon To Decorate An Apartment
Looking for a bit of artwork? Use clothespins to hang pictures on ribbon or string. It minimizes the number of holes in the wall and will save you lots of filling in when you move.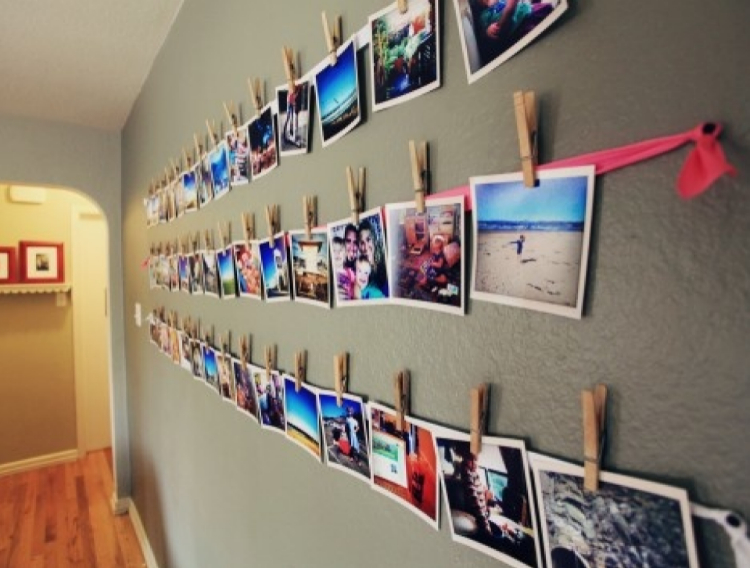 15. DIY Fake Floating Wood Shelves
Hate the shelving that's a part of your apartment decor? Rental shelving is usually basic (utilitarian) wire shelving that takes a beating.
Hide those ugly wire shelves with this easy DIY that will fool everyone (including you!) into thinking they are gorgeous floating wood shelves.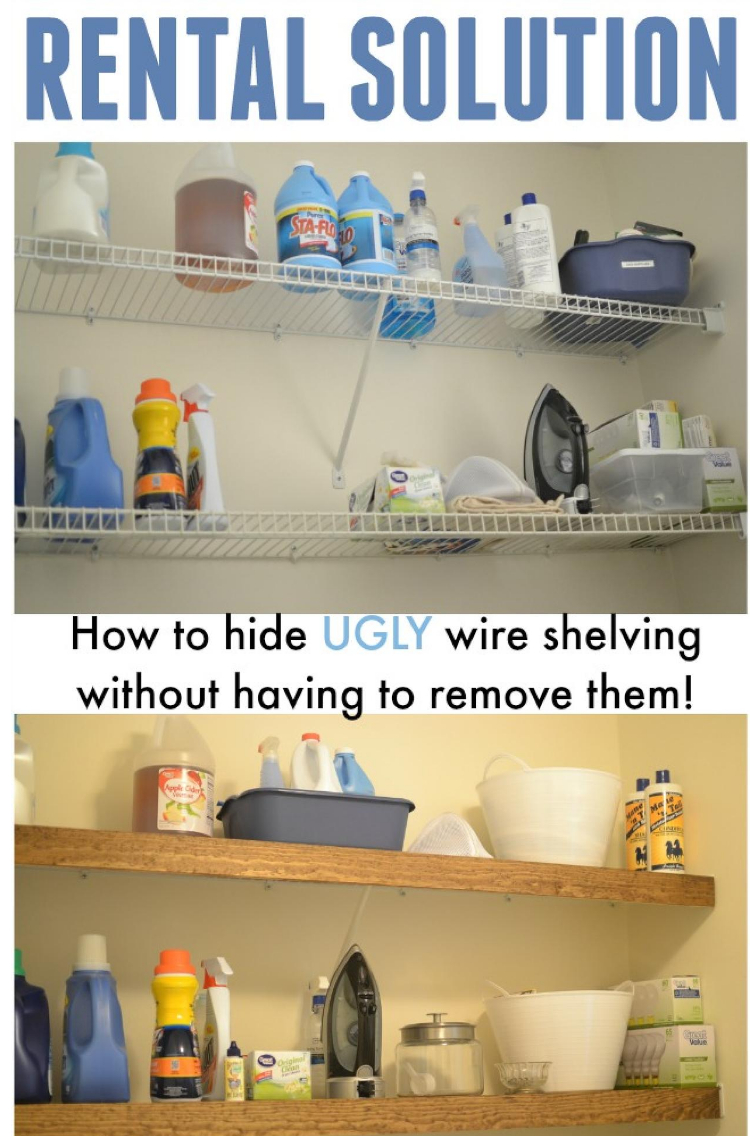 16. Cover Up Unsightly Floors
The floors in a rental are often not kept up very well. They may have stains or wear and tear that make them terrible to look at.
Throw a fun rug down on the floor to cover up what you don't want to see and add some personalization to your space at the same time.
17. Cover Your Studio Floor With A DIY Floor Cloth
When an expensive rug isn't in the budget, make your own out of a much more affordable tablecloth and polyurethane.
It won't have padding (unless you add a pad underneath), but it'll look terrific.
18. Change Hardware In Your Apartment
Apartments often have outdated or builder-grade hardware. Awesome apartment decoration ideas can be small but impactful.
Show your taste with a very easy switch out: changing out the hardware. This can be on the kitchen cabinets or door handles.
It a small and fairly inexpensive swap that will have a huge impact on the space.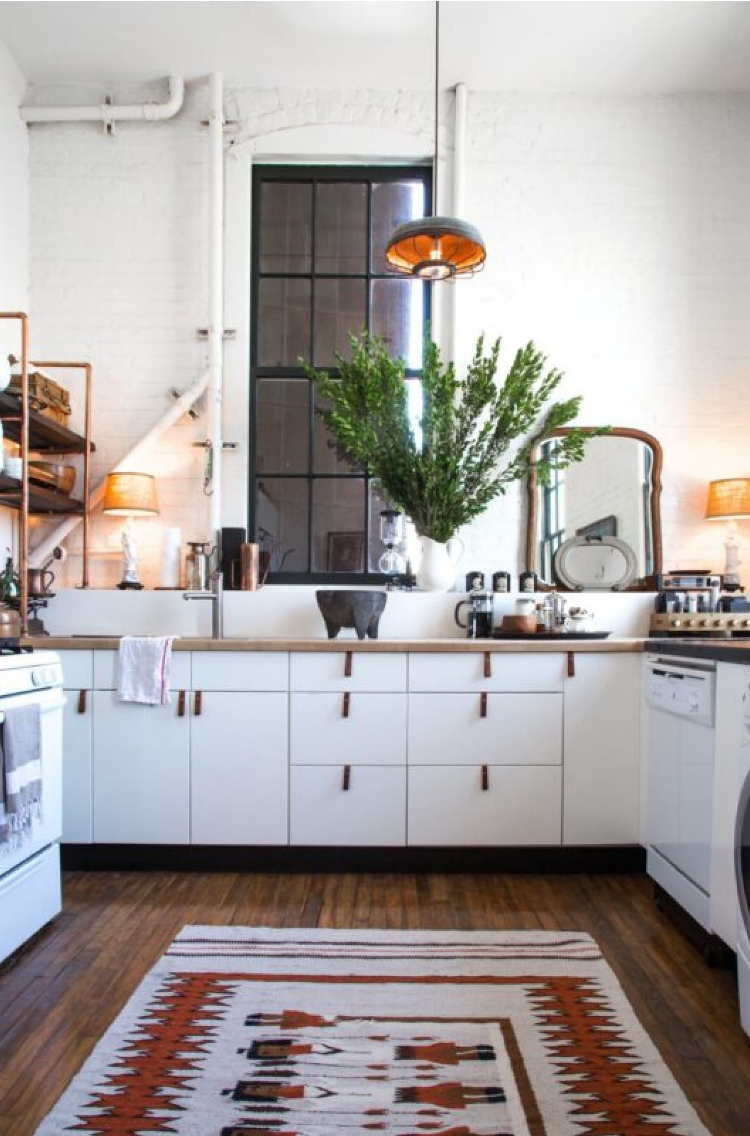 19. Bathroom Apartment Decorating Adhesive Tiles
Did you know that you can buy peel and stick tiles? I didn't for the longest time! Add a few pops of personality in your apartment bathroom or kitchen with some adhesive tiles.
When used sparingly, they will look like an expensive designer touch!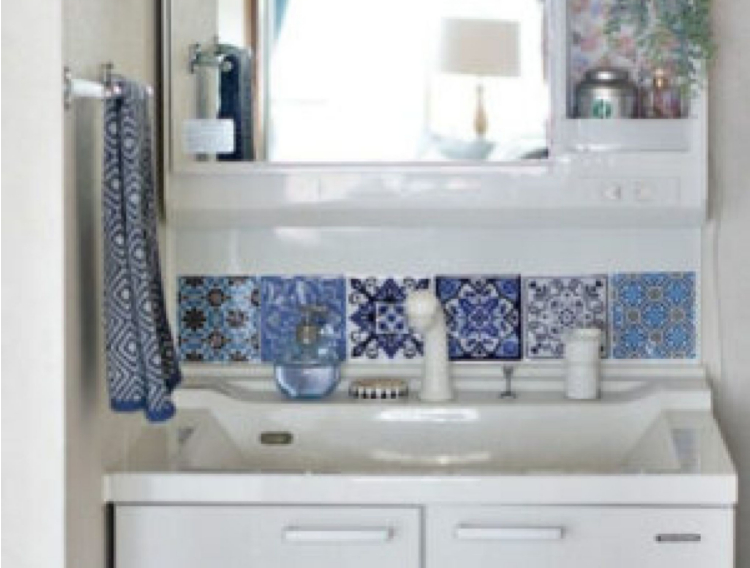 20. (Bonus Tip) Temporary Apartment Decorating Wall Decals 
Wow, have wall decals come a long way! Now they are chic and affordable – and don't damage the wall when you remove them.
Whether you choose to go with a phrase or some type of image, decals are a great apartment decorating idea.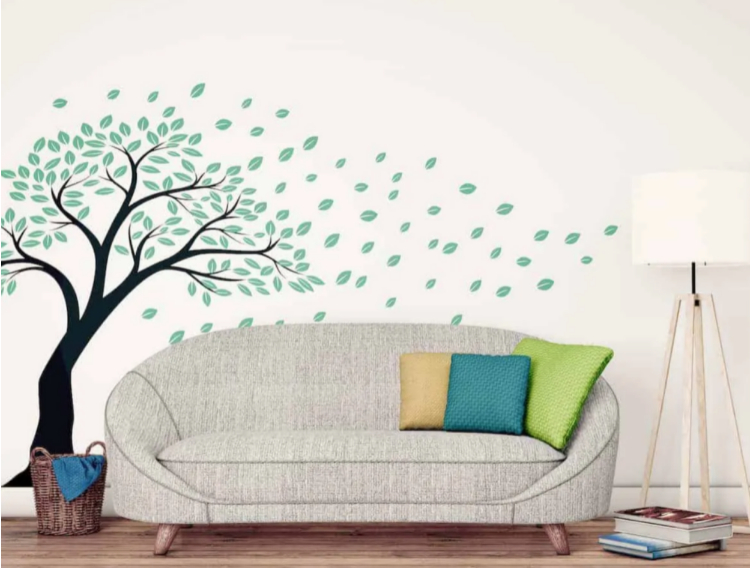 Clever Ideas To Decorate A Studio Or Apartment Center Room To Feel Like It's Home
"Home is where love resides, memories are created, friends always belong, and laughter never ends."
Apartment Decorating for Renters: 5 Quick Cheap Tips
Hang your snacks on the door to keep them out of the way
Get all your paper organized and know right where it is with a good labeling system.
Turn ordinary twinkle lights into flower lights using simple cupcake liners.
Put seasonal clothes in bins with chalkboard labels.
Shoe cubbies make great storage for sweaters and jeans, and you'll save lots of room by using up that vertical space rather than putting them on hangers
Apartment decorating can be tricky when you're limited to making non-permanent changes to your apartment decor. Be rest assured that with just a little creativity and some small personal touches, you can truly make your rented space feel like home.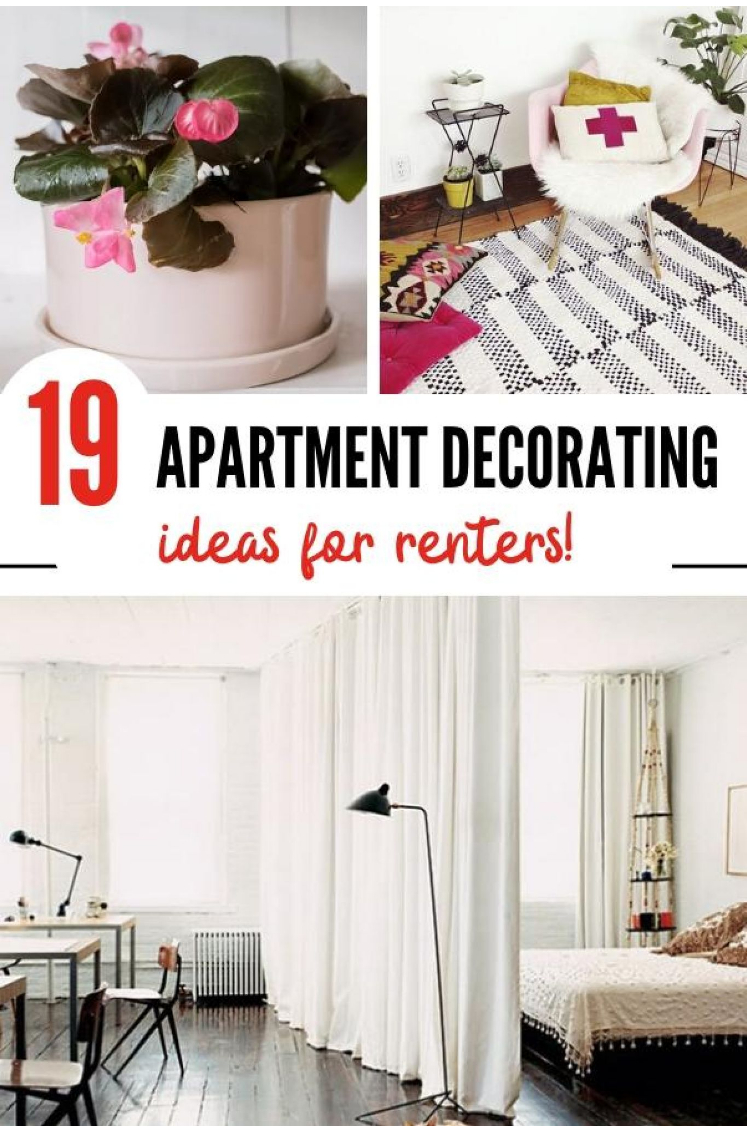 You'll love these Home Organization hacks from One Crazy House:
Which apartment decorating idea worked perfectly for your apartment?