Do you have a pile of laundry somewhere that you can't seem to get rid of? Perhaps its in a chair, on the couch or on a dining room table. Many of us do it not because we hate putting away laundry (okay, we do), but because there never seems to be enough room for all of those clothes. Right? Well before you start dreaming of the piles of clothes trying to strangle you in your sleep, check out these 18 ways to store clothes in order to maximize space. We've even found great ideas baby clothes and for those rooms without closets.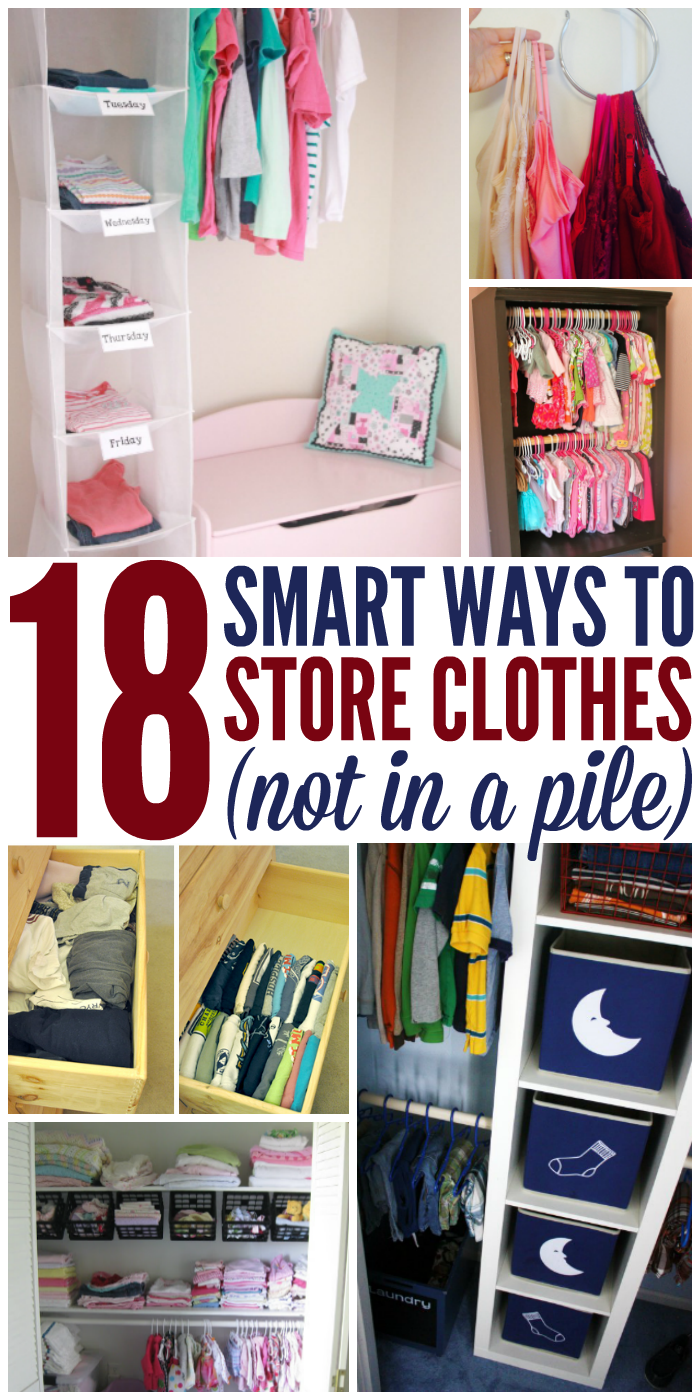 Clothing Storage Ideas
Have trouble getting little ones to put their clothes away in the right place? Label drawers or bins with helpful symbols (like the moon for pajamas and the socks for, well, socks) to help them.
Learn how to fold and roll shirts to save a ton of space in your drawers.
Put seasonal clothes in bins with chalkboard labels. You never have to worry about making new labels because they wipe right off. Great idea for seasonal decor, too!
Shoe cubbies make great storage for sweaters and jeans, and you'll save lots of room by using up that vertical space rather than putting them on hangers.
Put one in the kids' closet to help them choose and sort their outfits for the entire week.
Add baskets underneath the closet shelf for small items like onesies, bathing suits, scarfs and more.
Double up your hangers without paying for expensive gadgets. Just use the tab from a soda can!
Organize the clothes on your closet shelves with wire storage cubes. No more piles falling over when you open the closet!
Use drawer dividers to sort tights and underwear so you can easily see what you have.
Instead of stacking t-shirts on top of one another, file them away in your drawers. You'll be surprised at how much more you can fit!
The same concept applies to jeans. File them, and you'll save lots of space. Plus, they'll look neater when you pull them out of the drawer.
Add an extra bar to the closet for hanging clothes. This is especially helpful in kids' closets since their clothes are shorter anyway.
Use a belt and accessory hook to store camisoles and tank tops. What a smart idea!
Clothes Storage for When You Have No Closet Space
No closet in a small bedroom? A loft bed provides ample space underneath for a makeshift closet covered by a pretty curtain.
Here's another alternative to the no-closet problem. Set up a bookshelf along the wall several feet from the corner. Install a rod between the bookshelf and the wall, and you'll have lots of extra storage!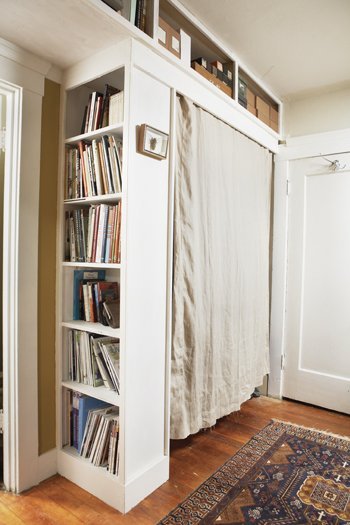 Hang a pretty ladder on the wall to create a clothes hanger and shelf all in one.
Or build your own DIY clothing rack in just 30 minutes. Since it's on wheels, you can move it out of the way whenever you need to!
Most kids don't need huge closets… A bookshelf converted into closet space will be just enough storage!
No matter how big your home is or what the storage situation is like, there are so many clever ideas for storing your belongings and keeping your sanity. (These are just the highlights) The trick is to find what works for you and the space you have and to take the time to put those items in there designated places. Did you find an idea that would solve your problems?
For more clothes storage ideas, check out: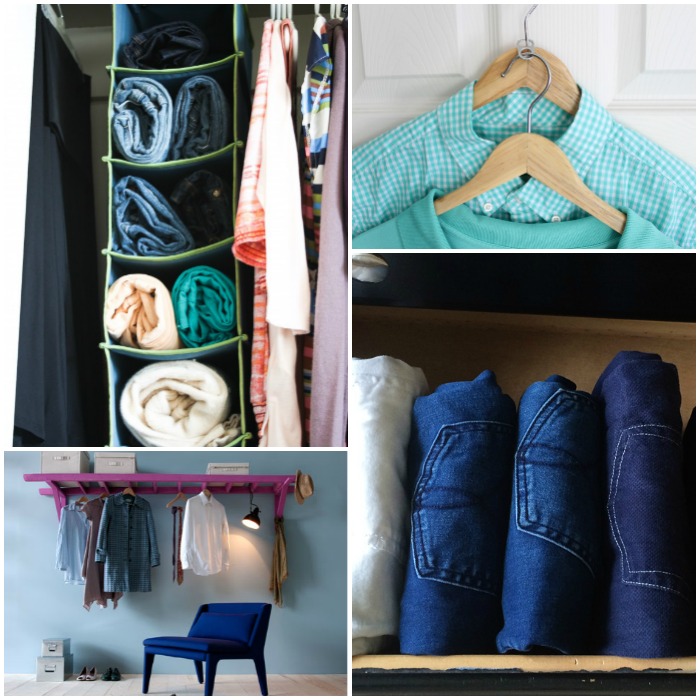 Grab some inspired linen closet organization ideas from One Crazy House!