Do you just love the outdoors and all that nature has to offer? Then maybe it's time to bring your love of nature into your home! Learn how you can showcase your love of the outdoors right in your own home with your very own little ecosystem. You will have a blast learning how to plan and create your very own world in a jar with these 22 Ways to Make a Terrarium!
Bringing a little piece of nature into your living or working space just got a whole lot easier (and way more fun!) with these charming indoor plant terrarium ideas. The best part? You can create most of these on your own! Indoor plants are a hot home decor item right now. People are always looking for new and creative ways that they can bring a little piece of nature into their homes. That is why we have compiled this awesome list of ways to make a terrarium so that you can have a little slice of Mother Nature in your home!
Creative Ways to Make A Terrarium
Are you looking for a way to add some low-maintenance greenery to your decor? Then you are in the right place! Here you will learn different ways that you can make a terrarium to add a little personality and charm to your home. You are sure to love these gorgeous terrarium plant ideas. They are especially good for small homes and offices as they usually require very little upkeep and care. And they even make great gifts for that nature lover in your life.
Terrariums are the perfect solution for busy worlds that need more calm and quiet things from nature.  We hope you like these creative and fun terrarium ideas to bring some zen to your home.
1. Succulent Plants
Succulents are all the rage right now in the home decor world. And why not? Who doesn't love a gorgeous succulent plant accenting their home? That is why we thought you would love this easy-to-follow succulent terrarium tutorial!  This how-to guide is all you need in order to get started on your very own succulent terrarium to add to your home or office. They are so fun, you might not be able to stop with just one!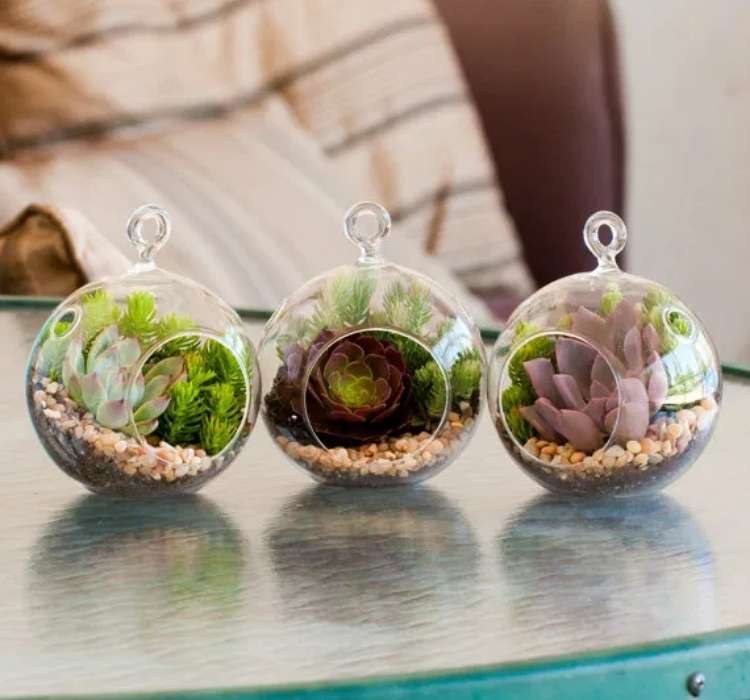 2. Glass Globe Terrarium
This beautiful DIY Glass Globe Terrarium is perfect for small spaces! Create one for your living room, bathroom, kitchen, or even office space. It also makes a great gift for someone! It is a great way to add some color and nature into your everyday life.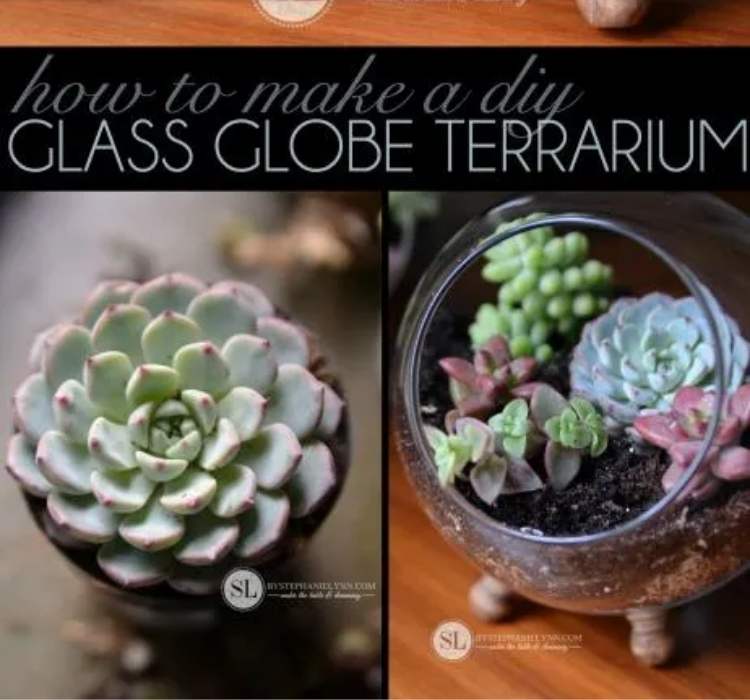 3. DIY Rainforest Ecosystem
This tiny rainforest ecosystem is one that you and your kids will both love! Capture the essence of the rainforest in this easy DIY project that you will be able to enjoy with your kiddos for years to come! You can get as creative as you want with what accents that you add to it!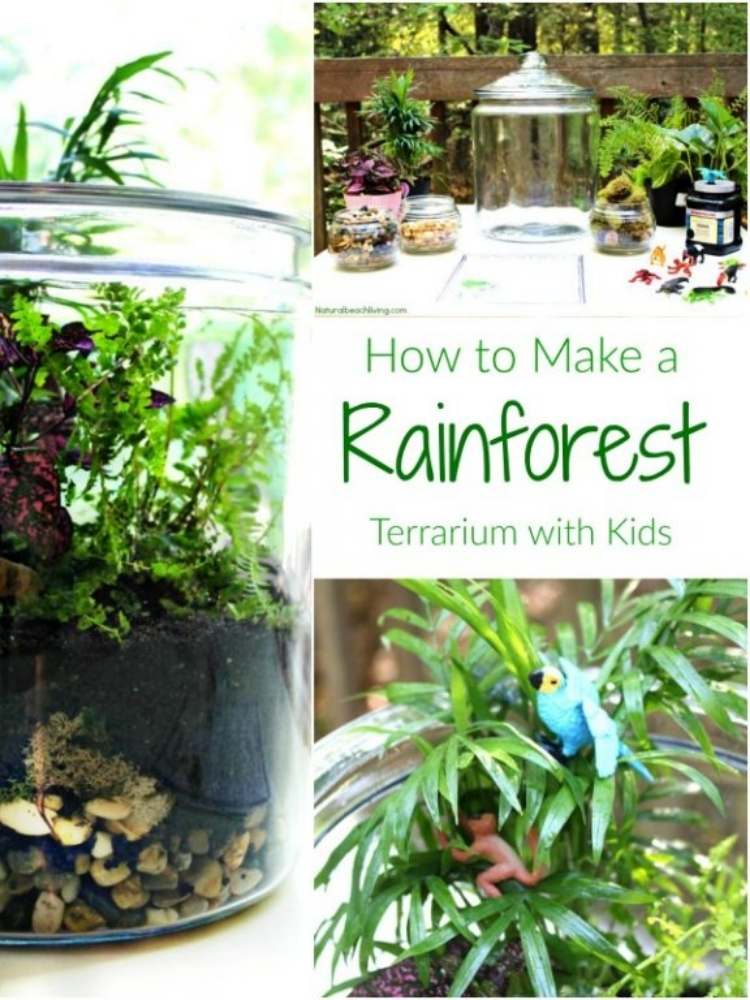 4. Suncatcher Terrariums
What could be more awesome than bringing a piece of nature into your home? What about bringing a little sunlight in with it? This three-dimensional DIY suncatcher terrarium is a unique and fun way to bring some sunshine into your home. And the best part? You can make a terrarium for every season! Now tell me how cool is that?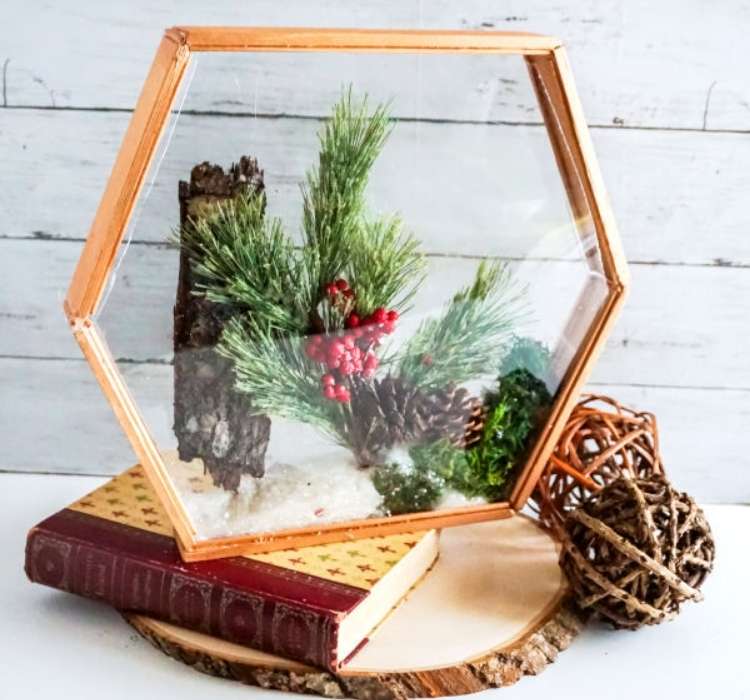 5. Pre-Made Terrarium Kits
If a do-it-yourself project is just not your thing, you can always hop online and order a Pre-made Terrarium Kit! These kits are just as gorgeous as a DIY and will take all the stress and pressure off of creating your own, while still giving you a variety of amazing plants to enjoy! Easey-peasy, right?
6. Indoor Cacti Tabletop Garden
This indoor cacti tabletop garden is so easy to create and is absolutely gorgeous! It's easy to care for and looks great in any setting. For even more fun, you can invite some girlfriends over and have a "Create Your Own Garden" party! How fun would that be?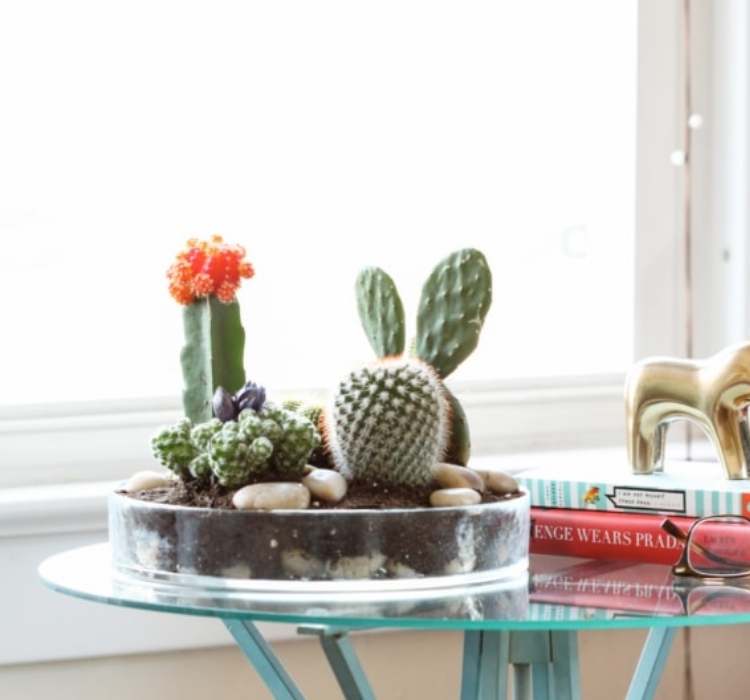 7. Indoor Greenhouse
Create your own indoor little GreenHouse with this glass greenhouse planter. This would make a unique and fun indoor spice house for your herbs or succulents! It would also make a great gift for that plant lover in your life!
8. DIY Vintage Light Cover Terrarium
Do you have some old vintage light covers lying around? Then this unique and beautiful DIY vintage light cover terrarium would be a great choice for you to replicate! It is so easy to create.
All you need are:
Cactus Soil
Pebbles
Sheet Moss
A Variety of Succulents
Vintage Light Cover (of course!)
This one is a great one that can be done as a group project! Instead of Paint and Sip, you can host a Plant and Sip. Clever, huh?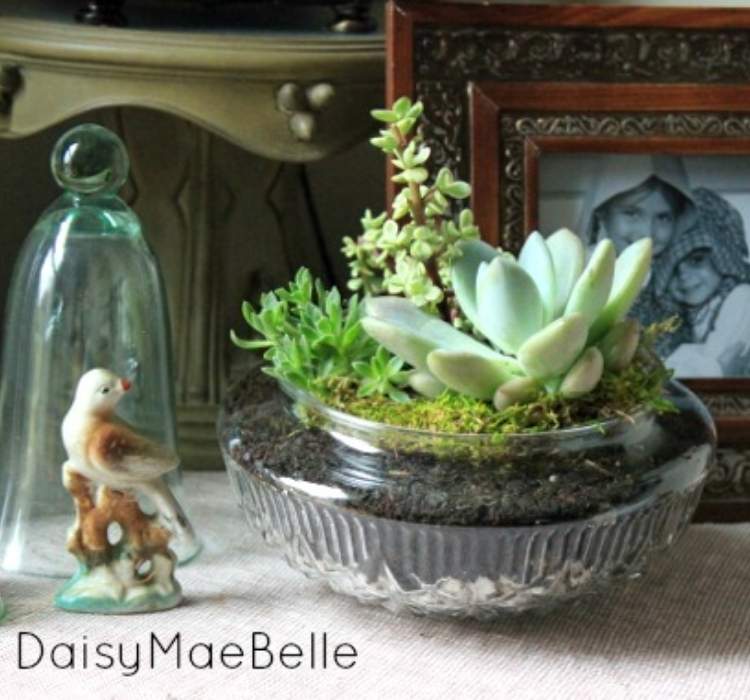 9. Indoor Tabletop Water Terrarium
We've talked a lot about succulents and plant terrariums, but did you know that you could create terrariums using certain water plants? Check out this unique indoor tabletop water terrarium featuring water plants such as taro, water lettuce, water hyacinth, duckweed, fairy moss, etc. It's beautiful and the perfect way to bring a lake vibe to any room!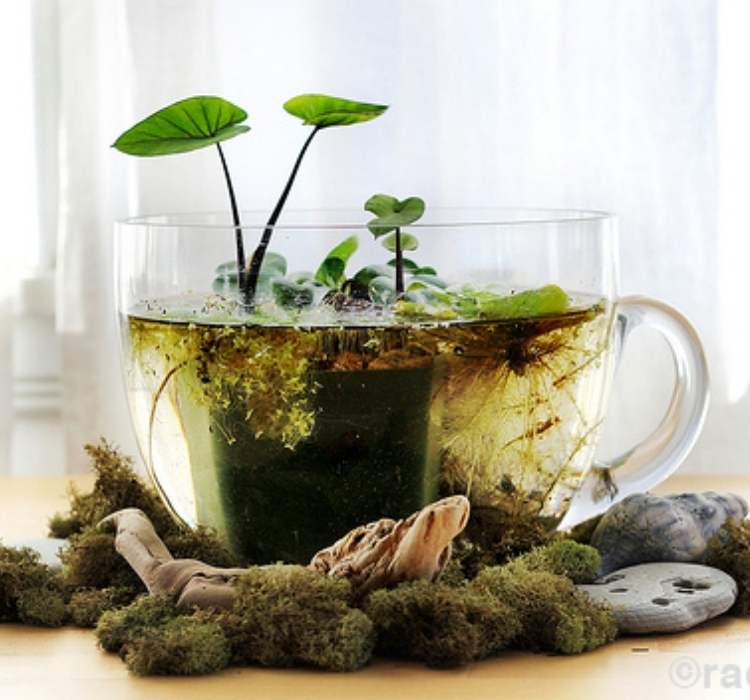 10. Layered Terrarium
Go tall with this layered terrarium that is perfect for small spaces! You can use many different plants and rocks to recreate this fun design.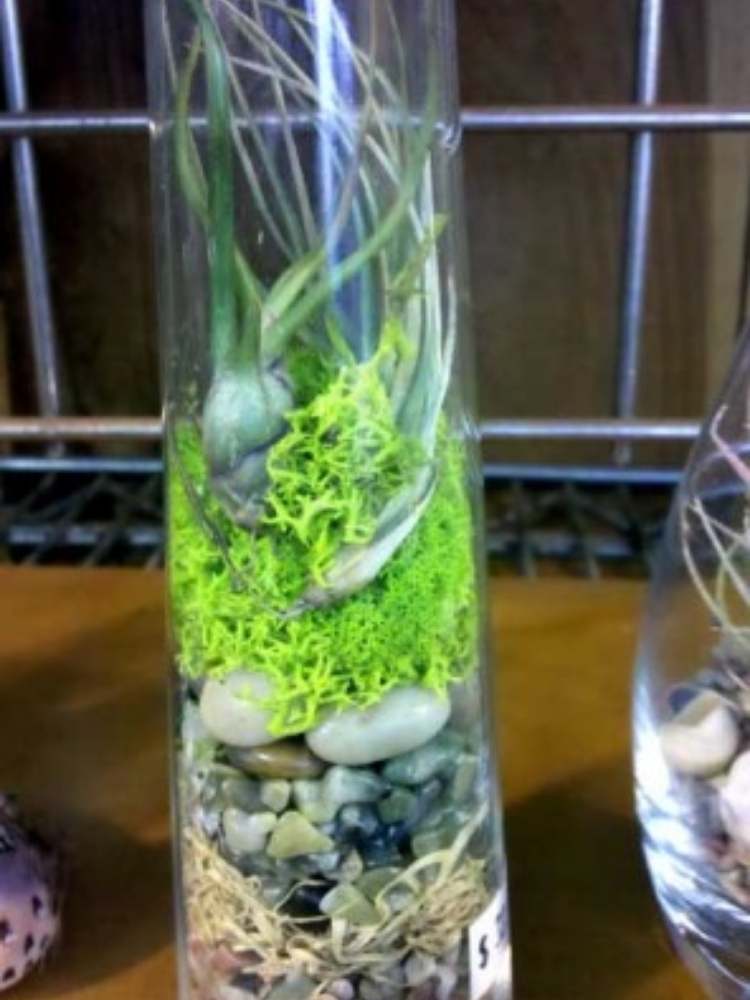 11. Open-Air Terrarium
There are many different types of terrariums, but here's a handy DIY for open-air terrariums and how to care for them. It also gives a variety of ideas for what type of vase to use to create your terrarium. Did you know you can also use wine glasses to create a mini-terrarium? What fun!?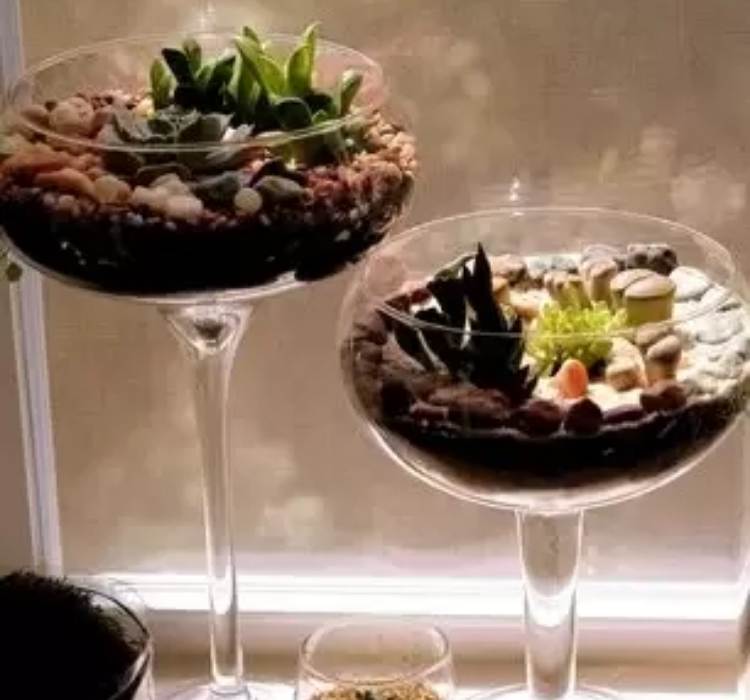 12. Closed Terrariums
Of course, we can't talk about open-air terrariums without talking about closed terrariums! These beautiful terrariums usually have a variety of moss in them. They are a great way for you to have a terrarium without having to worry about your little ones getting into it or dumping it out. Pretty neat!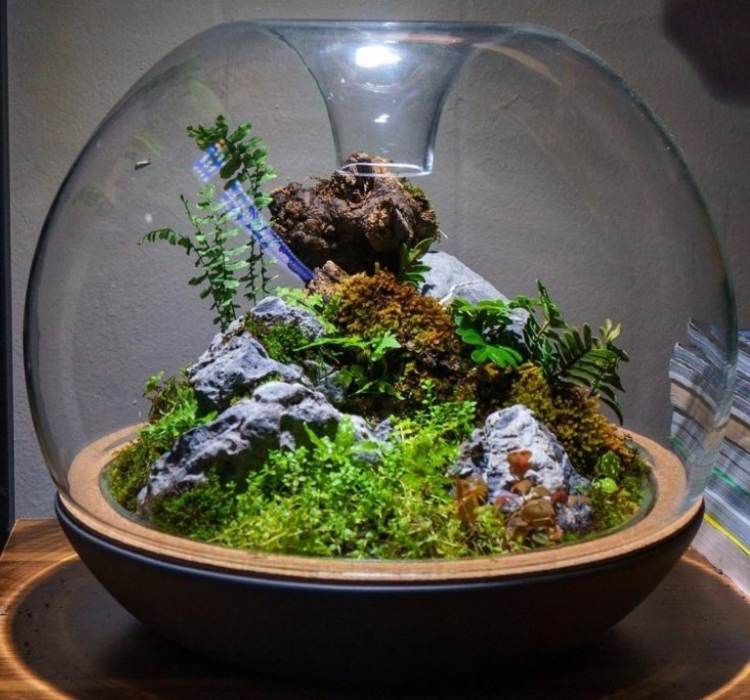 13. Terrarium Care
So far we have talked about how to may your terrarium, but not really how to care for it to make sure that your beautiful plants stay alive! Check out this easy-to-follow terrarium care guide that will show you not only how to create a terrarium, but also how to care for one!
14. Non-Cacti Garden
If you are looking for a non-cacti garden, then try adding moss to your terrarium! Moss will help hold the moisture in your soil. Use this to create your unique closed, non-cacti terrarium.
15. Indoor Fairy Garden
Most terrariums are contained ecosystems with a variety of plants. But, you can make it extra special and fun by adding some fairy elements, like this indoor fairy garden that is made from a bowl. How cute is this? Your kids will love this magical fairy garden and will probably want you to create more! Who wouldn't?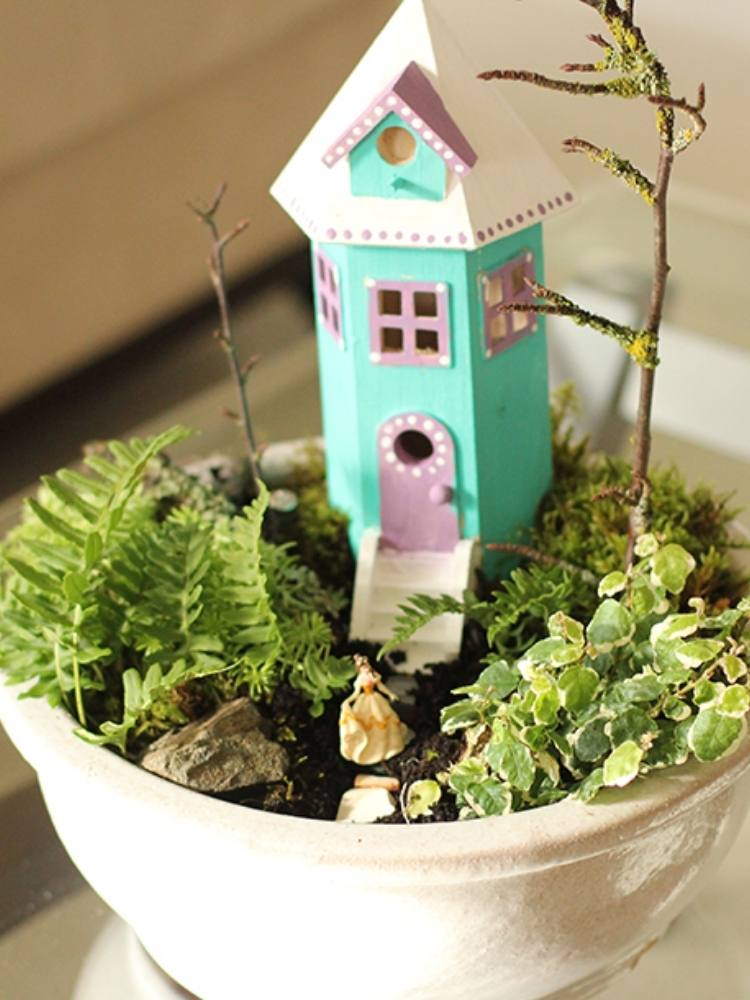 16. Terrarium Ball
This terrarium ball has two air holes for the best ventilation.
17. Teacup Mini-Indoor Garden
Short on space? Don't worry! You can still add a touch of nature to your home with these cute teacup mini-indoor gardens! These would be perfect in a dorm room or office where space can be limiting. Aren't they simply adorable?
18. Star Wars Themed Terrarium
Ok, so we've seen the fairy gardens and the teacup mini-gardens, but did you know that you can geek out your terrarium with this awesome Star Wars Themed Terrarium. This cute Yoda-themed terrarium is the perfect gift for that Star Wars superfan in your life!
19. Bonsai Tree House Terrarium
If you want to get really creative with your terrarium, try this gorgeous Bonsai Mini-Lighted Rustic Tree House terrarium. This is definitely a statement piece that anyone would love to have in their home. How cool is that?
20. Terrarium Necklace
Adding nature to your home is one thing, but what if you could take a little piece of nature with us everywhere that we go? Well, now you can with this super cool DIY necklace! These are also really great gift ideas for the nature lover in your life.
21. Magical Succulent Lantern
This is one of my favorite terrariums! Check out this charming and magical succulent lantern that gives a vintage feel to any room. This would make an absolutely gorgeous wedding decoration! I don't know about you, but I want one of these in every room. They're just that pretty.
22. Beach Themed Terrarium
Do you just love the beach and wish that you could bring it home with you when you leave your beachy vacation? Guess what? You totally can! Check out this simple and fun beach-themed terrarium that will have you hearing beach waves every time that you look at it! It makes a wonderful addition to that beach-themed decor.
Easy and Unique DIY Ideas
Creating a unique terrarium for your home is super simple and a fun DIY project that the entire family can enjoy! All it takes is some strategic planning ahead of time (you have to make sure you have the right planter, soil, and plants!) and a little creativity. But with these different ways to make a terrarium, you can create a variety of easy and unique terrariums that will add a little more charm to your room.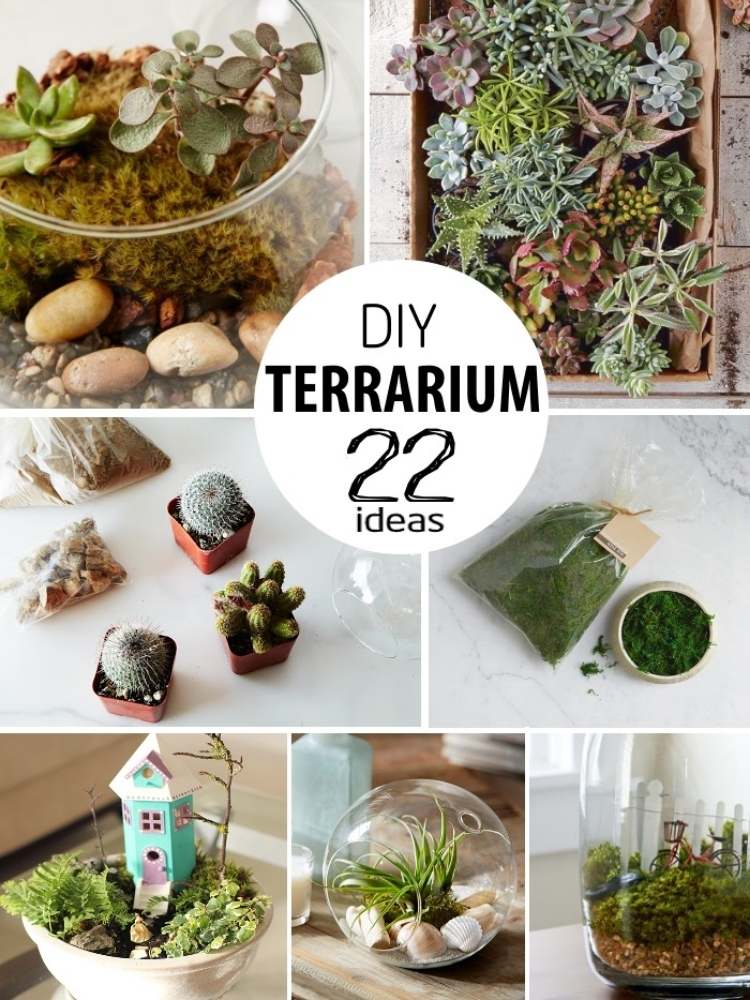 If you love these amazing and fun terrarium ideas, we're sure that you will love to check out these other posts: