Don't let your spice racks collect dust. Choose one of these clever ideas to repurpose your old spice racks and use them around your home to organize in genius ways! If you have one (or several) stowed away somewhere, you're in luck. We've put together 16 fabulous ways to upcycle your wire, wooden and carousel spice racks.
Ways to Reuse Old Spice Racks
Turn your old spice racks into doll closets. Cute!
This spice rack turned flower basket is impressive! Grab some jute, a wire spice rack and a hot glue gun, and you're all set to make your basket.
Spice racks make wonderful book shelves for displaying your child's favorite books.
Add one to your kids' crafting area to hold paints, dot markers, bottles of glue, etc.
Repurpose Your Spice Rack
If you're a Keurig addict, you probably have loads of K-cups in a basket, box or drawer. Make a K-cup organizer out of an old spice rack to see all the flavors you have!
Are you a craftaholic? Put beads, buttons, pins and other craft materials in your old spice rack bottles.
Turn your spice racks into desk organizers. You'll finally have a space for those paperclips, binder clips, rubber bands, staples and more.
Paint and decorate your spice racks to make nail polish organizers. Also, check out our post on 21 Ways to Use Nail Polish.
Upcycle Your Spice Racks
Make your own jewelry holder. This pink version is darling. Here's another spice rack turned jewelry holder for your inspiration.
We have lots of craft paints in this house. A craft paint holder is perfect for us!
Create a ribbon rack so you can see at a glance the colors and patterns you have.
Add some color to your kitchen by painting the spice racks and using the bottles as flower vases. Gorgeous!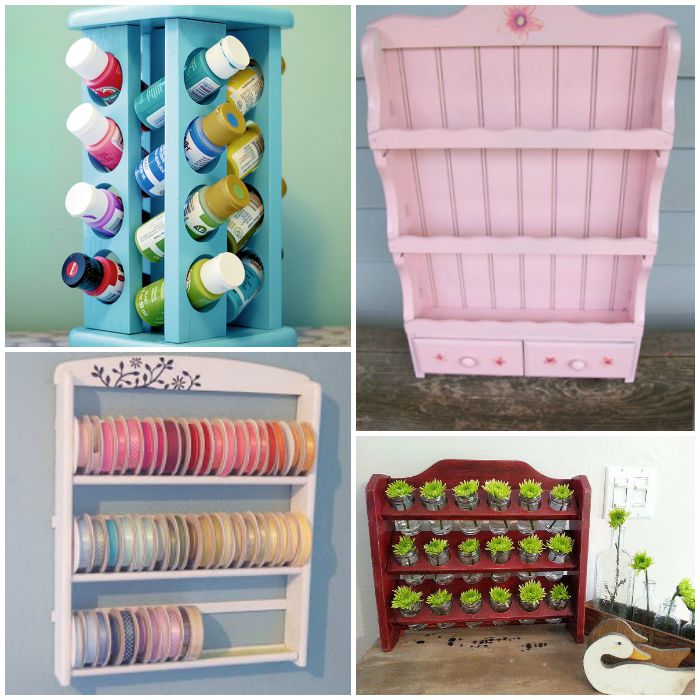 Alternative Uses for Spice Racks
Use one as a rack for twine or thread. Here's another gorgeous twine holder to inspire you.
Spice racks don't have to be functional. They can add to the aesthetic of any room if you just need extra wall shelving.
Make some doll furniture and storage out of old spice racks. This bench is adorable!
Looking for more upcycling ideas? Here are 10+ ways to repurpose Melissa and Doug boxes and some upcycled toys for the kiddos.