The series may have ended, but the magic will never die! We have found over 30 Harry Potter crafts and games that wizards young and old are sure to enjoy. From easy to durable costume ideas, and bookmarks, to fun and delicious recipes and even some magically inspired games, you are sure to find something to please the Harry Potter fan in your life!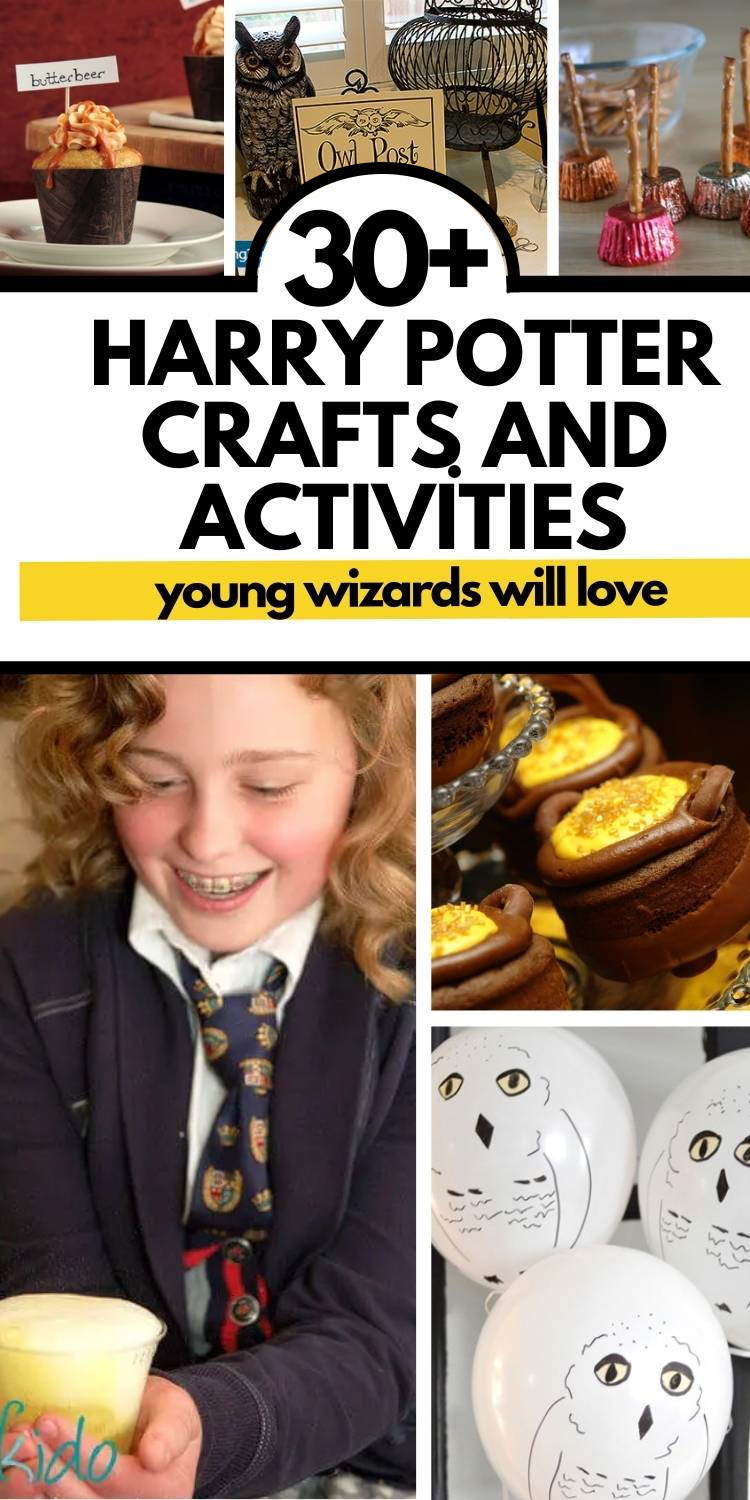 Magical Harry Potter Crafts, Games & Activities
1. Harry Potter and friends costumes
Looking for a Harry Potter costume for that harry potter party you signed up for, that will have all those muggles jealous? Cut out those purchases. With the help of these costume ideas, you'll look like you've just stepped out of Diagon Ally. Get dressed up for parties or just to play Harry Potter games around the house!
2. Harry Potter Game and Costume Ideas: DIY Wizard Wands
Make a set of Harry Potter wands for your kids to use – they open a world of imaginative play. Find some awesome sticks on a nature walk, and then paint them with your favorite sparkly paint. Look for sticks that are bendy and have some character to them as these look extra nice once decorated. You can also use pencils and turn them into wand pencils!
Here are the easy steps to creating a sparkly wizard magic wand. All you need is a thin stick, some paint, and some glitter. In less than fifteen minutes you can make your own glittering wand.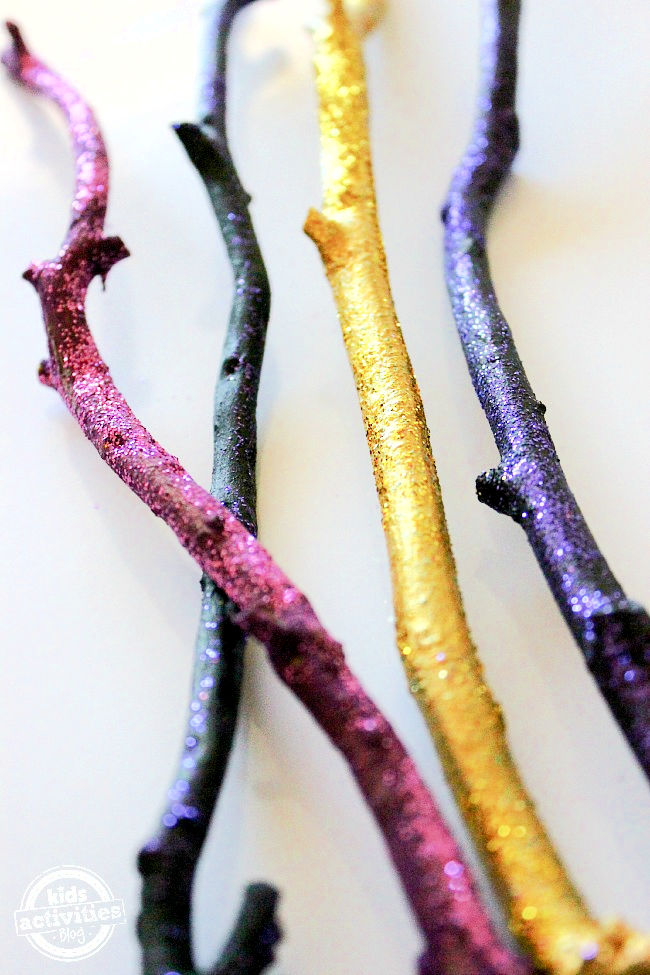 3. Harry Potter Costume Ideas: Make your own Quidditch Robes!
Every budding Quidditch player needs some sweet robes, right? The quidditch robes are a bit different than the house robes. All you need for this awesome costume is a house robe pattern (which you can get for free or for a very low cost online), some fleece fabric in your preferred house colors, and a gold clasp for the front. And apparently, there is a Harry Potter font on Word that you can use to create the letters. Well, to make things much super fast? Try your blanket! That's magical!
4. Harry Potter Games and Costume Ideas: Make your own One-of-a-kind Wand!
What is a wizard without her wand? Learn how to make your own one-of-a-kind wands here. These are super easy to make! All you will need is:
Chopsticks (genius, right!? and one packet of chopsticks will make 2 wands!)
Hot glue gun
Hot glue sticks
Acrylic craft paint
Protective Finishing Spray
Paintbrushes, paint sponge
Rag
5. DIY 15-Minute Harry Potter-Inspired Robe
If you have a little wizard in need of a new set of robes this 15-minute robe tutorial may be just what you're looking for! This robe is made with an oversized t-shirt, and the best part is that you can make a matching one for dolly, too!
6. DIY Hogwarts Inspired Robe Tutorial
Searching for robes that can put up with a bit more wear and tear? Try this Hogwarts robe tutorial.
7. Create your own Hogwarts house patches
All it takes to make these adorable patches is some felt, a sewing needle, and some patience! Add these to your homemade Hogwarts robes and they're complete!
8. Luna's Radish Earrings
Fellow Ravenclaws will love these Radish Earrings inspired by the heroic and loveably strange Luna!
9. Harry Potter Games and Costumes: Luna Lovegood
Why not go for Luna's whole look, complete with Spectrespecs?
10. Harry Potter Inspired Owl costume for baby
A quick and simple baby costume so everyone can get in on the Harry Potter fun!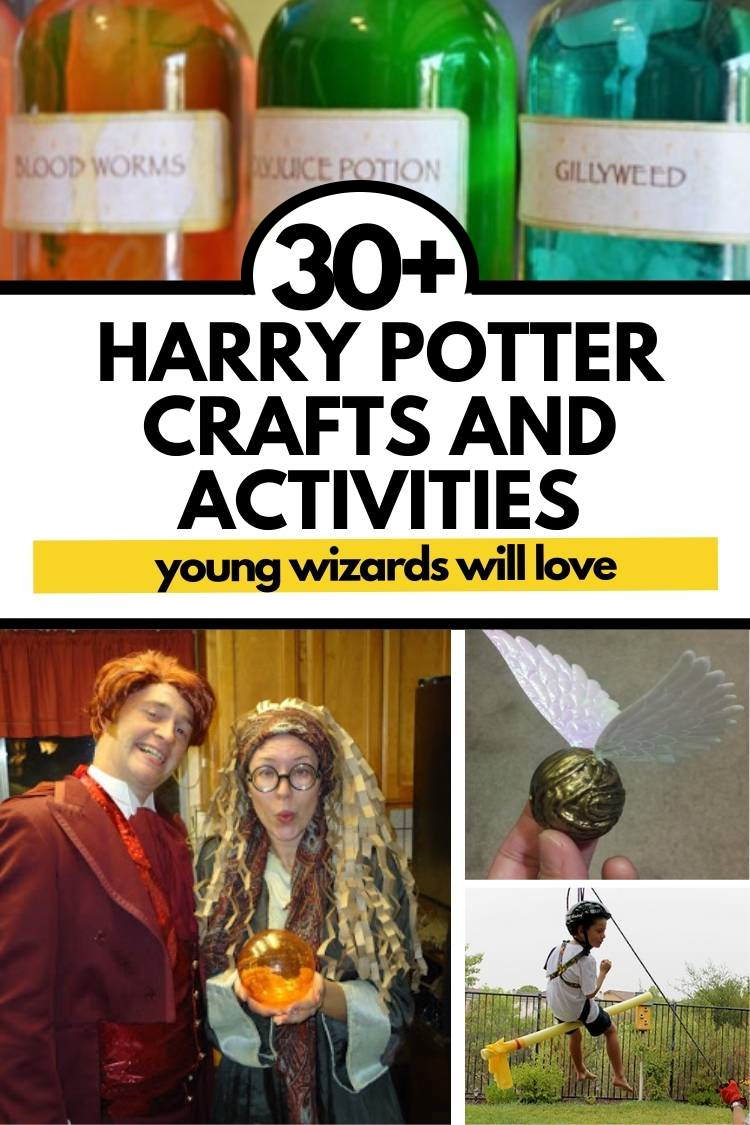 11. Harry Potter Costume Ideas: Don't forget your house tie!
Is your little Gryffindor in need of a tie? This glitter striped tie may be just the thing. Grab a gold tie and then apply masking tape diagonally on the whole tie. Remove every other piece of masking tape and then paint with glitter paint. That's it! Now you have your own house tie that sparkles! Use a gold tie for Hufflepuff or Griffyndor with pink or red glitter, or grab a silver tie and use green or blue glitter for Slytherin or Ravenclaw Tie.
13. Harry Potter Costume Ideas: Make your own wigs!
Looking for a new 'do? These easy-to-make paper wigs are the perfect solution!
All you need is a hot glue gun, scissors, paper of your choice, and a beanie. The first time I made a paper wig, I didn't use a beanie. I simply made a skull-cap by holding butcher paper over my head and wrapping masking tape around, then trimming it.

-Ashley, FromDahliastoDoxies.com
14. Harry Potter Games and Costumes: Every good hero needs a good villain, right? DIY your own Death Eater Inspired Masks
If you prefer to dabble on the dark side, these Death Eater masks are just what you need to complete your look. This mask is made by creating a mold of your face with aluminum foil and then casting the actual mask with paper mache!
15. The Gift every Harry Potter fan has been waiting for: Their Hogwarts acceptance letter!
What costume is complete without a personalized Hogwarts Acceptance Letter?
16. Harry Potter Games and Activities: Quidditch hoops!
No backyard is complete without a set of Quidditch hoops!
17. Harry Potter Games and Activities: Can't play quidditch without a golden snitch!
And what Quidditch set is complete without a golden snitch? This snitch is made with a styrofoam ball with the details engraved into it, and then some angle wings attached to it. Don't let it fly away!
18. DIY your own Harry Potter-themed game
This mama created a bunch of fun and inexpensive Harry Potter-themed games for her little one's birthday. The games are based on each of the classes that our magical trio took while at Hogwarts. When the guests arrive, they visit Ollivander's to collect their wands and class schedules.
Then potions class consists of having the wizards-in-training create their own magical concoction with baking soda, vinegar, and some dish soap.
After that, it's off to Charm's class where everyone can practice their "wingardium leviosas" on some floating balloons!
In the dueling club, the wizards-to-be use paper shooters to "cast spells" at each other from a marked-off point (so no one gets hurt. Then there's a visit to the owl post, where the guests can take turns writing notes with homemade quills and then leaving them for the owls to deliver.
There are also flying lessons, although this requires more safety measures and adult supervision. Then it's time for defense against the dark arts, where the wizards-to-be get to defeat their very own dementor pinata!
19. Harry Potter Games and Activities: Time to go up the tower for Divination Class!
Tell the future with this fun Divination game! This one is so adorable, and the look of fascination on the party-goers faces is sure to delight! Before the party, put a few drops of food coloring into clear plastic cups and allow them to dry. Before the partygoers see the cups, make sure to add some ice so the food coloring can't be seen. Have every person hold the cup, have them think about the future, and pour in some clear liquid, such as Sprite, into the cup to reveal the color! Print out a pretty sign that has a designation for each color. For example purple can signify royalty, green can signify wealth. This fun game is sure to delight party-goers of any age!
20. Harry Potter Games and Activities: Banish those dementors!
Expecto Patronum! Have a fun game of Dementor banishing with the help of this fun game tutorial. Paint some cute little animals silver and then wrap them tightly in black crepe paper. Then at the party, someone can explain the story and have the wizards-to-be unwrap the "dementors" to reveal their own patronuses! This makes for a fantastic party favor for Harry Potter fans of any age!
21. Harry Potter Escape Room
If you are a lover or games and puzzles, you don't want to miss the digital version of a Harry Potter escape room that you can do in the comfort of your own home.
22. Harry Potter Games and Activities: Have a magical time coloring with Harry Potter Printables!
Looking for some fun Harry Potter printables? This site has got you covered
23. Harry Potter Games and Activities: Not just for kids!
Harry Potter isn't just for the kids! Check out this crazy awesome Harry Potter themed wedding shower.
Platform 9 and 3/4 inspired entry way
Butterbeer served from a barrel
A Three BroomSticks Bar
British Inspired Finger Foods
Themed Cups
House Inspired Tableclothes and decor
Honeydukes stand to display a sweet array of desserts
24. Harry Potter Games and Activities: Cause where would Harry be without Hedwig, right?
Create some owls for Harry using white balloons. Fun! All you need to make these creative decorations AND party favors are some white balloons and black and yellow markers. What an artsy fartsy mama!
25. Make Your Own Harry Potter Spells List
You can make a Harry Potter Spells list booklet or monster book of monsters with this free 14-page coloring page set, your kids can pretend to be a wizard in Hogwarts school of witchcraft and wizardry and use magic spells to open doors for one day. Or as many days as they want to!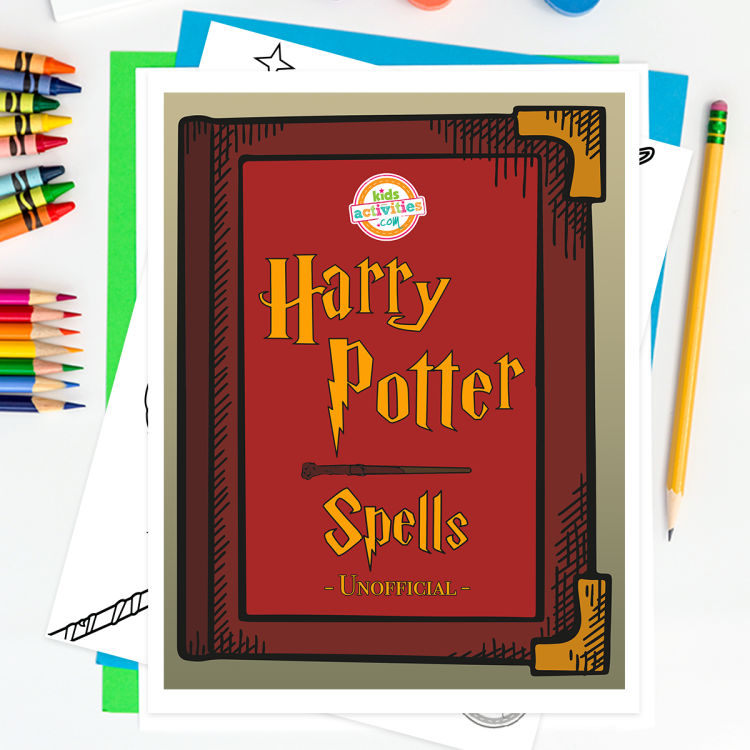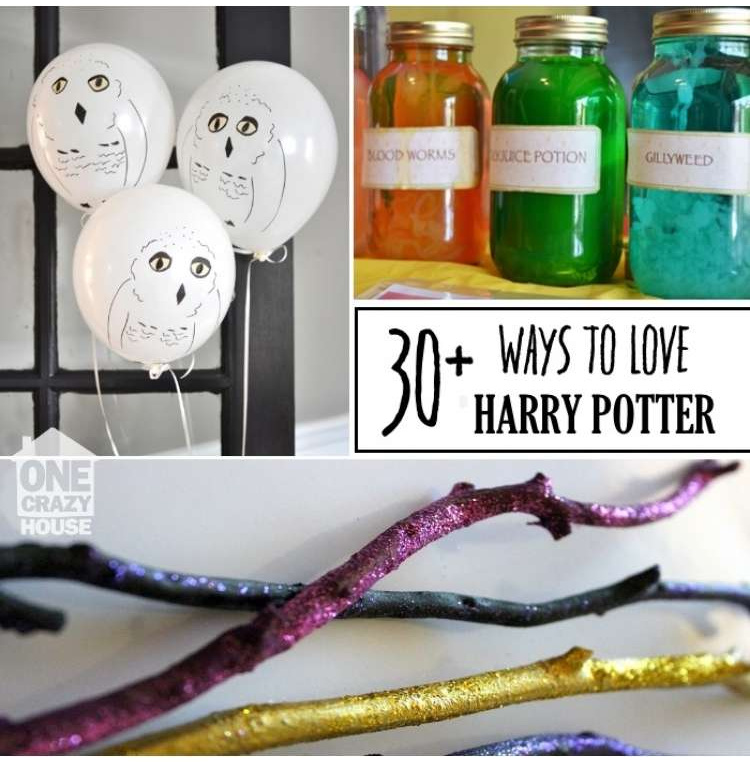 Harry Potter Snacks: What a great place to find Muggle Snacks and Treats!
26. DIY Butterbeer
Let's make homemade butterbeer and chocolate frogs on side!  It's a staple for any Potter reading and isn't actually beer so it is fun for the kids too! The first time my family saw the characters of Harry Potter enjoying this tasty drink we knew we had to have it. Just like on all episodes of Harry Potter movies. Yum.  To make butter beer you will need:
cream soda
butterscotch syrup
butter
(optional) heavy cream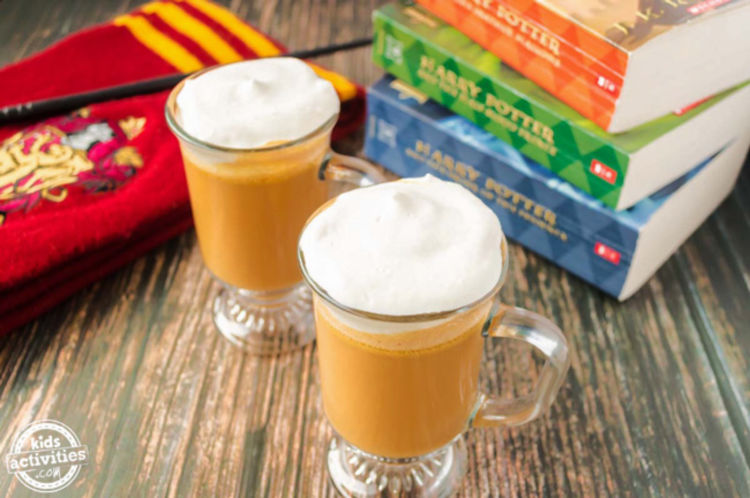 27. Harry potter Inspired Snack: Pumpkin Juice
Learn how to create delicious Harry Potter drinks like pumpkin juice.  Check out the pumpkin juice recipe and make it at home!  You will need: dried apricots, water, apple juice, cinnamon stick, allspice berries, ginger, vanilla bean, pumpkin puree and ground nutmeg.  It is actually something you don't mind if your kids drink!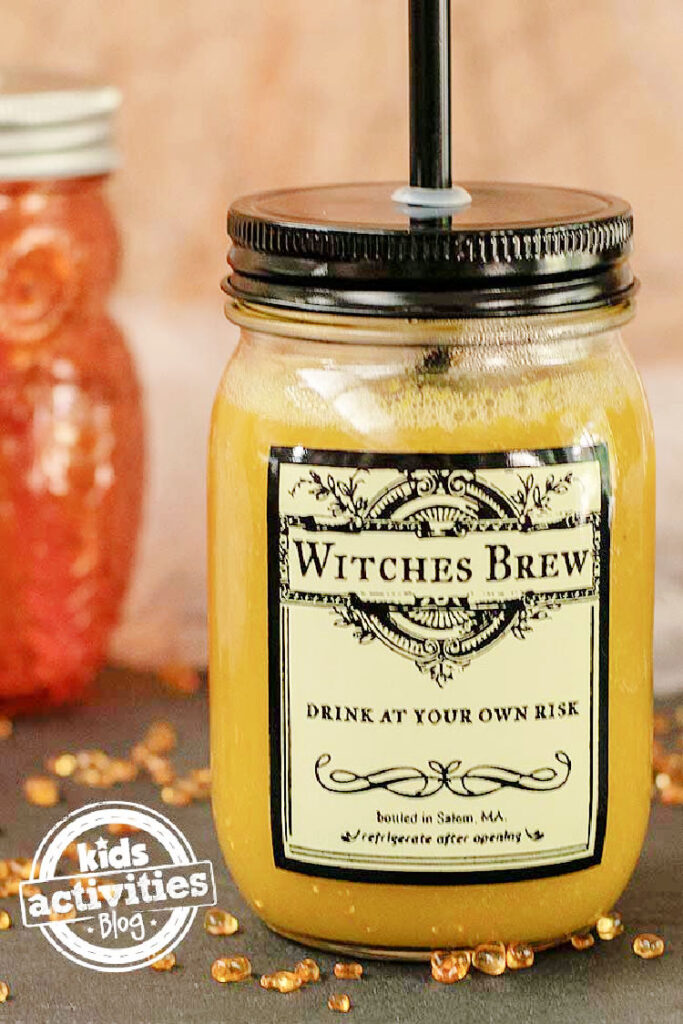 28. Harry Potter Snacks: These cheesy Nimbus 2000s aren't made for flying!
Make some super cool Nimbus 2000's out of cheese sticks and pretzels! All you need to make these adorable flying brooms is some cheese sticks, pretzel sticks, and chives.
29. Harry Potter and the Goblet of Fire inspired snack
These dragon-roasted nuts are the perfect combination of spicy and sweet!
30. Print out Harry Potter Inspired Labels
Get in the Magical Spirit by printing out Harry Potter-inspired labels free printable to put over your current bottles. Make sure that they stay out of the reach of little hands, though! Find some cute ones to buy or be inspired by online.
Did you love these Harry Potter games, costumes, and snacks? Be sure to check out these articles for more magical fun!
Which of these awesome Harry Potter crafts did you try out first with the kids? Let us know in the comments!