We've rounded up some stellar easy asparagus recipes from amazing bloggers who know how to make this healthy green vegetable into something very tasty!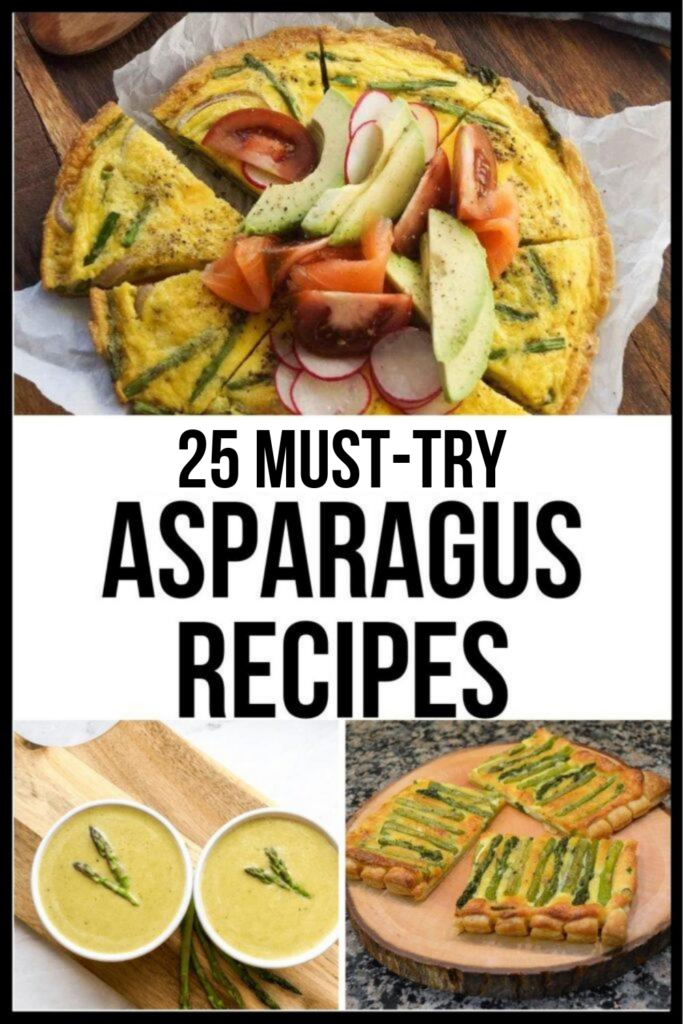 I have found that people tend to either love asparagus or hate it, and that's due to its slightly bitter flavor.
Where do you fall on the asparagus flavor meter? Our family loves asparagus for its health benefits and versatility. Plus, my kids think they look like little swords which makes them cool to eat!
But, I will say- it makes a HUGE difference in how you prepare it. When prepared correctly, asparagus shines as a tasty addition to any meal.
That's why we've rounded up some of the best asparagus recipes on the internet – to satisfy everyone who loves asparagus, and to show those who don't think it's so great, just how amazing it can be!
Super Easy Asparagus Recipes The Whole Family Will Love
Check out these mouth-watering asparagus dishes! We've even broken them down into categories to help you find what you want more easily.
Delicious Asparagus Appetizers
Let's start with…appetizers!
You know these have to be amazing recipes because if the first bites of a meal (appetizers) aren't good, then, well, the rest of the meal is just unappetizing.
This dish looks way more complicated than it really is (my favorite!). Impress your friends with an amazing, delicious asparagus appetizer that will make them ask when you went to culinary school.
No need to complicate a classic that's this yummy. Keep it simple and watch it disappear lickety-split fast!
You can grill, bake, sauté, and more; the post gives directions for each method.
This tart makes a great appetizer with its light, savory, citrusy, and creamy blend of flavors. It can also be a great side dish or snack.
It'll make your tastebuds dance and your stomach beg for more!
Finger foods like kabobs make perfect appetizers. These flavorful kabobs are so delicious they will disappear in a flash.
Juicy and delicious chicken rolls seasoned with pesto sauce. The asparagus in the middle keeps the chicken nice and juicy. These almost look too good to eat, but you'll enjoy every bite.
This crispy bacon-wrapped asparagus is perfect as an appetizer for parties and family get-togethers. You gotta admit- anything with bacon tastes good!
This buttery puff pastry is stuffed with asparagus, melted cheese, and ham, sprinkled with crunchy almonds on top. It's sure to impress everyone who comes to your party!
Amazing Asparagus Side Dish Recipes
Personally, I'm all about the side dishes. If I could eat a plateful of side dishes and skip the main meal, I would in a heartbeat. Fill my plate with these asparagus side dishes, please!
This vibrant side dish comes together in just 12 minutes, making it perfect for those very busy weeknights. Who can resist buttery, lemony sauteed asparagus? Not me.
Toss some roasted potatoes and asparagus in some garlic and fresh lemon juice. A simple and healthy dish that is packed with flavor.
The flavors in this dish complement each other beautifully, and the runny yolk makes the perfect sauce for the asparagus.
This oven-roasted asparagus is about to be your new favorite side dish! Now only is it so simple and easy to do, it's keto and paleo-friendly and also gluten-free.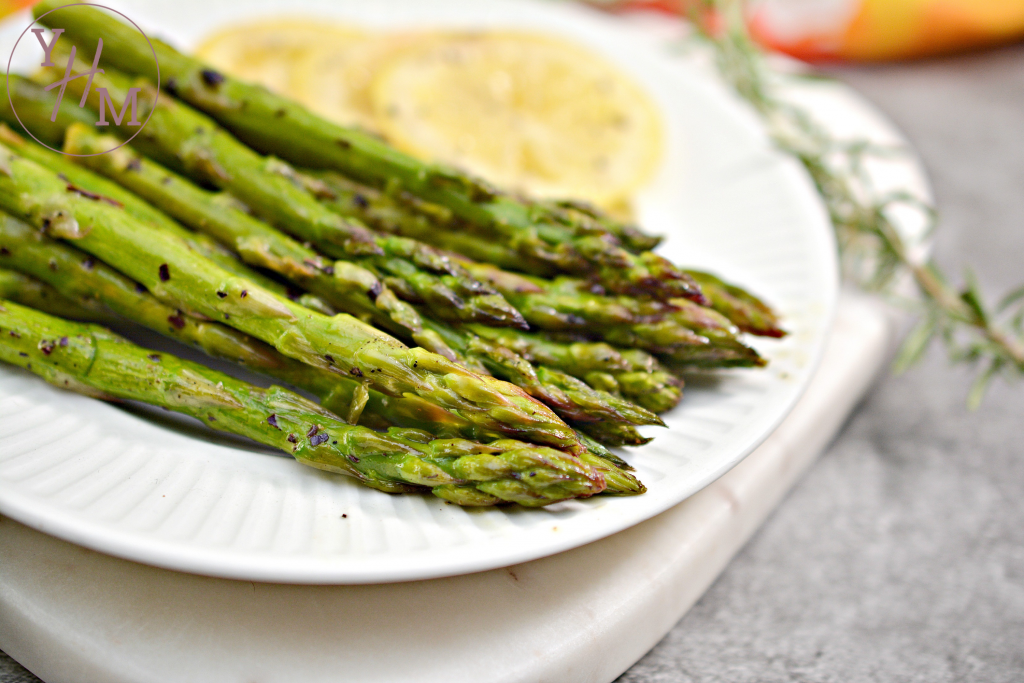 There's nothing quite like pickled asparagus. It's a crunchy, zingy treat, for sure!
If you love crunchy asparagus (me too!), this recipe is for you. It's ready in just five minutes and has the perfect amount of crunch. Don't forget to make the lemon garlic dip too!
Simple, easy-to-find ingredients come together in a mustard dressing that, when poured over grilled asparagus, will make your taste buds sing! This one needs to go on your mean planning rotation.
A scrumptious side dish for any meal. Freshly grilled asparagus with bits of crumbly bacon and topped with parmesan cheese.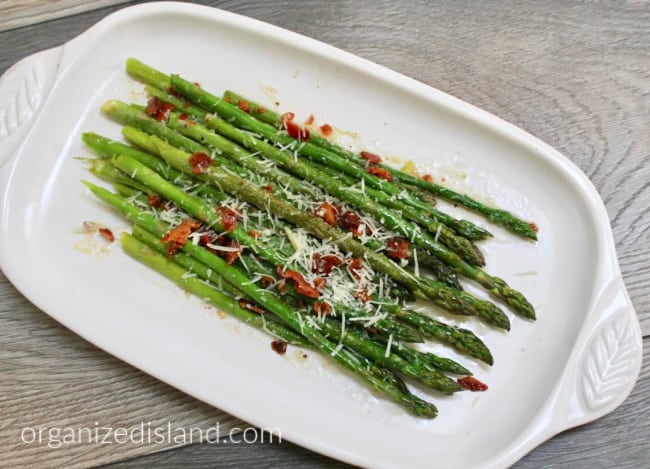 Asparagus Soups and Salads
For something on the lighter side, check out these soup and salad recipes!
This recipe makes a soup that is so creamy, it's amazing.
Plus, it's just the recipe you need to keep in your back pocket for those times when your asparagus supply is low and you just don't know what to do with your small amount.
Light, crisp, vibrant. Pair raw asparagus with egg, cucumber, and avocado for a nutritional powerhouse that hits the spot every time.
The Asian-style peanut dressing just doesn't get any better!
This asparagus and potato salad with sauteed radishes, smoked fish, eggs, and honey-mustard sauce is a mouthful (in more ways than one!). If you're looking for a mayo-free and filling salad, this is the one you need to try.
If you like using your Instant Pot as much as I do, you'll love this recipe. Serve it hot or chilled, any time of the year.
Keto, Instant Pot, & delicious – this soup is the new triple threat.
Related Post: 25 Instant Pot Recipes That Will Make You Want One
Asparagus Main Dish Recipes
Ok, so maybe you would prefer to keep dinner more simple by making one filling and nutritious dish instead of a main dish and sides. These main dish recipes with asparagus can fit all your needs.
Gluten-free, vegan, filling, healthy, and beautiful. This asparagus recipe has it all – in spades!
A French bistro restaurant-quality recipe that takes only 10 minutes to make? Yes, please!
This asparagus pasta recipe is quick enough to make as a weeknight meal and also elegant enough to serve to guests who come for dinner.
This stir fry practically bursts with bright, zesty, lemon flavor. It's so quick and easy, that it will quickly become a new favorite.
This dish brings together 3 all-time favorites: pesto, tortellini, and asparagus. This is one of the best asparagus recipes because the combination is out of this world.
Some might say that smoked salmon is the "bacon of seafood". I don't know if that's true, but it really does taste amazing and lends a terrific flavor to this frittata with asparagus.
This twice-cooked Korean pork belly is paired with some delicious white rice and crunchy asparagus for a unique texture profile. Plus, that gochujang glaze over the meat and veggies is spectacular!
One common theme between all of these asparagus recipes is that they are simple and filled with fresh, healthy ingredients while also bursting with delicious flavor.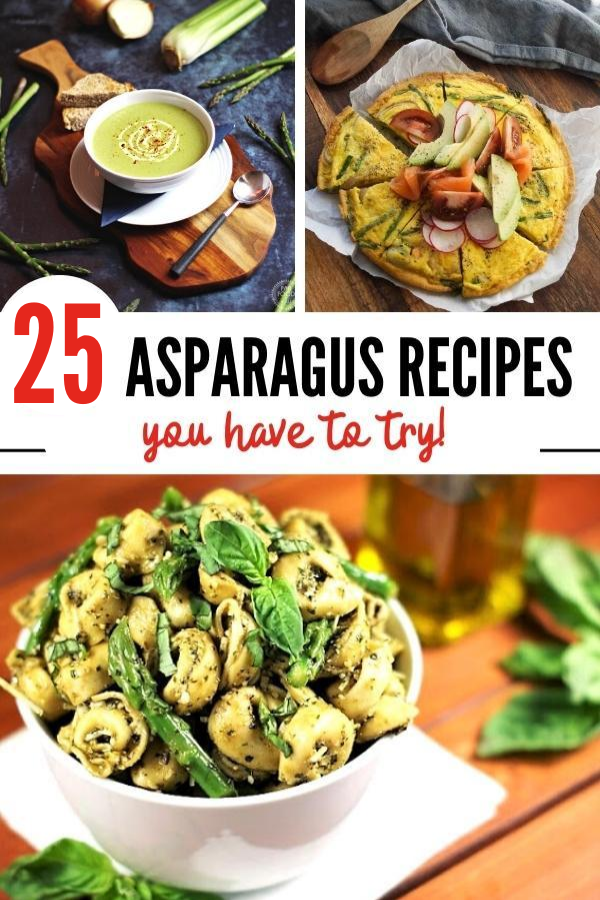 More From One Crazy House: