The holidays are a perfect time to find highly discounted candy the day after the holiday at your local stores. Or maybe you have an abundant amount of Halloween candy sitting on your counter and you are wondering how to use it all up. I have curated a bunch of delicious candy bar desserts to use up any candy you have on hand.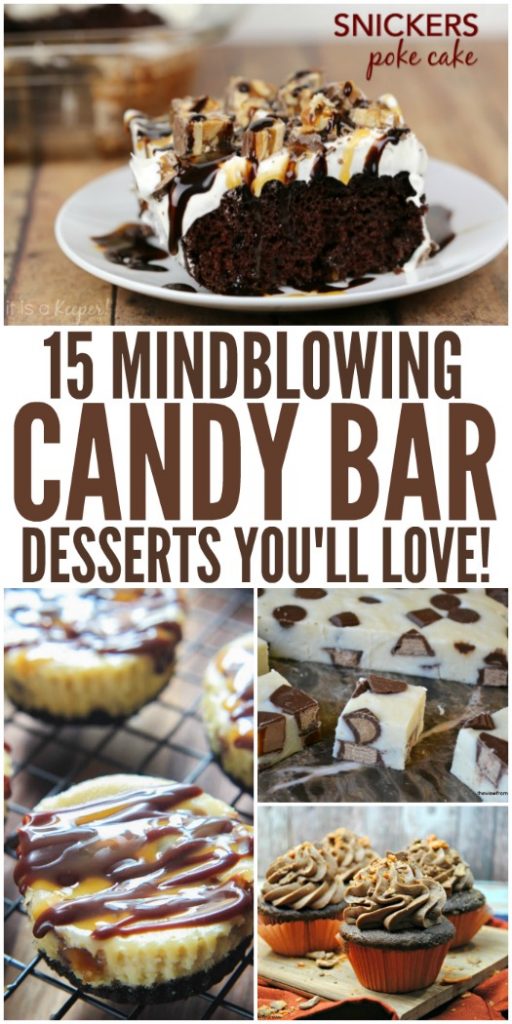 Just when you thought a dessert couldn't get any sweeter, it does! Rich and ooey, gooey candy bar heaven stuffed inside brownies, cakes, and more to create the most decadent desserts! If you are like me and addicted to any kind of candy bar, check out 15 copycat candy bar recipes, that are better than the originals!
15 Decadent Candy Bar Desserts
Let's start off with this Snickers Cheesecake. It is a very creamy cheesecake that is loaded with chopped Snickers and topped with a chocolate ganache. This cheesecake will wow your guests. (Certified Pastry Aficionado)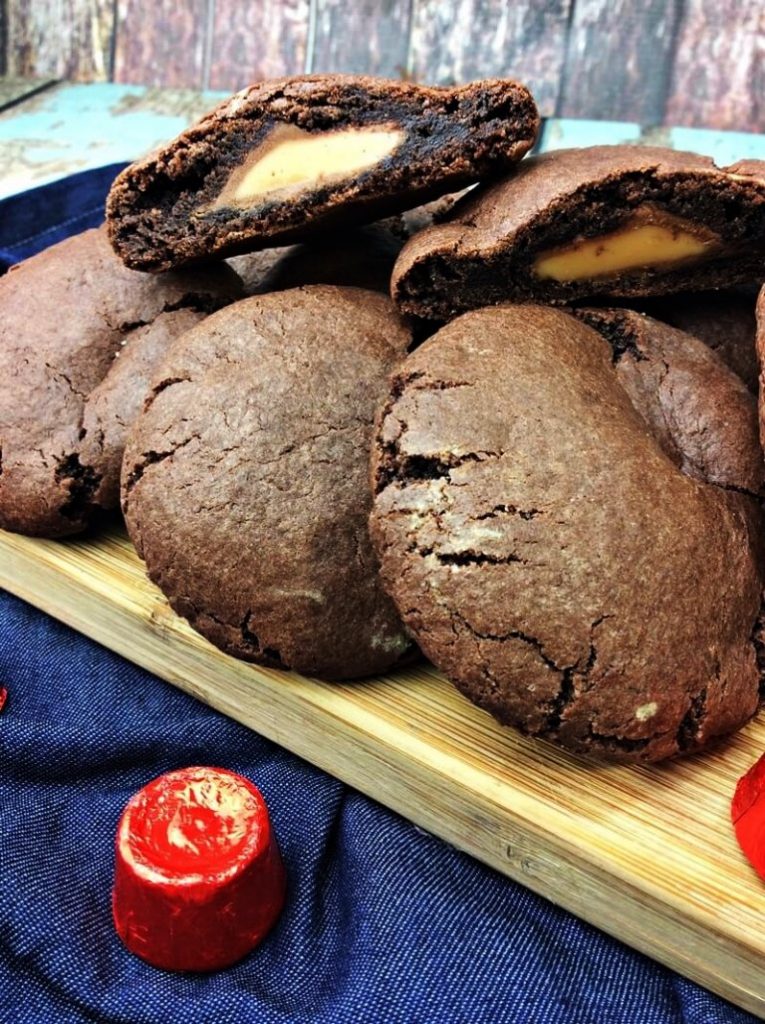 Are you a fan of Rolo's? Check out these Ooey Gooey Rolo Stuffed Cookies. A soft and chewy cookie with a Rolo stuffed in the center to surprise anyone who bites into it! (Crayons & Cravings)
If you want to try more delicious desserts, do check out the post on easy holiday desserts!
Curb that candy craving and create these rich Butterfinger Cupcakes. These cupcakes are a chocolate cupcake with a Butterfinger inspired buttercream frosting that will cure any sweet tooth craving. (Mom on the Side)
With the colder weather upon us, create this Milky Way S'mores Dip and stay indoors by the fire. Enjoy the delicious flavors of  S'mores without having to stand and roast marshmallows by a fire. (High Heels & Grills)
Create these single serve Mini Twix Cheesecakes for your midnight treat. A creamy Oreo crust with a cheesecake filling that has chopped up caramel Twix inside and drizzled with chocolate and caramel on top. (High Heels & Grills)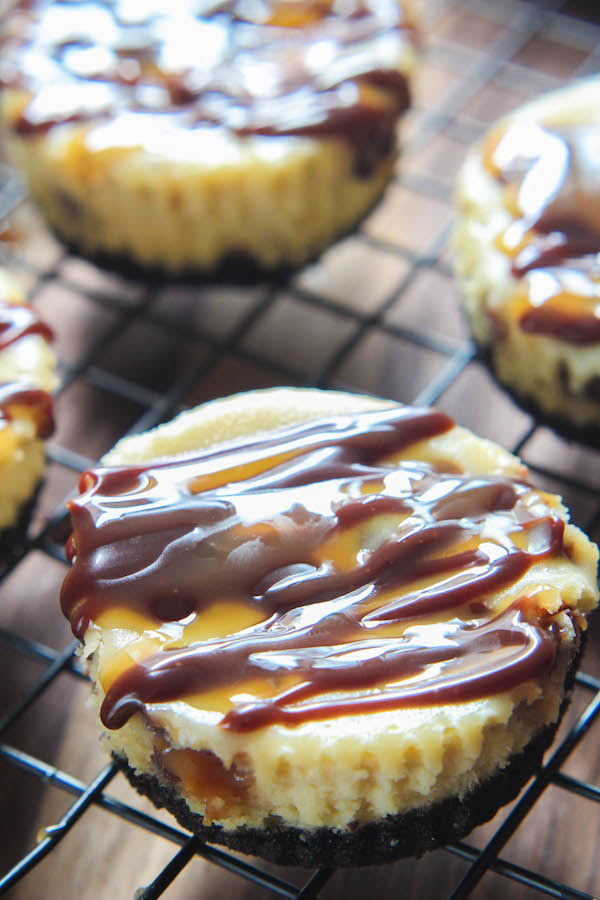 Mini Candy Bar White Chocolate Fudge is a must make this holiday season. Step away from the traditional chocolate fudge and take a chance on a fun flavor combo like this candy bar fudge. (The View from Great Island)
Make Mini Finger Pies using Butterfingers. A sweet and creamy filling topped with whipped cream and a piece of Butterfinger. These mini pies are addictive. (Organized 31)
3-2-1 Candy Bar Cake is one of the fastest ways to dig into to a candy bar dessert. Whip up an easy cake mix, then add wet ingredients, stir and then microwave for an instant dessert. (The Monday Box)
Grab your cast iron skillet and leftover candy to create this Left Over Candy Bar Cookie Skillet. You can use any candy bars you have leftover that you want to use up. Whether it be chocolate coated candies, Milky Way, Snickers, Twix, or any other tasty candy bar. (Princess Pinky Girl)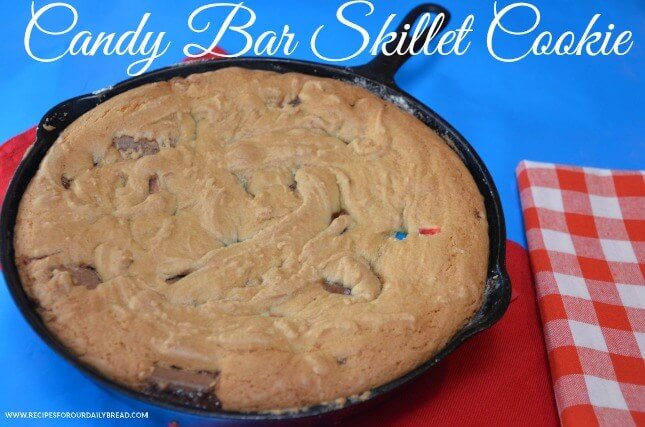 This No Bake Twix Caramel Apple Salad is a perfect dessert to serve at your next potluck dinner. The crisp apples paired with chocolate and caramel compliment each other perfectly. (I Save A to Z)
Poke cakes are the best cakes. You poke holes all over the cake and then pour caramel sauce all over so it seeps into all the crevices and then its topped with whipped cream and Snickers. This Snickers Poke Cake is the perfect dessert to serve up. (It is a Keeper)
This Reese's Butterfinger Cream Cheese Trifle is not only scrumptious but the presentation is stunning. You have rich chocolate cake, Oreos, Reese's, Butterfingers, and more to create one creamy and sweet dessert. (Taste of Lizzy T)
Snickers Caramel Apple Bars have a sugar cookie base, with Snickers, Granny Smith apples, caramel and more. (Home Cooking Memories)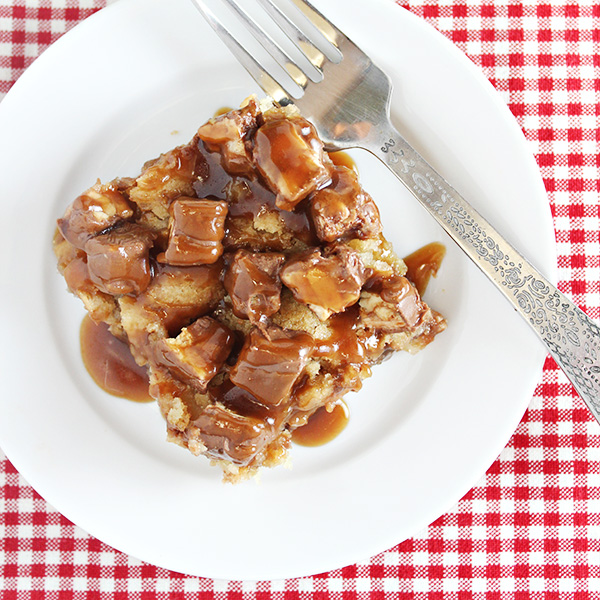 If you have leftover candy corn, make these White Chocolate Candy Corn Cookies. A thin and chewy cookie with bits of candy corn inside. (Baking Beauty)
Twix Caramelita Bars have hearty oats, chocolate chips, caramel sauce and more to make a sweet bar that is great to eat when you are on the go. (It is a Keeper)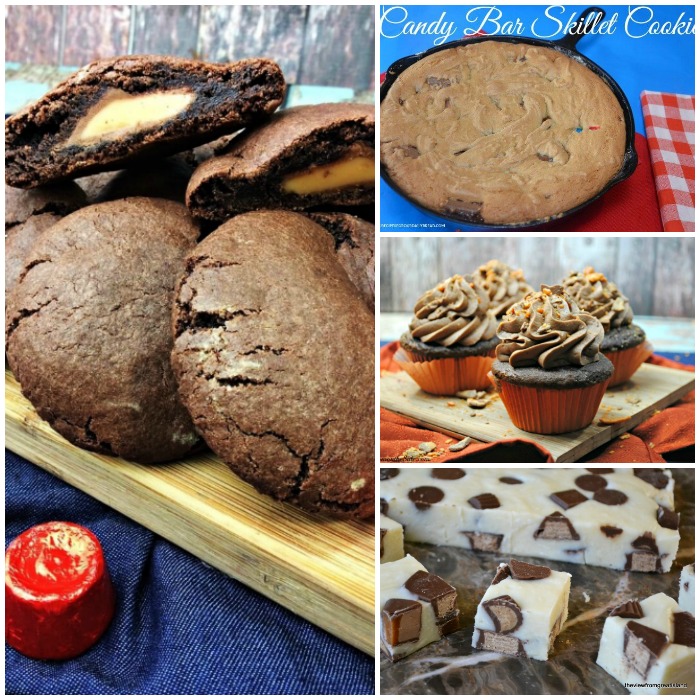 What are your favorite candy bar desserts? Share them with us in the comments!