Try one of these easy pinwheel recipes the next time you need a snack attack, a school lunch recipe, or an easy dish to take to a potluck or gathering.
Do you know those days when you just can't seem to satisfy your hunger? I call those "snack attacks", but really, I need something more than the usual snack to make the munchies go away.
These pinwheel recipes are the perfect thing for an afternoon snack, after school snack, or even a party appetizer, without being too heavy. Plus, they stand in pretty well as lunch or dinner, too!
If you love simple foods like burritos and quesadillas, then these bite-sized versions of your favorite sandwiches and snacks will be a big hit in your house!
In case, if you have leftover food in Thanksgiving, try these Thanksgiving leftover recipes!
I've gathered quite a selection of easy pinwheel recipes that I know you'll love.
Quick & Easy Pinwheel Recipes Kids and Adults Will Love
Pinwheels make a great snack or finger food no matter what the occasion. These easy pinwheel recipes are versatile and delicious, so no matter what your preferences, you're sure to find a winner on this list!
Related Post: 18 Party Appetizers to Help You Win at Hostessing
1. Rainbow Veggie Pinwheels
Kids will go crazy for these Rainbow Veggie Pinwheels with a layer of ranch dressing from Dinner at the Zoo.  They have lots of colorful veggies, and some chicken if you want to add protein.
These veggie pinwheels are a rainbow of colorful fresh veggies with ranch flavored cream cheese, all rolled up inside a spinach tortilla wrap.
2. Cheddar Bacon Ranch Pinwheels 
Cheddar Bacon Ranch Pinwheels are the perfect party appetizer. Seriously… no matter how many you bring, you'll never go back home with any from the blog, Inspired by Charm.
These Cheddar Bacon Ranch Tortilla Pinwheels are loaded with flavor. They make a delicious and easy appetizer for any get-together or party.
3. Turkey Ranch Roll-ups 
And speaking of ranch, it pairs perfectly with turkey in these Turkey Ranch Roll-Ups from The Pinning Mama. These roll-ups are easy to make, bursting with flavor, and perfect for school lunches or party appetizers.
Bound to be a crowd pleaser, these creamy Turkey Ranch Tortilla Roll-Ups are super easy, you can make them quickly, are packed with bold and tasty flavors, and just all-around super delicious!
4. Pizza Pinwheels (one of the best pinwheel ideas)
Pizza Pinwheels contain simple ingredients and make a great lunch, after school snack, or party appetizer. They aren't just kid-friendly… adults will love these yummy little appetizers, too.
Pizza Pinwheels are so easy to make, and would be a great after school snack or finger food for a party or get together. With just a few ingredients, Yellow Bliss Road has a killer Pizza Pinwheel recipe that will help you whip them up in just minutes!
5. Pancake Roll-ups 
Pancakes are a breakfast staple for many, but it's ok to switch things up once in a while. Take those pancakes and get creative by making them into roll-ups!
And breakfast isn't the only meal where you can enjoy these banana pancake roll-ups. They're terrific any time of day when you're craving something sweet. Try these pancake roll ups for kids, inspired by the Kids Activities Blog. They are super yummy, easy to make and your kids will love them.
Here are the ingredients I recommend for your Pancake roll ups: 
2 eggs
2 glasses of buttermilk (or plain yogurt)
Flour
baking soda
pinch of salt
1 spoons of sugar
butter for the pan and for pancakes
bananas
chocolate spread
Peanut Butter
6. Strawberries and Cream Cheese Wheels
For another sweet option, try these Strawberries and Cream Cheese Wheels from Deliciously Different. You'll want to eat them all summer long. Don't they look scrumptious?
Try these easy peasy strawberries and cream cheese pinwheels for a delicious new take on pinwheels.
7. Buffalo Chicken Pinwheels 
It just isn't game day if you don't have something that's Buffalo chicken flavored and Macheesmo has you covered with these Super Bowl worthy Buffalo Chicken Pinwheels. Even though they only have five ingredients, they pack a flavorful punch!
8. Roasted Red Pepper Italian Pinwheel 
These Roasted Red Pepper Italian Pinwheels by Simply Swisscom are best when made ahead, and that's a win-win for you because you'll have a healthy snack ready and waiting for you when you need it.
Here's all that you will need for this delicious recipe so that you can add them to your grocery list:
2

garlic cloves, roughly chopped

1/4 cup

grape seed oil (you can sub olive oil if desired)

1

15 oz. can Great Northern Beans, rinsed and drained

1/4 cup

vegan "parmesan cheese" (recipe below in the helpful hints section of this post)

2 tsp

Italian seasoning

1/2 cup

roasted red peppers, patted dry and diced

1/3 cup

frozen chopped spinach, thawed and squeezed dry
pinch of salt and pepper

2

large whole wheat tortillas, or gluten-free variety
9. BBQ Chicken Pinwheels
Don't these BBQ Chicken Pinwheels by Spiced look scrumptious? I think my favorite part just might be the smoked gouda – yum. This recipe would be absolutely delicious with pulled pork, too!
10. Jalapeño Popper Pinwheels
In my opinion, jalapeño poppers are one of the most amazing appetizers ever, so you bet your britches I'll be making these Jalapeño Popper Pinwheels soon!
These Jalapeño Popper Pinwheels by The Girl Who Ate Everything are a spicy appetizer that can be served hot or cold! Cream cheese, cheddar, bacon, and jalapeño all rolled up!
11. Cheesy Mushroom Pinwheels 
While I do love the pinwheel recipes that require no cooking at all, I don't mind a little baking for something as scrumptious as these Cheesy Mushroom pinwheels.
Mushroom Puff Pastry Pinwheels serve as a delicious protein-packed appetizer that you can throw together in minutes! This recipe inspired by Simply Home Cooked showcases mushrooms and cheese. Highly recommend these for holiday parties!
Plus you only need a few simple ingredients to make these delicious little crowd-pleasers:
Puff Pastry
Mushrooms
Mozzarella Cheese
Onion
Garlic
Olive Oil
Mayonnaise
Salt
Black Pepper
Parmesan Cheese
12. Ham and Cheese Pinwheels (Simple pinwheel food)
How about some warm Ham and Cheese Pinwheels made out of puff pastry? Four simple ingredients come together in ooey-gooey cheese yumminess that you'll love.
Ham and Cheese Pinwheels with Puff Pastry. Just FOUR ingredients! Everyone loves this easy, delicious appetizer. Freezer-friendly. Inspired by Well Plated. Bound to be a favorite in your house!
13. Greek Tortilla Pinwheels 
If you took a Greek salad and put everything that's yummy about it into a tortilla, these Greek Tortilla Pinwheels by Scrummy Lane are exactly what you'd get. They're pretty and tasty!
These Greek tortilla pinwheels are a great idea for a party. Spread feta and yogurt on a tortilla, sprinkle with Greek toppings, then roll and slice!
14. Cream Cheese and Salami Keto Pinwheels 
Make Keto Pinwheels, a recipe over on Hey Keto Mama, with your favorite lunch meats, cream cheese, and pickles. Use the lunch meats as your "tortilla" and you won't even miss the carbs!
These keto pinwheels are so delicious, you won't even miss the tortilla! They are also SUPER simple and if you don't believe me, look at how short of a list the ingredients make:
1

8oz block cream cheese

8

–

10

thin slices of pepperoni and genoa salami *may need more depending on size

4 tbsp

. finely diced pickles
15. 6-Layer Mexican Pinwheels 
This recipe by the Minimalist Baker is perfect for Mexican night dinner, school lunch, or as a finger food for a get together. These Vegan Mexican Pinwheels will be a hit for non-vegans, too. They're that yummy.
Related Post: Quick and Easy Mexican Appetizers For Your Next Fiesta
Easy, 6-layer Mexican pinwheels with vegan Mexican cheese spread, refried beans, avocado, salsa, and more! The perfect savory snack or appetizer!
16. Turkey Club Pinwheels 
These Turkey Club Pinwheels by Inside Bru Crew Life are so pretty and yummy-looking! It's like your favorite sandwich in a little bite-size piece.
Don't you just love being able to take your favorite go-to sandwich and change it up just enough to add some variety?
These easy Turkey Club Pinwheels are layered with meat, cheese, and veggies. Such a great snack to pack in lunches or to eat as an after school snack.
17. Turkey Pesto Pinwheels 
Turkey Pesto Pinwheels are the perfect healthy mid-afternoon snack, and they carry well in your lunchbox at work, too! The pesto makes this easy pinwheel recipe by Spiced so flavorful.
Related Post: 17 Easy Italian Appetizers to Feed a Crowd
Adults need snacks, too! These quick and easy Turkey Pesto Pinwheels are the perfect way to beat that mid-afternoon hunger strike!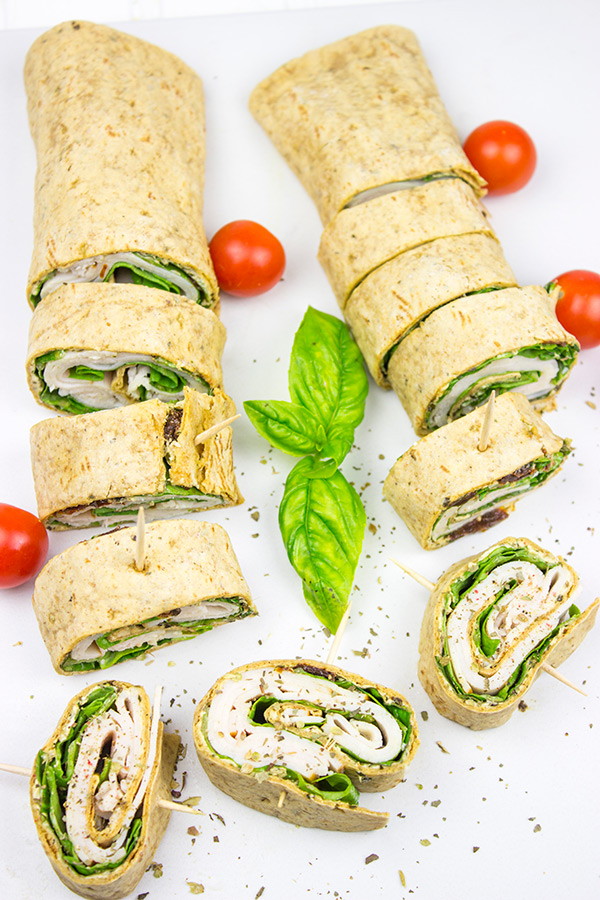 18. Herbed Chevre, Spinach, and Smoked Salmon Pinwheels 
When you want something that seems a little fancier, try these Spinach and Smoked Salmon Pinwheels! These little guys, inspired by Downshiftology, make a scrumptious party appetizer and they're deliciously gluten-free and grain-free thanks to cassava flour tortillas!
——————-
Aren't pinwheel recipes amazing? Not only are they fun and versatile, but they're super yummy too. So the next time you want to make any easy pinwheel recipes, try one of the ideas on this list.
You'll be glad you did!
For More Snack Ideas, Check Out These Posts