Don't you love the rustic charm of a farmhouse kitchen? So do we!  We've put together our favorite farmhouse kitchen DIYs to help you make your space look amazing. There's something about the memories and nostalgia that comes flooding in when you add this rustic, farmhouse flair to your kitchen. So, let's put those wooden crates to use, learn how to shiplap, and much more!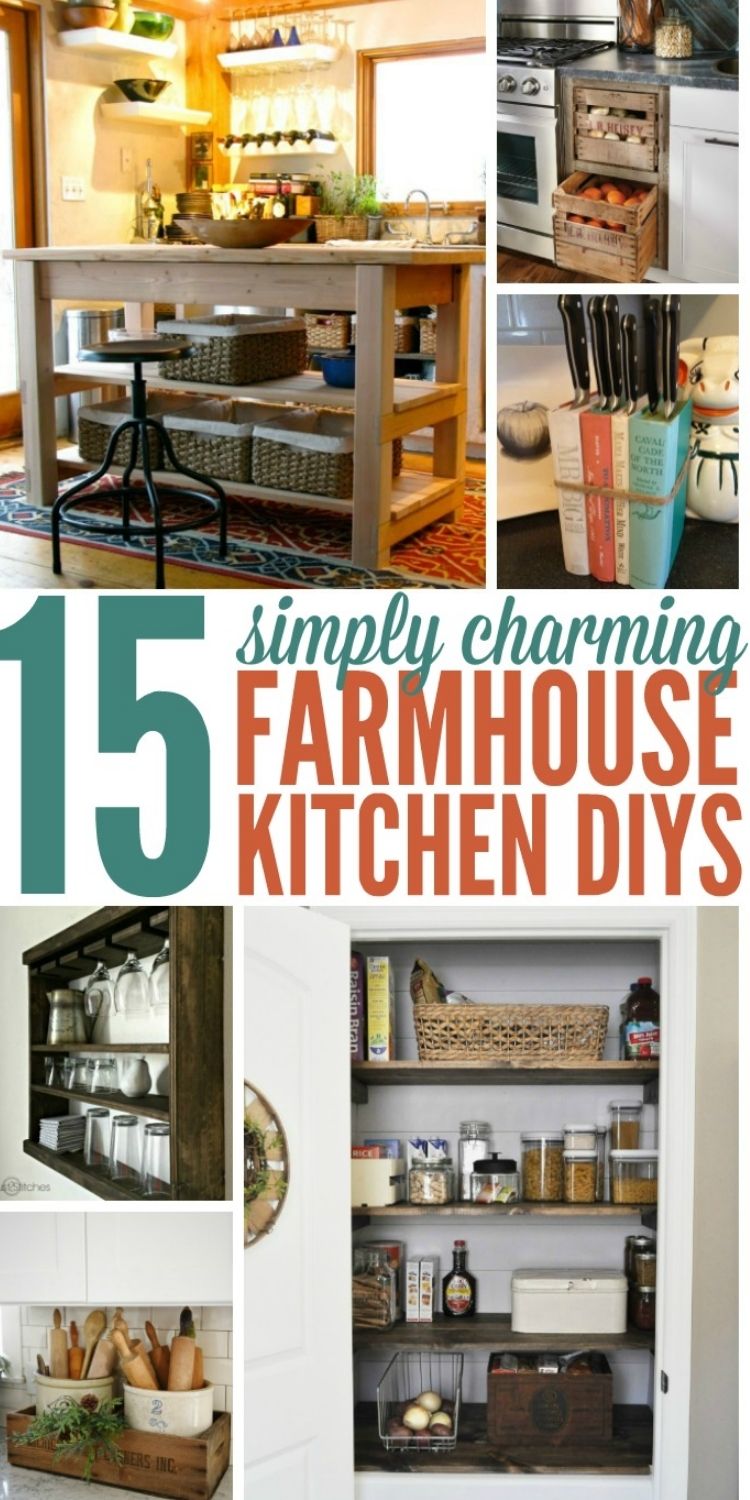 Farmhouse Kitchen DIYs to Spruce Up Your Home
You don't need to buy an old stone house in order to add the farmhouse feel to your home. They say the kitchen is the heart of the home, so why not take the extra time to give your kitchen a new lift? A few added pieces can make all the difference. The modern farmhouse adds warmth and comfort, without the upkeep of an old farmstead. I think these 15 DIY Farmhouse Kitchen ideas will feed your creativity and help you achieve your goal!
1. Shiplap Pantry Adds Flair to your Farmhouse Kitchen
This farmhouse pantry is amazing. Add faux shiplap (any other Fixer Upper fans here?) and stain the shelves to look old and rustic, too. This is the perfect place to try your shiplap skin love the added wooden crate and metal bread box just to seal the farmhouse look.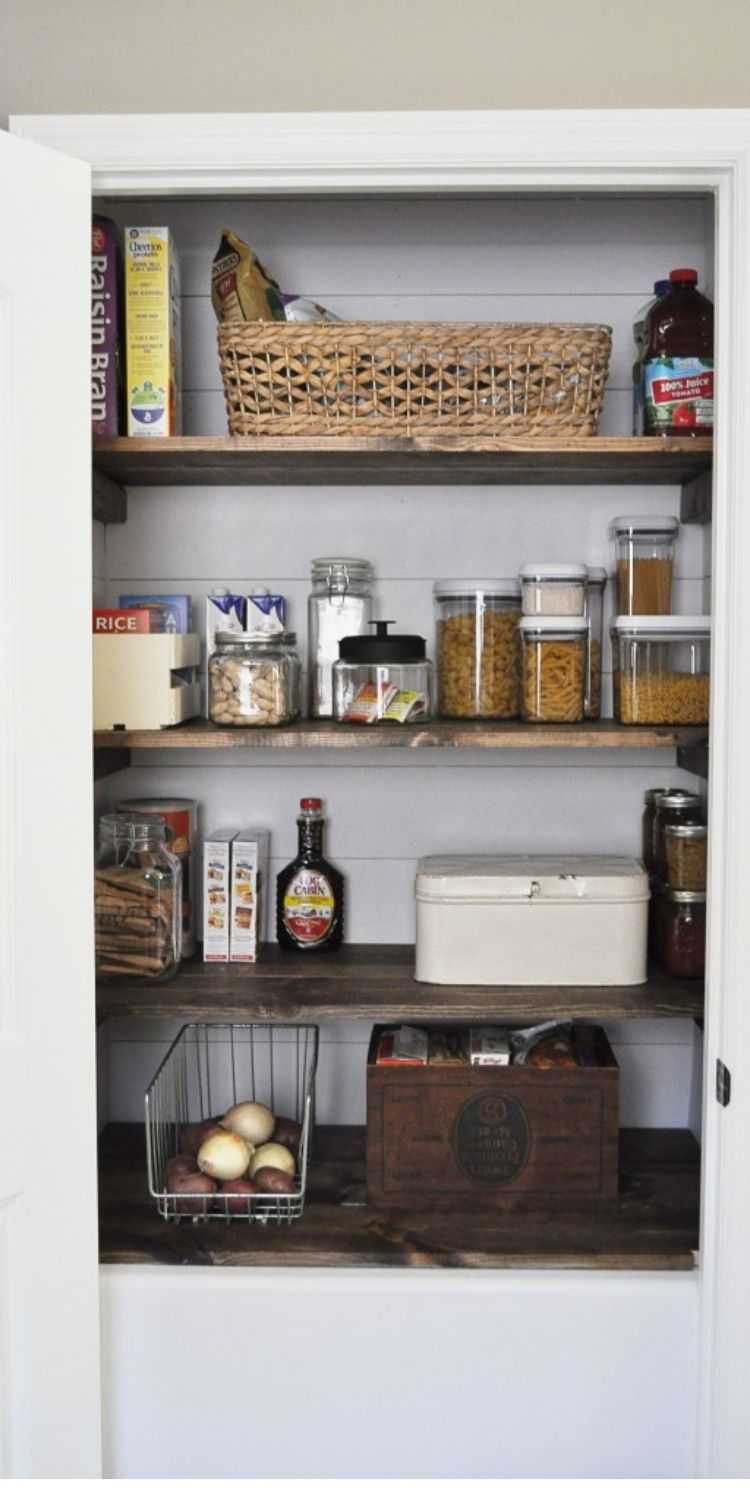 2. DIY Friendly Shiplap Farmhouse Kitchen
Maybe you'd like to shiplap an entire room. Shiplap screams a rustic, farmhouse look. Don't you just love it? DIY-friendly shiplap panels will help you quickly and easily design an accent wall creating a focal point in the room or a cozy sitting area for you and your friends and family. With quality shiplap boards and a few power tools, anyone can install shiplap.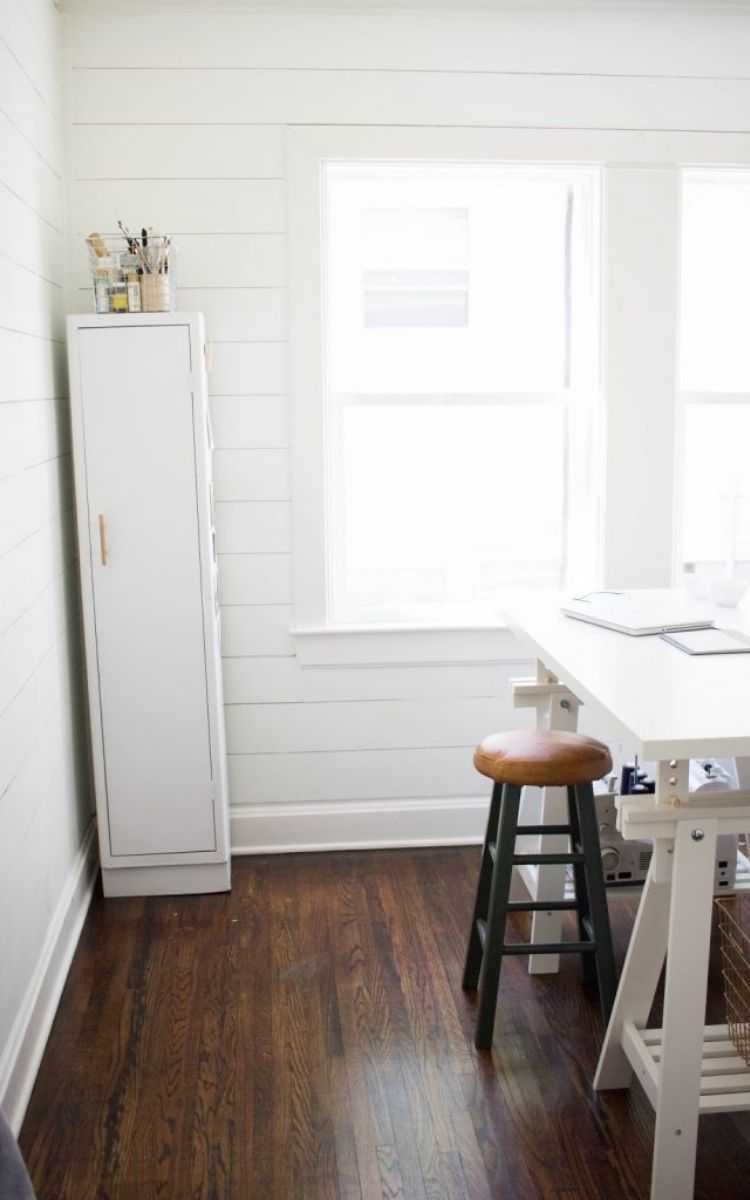 3. DIY Farmhouse Table with Benches
A farmhouse table is like a warm invitation to gather the family for meals and games and great conversation! Large tables for family gatherings work so perfectly at this big table. And the bench just means lots of kids can be added to the dinner event!
Can you believe this crafty lady built this gorgeous farmhouse table for less than $100? The greyish wood and contrasting white are so stunning.
4. Wooden Glasses Rack
Old farmhouses always had open concept shelves to easily serve yourself or guests. This Pottery Barn Inspired Glass Rack offers a beautiful way for you to display special glasses and stemware. A little edge at the front of the shelves will keep them from falling off. This DIY project is a perfect addition to your farmhouse kitchen.
5. Wooden Crate Storage
Okay, so this isn't a DIY but rather a farmhouse styling tip: use old crates and crocks to store your kitchen utensils. Using an old crate, along with the pottery pots with wooden kitchen utensils in such a simple way to add country charm to your farmhouse kitchen. Such a simple, but charming touch! Now to head to the flea market and antique stores to find those crates!
6. Farmhouse Table Centrepiece
And here's another lovely styling tip for a farmhouse table centerpiece using a wooden crate, a pitcher, and fresh flowers. I love the simplicity of this look – so airy. The grey wooden crate and matching grey wall sign just finish off the elegant decor, don't you agree?
7. Rustic Wooden Utensil Holder
Now, this is a unique DIY addition to your farmhouse kitchen! Use a vintage cheese grater and an old board to create a rustic utensil holder to hang on the wall. Don't you love the built-in towel holder? Practicality and charm all in one place. See more of our utensil storage ideas!
8. Repurposed Antique Dresser with Butcher Block
Convert an antique dresser into a beautiful kitchen island. This is so awesome! The two large drawers were pulled out to give the vintage open shelf look. Some antique-looking hardware (from another old dresser) was added to the top drawers, and then the cabinet was topped with a butcher block. Love!
Here are some simple steps to create this heirloom piece!
Repair any veneer issues
Paint to create that carelessly elegant surface, using Americana Decor Chalky Finish Paint
Sand lightly to distress with 80 grit sandpaper, and sand fully with 220 grit paper for a smooth finish.
Seal the whole thing with dark wax.
Add wood shelves and butcher block.
Sand and stain
This is most definitely my favorite farmhouse piece – the color, the functionality, and the vintage look just make it so perfect! What's not to love about this one?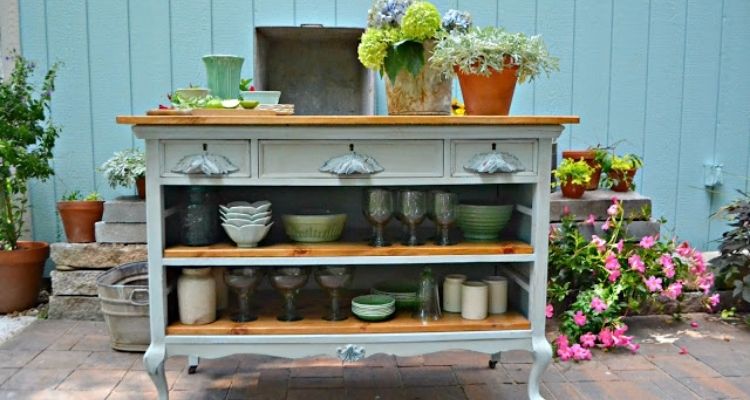 9. Simple Wooden Farmhouse Kitchen Island
For a simpler project, build your own farmhouse kitchen island. This wooden piece will add the warmth you are looking for and the openness of the island allows for baskets to store extra kitchen supplies for easy access. The simplicity of the design is what makes it so appealing!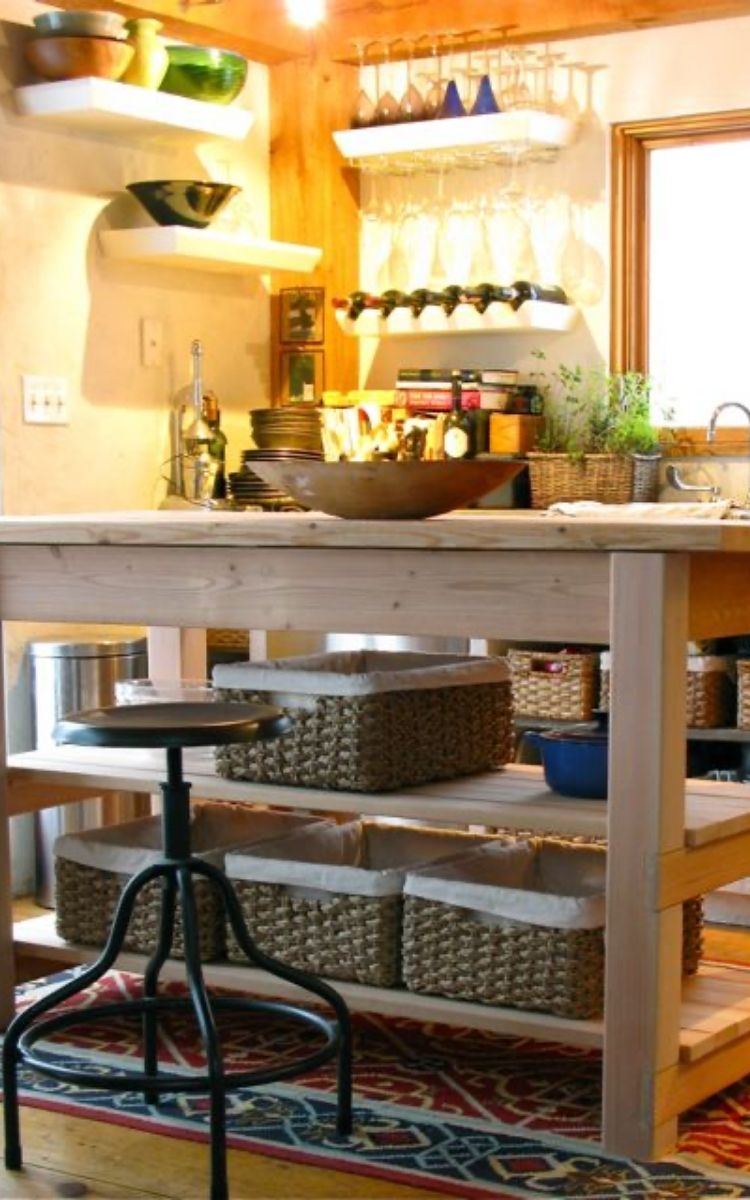 10. Planks and Corbels for Farmhouse Kitchen DIYs Island
Dress up a boring existing island with planks and corbels. Look at how much character it has now as compared to the original. If you want a modern farmhouse kitchen but have a builder basic boring peninsula, this is a brilliant idea!
Here are some quick tips:
Use one 4×8 sheet of 1/4″ MDF, cut into 6″ strips.
Install the MDF, starting at the base of the peninsula, and nail it directly into the back of the cabinet
Use pennies to keep the planks slightly apart and create that perfect planked 'gap'.
Capped it off with a corner piece of trim
Fill all the nail holes, followed by light sanding and a coat of paint
Add the corbels. Pre-drill directly through the slimmest part of the corbel.
And a little more painting. Voila!
This simple project can add such personality to help you create your dream farmhouse kitchen.
11. Old Book Knife Block
Dig up those old books that are filled with nostalgic memories. They'll get way more attention on your kitchen counter than on your bookshelf! Glue them together and wrap them with twine to create a charming knife block Talk about practical and decorative! Of course, you'll want to find colors that complement your kitchen. What a creative idea!
12. Mason Jar Pantry Storage
I love this! Get these printable labels to turn mason jars into pantry storage. Mason jars are the perfect solution for storing flours, mixes, and rice. Half gallon jars mean fewer times to refill! And having the recipes attached takes away the step of searching through the recipe drawer! I love the way the antique paper looks that gives the impression of days gone by. So perfect for your farmhouse kitchen.
13. Wood Crate Cabinet – One Of The Easiest And Cutest Farmhouse Kitchen DIYs Ever
Isn't this so ingenious?? Create a custom space among your cabinets for some wood crate storage. The rustic look with the practical addition makes this a brilliant idea for your farmhouse kitchen. Adding these 'drawers' to your kitchen cabinets is just the right mix of vintage and modern! And the open air space to give breathing room for potatoes and produce is perfect.
14. Farmhouse Wooden Kitchen Tote
Make your own farmhouse wooden tote with old breadboards. We know how hard it is to find old breadboards, and this DIY project is simple but so unique adding to the personality of your dream farmhouse look.
Once the wood is cut and stained, add some antique-looking stencils. This one has a Flour stencil for one end and one side and the Pie stencil for the other end and side. And can't you just smell the fresh homemade bread?
You will need a 1″ diameter wood dowel for the paper towel roll. Once you stain it and add the stenciled letters, it will look just like the old vintage ones you've seen at your grandma's house. You'll be able to take this out of the kitchen when you're entertaining outside, too. Handy!
15. Farmhouse Kitchen DIYs You Need – A Repurposed Rustic Ladder
When you have a bit of wall space between your cabinets and the door, this simple piece of furniture is a lovely addition! The rustic ladder brought in from the barn adds nostalgia to your farmhouse kitchen. Of course, you can make your own very simply, too.
This ladder can be decorated in so many ways. This simple greenery wreath tied to the top rung is so exquisite. The rungs make a perfect towel hanging spot or why not grab some hooks to hand a wire basket.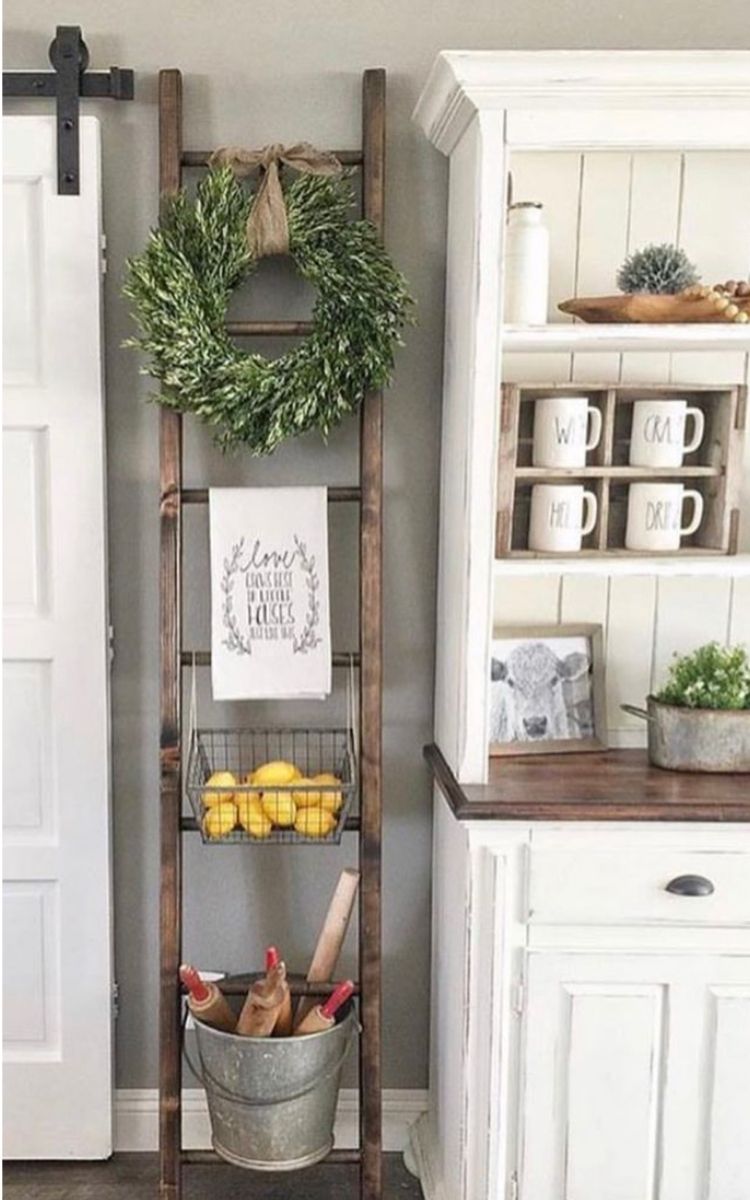 Decorating Your Farmhouse Kitchen Is So Much Fun!
The options are limitless. Turning your modern or not-so-modern kitchen into a farmhouse kitchen is so much fun. And who doesn't love to add a little heritage to your home? I bet if you look around your family home, you will find some items that you can turn into treasures. Let the creative juices flow!
If you liked these farmhouse kitchen DIY ideas, you'll love these other posts we have, too: