Don't you love the rustic charm of a farmhouse kitchen? So do we! And you know how much we enjoy home projects, so we've put together our favorite farmhouse kitchen DIYs to make your space look amazing. Put those wooden crates to use, learn how to shiplap and much more!
Farmhouse Kitchen DIYs to Spruce Up Your Home
This farmhouse pantry is amazing. They did faux shiplap (any other Fixer Upper fans here?) and stained the shelves to look old and rustic, too.
Maybe you'd like to shiplap an entire room. Here's how to do it for less than $150.
Can you believe this crafty lady built this gorgeous farmhouse table for less than $100? Stunning… and we love the matching bench, too.
This Pottery Barn Inspired Glass Rack offers a beautiful way for you to display special glasses and stemware.
Okay, so this isn't a DIY but rather a farmhouse styling tip: use old crates and crocks to store your kitchen utensils. Doesn't that look charming?
And here's another lovely styling tip for a famhouse table centerpiece using a wooden crate, a pitcher and fresh flowers.
Use a vintage cheese grater and an old board to create a rustic utensil holder to hang on the wall. See more of our utensil storage ideas!
Convert an antique dresser into a beautiful kitchen island. She pulled out the two large drawers, added new hardware to the drawers on top, and added a butcher block to the top. Love!
Or find out how to build your own farmhouse kitchen island. The simplicity of the design is what makes it so appealing!
Dress up a boring existing island with planks and corbels. Look at how much character it has now as compared to the original.
Glue and rubber band some old books together to create a charming knife block for your kitchen counters. What a creative idea!
Get these printable labels to turn mason jars into pantry storage. She uses the half-gallon mason jars.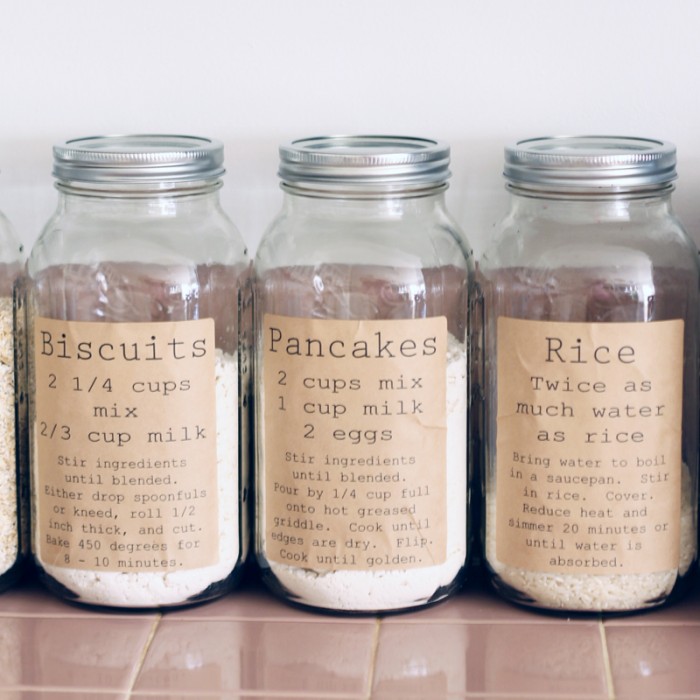 Create a custom space among your cabinets for some wood crate storage. Great for produce or fresh breads.
Make your own farmhouse wooden tote with old breadboards and stencils or using wooden boards if you're crafty enough. You'll be able to take this out of the kitchen when you're entertaining outside, too. Handy!