You've probably stumbled across a wooden crate ideas here or there. They're popular in the home decor section in stores now. But more than likely, you've may have seen one at a yard sale, a thrift shop or in your garage. And if you've been stumped as to what to do with those old things, you'll be amazed at the wooden crate projects we've found. They're wonderful for organizing! Turn them into storage ottomans, locker, bookshelves, shoe storage, seating and more. Which idea do you want to try first?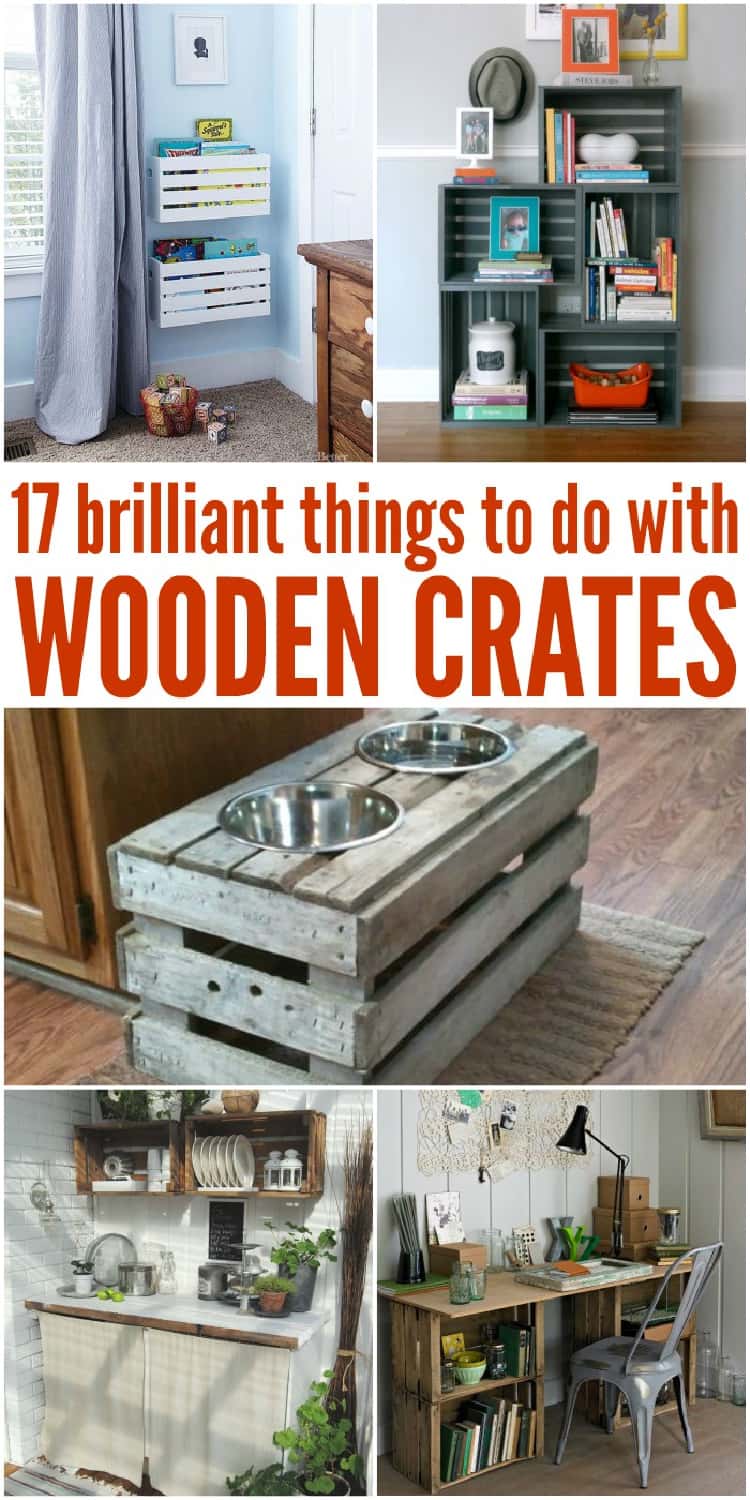 Wooden Crate Ideas and Projects to Get Organized
Check out these easy, budget friendly and fast ways to upgrade your home decor and organization needs with wooden crates. They can be perfect for your living room, home office, mud room, or any place in your home! Sometimes the simplest things are the best solutions!
1. Make a Budget Bookcase with Wooden Crates
Here you'll find several different configurations for stacking crates as well as different ways to use them. The DIY wooden crate bookshelf is definitely versatile!  You can stack them in any order to suit the needs you currently have.  Maybe this time you need a taller bookcase, and then next time you need something wider, in a different room.  This easy DIY project has you covered and takes hardly any time to complete!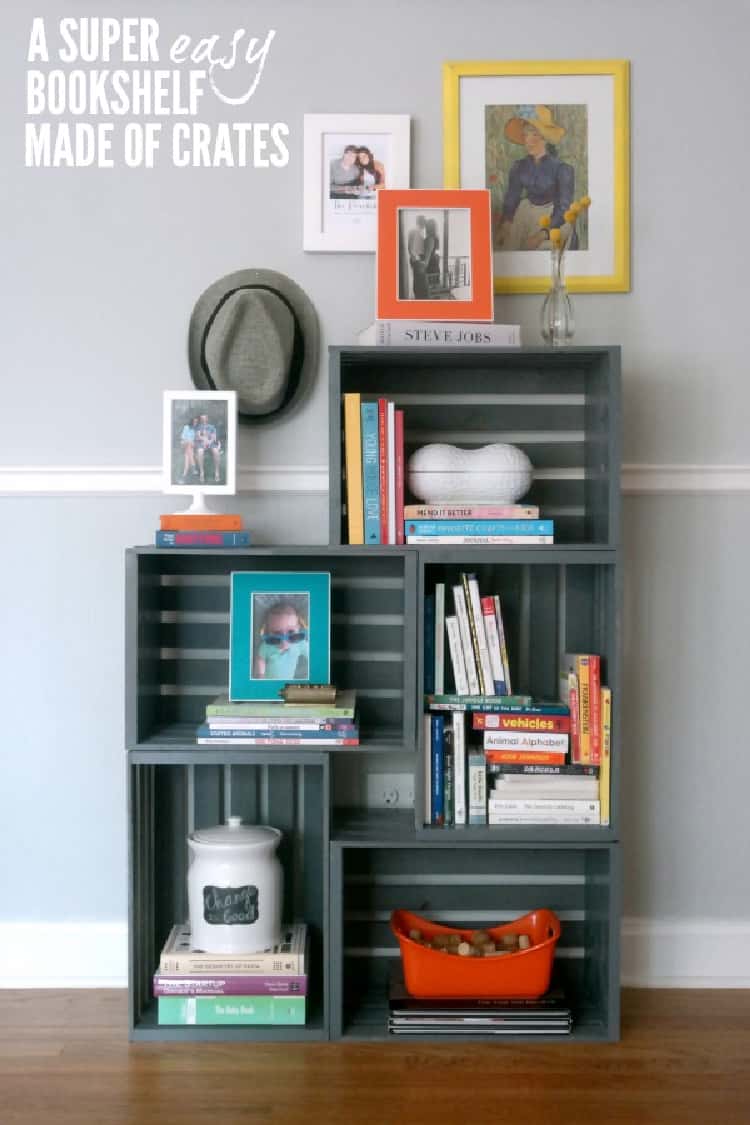 2. Double Up Two Wooden Crates to Create a Night stand with Open Storage.
Stack a few wooden crates on top of each other for the quickest side tables you will ever make! This would be a perfect solution when you need a little more storage in your guest room but budget doesn't really allow for them right now. This creative DIY wood crate upcycle takes hardly any time to complete.  It's easy and cheap, and your guest room will be so much more inviting!  Add a few thoughtful things to the night table to make your guests feel welcomed, and you are good to go.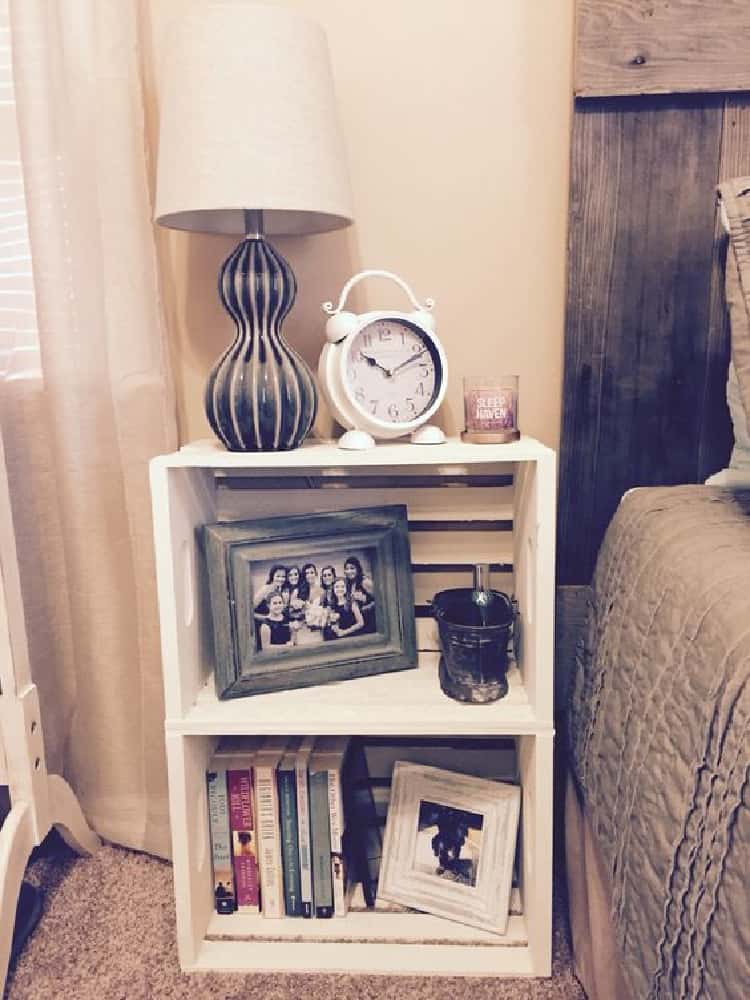 3. Organize Your Entry Way with this No-Fuss System!
Attach crates to the wall and add baskets inside to create a no-fuss organized entryway. Everyone can put their bags, hats, scarves, etc. in the baskets to keep them out of sight. You can even label each crates to the kids know exactly where there things belong every time they come through the door.   Paint the recycled crates the same color as your wall to blend in seamlessly to your home. This landing area will make it easy for you to get in and out of the house quickly and with ease!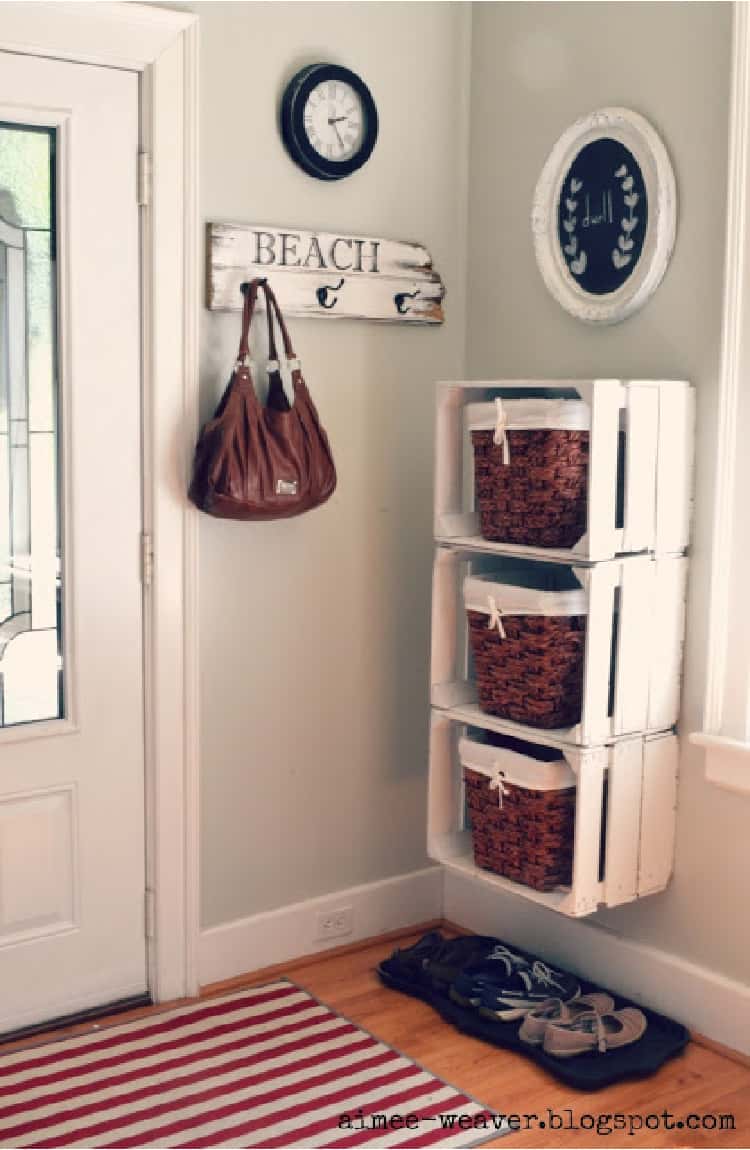 4. Kids Rooms Get So Much More Organized with Wooden Crate Projects.
Cut a crate in half to make two wall bookshelves for your child's room.  Place them at eye level, and fill with your favorite books.  What kid can resist grabbing a book or two, if they are easy to access and right at their level? Have the kids help you decorate and install the shelves too!  You could even create a cozy reading space nearby with pillows and fun lighting.
You can even use these for more toy storage if you need it.  Add a few of these around the room for the kids to quickly pick up their toys and keep their rooms organized too.  Need some seating for them? Check out the next idea!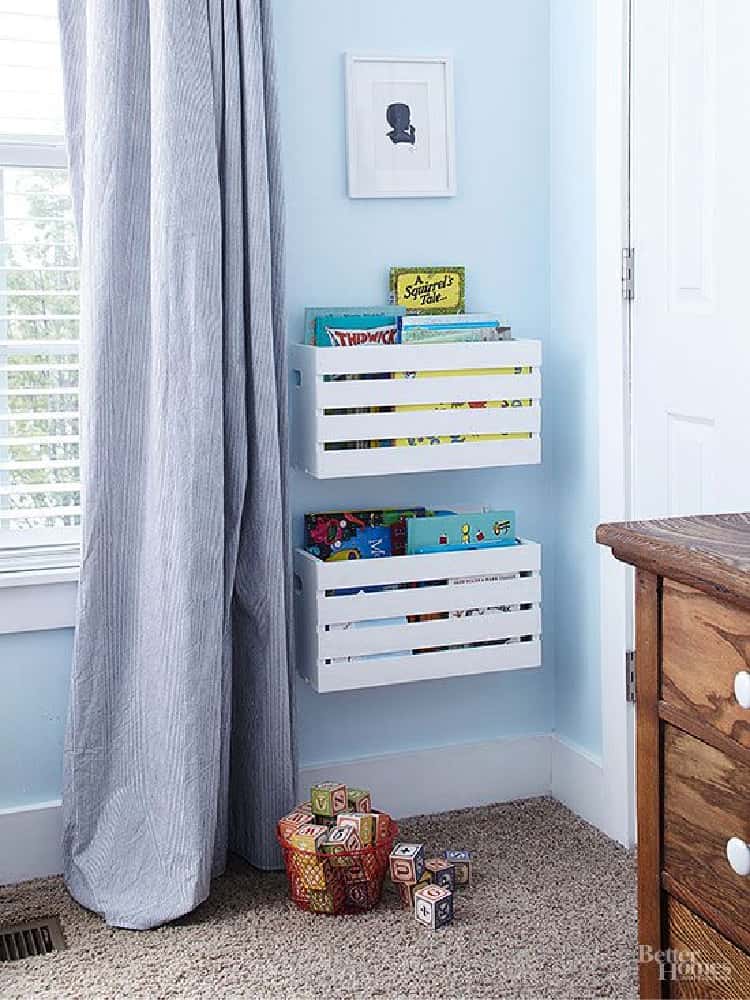 5. Need More Seating? Here's an Easy Bench!
Add a divider and a cushion on top to recreate this gorgeous shoe rack and bench. What a genius idea!  This would be great in the kids room too, or in the entry way of your house for a quick place to get your shoes on and off. Put some casters on the bottom and you can move it around and out of the way when it's not needed.  You can use any kind of fabric on the top, to match your decor.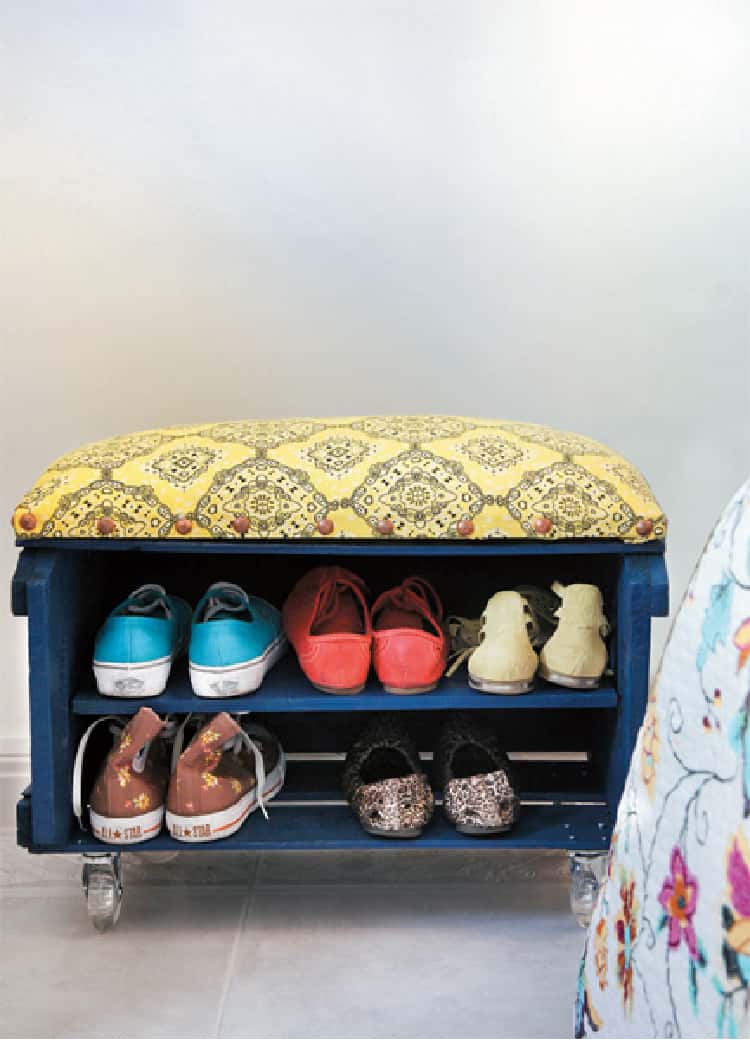 6. Here's an Idea to Create a Unique Table!
This pallet and crate coffee table has tons of storage underneath, and it's a simple diy project that you can complete in just a few hours.  Place the boxes in whatever configuration you like, add the pallet boards on top and you have a one-of-a-kind table that would be a home in any farmhouse decor.  What a great piece for your home!  It's a brilliant solution that is cheap but looks like something you'd pick up at one of the high-end home stores.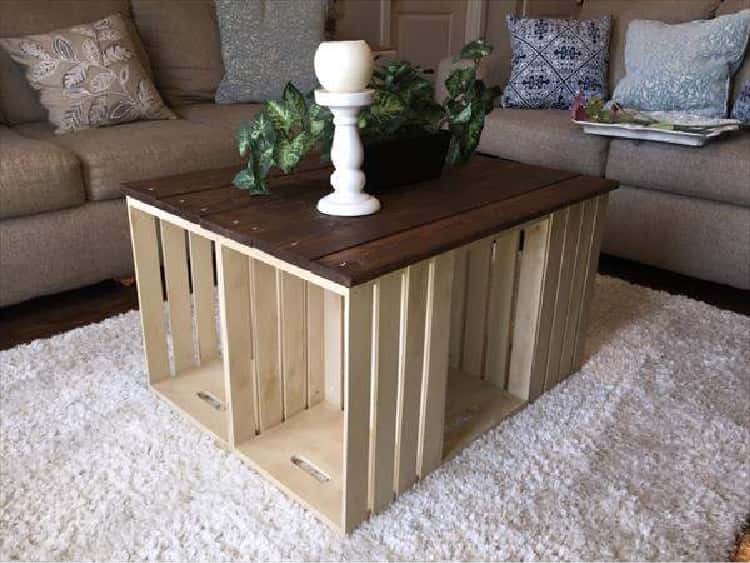 7. A Wooden Crate Desk That has a Big Impact.
This project is probably my favorite… a wood crate desk! Stack some wooden crates a couple of feet apart, and add a long piece of wood on top to create a desk that you can disassemble and reassemble everywhere.  For more stability you can screw the tops to the crates and make a more permanent structure that would be great in a kid's room.  If you really want to get creative you can upcycle an old door and use that as the top of your desk.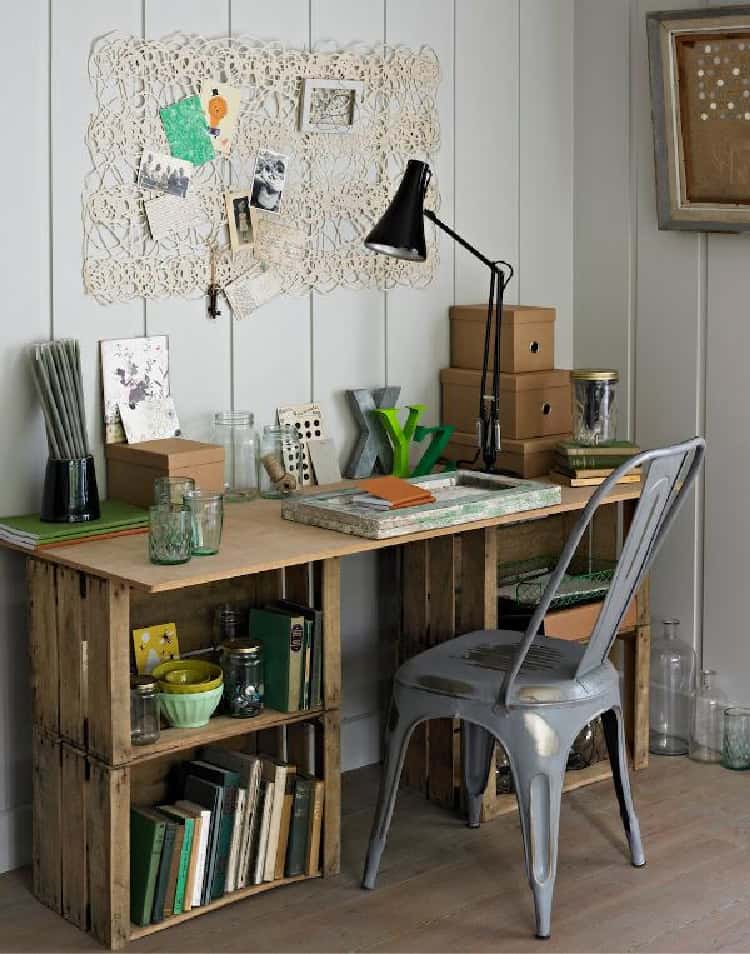 8. A Rustic Style Table made from Crates for your Entry Way or Hall
Add a nice stain and some legs that you can pick up at any hardware store or decor store to make a console table for your hallway. Gorgeous!  It's a great little table by the front door to hold your car keys and other essentials!  The humble wooden crate becomes functional, and stylish, as well as a conversation piece.
9. Easy DIY Decor Wooden Crate Project for Outdoors Too!
Here, three crates are converted into an outdoor storage bench that will provide so much space for your outdoor gear! Store the kids outdoor toys, garden tools, etc. inside  the cubbies. Bolt the crates together, add a solid wooden top, and legs on the bottom and you've got something that will last you for years to come! What a great place to keep muddy boots out of the house and not cluttering the entry.  I can see the kids spending many happy hours here, with toys and imaginations!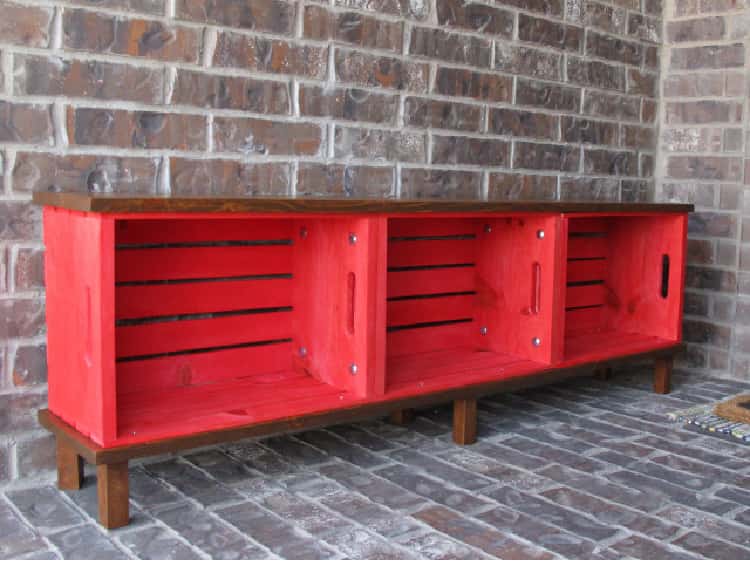 10. A Mobile Seating and Storage Unit for the Kid's Rooms.
Is there ever enough storage for kids rooms with all their toys and treasures? I don't think so! So it's wooden crates and some DIY imagination to the rescue! Pick up a few crates and some wheels on casters from the local home improvement or hardware store, and while you're there grab some colored paint to match the rooms theme.
Paint the crates whatever colors you like.  You can enlist the kids to help with this too and make it a family project.  Add a removable seat cushion on top.  Bolt the casters on the bottom to create easily moveable storage seats for the kids' rooms. Not only does it give the kiddos a comfy place to sit, but it provides lots of extra toy storage too.  What a great place to keep toys, or art supplies and projects or any of the things your kids love to have around.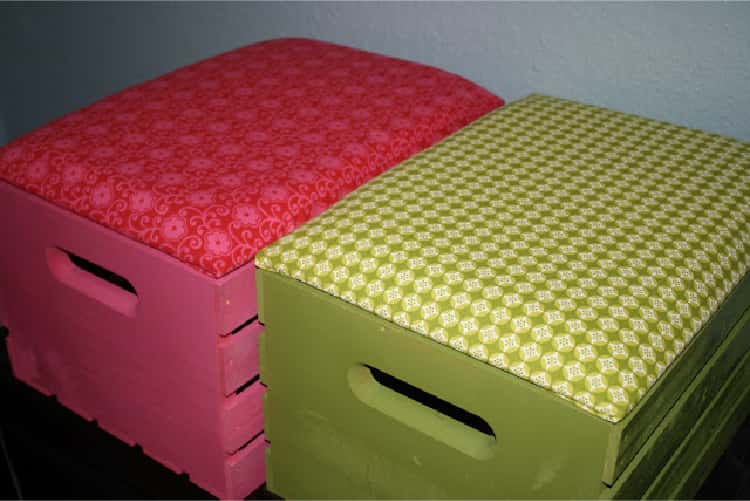 11. Make Your Pet's Feeding Station Match Your Home's Decor.
The dog or cat's feeding station doesn't have to be just a couple of sad bowls on the floor. You can create a really cute and imaginative piece of decor for something that usually isn't given a second thought. Flip the crate, cut two holes on top and add your dog's food and water dishes for a great looking feeding station. Now Fido's dishes look intentional and well thought out.  They look great  where they are without having to spend a whole lot of money on fancy solutions.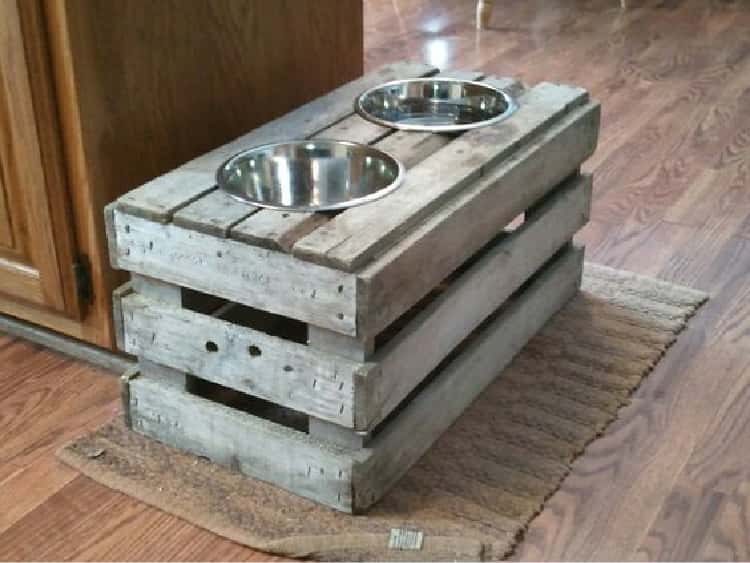 12. Wooden Crate Projects Can Add Some Much Needed Space in the Bathroom.
Does your bathroom lack room for more than a couple of things on the back of the toilet? Maybe you have a sink that doesn't have any storage space at all, underneath?  No problem! You can make some much needed extra space with the help of a couple of vintage wooden crates and some fresh ways of looking at them.
Contain your towels and toiletries in stacked wooden crates in the bathroom.  Stack the crates and use the vertical wall space. Roll or fold your towels up to put them on display while they wait to be used.  You could add some mason jars  to store bath salts, shampoos, and body wash, so that you give the whole thing a cohesive look. You could also hang the crates over the toilet for extra storage. This wooden crate project gets high points from me!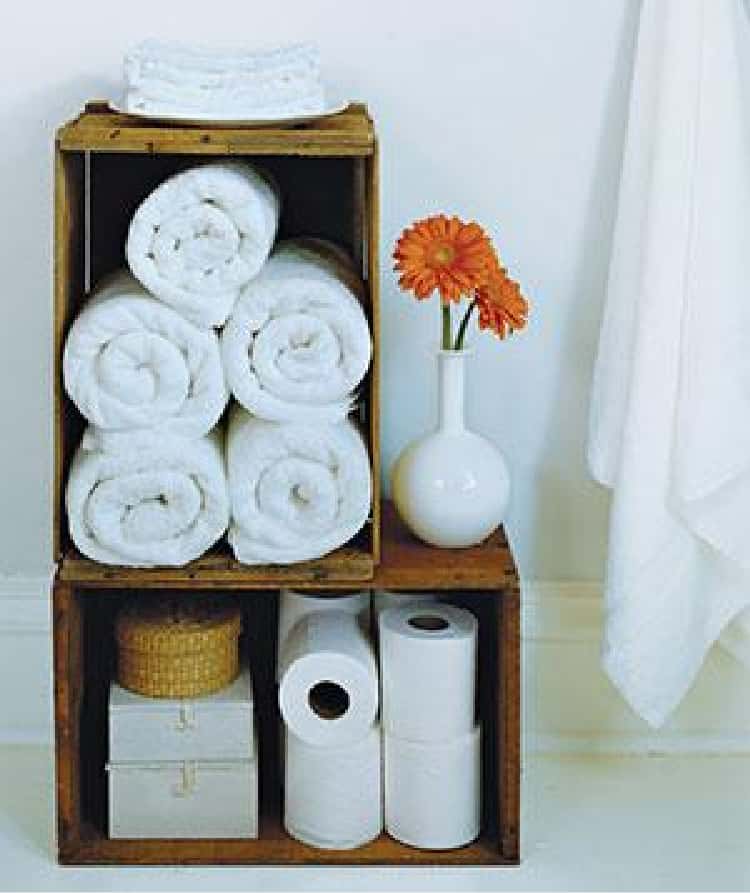 13. Here's an Easy Pet Bed Solution using Just One Crate.
Grab an old apple crate, and some paint and create a truly creative and fun pet bed!  Remove a couple of the boards on the front and whitewash the whole thing with the paint.  Then put a comfy pillow inside to make a pretty pet bed for your furry friend. So easy!  The money you save by doing these wooden crate projects  yourself will make you very happy!  You can find legs for the bottom of your bed at most home improvement stores and they elevate the entire project from "crate-on-the-floor" to designer looking pet bed, but without the high end price tag!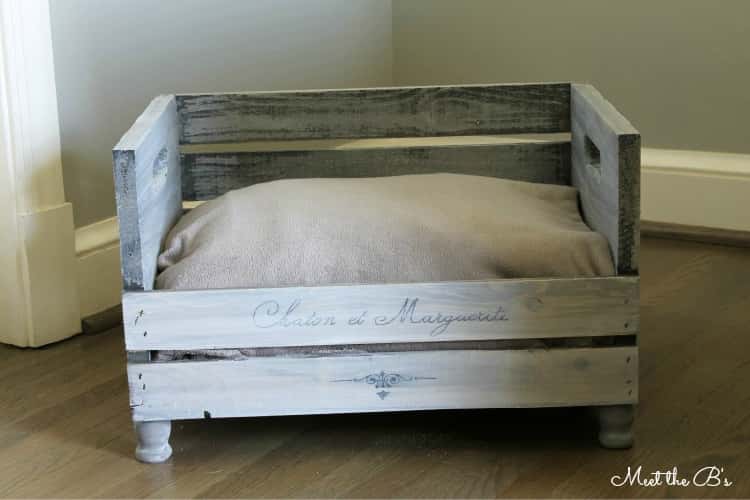 14. Farmhouse Decor for the Kitchen
Add wooden crates to your kitchen to get the farmhouse look. Crates are perfect for citrus fruits, potatoes, onions and other produce that needs air circulation.  These add instant farmhouse to any home!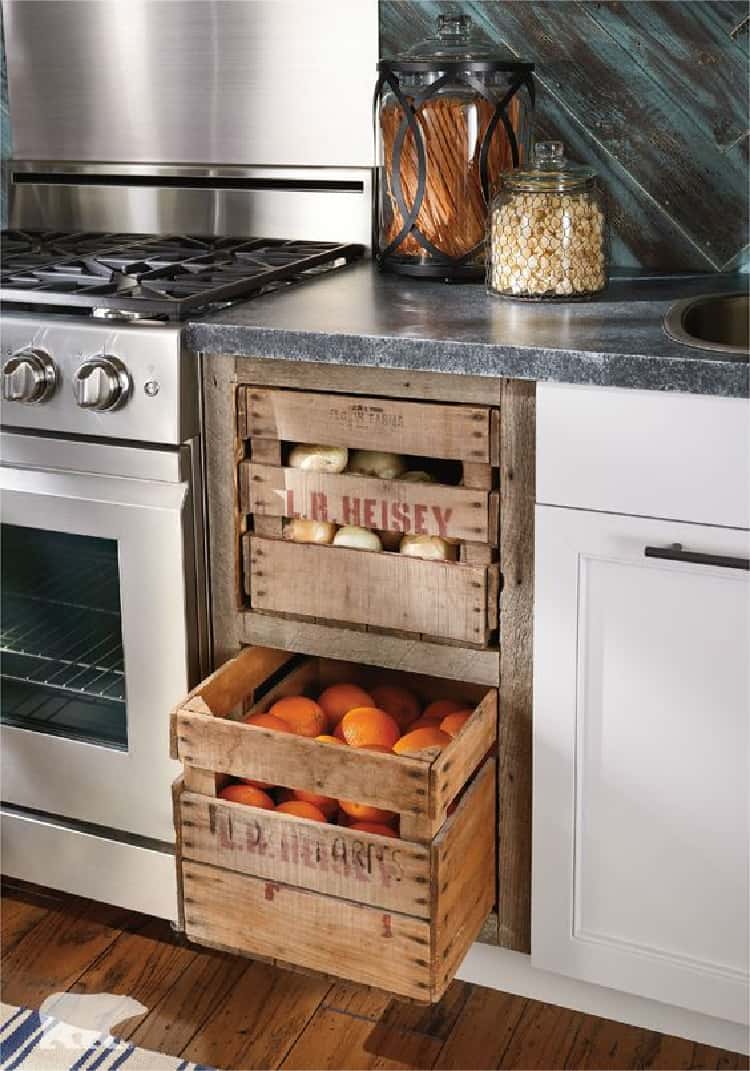 15. Make a Unique Flower Planting Bed
Plant some flowers in a wooden crate. This would make a beautiful addition to your deck, porch or patio. I think this one is so sweet!  I adore how it looks and can hardly wait to collect some crates and make my own for my front entry!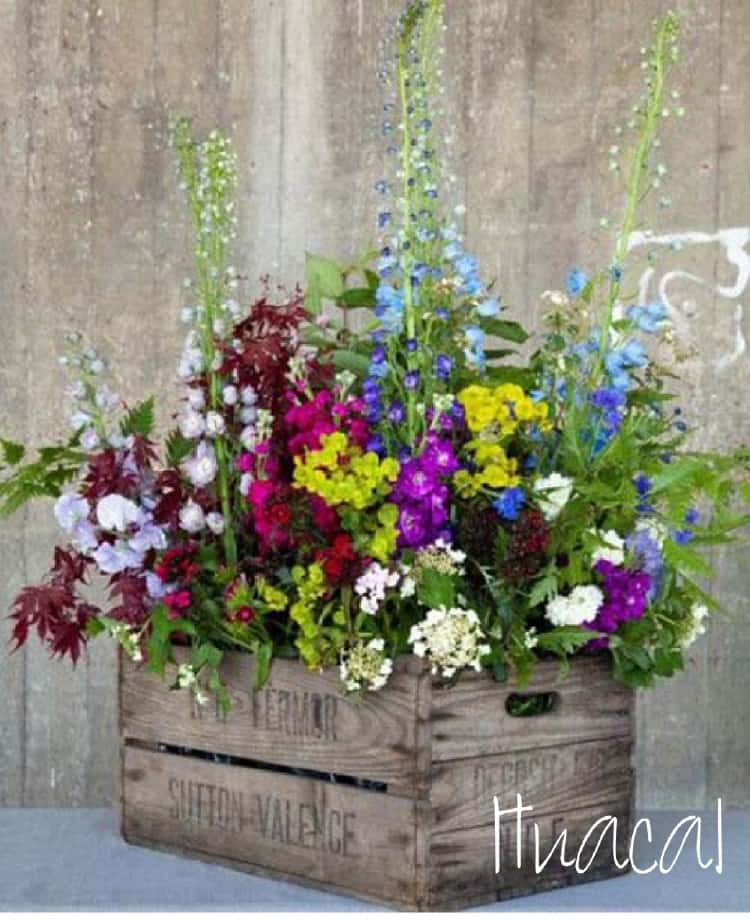 16. Need Some Extra Storage and Display Space for that Special Event?
This party drink station would make the perfect addition to a rustic wedding or country chic bridal shower. This is the a super simple way for a wooden crate project to bring a big impact to a special day!
17. DIY Your Own Unique Outdoor Kitchen with Wooden Crates
Use crates as upper cabinets in your outdoor kitchen. Simple and unique, they can withstand the weather and provide plenty of storage for your needs. This wooden crate project can be used as outdoor storage cubbies too.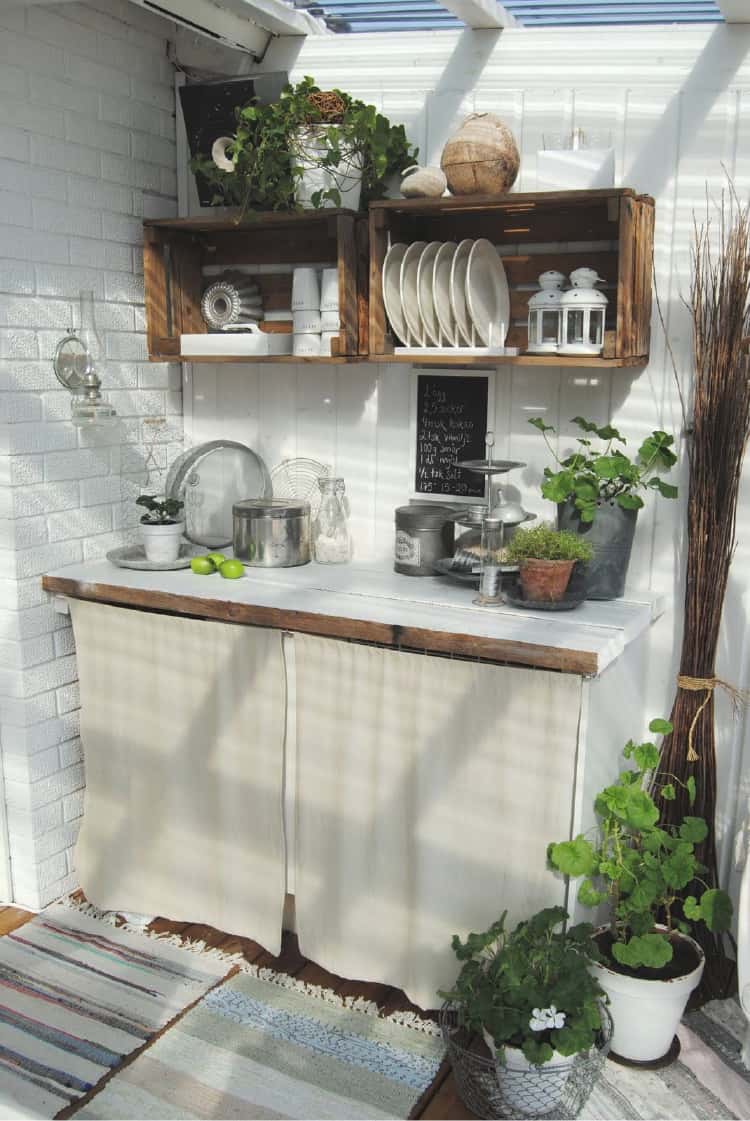 Want more like these Wooden Crate Projects For Your Home?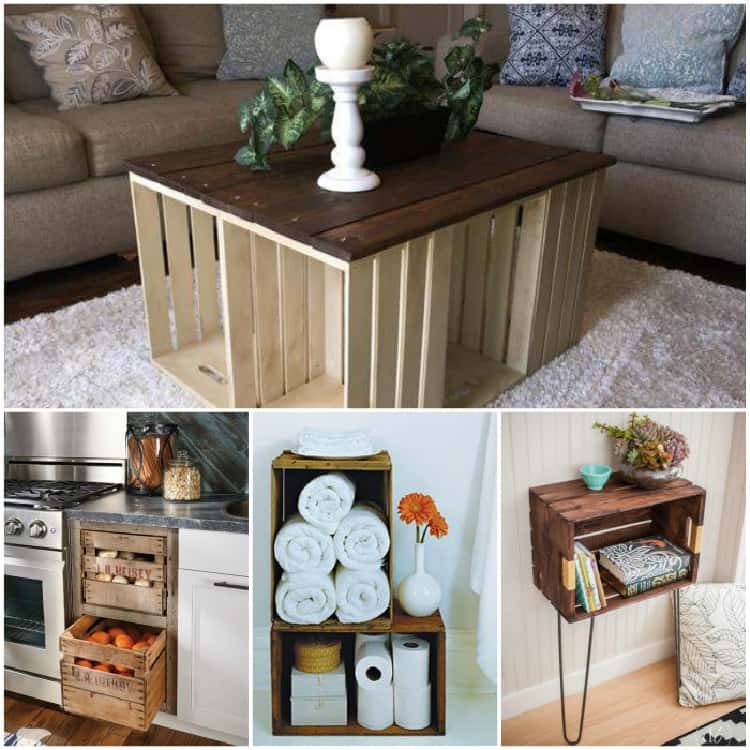 Which of these wooden crate ideas worked best for your home?