You've probably stumbled across a wooden crate here or there. They're popular in the home decor section in stores now. But more than likely, you've seen one at a yard sale, a thrift shop or in your garage. And if you've been stumped as to what to do with those old things, you'll be amazed at the wooden crate projects we've found. They're wonderful for organizing! Turn them into bookshelves, shoe storage, seating and more. Which idea do you want to try first?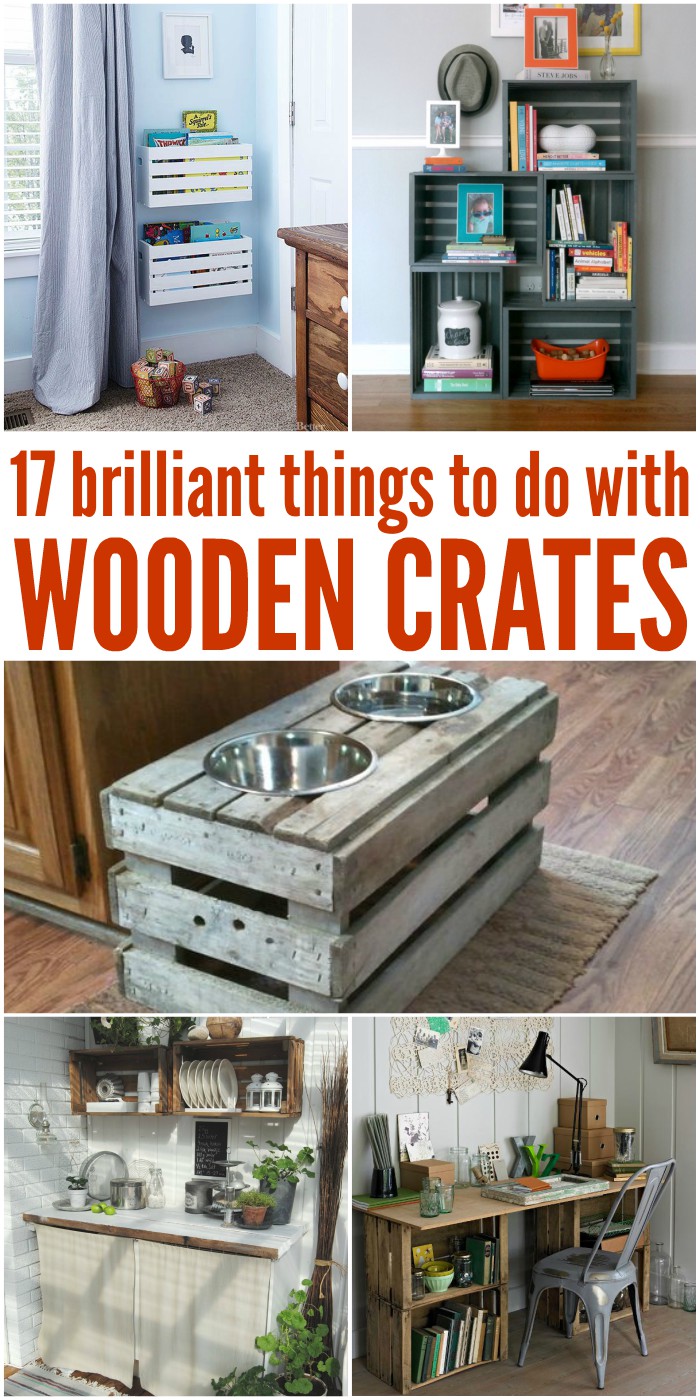 Wooden Crate Projects to Get Organized
Here you'll find several different configurations for stacking crates as well as different ways to use them. The crate bookshelf is definitely my favorite!
Double up two wooden crates to create a night stand with open storage.
Attach crates to the wall and add baskets to create a no-fuss organized entryway. Everyone can put their bags, hats, scarves, etc. in the baskets to keep them out of sight.
Cut a crate in half to make two wall bookshelves for your child's room. You could put toys in these instead if you need extra toy storage.
Add a divider and a cushion on top to recreate this gorgeous shoe rack and bench. What a genius idea!
This pallet and crate coffee table has tons of storage underneath, and it's a simple diy project that you can complete in just a few hours. What a great piece for your home!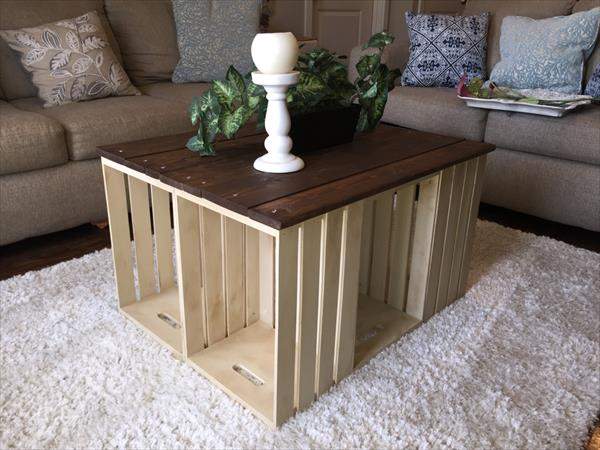 This project is probably my favorite… a wood crate desk! Stack some wooden crates a couple of feet apart, and add a long piece of wood on top to create a desk that you can disassemble and reassemble everywhere.
Add a nice stain and some legs to make a console table for your hallway. Gorgeous!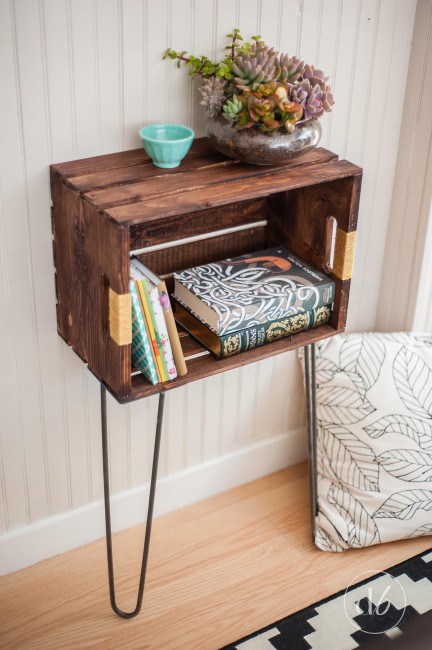 Here, three crates are converted into an outdoor storage bench that will provide so much space for your outdoor gear! Store the kids outdoor toys, garden tools, etc. in the cubbies.
Add a removable seat cushion on top and casters on the bottom to create storage seats for the kids' rooms. Not only does it give the kiddos a comfy place to sit, but it provides lots of extra toy storage too.
Flip the crate, cut two holes on top and add your dog's food and water dishes for a great looking feeding station.
Contain your towels and toiletries in stacked wooden crates in the bathroom. You could also hang the crates over the toilet for extra storage.
Remove a couple of the boards on the front, and put a comfy pillow inside to make a pretty pet bed for your furry friend.
Add wooden crates to your kitchen to get the farmhouse look. Crates are perfect for citrus fruits, potatoes, onions and other produce that needs air circulation.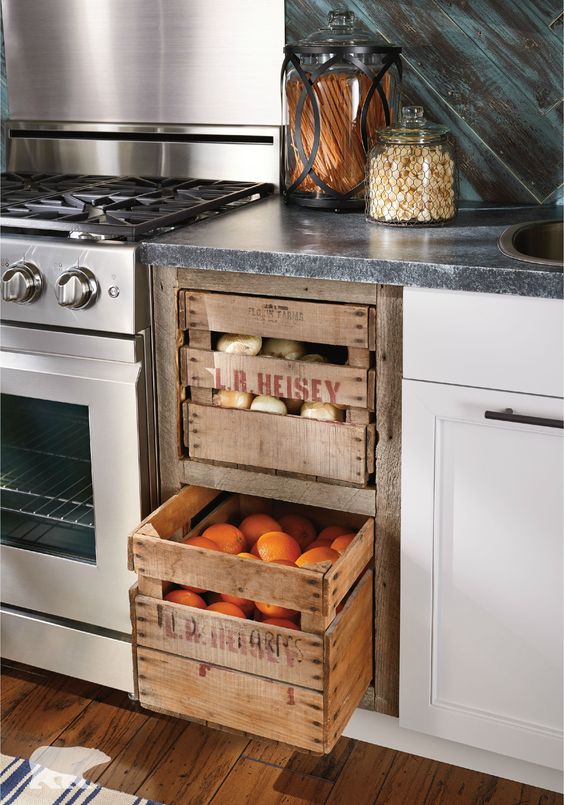 Plant some flowers in a wooden crate. This would make a beautiful addition to your deck, porch or patio.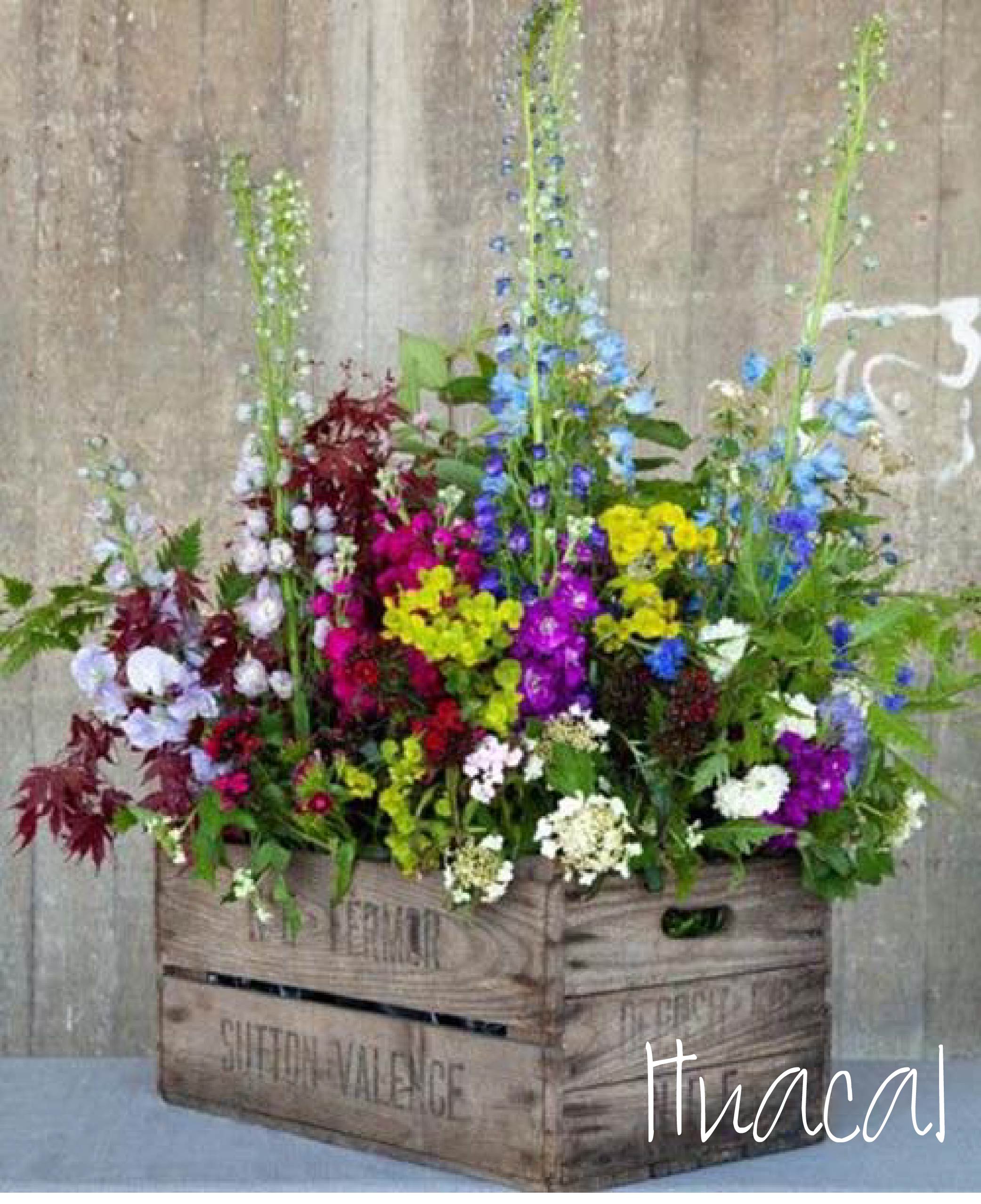 This party drink station would make the perfect addition to a rustic wedding or country chic bridal shower.
Use crates as upper cabinets in your outdoor kitchen.