Cleaning walls and baseboards can seem so time-consuming. These genius wall cleaning hacks will keep things simple making cleaning walls and baseboards a breeze even if you don't have a lot of time. This list will teach you effective ways to tackle the dust and dirt that builds up. So let's get started with the hacks to simplify cleaning your walls and baseboards!
Say goodbye to the smudges, scuff marks, and mildew buildup lurking on your wallpaper, hallway, and ceilings. Check out these spot-tested stain removal hacks!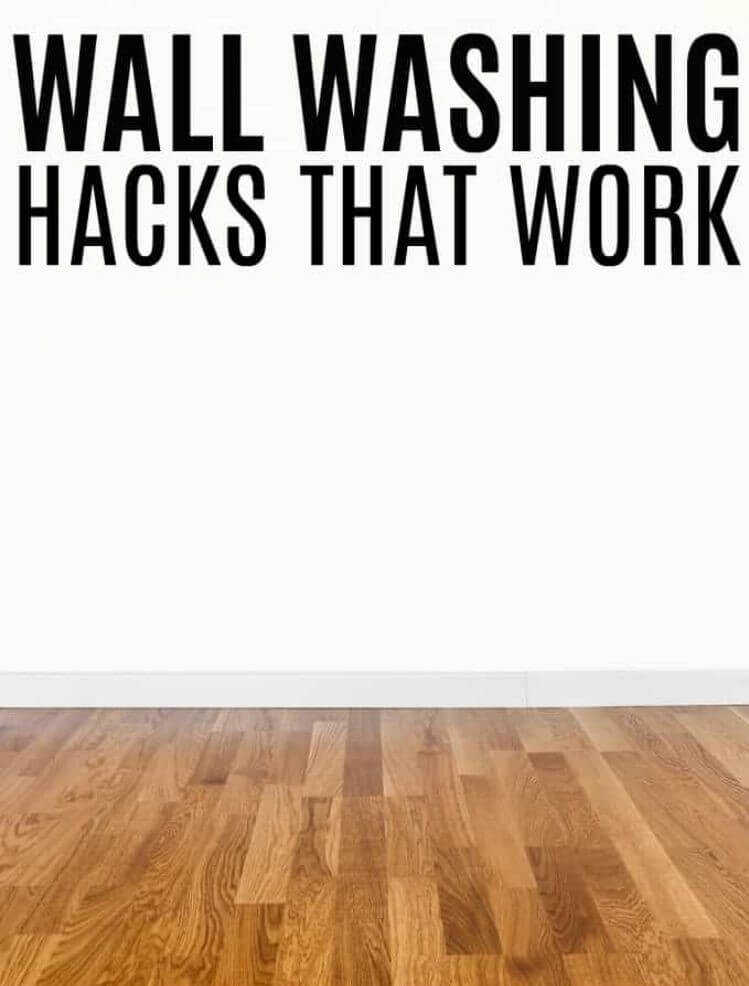 Easy Wall Cleaning Hacks You Need to Try
Cleaning your walls doesn't have to be hard and overly time-consuming. These walls and baseboard cleaning lifehacks will have your home looking refreshed in no time at all. The best part is that you don't need a tall ladder, harsh chemicals, or days and days devoted to cleaning. So let's get started!
1. Wall Washing Hacks – Tips For Cleaning Painted Walls
Cleaning painted walls doesn't have to be intimidating. These wall washing hacks for painted walls will help get your walls squeaky clean without chipping or ruining your paint. You start by getting two buckets of water; one with soap and one without. Next, you dust the wall with a dry rag and clean up cobwebs from corners. After that, use a sponge dipped in the bucket of soapy water and wash your walls. Make sure to wash an entire wall at one time. You don't want to leave watermarks that stain your paint. After that, use a sponge dipped in clean water to wash your walls again. It's best to have the windows open so the walls can dry faster. Last, you use a dry rag to wipe areas that have excess water. That's it! You are ready to enjoy your freshly cleaned painted walls.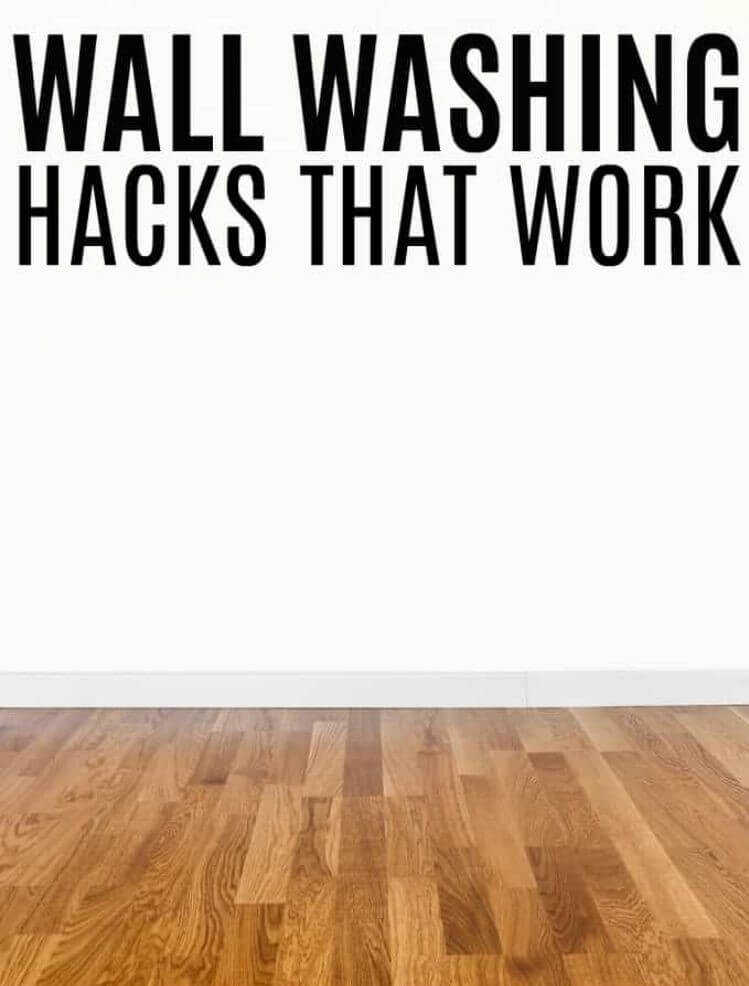 2. Dust Free Baseboards – Secrets to Cleaning and Keeping Baseboards Clean
Here's a quick and easy way to get dust-free baseboards in a hurry! No more wiping it off to turn around and see a new pile of dust already developing. The secret is to use dryer sheets to dust them. The coating on the dryer sheet helps stop new dust from settling on the baseboards right away. If your baseboards happen to be very dirty, using a bleach-water solution and wiping them down first helps. Once the baseboards are dry you then use the dryer sheet to dust them off. How easy is that?!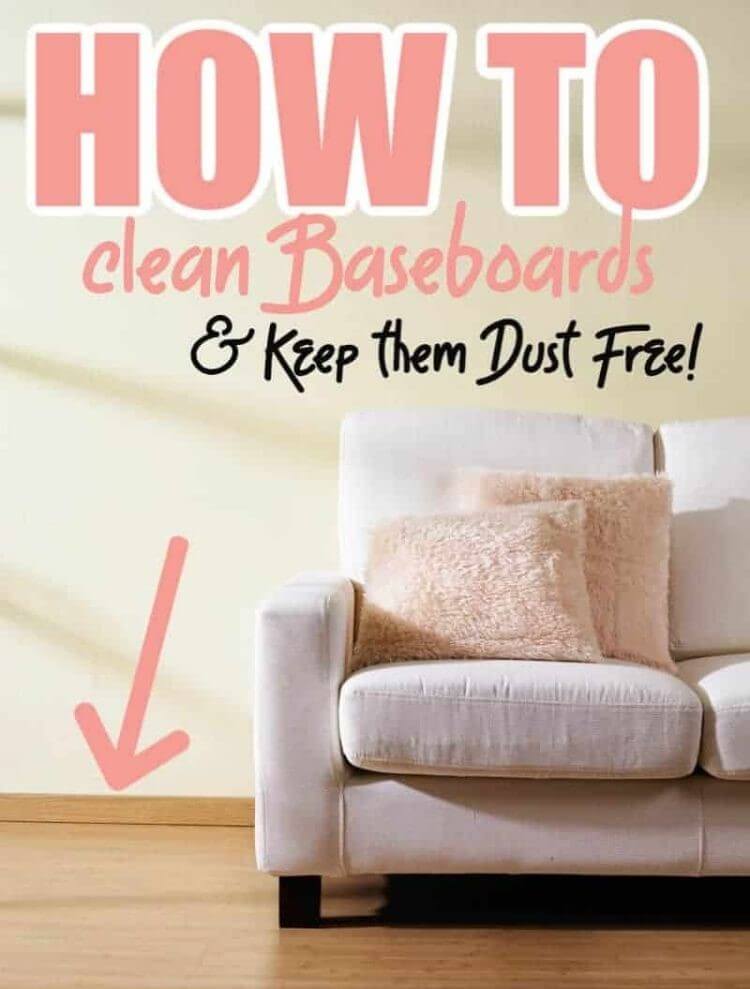 3. Get Baseboards Clean – Tips and Tricks to Get Baseboards Looking Like New
A scrub brush and magic eraser are the best ways to tackle the dust and dirt even if it has collected on baseboards over time. It might take some time to get your baseboards clean, but you will love the end result. After cleaning thoroughly you can help your baseboards stay cleaner longer by rubbing a dryer sheet on them.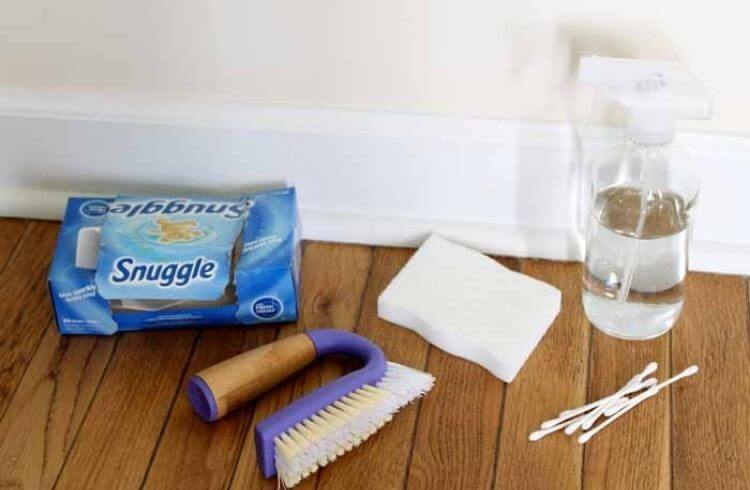 4. Cleaning Walls Easily – Surprising Way to Remove Scuffs While Cleaning Walls
This next idea for cleaning your walls helps you in a unique way. You can get great results even if you need to remove stubborn stains, greasy spots, and hard-to-remove marks.
Regular Maintenance – One of the best ways to regularly maintain clean walls is by using a regular multi-purpose cleaner. An organic cleaner is a great option especially if you have kids or pets.
Sticky Residue – To focus on sticky residue use tea tree oil and wipe it off with a microfiber cloth.
Marks and Stains – Using a baking soda scrub will help get hard to remove marks and stains off of your walls.
Miscellaneous Cleaning Items – Some other items that can help you be successful cleaning your walls are a white magic eraser, an old sock, Eucalyptus Essential Oils, Sugar Soap, Pink Stuff Cleaning Spray or Paste, and vinegar.
5. Clean Baseboards – Getting Baseboards Clean Without Breaking Your Back
Learn the easy way to clean your baseboards without breaking your back. This is a painless way to tackle your baseboards in a hurry. The first step is to use a broom, Swifter Sweeper, or a vacuum to remove dust and debris. If your baseboards need a deep cleaning you can use cleaners like Castile soap to remove even the heaviest stains. Best of all, it is all-natural. Another option is to use Dawn dish soap. Adding a few drops to some warm water will help remove and cut through greasy buildup easily. Lastly, if you still have stubborn stains you can use a magic eraser to spot clean areas that still need attention. There you have it, great ideas to wipe your baseboards down speedy quick.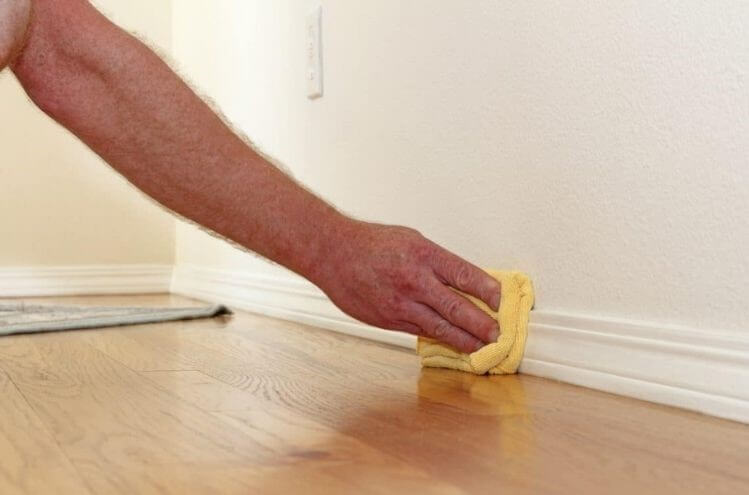 6. Dusting Walls Quickly – Cleaning Walls With a Swifter Sweeper
Swifter Sweepers are for more than just for floors! They are great at cleaning and dusting walls and trim. If you want to dust your walls, trim, or baseboards attach a dry cloth to the rectangle end. As a result, the cloth will pick up dust, dirt, and cobwebs easily. On the other hand, if you are looking to wash your walls, adding a wet Swifter cloth or a wet microfiber cloth to the rectangle end is a great way to clean walls quickly.
7. Removing Grease – Solutions to Clean Kitchen Walls
Keeping kitchen walls clean can be tough. These are three tips and tricks that can help keep your kitchen looking clean and fresh.
Dish Soap – Dish soap is a fantastic degreaser. By adding 1/4 teaspoon of dish soap to 1 cup of warm water you are able to cut through the grease and wash the dirt away.
White Vinegar – A vinegar-water solution is a great way to remove tough stains. 1 cup of vinegar mixed with 1 cup of water is the recipe for this cleaning solution.
TSP – Have you heard of Trisodium Phosphate Cleaner? It is a heavy-duty cleaner that helps degrease and clean walls. It is a very strong cleaner with fumes. It's important to follow instructions and use them in a well-ventilated area. It works great though!
8. Cleaning Walls Before Painting – How to Use Vinegar to Prep Walls Before Painting
Properly prepping your walls prior to painting makes or breaks your end results. Washing Walls is an important step during the prepping process. After you have dusted your walls and cleaned out cobwebs you are ready to wash your walls. To use vinegar add 1 part vinegar to 1 part warm water in a bucket. Wet your sponge or cloth and wipe the walls well. Be sure to let your walls dry well before painting. There you have it, an easy DIY cleaner for walls.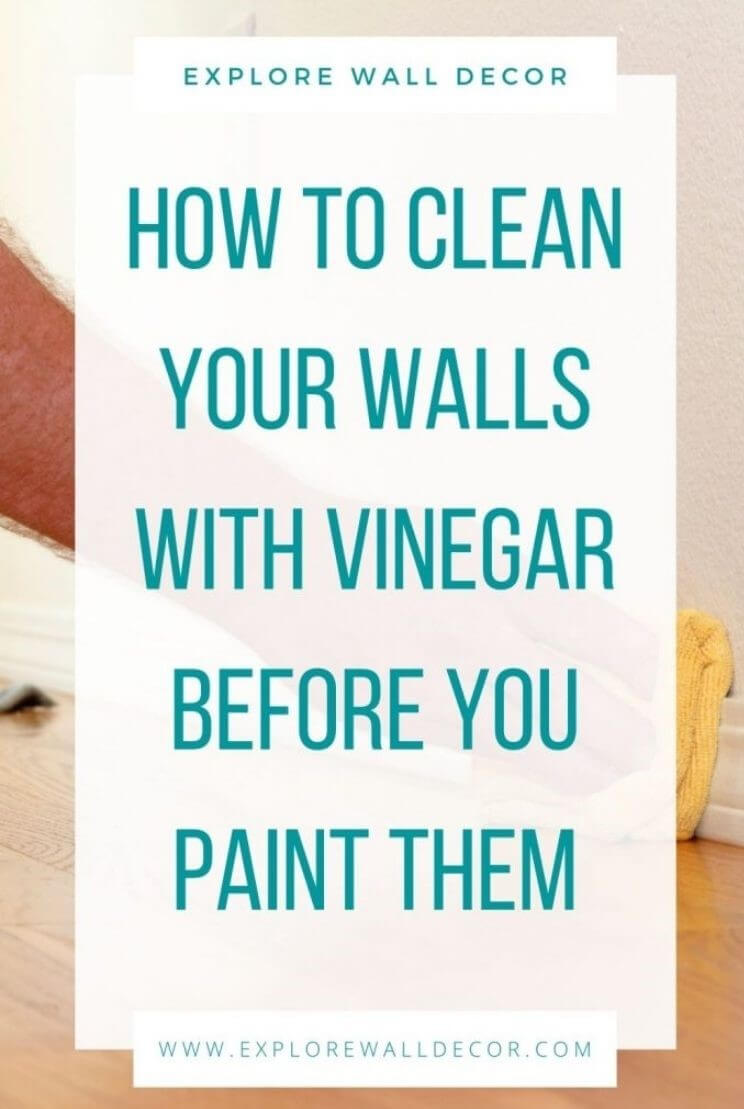 9. DIY Wall Cleaner – How to Clean Walls Without Ruining Paint
Having the right tools can be so helpful when cleaning walls. Using a Squeegee Microfiber Mop and this DIY wall cleaner can get you great before and after results. You'll be shocked at how clean your walls are. To make this DIY wall cleaner you first add 4 cups of hot water to a bucket. Second, you add 3 pumps of dishwashing liquid and 2 tbsp of white distilled vinegar. Third, mix it all together and you are ready to wash your walls!
10. Wall Cleaning Hack – Another Cleaner Recommendation
Like the other tips and tricks to clean walls, this one uses a Swifter Sweeper or a large flat mop to dust and wash walls. This hack uses a different cleaner though. Dr. Bronner's Sal Suds added to water in a spray bottle is a great multi-purpose cleaner. Another great feature is that a little goes a long way which will help it last longer. Another trick is to start at the top and work your way down using a side-to-side motion when cleaning the wall with the large flat mop.
11. Genius Clean Wall Hacks – Cleaning Walls Without Damaging Paint
It's important to know what to do when cleaning walls. It is also important to know what not to do. Learning from these two mistakes will help you get walls so clean they look freshly painted. Mistake #1 is using baby wipes to wash your walls. The fibers in the wipes will leave your walls looking worse. They can also remove the paint from your walls. Mistake #2 is using a cheap cloth. When you have to scrub in spots a cheap cloth can easily chip and ruin your paint. Using a high-quality microfiber cloth during cleaning walls will get you great results and leave your paint looking fantastic. A tip is to add laundry detergent to your vinegar solution. It will help remove things like crayons, fingerprints, and dirt.
Cleaning Walls Has Never Been Easier
These 11 wall cleaning tips and tricks are great ways to make cleaning walls and baseboards easier than ever. Whether you use a DIY recipe or one of the multi-purpose cleaners shared, you are sure to have great results. Overall most of the wall cleaning hacks talked about using a good microfiber cloth, and a Swifter Sweeper or flat-headed mop are important tools for success. Whether preparing to paint to bringing your current paint back to the life you are sure to have excellent results that you will love.
Now that you've seen these tips for cleaning walls do you have any ideas to add that you love?
If you love these cleaning wall ideas check out these other ways to clean your home:
Which wall cleaning hacks did you find most effective?