Here are 13 clever and easy craft room organization hacks you'll wish you had known. Enjoy crafting again with these simple hacks to get your craft room organized and keep it that way.
Who enjoys working in a craft space (or room) that is too cluttered to find what you need? I personally don't like working on my latest project only to have to stop every few minutes to find the scissors…the hooks…or the all-important washi tape in the exact color that I want.
Once you go from working in a cluttered, disorganized mess to working in a functional, orderly area, your creative inspiration will soar!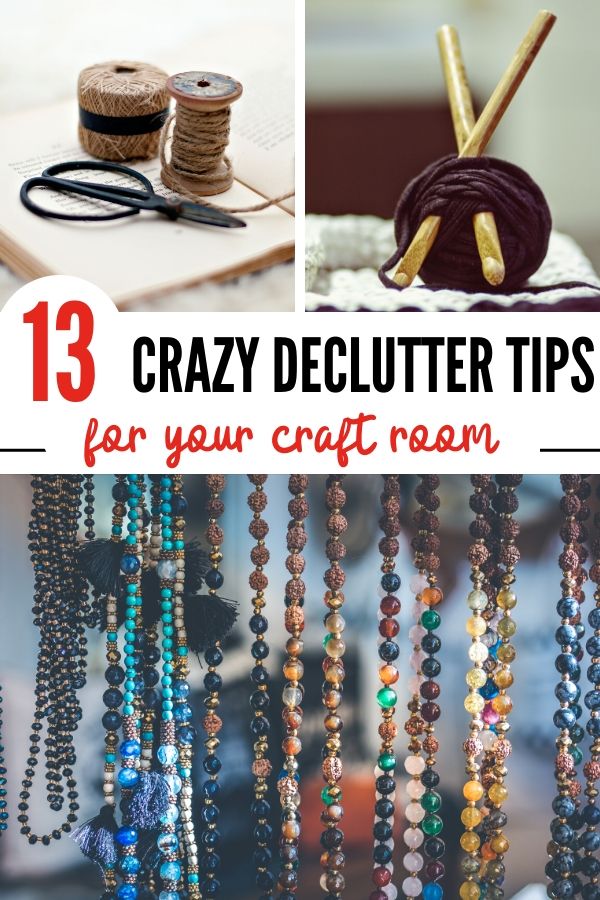 How to Organize Paper in the Craft Room
Paper is an essential supply for so many projects—it's no wonder that we often find our craft room filled with colorful sheets of it. Here are some ideas to corral your paper supply.
Use Magazine Holders To Store Construction Paper
Ikea craft room storage is so affordable and functional! Got a healthy stash of construction paper? Stack all your paper by color and make it look neat in white magazine holders from IKEA.
If you don't have an Ikea in your area, you can also purchase basic magazine holders off Amazon to use. Or you can use the easy hack below!
Use DIY Magazine File Boxes
Create your own magazine file boxes from empty cereal boxes and use them to store magazines or sheets torn out of magazines affordably!
Use Stacking Trays To Sort Scrapbook Paper
Have you ever just stared at the display of scrapbook paper in the store, admiring its simple but effective organizational structure?
It's easy to replicate! Grab some clear plastic stacking trays from Amazon and stack them up inside cubby shelves. Separate your paper by color in the cubbies then stand back and admire your handiwork!
Other Craft Room Storage Ideas
There are so many wonderful and creative ideas out there to keep your craft room organized. Here are a few that I love and use to keep my craft supplies organized so I know I can find what I need anytime I need it.
Use Drawers To Arrange Ribbon By Color
Ribbons wrapped around pieces of cardboard take up less space than spools. Place spools side by side in a drawer (or plastic bin with a lid) so you can look inside and see all the options you have in one glance.
Attach a sticker or color card to the front of each drawer (or on the lid) that corresponds with the ribbon color inside so you can find what you want quickly.
Use a Spool Rack To Sort Ribbon and Tape
You can buy this on Amazon (in many different sizes) for a low cost, and it will allow you to be able to see all your ribbons or washi tapes at one time so you can pick what you want. Bonus points if you can score an old one from a seamstress who no longer needs hers.
Use An Old Stool To Hold Wrapping Paper
A large part of many people's crafting stash is wrapping paper, gift bags, bows and other gift-related accessories. Ever wonder how to store these items? Here's a genius solution!
Turn an old wooden stool upside down and use it to hold all your wrapping paper. Not only will it all be in one place and easy to find, but it won't get squished, crinkled, or ripped.
Take it a step further by making your stool into a wrapping station! Use velcro strips to attach scissors and tape to rungs, hang tissue paper over the rungs, and hang gift bags from the stool legs.
Use Small Glass Jars to Sort Small Items
When was the last time you went searching for the right button or bead? Eliminate all the searching by using small jars from craft stores to sort your buttons (or beads or other trinkets).
Use smaller jars for smaller items and slightly larger jars for bigger items (ex: small beads versus larger buttons). Want to take it a step further? Use multiple jars of each size to sort your items by color too!
Use A Kitchen Island As A Craft Table
Ikea to the rescue again! The 50-inch-by-31-inch IKEA island has two shelves for extra storage. If your budget doesn't allow for an island, you can eliminate the extra storage but keep the workspace by using a foldable plastic table. Then when you are done with it, you can stick it back in the closet until next time it's needed.
Use Both Sides Of Shelves
Round up spare glass jars and secure them to the underside of a shelf or cabinet to hold all of your loose odds and ends.
Use A Pegboard To Arrange Miscellaneous Supplies
A craft room pegboard is your answer to storing crafting odds and ends. Hold Cricut supplies, scissors, thread, paintbrushes, pens, and more on one out of the way (but easy to reach) space on your wall.
Using a pegboard will not only keep everything organized, but it will also ensure that all of your favorite tools are always within reach.
Use a Spice Rack to Store Acrylic Paints
This is a great way to sort by color and paint type. You will easily be able to find what you need as well as see what you have in stock.
Use Multi-Rung Hangers To Hold Fabric
Got fabric? Instead of storing it in a pile in the corner (or the closet), grab some tiered space-saving hangers and hang fabric from the rungs!
This will make your fabric easy to see so you can quickly pick the right piece for your project. It also keeps your fabric from getting wrinkled so it's always ready to be used.
Use a Wooden Wine Rack to Give Order To Yarn Piles
Gone are the days of baskets filled with tangled yarn! Keep your yarn supply tucked away and easy to pull out from a wine rack. Group by color to easily find what you're wanting.
Try These Craft Room Organization Tips Yourself
Isn't it amazing how simple craft room organization can be? Adding just a few basic systems that work for you will turn your anxiety-inducing, cluttered space into a well-organized craft room that you love to work in.
Do you have any craft room organization hacks of your own that you'd like to share? Share them in the comments below!
Other Helpful Organization Posts: